Counter space, storage, seating, and style. What's not to love about a kitchen island? We can't get enough of island inspiration, and lately we've been captivated by spaces that switch things up with unconventional shapes, unique features, and statement styles. Whether you want to showcase your design personality or need a special solution for your space, these gorgeous kitchen islands can inspire you to think outside the box (or rectangle).
1. Triangular kitchen island with Ella Matte countertops
Ensure your kitchen is the family gathering spot with an island that makes everyone part of the action. The distinct shape of this Ella Matte island is ideal for dining and conversation. The triangular kitchen island shape allows for more seating and the centralized sink keeps you involved while doing prep or clean-up. The angular island also defines the kitchen space in an open plan layout, and a neutral color palette with white quartz countertops keeps it timeless. Glass pendants, two-tone cabinetry, and industrial stools complete the kitchen look.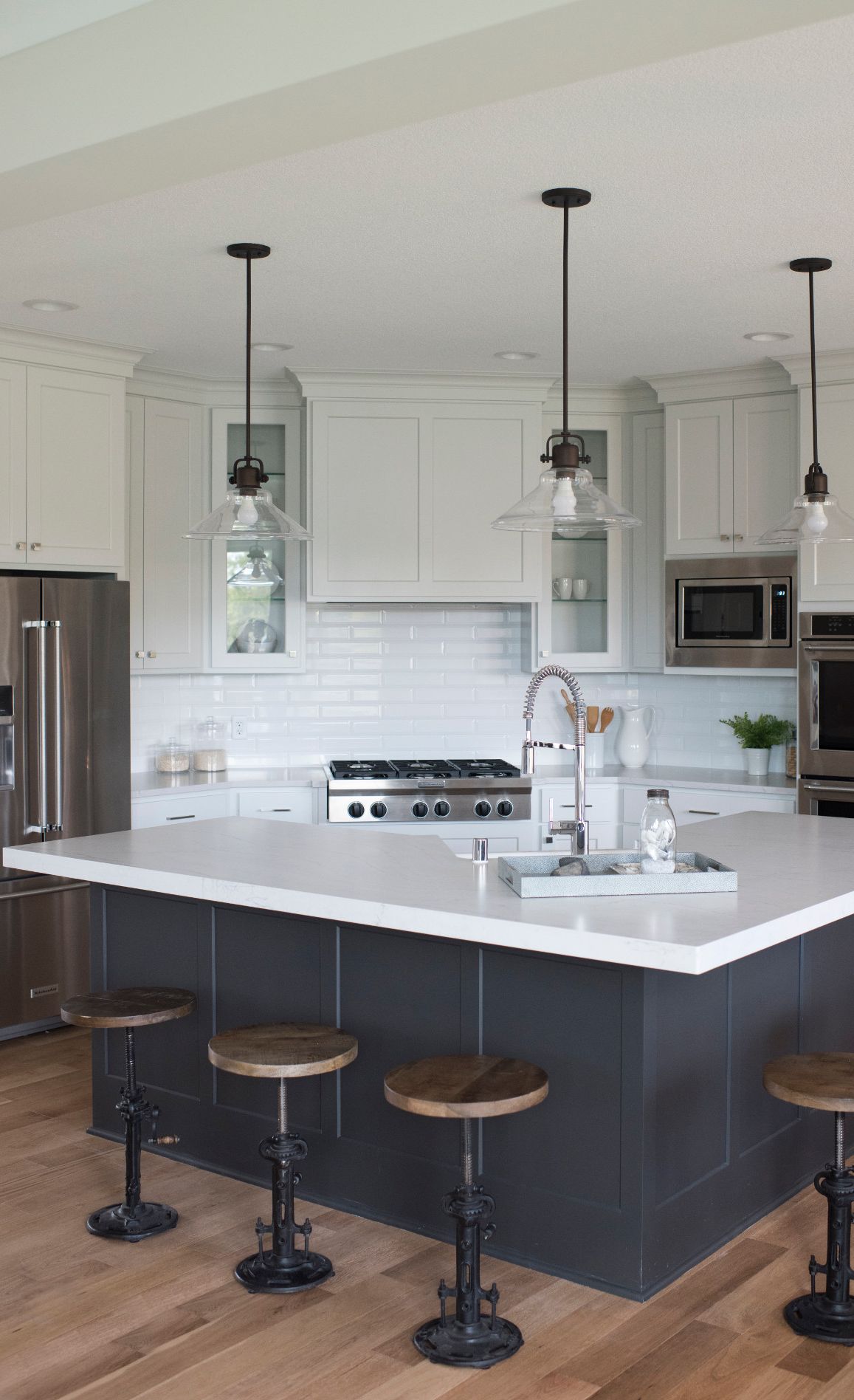 Triangular Ella Matte™ island by Gonyea Homes.
See more spaces with Ella countertops for more white quartz countertop kitchen inspiration.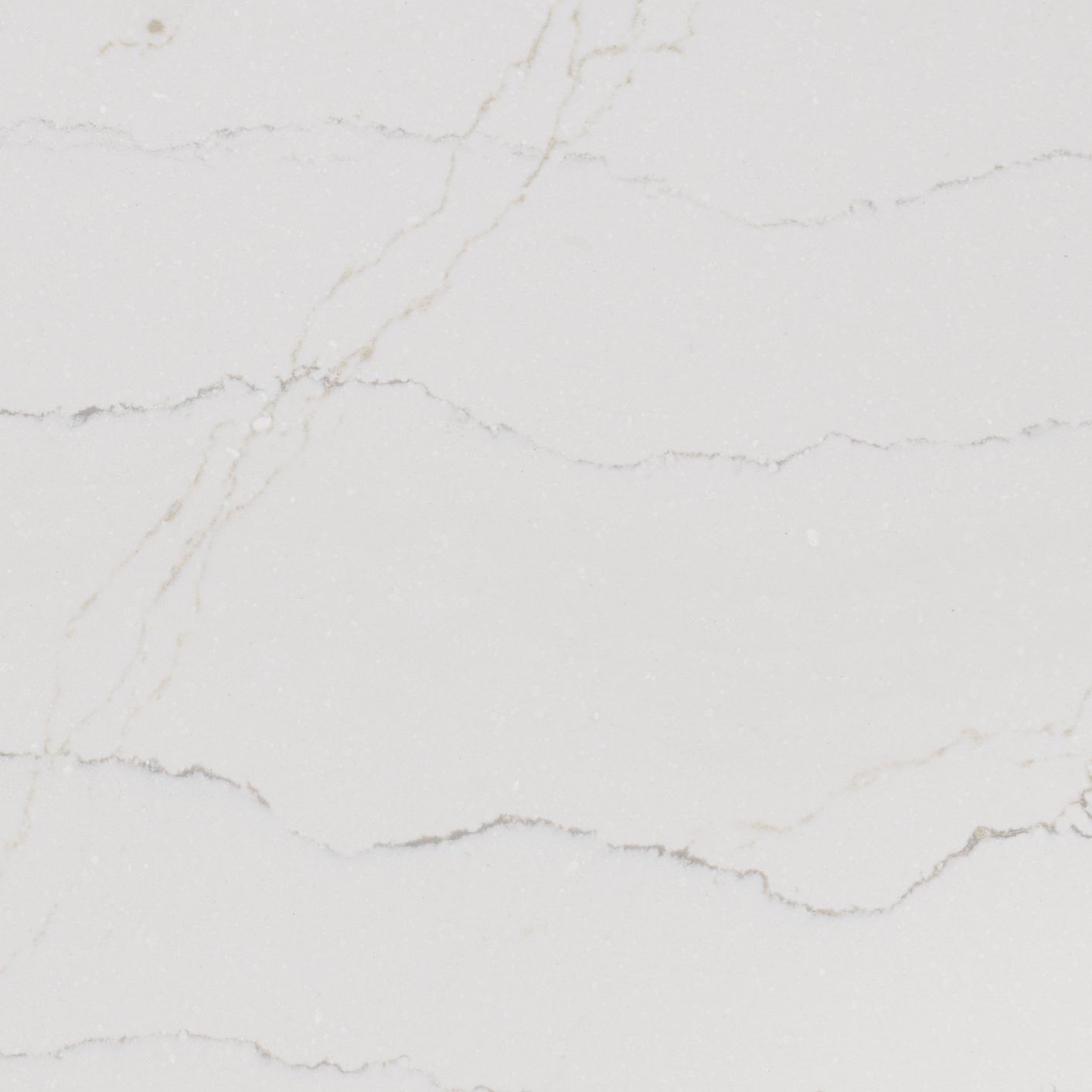 Cambria Ella Matte design detail
2. Multi-tier kitchen island with two countertop designs
A tiered kitchen island can create clear zones for prep, cleaning, cooking, and dining. This multi-tier floating island featuring black-and-white Rose Bay and navy Hadley countertops stands out with contemporary style. Black-stripe detailing on the island base and perimeter shelving complements the bold quartz countertop pairing. The Rose Bay countertops form an L-shape with distinct tiers for cooking and prep. The navy Hadley waterfall-edge countertop creates a chic dining bar with black barrel stools.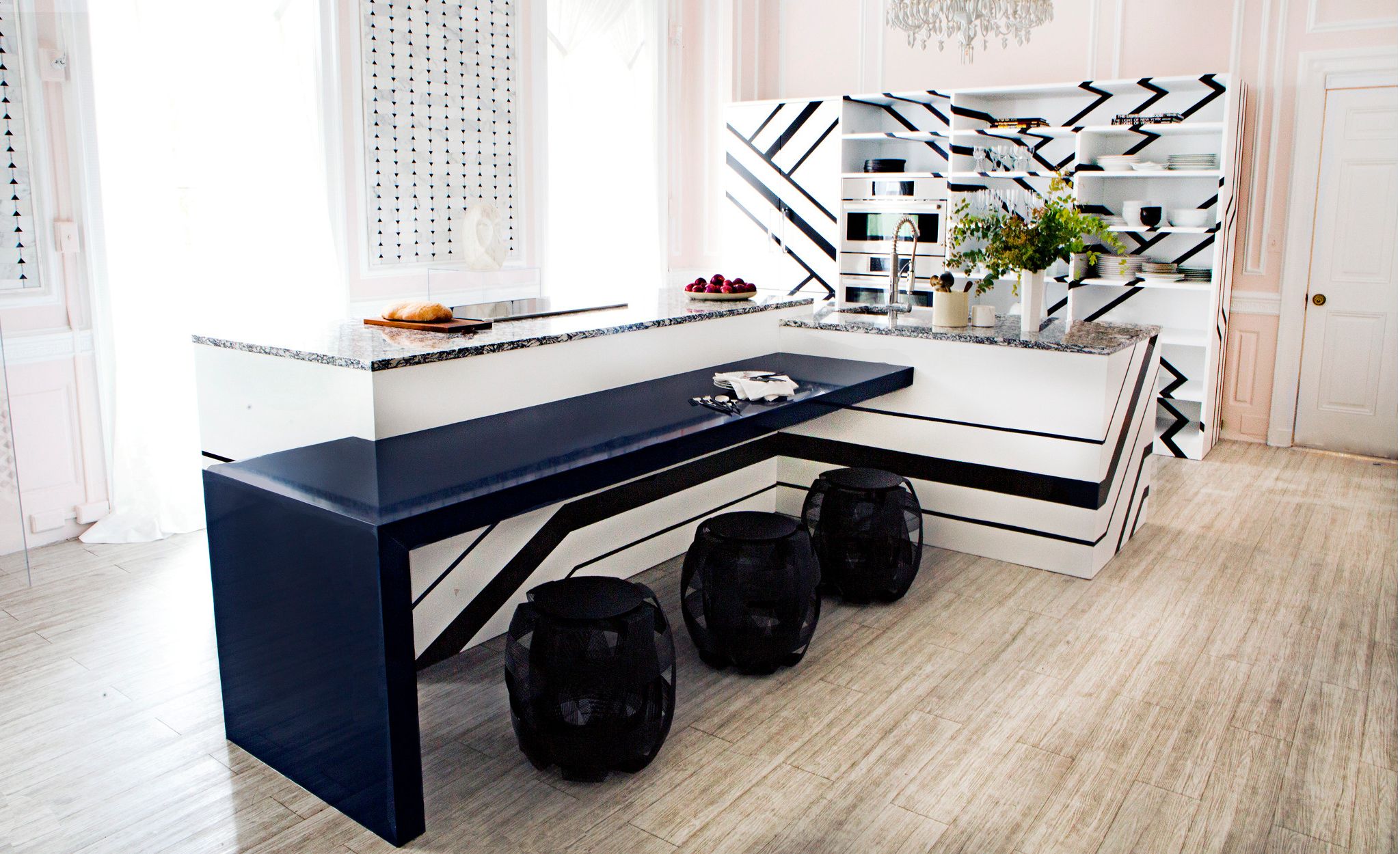 Multi-tier floating island with Rose Bay™ and Hadley™. Design by: Young Huh for Holiday House New York. Photo: Meghan Mcneer.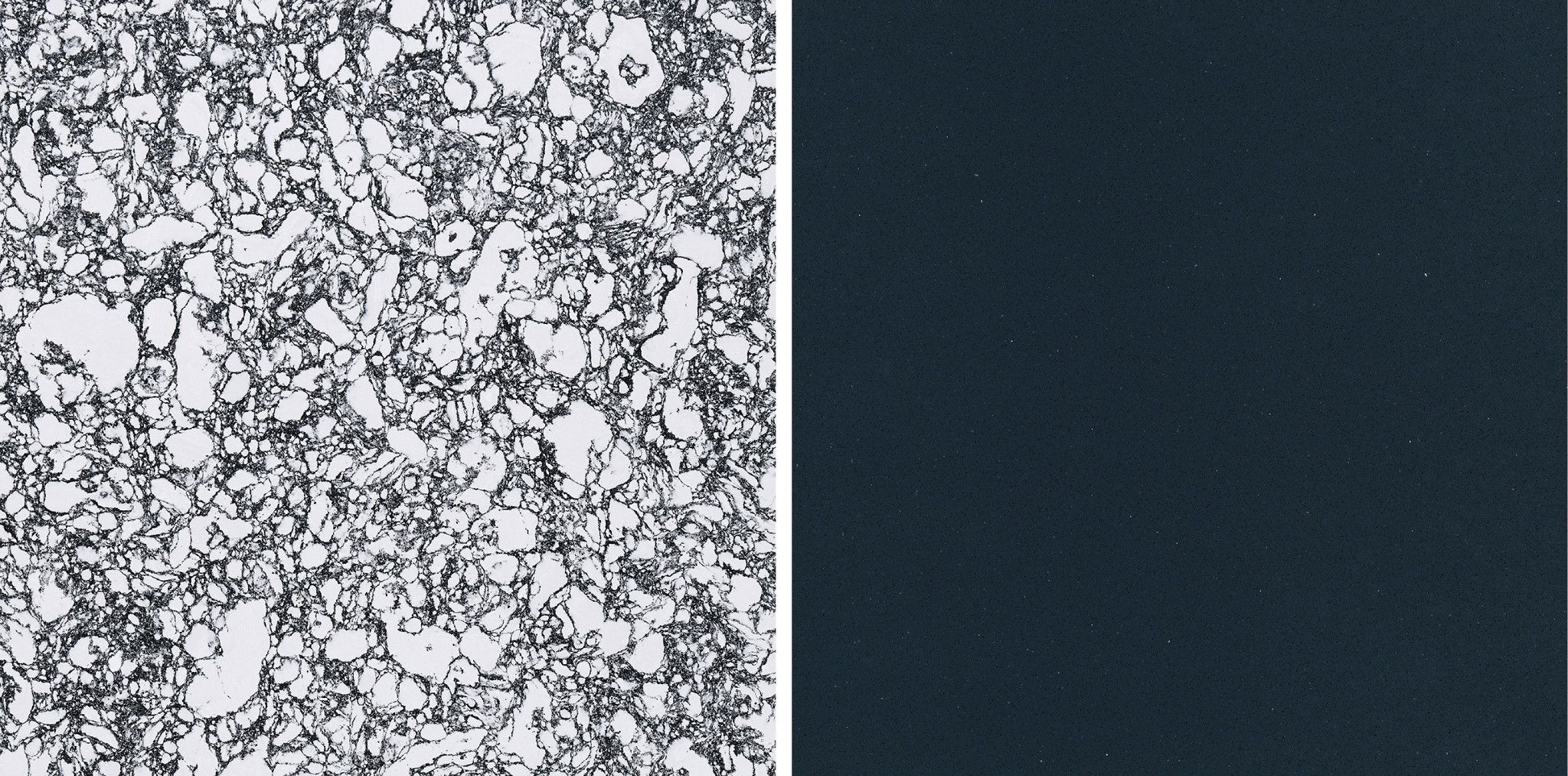 Cambria Rose Bay and Hadley design detail
3. Two-tier Brittanicca kitchen island with dining bar
This two-tiered Brittanicca kitchen island takes a twist on traditional with a quartz dining bar wrapped around one side of the standard rectangular-shaped island. The Brittanicca dining bar showcases more of the beautiful gray veining with a thick mitered edge profile. Cambria designs like Brittanicca are a strong and stain-resistant marble alternative, making them the perfect surface to enjoy a morning coffee or an evening glass of wine.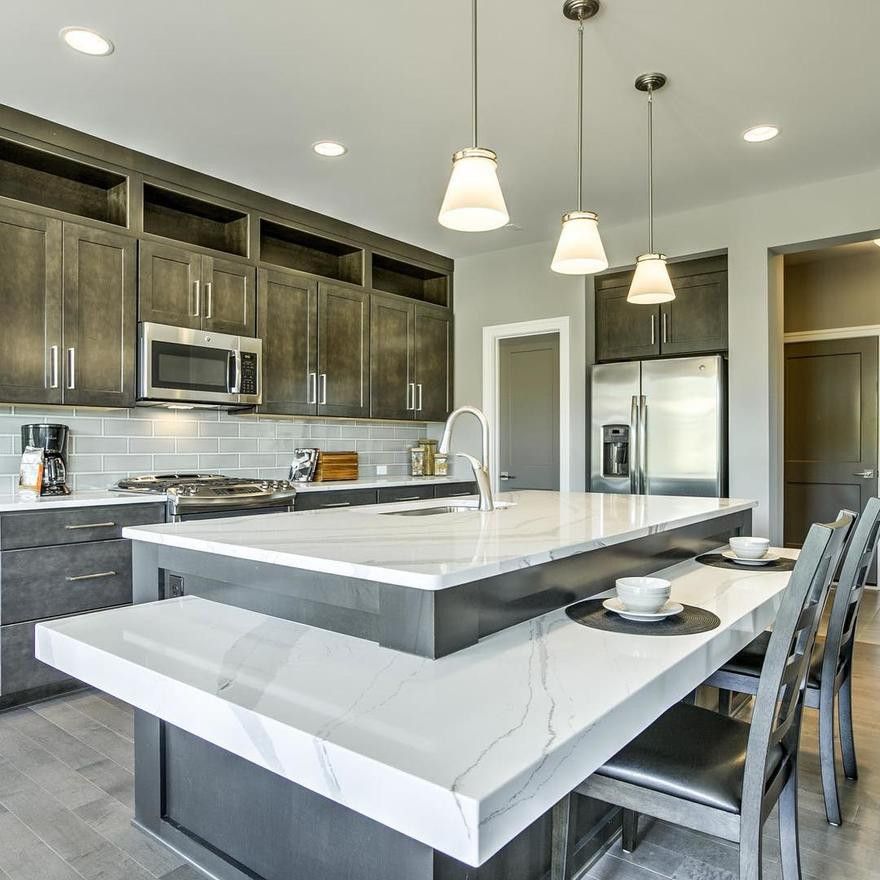 Two-tiered island by TruVision Custom Homes and Aristokraft featuring Brittanicca™ Photo: CKF.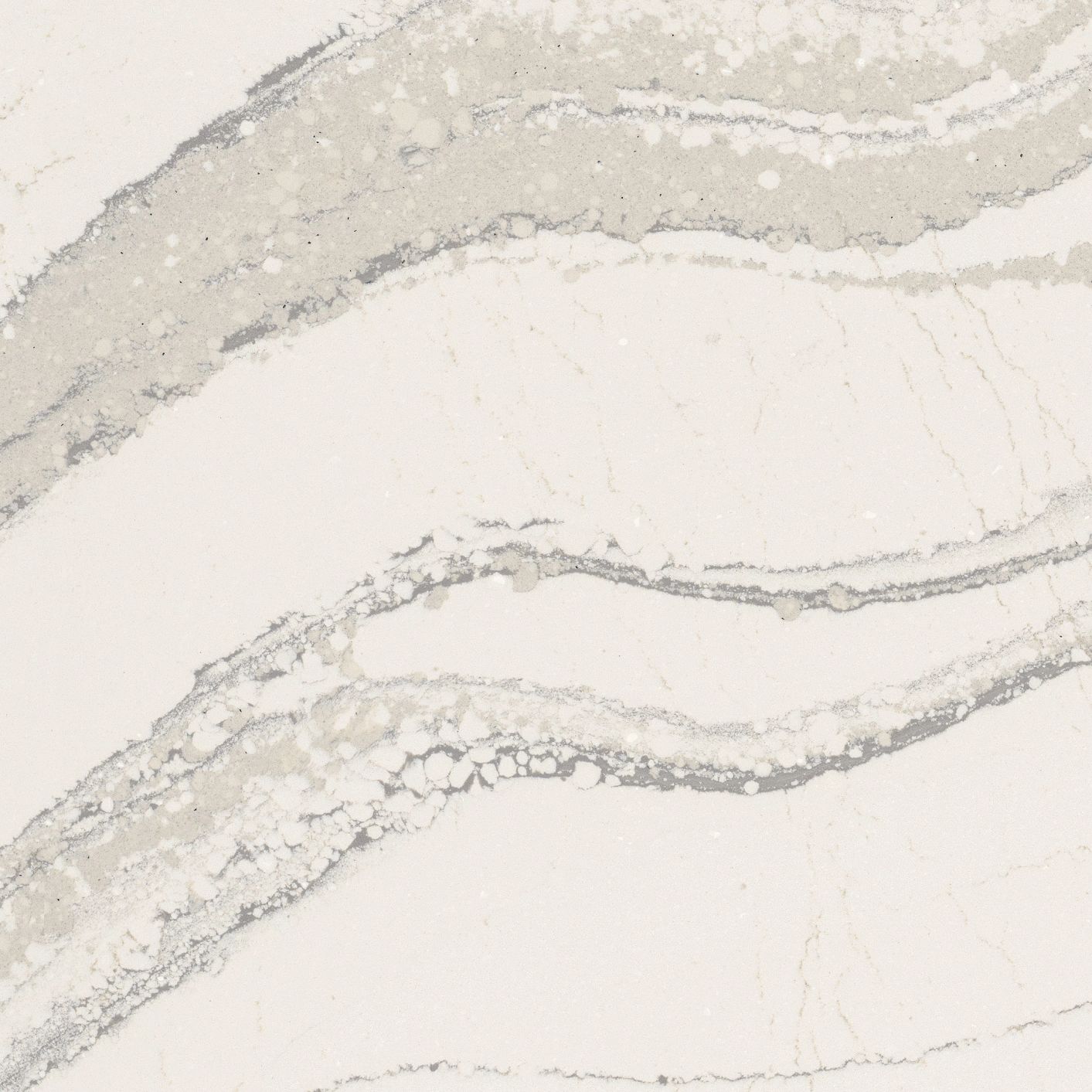 Cambria Brittanicca design detail
Love this striking marbled quartz countertop? Get more ideas for Brittanicca kitchens.
4. Curved kitchen island with Ella countertops
This curved island creates swoonworthy coastal style with driftwood cabinetry and marbled Ella countertops, complemented by a wood range hood. The island shape defines the kitchen boundary in the open-plan space and creates a conversational area, comfortably accommodating five stools. See all of the seating in this wider view of the space.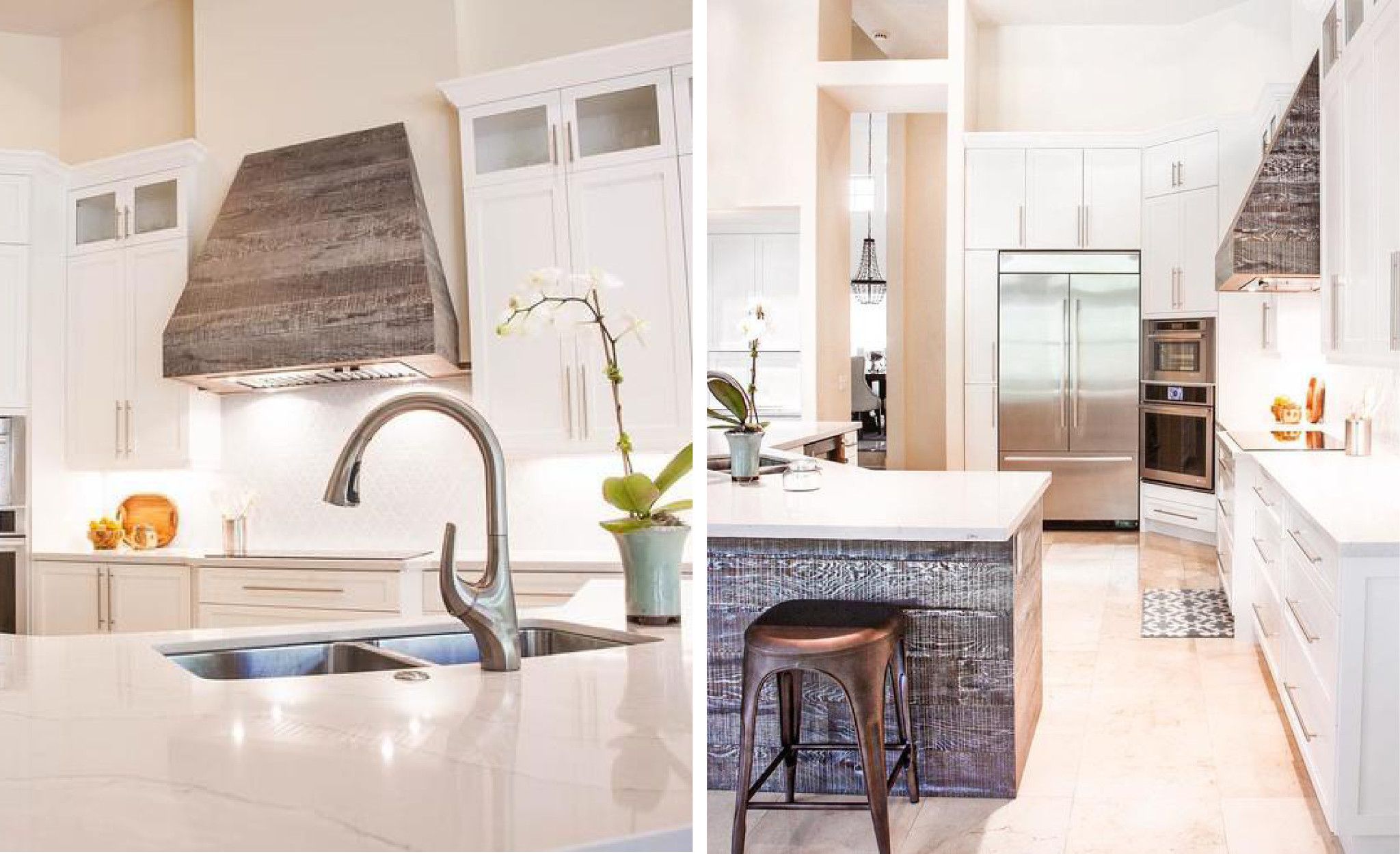 Coastal kitchen with curved island and Ella™ countertops by Absolute Kitchen and Bath. Photo: Ian Jacob Photography.
Love this white and driftwood look? See more ideas for coastal kitchens and pairing white Cambria countertops with wood cabinets.
5. High-contrast midcentury modern kitchen island
This multi-level Cambria island exemplifies midcentury modern style with color-blocking and contrast. The island features a pure white quartz countertop design, White Cliff, for the prep station and range top. This, along with the all-white perimeter of the kitchen, contrasts a rich black quartz countertop, Cambria Black, as a spacious island dining table. Parallel waterfall edges creating crisp, clean lines while exposed beams and a trio of pendant lights add visual interest above the island.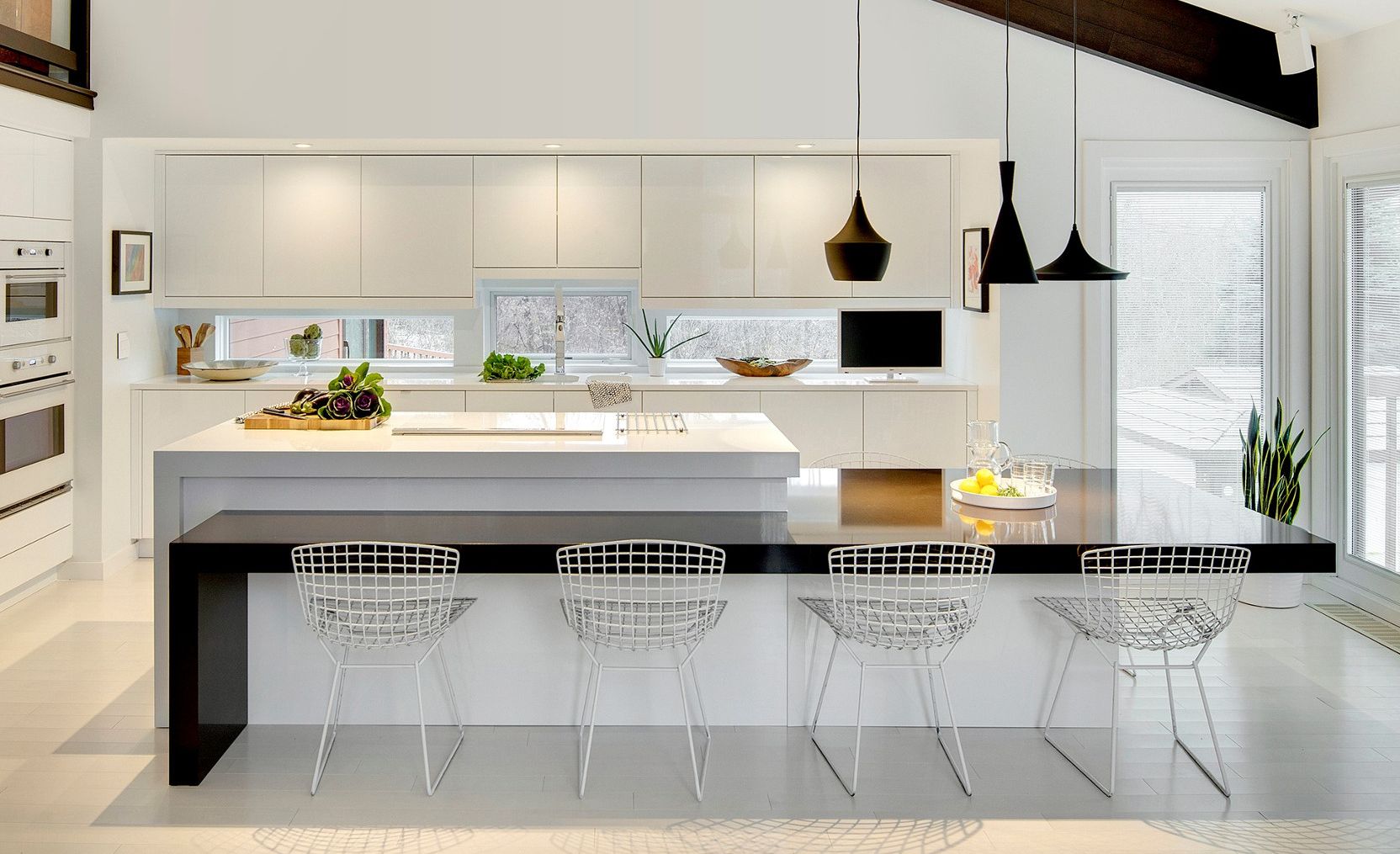 Midcentury modern island featuring White Cliff™ and Cambria Black™. Space by: Crush Collective. Photo: Spacecrafting.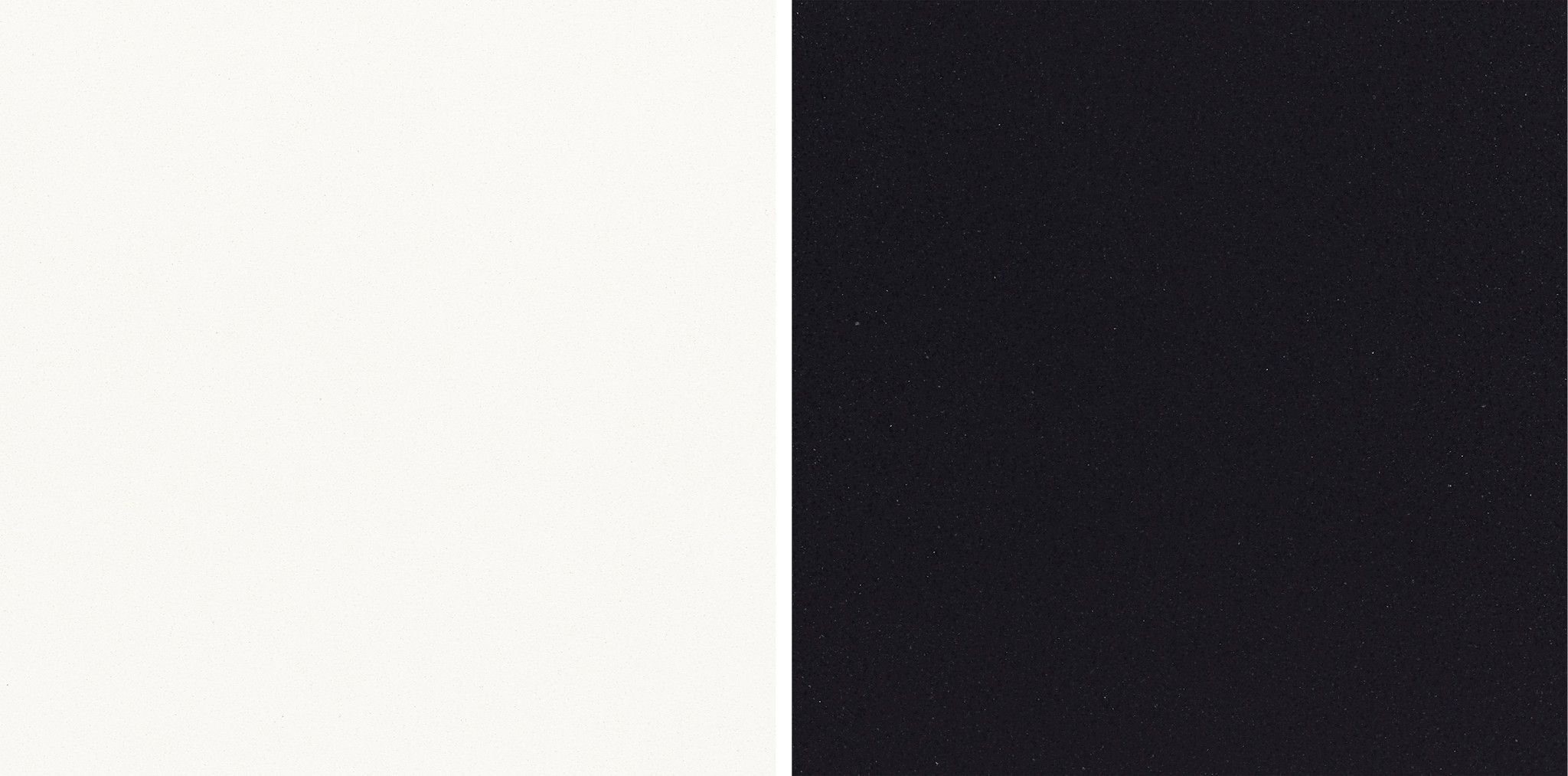 White Cliff and Cambria Black design detail
See this black and white kitchen and more spaces in our roundup of midcentury modern kitchen ideas.
6. Farmhouse table kitchen island with Carrick Matte
A kitchen island table doesn't have to mean a dining space. A rustic table-style kitchen island adds charm and character to a farmhouse kitchen and is a great option when you're short on space. This lovely kitchen features an olive green farmhouse table island topped with Carrick Matte. This open kitchen island makes a charming focal point and functional workspace with high-performing quartz countertops. The gray Cambria design is a maintenance-free concrete alternative that complements the marble-look Brittanicca Matte™ perimeter for two-tone countertop style.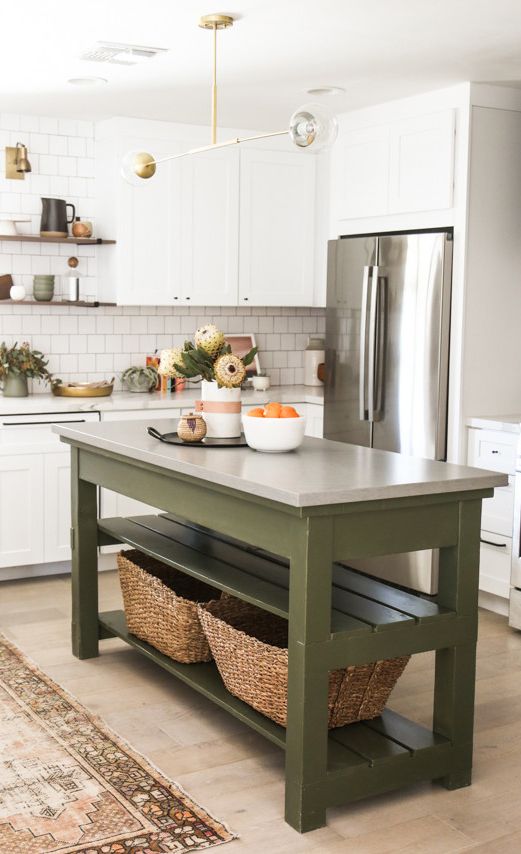 Rustic green kitchen island table with Carrick Matte™ countertop. Space by: Jenny Komenda.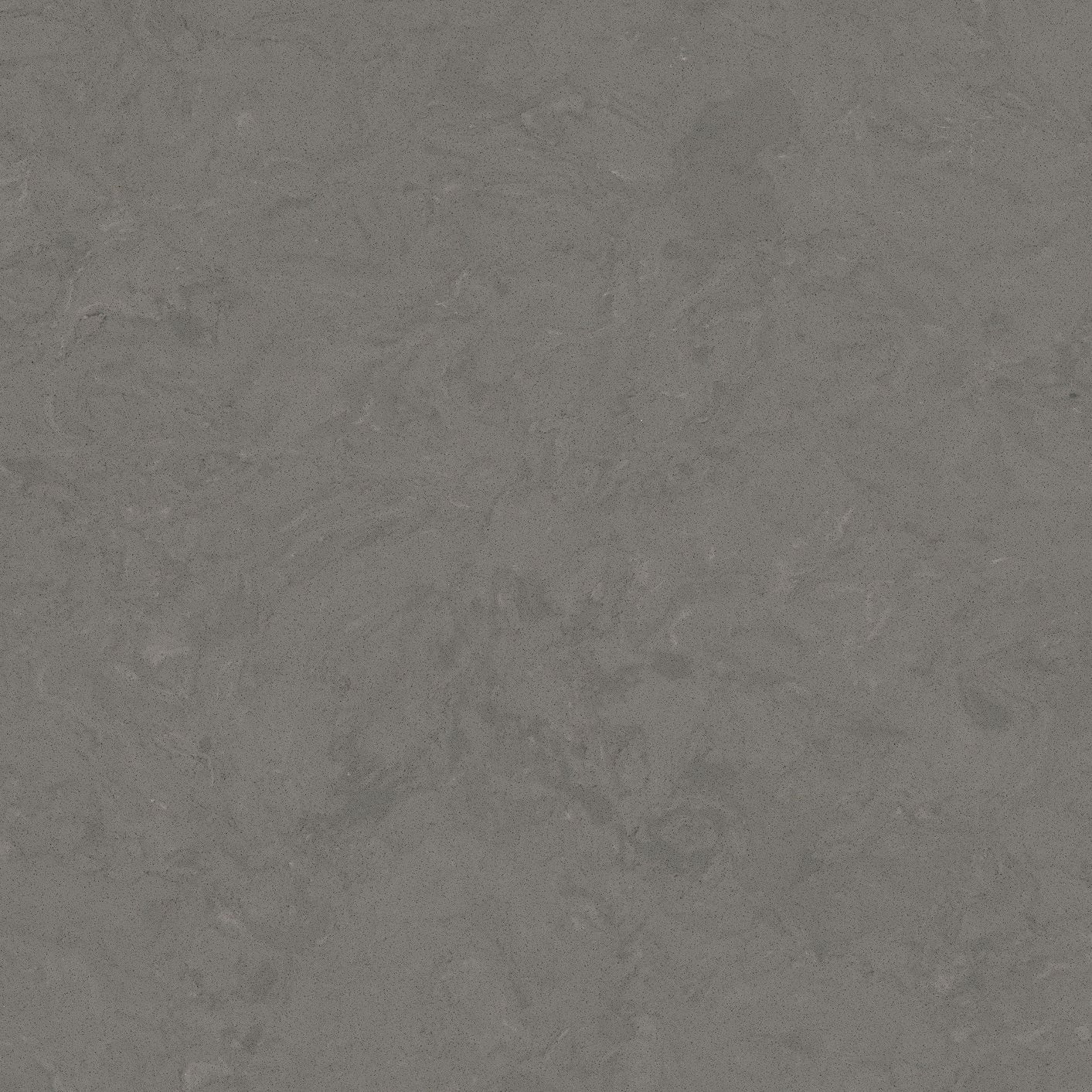 Cambria Carrick Matte design detail
See more of this space in our green kitchen roundup and find another gray rustic table kitchen island in our roundup of farmhouse kitchen ideas.
7. L-shaped kitchen island with Cambria Ella
An L-shaped island is a versatile kitchen-island style that provides more surface and storage for a functional, high-use kitchen. Whether you want to entertain in your kitchen, dine at the island, or have ample space for meal prep, an L-shape can adapt to the needs of your space. This tailored transitional kitchen features and L-shaped island with Ella countertops and contrasting gray cabinetry, complemented by a hexagon tile backsplash and mixed metal accents.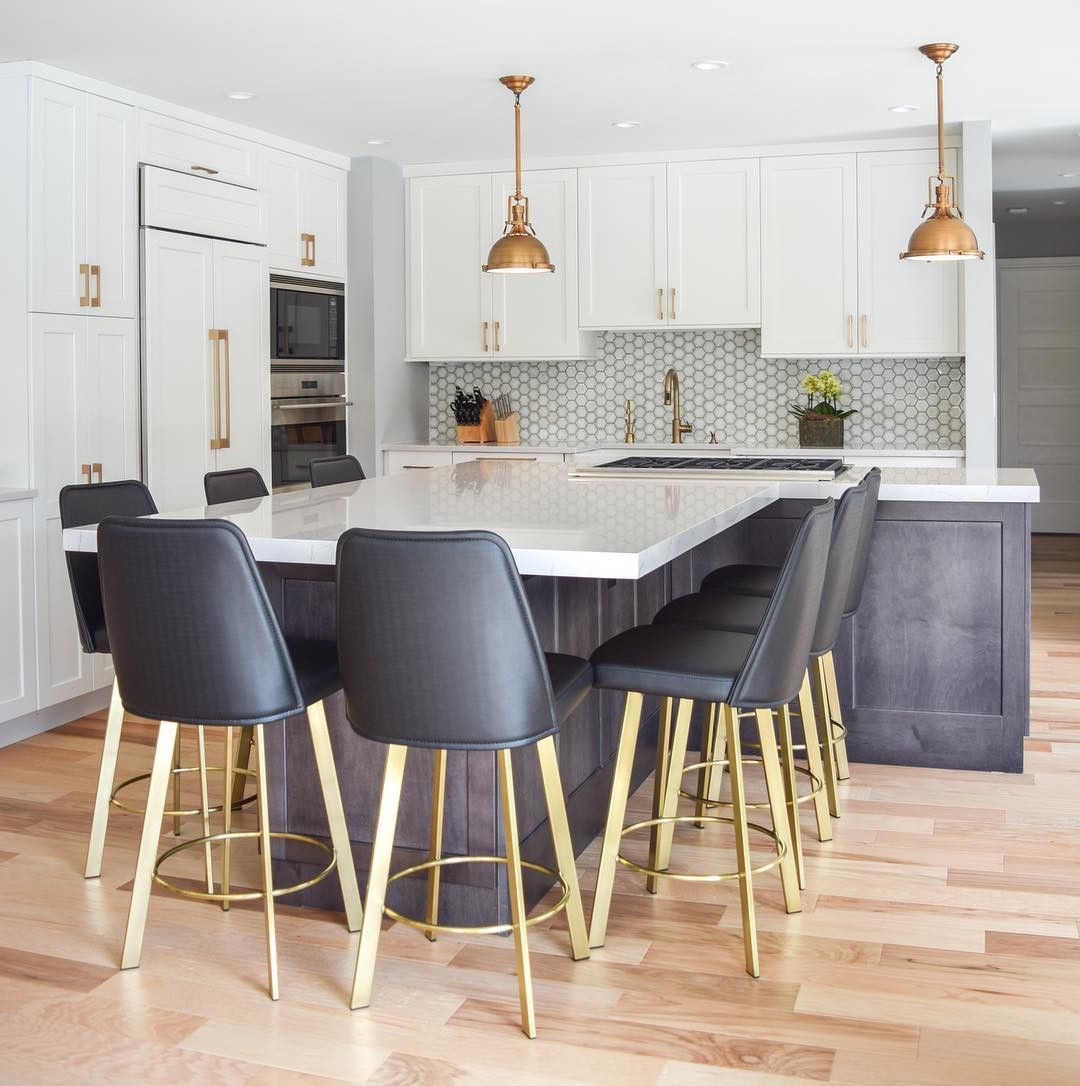 L-shaped island with Ella countertops and gray cabinetry. Space by: Coastal Cabinetworks and Deeann Design.
See more tips for planning your kitchen island layout and creating a beautiful, functional kitchen design.
8. Rounded kitchen island with three Cambria designs
Curved furnishings is one of the trends we've been watching and we love how it translates to kitchen islands. A rounded kitchen island is a stunning focal point in this luxe baker's kitchen, combining three Cambria designs in effortless fashion. The island features Blackpool Matte with a Fairbourne perimeter and offers three separate working areas. Custom features include a convenient pop-up outlet for small appliances and an integrated sink crafted of Brittanicca Gold intended for soaking baking sheets and racks. The kitchen island shape offers optimal traffic flow and the rounded edge provides a comfortable dining area.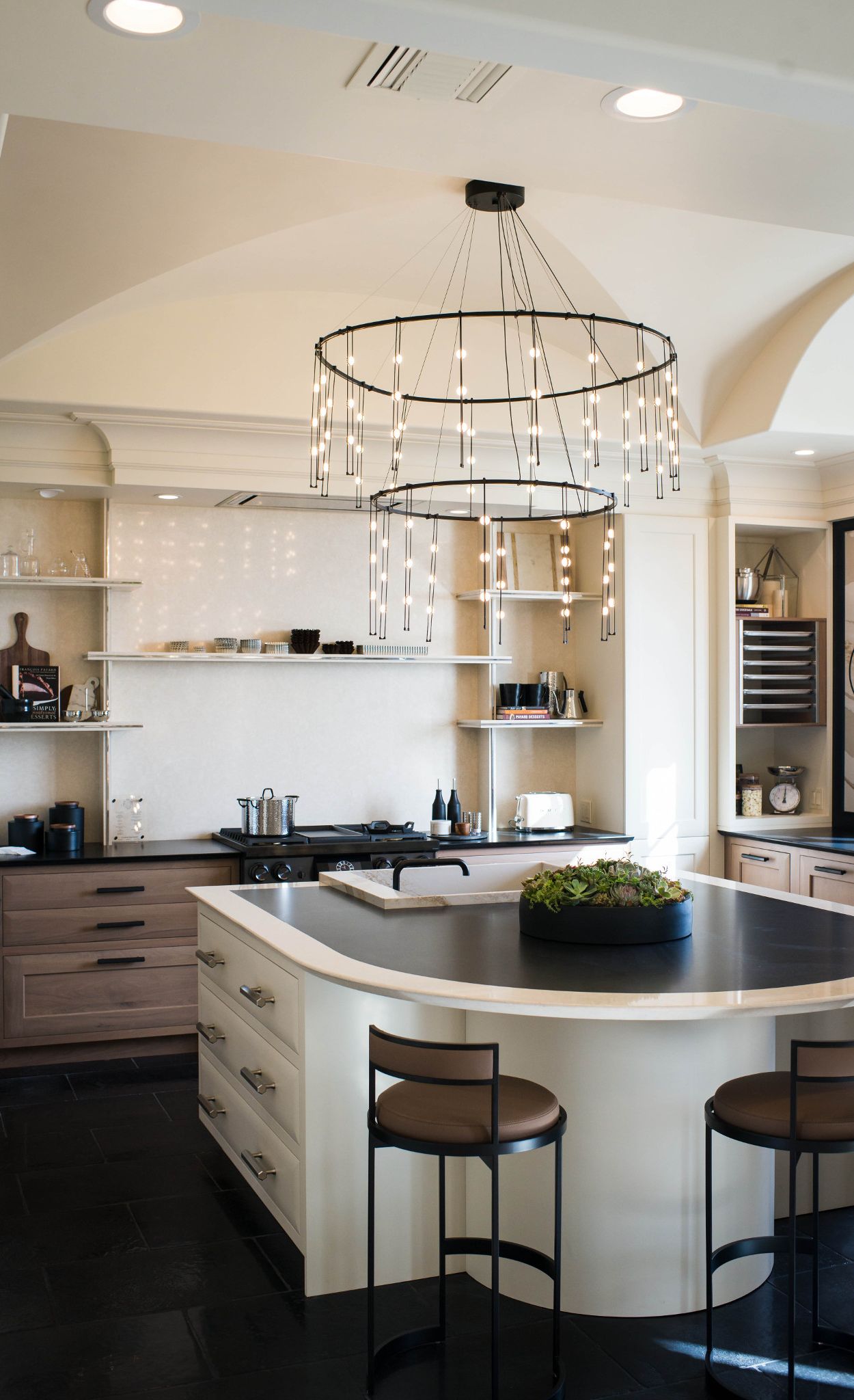 Rounded kitchen island with Blackpool Matte™ and Fairbourne™ countertops and Brittanicca Gold™ sink surround. Design by: Vyda Fine Interiors for Kips Bay Decorator Show House Palm Beach.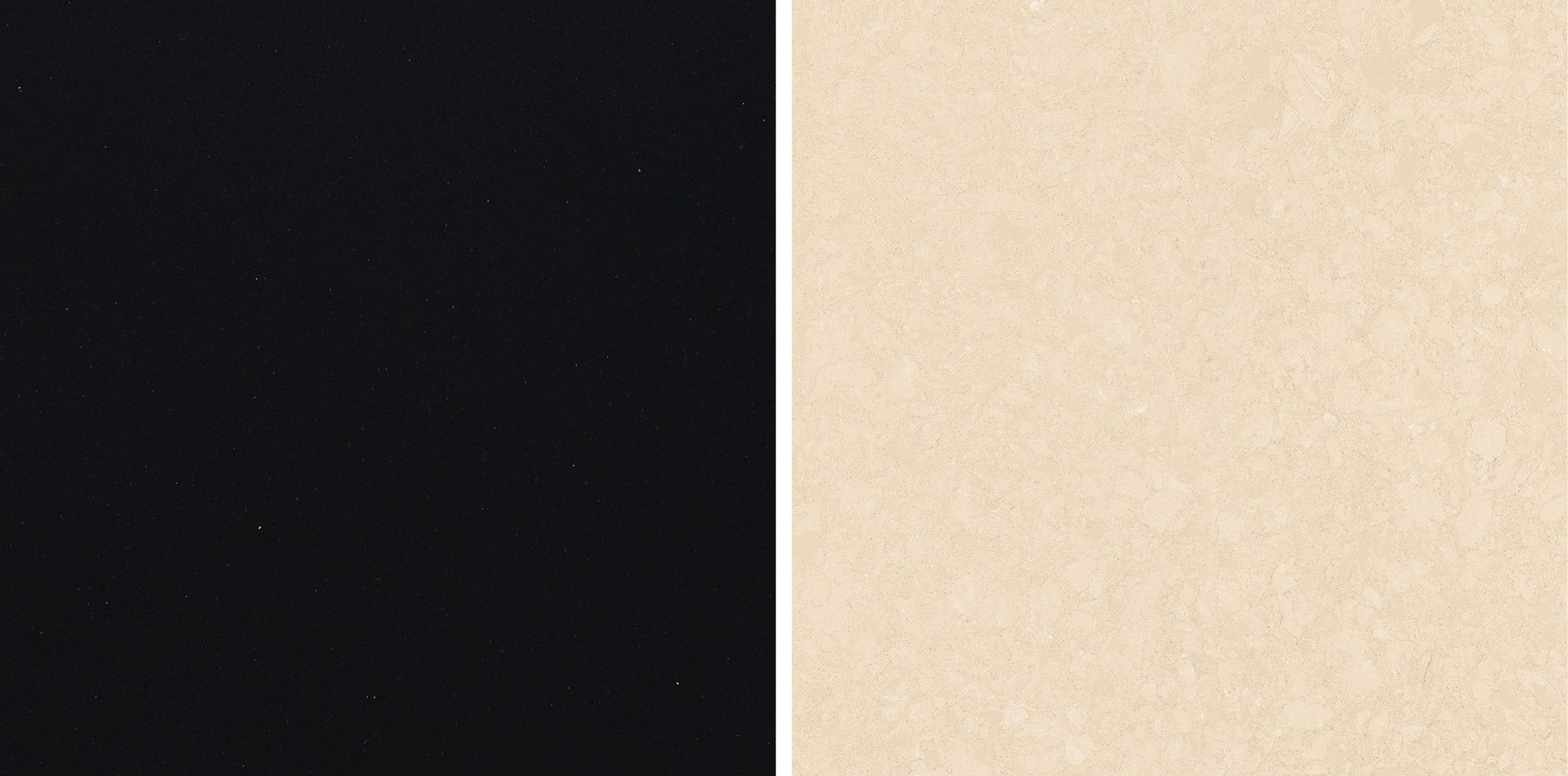 Blackpool Matte and Fairbourne design detail
See more of this luxe baker's kitchen from Kips Bay Palm Beach with insight from designer Vasi Ypsilantis.
9. Bold Brittanicca kitchen island with patterned tile
A stepped, waterfall-edge kitchen island with Brittanicca countertops and vibrant green tile brings fresh style to this lounge area kitchen in a residential community. We love spaces that play with pattern and color, and Brittanicca's bold, flowing veining makes it the perfect quartz countertop to pair with a statement geometric tile. A blue chevron-tile backsplash and pops of greenery add to the cheery vibes of space. As a food-safe alternative to marble and granite, Cambria is ideal for shared community or workplace kitchens, commercial kitchens, and home kitchens alike.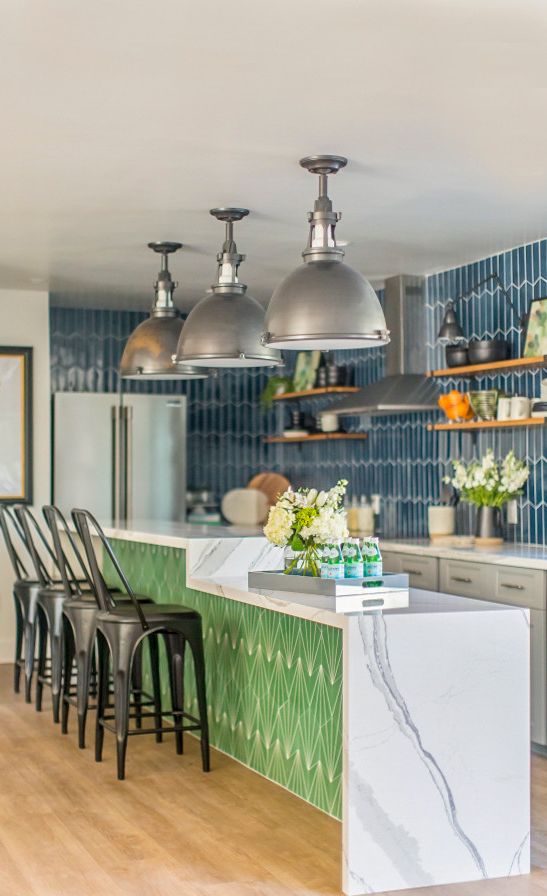 Bold, tiered kitchen island with Brittanicca countertops and green tile. Space by: C Dot Design Studio. Photo: Ryan Garvin.
10. Industrial rolling kitchen island with Skara Brae countertops
A rolling kitchen island is a great solution if you're short on space or want flexibility with your floor plan. This industrial kitchen island functions as a table and a portable prep space with a striking Skara Brae top. The bold veining of the quartz countertop pairs beautifully with dark-taupe cabinetry while the rolling base offers a minimalist, open feel in this loft kitchen.
Industrial rolling kitchen-island table with Skara Brae™ countertops.
Love this look? See more of this space and other casual contemporary kitchens. Explore this charming jewel-box kitchen with Skara Brae countertops and barrel-leg island.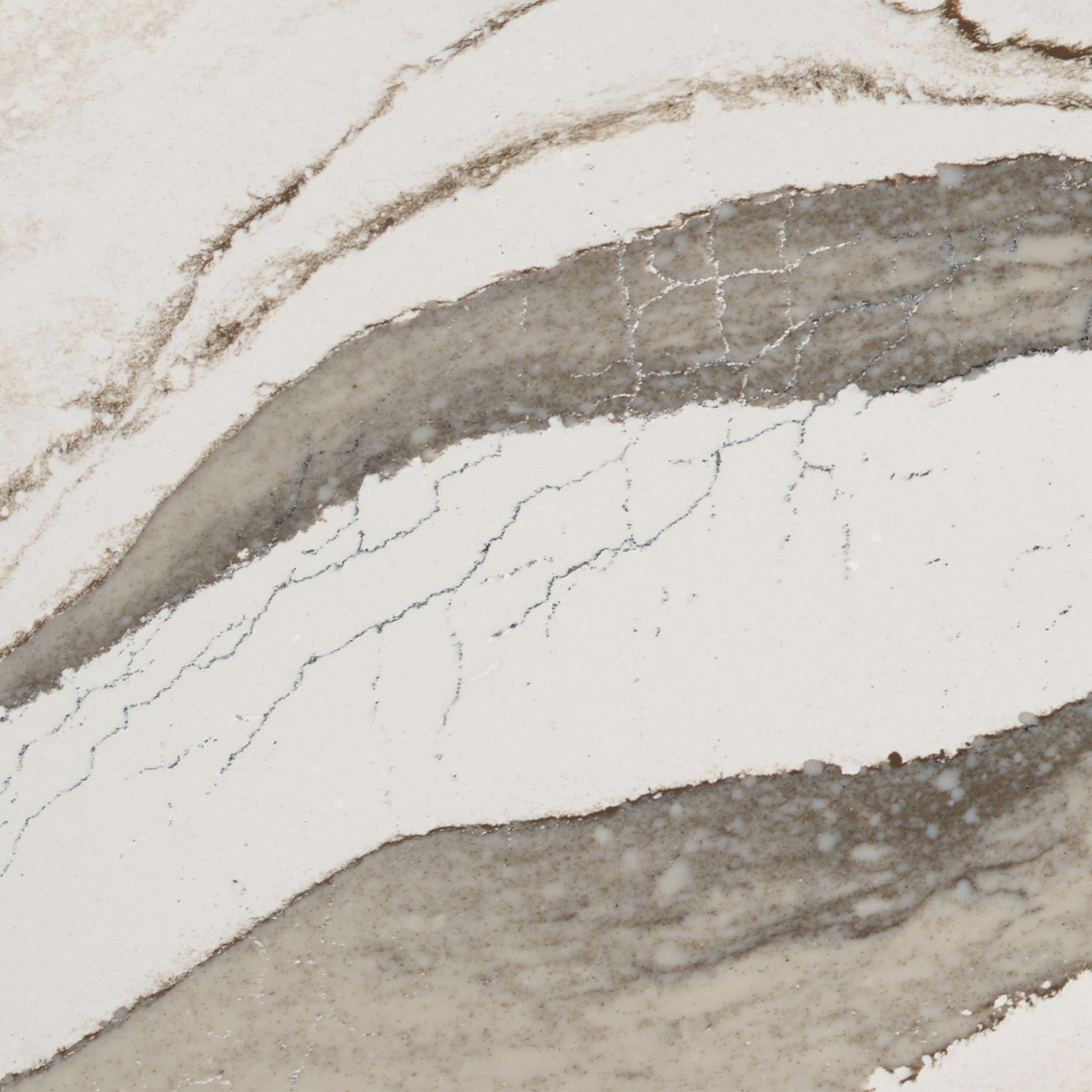 Cambria Skara Brae design detail
11. Mixed-material kitchen island with Ella countertops and exposed brick
You might have to get creative when a kitchen has structural features you cannot remove or original elements you want to preserve for character. This white kitchen embraces an exposed brick beam, integrated with pristine Cambria Ella countertops. Copper accents complete the rustic, industrial farmhouse look.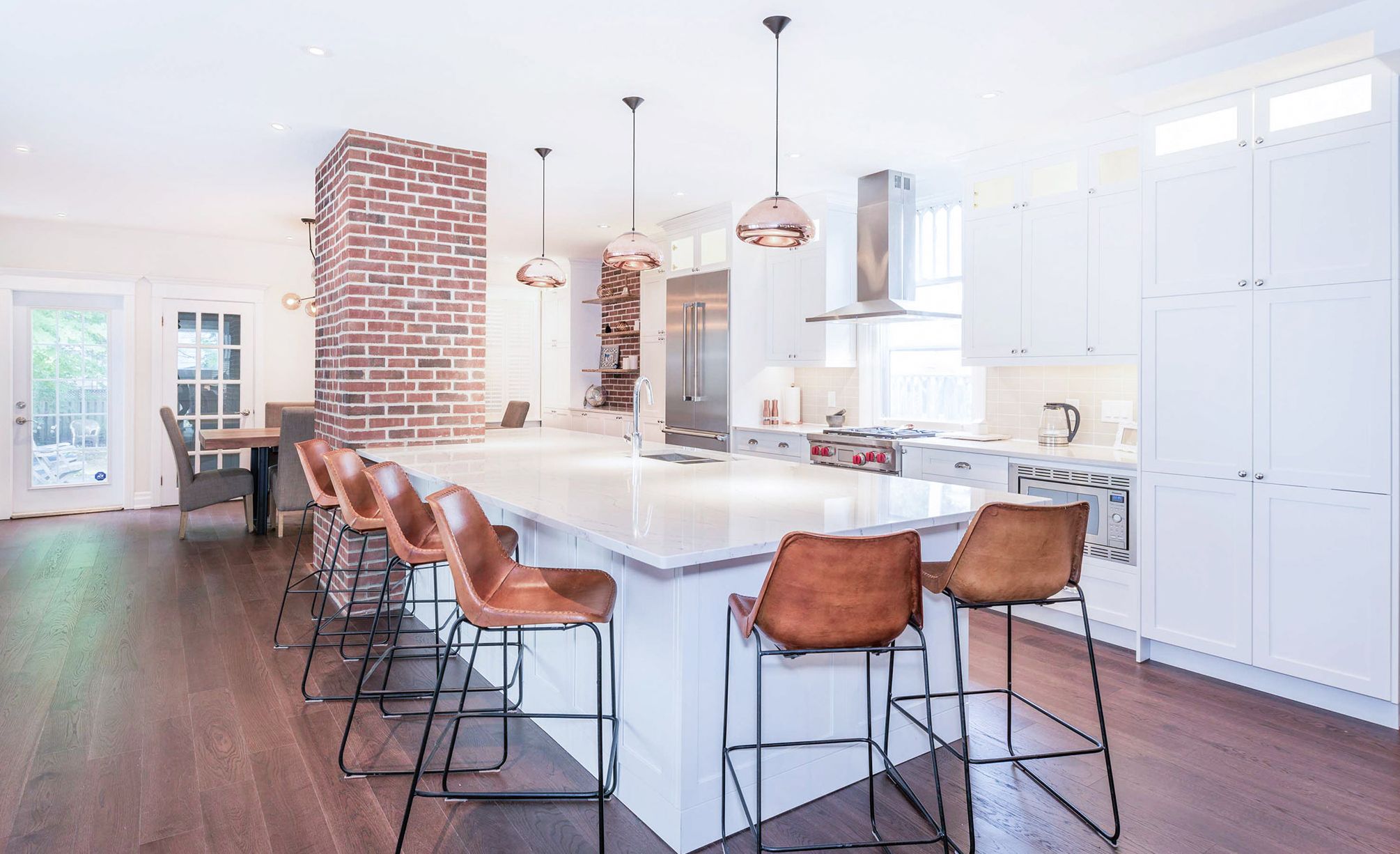 Kitchen island with Cambria Ella countertops and exposed brick beam. Space by YouNique Kitchens & Bath.
12. Kitchen island with matte black countertops and butcher block accent
An elegant mix of materials lends distinct character to this kitchen island. A rich, monochromatic Blackpool Matte countertop pairs with a walnut butcher-block accent (a signature element from the designer) and a custom brass edge detail. For a matte black countertop look, Cambria's Blackpool Matte is a smart alternative to soapstone countertops, offering durability, maintenance-free convenience, scratch resistance, and a nonabsorbent surface. The black quartz countertop contrasts the White Cliff Matte™ perimeter and features a thicker edge with brass metal banding, giving the island more visual heft in the space. Olive green cabinetry, a sliced flint backsplash, and brass accents complete the look.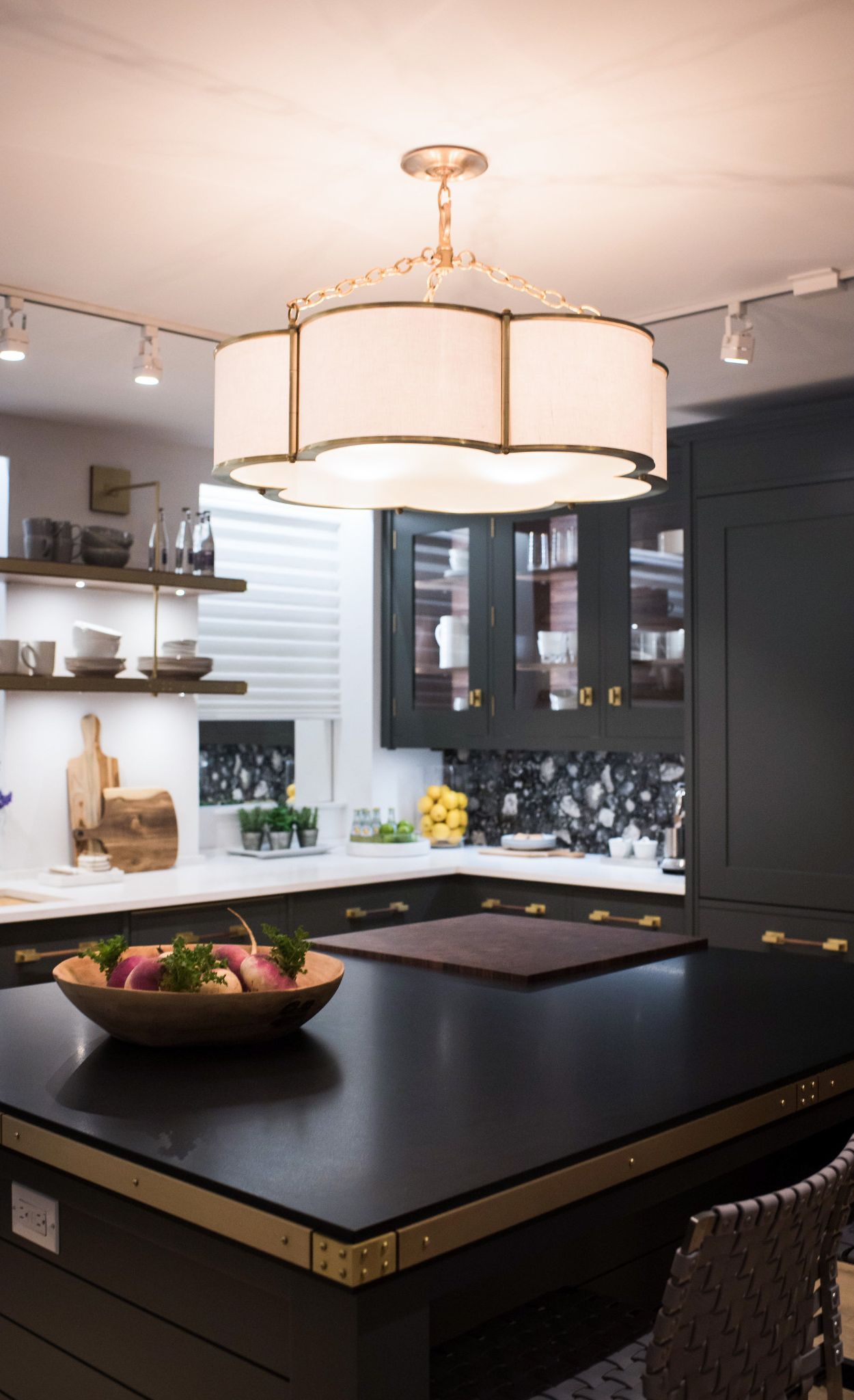 Kitchen island featuring Blackpool Matte countertops, walnut butcher-block accent, and gold-band edge detail. Design by Christopher Peacock for Kips Bay Decorator Show House.
See more of this sophisticated Kips Bay kitchen from Christopher Peacock.
13. Brittanicca Gold kitchen island with integrated bench and table
This luxe, high-contrast space showcases the beauty of Brittanicca Gold as a waterfall-edge island paired with a corresponding quartz backsplash, wood chevron flooring, rich black cabinetry, and copper accents. A gray wrap-around bench adds an industrial element to this glam kitchen, offering modern structural seating and a practical drop zone. The platform can also serve as a booster step for young children. The other side of the island features a stepped countertop for an integrated quartz dining table.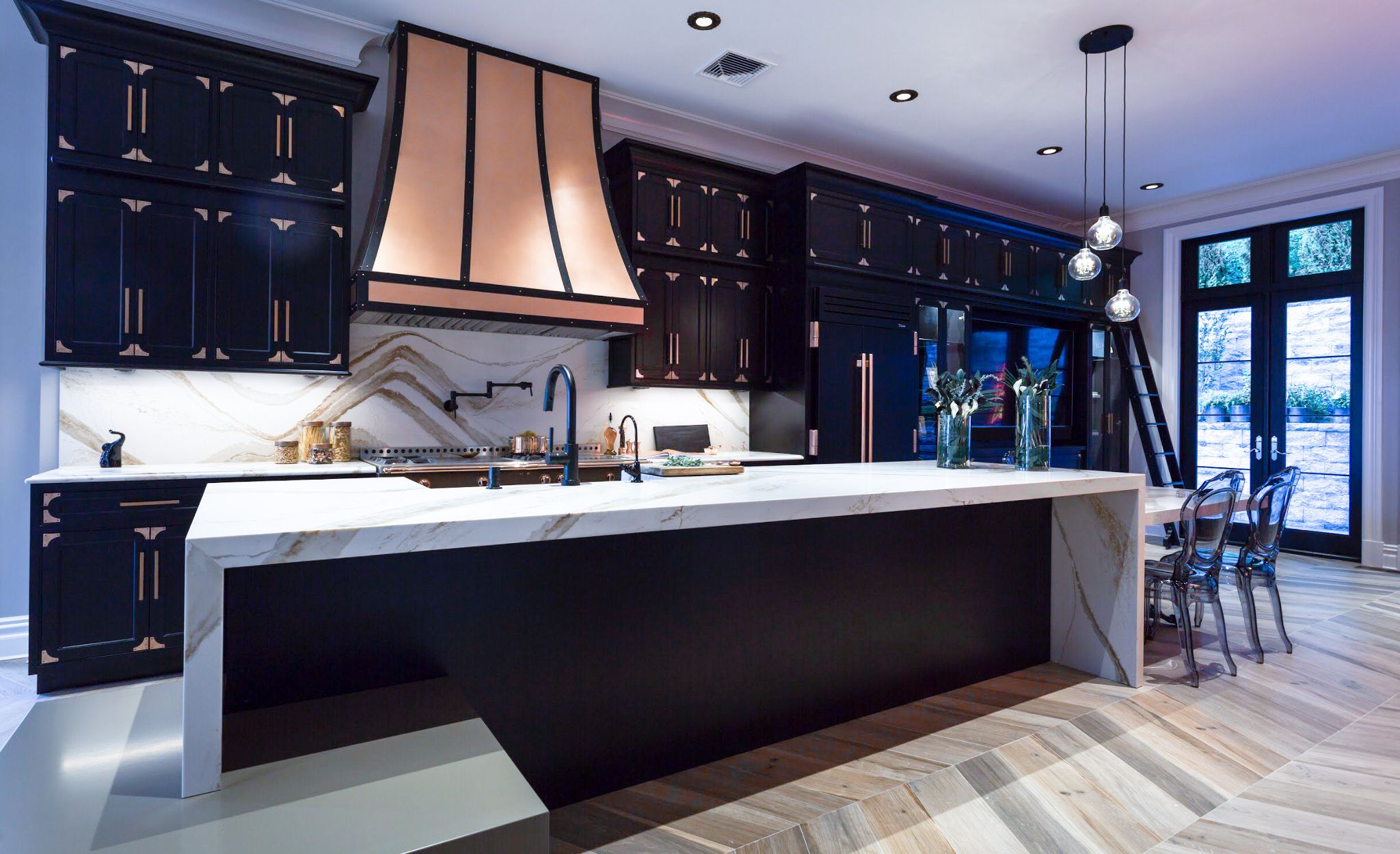 Brittanicca Gold waterfall-edge island with integrated gray bench. Space by: Vanessa Deleon.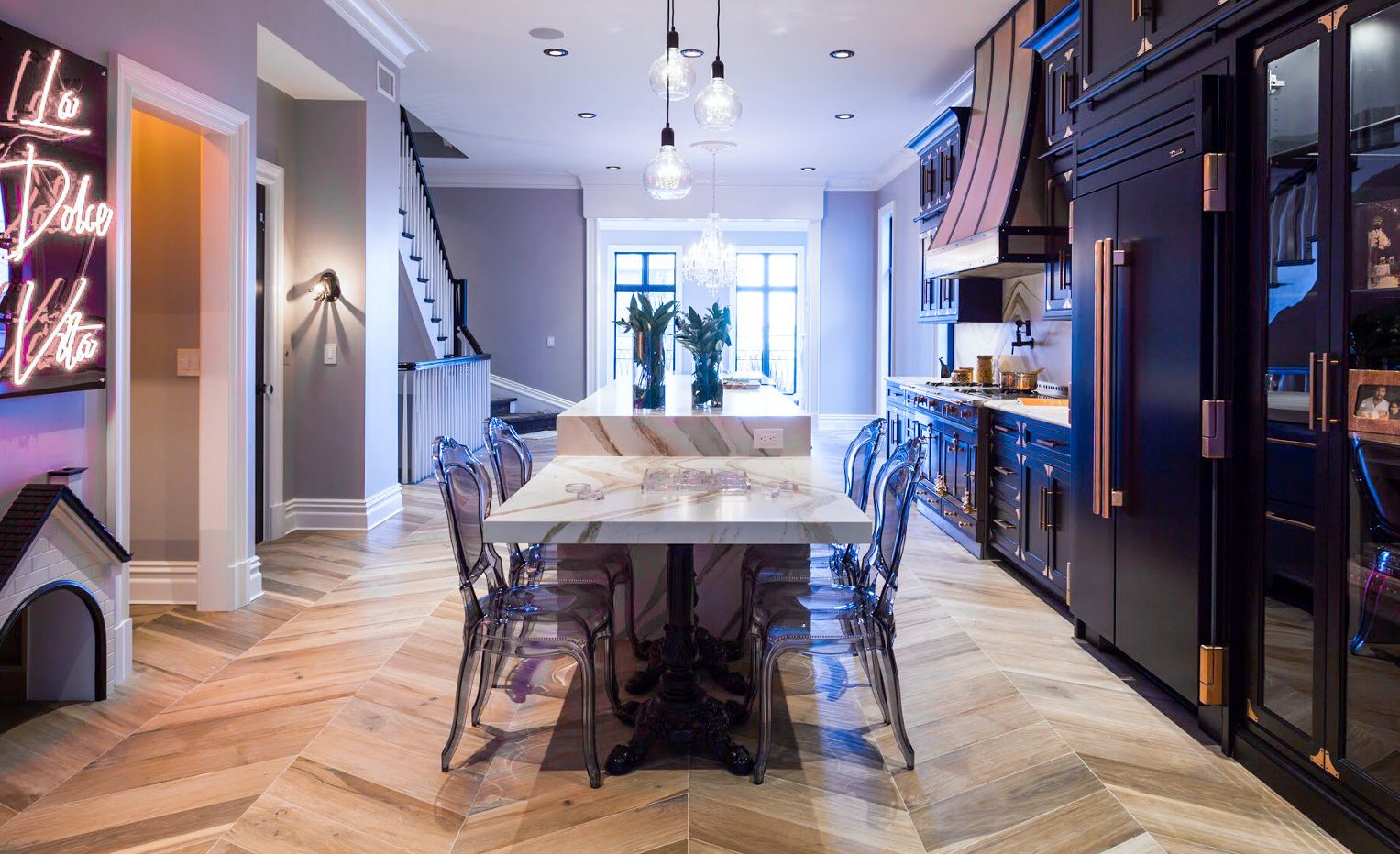 A stepped island creates a dining space showcasing the veining of Brittanicca Gold. Space by: Vanessa Deleon.
Love this modern glam kitchen look? See other kitchens with Brittanicca Gold countertops and get more ideas for high-contrast design and making a statement with matte black.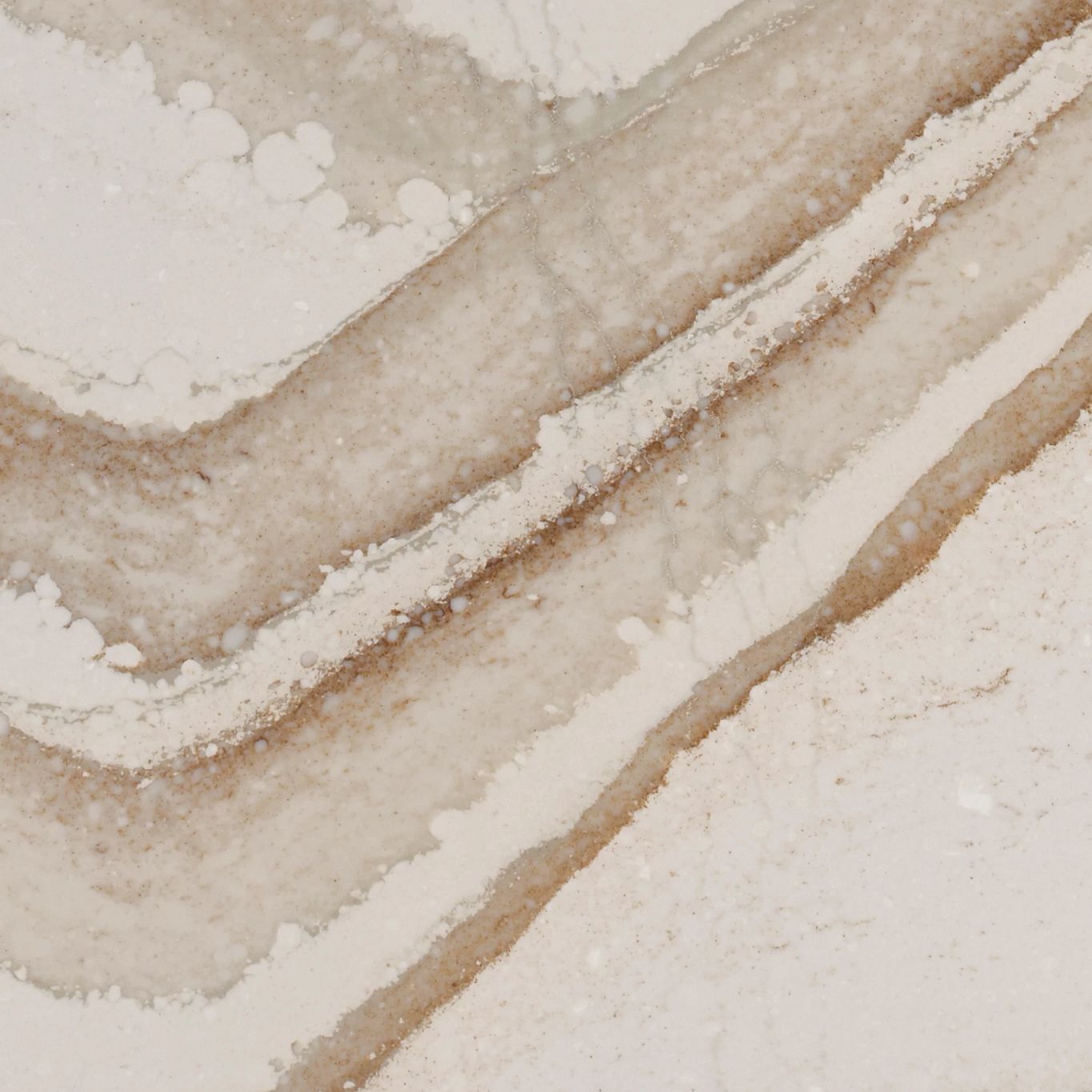 Cambria Brittanicca Gold design detail
14. Furniture-style kitchen island with Torquay and butcher-block accent
Furniture-like islands are gaining momentum in kitchens for timeless style. We love the heritage furniture look of this pale blue kitchen island with Torquay countertops and a butcher block accent. Torquay's marbled, sandy undertones pair well with natural wood accents and a pop of color for cozy warmth in white kitchens.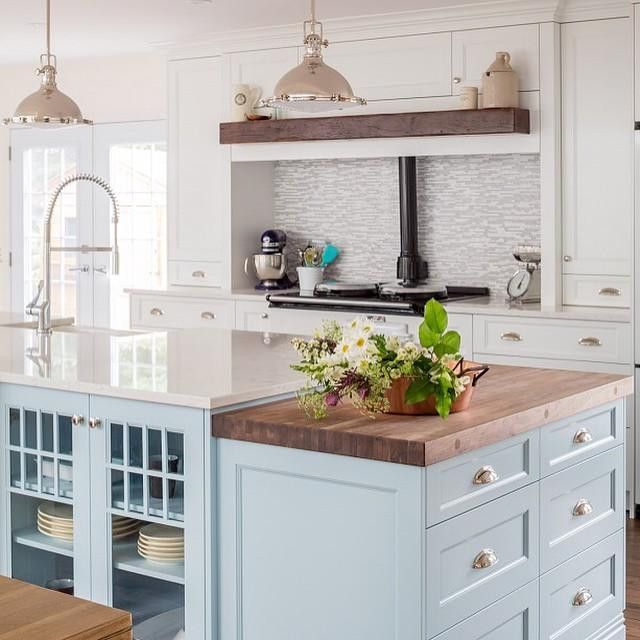 Torquay™ pairs with soft blue cabinetry and a butcher block accent in this furniture-style kitchen island. Space by: Paragon Kitchens Photo: Jason Hartog Photography.
See more blue and white kitchen looks and kitchens with Torquay countertops.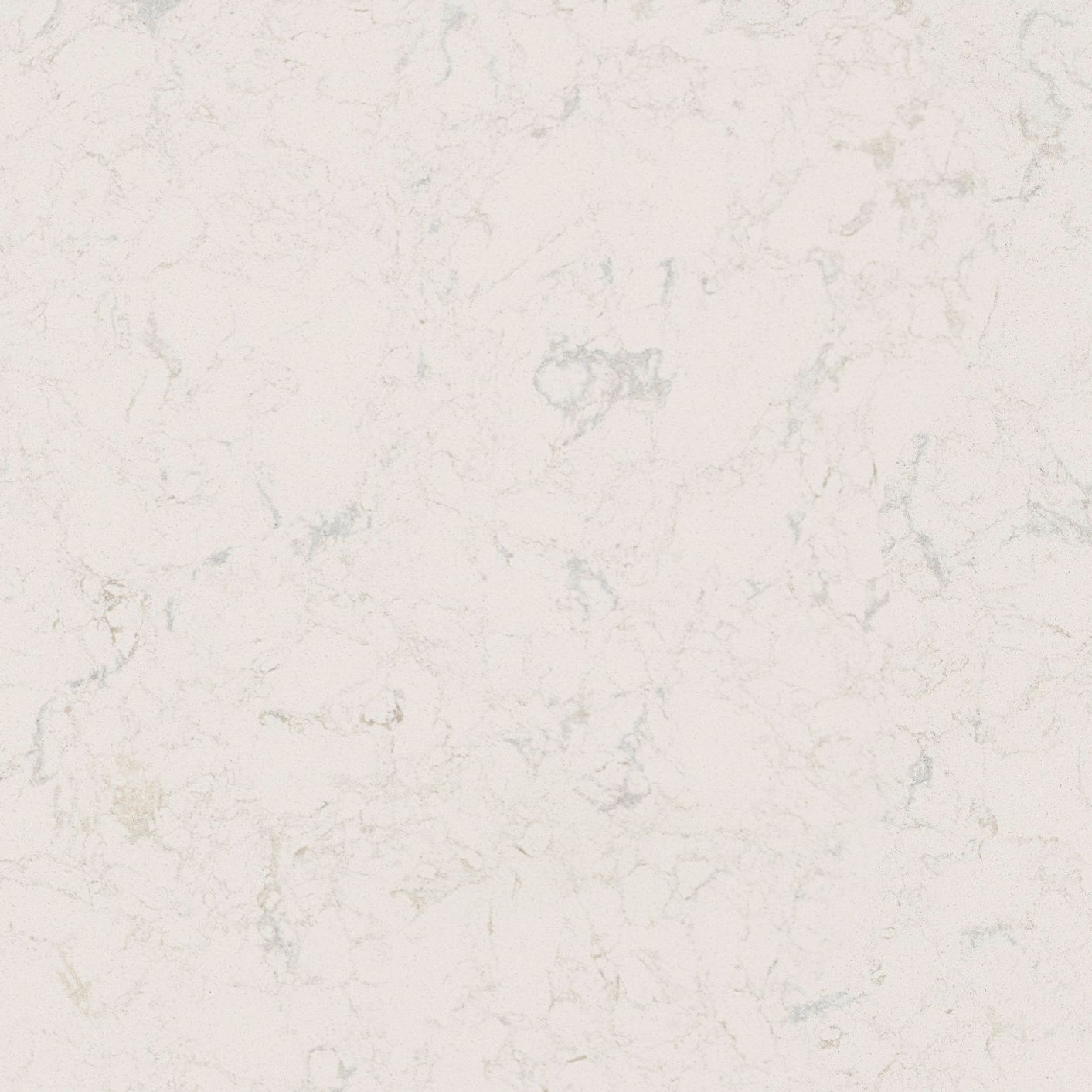 Cambria Torquay design detail
Inspired by these kitchen islands that break the mold? Order a sample of any of the featured Cambria designs to help plan your space.
Ready to begin your project? Contact a dealer near you to bring your custom island to life. Share your finished project with us on social media using the hashtag #MyCambria and your stunning Cambria kitchen island may be in our next roundup!