Counter space, storage, seating, and style. What's not to love about a kitchen island? We can't get enough of island inspiration, and lately we've been captivated by spaces that switch things up with unconventional shapes, unique features, and statement styles. Whether you want to showcase your design personality or need a special solution for your space, these gorgeous kitchen islands can inspire you to think outside the box (or rectangle).
Unique Kitchen Island Shapes To Consider
1. Triangle Kitchen Island with Ella Countertops
Ensure your kitchen is the family gathering spot with an island that makes everyone part of the action. Ensure your kitchen is the family gathering spot with an island that makes everyone part of the action. The distinct shape of this Ella Matte island is ideal for dining and conversation. The triangular kitchen island shape allows for more seating and the centralized sink keeps you involved while doing prep or cleanup. The angular island also defines the kitchen space in an open-plan layout, and a neutral color palette with white quartz countertops keeps it timeless. Glass pendants, two-tone cabinetry, and industrial stools complete the kitchen look.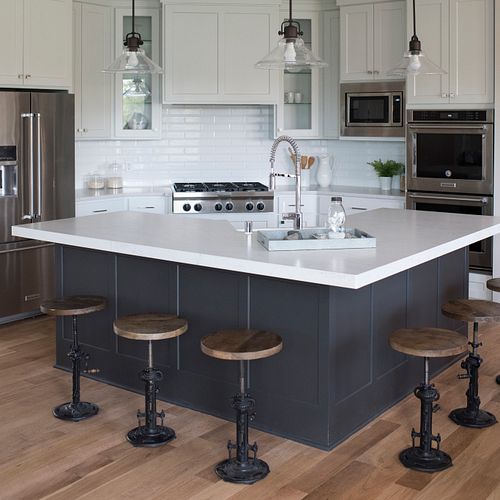 2. Kitchen Islands with Ample Storage
Kitchen islands aren't just for multiplying surface space. Get the most out of your kitchen island by utilizing extra storage space below the countertop. These wooden pullout drawers with deep beds provide ample storage when you're short on space. Adding in extra storage dividers can help maximize the organization within for easy access—the idea is to reduce the chances of accumulating those junk drawers where things go to disappear. This blonde wood and black hardware against Cambria White Cliff creates a charming, modernized farmhouse feel that is peak coziness.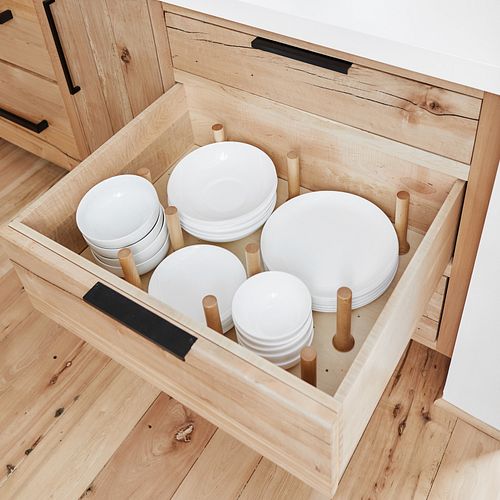 3. Two-Tier Kitchen Island with Brittanicca
This two-tiered Brittanicca kitchen island takes a twist on traditional with a quartz dining bar wrapped around one side of the standard rectangular-shaped island. The Brittanicca dining bar showcases more of the beautiful gray veining with a thick mitered edge profile. Cambria designs like Brittanicca are a strong and stain-resistant marble alternative, making them the perfect surface to enjoy a morning coffee or an evening glass of wine.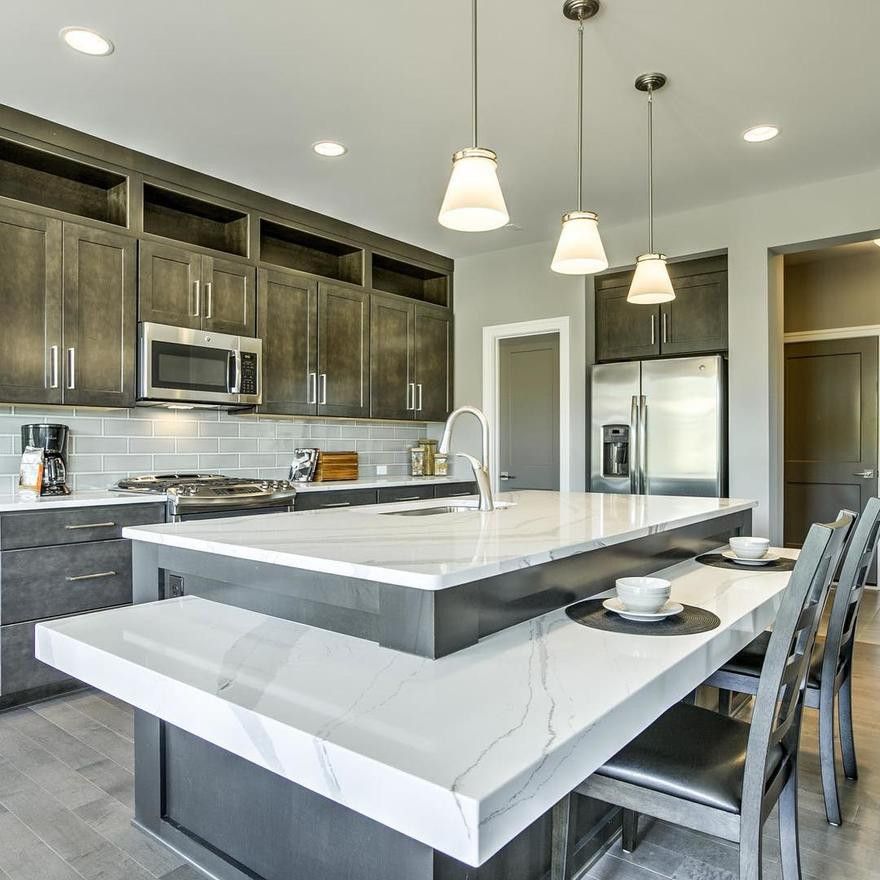 Love this striking marbled quartz countertop? Get more ideas for Brittanicca kitchens.
4. T-Shaped Kitchen Island with Cambria Rose Bay and Hadley
A T-shaped tiered kitchen island can create clear zones for prep, cleaning, cooking, and dining. This multitiered floating island featuring black-and-white Rose Bay and navy Hadley countertops stands out with contemporary style. Black-stripe detailing on the island base and perimeter shelving complements the bold quartz countertop pairing. The Rose Bay countertops form an L-shape with distinct tiers for cooking and prep. The navy Hadley waterfall-edge countertop creates a chic dining bar with black barrel stools.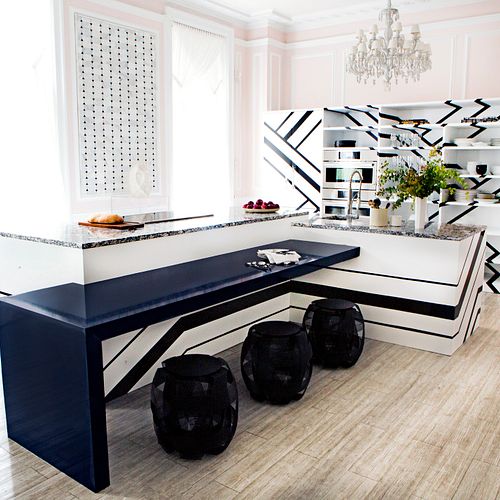 5. Curved Kitchen Island With Seating
This multi-level Cambria island exemplifies midcentury modern style with color-blocking and contrast. The island features a pure white quartz countertop design, White Cliff, for the prep station and range top. This, along with the all-white perimeter of the kitchen, contrasts a rich black quartz countertop, Cambria Black, as a spacious island dining table. Parallel waterfall edges creating crisp, clean lines while exposed beams and a trio of pendant lights add visual interest above the island.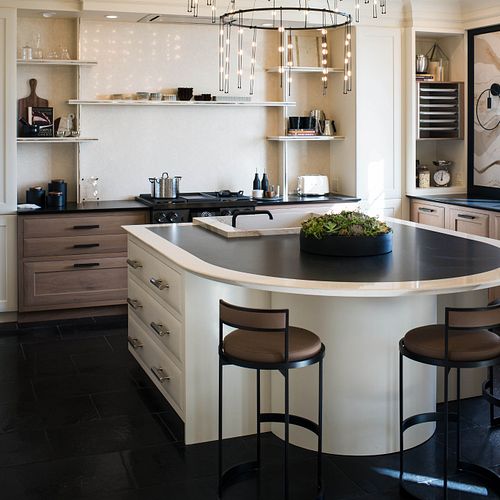 6. Farmhouse-Style Island
A kitchen island table doesn't have to mean a dining space. A rustic farmhouse table-style kitchen island adds charm and character to a farmhouse kitchen and is a great option when you're short on space. This lovely kitchen features an olive green farmhouse table island topped with Carrick Matte. This open kitchen island makes a charming focal point and functional workspace with high-performing quartz countertops. The gray Cambria design is a maintenance-free concrete alternative that complements the marble-look Brittanicca Matte™ perimeter for two-tone countertop style.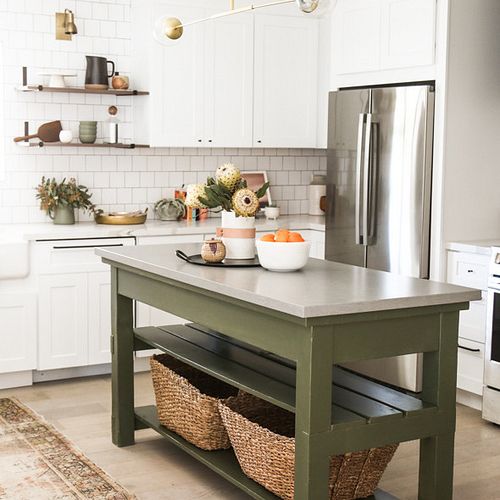 See more of this space in our green kitchen roundup and find another gray rustic table kitchen island in our roundup of farmhouse kitchen ideas.
7. Vintage-Inspired Kitchen Island
This vintage-inspired kitchen island features dim lighting and warm earth tones, giving it a whimsical, rustic feel. With an off-centered pedestal stand, this design provides ample surface space for prepping and serving. Backlit shelving against the mossy Wentwood backsplash and under-counter lighting can add a little extra detail that will transport you back in time and mimic a vintage design that is still on the top trend list today.
8. Industrial Rolling Kitchen Island with Skara Brae Countertops
A rolling kitchen island is a great solution if you're short on space or want flexibility with your floor plan. This industrial kitchen island functions as a table and a portable prep space with a striking Skara Brae top. The bold veining of the quartz countertop pairs beautifully with dark-taupe cabinetry while the rolling base offers a minimalist, open feel in this loft kitchen.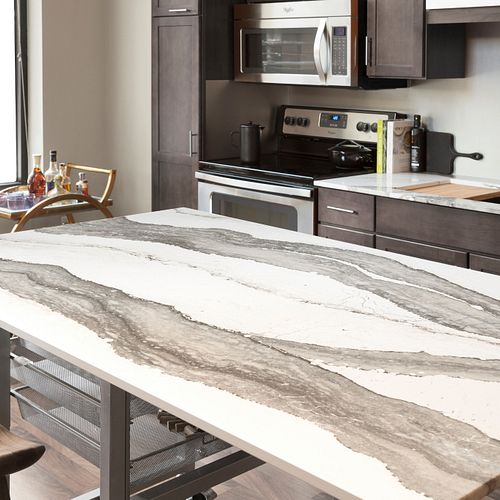 Love this look? See more of this space and other casual contemporary kitchens. Explore this charming jewel-box kitchen with Skara Brae countertops and barrel-leg island.
9. Be Bold with a Brittanicca Gold Kitchen Island
This luxe, high-contrast space showcases the beauty of Brittanicca Gold as a waterfall-edge island paired with a corresponding quartz backsplash, chevron wood flooring, rich black cabinetry, and copper accents. A gray wraparound bench adds an industrial element to this glam kitchen, offering modern structural seating and a practical drop zone. The platform can also serve as a booster step for young children. The other side of the island features a stepped countertop for an integrated quartz dining table.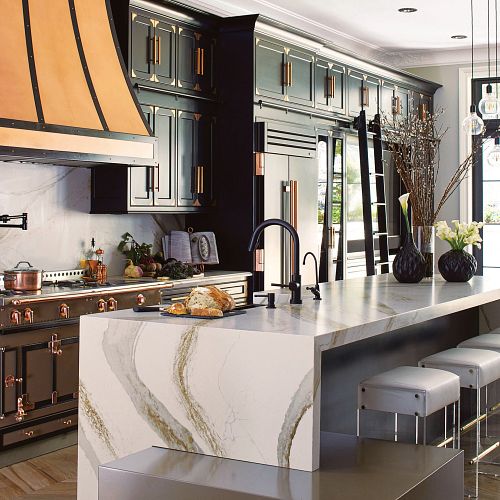 Love this modern glam kitchen look? See other kitchens with Brittanicca Gold countertops and get more ideas for high-contrast design and making a statement with matte black.
10. Butcher Block Kitchen Island
An elegant mix of materials lends distinct character to this kitchen island. A rich, monochromatic Blackpool Matte countertop pairs with a walnut butcher-block accent (a signature element from the designer) and a custom brass edge detail. For a matte black countertop look, Cambria's Blackpool Matte is a smart alternative to soapstone countertops, offering durability, maintenance-free convenience, scratch resistance, and a nonabsorbent surface. The black quartz countertop contrasts the White Cliff Matte™ perimeter and features a thicker edge with brass metal banding, giving the island more visual heft in the space. Olive green cabinetry, a sliced flint backsplash, and brass accents complete the look.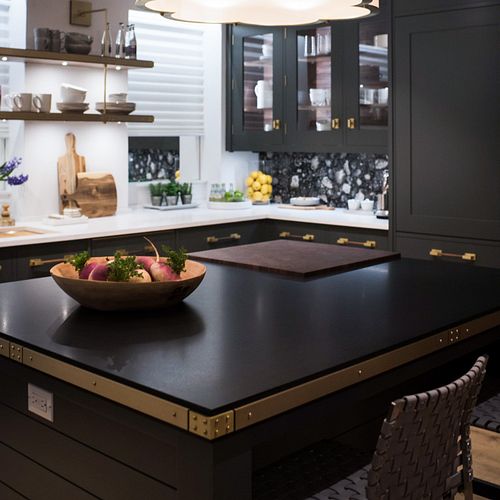 11. Furniture-Style Kitchen Island
Add some style, warmth, and character to your kitchen by repurposing a piece of furniture for your island, or add some furniture style inspiration to turn your counter into a gathering space. Furniture-style islands are chic and inviting to all guests to gather round. The delicate veining of Brittanicca Gold countertops against a light wood stump functions for support and natural elegance among a pink and gold color scheme.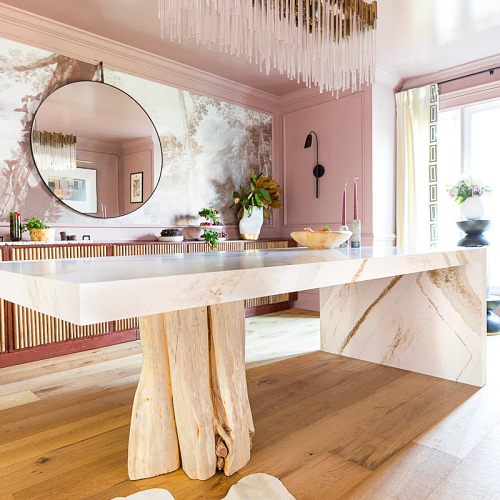 Ideas to Make Your Unique Kitchen Island Come to Life
12. Add a Pop of Color
Don't be afraid to go bold. Adding a pop of color in the cabinetry can bring any space to life and add a little personality to your kitchen. Pair against whites, blacks, or other neutrals with some gold accents to complete this sophisticated style—the geometric wave of this Bentley quartz countertop has a classy and timeless effect while still being ultra unique. Whether you opt for a cool turquoise or a warmer shade, playing with color is a great way to open up your kitchen with a little more dimension.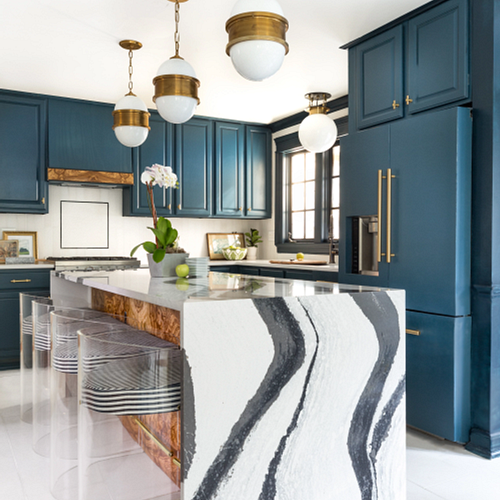 13. Center Your Island As the Focal Point
Focal points are a must-have to bring out the elegance of your kitchen. A suave design that pulls your eye to the center of the space can sometimes be the very thing that pulls everything together. Centering your island as your statement piece with a cool veining design and matching backsplash adds a multitude of dimension to your kitchen and opens up the space, creating a nice flow from one side of the room to the other. Bentley intersects a white background with translucent black and charcoal veins, with muted light gray spatters and cross veins dispersed throughout.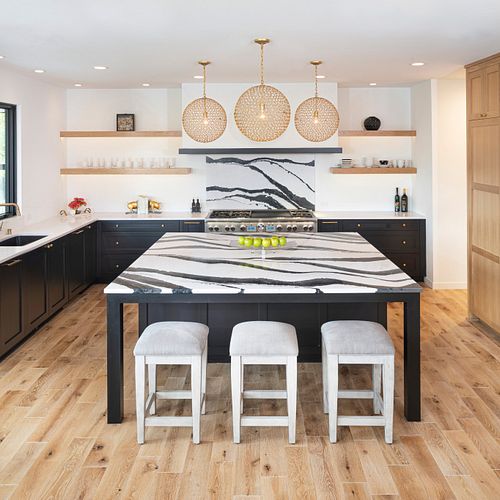 14. Mix Elements for a Dramatic Effect
You might have to get creative when a kitchen has structural features you cannot remove or original elements you want to preserve for character. This white kitchen embraces an exposed brick beam, integrated with pristine Cambria Ella countertops. Copper accents complete the rustic, industrial farmhouse look.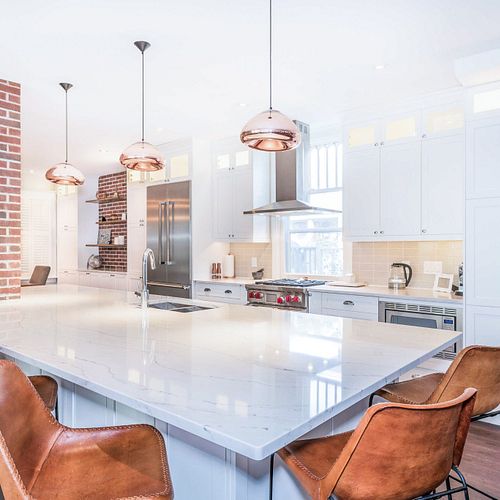 15. Contrast Dark Countertops with Light Cabinetry
Dark surfaces tend to absorb light, while lighter surfaces reflect it. That's why we love this contrast between light cabinetry and dark countertops—these white cabinets create an airy atmosphere for the light to flow in from the windows and brighten up the space, while the counters can soak up any harsh lighting. Add a herring bone tile backsplash for that texture and you've got a solid kitchen that'll never go out of style.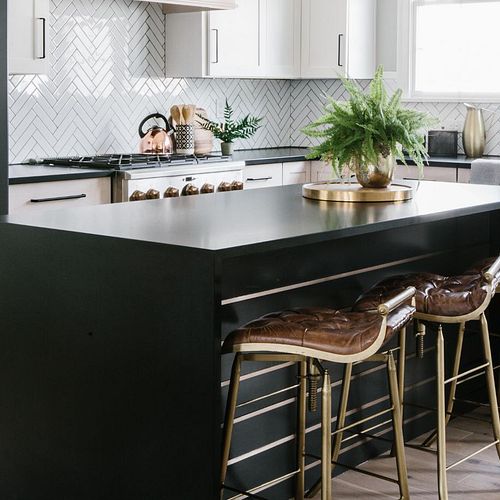 16. Hang Fun Light Fixtures Above the Island
Whether your kitchen has sufficient natural light or could use a little extra ambiance, finding the right light fixture to hang above your island is almost like adding jewelry for your home. Drape the ceiling with a luxe finish like these crystal pendants. Overhead lights are a great filler space between the countertop and ceiling, and elevate the kitchen from modernized to personalized.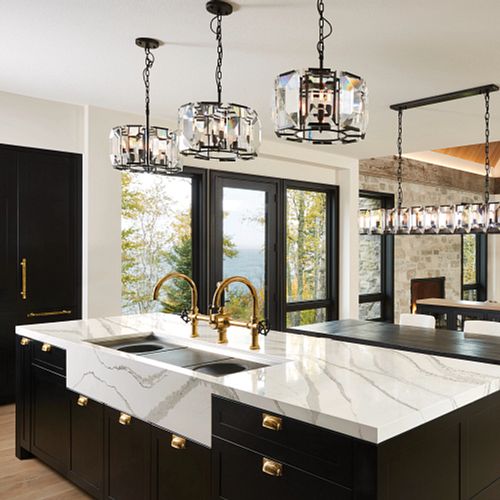 17. Choose Seating that Makes a Statement
There's something about all-white kitchens that seem to stand the test of time. It's a design you'll never tire of but if you're looking for an easy way to switch in some spunk, changing out the island seating is a go-to for those of us looking for a style switch up. Low-rise wicker bar stools with a half back and black metal bottoms complete this neutral look, adding in a bit of texture in the woven seating. It's just the right amount of coziness to complete this modern look, and pairs well with the bold, black hardware and Brittanicca countertop and backsplash.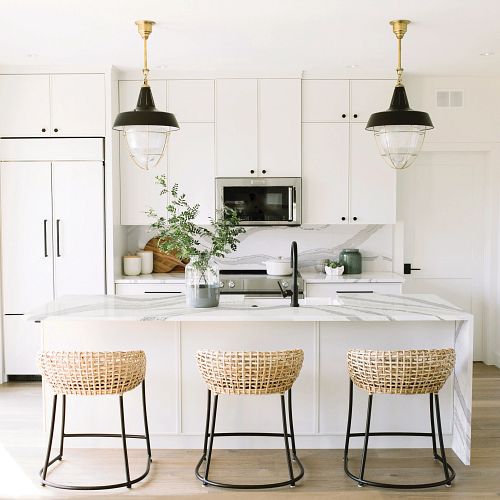 18. Prioritize Durable Kitchen Countertops
Known for its strength and abundance, quartz countertops are one of the toughest and most reliable choices around. Quartz is one of the hardest minerals on earth, thus providing strong, compact slabs that will hold up a timeless design for years down the line. Cambria quartz surfaces are born from nature, crafted, and delivered right to your kitchen so you can get the most out of what the natural world has to offer in an elegant and sleek form.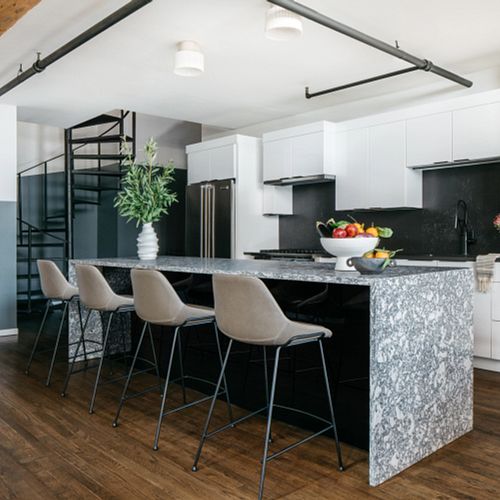 Find Your Shape and Style with Cambria
At Cambria, we pride ourselves on breaking the traditional mold by providing our clients with showstopping designs and unparalleled customer service. To see our beautiful quartz countertops before committing to a project, order a sample to see which Cambria design is right for you.