In the late 1920s, renowned architect Stanley Anderson gut renovated a 1906 colonial style home—originally designed by Frost & Granger—for investment banker William Allan Pinkerton Pullman, a relative of the famed car developer and manufacturer George M. Pullman.
The turn-of-the-century architecture would later help inspire the world-class gardens also on the property by New York landscape architect Annette Hoyt, who worked with Pullman in 1937.
An avid gardener and co-founder of the Chicago Botanic Garden, Pullman planted Ginkgo trees, rare Chinese maples, Japanese maples, and boxwood hedges, many of which still exist on the property today. Both the interior and exterior designs have stood the test of time so, when the home was named for the 2020 Lake Forest Showhouse and Gardens, participating designers were tasked with honoring the heritage and character of the house for a modern audience.
Since 1985, the Lake Forest Auxiliary Chapter of the Infant Welfare Society of Chicago has hosted a nationally recognized designer Showhouse and Gardens to benefit the Angel Harvey Family Health Center of the Infant Welfare Society of Chicago, which provides healthcare to Chicago's medically underserved. Since its inception, the Lake Forest Showhouse has raised in excess of $4 million for the deserving cause.
This year, more than 30 interior and landscape designers, including honorary chair Paloma Contreras, transformed the 23-room, 11,000-square-foot east Lake Forest Pullman property into a showstopping tribute to the latest in design and décor.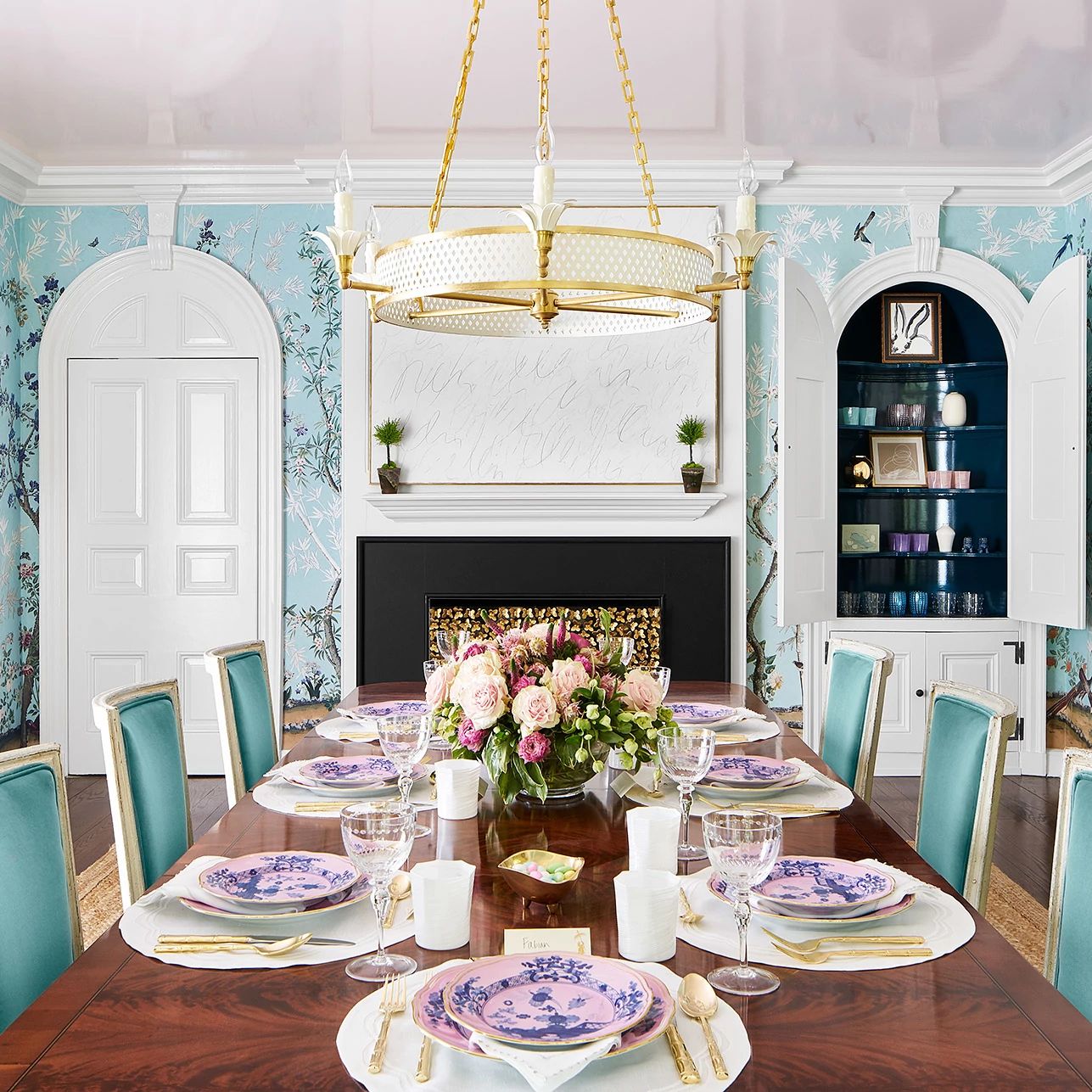 That, of course, includes Cambria with its 200+ industry-leading designs, all of which feature unparalleled strength and are crafted from the purest natural materials on Earth. Cambria natural quartz surfaces combine both design and durability—they're nonabsorbent, scratch and stain resistant, and maintenance free—for a lifetime of beauty.
Powder Room with Punch
Guests enter through the foyer and are greeted by a cloak room and powder room designed by Sarah Vaile Design. She created the powder bathroom jewel box with a color palette—Sherwin-Williams Framboise—inspired by the burgundy Rolls Royce driven by Princess Margaret in The Crown. In fact, Princess Margaret served as the muse for the entire space.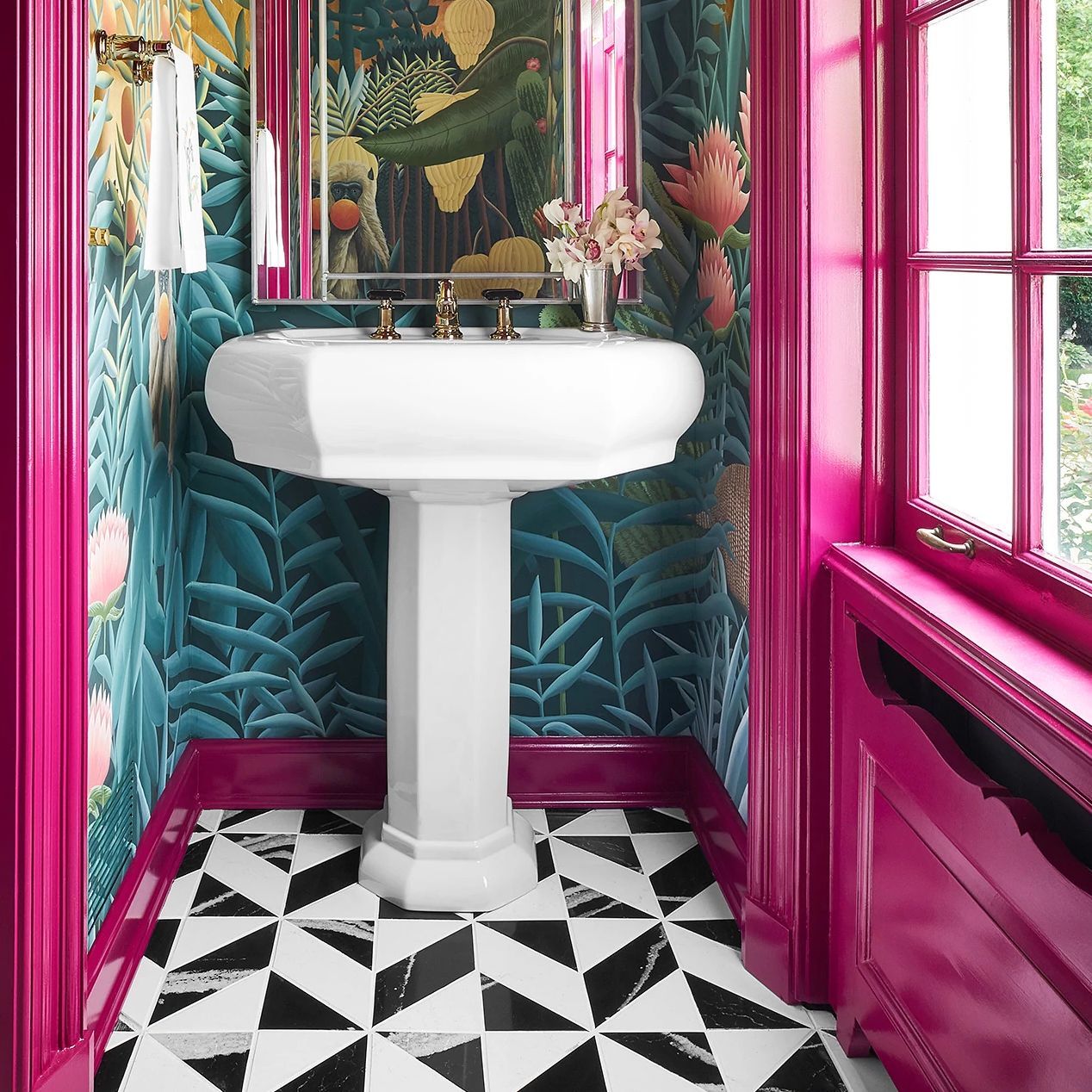 A de Gournay Rousseau wall covering, custom inverted chevron tile pattern floor in Cambria's Smithfield and Mersey designs, mirrored wall, and cheeky prints and tassels drive home the whimsical nature of the space.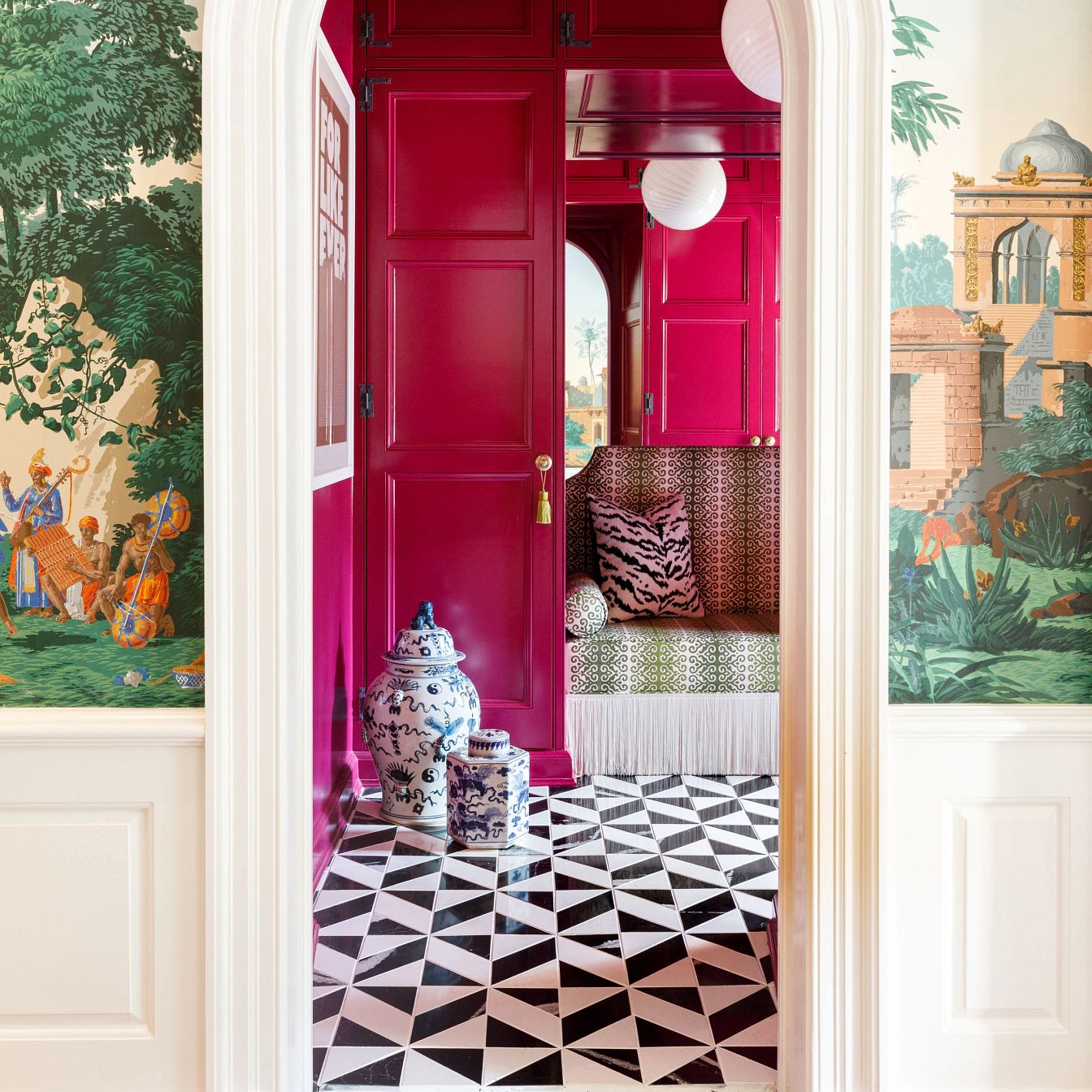 "We sought to create a design that felt both original to the home and simultaneously modern," says Vaile. "A black-and-white stone mosaic felt like a natural go-to, which is what brought us to Cambria. We loved that their latest collection offered a quartz with all the veining and visual elements of marble but yet suitable for modern living with its durable nature. We had used this fun and young geometric mosaic on a master bath project and sought to have Cambria custom create the design for the Showhouse."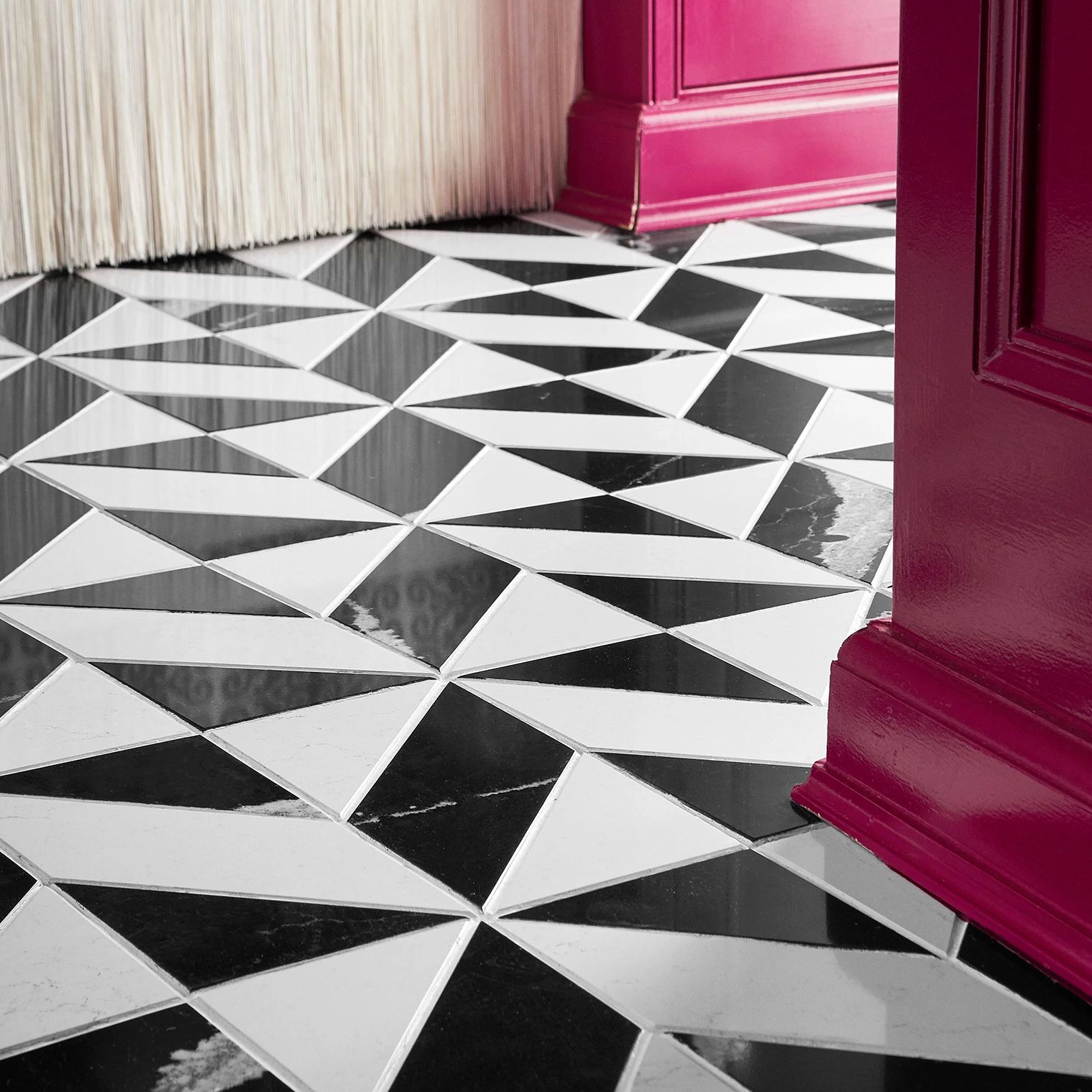 Cambria has been used as tile in both residential and commercial applications in the past. For detailed flooring layouts, Cambria recommends that the initial pieces of Cambria be provided in linear sticks of material, which then have angle cuts performed by the tile installer at the jobsite. Each individual tile can be cut to size during the fabrication stage.
Note that tile should be installed following the American National Standard Institute (ANSI) specifications for the installation of ceramic tile; expansion joints are needed as tile will buckle and sheer by movement of the floor; and acid etching is not recommended by tile mortar manufacturers.
Traditional, Yet Modern Kitchen
In the kitchen, The ABL Group played with an existing marble and travertine checkerboard floor and wood beams original to the home, adding a reclaimed barnwood butcher block by Lake County Barnwood to the island with an antique sewing base, Amish-made cabinetry by Dovetails Cabinetry, and a food-safe quartz countertop by Cambria on the island and area countertops in a custom edge option. This was created using 3cm material with a flat eased edge profile that was applied to the main horizontal countertop piece and a dado cut was then milled/routed into the bottom of the edge profile. Edges often elevate the aesthetic of a space, and Cambria offers 19 edge profile options.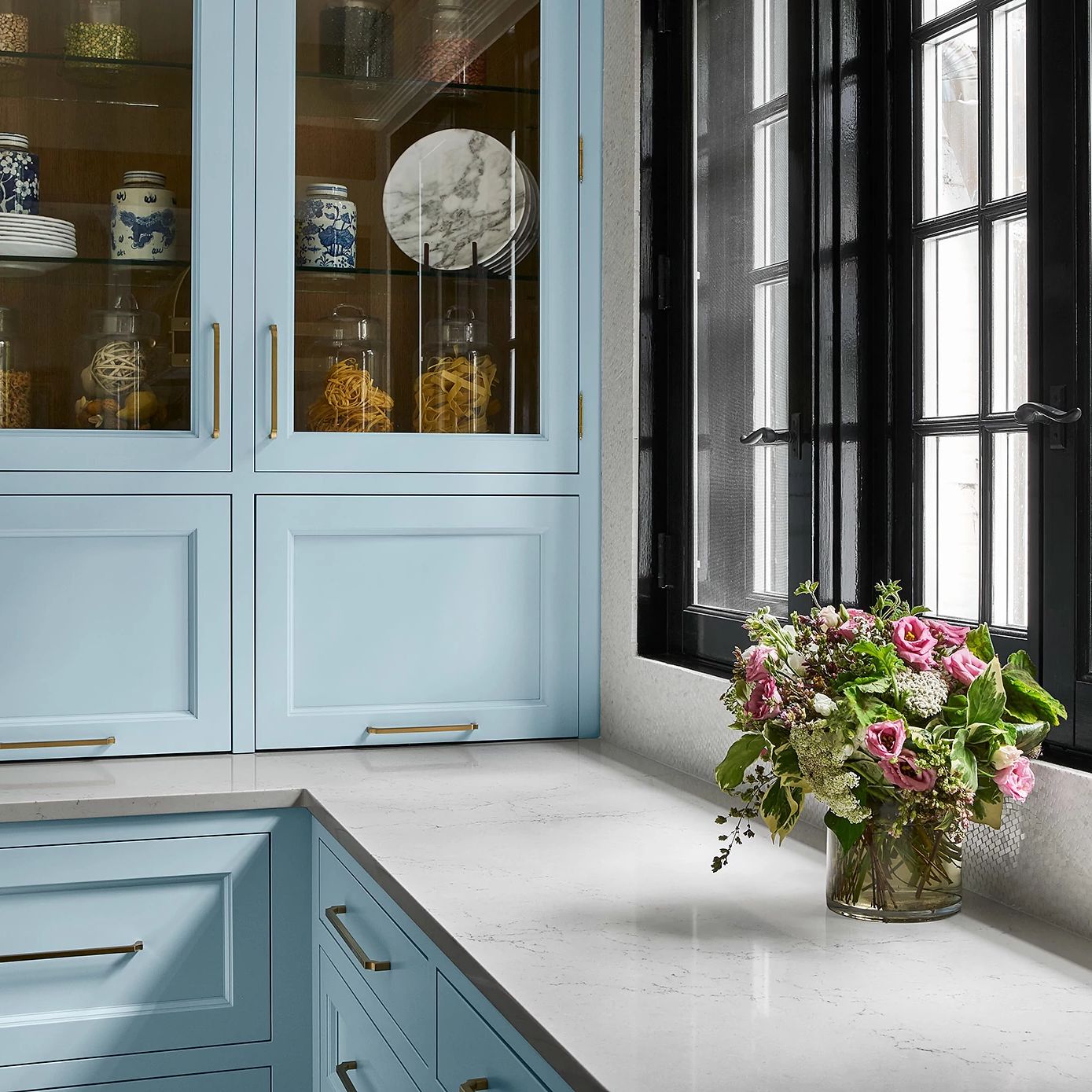 "From the beginning, we knew we had to have a high-quality, maintenance-free countertop option with the natural look and feel of classic marble," says The ABL Group's George Markoutsas. "We settled on Cambria's Colton design for its timeless elegance and its warm and creamy tones, which paired nicely with the existing floor."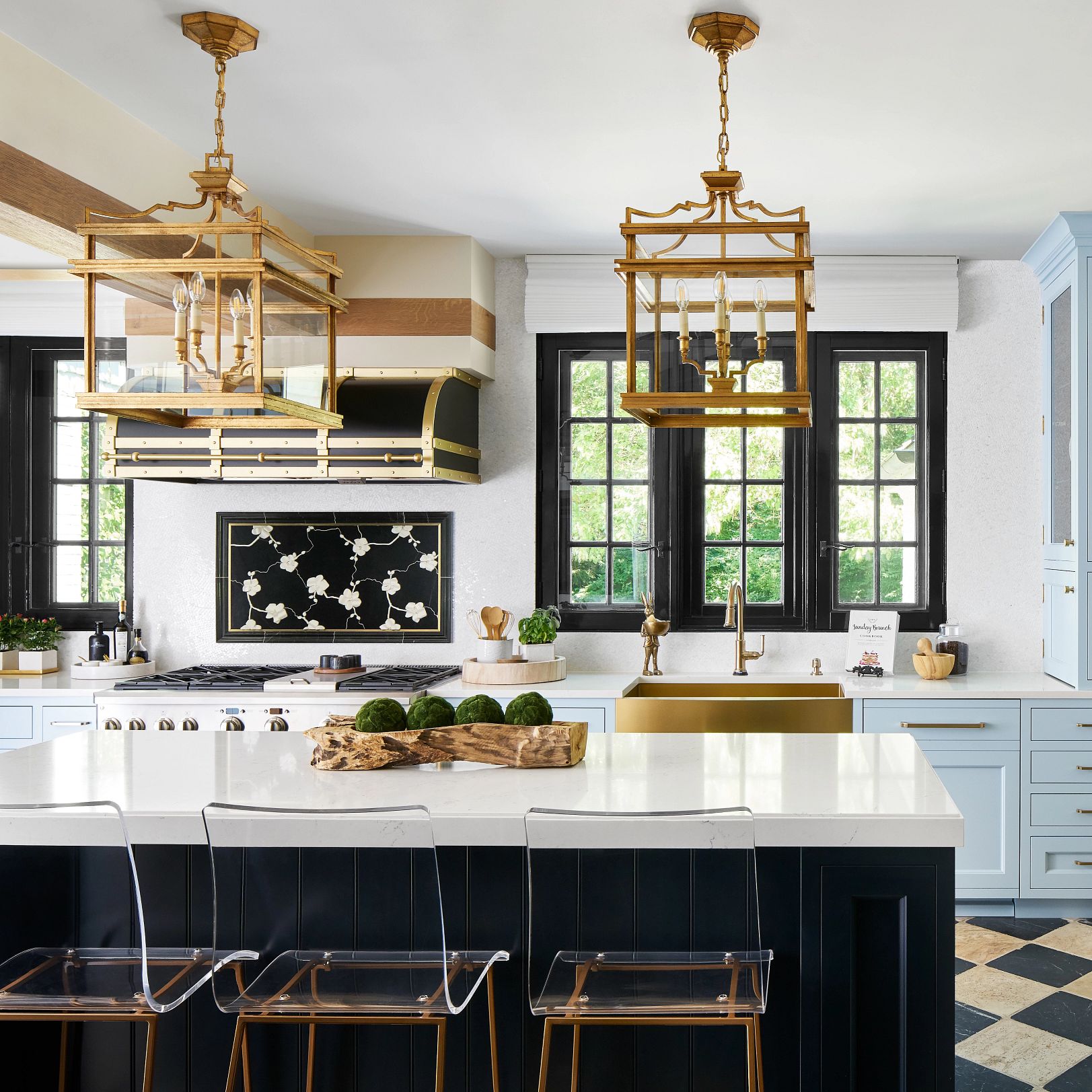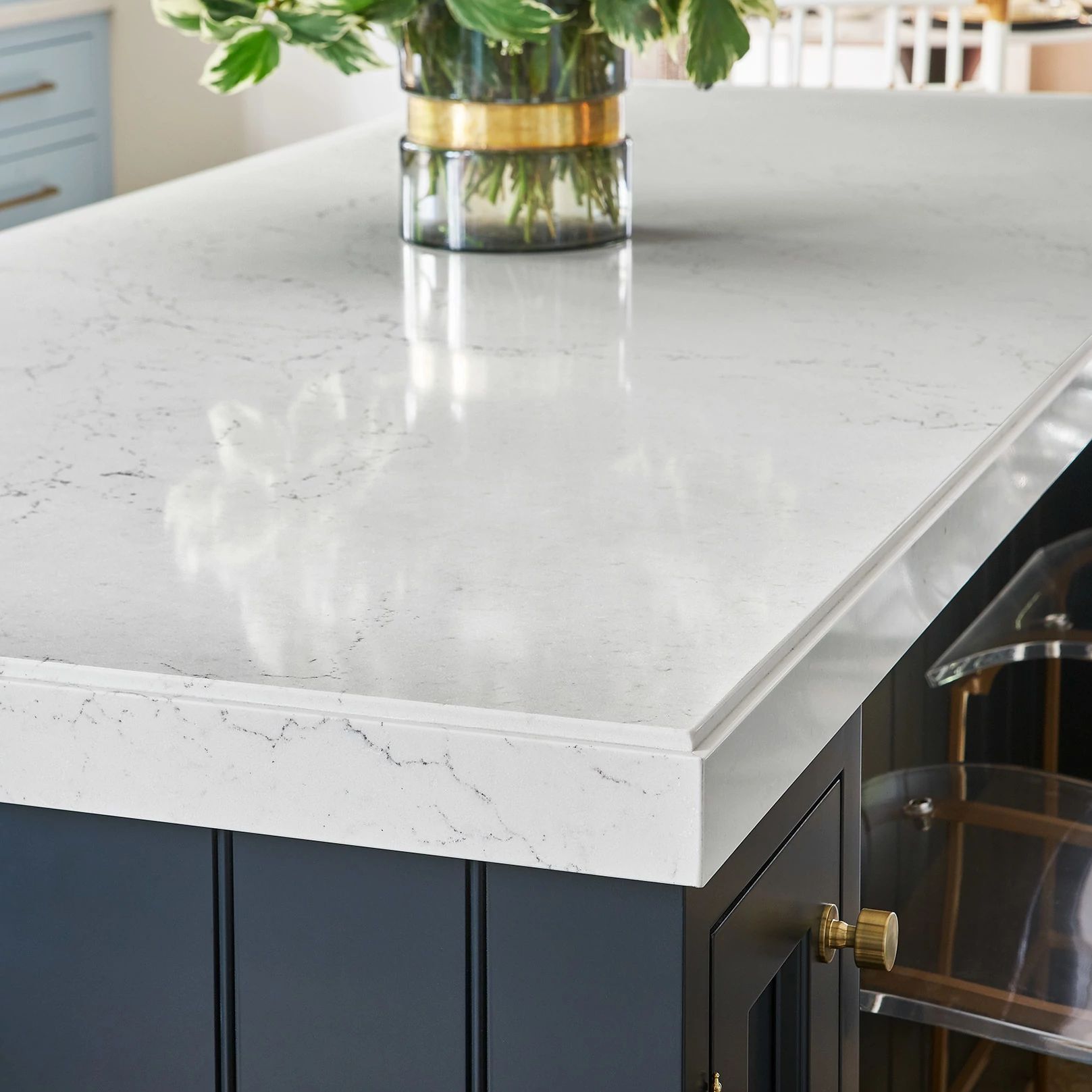 Hidden within the traditional styling are modern upgrades, like a smart home automation system and a vacuum by Häfele built into the cabinetry.
"Cambria is a state-of-the-art solid surface that offers the look and feel of a natural stone with the high-tech performance of quartz, which pairs extremely well with this 'well disguised' theme in our kitchen," says Markoutsas.
Check out other show house kitchens featuring Cambria in Kips Bay Palm Beach and Kips Bay New York.
Blue Breakfast Room and Butler's Pantry
Off the kitchen is a breakfast room by DP Home Design featuring Cambria's Clovelly design on the coffee bar, which pops against high gloss blue cabinetry by Dovetails Cabinetry, along with a standout butler's pantry by Lori Lennon & Associates.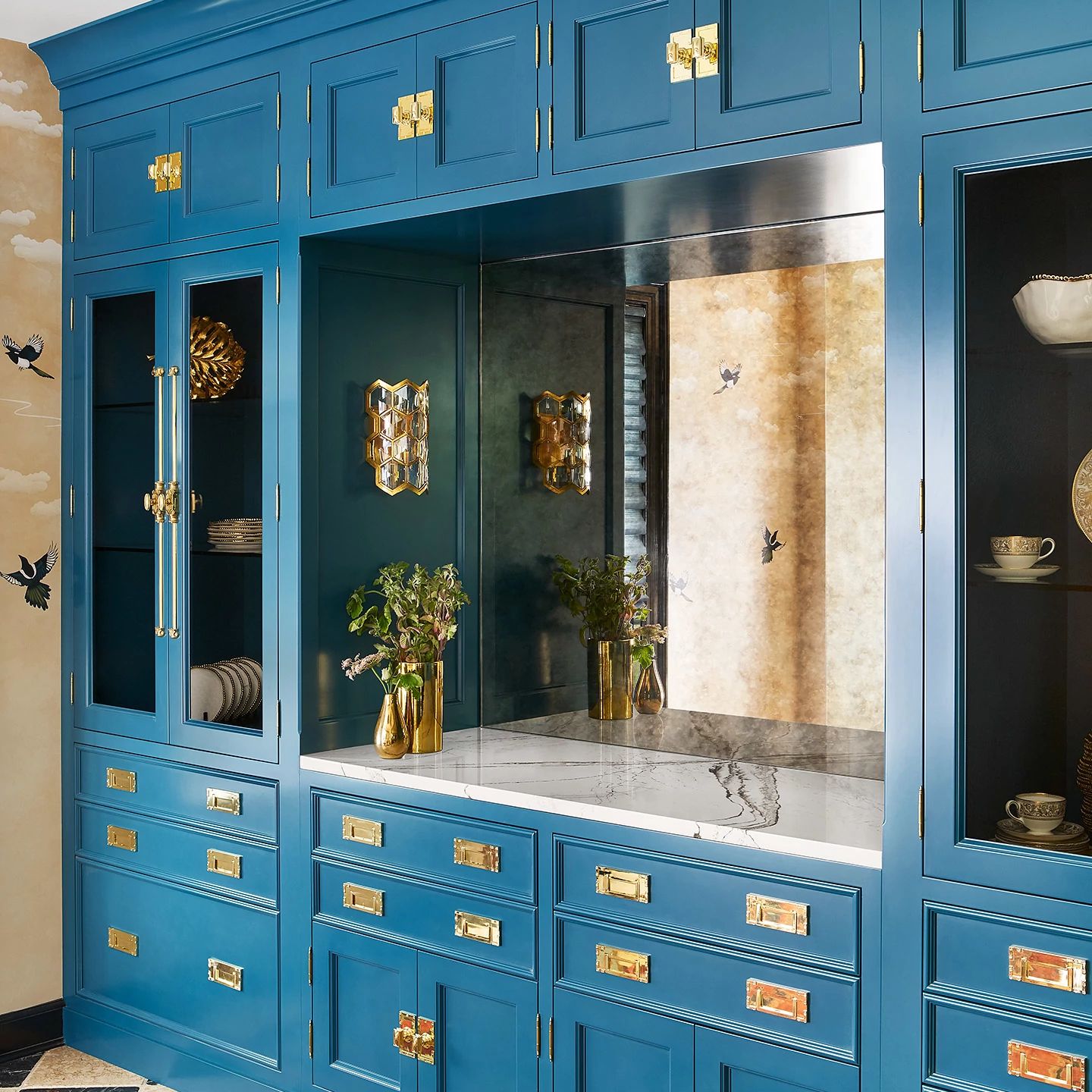 Typically, a butler's pantry is next to the dining room for ease of service. Here, the butler's pantry is located adjacent to the kitchen and entrance hall, so Lennon reimagined the small space as a morning espresso and evening wine bar. She related the room's colors to those in the kitchen and entrance with shades of deep pearlescent blue on the walls and upper cabinetry. To contrast, Lennon chose white Ella quartz countertops.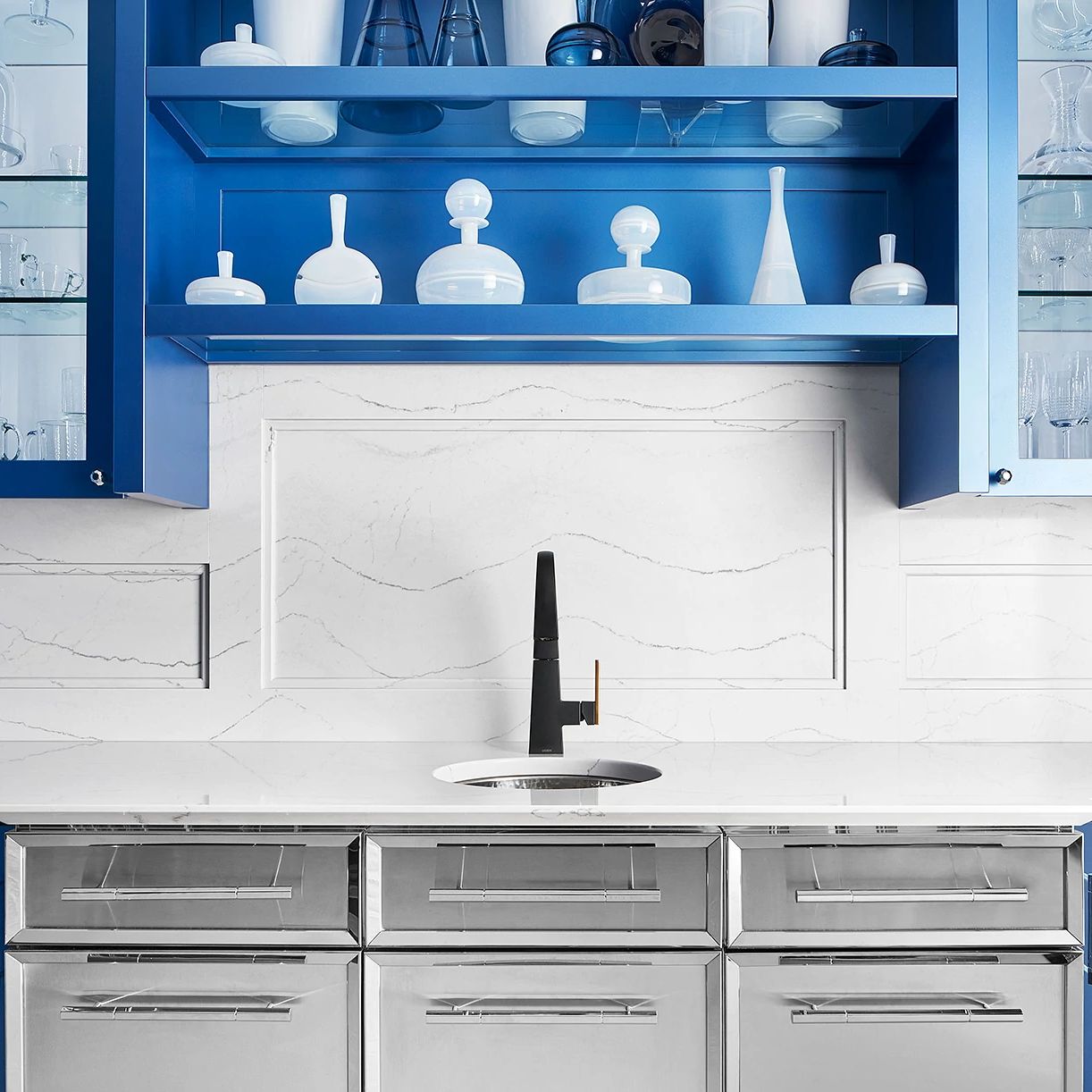 "I was really impressed with all the design choices that Cambria had to offer," says Lennon. "Besides having a lovely countertop, the backsplash had to be a specially-fabricated design. I submitted my design of a recess panel application in Ella. The fabricators responded immediately and took up the challenge. It turned out so fantastic. But what impressed me most is that Cambria trains fabricators to work with their product and to be certain it will not only be beautiful stone but also excellent fabrication. It is perfect!"
Prior to fabrication, Slabsmith technology was used to line up the material movement between all the independent pieces. Creating this look involved utilizing 2cm and milled down 1cm material on the custom quartz backsplash with 3cm material around the sink opening.
Bold with Blackpool Matte
The architectural Cambria details lend elegance to the ancillary space. The formal dining room by Paloma Contreras Interior Design featured another unique Cambria application on the fireplace with a Cambria Blackpool Matte surround.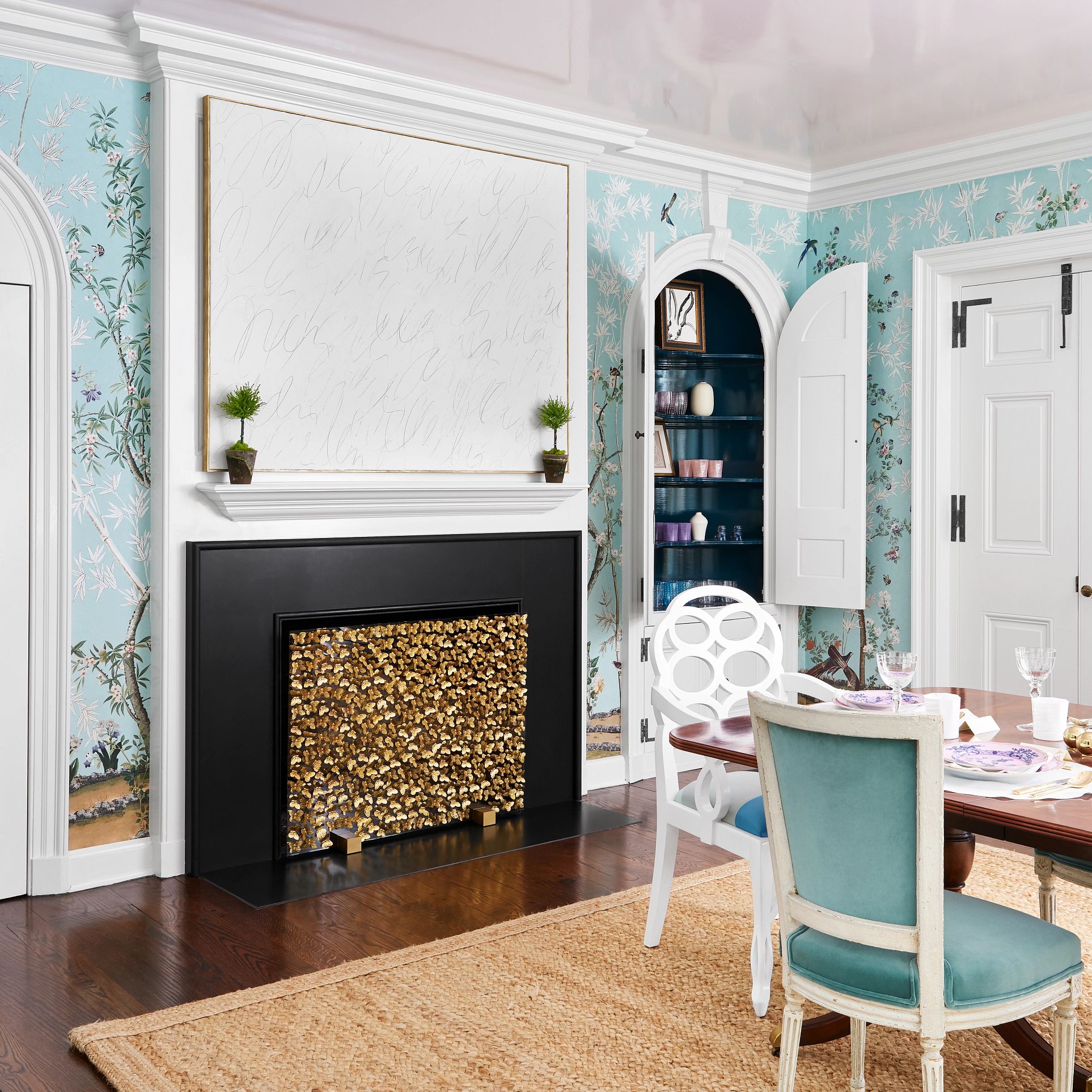 Cambria Blackpool Matte is also prominently displayed in the master closet by Ilene Chase Design, who was inspired in the design by her travels to Paris for Deco Off 2020.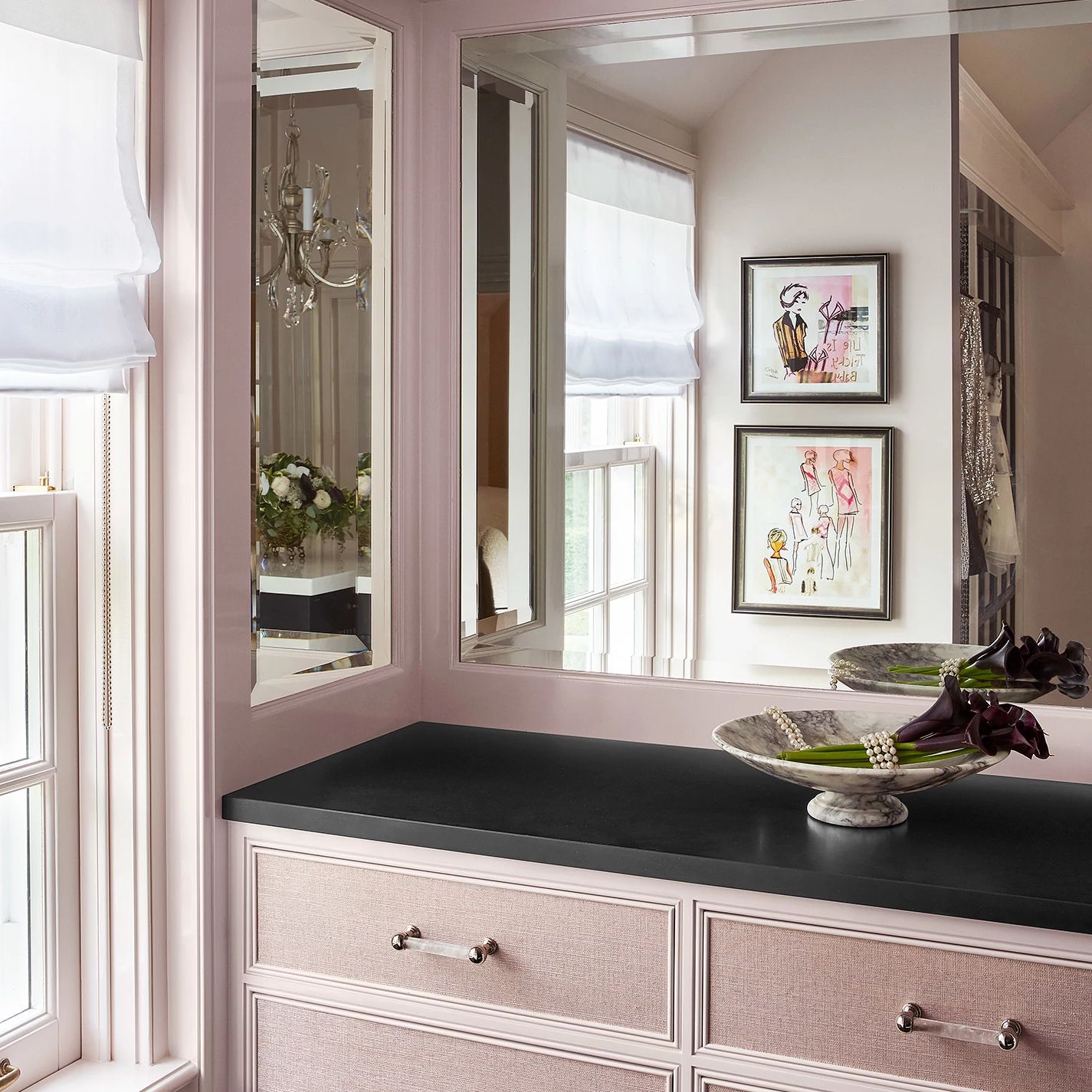 For more show house inspiration, check out this Kips Bay master bathroom and moody champagne bar.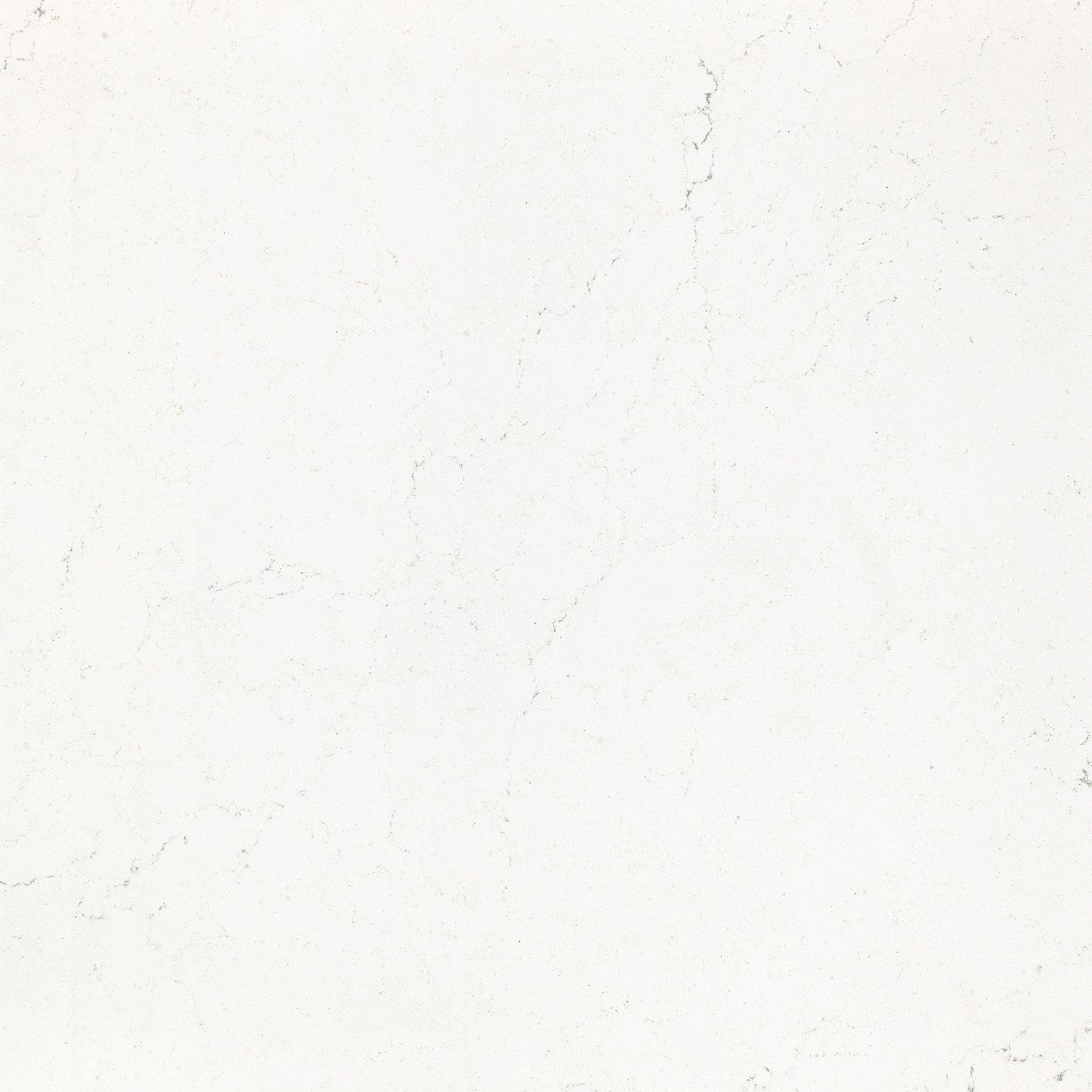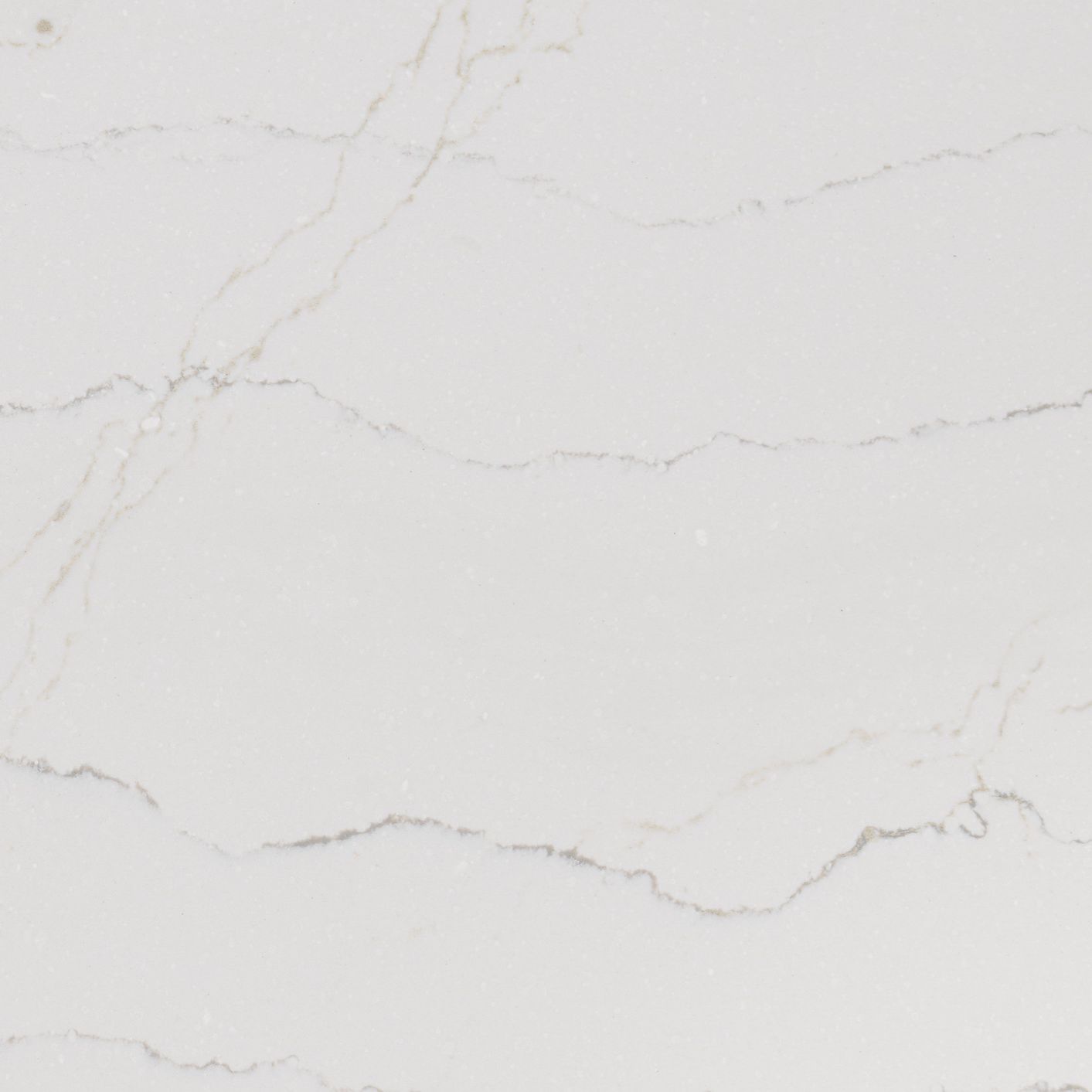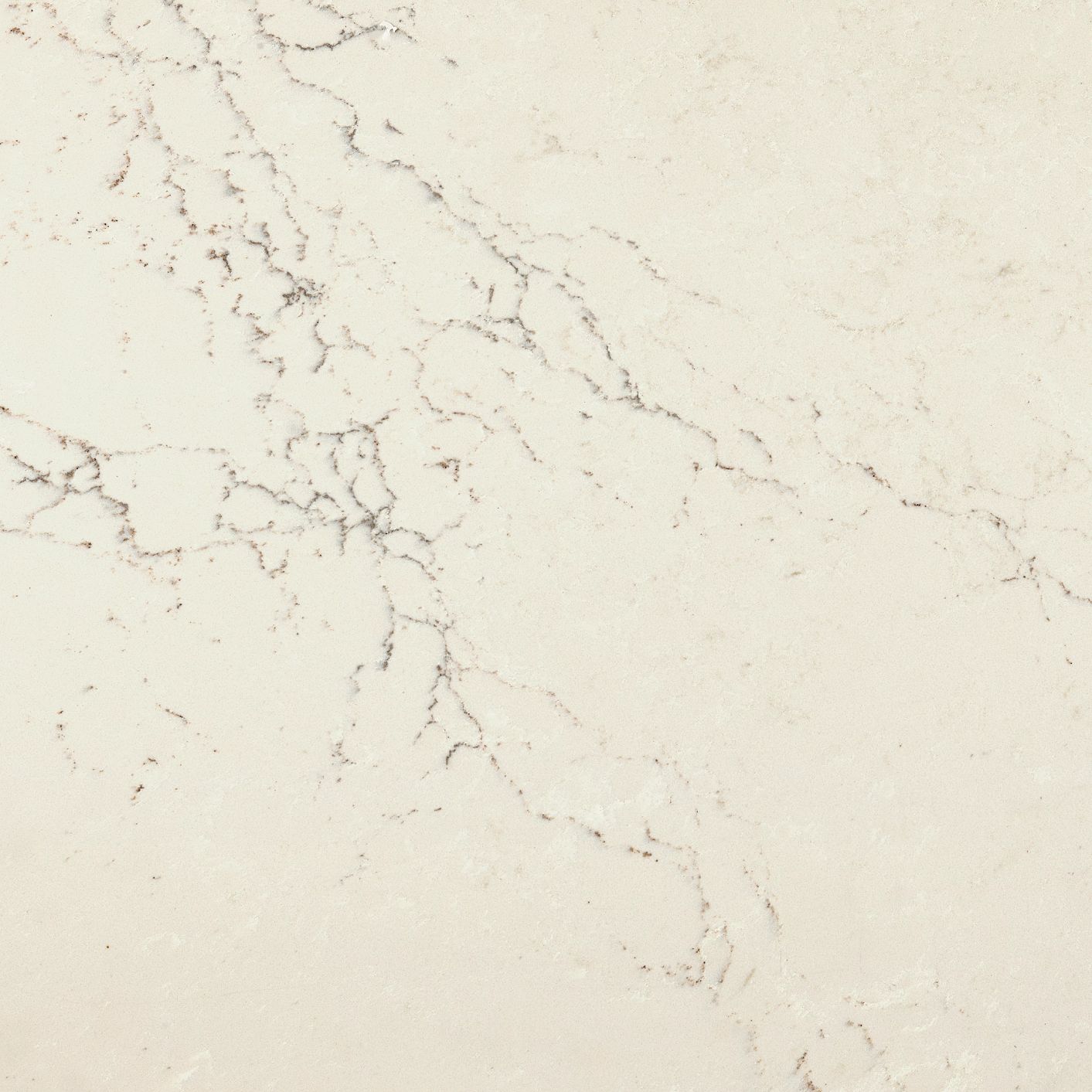 Get the Look
Follow Cambria on social media with #MyCambria for more standout designs.
For more information on Cambria, including performance data, product specifications, and certifications, see our Professional Resources.
Interested in creating a showstopping design project with Cambria? Buy a sample, find a dealer, or call 1-866-CAMBRIA (1-866-226-2742) to be connected with a market representative in your region. Or visit our website to set up a virtual design consultation.