When it comes to carefully curated interiors inspiration, there's no place like Instagram. At Cambria, we celebrate showstopping décor, and we love to highlight the interior designers who bring big ideas to life in real-life installs. Here, we're sharing a list of our 10 favorite designers to follow on the social media platform.
Emily Henderson
New York Times best-selling author, TV personality, stylist, and interior design blogger Emily Henderson is beloved by her 955,000 followers on Instagram for her signature lived-in, California-cool design aesthetic.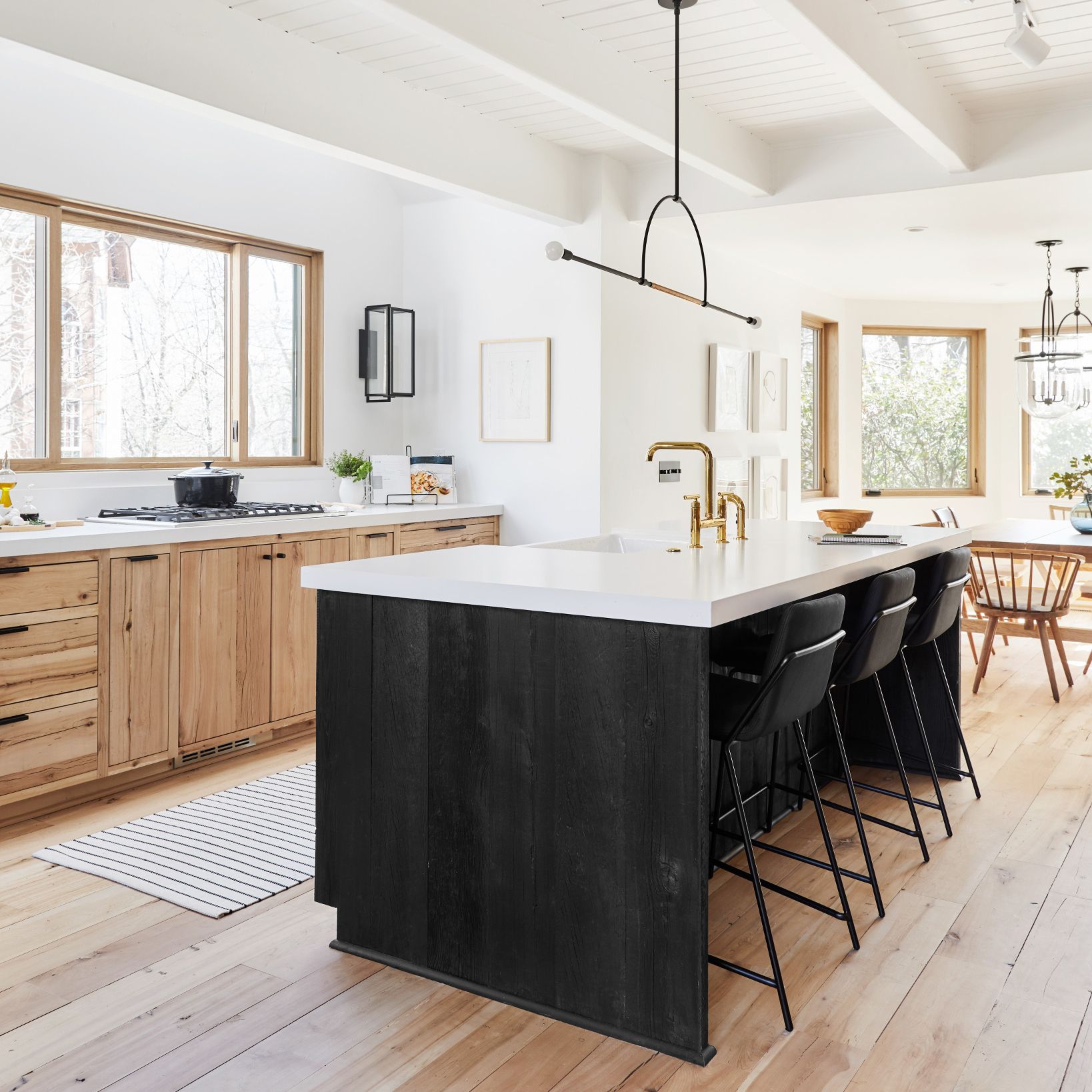 We are particular fans of the trendsetter's 2019 kitchen remodel where she created what she describes as a rustic-modern-Scandinavian-contemporary-minimalist space in her 1960s Lake Arrowhead A-frame vacation home, complete with Cambria White Cliff Matte countertops.
See more of the project here.
Vern Yip
Interior designer Vern Yip finds inspiration for his interior design projects in travel, food, and art, fascinations he regularly shares with his 48,300 followers on Instagram.
For the 2021 refresh of the classic American destination Grand Hotel on Mackinac Island, Yip aimed to pay homage to the hotel's history, architecture, and signature colors while moving the property forward into a new era. He did so with a mix of American-made products, like Cambria Ivybridge in the retail corridor. See more here.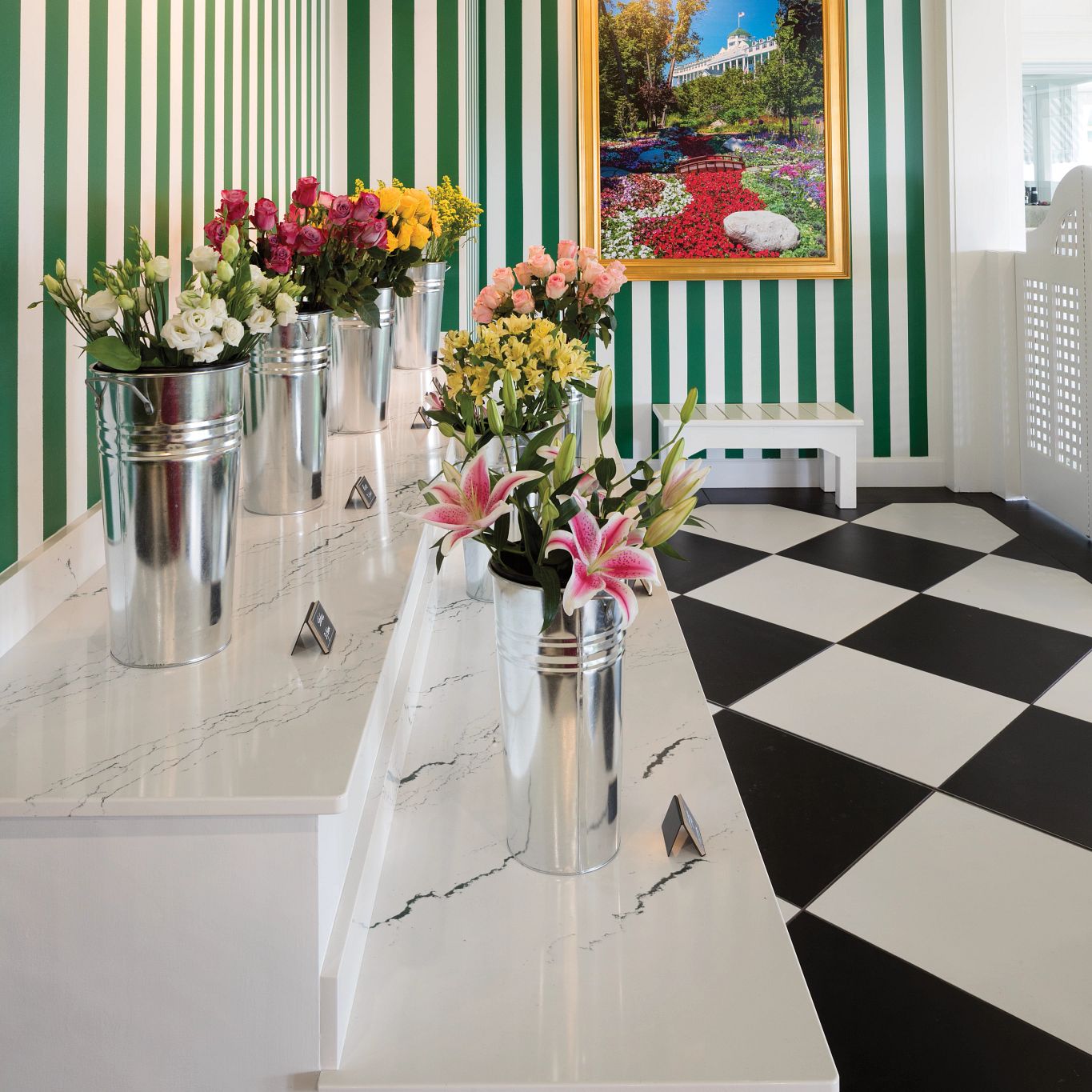 Here, learn how Yip paired warm neutral Cambria Collybrooke countertops with bold, beachy colors for his vibrant Florida kitchen.
Bria Hammel
Twin Cities–based interior designer Bria Hammel of Bria Hammel Interiors creates classically beautiful spaces that are both design-forward and subtly soothing.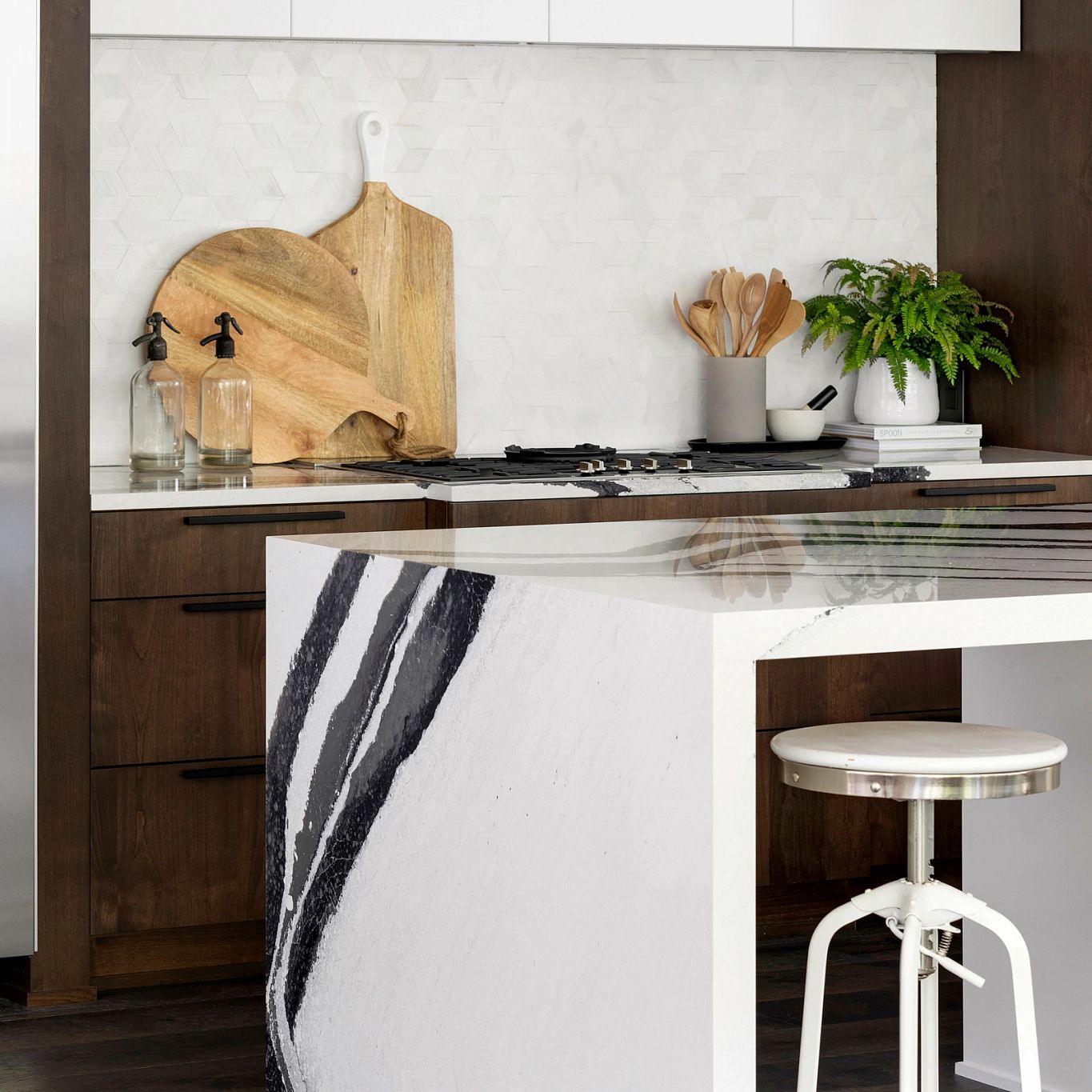 For a sleek and contemporary kitchen design, Hammel paired a bold tuxedo-like Cambria Bentley waterfall island with a palette of browns, blacks, and whites. See more waterfall islands in our design forecast here.
Michel Smith Boyd
Michel Smith Boyd and his eponymous design firm are synonymous with creating aspirational residences that are equal parts fashion-forward and character-rich.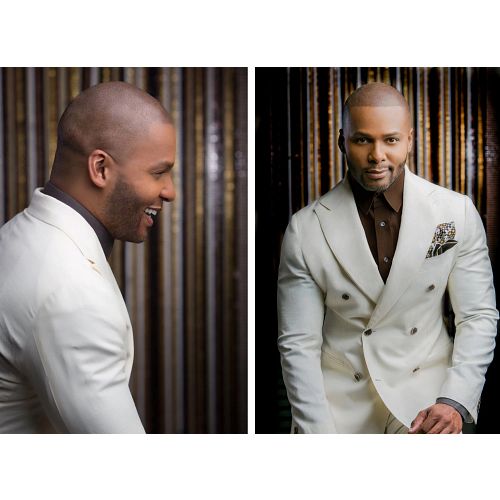 Boyd's 24,300 followers on Instagram look to him for inspiration in cultivating interiors that are tailored, thoughtful, and layered.
Henri Interiors
Henri Interiors is a full-service interior design firm specializing in residential and boutique commercial interiors. The team assists its clients with a wide range of decisions, including selecting and implementing fixed finishes; collaborating with architects, builders, and trades; as well as designing interior spaces while creating a custom experience tailor-made to their design needs.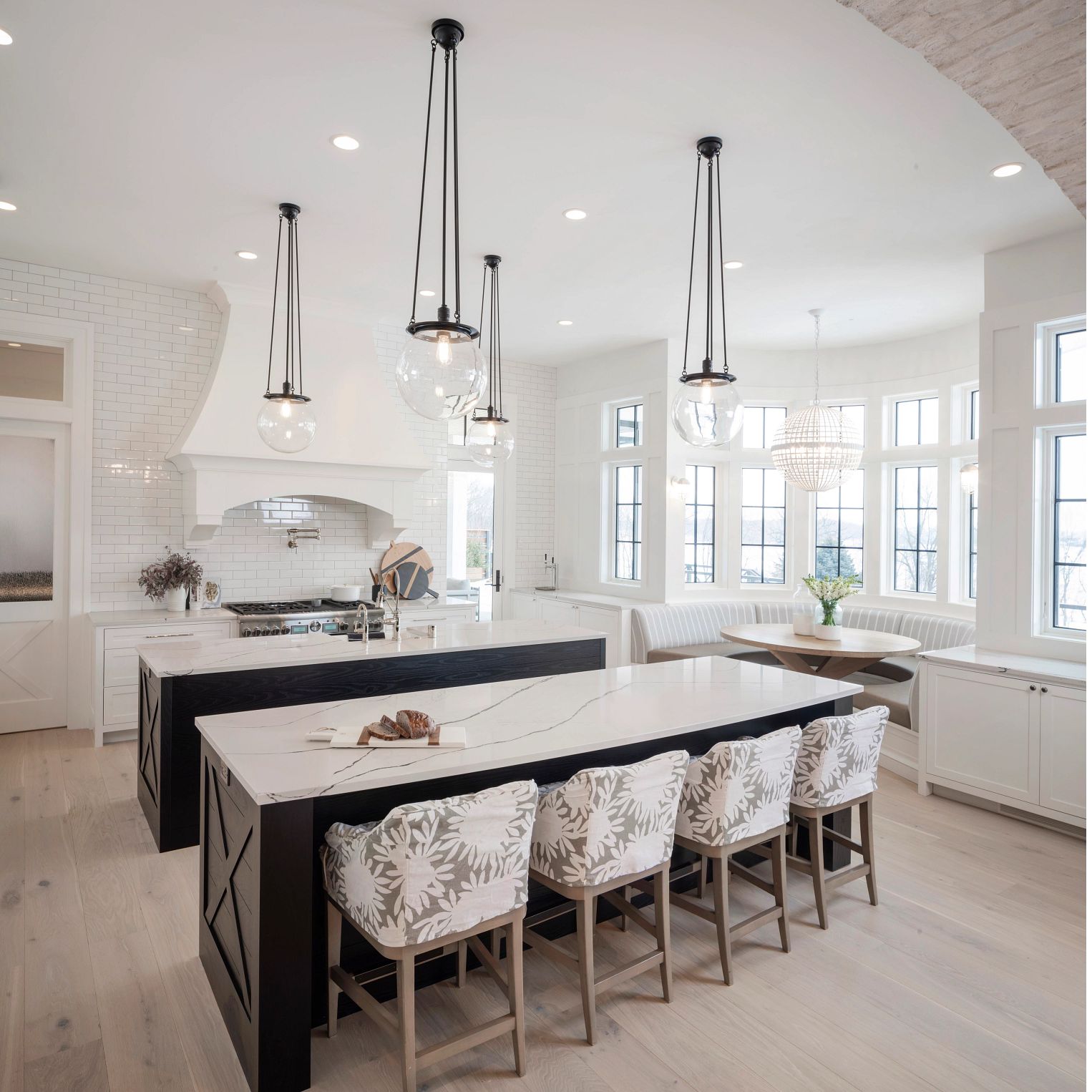 Its nearly 12,000 followers on Instagram swooned over this double Cambria Gladstone island, a design feature that's become increasingly popular in recent years, which Henri Interiors installed in a recent modern farmhouse project. See more of the home here.
Kyla Herbes
Interior designer Kyla Herbes of House of Hipsters has made a name for herself thanks to her modern aesthetic with a vintage flair.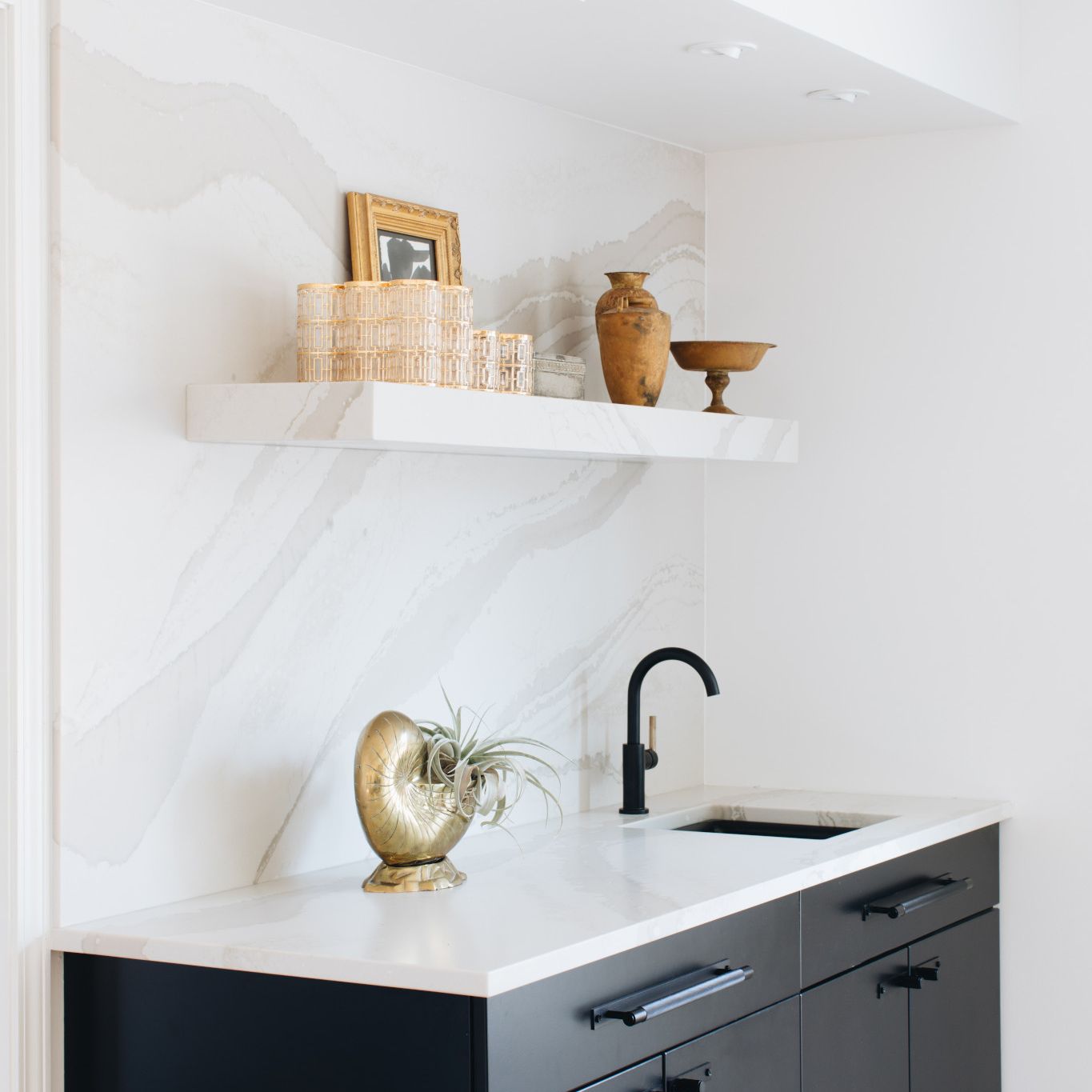 We, along with her 91,000 followers, waited anxiously for the reveal of her Chicago-area kitchen remodel, one that features Cambria Clairidge and Ironsbridge countertops, along with a standout Brittanicca Warm wet bar. Check out the full reveal here.
Elizabeth Scruggs
Designer Elizabeth Scruggs of Superior Construction and Design is middle Tennessee's only female-led construction and interior design firm, which explains why Scruggs commands nearly 3,000 followers on Instagram.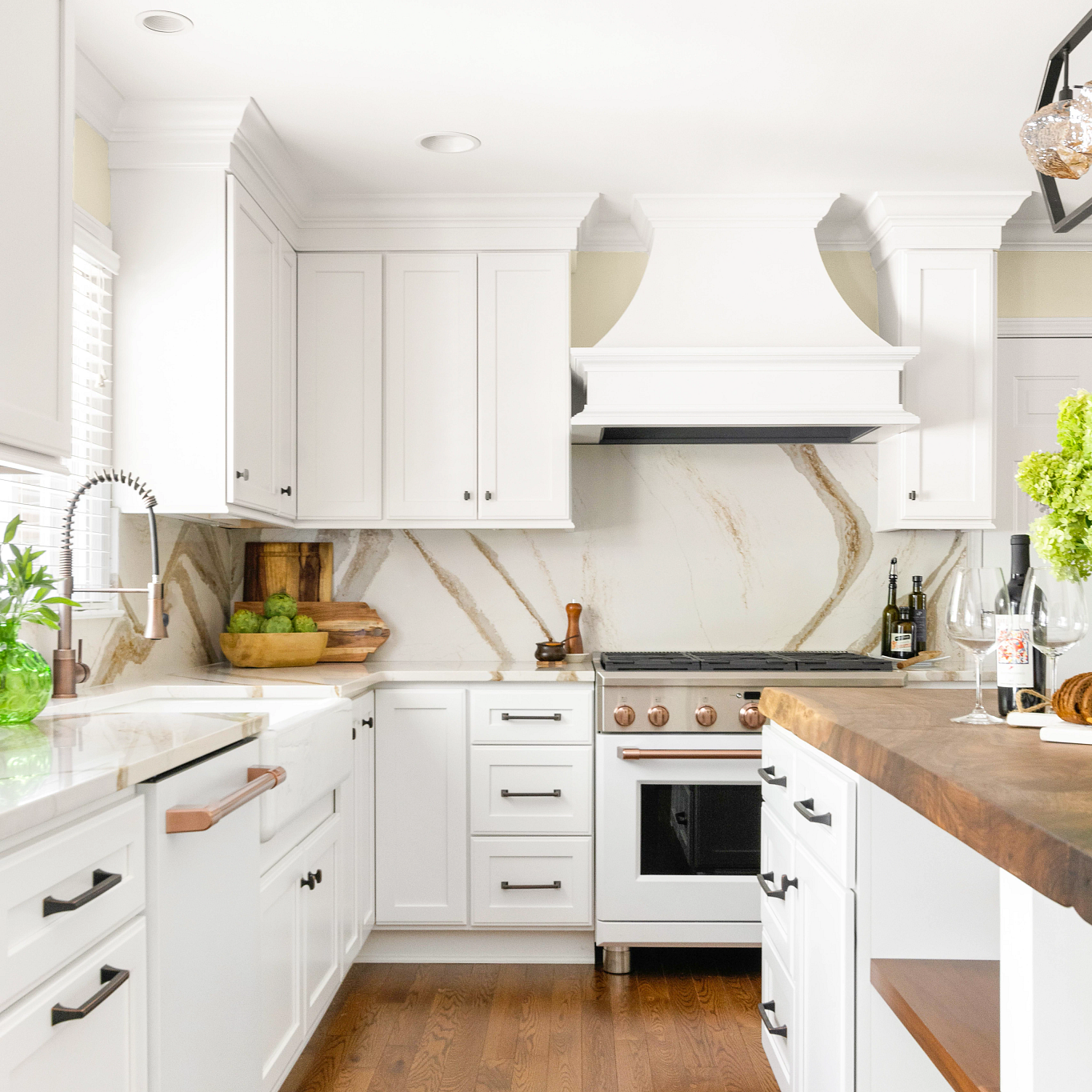 In a recent kitchen project, Scruggs highlighted a full-height Brittanicca Gold backsplash by pairing the feature wall with soothing Earth tones throughout the rest of the space.
Bishop Design
The fresh and contemporary work of Cincinnati-based design firm Bishop Design has been featured on the Instagram pages of celebrated brands ranging from CB2 and West Elm to Lulu & Georgia and Rove Concepts.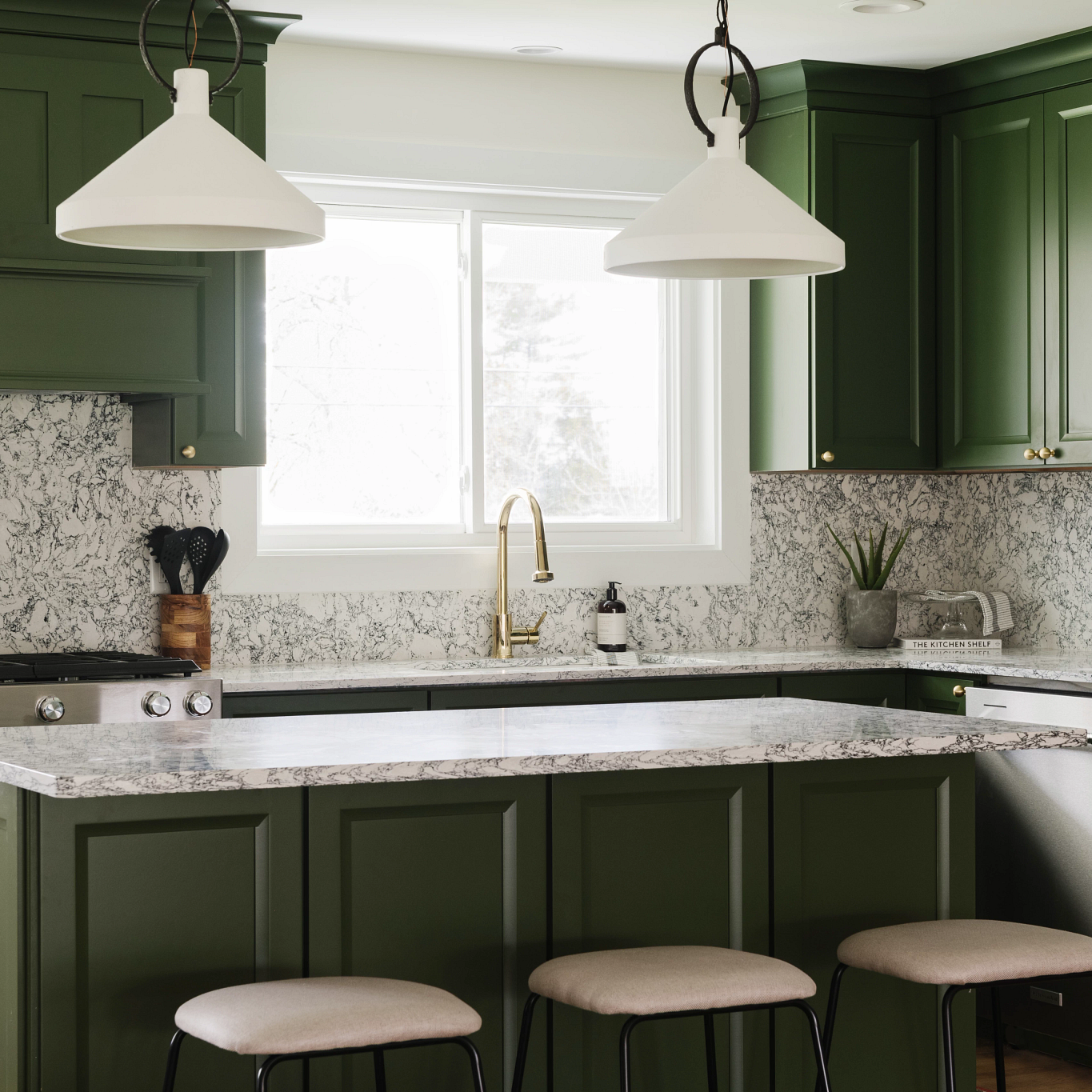 We love how the team paired saturated emerald green cabinetry with Cambria's high-contrast Rose Bay design on the countertops and backsplash in this standout space.
Jaclyn Peters
Canadian interior designer Jaclyn Peters of Jaclyn Peters Design boasts nearly 30,000 followers on Instagram, all of whom rely on her expert eye for creating casual, collected, luxury homes for modern living.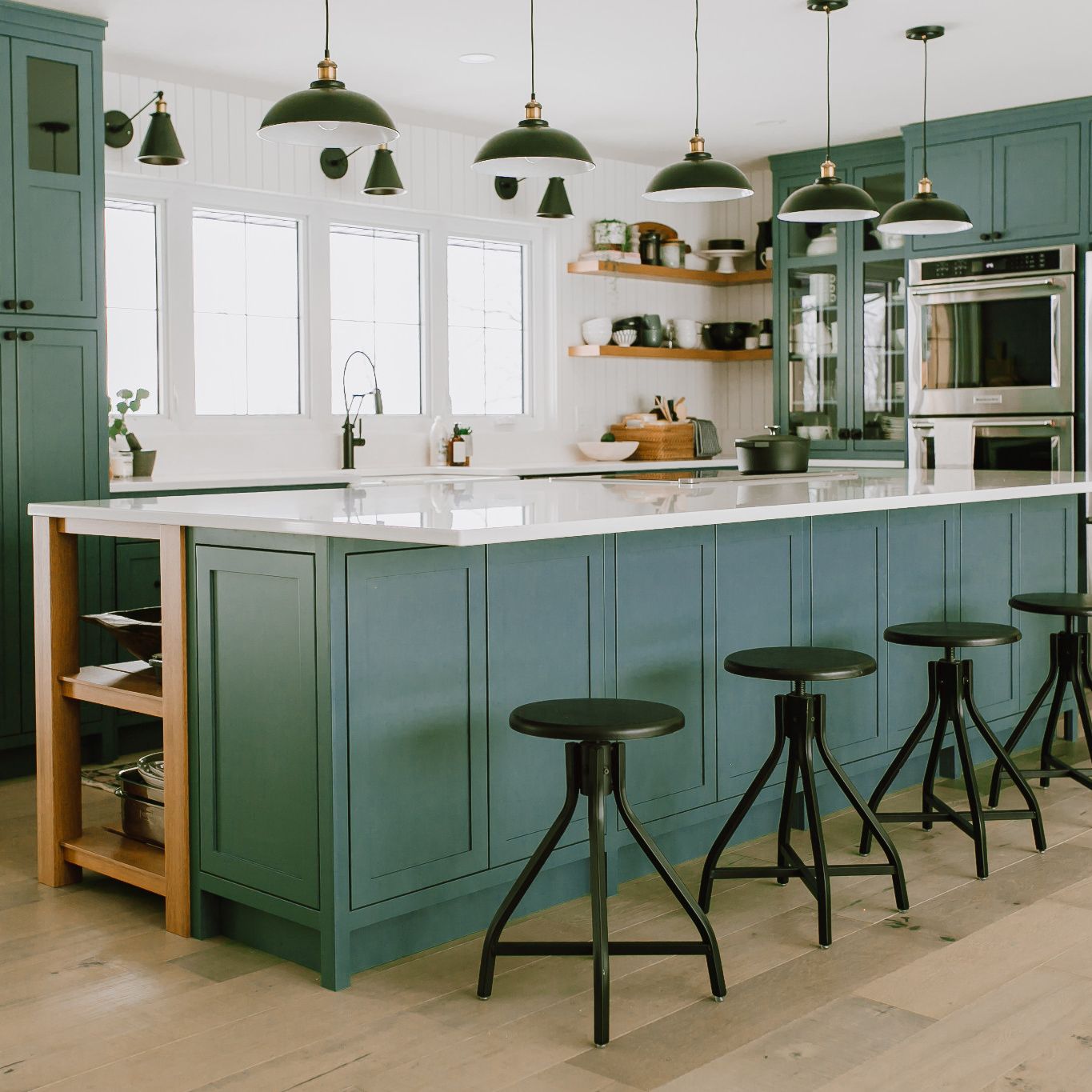 We are green with envy over a Peters-designed kitchen, featuring subtle Cambria Newport countertops that complement the bold and inviting cabinet hues.
Take a tour of another light, bright, and airy home—featuring an abundance of Cambria moments—by Peters here.
Jewel Marlowe
Washington, D.C.–based designer and home décor blogger Jewel Marlowe of Jeweled Interiors is known to her 51,500 followers for her soulful and glamorous approach to interiors.
For the October 2020 One Room Challenge, Marlowe created a standout dining room with a custom-fabricated Cambria Brittanicca Gold Matte waterfall tabletop supported by—and creatively contrasting with—a beautifully rustic tree base crafted from bug-resistant and lightweight cedar wood. See more here.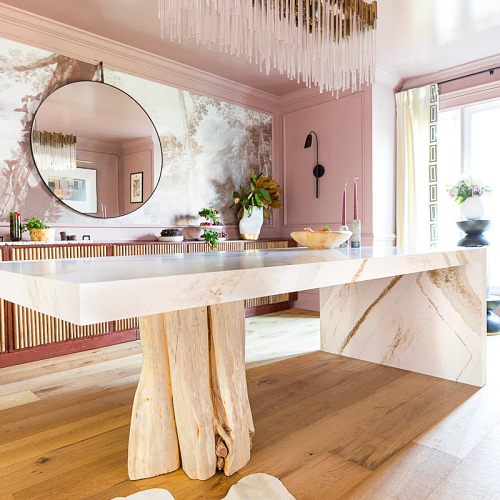 And for her personal home, Marlowe expertly mixed a bold Cambria Bentley waterfall island with myriad other standout elements, like blue-hued cabinetry, gold hardware and fixtures, a contrasting wood island inlet accent by Burled Co., striped stool cushions, and black window trim.
Featured Designs
Get the Look
Follow Cambria on social media with #MyCambria for more standout designs.
Interested in creating a showstopping design project with Cambria? Buy a sample, find a dealer, or call 1-866-CAMBRIA (1-866-226-2742) to be connected with a market representative in your region. Or visit our website to set up a virtual design consultation.