A family in the upscale enclave of Edina, Minnesota, looking to create their dream home—one with modern lines, an open concept floorplan, traditional design elements with touches of warmth and plenty of splashes of color—turned to the teams at John Kraemer & Sons Custom Builders, PKA Architecture, and interior design firm Rauscher & Associates to help realize their vision.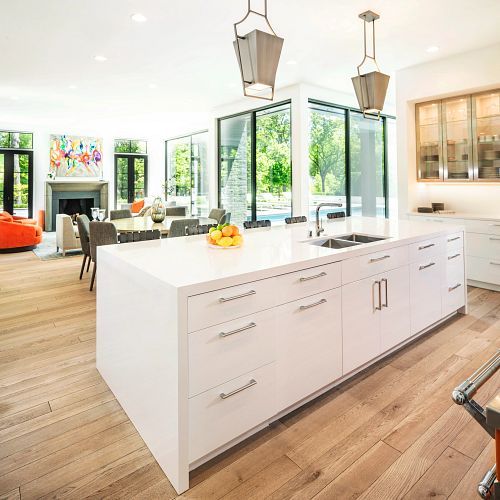 "We actually remodeled their previous home in an adjacent neighborhood," says John Kraemer of John Kraemer & Sons. "And it was a very traditional home with coffered ceilings, wainscoted walls, and crown molding. And they really wanted to switch it up this time. They wanted to go more modern or transitional."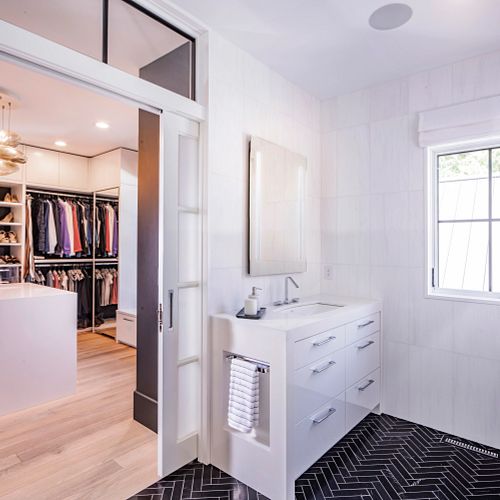 With that said, the homeowners commissioned a Belgian Modern gem with an exterior that toes the line between durable and playful and an interior that brings the entire aesthetic to life.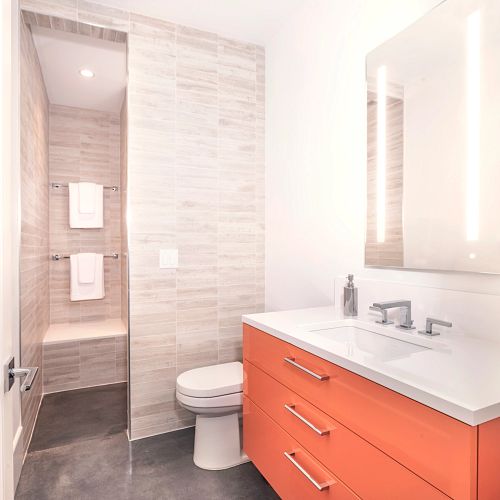 "One of the first things you notice is that it has this very light feel and a very airy kind of personality," says Kristine Anderson of PKA Architecture. "It has a playfulness to it where the clients wanted something that was modern but also traditional. So, it rides that line between clean lines and traditional forms. At the same time, there are places where the rules get broken. So, we might have these wonderful moments with splashes of color."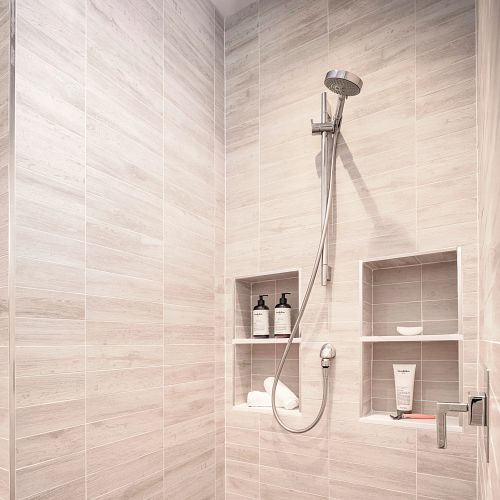 Take, for example, the home's bar, which features a bold orange floral wall covering juxtaposed with Cambria White Cliff countertops. Or the temperature-controlled wine room, which has vintage-inspired green cabinetry and waterfall edge White Cliff countertops.
Those same orange and green hues are again replicated in the laundry room, basement, and office with Cambria White Cliff accents keeping the colors from becoming too overpowering.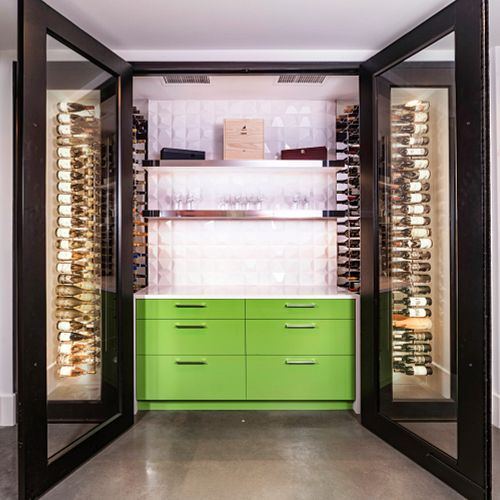 "Orange isn't a color normally used in homes, so this was a really fun way to get our creativity flowing," says Tom Rauscher, who led the interior design effort for Rauscher & Associates, of the client's favorite shade.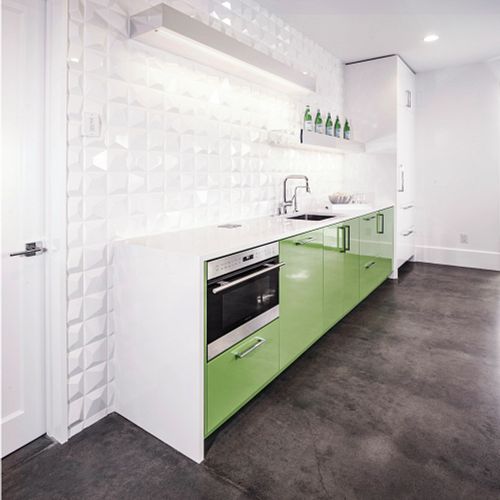 The generous use of Cambria's White Cliff design throughout the space enhances that sense of lightness. Of Cambria's many designs, White Cliff is the purest white surface. It helps brighten the pops of color throughout the home.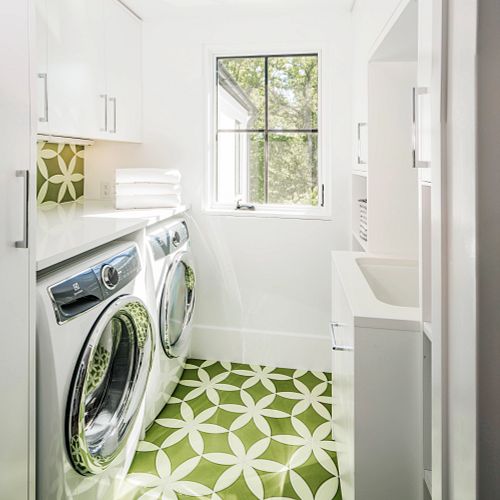 "We were all attracted to White Cliff," says Anderson. "It's super bright, and it's got this great vibrant punch to it."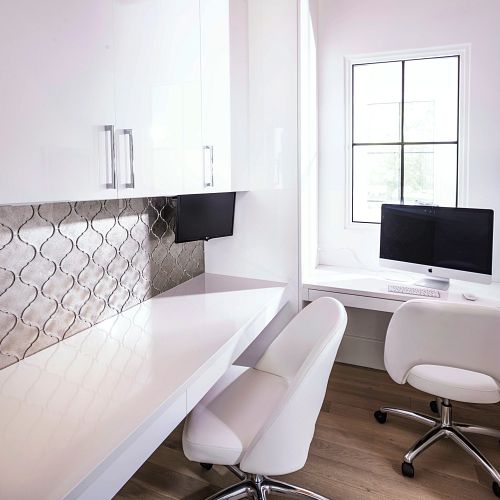 While the team relied primarily on White Cliff in most of the home's spaces, they supplemented the design with Cambria Newport™ upstairs. Cambria VP of Design Summer Kath describes Newport as "a soft, subtle, monochromatic design with some movement," which is perfect for when "you want just a little bit of contrast and depth."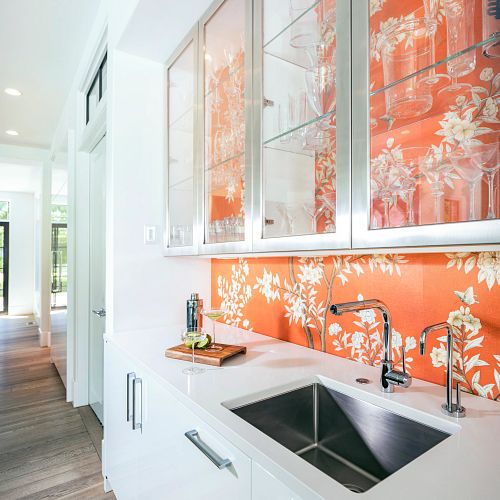 Creating individualized experiences in each room was central to the design schematic and, while the clean lines of the home provided the bones, the pops of color lent much-needed personality.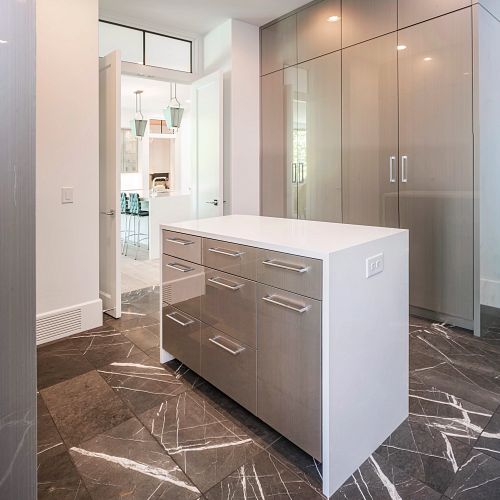 The simplicity in both designs is their strength. "When the family moved into this home on day one, they were just ecstatic," says Kraemer. "The owner described a typical moment in the home, 'When I am standing at my kitchen sink, I can enjoy the beauty of the property—to me, the house feels light and airy and free.'"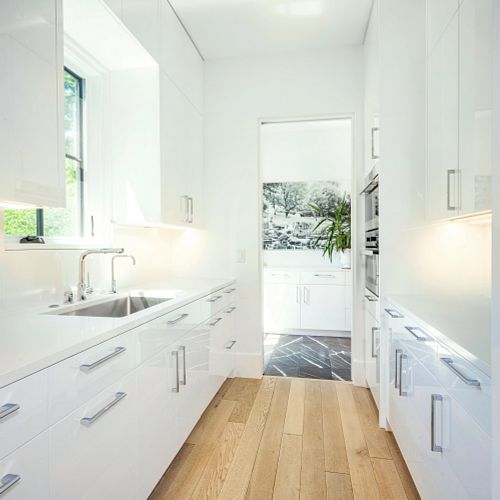 Learn more about the home in the Cambria case study here.
Get the Look
Follow Cambria on social media with #MyCambria for more standout designs.
For more information on Cambria, including performance data, product specifications, and certifications, see our Professional Resources.
Interested in creating a showstopping design project with Cambria? Buy a sample, find a dealer, or call 1-866-CAMBRIA (1-866-226-2742) to be connected with a market representative in your region. Or visit our website to set up a virtual design consultation.