An intimate kitchen can still be beautiful and functional. From galleys to tiny homes, these five small-kitchen tips have you covered.
1. Scale appliances and use multi-function fixtures.
A standard 30- to 36-inch-wide oven and cooktop range can often take up much-needed countertop space. Look for conveniently sized 20- to 24-inch-wide ranges that can slide into the tightest of areas. Some options offer side-opening doors for maximum flexibility.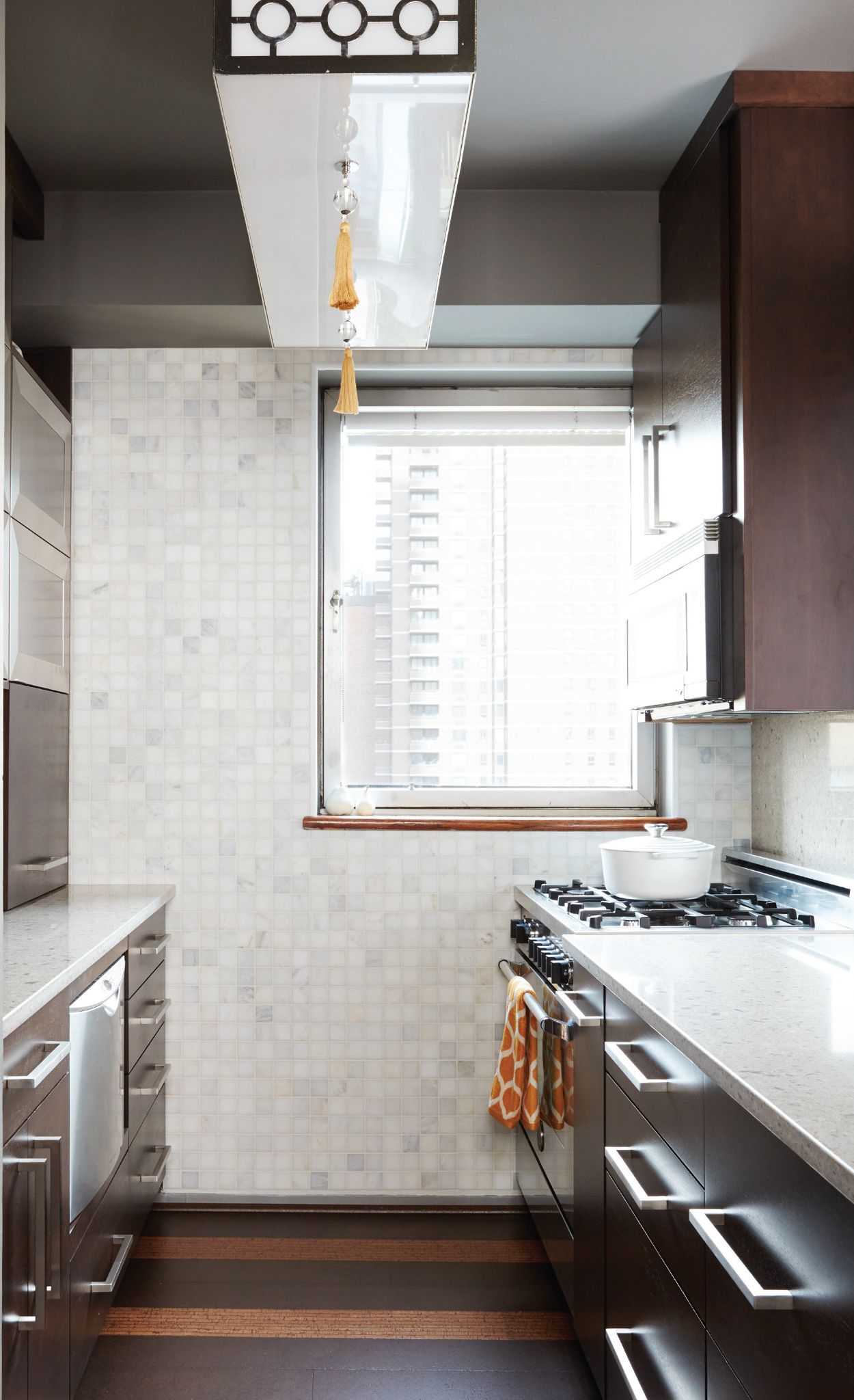 This galley kitchen from Vern Yip features efficient appliances and hardworking Cambria Darlington™ countertops.
Look for space-saving dishwashers. Some are the size of a standard cabinet and come with all the wash cycles and features you need. Opt for slim refrigerator models like this retro-style mint green Smeg for style that's to scale.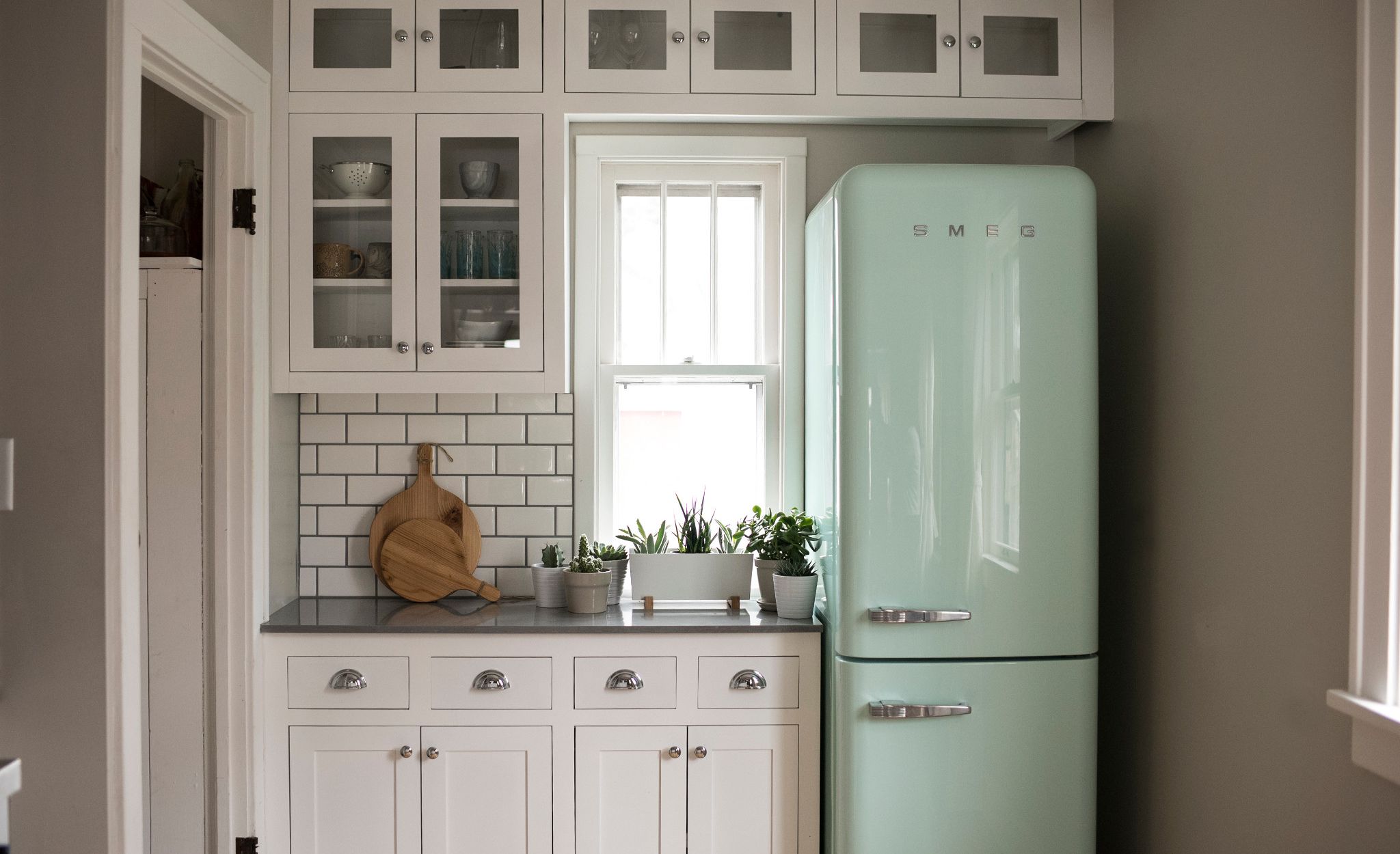 A mint Smeg fridge, gray Cambria Carrick™ countertops, and floor-to-ceiling storage optimize every inch of this small kitchen.
Eliminate bulky storage needs by selecting a sink with an integrated cutting board or colander. (Take a look at Kohler for some stylish options.)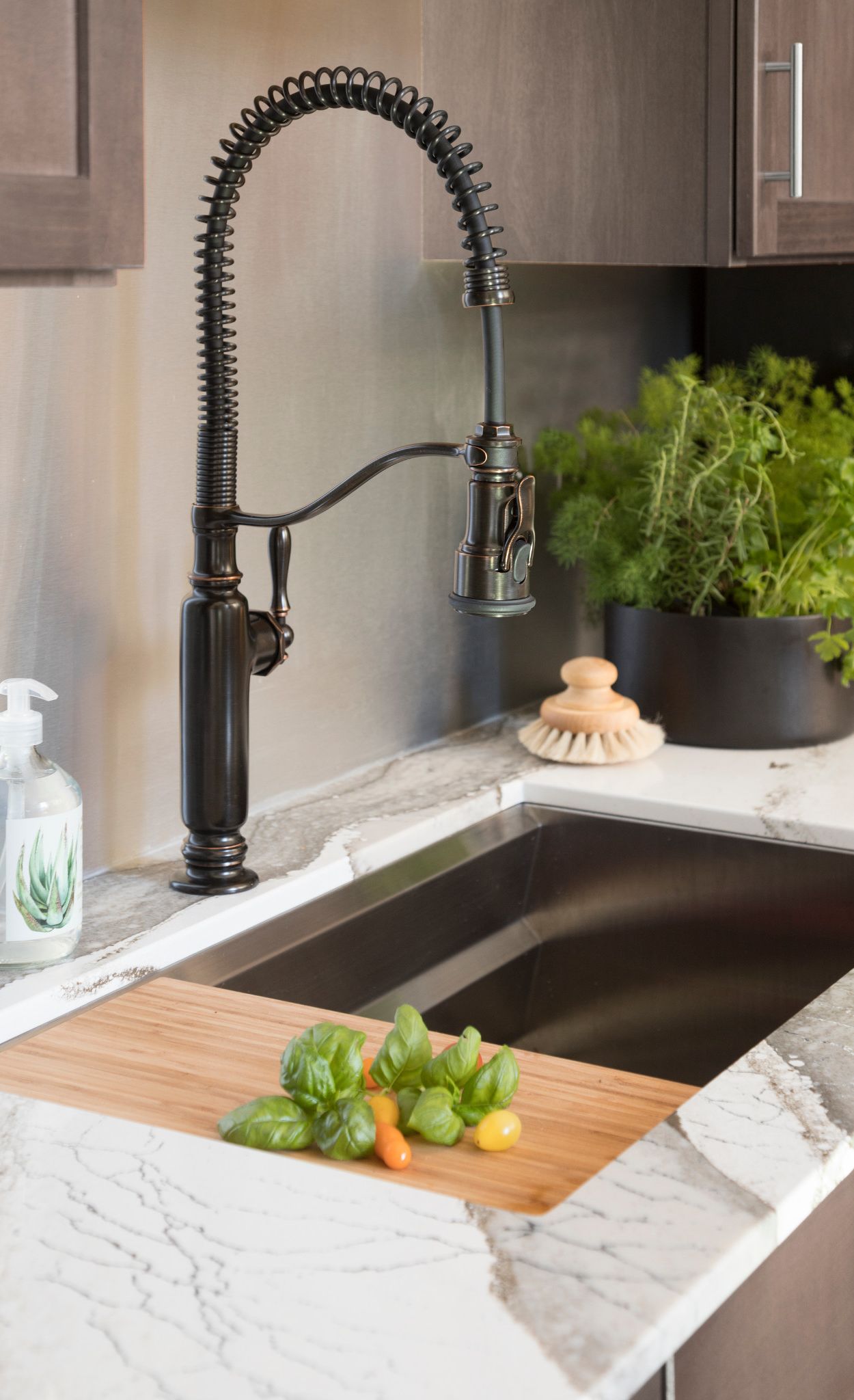 A sink with integrated cutting board pairs with easy-clean Cambria Skara Brae™ countertops for a sleek prep station in this loft kitchen.
2. Embrace color
Bright hues can infuse energy and bounce light around a room. Consider a light backsplash paired with darker cabinetry or countertops to open up the kitchen.
We love how these small kitchens embrace shades of blue as countertops and cabinets.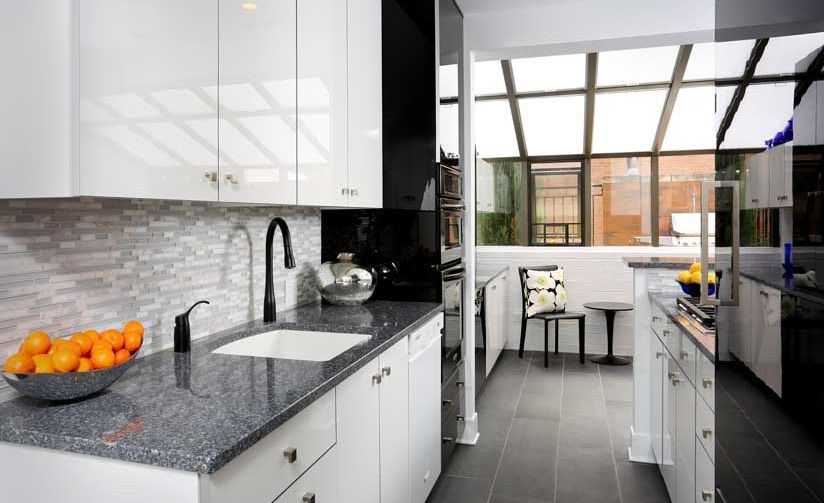 Galley kitchen with blue-gray Cambria Parys™ countertops by Normandy Remodeling.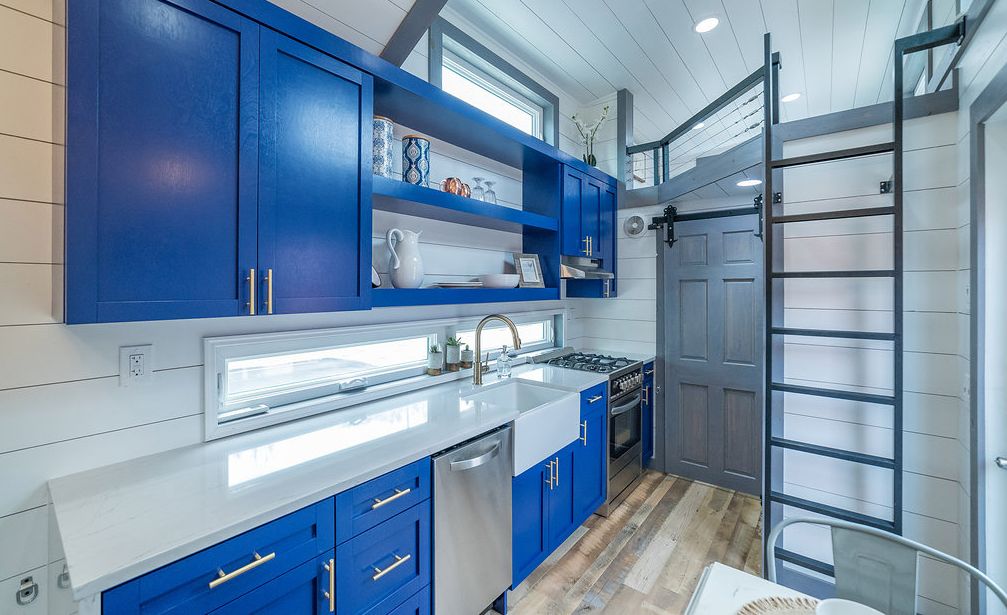 Traveling tiny home kitchen by Movable Roots featuring Cambria Ella™ countertops
Explore more blue kitchen ideas to suit any space.
Upper and lower cabinetry can vary in color, material, and style. This two-toned kitchen draws the eye upward with marble-like Torquay countertops, backsplash, and white upper cabinets to contrast sage green cabinetry.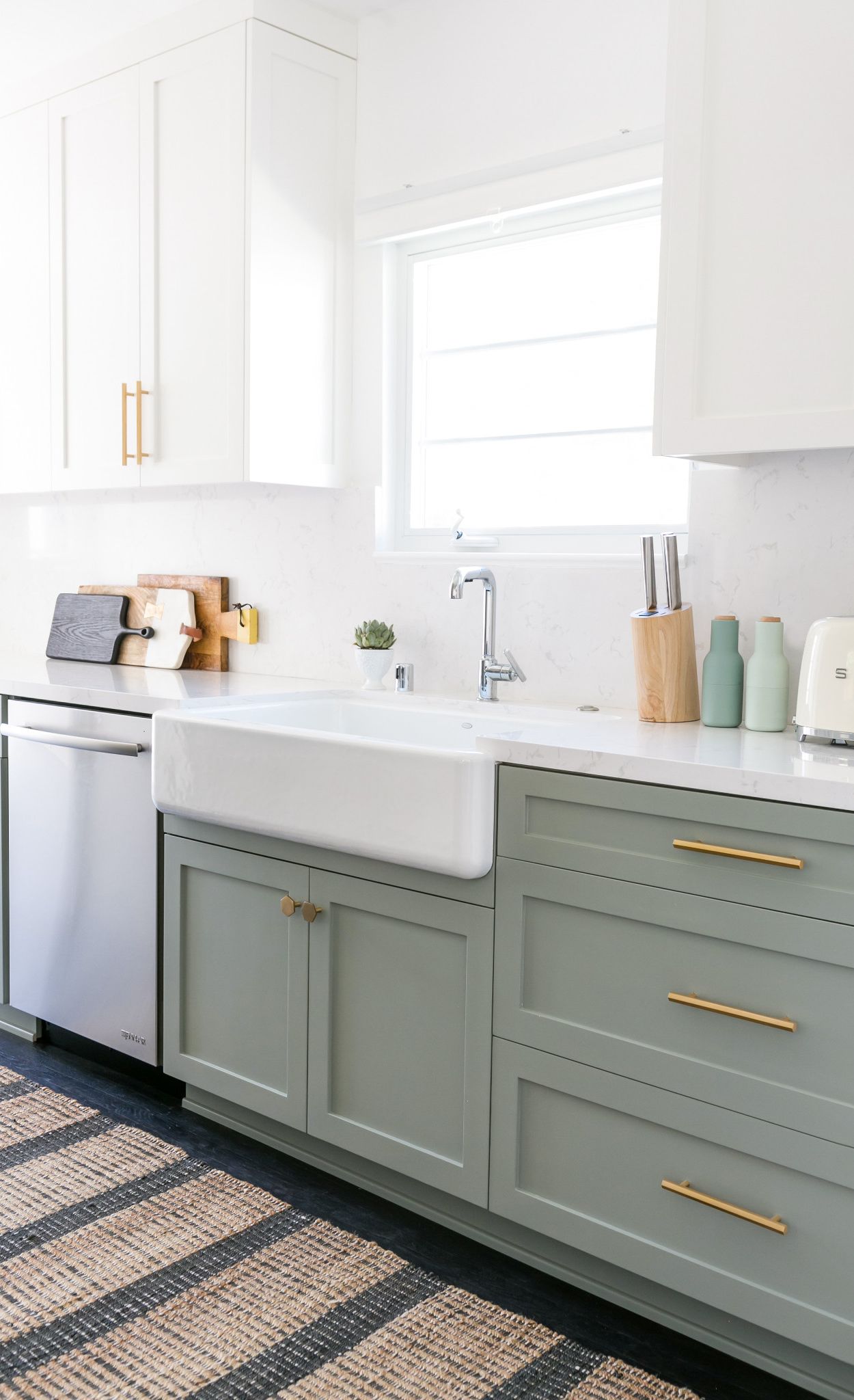 Two-tone white and sage green cabinets pair with Torquay™ countertops and backsplash in Jaclyn Johnson's Cali-chic kitchen.
Gather more green kitchen ideas for your perfect palette and find more color tips in 5 Traits of a Well-Designed Kitchen.
Don't forget about plants and greenery for a fresh pop of color, as in this tiny home kitchen renovation by Tiny Canal Cottage featuring Weybourne Matte countertops.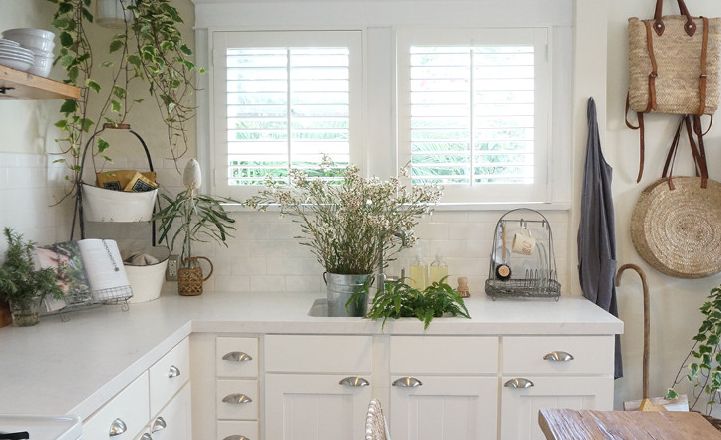 Renovated tiny home kitchen featuring Cambria Weybourne Matte™
3. Get stylish with storage.
Functional doesn't mean boring. Open shelving can showcase eye-catching dishware and decor, while expanses of wall can highlight a dazzling backsplash. (Explore quartz backsplashes and tile backsplash ideas.)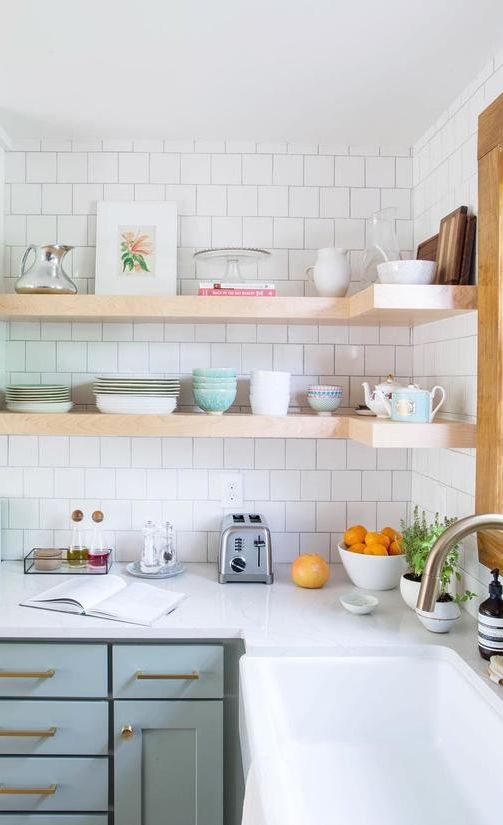 This cheery green kitchen from The Happy Tudor features Ella countertops and artfully styled floating shelves.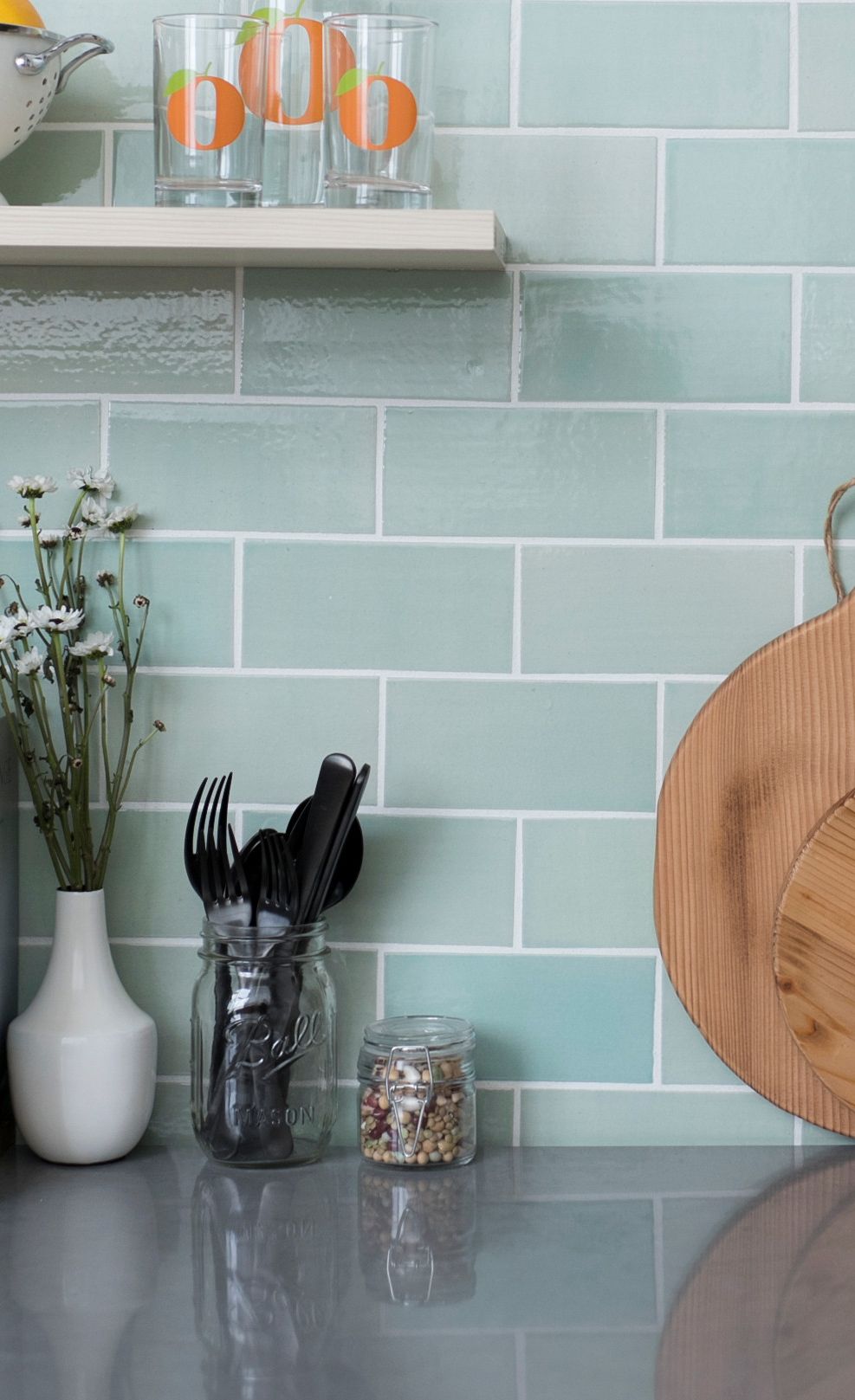 Carrick countertops paired with Mercury Mosaics subway tile and open shelving
Look for alternative storage spaces, such as placing baskets on top of your cabinets.
4. Use countertops as dining space.
Instead of a breakfast nook or kitchen table, add a counter bar with stools. You don't need an island to achieve this – a peninsula layout or modified galley work well.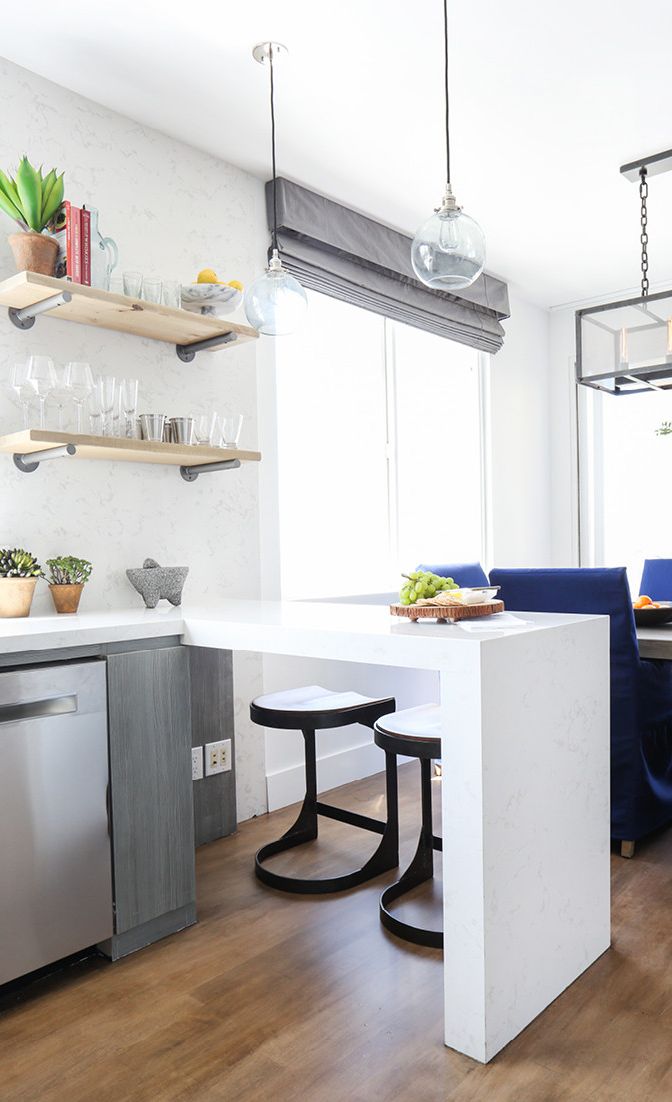 An open Torquay waterfall-edge peninsula is the perfect breakfast spot in this small kitchen. Space by: Motiani Design. Photo: Tessa Neustadt.
A typical galley kitchen layout features a narrow walkway with cabinets and appliances lining opposite walls. Offering efficiency and utility, it's perfect for the practical homeowner who separates cooking from socializing. A modified galley layout provides an airier feel and option for added dining space.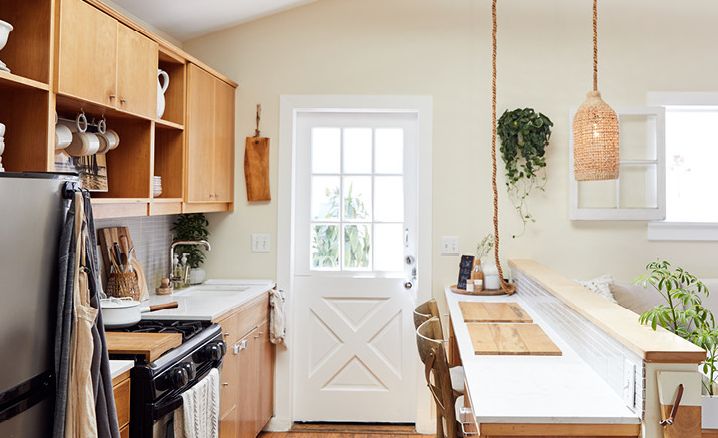 An open galley layout offers dining bar functionality in this tiny home kitchen featuring Torquay countertops.
To open up the space, consider replacing one of the runs with a parallel island allowing for flexibility, as in this galley kitchen renovation from Casey Knips. Check with a trusted contractor to see if it's feasible for your home.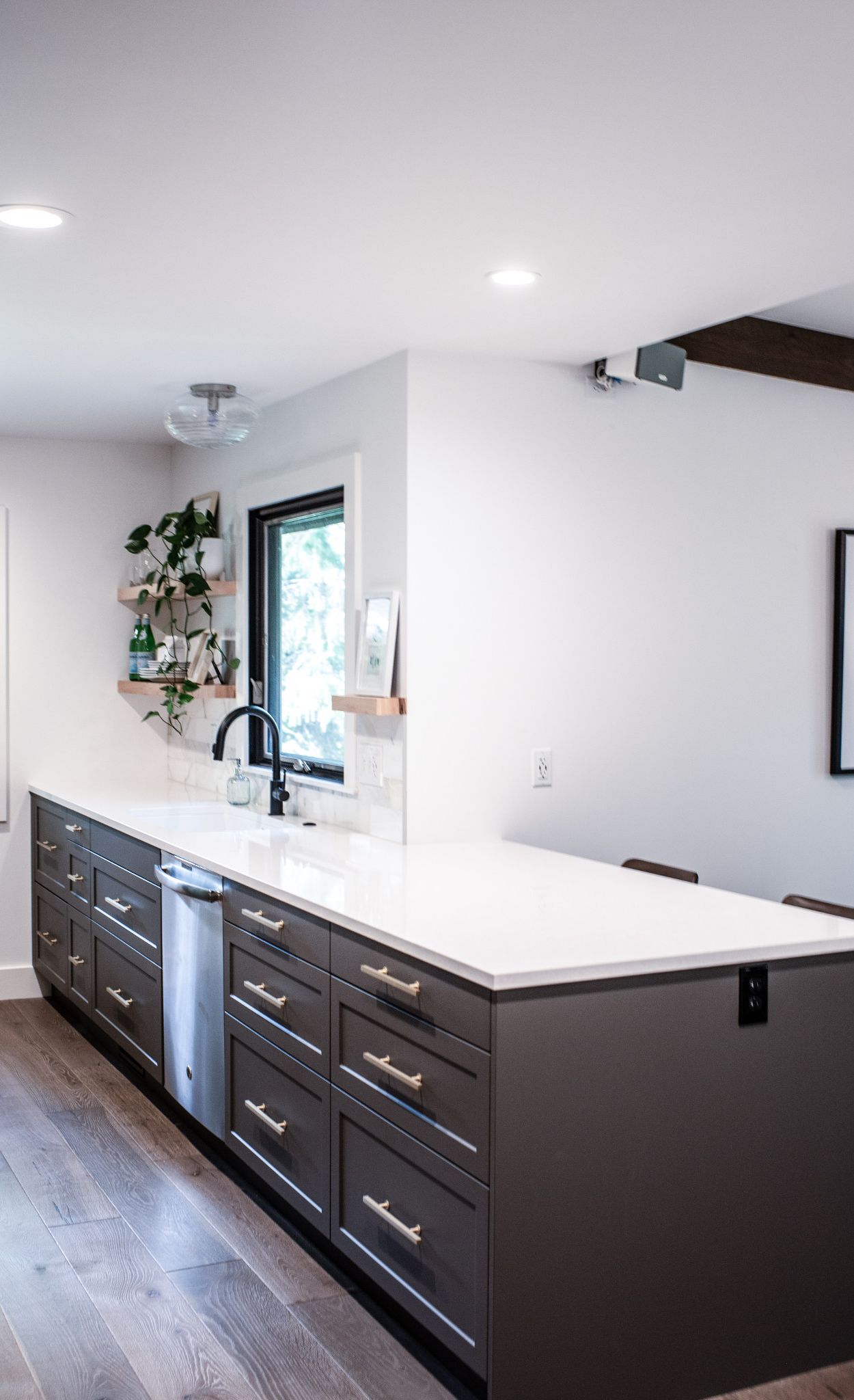 Modified galley kitchen renovation featuring Cambria Newport™ countertops and breakfast nook.
5. Let the light in.
A small kitchen doesn't mean you should scale back your lighting. Make your spaces bright and practical with a mix of ambient lighting, task lighting, and accent lighting. Ambient lighting is the general lighting in a room diffused to create a certain mood or ambiance. Task lighting illuminates your kitchen work surfaces while accent lighting highlights certain items, such as a kitchen cabinet or shelf.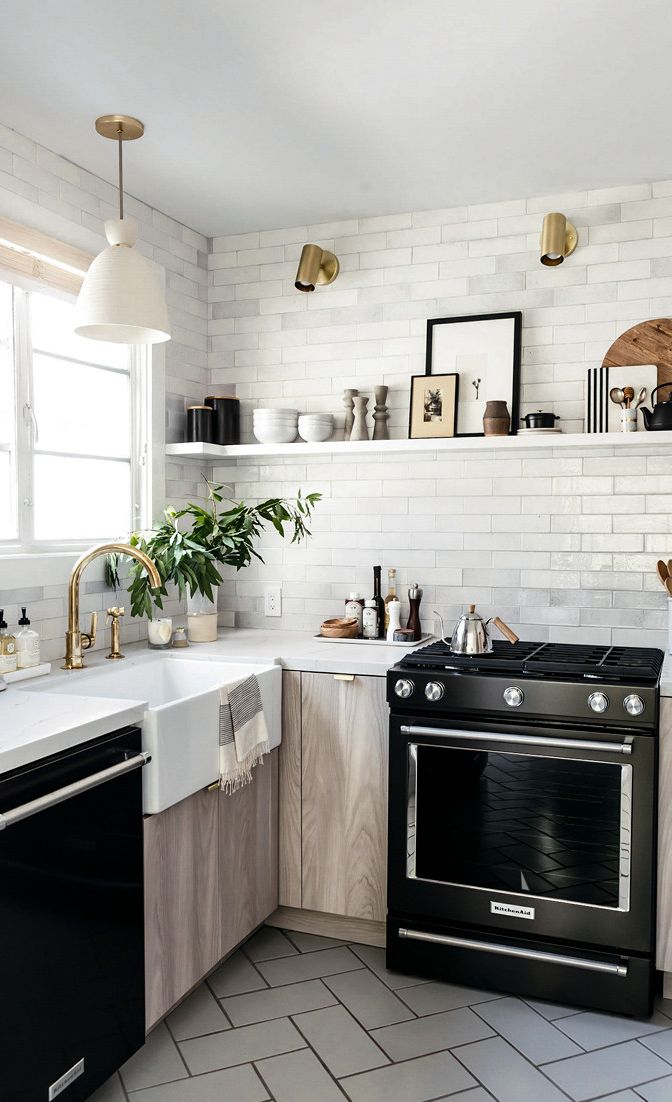 A mix of light fixtures offer functional beauty in this small kitchen renovation featuring Ella Matte™ countertops.
Show off your small-space style
Ready to plan your small kitchen remodel or update? Bring your vision to life by crafting a moodboard of your selections. Order a sample of your favorite Cambria designs for your perfect countertop fit. Need some more inspo as a starting point? Here are some of our top picks for a small kitchen with midcentury modern flair.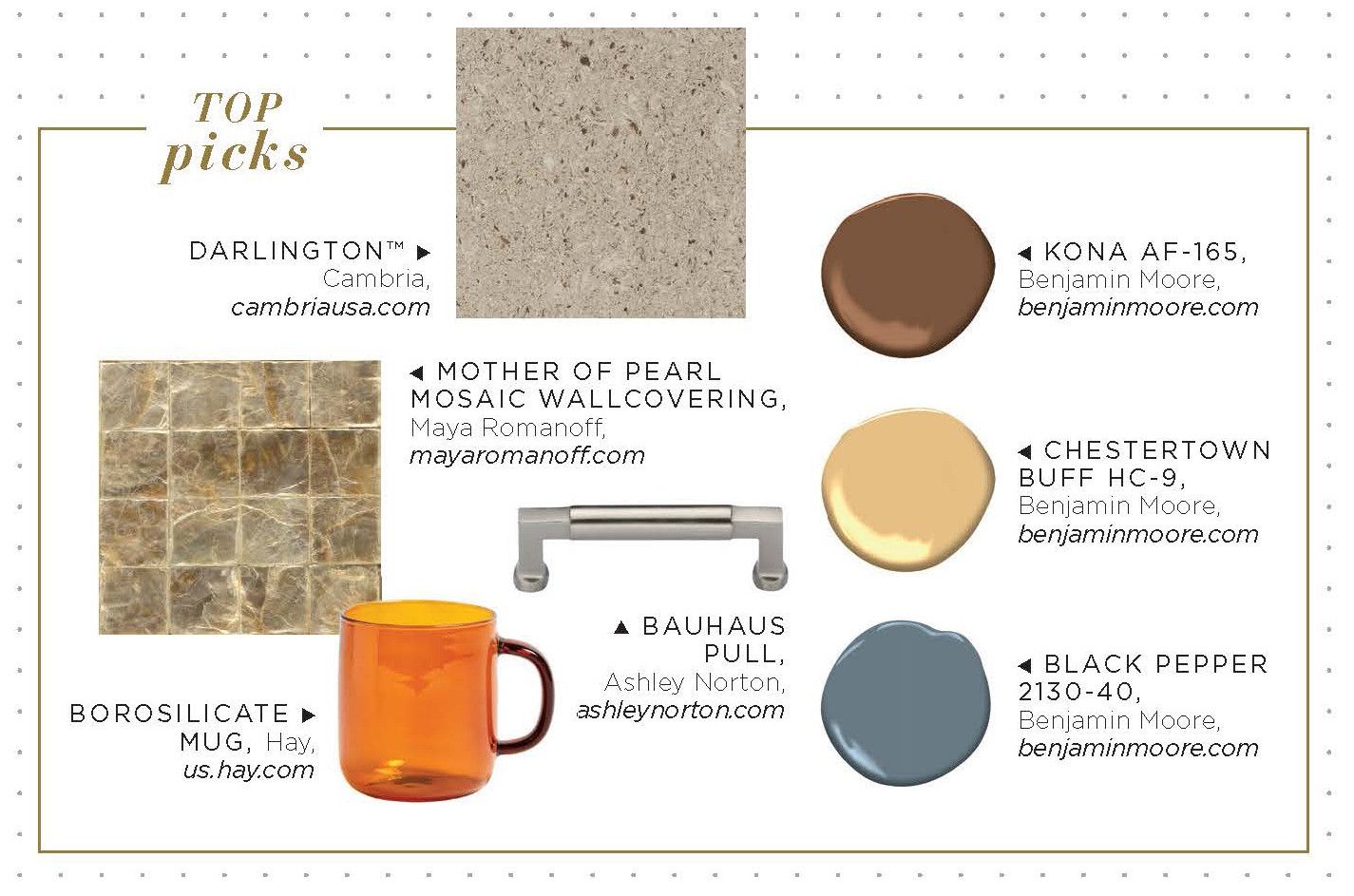 Share your kitchen project with us on social media using the hashtag #MyCambria. We can't wait to see your small-space style!