From Dallas and New York to Chicago and beyond, design show houses showcase the best of interior design and are a source of endless inspiration.
Here, a few of our favorite spaces from show homes this past year.
Kips Bay Decorator Show House Dallas
For nearly 50 years, Kips Bay Boys & Girls Club has celebrated the best of interior design by transforming a luxury Manhattan home into an elegant exhibition of fine furnishings, art, and technology, all to raise critical funds for much needed after-school and enrichment programs for New York City children.
The Show House has become a must-see event for thousands of design enthusiasts, renowned for sparking interior design trends throughout the world.
In 2017, Kips Bay Boys & Girls Club expanded the brand to Palm Beach, Florida, and in fall 2020, Kips Bay opened its inaugural Decorator Show House in Dallas, Texas. The Show House returned to Dallas in 2021, and we were thrilled to partner with a few amazing designers on their spaces.
With 25+ participating designers, the home is a master class in beautiful design.
Martyn Lawrence Bullard Bathroom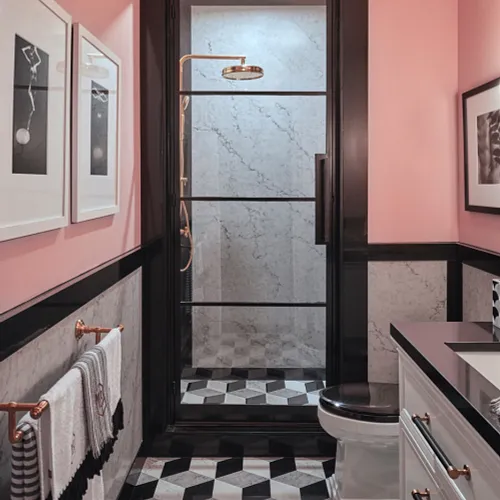 "For my Kips Bay Dallas Show House en suite bathroom, I clad the space in Cambria Bridport and Sutherland stone, using slab material to wainscot the walls and fully wrap the shower enclosure," writes designer Martyn Lawrence Bullard. "The floor was achieved by laser cutting three different slabs to make the geometric tile design. Kohler fittings are used for the shower and taps as well as their new vanity painted in Benjamin Moore Decorator's White."
He adds, "The walls are also Benjamin Moore Desert Rose pink to match the bedroom ceiling. The magnificent hand forged metal shower door was made for me by Texas's own Chateau Domingue."
Traci Connell Pool Bar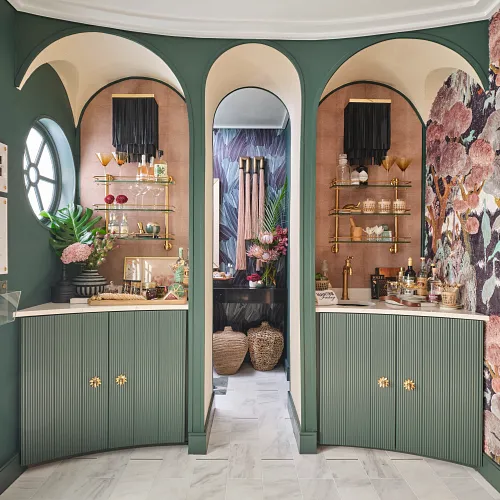 Dallas designer Traci Connell envisioned this "martini muse" area as a poolside refuge tucked away off the patio, explains Veranda magazine. "Each panoramic of décor immerses the guests in a fairy-tale moment as the fascination is let loose to run wild with fun elements of cocktails sprinkled throughout," says Connell to Veranda. "The bar beckons the guests to take a moment to relax as their spirits—both figuratively and literally—soar."
She refers to the room as a space of "fanciful relaxation" and, ultimately, luxury.
"The goal was for the homeowner to come off the veranda and have a place to refresh with a beverage and snack, so we put a lot of emphasis on indoor-outdoor materials," said the designer to Galerie magazine. Fabrics from Perennials and Fortuny mix with Cambria Colton countertops and a tactile wall covering from Arte.
Yates Desygn Basement Retreat
Writes Veranda of this living room and bar area by Bryan and Mike Yates of Yates Desygn, "The pair dubbed the room 'Inner Circle,' as they envision a space that feels as exclusive and exciting as a prohibition-era speakeasy while also being an ideal place to unwind and relax with friends at the end of the day."
Veranda continues, "Layers and richness abound in this space, from sumptuous, suede walls to the STRIKE Breccia Nuvole marble-adorned fireplace by Chad Dorsey. This space is also properly equipped with everything an entertainer could dream of: a chic game table, state-of-the-art kitchen appliances, and the best audiovisual and lighting systems around. It's sure to be a place everyone will gravitate toward come party time."
Gil Melott Kitchen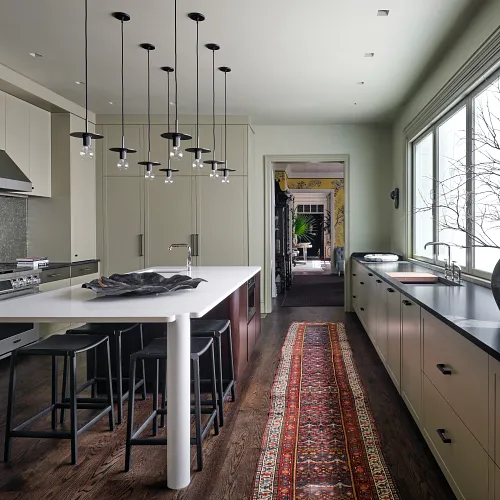 "Our goal was simple: to create a gathering spot for enigmatic conversations around food with friends and family," declares Studio 6F designer Gil Melott to House Beautiful. "Our use of walnut interiors in the cabinetry paired with the earthy fern green painted exteriors encourage a grounding with the space," as seen through the 10-foot-long island, which Melott proclaims is "reminiscent of a master craft Italian dining table."
Corey Damen Jenkins Dining Room
Writes Galerie magazine, "Building on a project he's currently working on for a client on Embassy Row in Washington D.C., Corey Damen Jenkins used more than 400 yards of Sanderson fabric to construct a tented dining room in the show house's formal eating area. While the custom Versaille pattern parquet flooring nods to tradition, using multiple quartz tables is a more contemporary approach to entertaining."
Damen Jenkins tells Galerie, "I really wanted this room to be that spot where antiquity and modernity meet."
Galerie House of Art & Design
Galerie magazine debuted its inaugural Galerie House of Art and Design this summer in Sag Harbor, New York. Unlike other show houses, this unique experience brought the pages of Galerie magazine to life by combining the best of the worlds of art and design all under one roof.
Galerie's editorial team handpicked a group of uniquely talented designers from across the country to realize this vision. All known for their ability to incorporate high-caliber art into livable spaces, these designers enlivened a classic, Shingle-style estate, situated on six lush acres including a pond, with their distinctive points of view.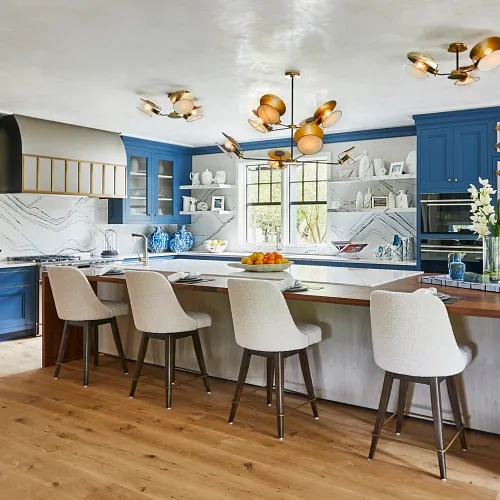 Writes Galerie, "To craft the dream kitchen, Bob Bakes of Bakes & Kropp selected both flat- and glass-front cabinetry, rendered in a soothing blue shade, and top-of-the-line appliances from Fisher & Paykel. The Cambria quartz gentle wavelike veining adds to the beach-chic atmosphere, while gleaming brass accents, including a striking custom range hood, adds a sophisticated flair. A spacious island surmounted by sculptural lighting fixtures from Circa offer plenty of prep space as well as a convivial spot for casual entertaining."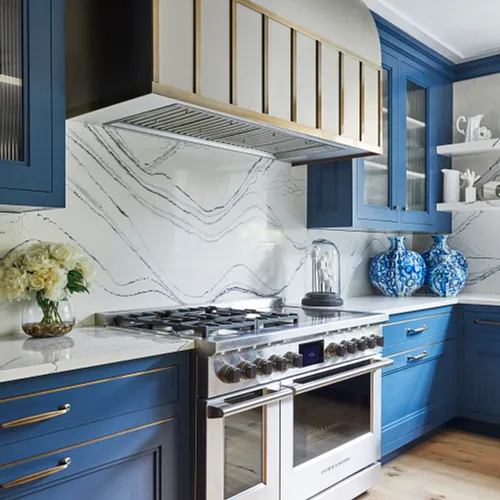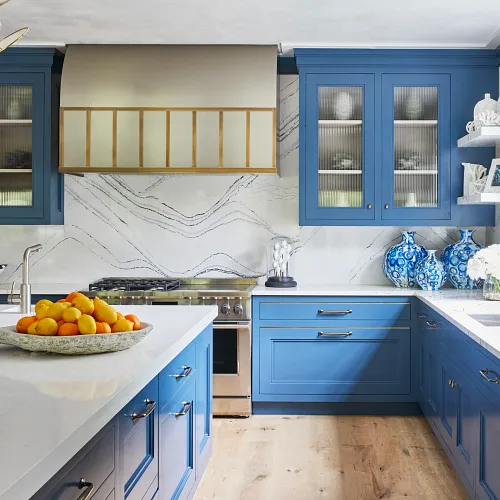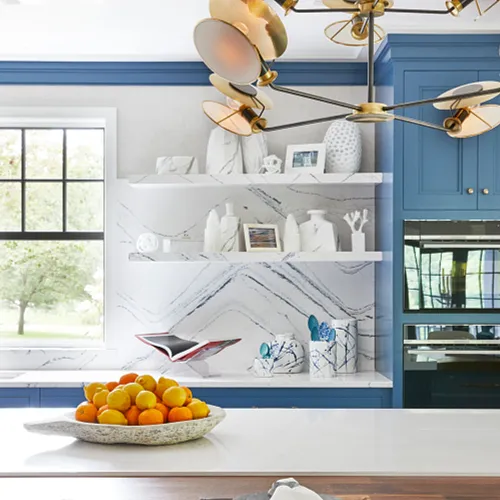 Lake Forest Showhouse
Since 1985, the Lake Forest Auxiliary Chapter of the Infant Welfare Society of Chicago has hosted a nationally recognized designer Showhouse and Gardens to benefit the Angel Harvey Family Health Center of the Infant Welfare Society of Chicago, which provides healthcare to Chicago's medically underserved. Since its inception, the Lake Forest Showhouse has raised in excess of $4 million for the deserving cause.
In 2020, more than 30 interior and landscape designers, including honorary chair Paloma Contreras, transformed the 23-room, 11,000-square-foot east Lake Forest Pullman property into a showstopping tribute to the latest in design and décor.
Guests enter through the foyer and are greeted by a cloak room and powder room designed by Sarah Vaile Interior Design. She created the powder bathroom jewel box with a color palette—Sherwin-Williams Framboise—inspired by the burgundy Rolls Royce driven by Princess Margaret in "The Crown." In fact, Princess Margaret served as the muse for the entire space.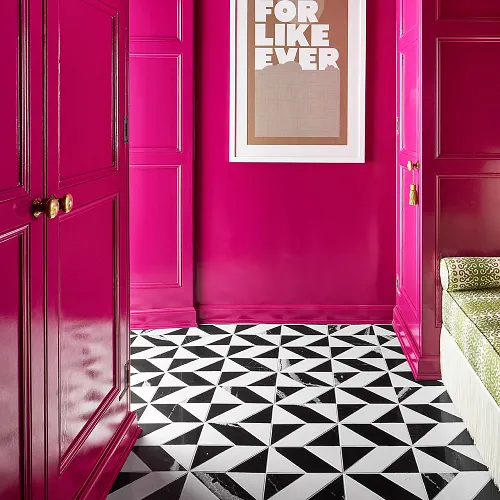 A DeGournay Rousseau wall covering, custom inverted chevron tile pattern floor in Cambria's Mersey and Smithfield designs, mirrored wall, and cheeky prints and tassels drive home the whimsical nature of the space.
"We sought to create a design that felt both original to the home and simultaneously modern," says Vaile. "A black-and-white stone mosaic felt like a natural go-to, which is what brought us to Cambria. We loved that their latest collection offered a quartz with all the veining and visual elements of marble but yet suitable for modern living with its durable nature. We had used this fun and young geometric mosaic on a master bath project and sought to have Cambria custom create the design for the Showhouse."
In the kitchen, The ABL Group played with an existing marble and travertine checkerboard floor and wood beams original to the home, adding a reclaimed barnwood butcher block by Lake County Barnwood to the island with an antique sewing base, Amish-made cabinetry by Dovetails Cabinetry, and a food-safe quartz countertop by Cambria on the island and area countertops in a custom edge option.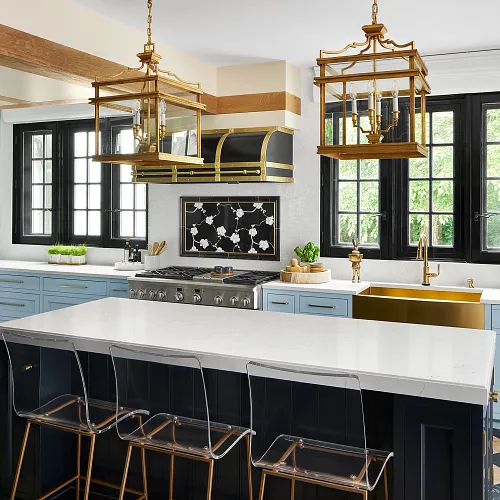 "From the beginning, we knew we had to have a high-quality, maintenance-free countertop option with the natural look and feel of classic marble," says The ABL Group's George Markoutsas. "We settled on Cambria's Colton Matte design for its timeless elegance and its warm and creamy tones, which paired nicely with the existing floor."
Off the kitchen is a breakfast room by DP Home Design featuring Cambria's Clovelly design on the coffee bar, which pops against high gloss blue cabinetry by Dovetails, along with a standout butler's pantry by Lori Lennon & Associates.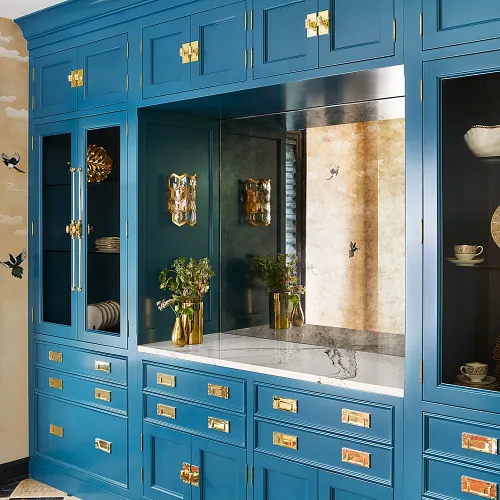 The formal dining room by Paloma Contreras Interior Design featured another unique Cambria application on the fireplace with a Cambria Blackpool Matte surround.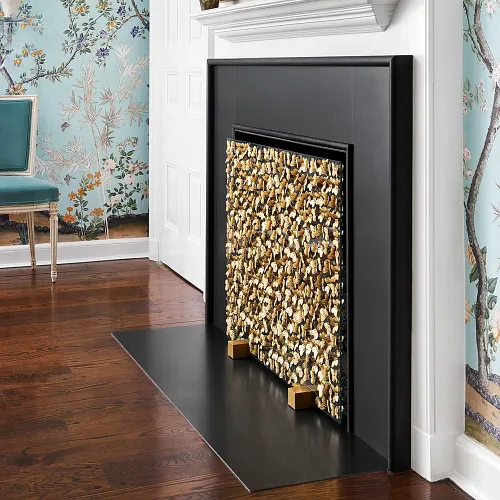 For more of the Lake Forest Showhouse, visit here.
Get the Look
Follow Cambria on social media with #MyCambria for more standout designs.
For more information on Cambria, including performance data, product specifications, and certifications, see our Professional Resources.
Interested in creating a showstopping design project with Cambria? Buy a sample, find a dealer, or call 1-866-CAMBRIA (1-866-226-2742) to be connected with a market representative in your region. Or visit our website to set up a virtual design consultation.