Sumptuous finishes, rich details, high-quality materials that blend form and function, and an undefinable "it" factor are a few of the calling cards for a luxurious interior.
Want to replicate the luxe look in your own home? Here, we are sharing seven of our favorite luxe designers—like Martyn Lawrence Bullard, Christopher Peacock, Chad Dorsey, Vasi Ypsilantis, Gil Melott, Corey Damen Jenkins, and Jim Dove—that you should know about for inspiration in your next project.
Martyn Lawrence Bullard
Martyn Lawrence Bullard is a multi-award-winning Los Angeles–based interior designer renowned for his broad range of styles and eclectic, yet sophisticated and inviting interiors. His A-list clientele includes celebrities ranging from the Kardashians and Tommy Hilfiger to Cher and Eva Mendes.
For the luxe Kips Bay Decorator Show House Dallas en suite bathroom Bullard recently designed, he stated that he "clad the space in Cambria Bridport and Sutherland stone, using slab material to wainscot the walls and fully wrap the shower enclosure. The floor was achieved by laser cutting three different slabs to make the geometric tile design. Kohler fittings are used for the shower and taps as well as their new vanity painted in Benjamin Moore Decorator's White", writes Bullard.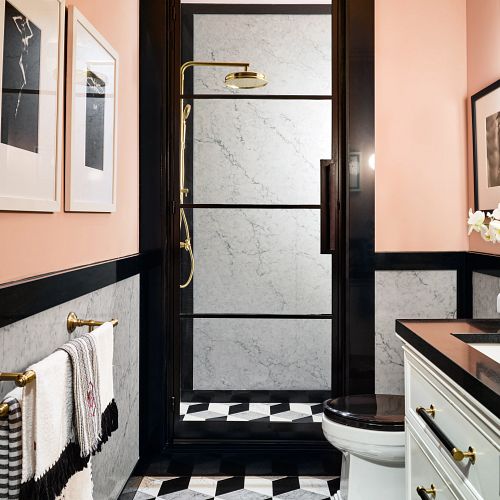 To match the bedroom's ceiling, Bullard added an unexpected detail, painting the walls in Benjamin Moore Desert Rose pink.
He adds, "The walls are also Benjamin Moore Desert Rose pink to match the bedroom ceiling. The magnificent hand forged metal shower door was made for me by Texas's own Chateau Domingue."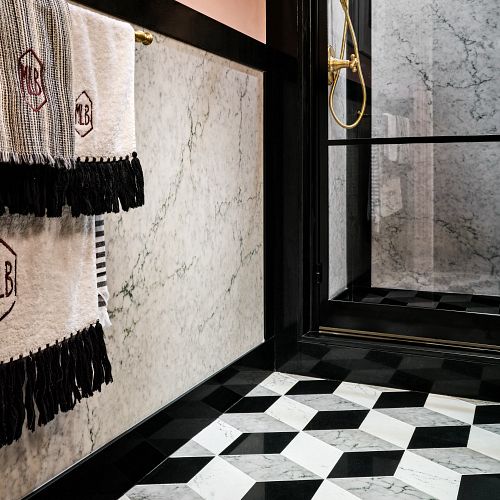 Christopher Peacock
The global leader in the design and manufacturing of luxury fitted cabinetry, Christopher Peacock knows a thing or two about a luxurious kitchen.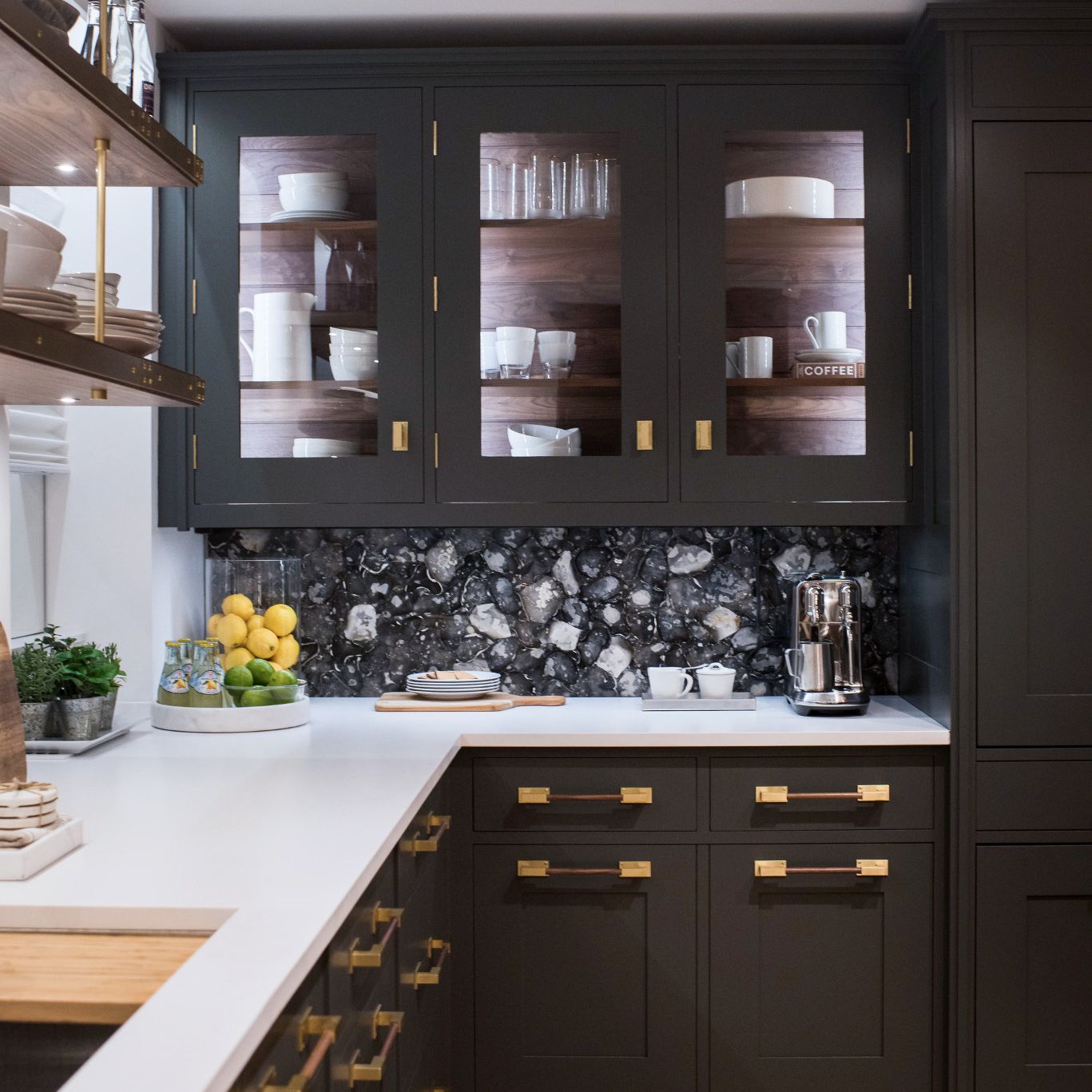 For this kitchen in the New York Kips Bay Decorator Show House, Peacock complemented the olive green cabinetry—in homage to his mother's favorite hue—with two Cambria designs: White Cliff Matte to add perimeter brightness and Blackpool Matte for a statement kitchen island.
"The countertops had to be part of the story and I didn't want them to necessarily compete visually," says Peacock. "I was looking for the purest white I could find, which was what [Cambria] had. With the island countertop, I didn't want a white countertop. I wanted something black that just soaked up the light and was not reflective. The matte black was just perfect. So [with] the two [designs], it just works with the scheme and looks fantastic."
See more of the project here.
Chad Dorsey
Dallas-based designer Chad Dorsey creates refined interiors that balance tailored style with the spirit of modern living.
Trained as an architect, his approach to every space is characterized by a fluid relationship to the architecture where proportion, light, and scale are as essential as taste and lifestyle. His aesthetic is best described as "relaxed luxury," which is defined by a quiet palette, custom furnishings with handcrafted details, meaningful objects, and a true sense of the people who live there.
Dorsey approached the Kips Bay Decorator Show House Dallas main and prep kitchens the same way, using unexpected materials and beautiful finishes.
The result? Two standout spaces steeped in luxury.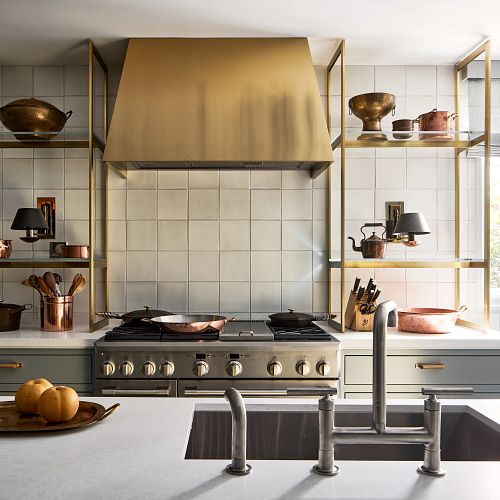 See more of the Decorator Show House Dallas here.
Vasi Ypsilantis
Designer Vasi Ypsilantis designs and builds beautiful residential and commercial spaces for the most discerning clients, approaching each project with a unique and sophisticated aesthetic built upon a foundation of space planning expertise.
For the Kips Bay Decorator Show House in Palm Beach, Ypsilantis found inspiration for the kitchen in the idea of old-world elements made modern, while still complementing the aesthetic of the Mediterranean style Palm Beach home.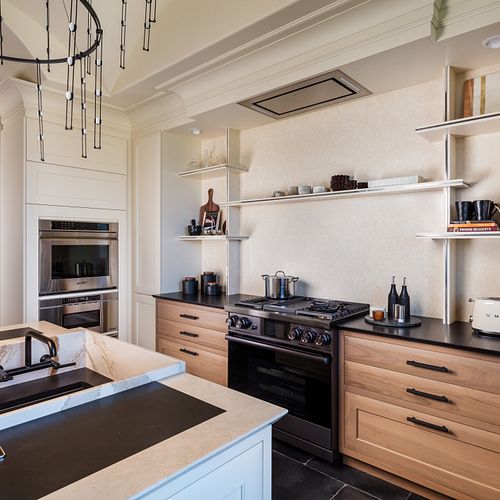 She had a luxe color palette in mind featuring modern black hues and earthen neutrals.
"My goal was to create a complicated design that seemed simple and effortless, a place that felt comfortable and elegant at the same time," says Ypsilantis. "I wanted my design work to be appreciated by my peers and understood by people who are not experts in the design industry. I think this space achieved both."
See more of the project here.
Gil Melott
Studio 6F and its principal designer Gil Melott have been recognized for an unapologetic approach to seamlessly blending disparate textures and periods into a well-curated story for homes and public spaces.
Melott did just that for the kitchen in the Kips Bay Decorator Show House in Dallas. "High-tech appliances and a monochromatic palette peacefully coexist in Studio 6F's custom kitchen, where Cambria countertops are given a custom look with hand-hewn details," writes Galerie magazine of the Cambria Malvern design.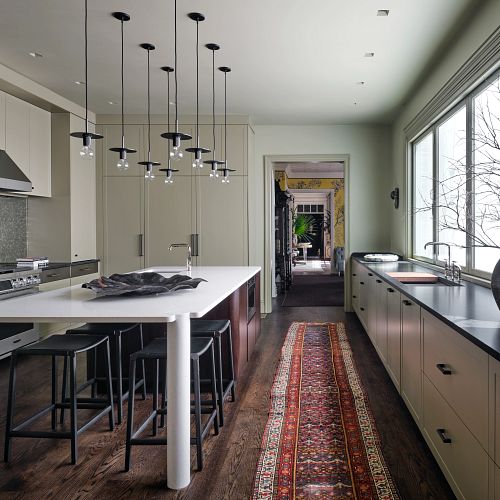 Melott's goal? "To create a gathering spot for enigmatic conversations around food with friends and family," declares Melott to House Beautiful. "Our use of walnut interiors in the cabinetry, paired with the earthy fern green painted exteriors encourage a grounding with the space."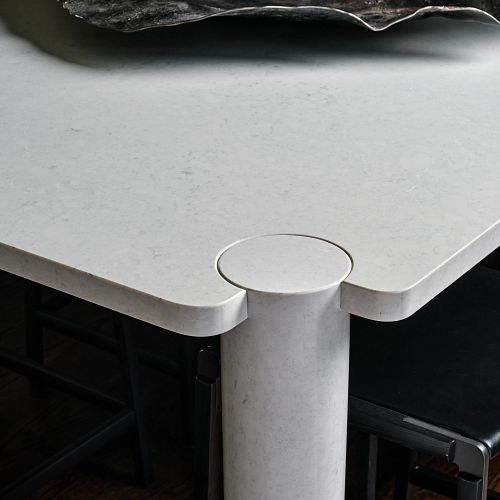 Corey Damen Jenkins
Corey Damen Jenkins & Associates is a New York–based interior design firm founded by nationally acclaimed designer Corey Damen Jenkins, who is celebrated for his mixing of vivid colors with layered patterns to create inspired, inventive, and unexpected spaces.
Taking cues from the haute couture runway, Corey's brand of interior design and decoration features luxurious and fashion-forward materials. Take, for example, the dining room he created for the Kips Bay Decorator Show House Dallas.
Writes Galerie magazine, "Building on a project he's currently working on for a client on Embassy Row in Washington D.C., Corey Damen Jenkins used more than 400 yards of Sanderson fabric to construct a tented dining room in the show house's formal eating area. While the custom Versaille pattern parquet flooring nods to tradition, using multiple quartz tables is a more contemporary approach to entertaining."
Damen Jenkins tells Galerie, "I really wanted this room to be that spot where antiquity and modernity meet."
Jim Dove
Designer Jim Dove has over 25 years of industry experience creating architecturally inspired, award-winning kitchens with top-of-the-line pieces in locations from California to Italy.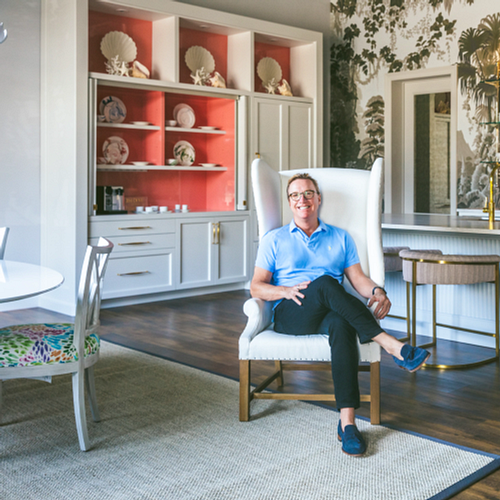 For his West Palm Beach showroom, Dove paired a statement de Gournay wall covering with a L'atelier Paris range, sleek white Cambria Ironsbridge Matte countertops, and luxe upholstered seating to tie the look together.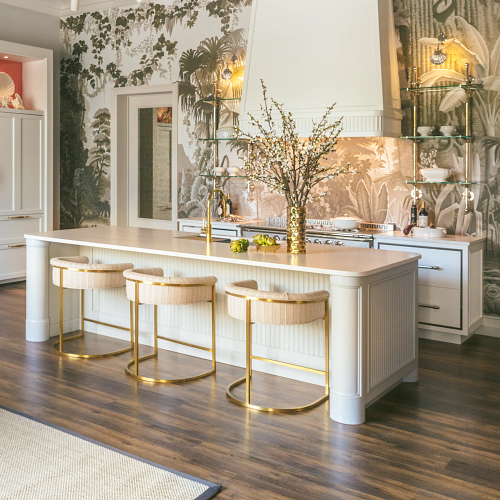 The result seamlessly blends the best of modern, contemporary, and traditional design elements for a stunning finish.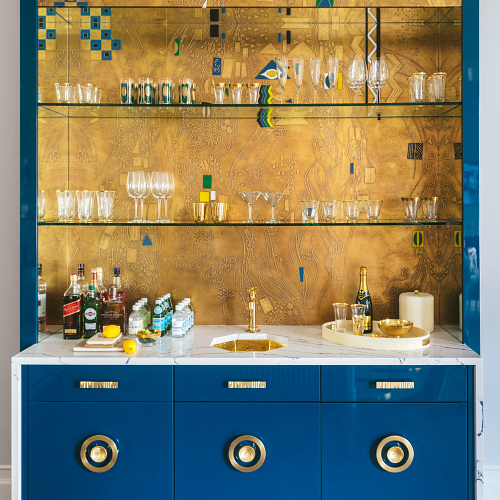 For a look at more of our favorite builders, check out this blog post.
Featured Designs
Get the Look
Follow Cambria on social media with #MyCambria for more standout designs.
For more information on Cambria, including performance data, product specifications, and certifications, see our Professional Resources.
Interested in creating a showstopping design project with Cambria? Buy a sample, find a dealer, or call 1-866-CAMBRIA (1-866-226-2742) to be connected with a market representative in your region. Or visit our website to set up a virtual design consultation.