Working remotely is here to stay, and many of us have adjusted our interiors to accommodate a home office for work-from-home days. With that in mind, it's essential to have a work area that is inspiring, functional, and durable enough to withstand an eight-hour workday.
Cambria's maintenance-free and scratch- and stain-resistant quartz surfaces work well in any and all types of office environments, whether it is a dedicated home office or just a corner of the kitchen island.
Made from pure, natural quartz and featuring unparalleled strength and durability, Cambria surfaces are the perfect fit for working from home. They're nonporous and nonabsorbent, meaning they're stain resistant and easy to clean and maintain—so you can safely enjoy lunch (or a post-work glass of wine) at your desk.
Cambria also offers a revolutionary matte finish, which is anti-glare and easier on tired eyes that have been staring at screens all day.
Here, we're sharing nine of our favorite work-from-home spaces for inspiration in your next home office design.
1. A Cozy Nook
We love this happy home office design. With a soothing blue hue on the cabinetry (extra storage for desk supplies!), a bright floral wall covering, an impressionist piece of artwork, and a Cambria Delgatie countertop that's just as hardworking as you are, this office is one you won't mind coming to every day.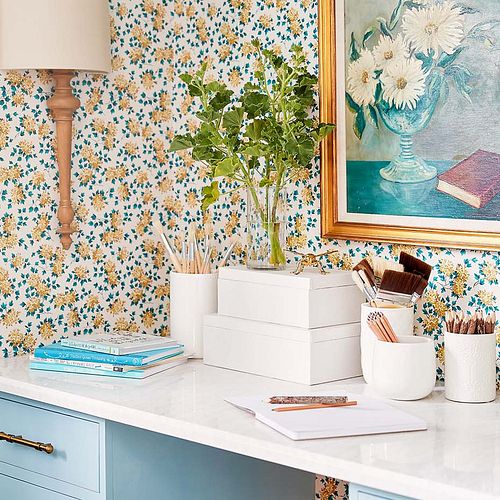 2. The Corner Office
Cambria's marble-alternative quartz designs give you the look of marble without all the maintenance. Home builder John Kraemer & Sons created a corner office in this nook with a Cambria Bellingham desk top that's as beautiful as it is functional.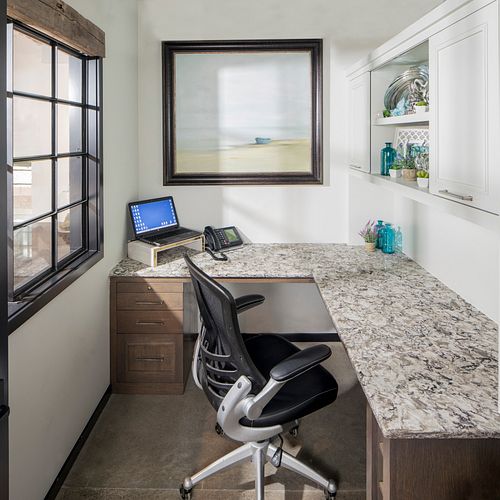 3. Double Duty
Minnesota-based remodeler Mom's Design Build created a dual-function vanity in this home—with a versatile Cambria Berwyn countertop—that doubles as both a spot for getting ready and a desk for work tasks.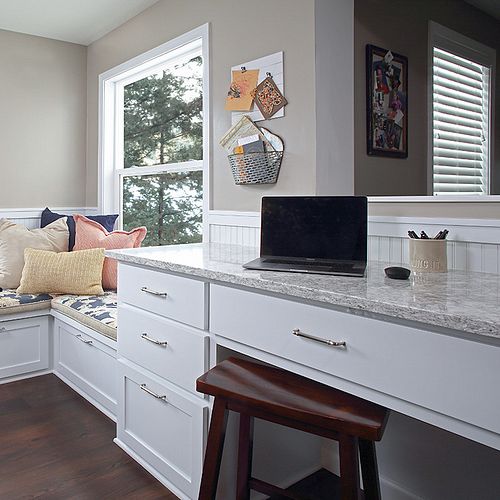 4. Showy Station
The Kips Bay Boys & Girls Club expanded its celebrated Show House to Dallas, Texas, in fall 2020 with honorary chairs Jamie Drake and Bunny Williams; co-chairs Steele Marcoux, Christopher Peacock, and Jan Showers; and vice chairs Chad Dorsey and Jean Liu.
This moody home office features a Cambria Blackbrook Matte built-in desk that's both easy on the eyes and easy to maintain.
To see more of the Kips Bay Decorator Show House Dallas, visit here.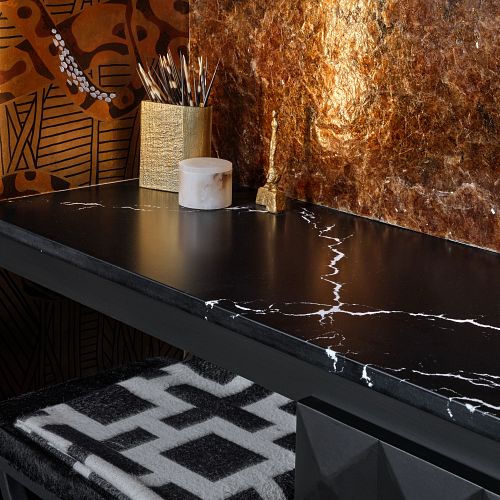 5. Two of a Kind
Having multiple people working from home in one household can be a challenge, unless you have a gorgeous work station like this one, featuring side-by-side desks along with a Cambria Cashel countertop.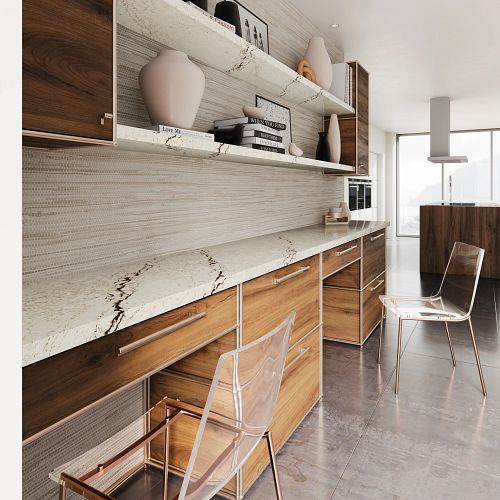 6. Think Small
You don't need a full home office to create an effective work-from-home space. Take cues from blogger Maria Vizuete, who reconfigured ancillary space in her kitchen to create an office nook with a Cambria Brittanicca Warm countertop and backsplash.
To see more of Maria's home, visit here.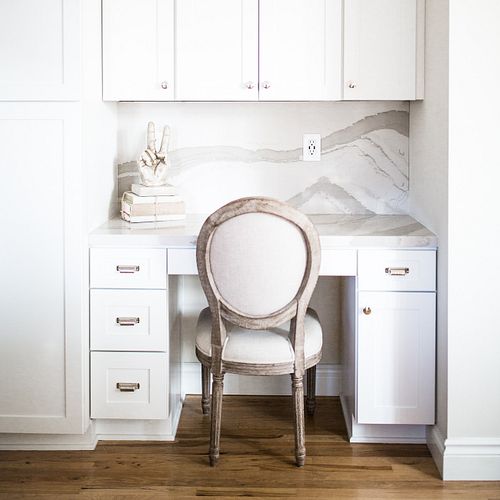 7. Let There Be Light
Who wouldn't love a home office with an abundance of natural light? Find inspiration in this design from the Edina Parade of Homes, which features warm white walls and cabinetry, gold accents, and Cambria Rose Bay countertops, all of which reflect sunlight streaming in through the nearby windows.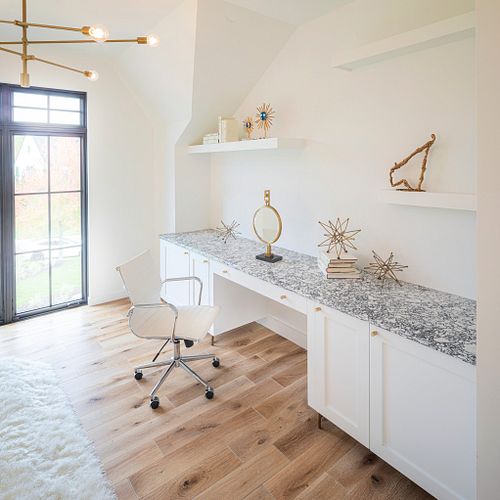 8. Side by Side
Working from home never looked so chic as in this stylish office nook, featuring Cambria Swanbridge countertops, warm white cabinetry and walls, richly hued hardwood flooring, and rose gold hardware and fixtures.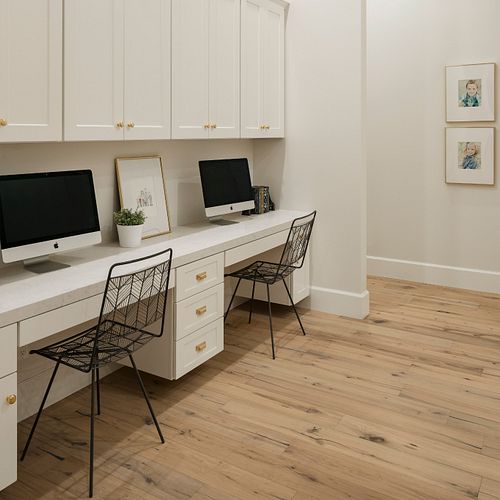 9. Color Pop
In this home, builder John Kraemer & Sons created an all-white office space with Cambria White Cliff countertops but added a pop of orange on the ceiling to keep the effect from leaning too neutral.
Of Cambria's many designs, White Cliff is the purest white surface. It helps brighten the pops of color throughout the home.
"We were all attracted to White Cliff," says Kristine Anderson of PKA Architecture. "It's super bright, and it's got this great vibrant punch to it."
To see more of this home, visit here.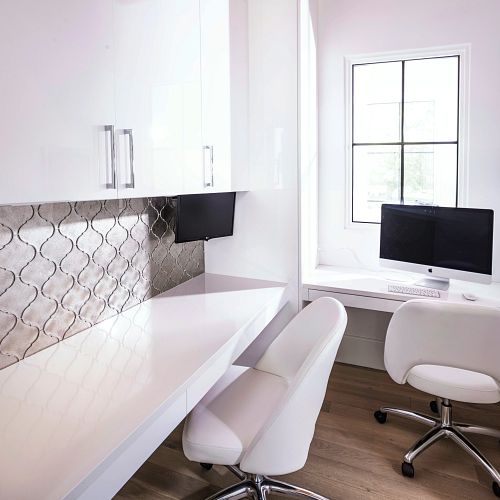 Get the Look
Follow Cambria on social media with #MyCambria for more standout designs.
For more information on Cambria, including performance data, product specifications, and certifications, see our Professional Resources.
Interested in creating a showstopping design project with Cambria? Buy a sample, find a dealer, or call 1-866-CAMBRIA (1-866-226-2742) to be connected with a market representative in your region. Or visit our website to set up a Cambria consultation.