Studio 125, a creative studio and event space in Minneapolis, is the brick-and-mortar home of Wit & Delight, a lifestyle blog founded by Kate Arends. The studio opened in 2016 and expanded to triple the size within less than a year to support the growing brand. Located in an industrial building, the studio reflects a residentially inspired design aesthetic complete with two trend-worthy kitchens. An open studio design allows for optimal flexibility, balanced with structured spaces for focused tasks. Read on to explore the light-filled space and gather inspiration for workplace design with adaptable and inviting at-home ambiance.
Studio design with the Wit & Delight aesthetic
Arends was inspired and challenged by the idea of "Wit & Delight at home," translating the blog aesthetic into a physical space her readers and clients could connect with.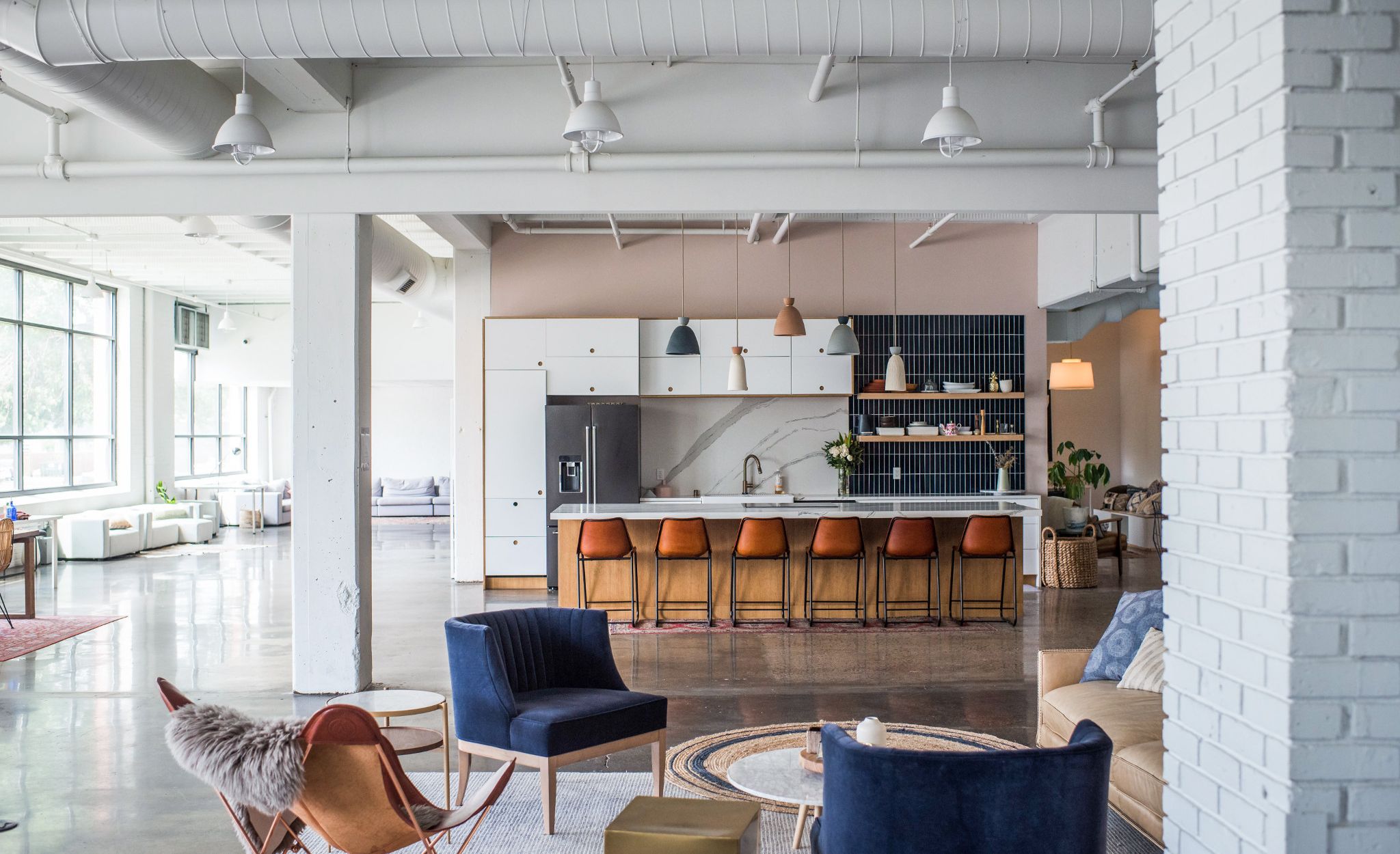 Just like the heart of a home, a full kitchen with Brittanicca Matte™ is at the heart of the open studio floor plan.
"With many of our followers looking for design inspiration for their own homes, I loved the idea of taking all the decor and furnishings I've collected over the years and creating a space the community could use for their own enjoyment," Arends explains. "More importantly, I'm happy to help members of our community make sound choices when it comes to what to put in their home. Some people really need to see materials and furnishings in person, and at Studio 125 we can offer that opportunity."
A lounge just past the studio entryway offers a waiting area for guests and casual meeting environment.
"When your life and work blur more than the average business owner, it's helpful to have a 'home' that you can call your office," says Arends.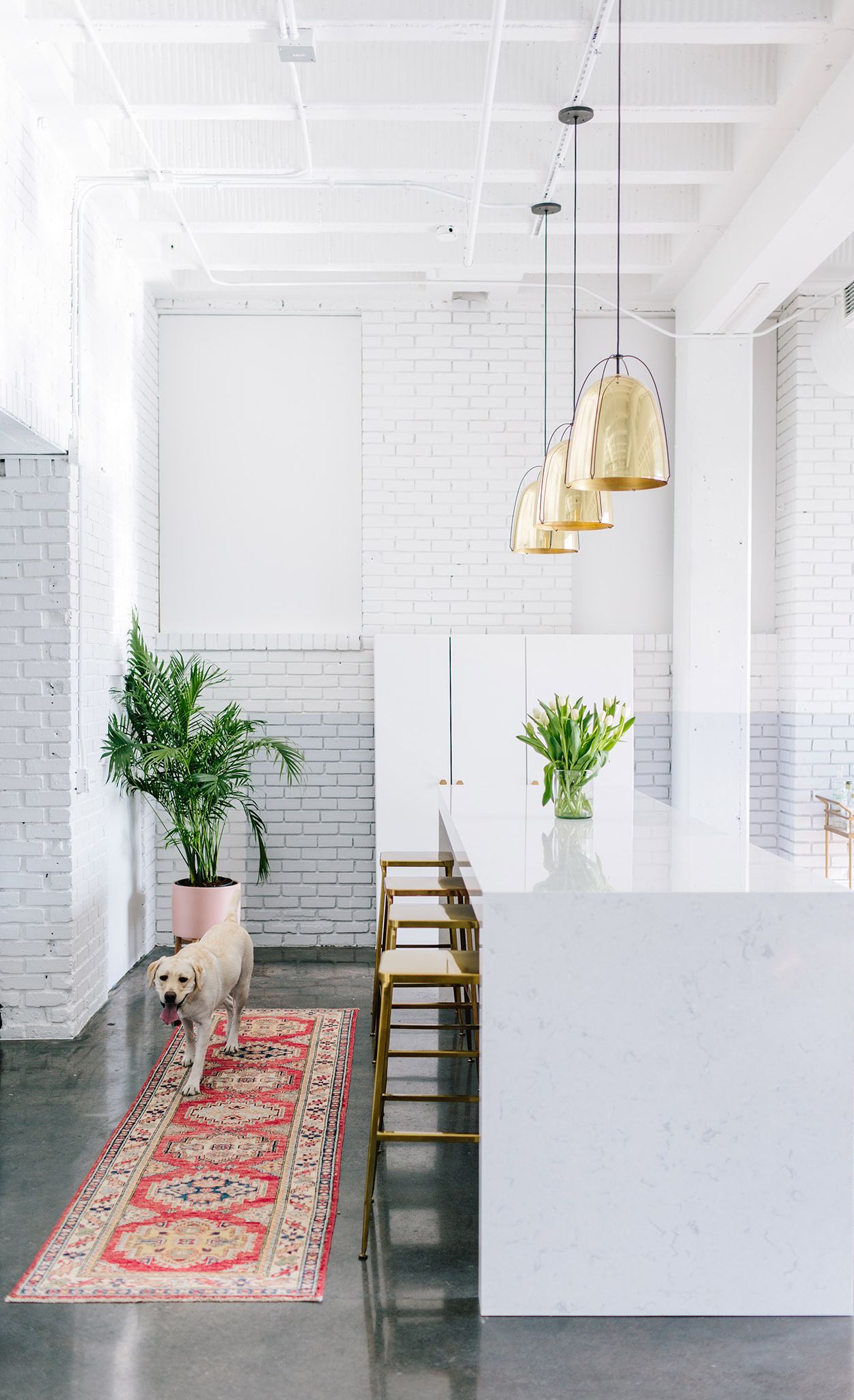 A dog-friendly workplace makes everyone feel more at home. Stunning, sturdy, and simple to clean, this Cambria Swanbridge™ waterfall island is a dog-friendly design choice.
Two studio kitchens with Cambria surfaces
The studio's two kitchen areas serve multiple functions and contribute to the at-home vibe, offering natural gathering spots in the commercial space. Both kitchens feature Cambria natural stone surfaces: a kitchenette with Swanbridge waterfall-edge island and a full kitchen with Brittanicca Matte countertops and backsplash. "It's funny how many people love to rub our countertops when they come in!" says Arends. "The elegant surface stands out in an industrial space, so that unexpected juxtaposition really allows the countertops to pop. They are the focal point of the whole room."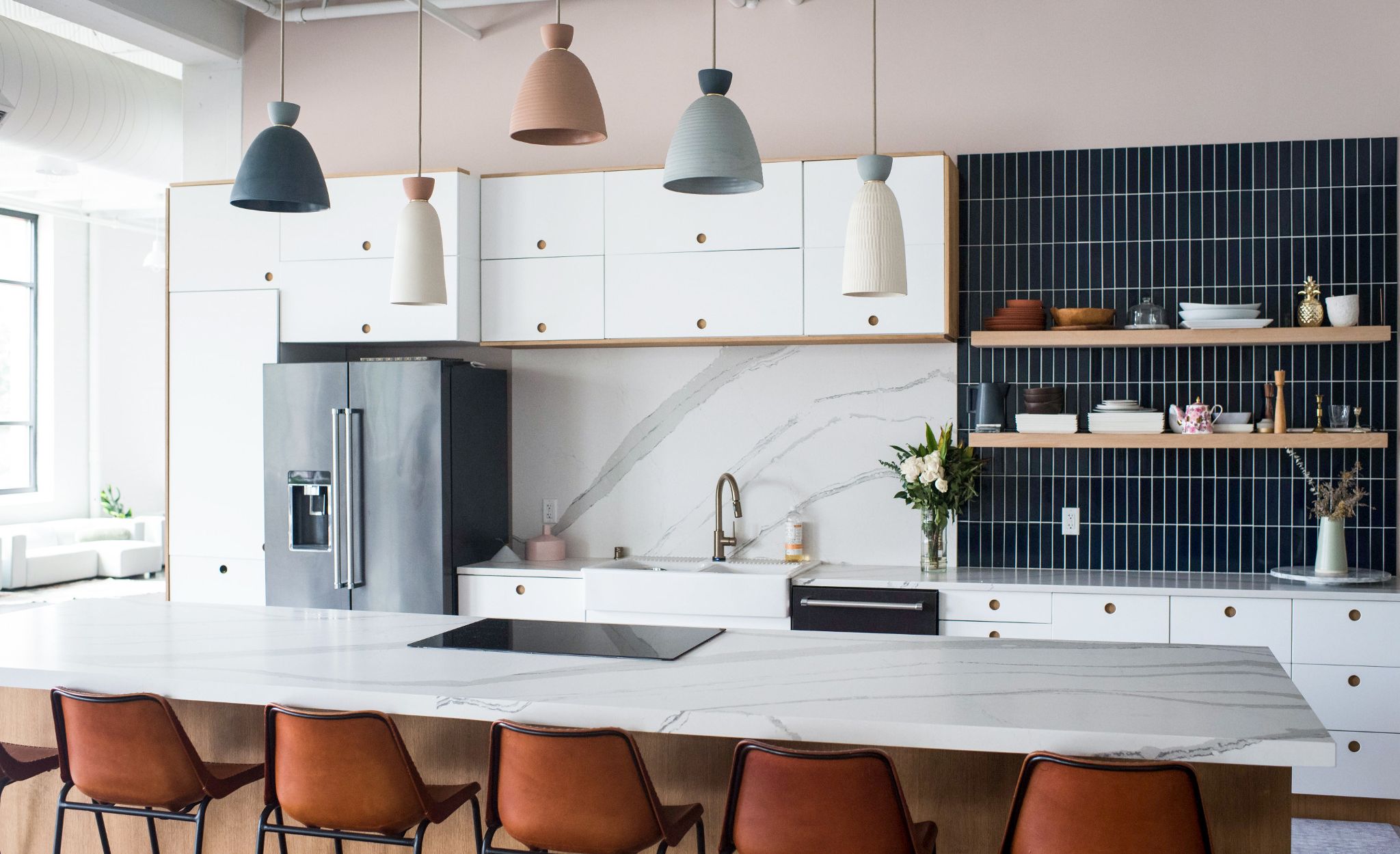 Striking design selections from Brittanicca Matte countertops and backsplash to navy Fireclay Tile and Rejuvenation ceramic pendants create a memorable kitchen focal point.
Not simply striking, the versatile and durable quartz designs offer a maintenance-free marble alternative for the high-traffic studio. Stain- and scratch-resistant countertops eliminate worries about damage from renting the space for a variety of functions, including product photo shoots, retail pop-ups, weddings, workshops, and corporate events.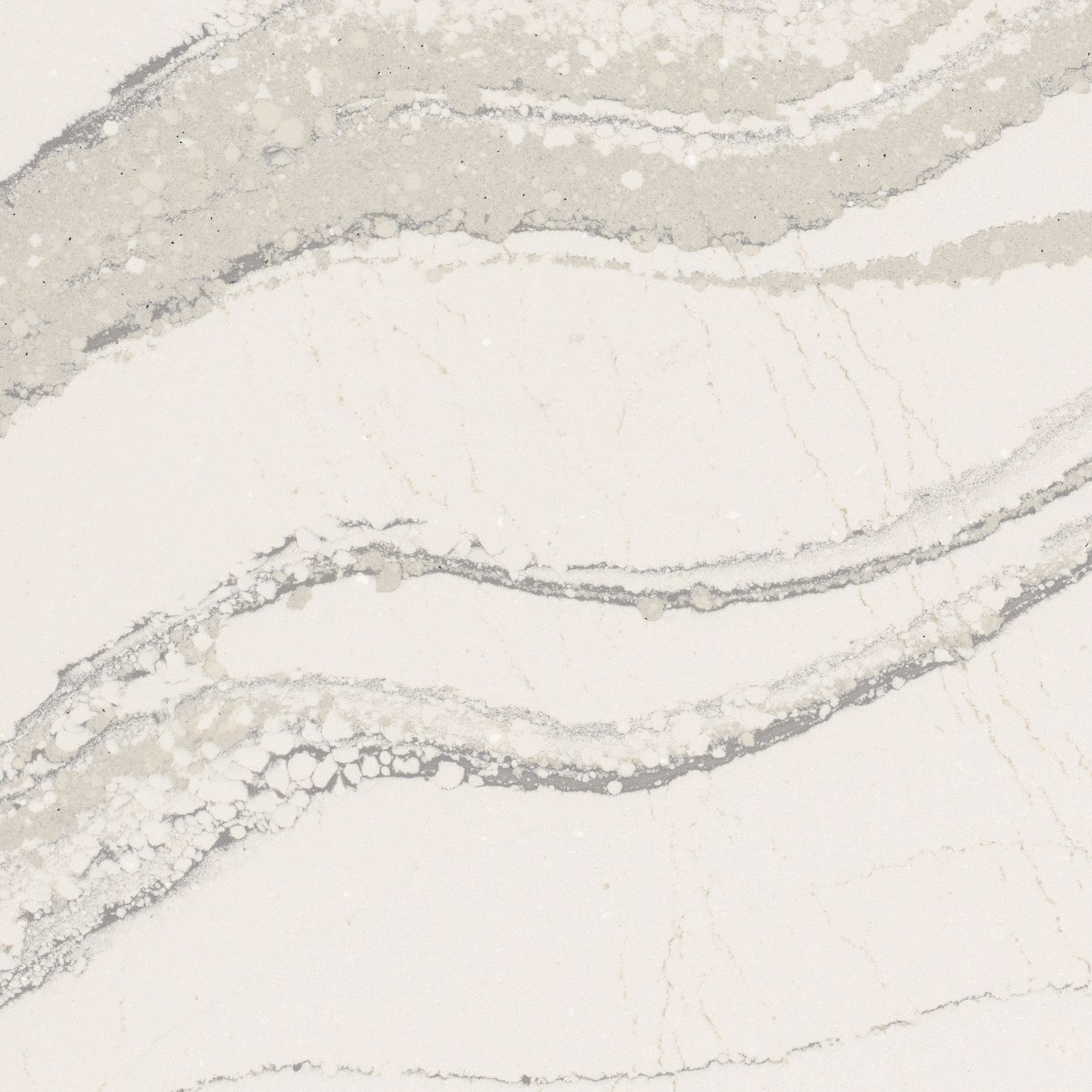 Cambria Brittanicca Matte design detail
The original studio space was designed with the kitchenette's Swanbridge island as the focal point. With Studio 125's expansion to include a full kitchen, the kitchenette space has evolved into more of a bar and entertaining area. The island is also a functional worktable with electrical outlets and space for eight stools.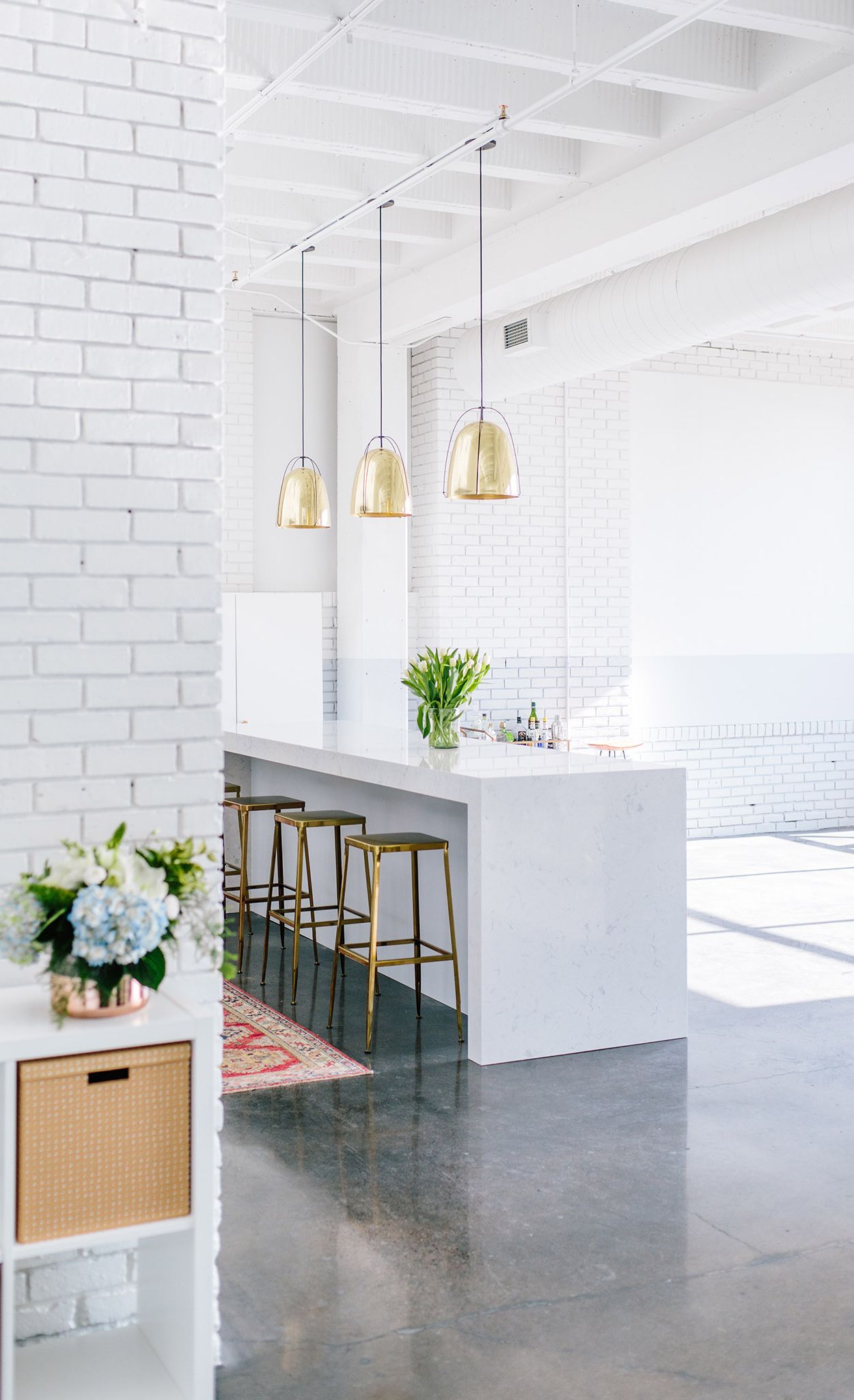 Once the heart of the smaller space, the kitchenette's Swanbridge island continues to serve as an inviting bar area, workspace, and gathering place.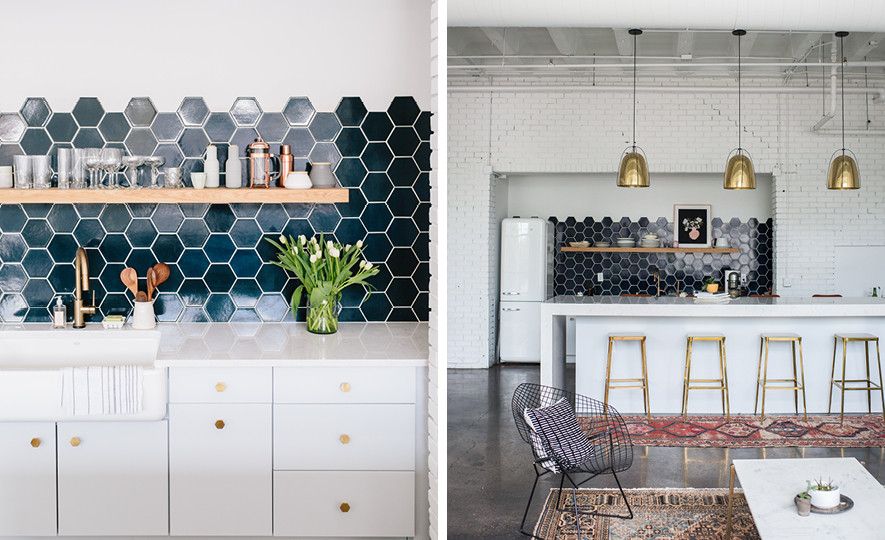 Dark navy hexagon tile from Fireclay pairs with white Cambria Swanbridge countertops in the kitchenette.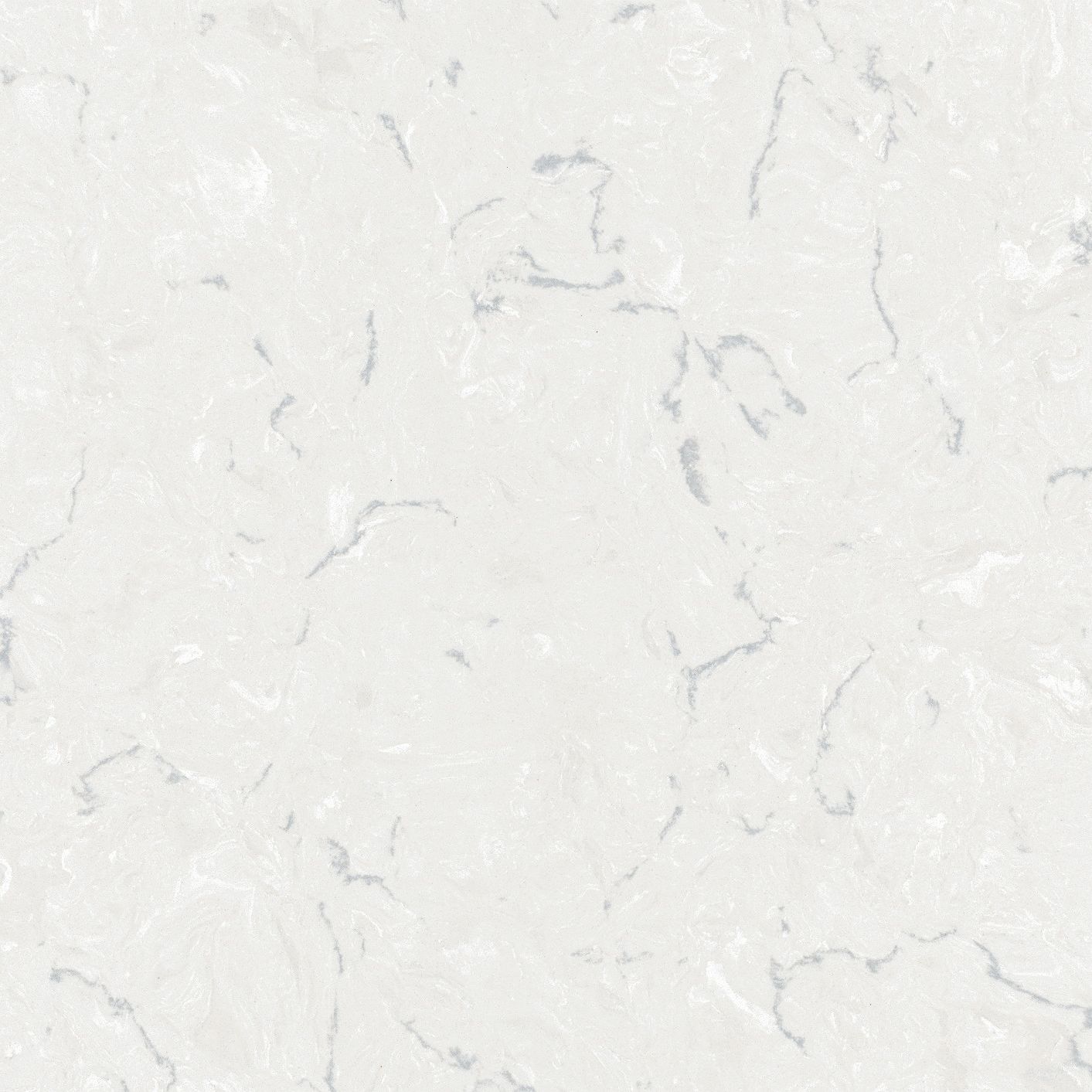 Cambria Swanbridge design detail.
The studio's Swanbridge and Brittanicca Matte islands can serve as luxurious backdrops for stylized brand photo shoots, elegant tables for catered events, and more.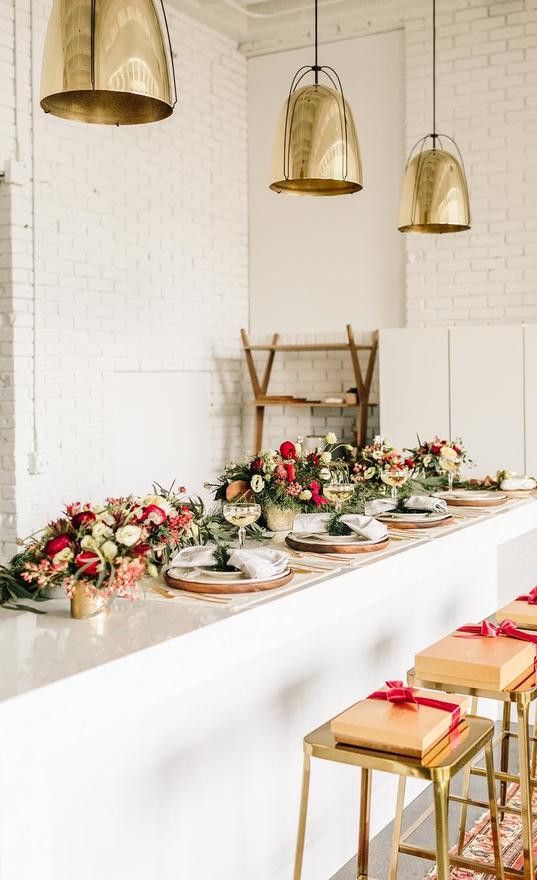 A festive tablescape on the Swanbridge island makes for memorable corporate functions, celebrations, and more. Photo: 2nd Truth.
Benefits of a residential aesthetic in workplace design
A commercial design trend on the rise is the "living room effect," in which impromptu meeting spaces have more of a living room feel. Soft, rounded seating and coffee tables create a comfortable workplace atmosphere that facilitates conversation and collaboration. Studio 125 embraces this with multiple lounge-like areas featuring plush furniture and occasional tables that can be rearranged, moved, and updated with new pieces depending on space or styling needs.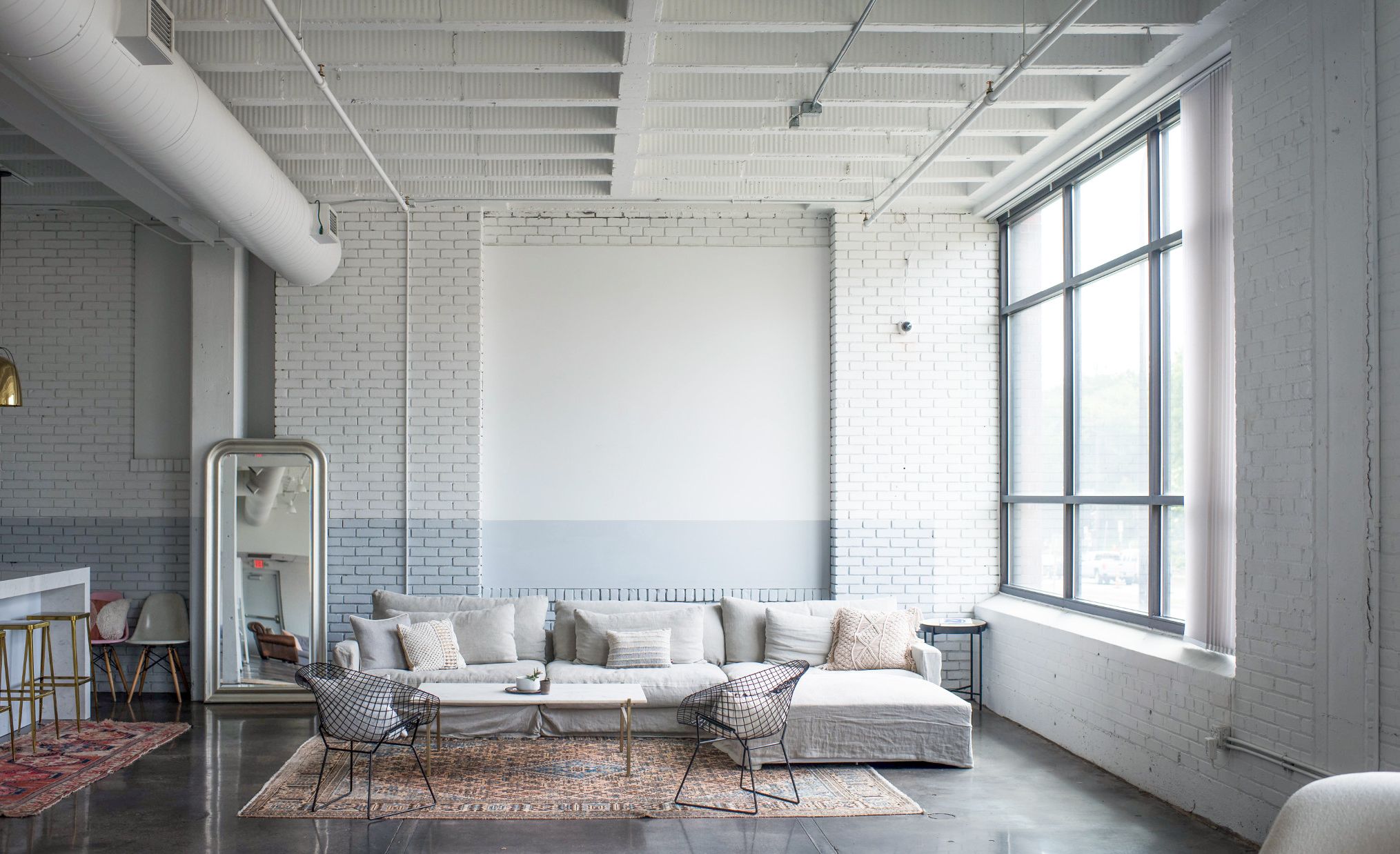 A sunny spot on the couch is a welcoming spot for small meetings or solo work.
"It facilitates a sort of work-life balance vibe," notes Arends. "The couches are really popular for longer one-on-one meetings or for when people need to zone into focused work."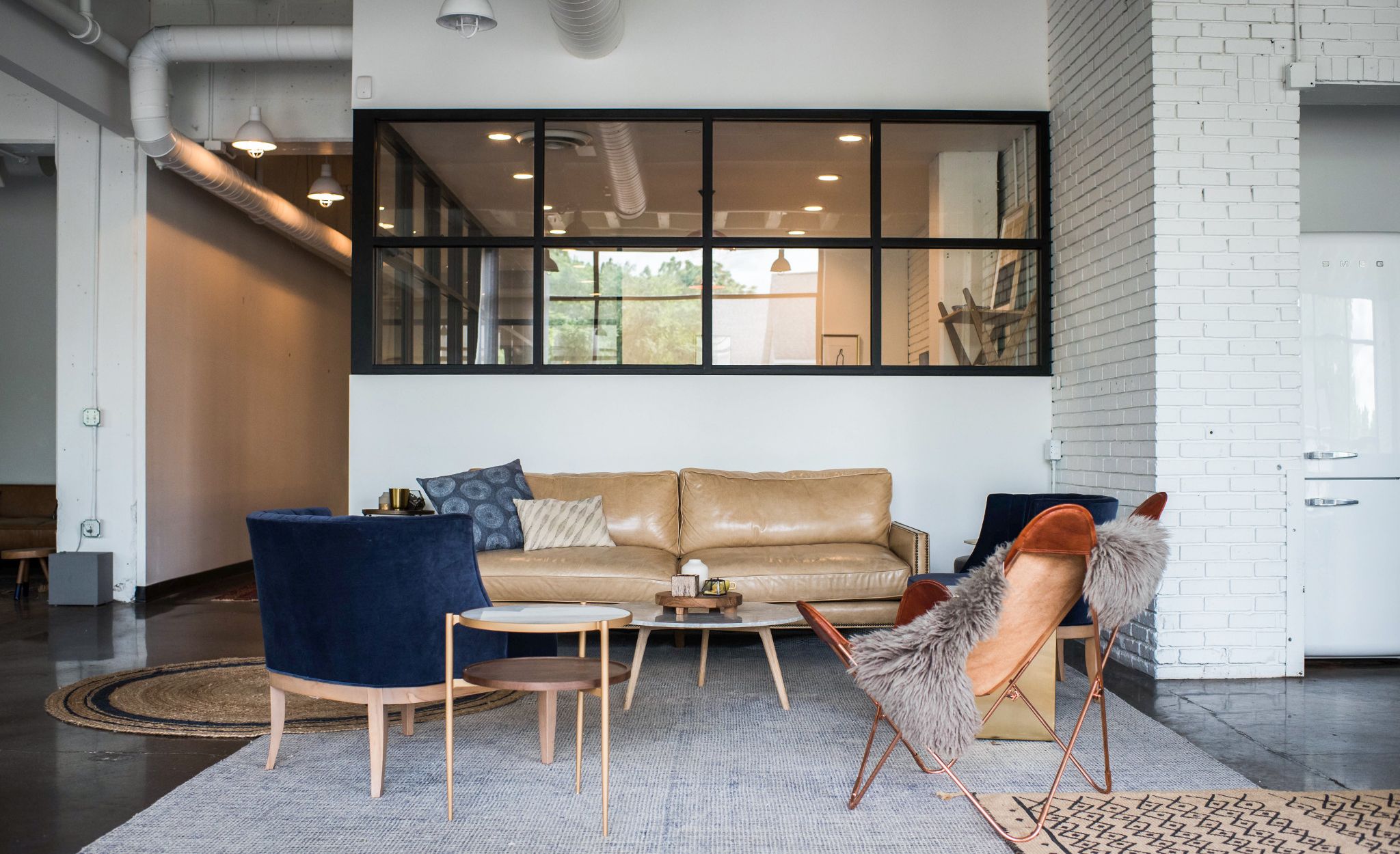 Lounge furniture offers a more casual gathering place outside the conference room.
"Open office spaces are great for collaborations but difficult for those of us who have a hard time focusing," says Arends. "I love that people kick off their shoes and can tuck into work like they are in the comfort of their own home."
The studio also includes a more structured workspace with computer desks, tables, art supply stations, and a podcast recording studio. Glass-panel doors offer flexibility to close off the space as needed without blocking any natural light from the south-facing windows.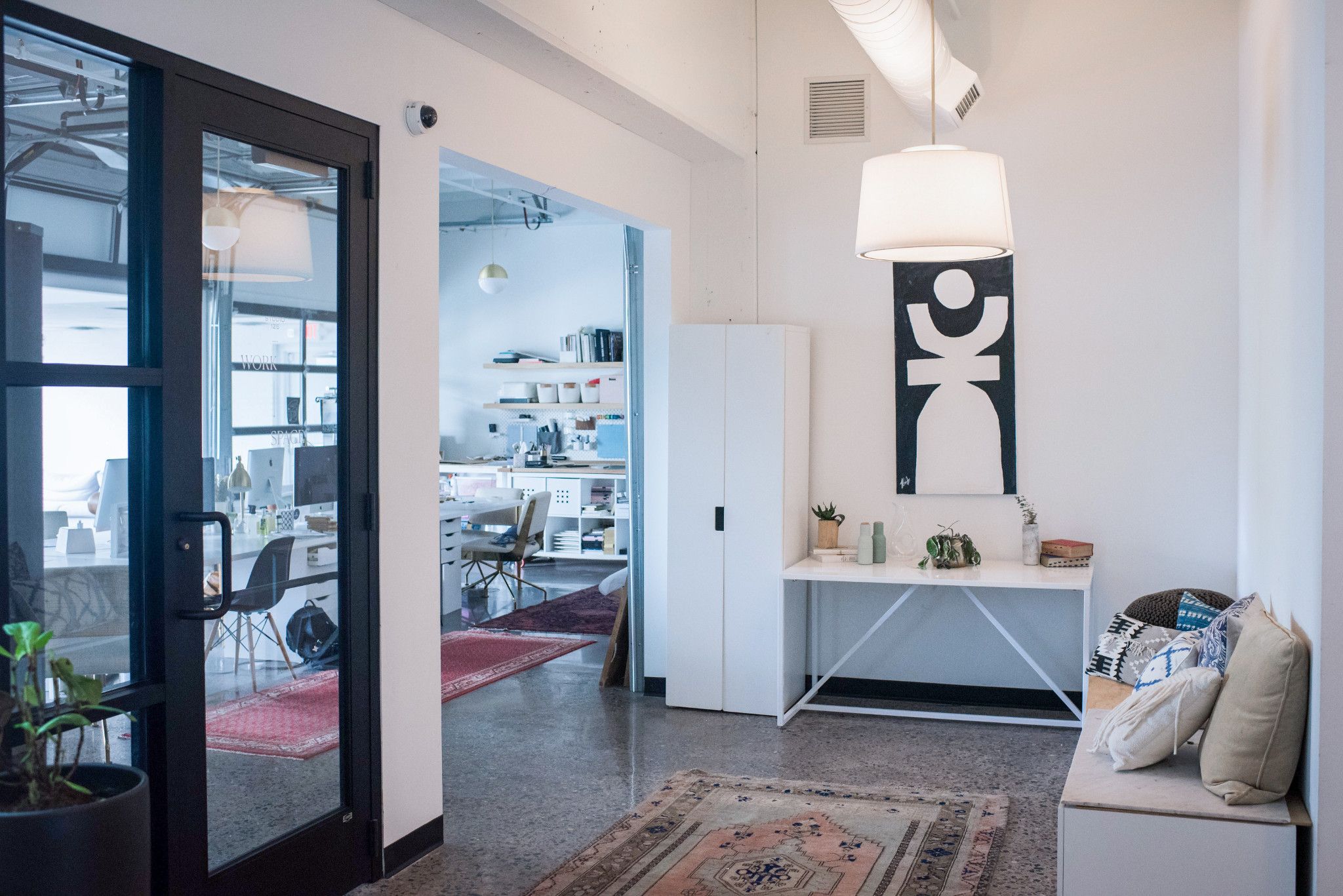 Doors can close to create a private workspace for the Wit & Delight team when other areas of the studio are rented out to corporate clients, photographers, and more.
Detail of Studio 125 workspace shelving. Photo: Kate Arends, Wit & Delight
Flexible workplace design with large open space
The studio design features a vast open space and a few closed spaces for focused work. While Studio 125 is inspired by the Wit & Delight aesthetic, the open space and flexible design allows creativity to flourish among guests who rent the space. "The Studio (as it's affectionately known around the building) is open to freelancers, clients, and other creatives for photo shoots and events. I want guests of Studio 125 to feel at home in the space and give others the opportunity to be creative in our space," writes Arends on Wit & Delight.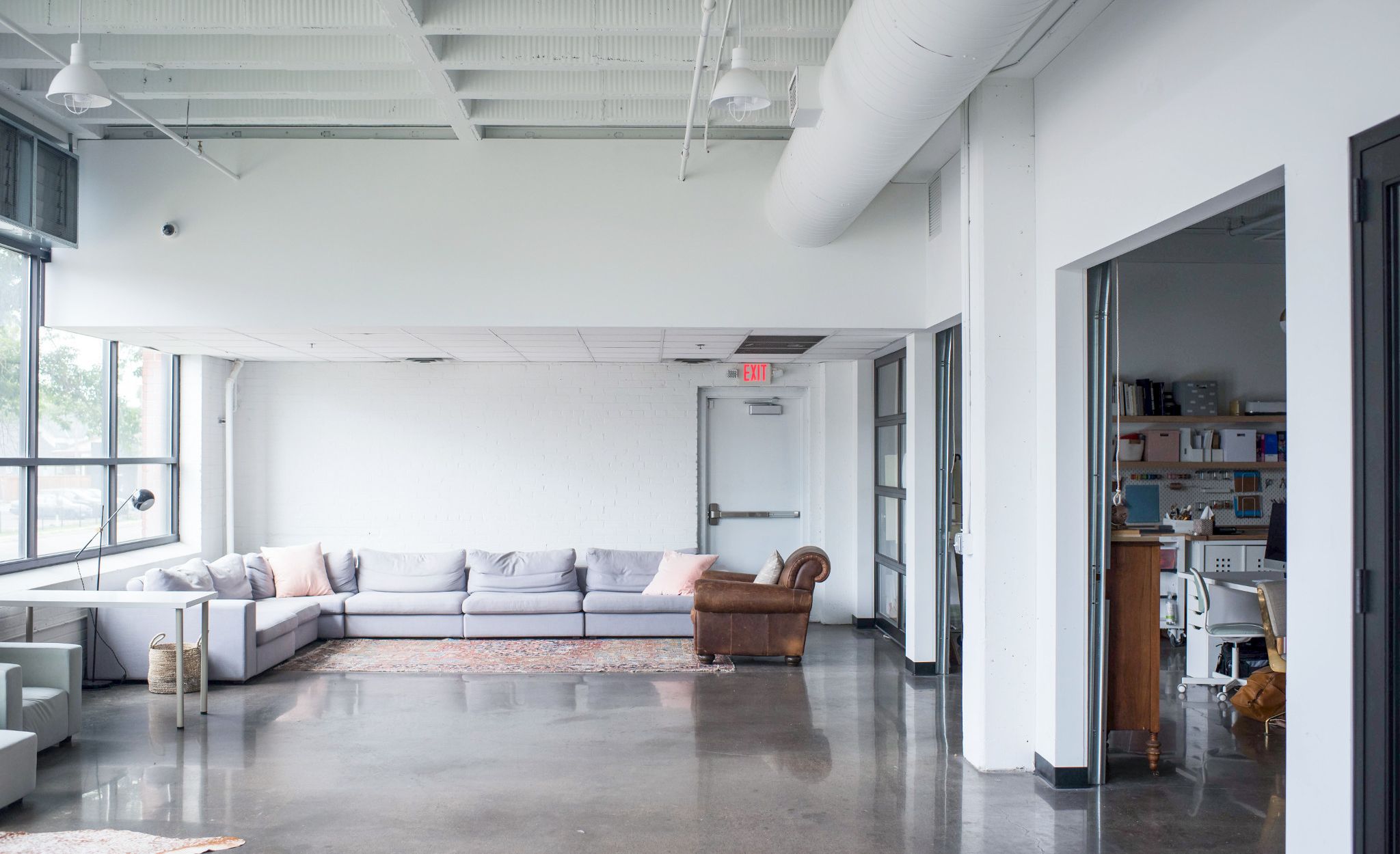 Furniture can be moved and rearranged in the open space to suit various functions from client photo shoots to community events.
Versatility is key for this modern creative workplace and event space. On any given day, the space may not resemble how it was the day before. "We change up our furniture arrangements monthly," says Arends. "Given how flexible our space is, renters often like to move things around, which gives us the opportunity to dream up new layouts and uses for our furnishings."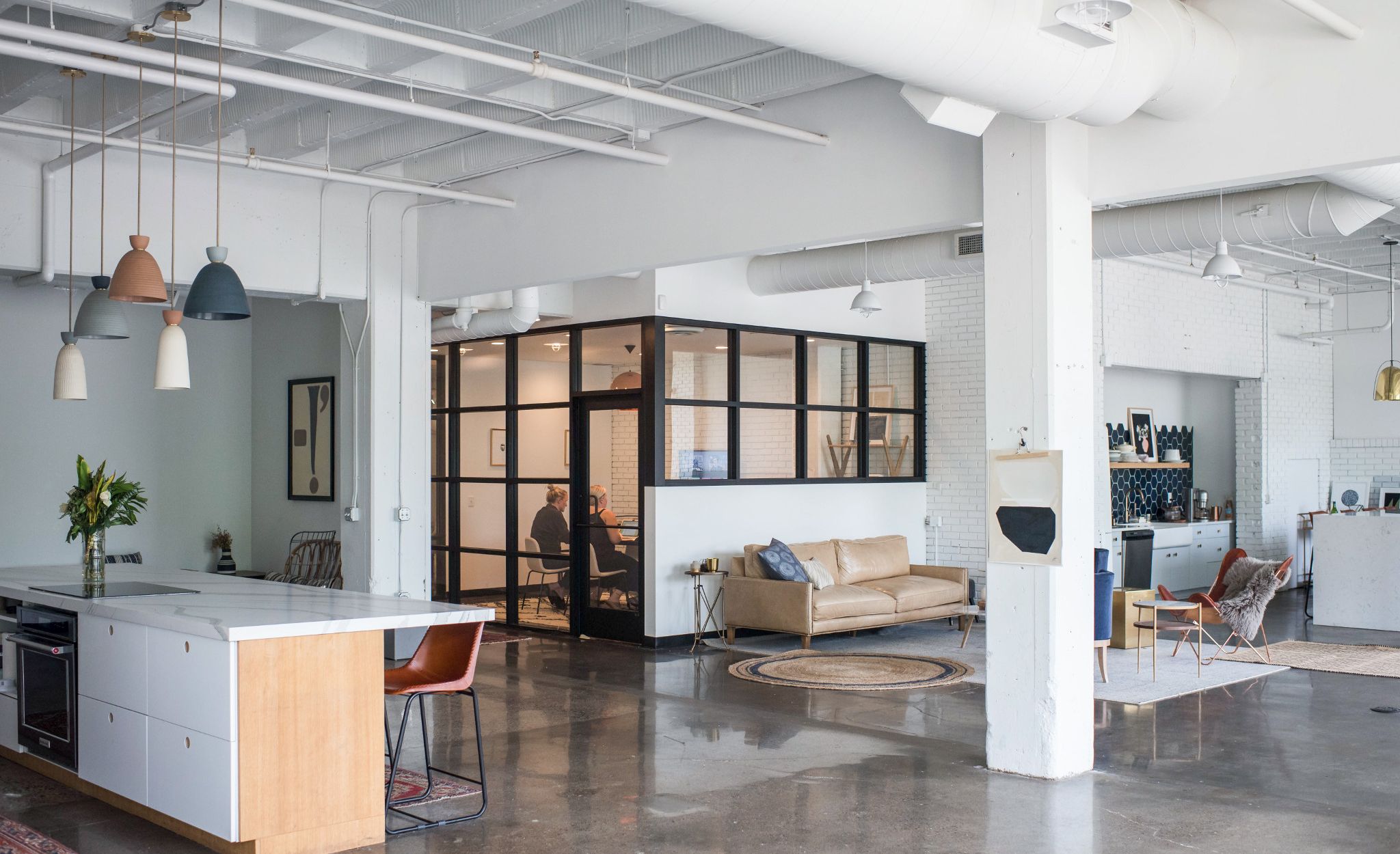 A conference room with glass walls offers a private meeting area amid the open floor plan.
"In many ways a raw, open space is a great facilitator for creativity," notes Arends. "It can transform in many different ways, as you can see when you move from different areas of our space. It is softer and cozier with the right selections of rugs and furniture, but also modern, sleek, and elegant in both kitchens."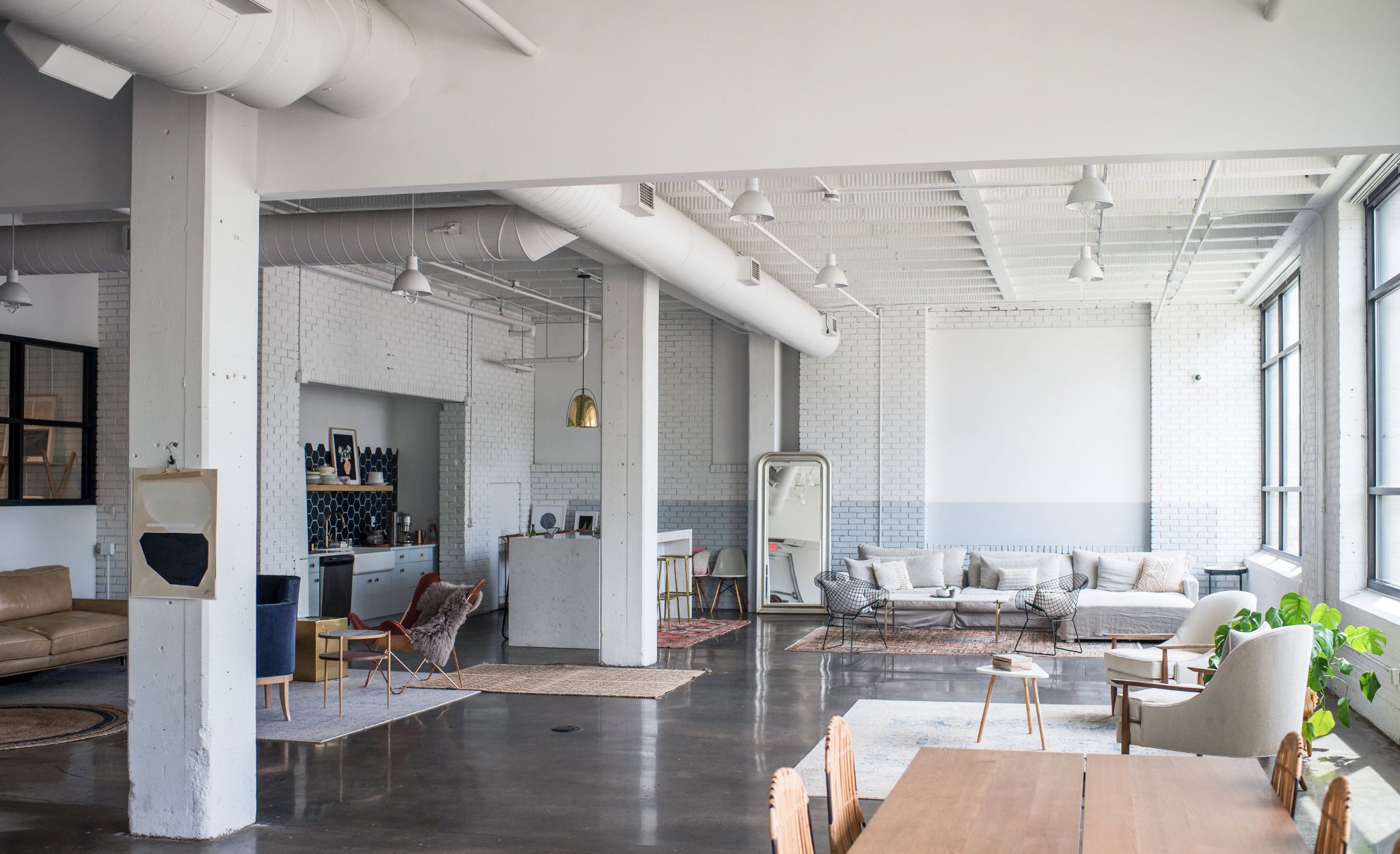 The flexible open space inspires creativity. The layout, furnishings, and decor change frequently.
Adaptive reuse of the building
Studio 125 is located in a renovated industrial building that is now home to several other tenants including a floral studio, salon, music store, and wedding dress boutique. Arends embraced the original character of the building as part of the studio design. "The building was previously a raw materials manufacturing facility and I love that the owners have displayed a couple items found in our unit—like the giant scale in the middle of our living room—as artifacts in the front entrance," says Arends. "We did very little to the space in terms of altering the walls or floors and felt the addition of garage doors was appropriate given the history of the building."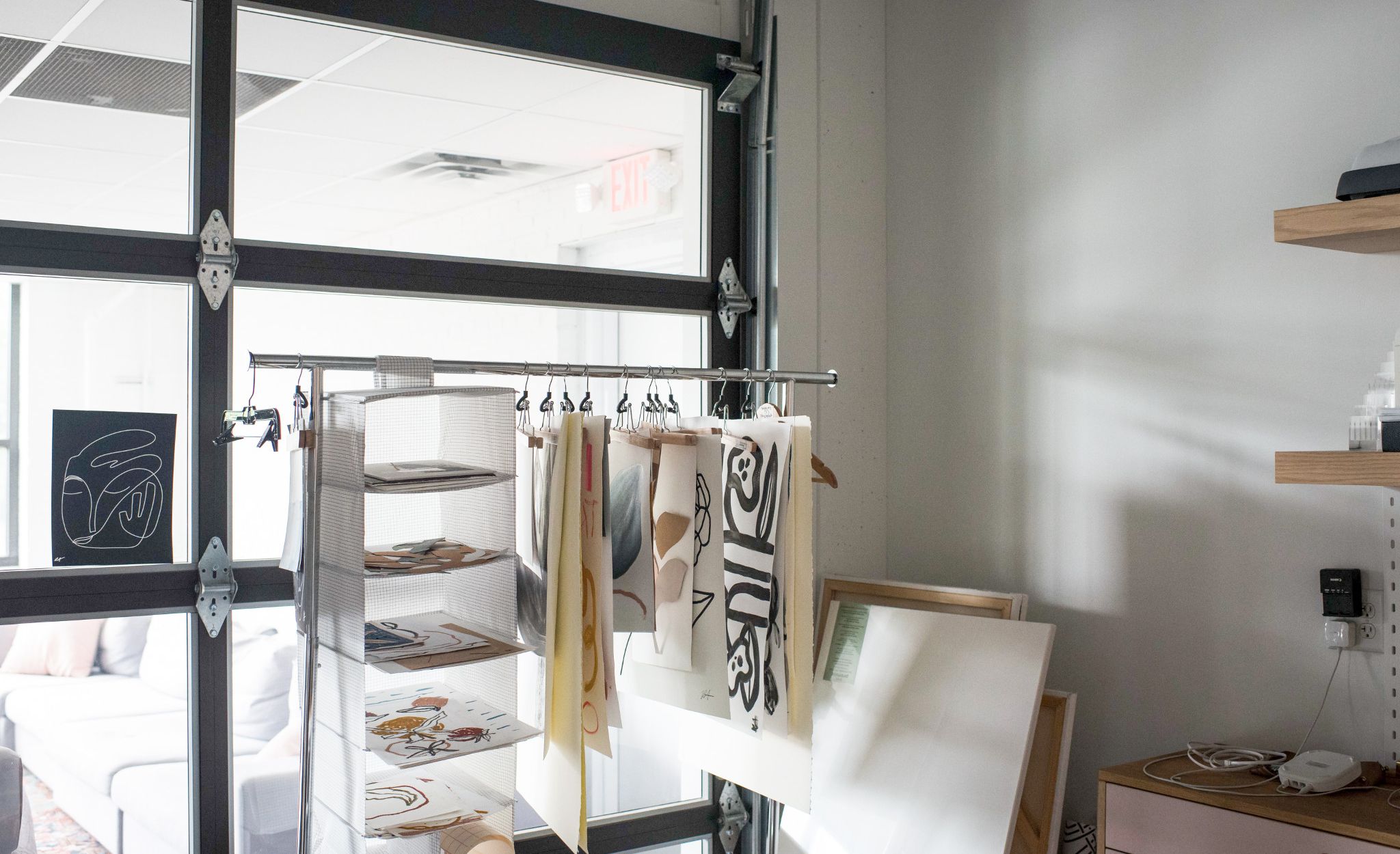 The addition of garage doors to the interior workspace gives a nod to the building's heritage while allowing in natural light for an open, airy feel.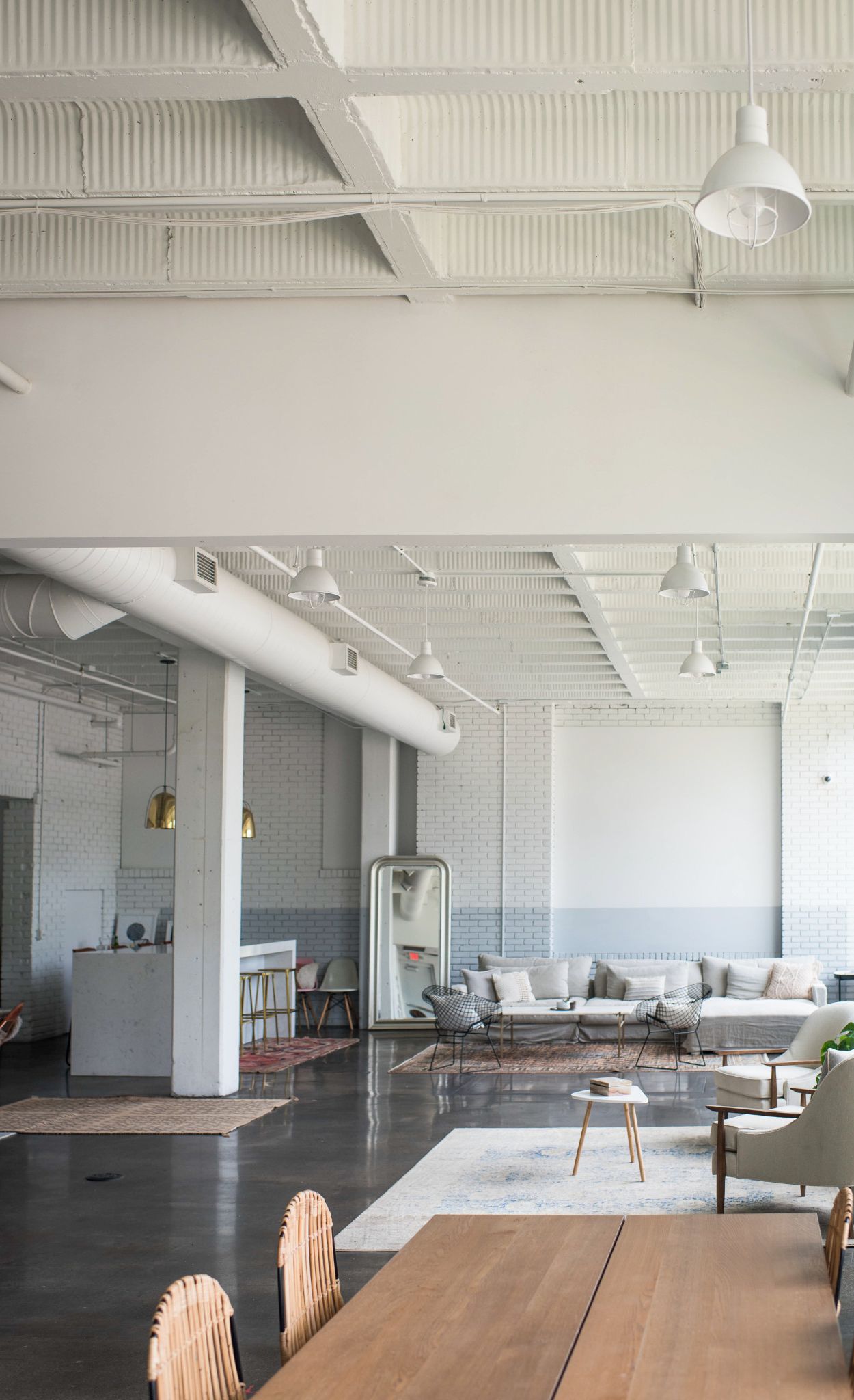 Exposed beams, pipes, and concrete flooring reflect the building's industrial roots.
Get full details of Studio 125's floor plan, materials, and more on Wit & Delight's expanded studio space reveal post. To request more information on Cambria, contact us by calling 1-866-CAMBRIA (1-866-226-2742).
Special thanks to Kate Arends for sharing her inspiration for the studio design and details of the evolution of Studio 125.