The Kips Bay Decorator Show House Palm Beach is an annual showcase of interior design talent, as each room of a gorgeous estate is transformed by a different designer or design group. With proceeds benefitting the local Boys & Girls Club, this event inspires industry professionals and design lovers alike. One of the standouts of the 2019 Kips Bay Show House in Palm Beach was a sophisticated master bathroom and closet showcasing dark saturated tones, a celebratory spirit, and chic applications of two black Cambria countertop designs.
Discover the details of this stunning master bathroom vanity area and dressing room with insight from award-winning designer Krista Watterworth Alterman, Creative Director of Krista + Home.
Inspiration for the Kips Bay Palm Beach master bathroom and closet
For the Kips Bay master bathroom, Watterworth Alterman was inspired by the idea of celebration. Calling it "Le Bubble Lounj," she envisioned a bathroom and dressing room with a luxe lounge vibe. "I'm always finding reasons to celebrate in my own life, and one of my favorite rituals is date night," she explains. "My husband and I go out every Friday and every week I look forward to it. The preparations are a big part! I love to put on music, have a glass of wine, take a hot shower and have alone time with the one I love. I prepare like this because I've always looked forward to the celebrations in life, no matter how small."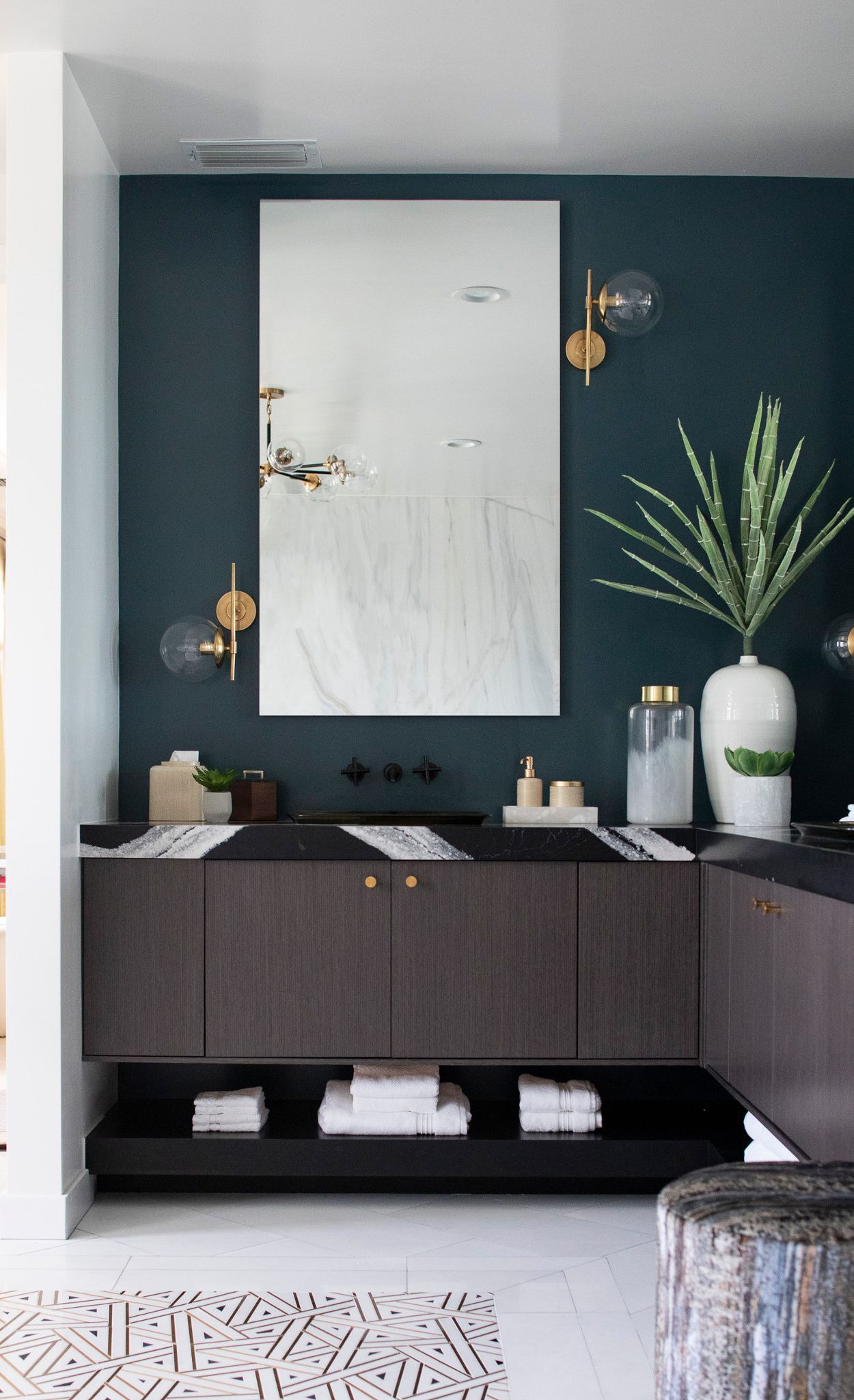 Master bathroom designed for Kips Bay Palm Beach, featuring Cambria Mersey™ countertops and Blackpool Matte™ shelving. Photo: Jessica Glynn.
A sleek space to enjoy getting ready—complete with a mini bar in the closet—allows the party to begin before leaving the house. "It evokes a mood to get you ready for the night," continues Watterworth Alterman. "Even in my 20s and 30s, this has been my ritual. Now my husband and I do this together. It's a sophisticated version of our youthful primping. It's an escape from the kids! And it brings us back to that feeling of dating again. This is what I was thinking about when I developed the concept for 'Le Bubble Lounj.' I envisioned transforming the master bathroom and closet into a sexy, upscale lounge. I wanted something that would be sensual in every way."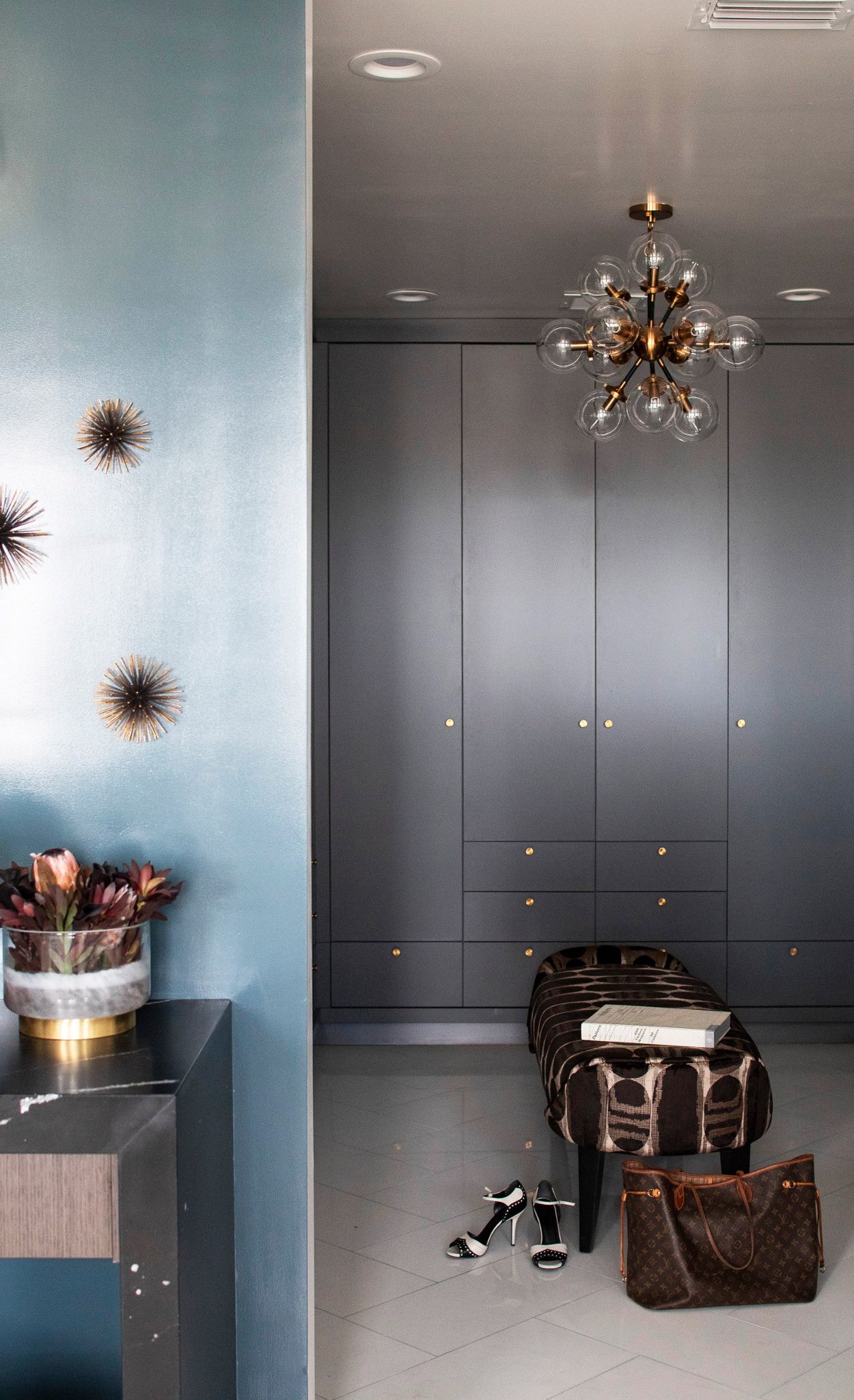 Kips Bay Palm Beach master bathroom and dressing room area. Photo: Jessica Glynn.
Watterworth Alterman's overall goal for the space combined style and substance: "I wanted this room to function for the homeowners, but I also wanted it to have a 'wow' factor for the visitors."
Black Cambria countertops and shelving
"One of my favorite elements in this space is the beautiful slab material provided by Cambria. Cambria is an amazing product; it's beautifully durable and really gorgeous to look at," says Watterworth Alterman. For the master bathroom vanity, she selected Mersey, a rich black with white veining for the countertops and the monochromatic Blackpool Matte for the vanity shelving and mini bar countertop.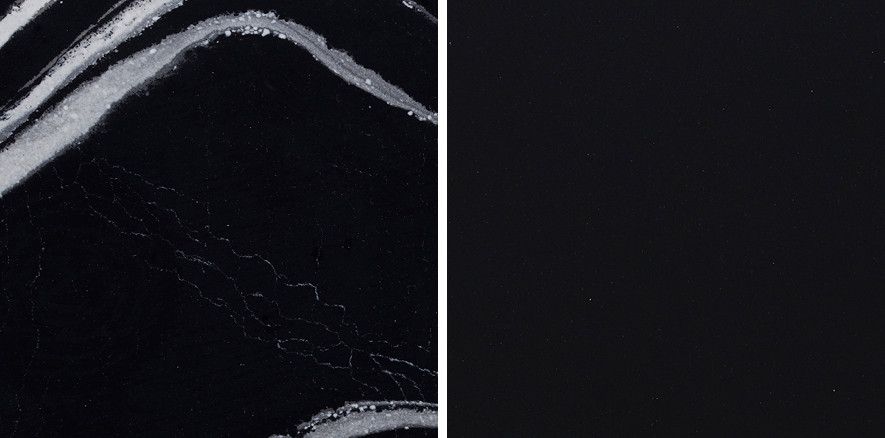 Design details of Cambria Mersey and Blackpool Matte.
"I love Mersey for its drama and creative lines. It has a beautiful statement quality," says Watterworth Alterman. "I wanted to use some bold blacks in the space and the Mersey design fit perfectly. I loved the thickness and the movement in the design for the vanity…it really has a luxurious quality."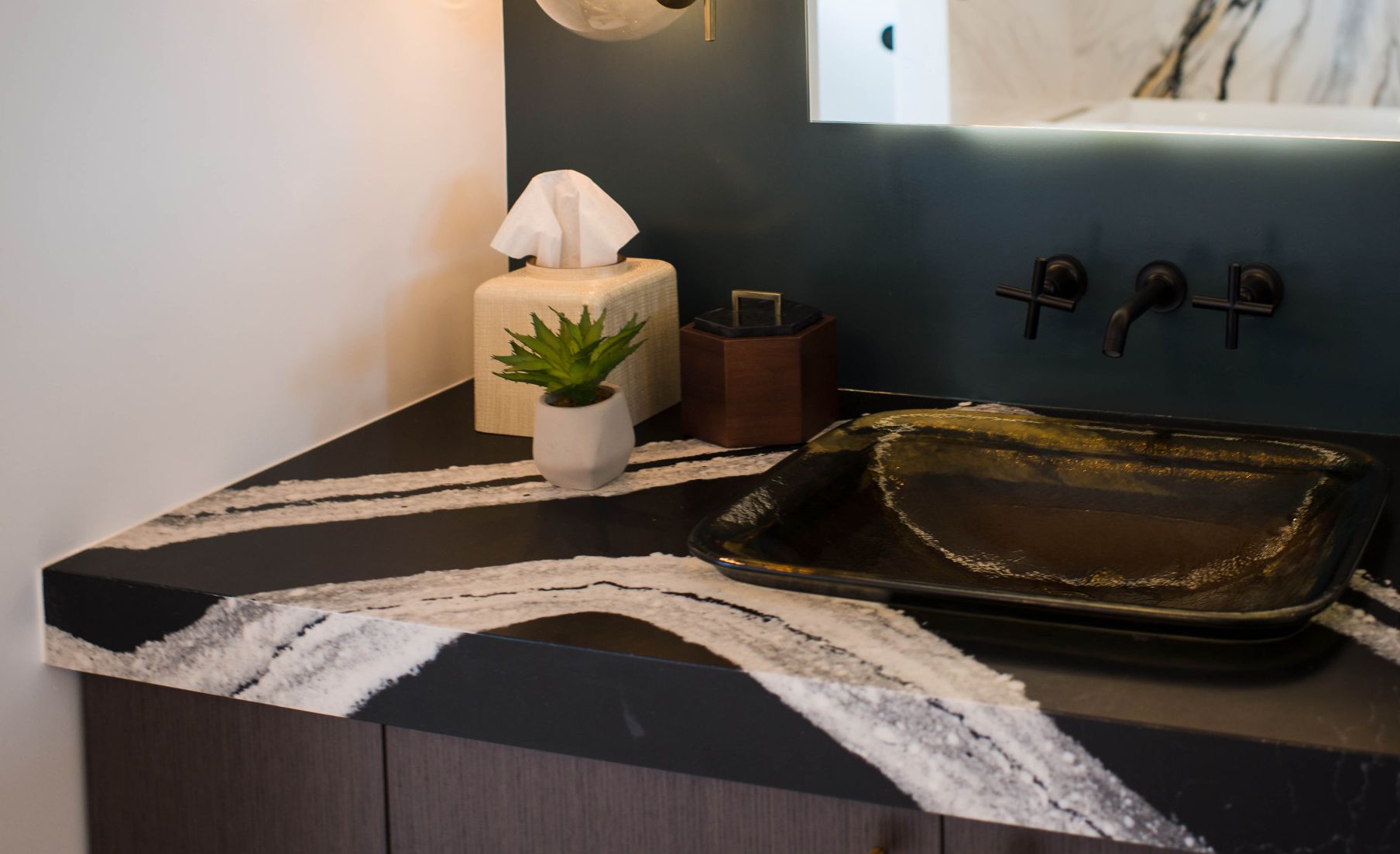 Mersey's bold white veining and a thick edge profile adds black-marble-like drama to these bathroom countertops.
With Cambria, the movement and tones of the design are infused throughout the slab, allowing further dimension and intrigue in the edge profile, which Watterworth Alterman capitalized on in this bathroom. "I love how beautiful and thick this edging is," she says. "Its a little more than six centimeters but it really provides a stunning, sophisticated look."
Complementing the Mersey countertops is the vanity's lower shelving, constructed of Blackpool Matte. "The Blackpool Matte has a very sleek and upscale look that was perfect for the shelving," says Watterworth Alterman.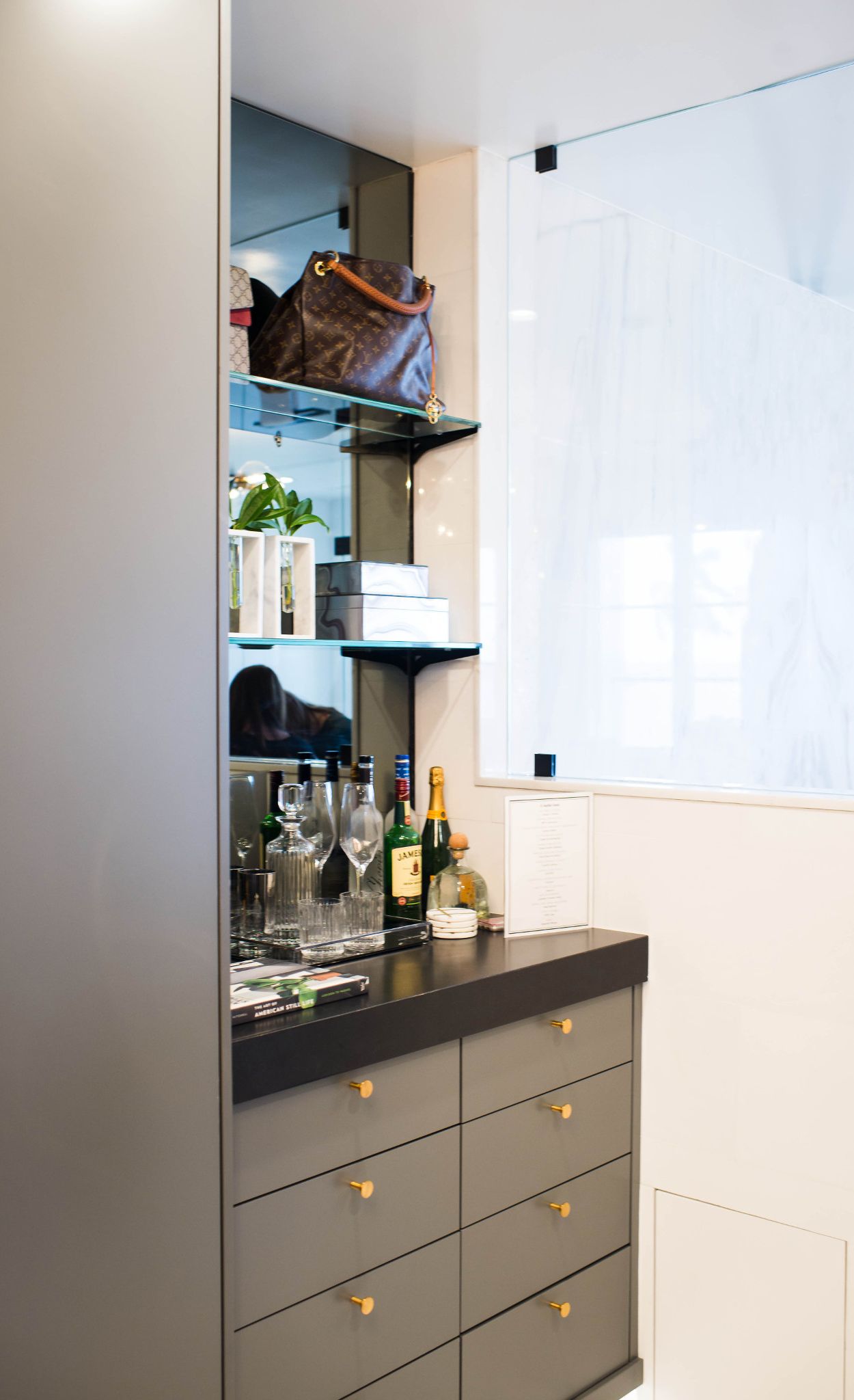 Blackpool Matte bar area in Kips Bay Palm Beach master bathroom and dressing room.
"Blackpool Matte is useful in so many applications, so that makes it extremely versatile and the [Cambria] Matte™ finish is on trend as well as timeless," adds Watterworth Alterman, who also selected it to serve as a nonabsorbent, stain-resistant bar top in the closet. "I love that the Cambria material, while stunningly beautiful and on-trend, is also practical and easy to clean," Watterworth Alterman says. "This is especially important in kitchen and bath spaces, particularly for entertaining."
Shelving and storage: master bathroom vanity and closet
In addition to the glass sinks and matte black fixtures, the bathroom vanity cabinets are by Kohler. "Many people do not realize that Kohler does beautiful vanities," Watterworth Alterman notes. "I love the sleek design of this one and the storage options in the drawers."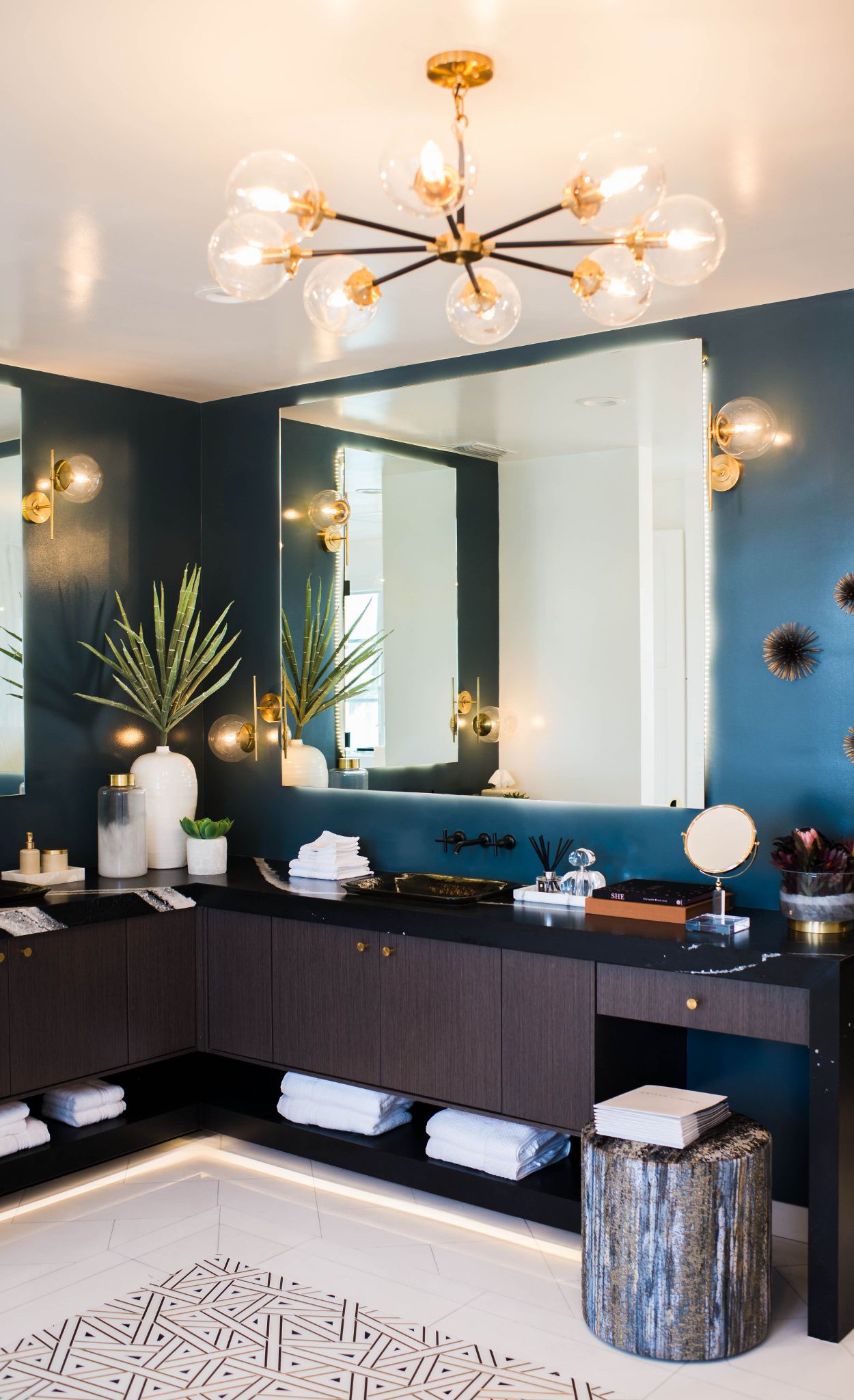 An L-shaped vanity features fixtures and cabinetry from Kohler, Mersey countertops, and Blackpool Matte shelf.
"We added the shelf below the vanity for the practical purpose of giving the homeowner more storage," continues Watterworth Alterman. "At the same time, creating it as a floating shelf using Blackpool Matte made it extra luxurious. And the lighting under the space gave the lounge vibe that I was going for and is also practical for late night visits to the space."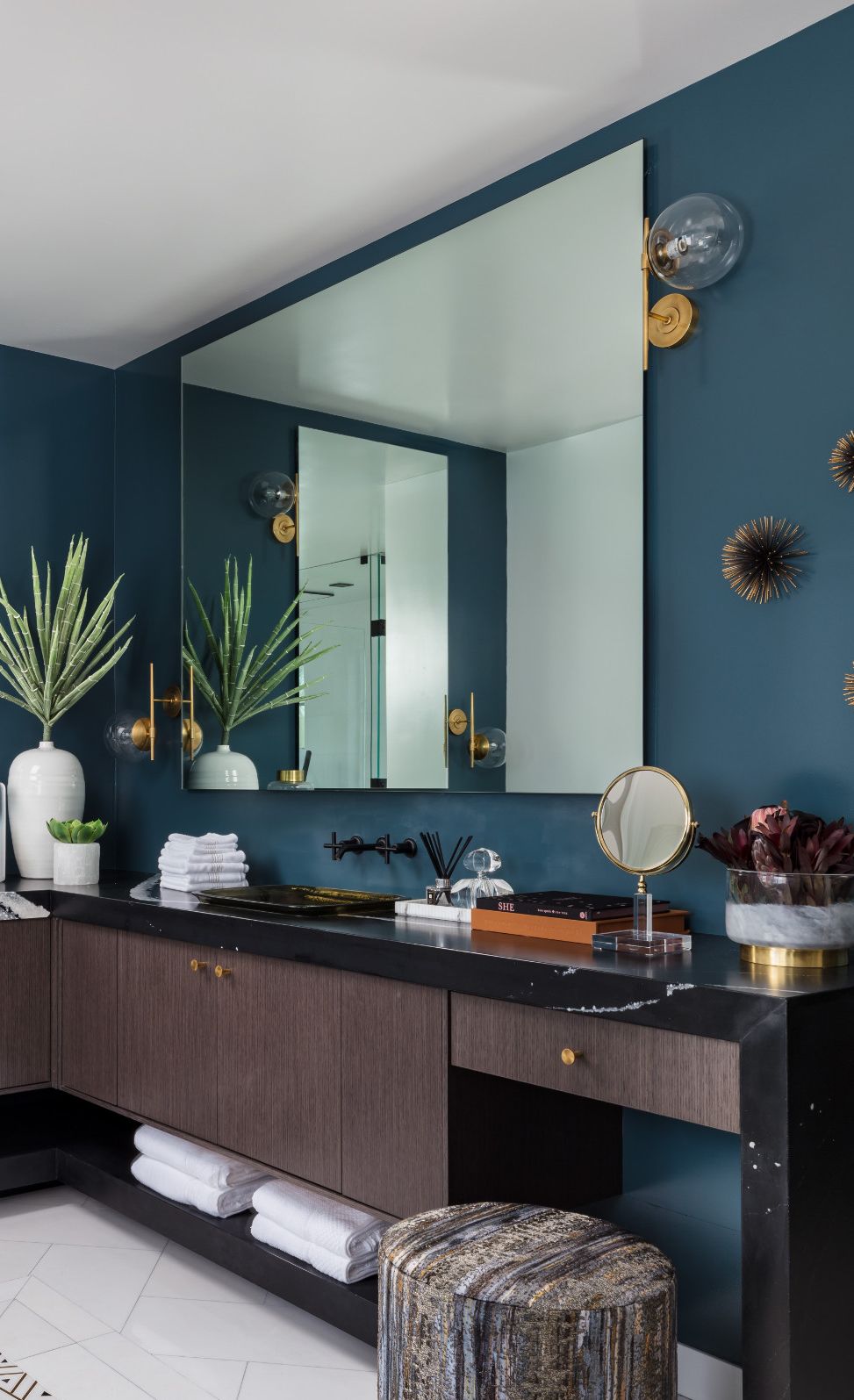 Blackpool Matte vanity shelving offers a convenient space for towels.
For the closet cabinetry, Watterworth Alterman worked with Closets by Montecristo. "I sketched out my vision and they were able to design exactly what I wanted." She chose closet cabinets that allowed for all of the clothing to be hidden for both style and function. "It really added to the lounge-like feel I was going for," she says. "It's also a practical way to make your closet look tidy!"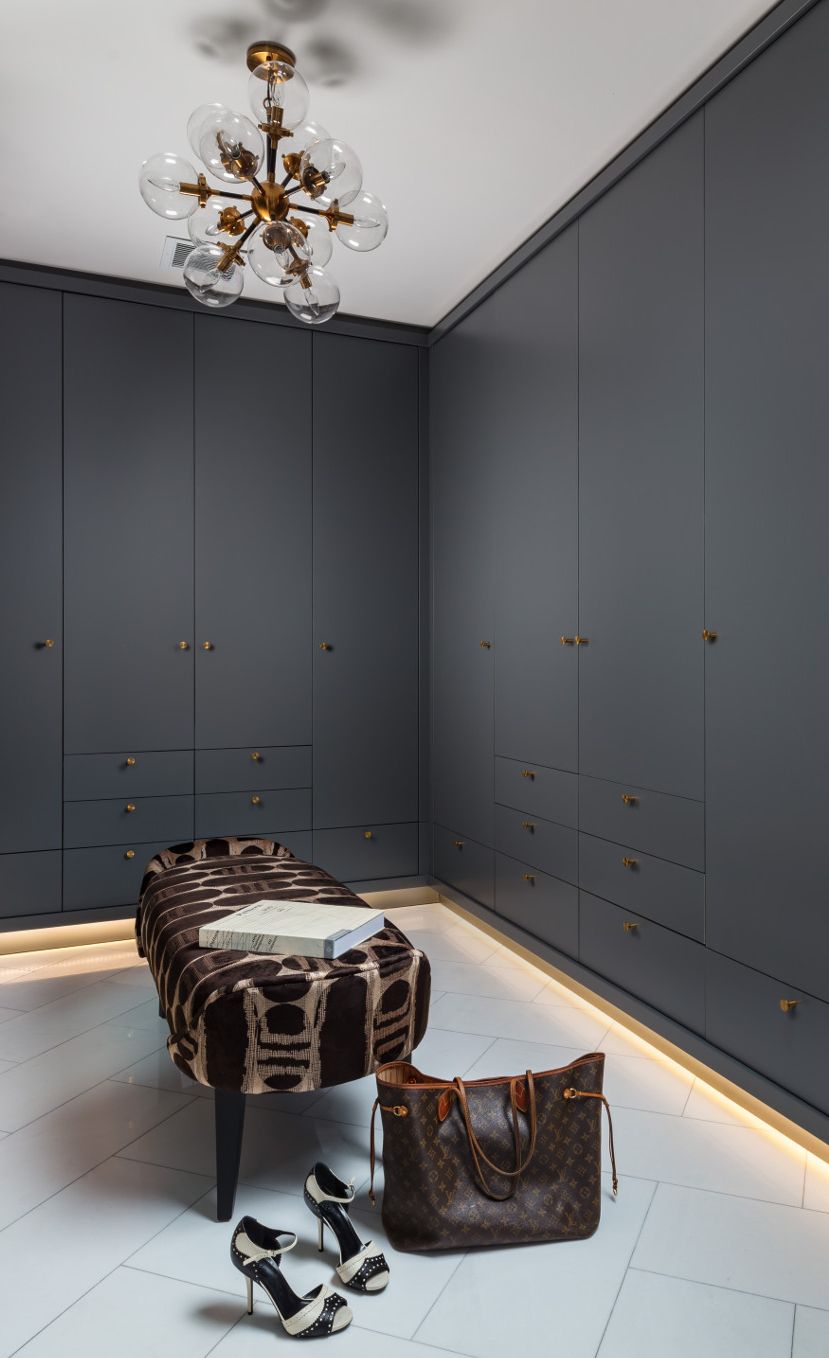 Floor-to-ceiling cabinetry creates an upscale lounge mood and sleek, streamlined look. Photo: Nickolas Sargent.
Bold bathroom paint color
For the master bathroom walls, Watterworth Alterman selected a rich, moody teal paint: Newburg Green by Benjamin Moore. "I thought it added a nice snap of color since the rest of the bathroom was a more neutral palette," she says. "It was a bold choice, but I think it really worked. Many of the Show House guests inquired about what color it was so they could use it in their own spaces!"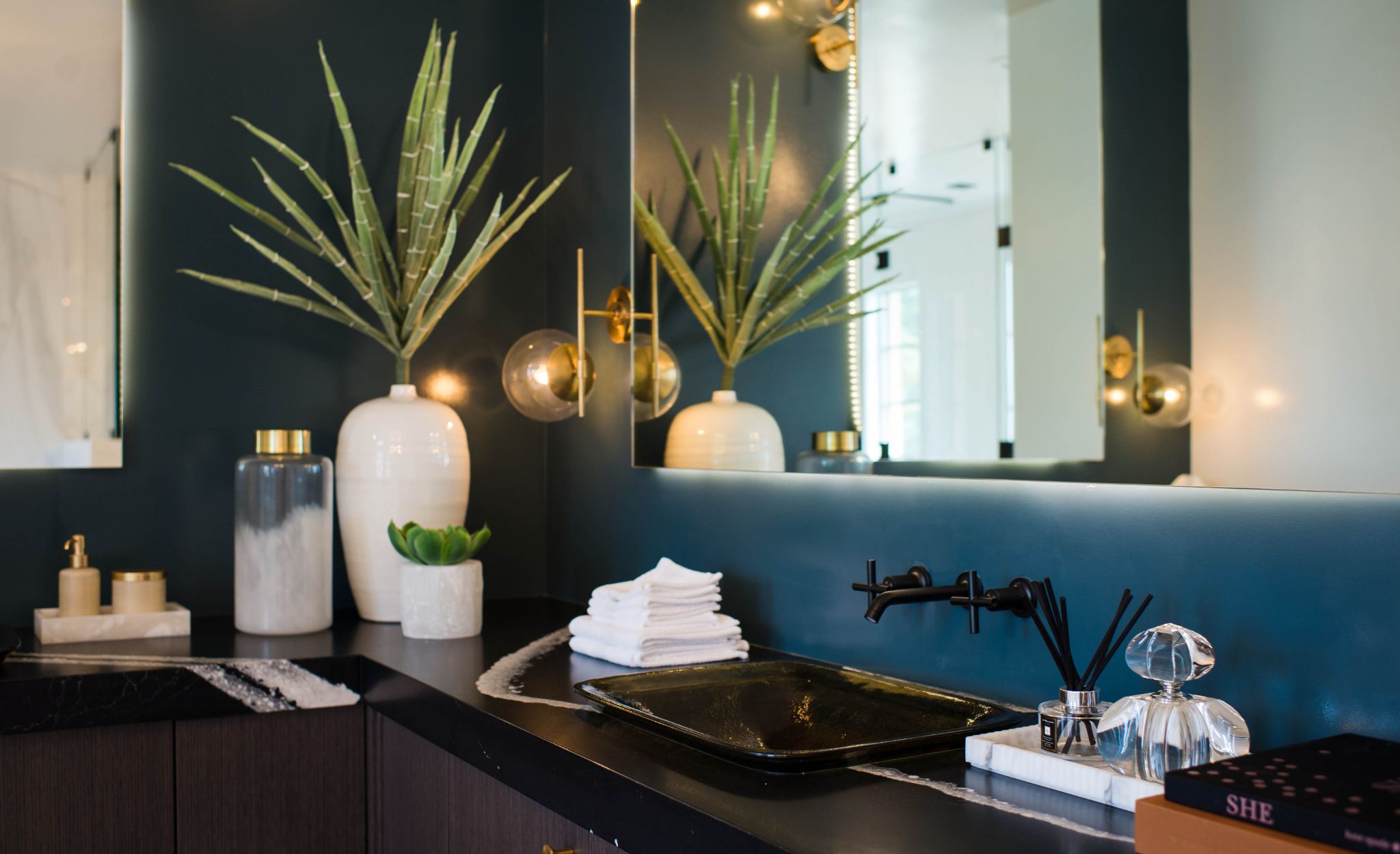 A saturated shade of teal adds bold color to the master bath.
(Love this green-blue shade? See a kitchen island with this color in this blue kitchen roundup.)
Master bathroom light fixtures
The master bathroom features a statement chandelier from Capitol Lighting and asymmetrically placed sconces along the mirrors that echo the chandelier's features. "These light fixtures have a bubble quality, which I thought was a fun play on the name of my space, 'Le Bubble Lounj'," Watterworth Alterman explains. "To me, these exquisite fixtures by Aerin Lauder (Visual Comfort) are really mini works of art, so I hung them in a unique way to showcase the artistic quality and add interest to the walls."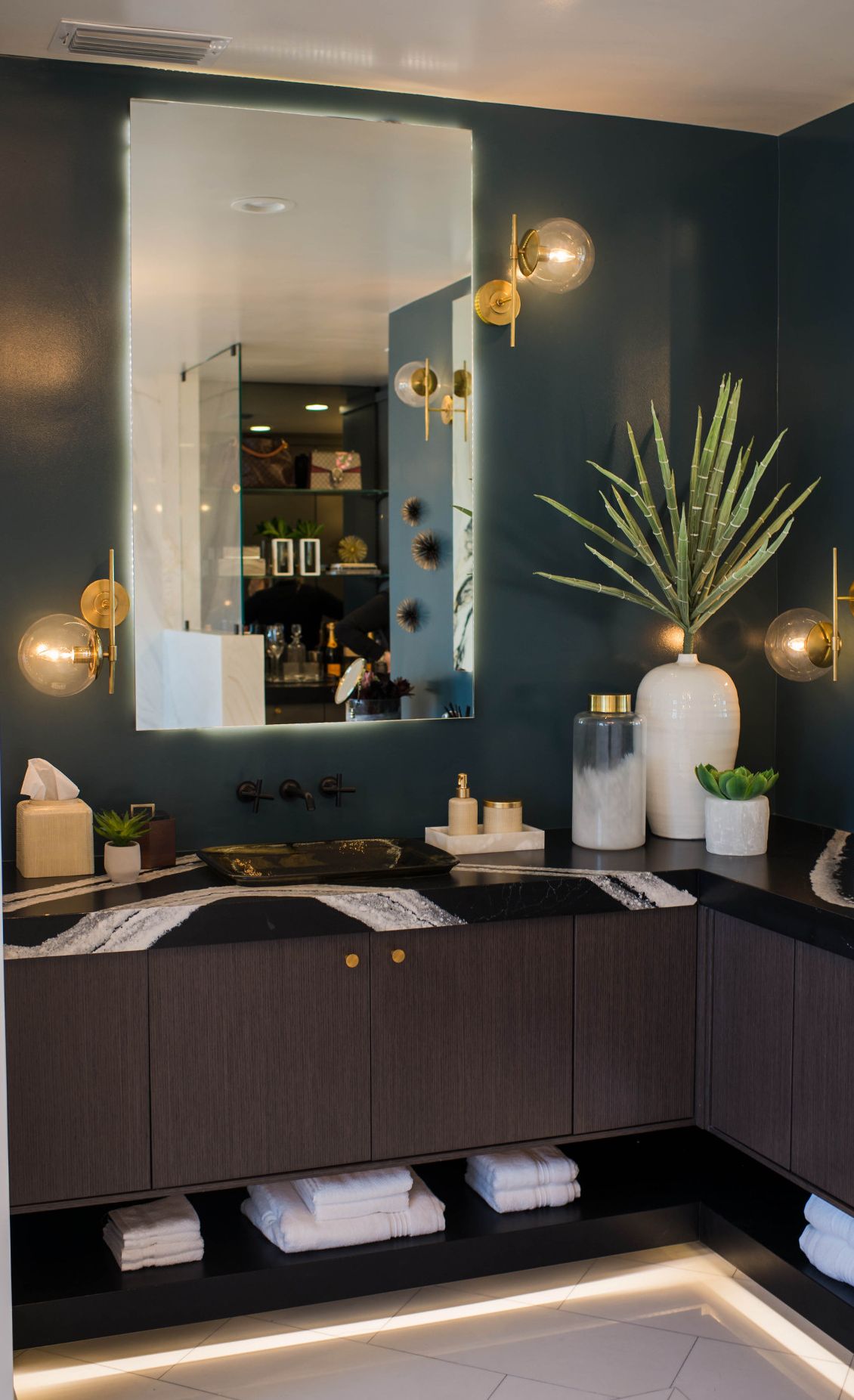 Asymmetrically placed brass sconces lend an intriguing, bubble-like quality to the space.
Flooring
The master bathroom also features an eye-catching tile pattern on the floor, with black and brass triangles shaped in a rectangular pattern that could appear at first glance to be an elegant bathroom rug.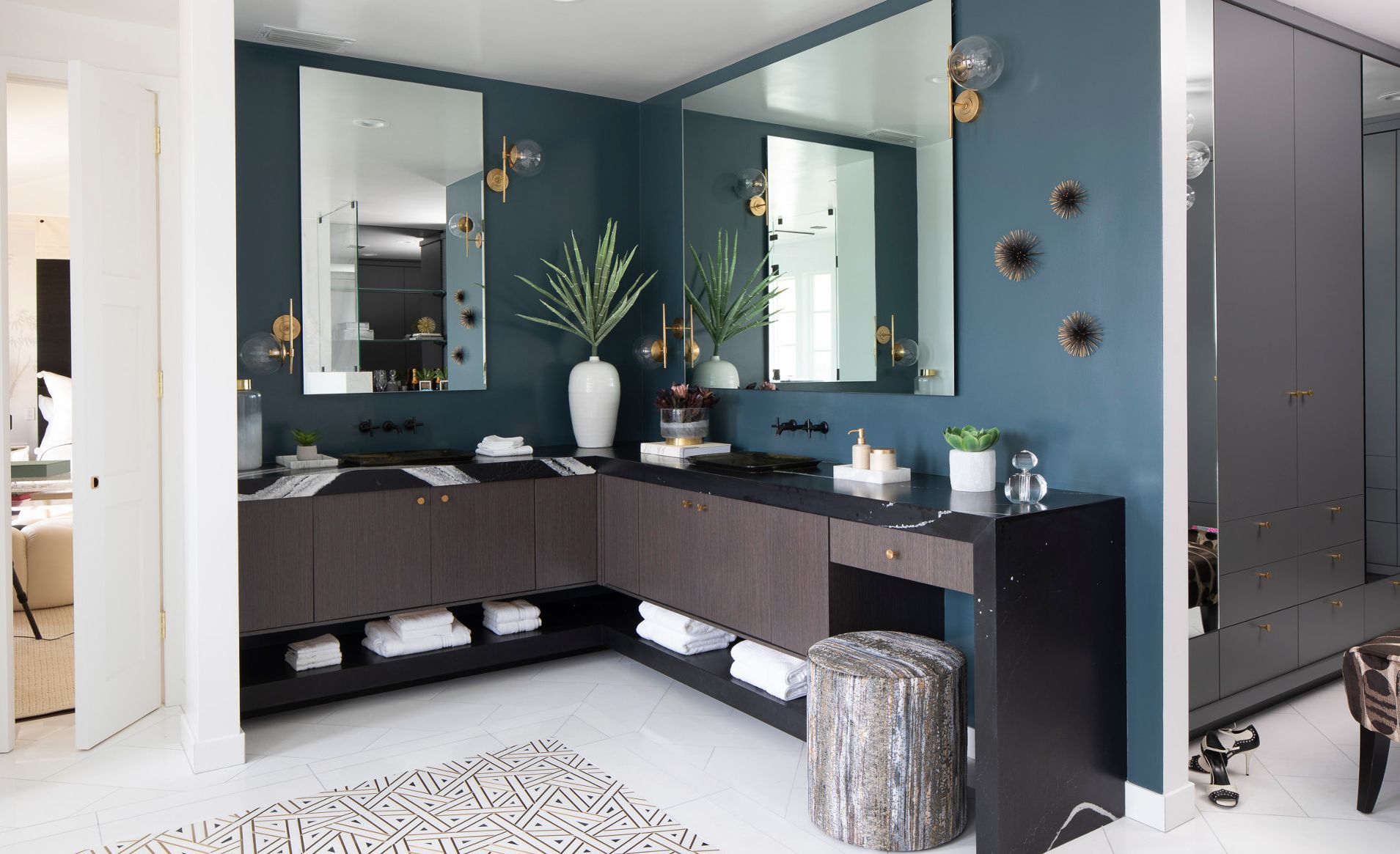 The geometric lines of the statement floor tile playfully contrast with the Mersey countertops' flowing movement. Photo: Jessica Glynn.
"I adore the pops of brass in this statement flooring (Artistic Tile). And I had to utilize a sophisticated color palette to catch the eye, and lure people in," Watterworth Alterman says. "That is why the black and white contrast was a must, and the rich, sexy hues of deep turquoise and charcoal were integral to the overall design."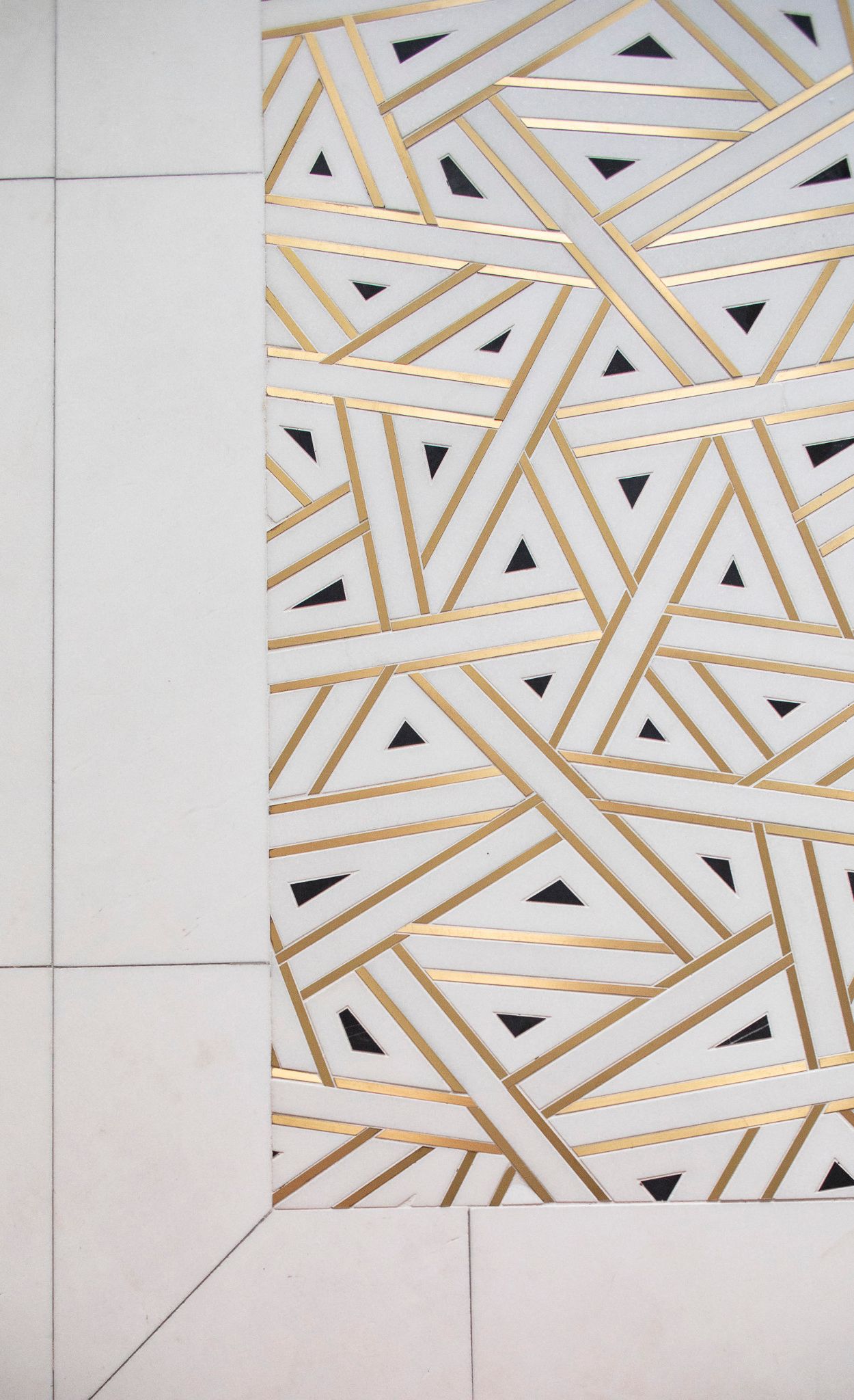 Brass-infused tile flooring detail in Kips Bay Palm Beach master bathroom. Photo: Jessica Glynn.
Working with Cambria
Watterworth Alterman describes Kips Bay as a "different animal" when it comes to a design project because there are a variety of goals to manage, but she found the Cambria team and product to be up for the challenge. "I enjoyed working with Cambria because the team members were helpful and open to all ideas," she says. "And we faced an extremely tight timeline working in the Show House. But in the end, we achieved our goals as only great teams do."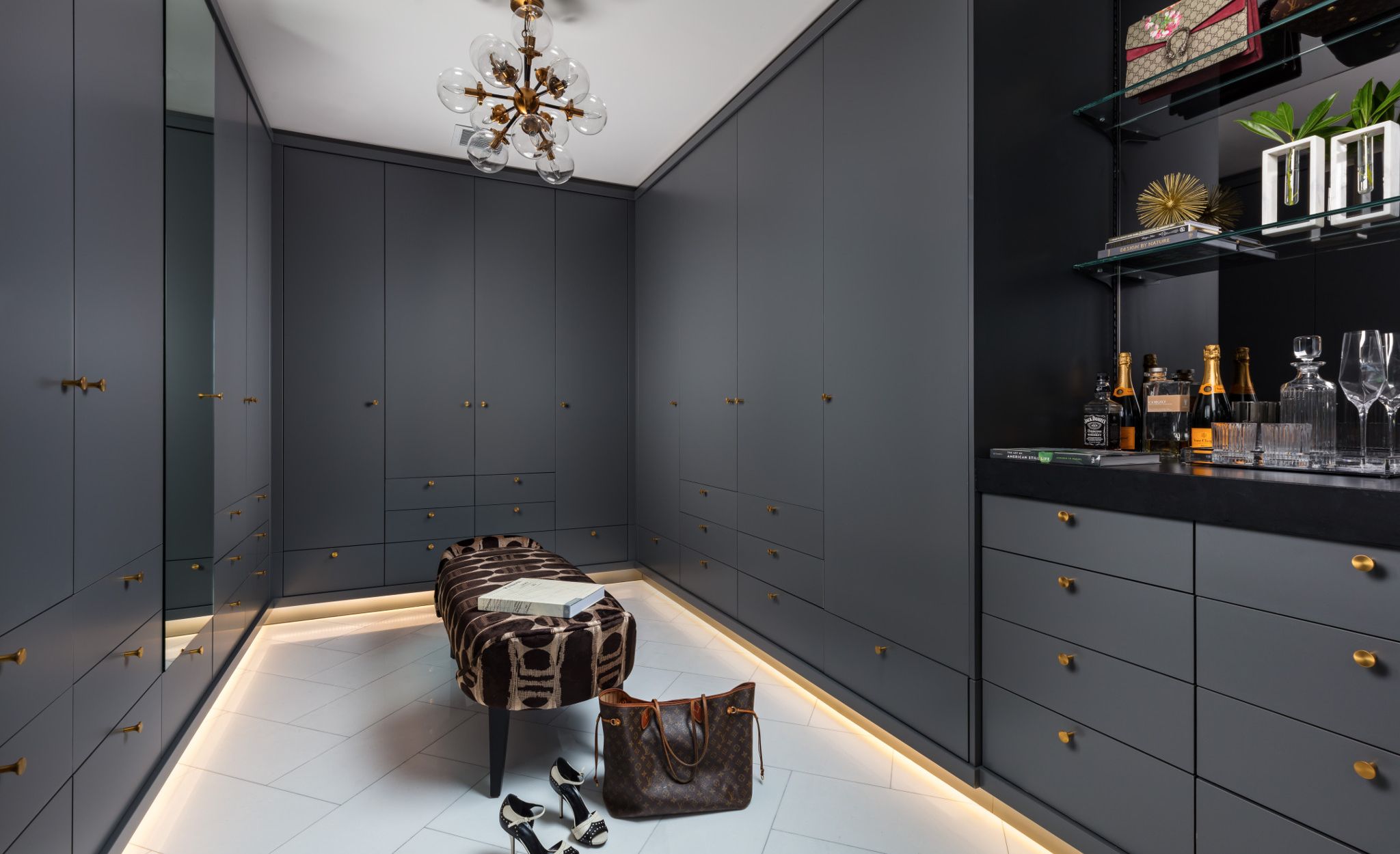 A stylish bar area with Blackpool Matte transforms a dressing room into a celebratory space. Photo: Nickolas Sargent.
"Working with Cambria on this project opened my eyes to the depth of their product. I fell in love with the rich textures and patterns, the [Cambria] Matte™ and shiny [high gloss] finishes, and the dramatic look of various designs," says Watterworth Alterman. "I was delighted with how many people that came into the space admired and asked about the Mersey on the counter especially. It was enlightening to gain that perspective on their vast product line. I will absolutely work with them again."
Go behind the design of other Kips Bay spaces with Cambria: a stunning baker's kitchen from Vyda Fine Interiors in Palm Beach and a sophisticated, mixed-material kitchen from Christopher Peacock in New York. See more of the Kips Bay Decorator Show House spaces in Kips Bay Palm Beach Show House tour from Veranda Magazine.
Our thanks to Krista Watterworth Alterman for sharing her insight behind the design of the Kips Bay Decorator Show House Palm Beach master bathroom and closet. See more from her team at Krista + Home.