Cambria Matte® pairs the unrivaled durability and longevity Cambria is known for with a matte finish that evokes the subtle sheen of time-worn marble and shines with a radiance all its own. And, unlike many honed surfaces, Cambria Matte does not compromise on benefits for the silky, matte finish. In fact, Cambria's matte designs perform exactly the same as its high gloss counterparts.
Cambria surfaces are all made of pure, natural quartz and feature unparalleled strength and durability. They're nonporous, nonabsorbent, and NSF-51 certified, so they're food safe; are scratch and stain resistant against common household items like coffee and wine; and they're maintenance free. You can literally just wash with warm water and mild soap. Plus, Cambria backs everything with a transferable Full Lifetime Warranty.
With every design available in Cambria Matte finish, the possibilities are endless. Whether it's the look of concrete, honed marble, soapstone, limestone, travertine, terrazzo, or just a low-sheen surface that you want, Cambria Matte countertops provide the look with none of the hassle.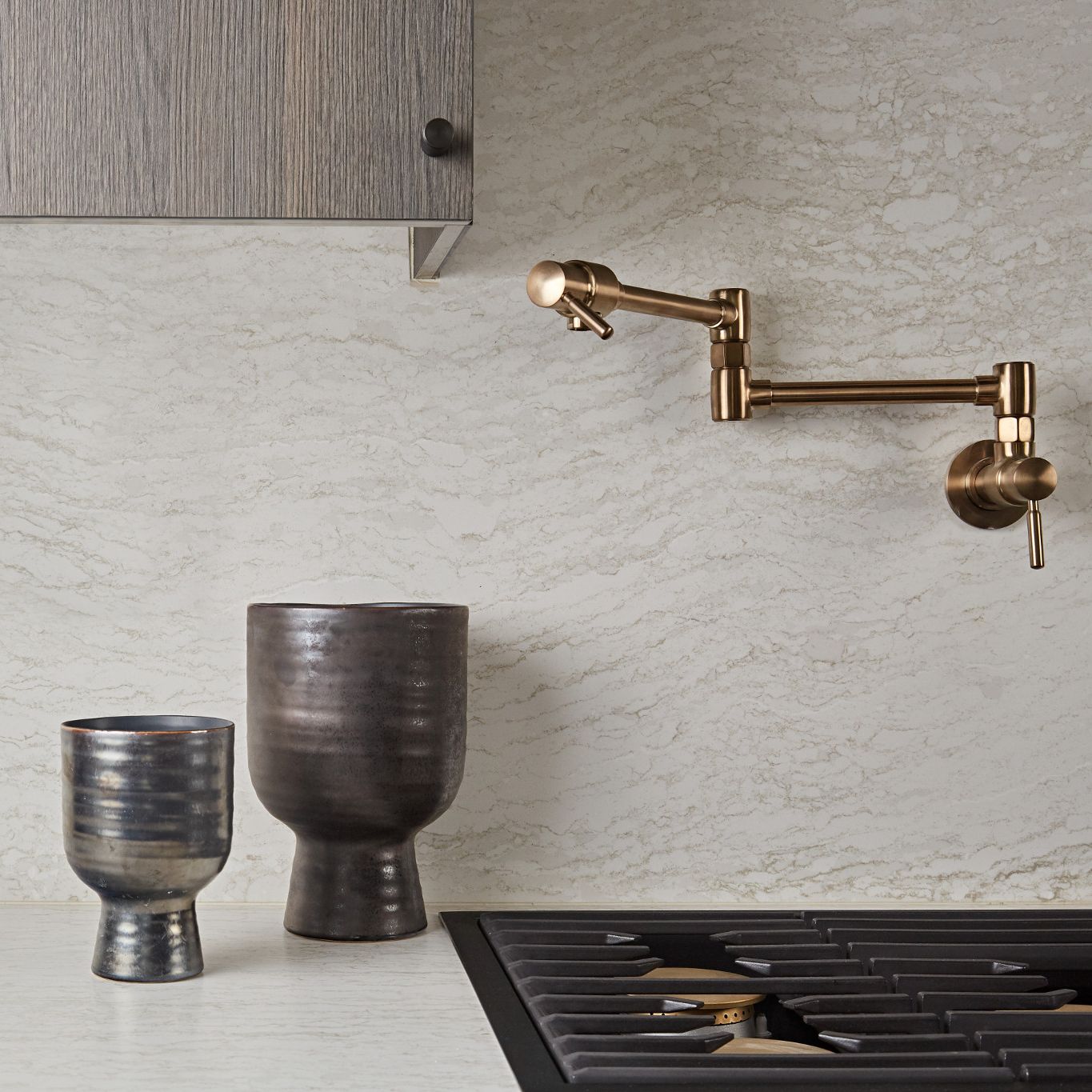 "We want the consumer to touch and feel it," says Kevin Ziober, a custom countertop fabricator with Busch Products who works with Cambria Matte surfaces regularly. "We make sure to communicate with the consumer that, with matte, you do not have to compromise on the quality of product or material."
Beyond the exceptional product performance, Cambria Matte designs also add health and wellness benefits to a home environment. The anti-glare surface reduces strain on the eyes and creates a softer space that improves focus and concentration. This is especially beneficial to aging generations in senior living environments and healthcare facilities. And spaces that minimize the impacts of glare are better equipped to help occupants reap the myriad benefits of natural sunlight.
Studies have shown that employees with views of the outdoors and access to natural light took 6.5 percent less sick leave, experienced a two percent increase in productivity, and had an 84 percent drop in headaches, eyestrain, and blurred vision.
That applies to artificial light, too, says Ziober. "If there is underlighting beneath the cabinets, you see more reflection on polish than on matte," he explains. "The matte finish subdues bright, harsh reflections. Consumers appreciate this."
Still not sure whether a low-sheen look or high gloss finish is right for you? Order samples to find the aesthetic that suits your personal style. Note that only a selection of designs in the Cambria Matte finish are readily available as samples, but the finish is available for every Cambria design. If you are seeking a specific design that doesn't have a Cambria Matte sample, order the high gloss version and a similar style of Cambria Matte sample to compare.
Here, take a look at a few standout matte installs for design inspiration.
Minimalistic Kitchen
For the design of her Calabasas, California, home, LA-based interior designer Julia Wong turned to Cambria.
Long recognized for her sophisticated and luxurious residential, hospitality, and retail interior designs, which have earned her an international reputation for beautiful design combined with functionality through tech integration, Julia referenced history, architecture, and fashion in her own minimalistic and monochromatic kitchen.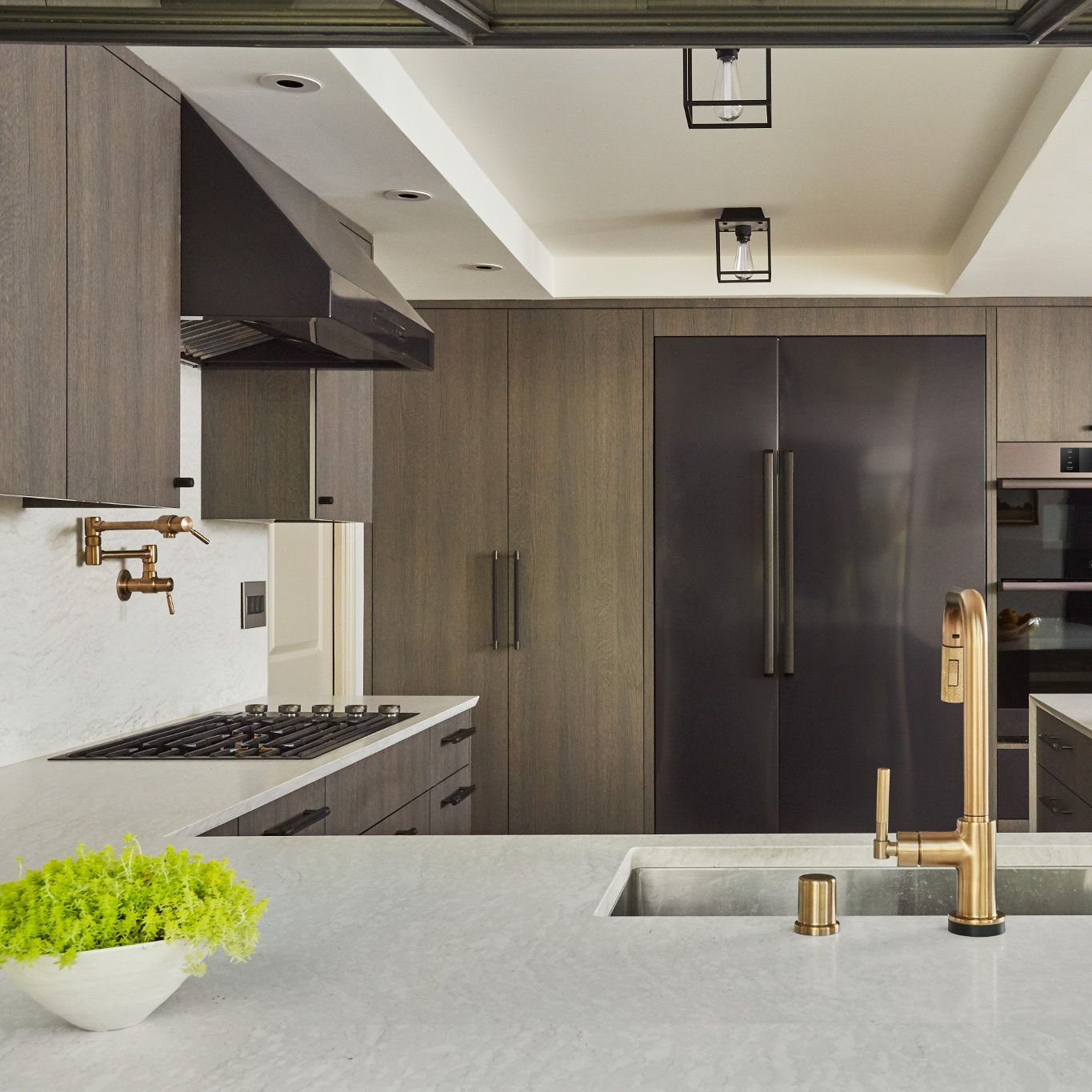 The Cambria Ironsbridge Matte countertops and backsplash pair seamlessly with flat panel gray-brown cabinets and matte black hardware for a low-sheen, crisp, and clean space. The design cultivates an organic, durable aesthetic, drawing in and connecting all of the elements in the space.
Glam Kitchen
When Kyla Herbes of House of Hipsters moved to the suburbs with her family a few years ago, they knew they'd eventually renovate the kitchen. A must-have for Herbes?
"I fell in love with Cambria's Brittanicca Warm Matte design," she says. "It was so beautiful and warm and wasn't the same black and white marble look."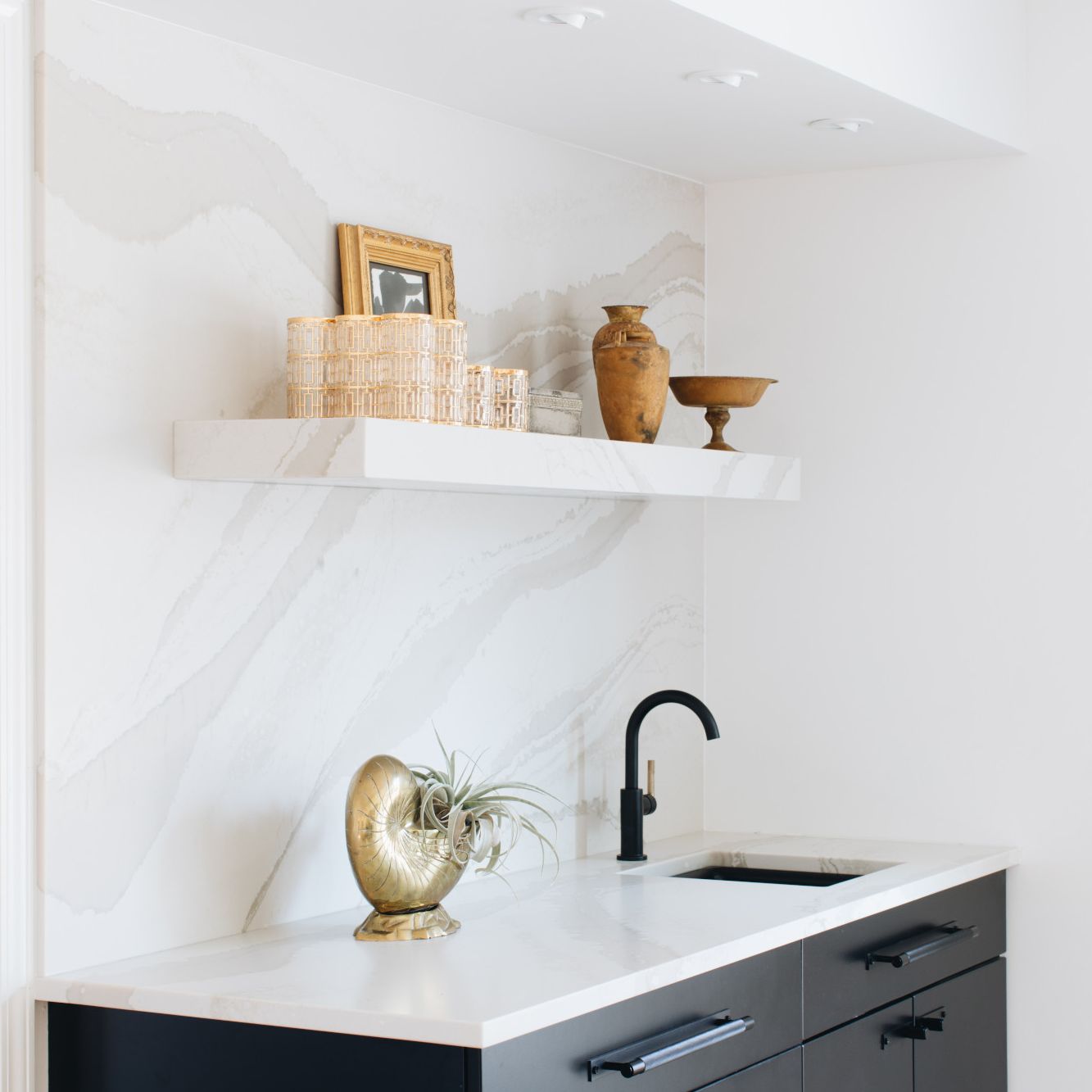 She added the design to the room's wet bar on the shelving, backsplash, and countertop. The Cambria Matte finish absorbs an abundance of light in the bright space and lets Herbes' design shine. "The Brittanicca Warm Matte stone makes it different and unique."
Tuxedo Kitchen
In this kitchen design by Louisville-based duo Jason Black of Artisan Signature Homes and Gretchen Black of Greyhouse Design, matte black Café appliances inspired the overall aesthetic. The duo paired the matte black appliances, hardware, and fixtures with brushed copper and whitewashed wood accents to keep the look modern but still approachable.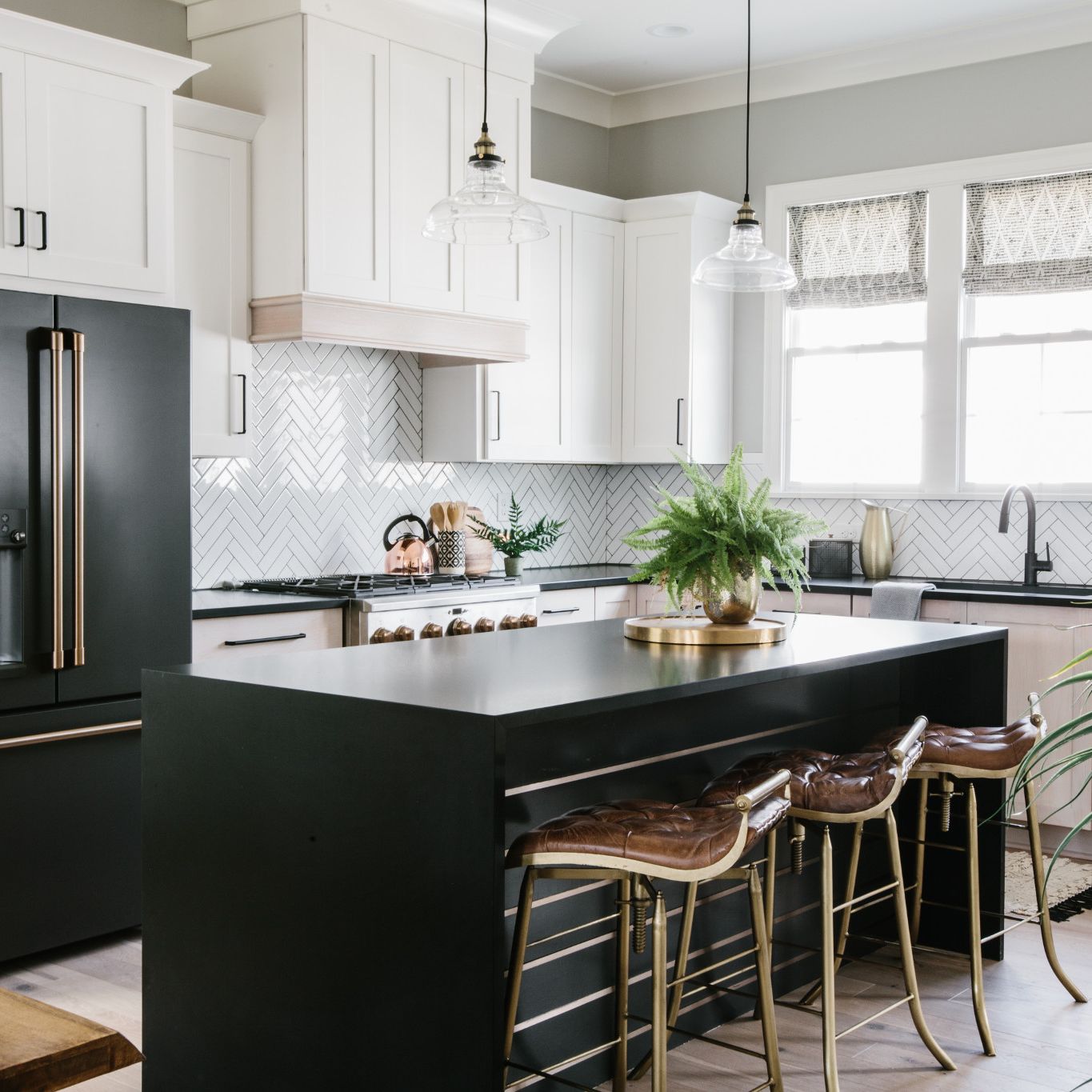 The pair created a tuxedo-style kitchen by adding Blackpool Matte countertops on the waterfall edge island and the perimeter countertops that make a stunning statement but also complement the other design elements in the space. "It just worked so beautifully," said Gretchen in a YouTube walk-through of the space. "This waterfall edge keeps it really clean and looks great."
Stylish Studio
With a modern low-sheen finish, Skara Brae Matte brings statement style and a hardworking surface to The Frances Chicago by Stoffer Studio. This photo studio and creative space benefits from the durability and versatility of Cambria, with the waterfall-edge table serving as a backdrop for product shoots, conference table, prep space, and more.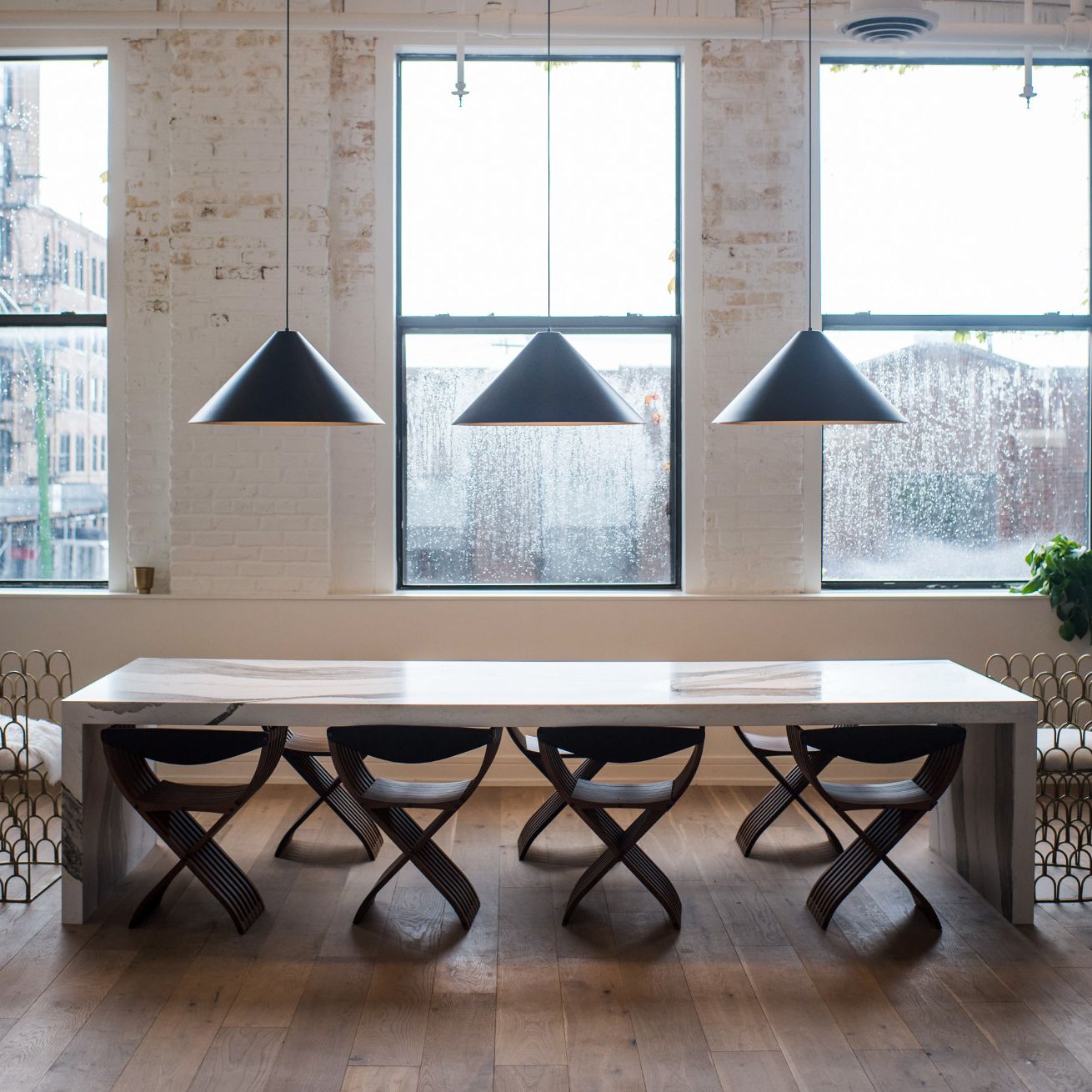 And the Cambria Matte finish allows for aesthetic flexibility in the space. Matte black pendants and sculptural seating complete the chic studio look.
Contemporary Bathroom
In this guest bathroom by California-based designer Anne Sage and photographer Caroline Ingraham Lee, a Brittanicca Gold Matte vanity with an integrated sink pairs with Jean Paul Gaultier wallpaper and blonde wood cabinetry for a look that's contemporary and fresh. The Cambria backsplash was custom fabricated to achieve the perfect placement of the round vanity mirror.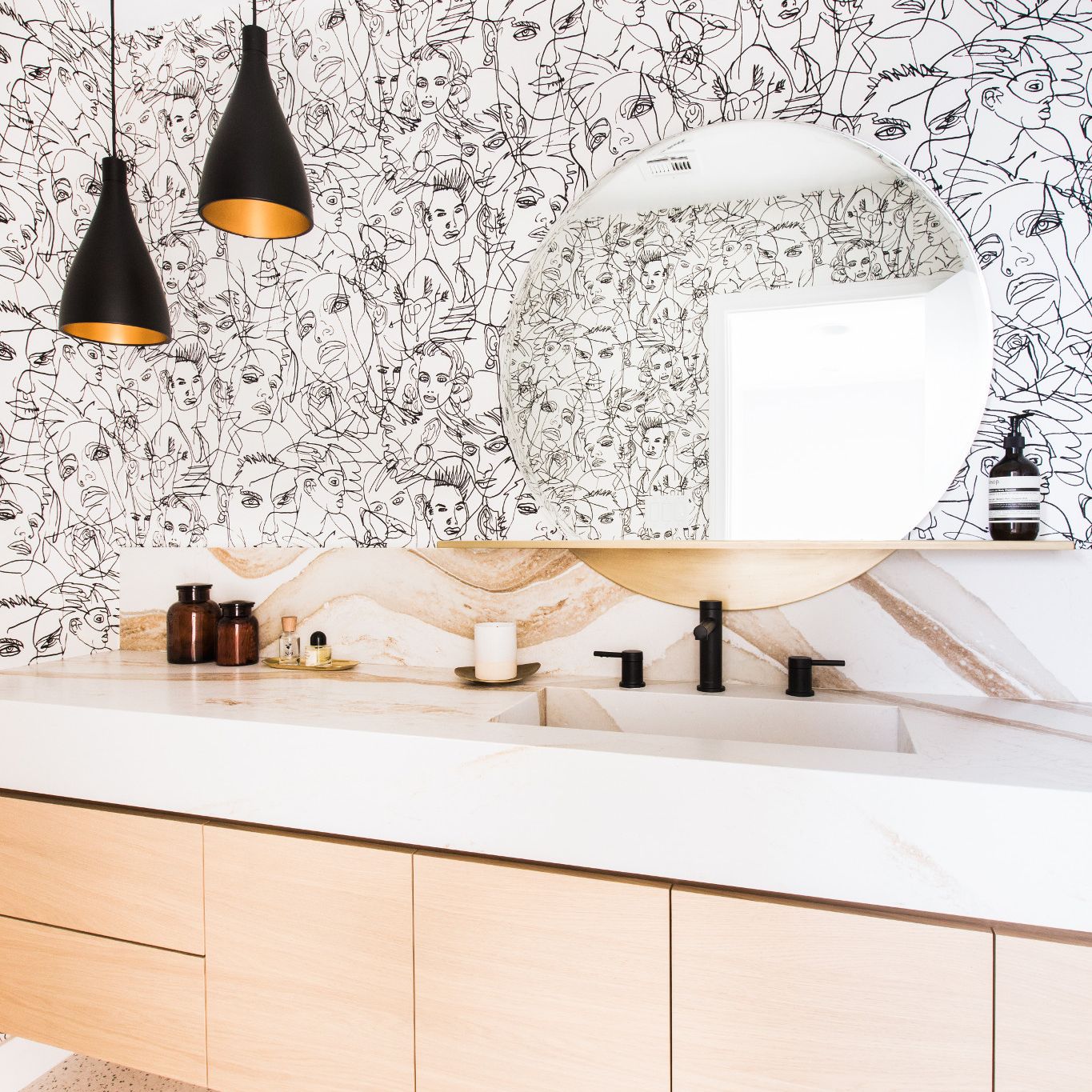 Industrial Kitchen
In this industrial-style kitchen, Canadian custom cabinetry and Cambria Premier Dealer Cabinet Effects paired slate gray floors, modern lighting, and warm wood accents with a Cambria Fieldstone Matte waterfall island and perimeter countertops.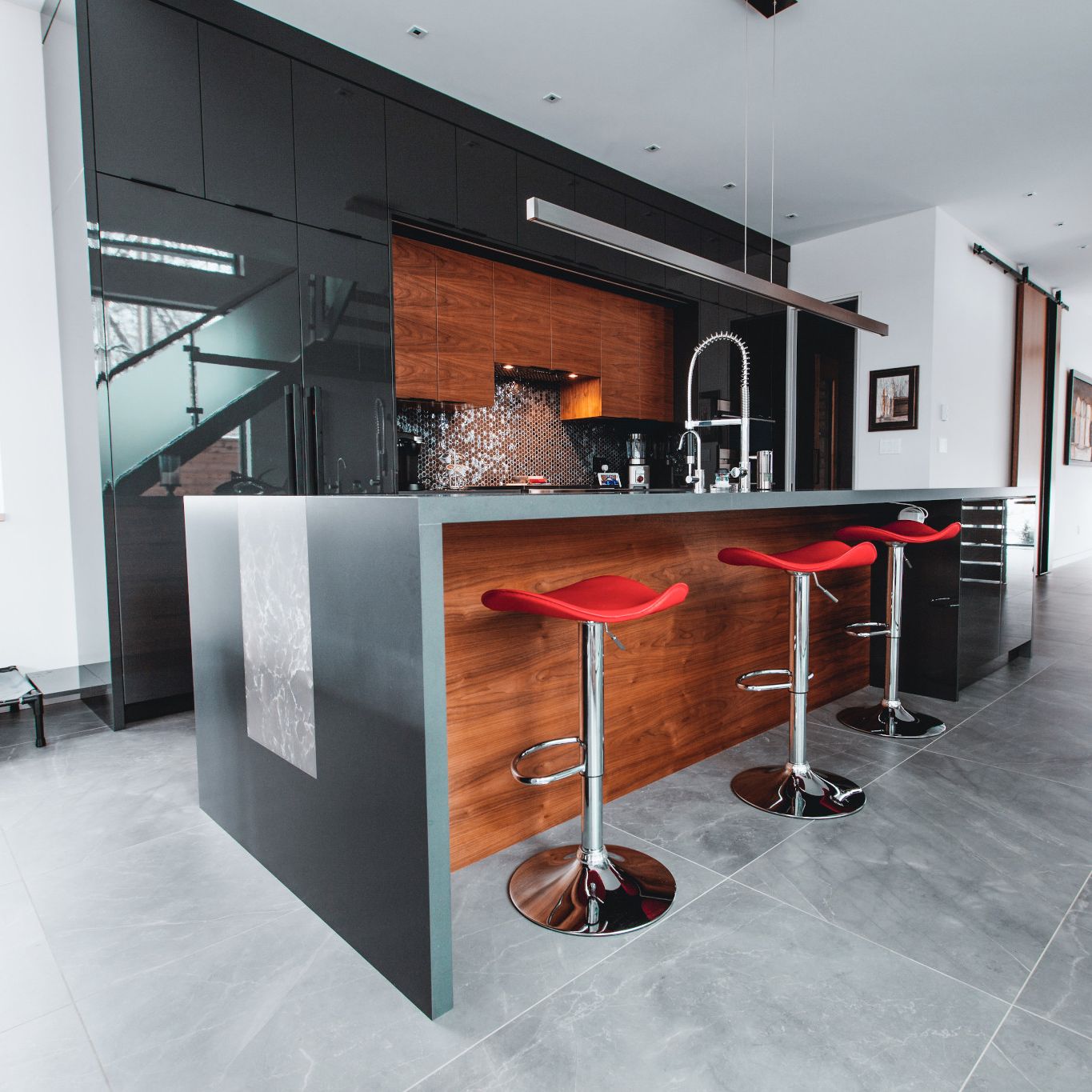 On the island, Cabinet Effects added a Cambria Myddleton inset to lend dimension to the design. The striking shade of slate gray in Cambria's Fieldstone Matte design is an impactful neutral that is both true and timeless.
Mountain Kitchen
New York Times best-selling author, TV personality, stylist, and interior design blogger Emily Henderson remodeled her 1960s Lake Arrowhead A-frame vacation home to include a rustic-modern-Scandinavian-contemporary-minimalist kitchen.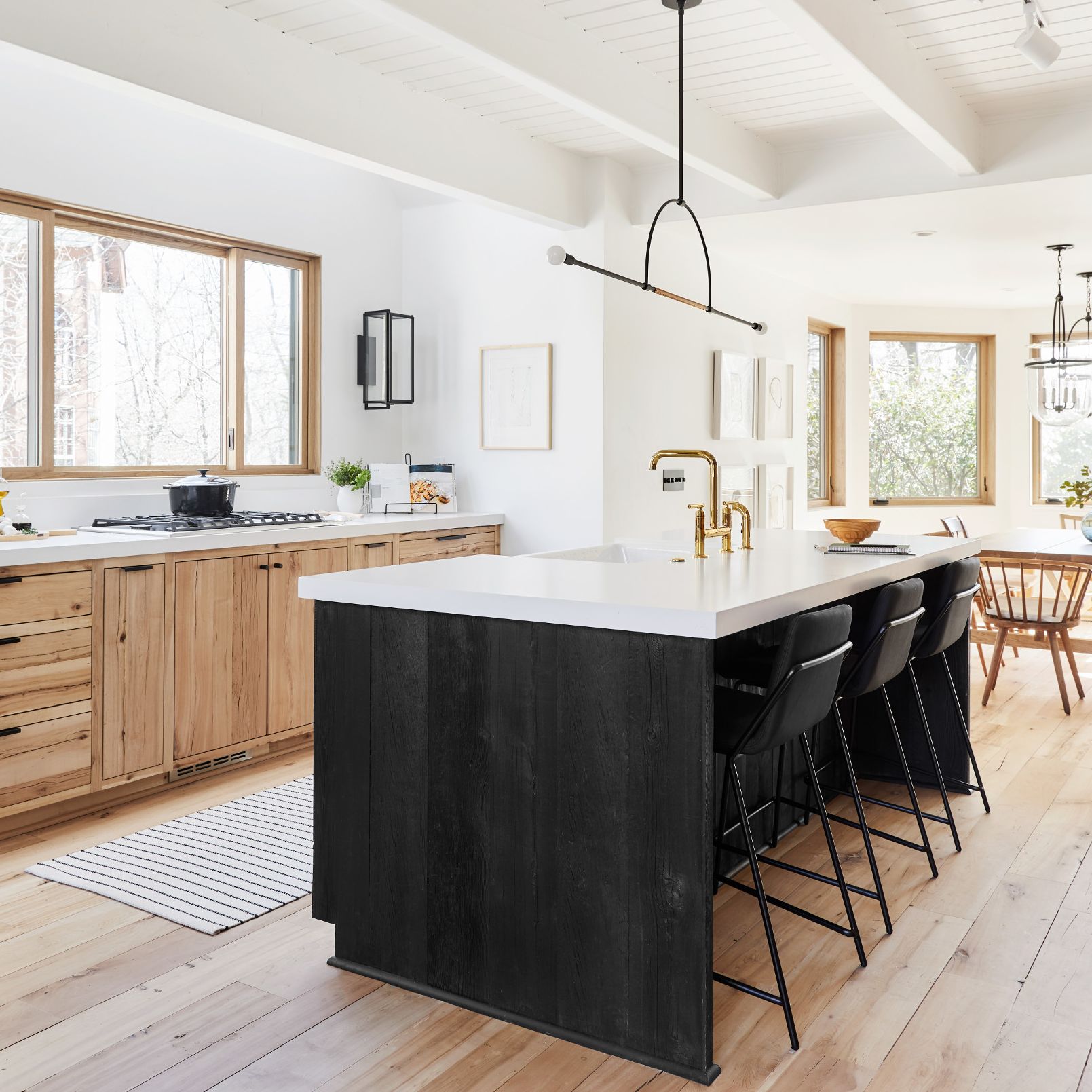 On the kitchen countertops, she installed Cambria's White Cliff Matte design. A neutral and bright white, the design lets the wood's texture and color be the stars of the show.
"I walk into this room and breathe a larger breath than I thought my lungs could hold," writes Henderson in this blog post on the renovation. "Nothing is perfect in life but, when you get close to it, you would be remiss to not recognize how lucky you are."
Creative Studio
Studio 125, a creative studio and event space in Minneapolis, is the brick-and-mortar home of Kate Arends–founded lifestyle blog Wit & Delight. Located in an industrial building, the studio reflects a residentially inspired design aesthetic complete with a trend-worthy kitchen featuring a Brittanicca Matte countertop and backsplash.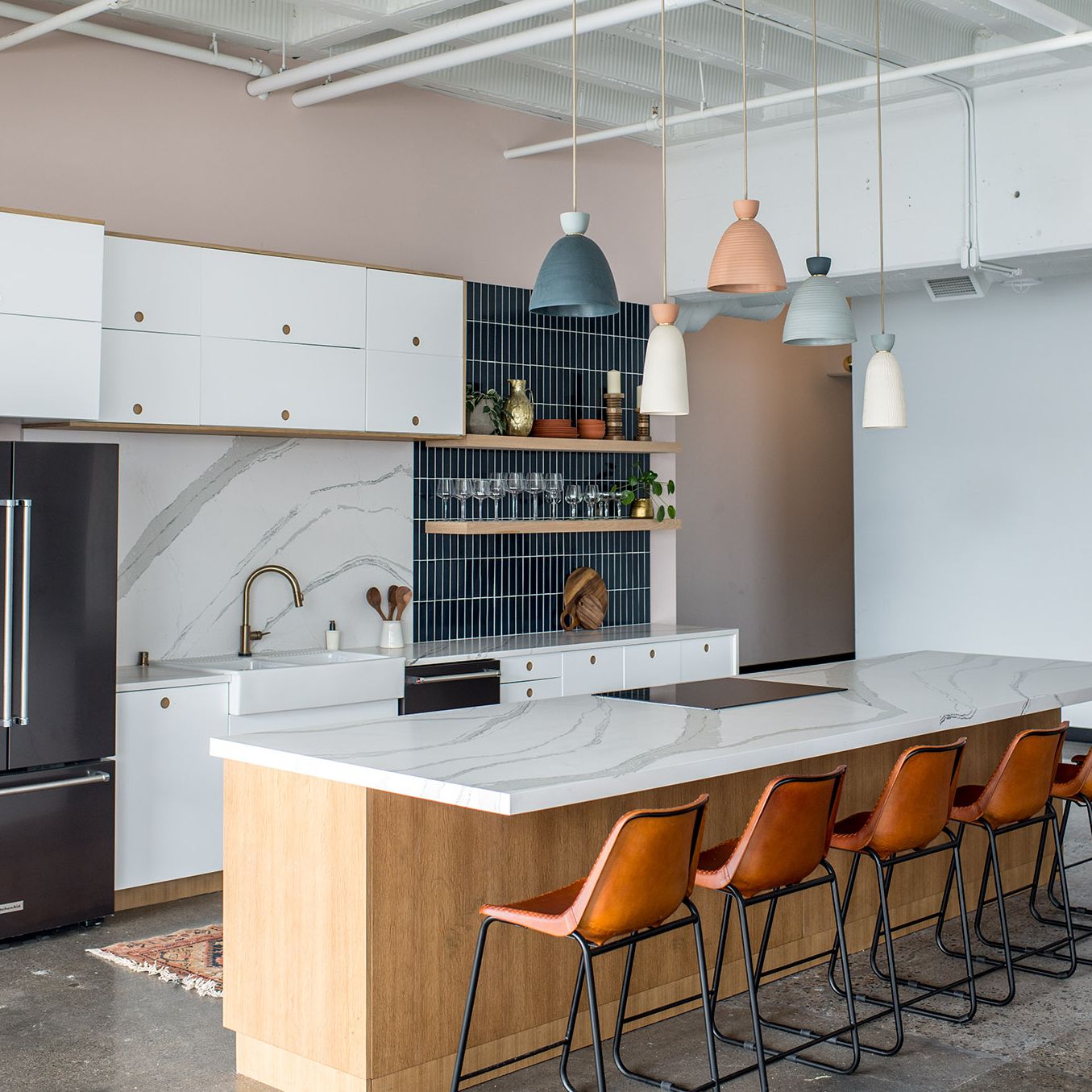 "It's funny how many people love to rub our countertops when they come in," says Arends. "The elegant surface stands out in an industrial space, so that unexpected juxtaposition really allows the countertops to pop. They are the focal point of the whole room."
Featured Designs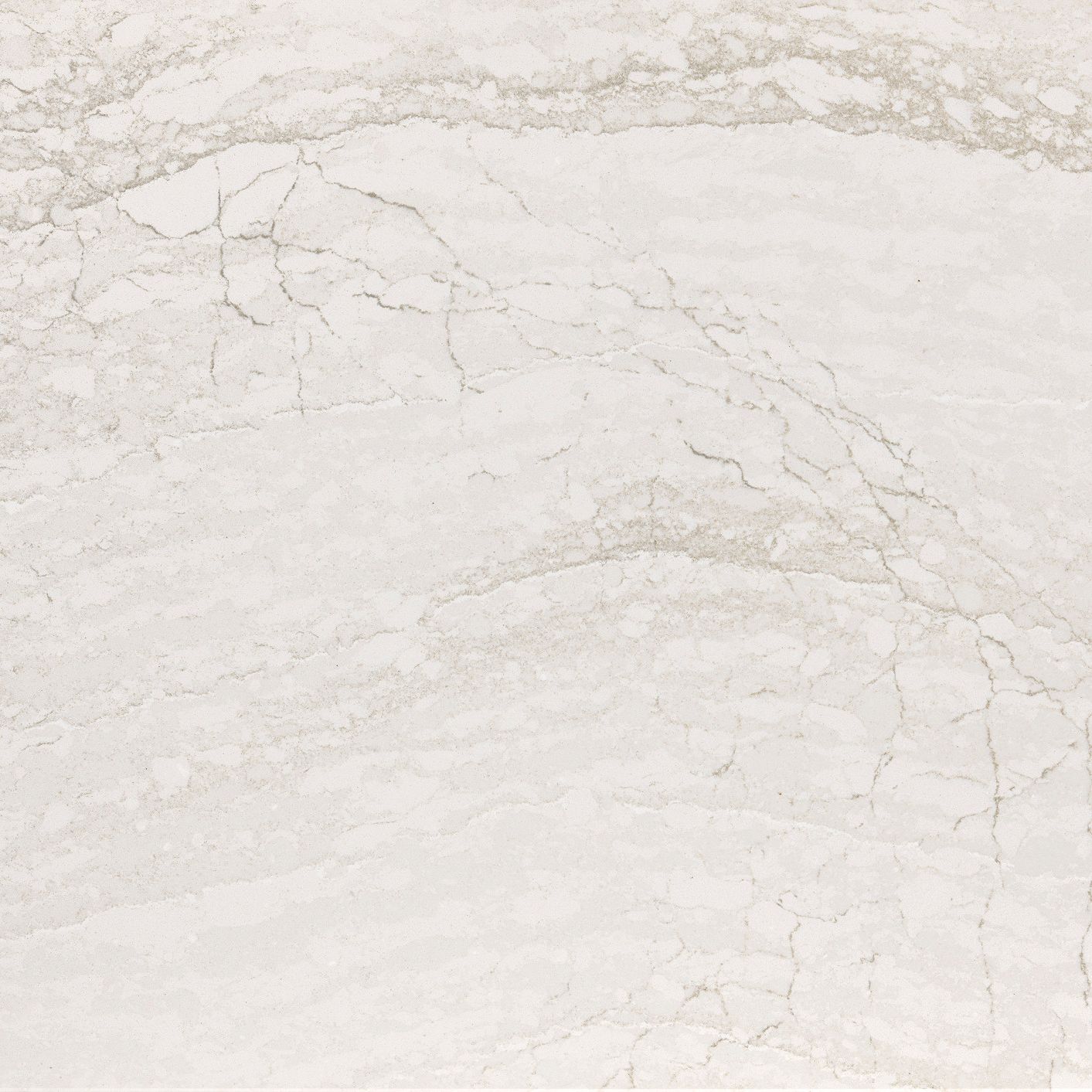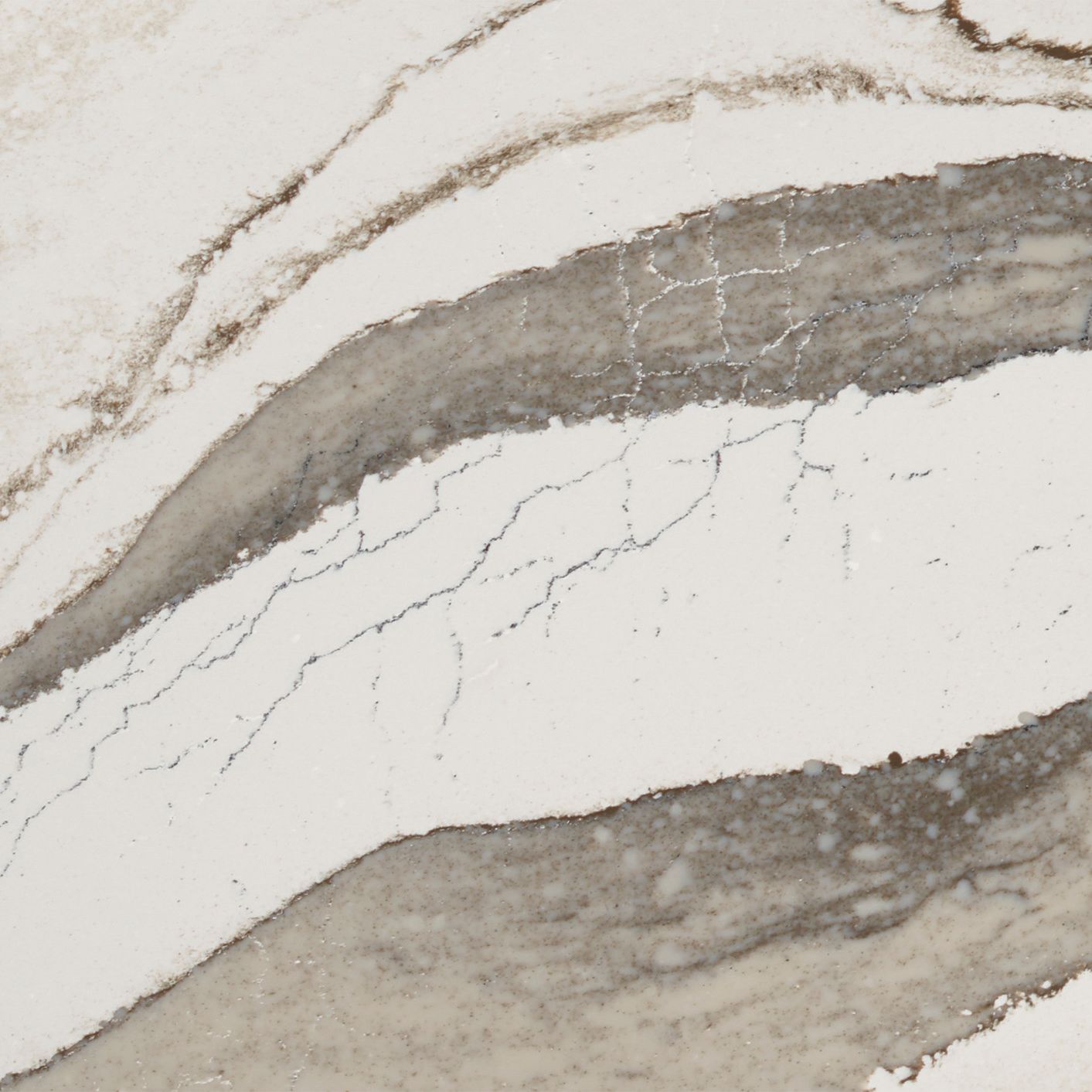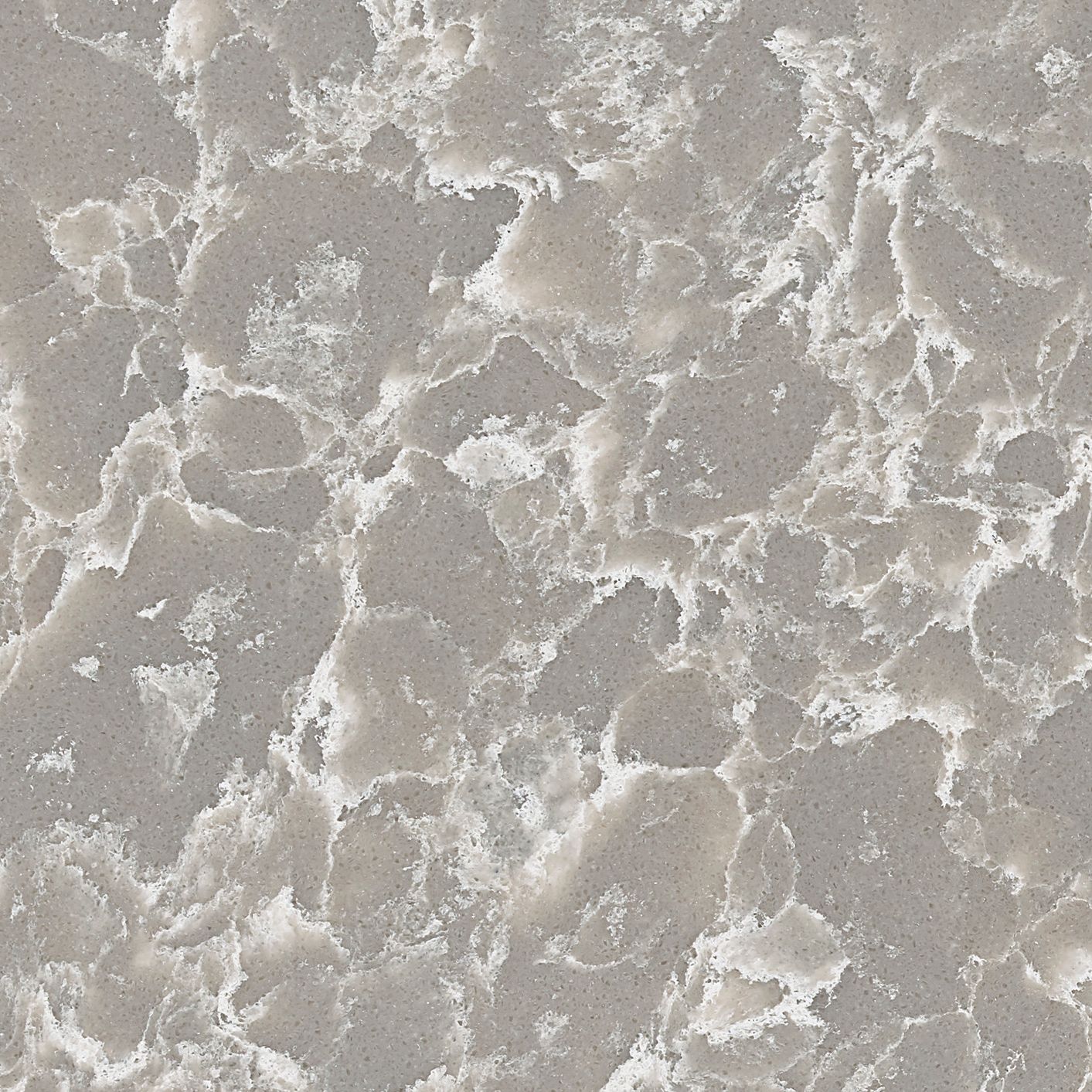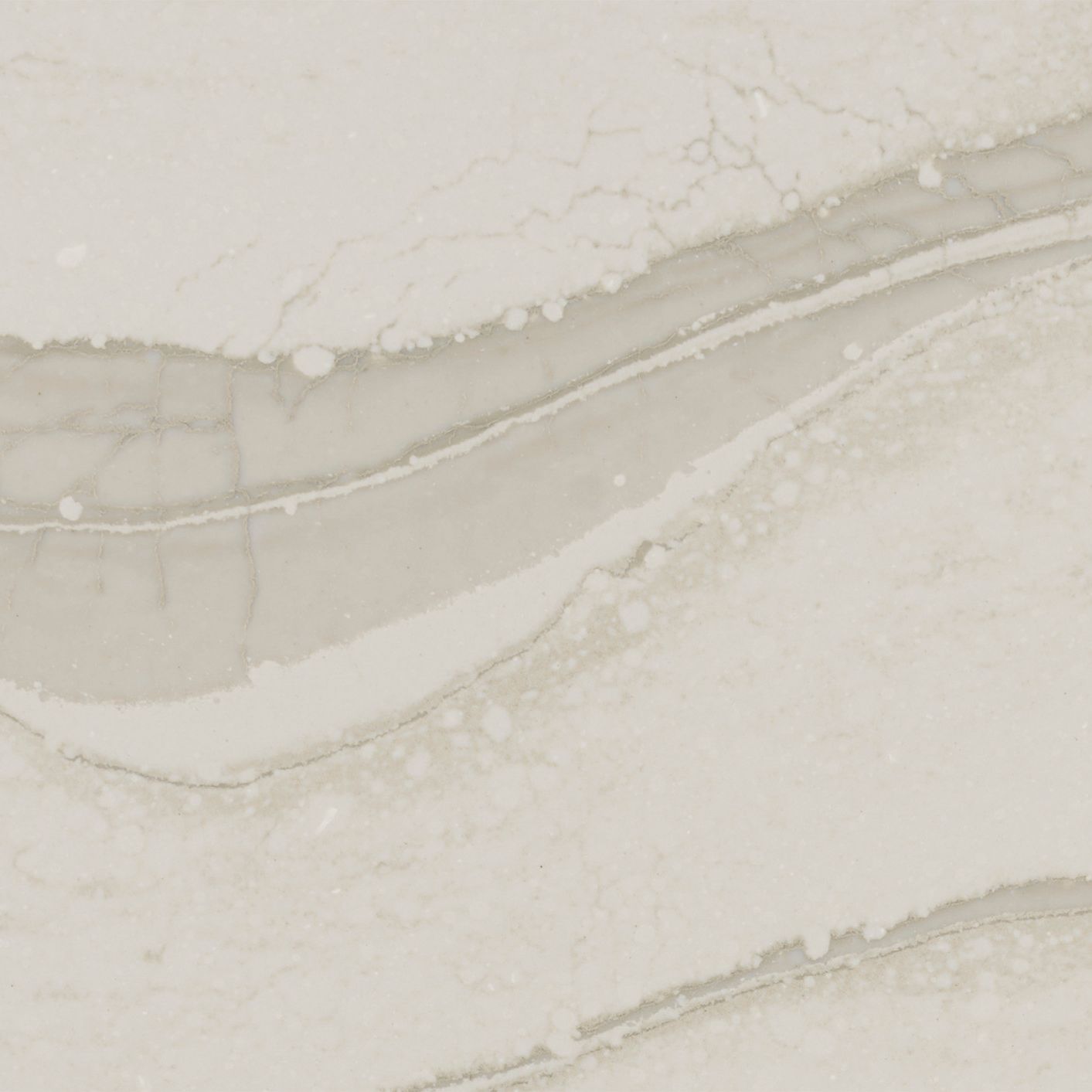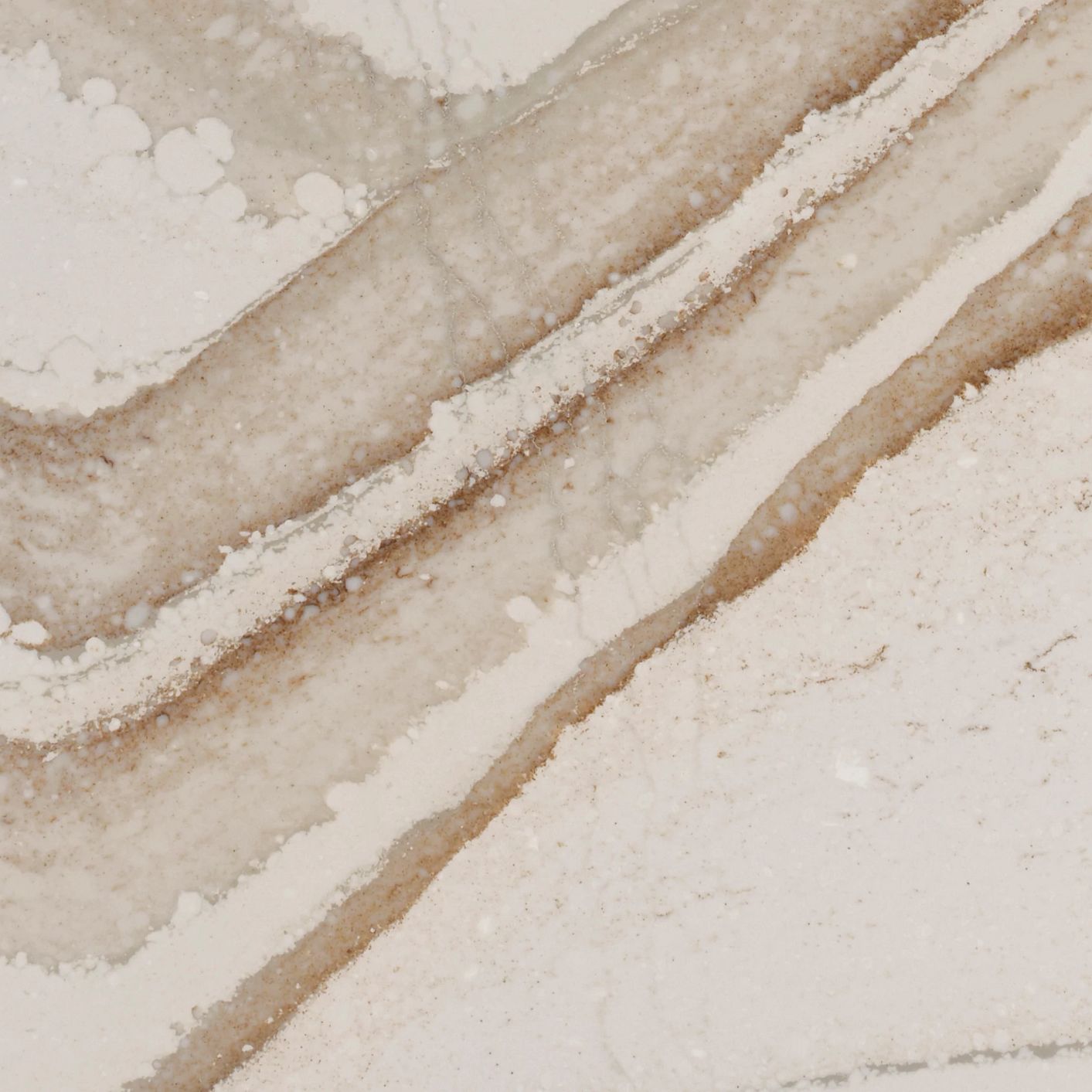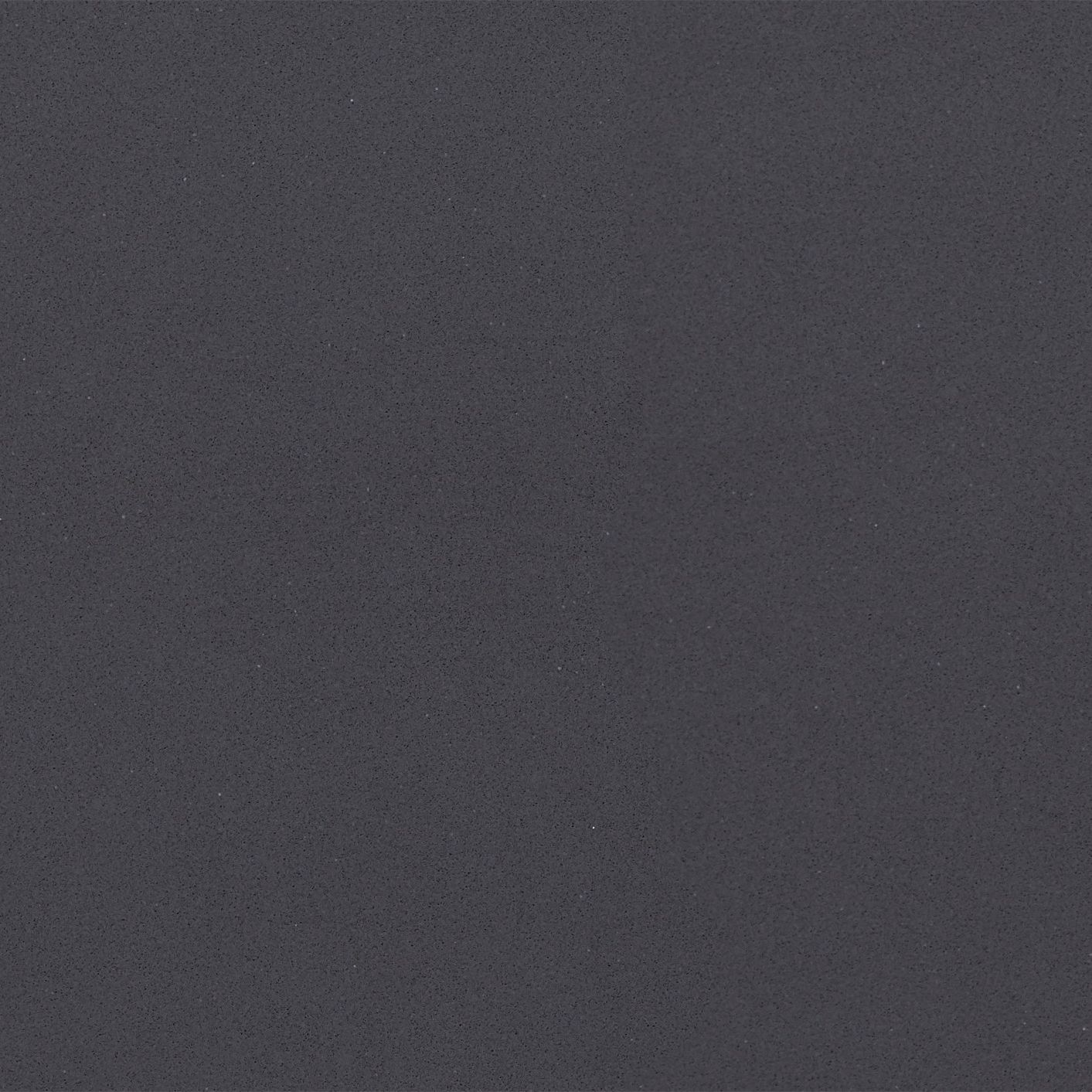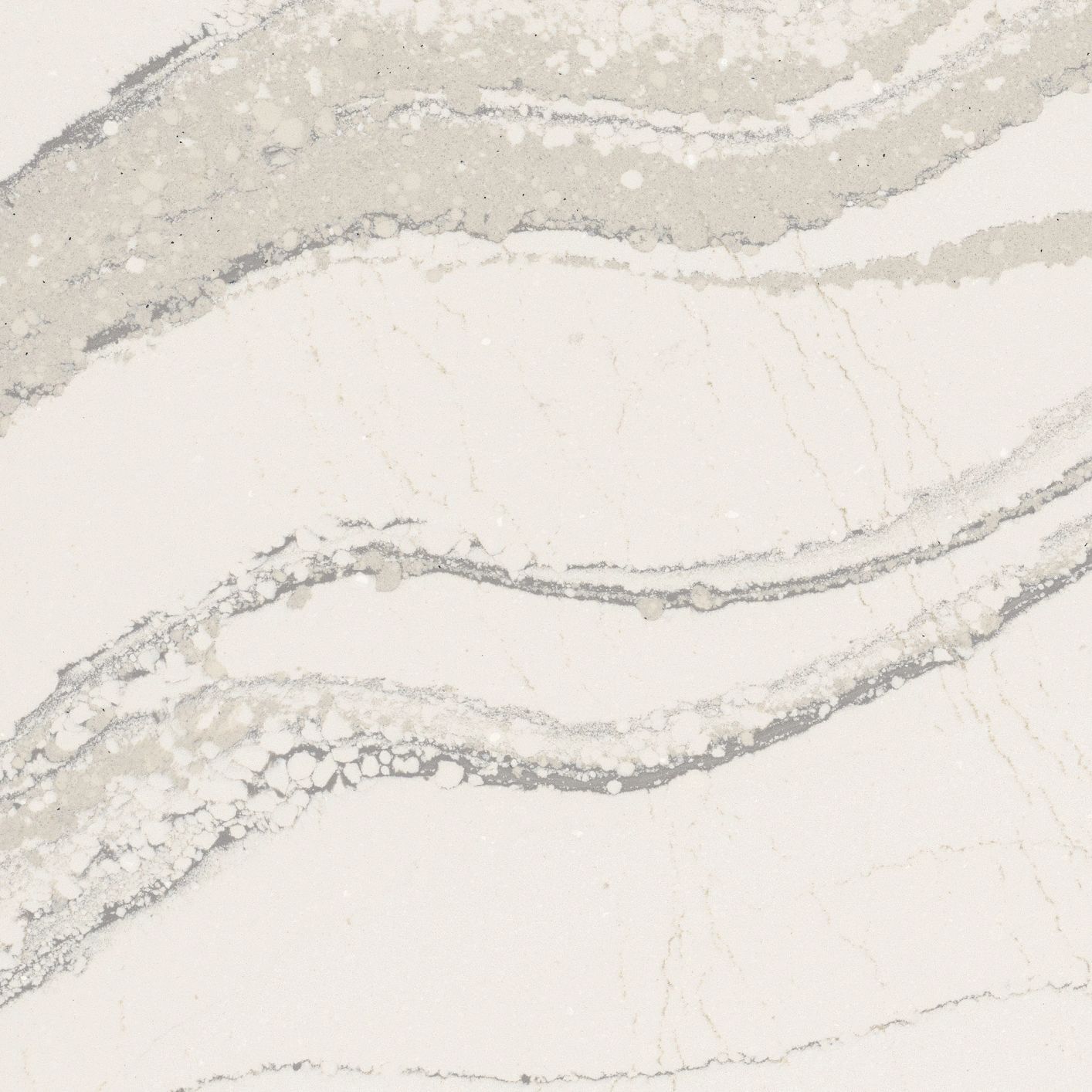 Get the Look
Follow Cambria on social media with #MyCambria for more standout designs.
For more information on Cambria, including performance data, product specifications, and certifications, see our Professional Resources.
Interested in creating a showstopping design project with Cambria? Buy a sample, find a dealer, or call 1-866-CAMBRIA (1-866-226-2742) to be connected with a market representative in your region. Or visit our website to set up a virtual design consultation.