Step 1: Fall in love with a countertop design. (Cambria's extensive palette has you covered.)
Step 2: Select your surface finish: low-sheen Cambria Matte™ or high gloss.
Step 3: Choose your countertop edge profile. (There are 19 Cambria edge profiles to pick from.)
What is a countertop edge profile?
An edge profile is the finishing touch that completes your countertop look, so it's wise to put some thought into your decision. Need help narrowing down your choices? We've handpicked an array of Cambria edge profiles so you can customize your countertops to suit your style.
Finding your Cambria edge profile
With 19 Cambria edge profiles, there's an option for every aesthetic from contemporary to traditional. Because Cambria's natural quartz designs infuse veining, movement, and tones throughout the slab, the beauty of your design will carry through any edge profile you choose.
Rounded style
Fully and partially rounded edges add subtle softness to a space. The smooth detailing can make for a comfortable dining area at an island or add contrast to angular fixtures.

Edge: Piedmont
The Piedmont edge profile is softly rounded on the top edge. You may also hear it referred to as a demi bullnose, ½ bullnose, or a ¼ round. This edge is available in 2cm, 3cm, and 4cm thickness.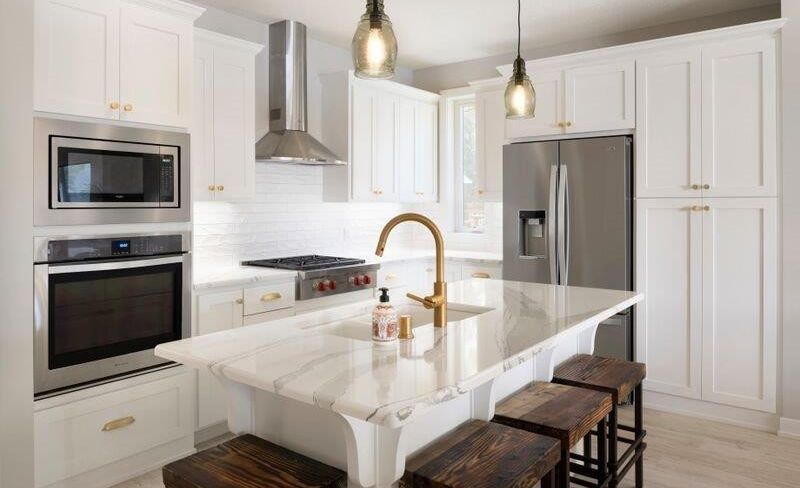 This inviting space features a Brittanicca™ island with Piedmont edge. Space by: Zawadski Homes.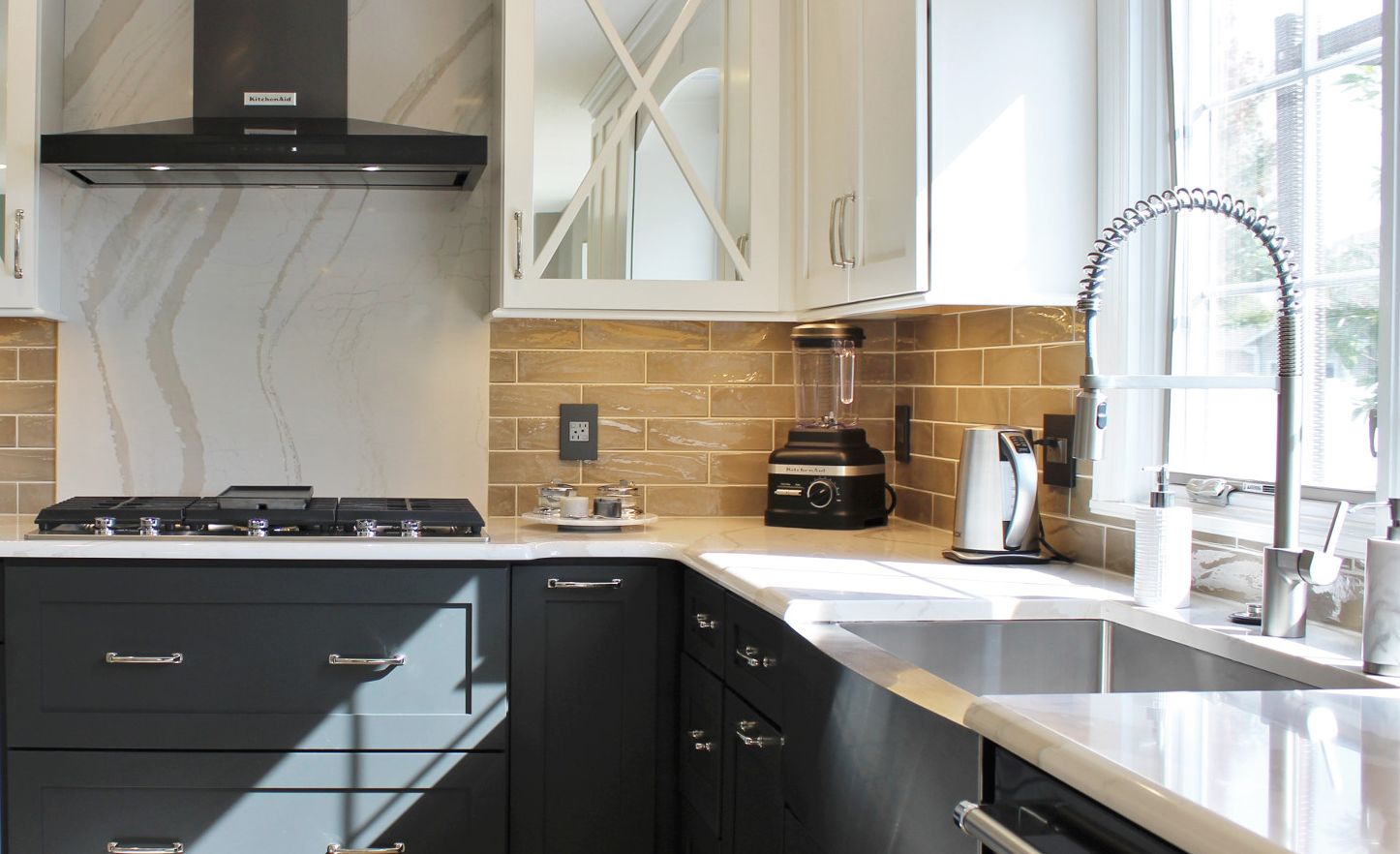 Brittanicca Warm™ countertops with a Piedmont edge. Space by: Village Home Stores

Edge: Volcanic
The Volcanic edge profile is fully rounded at the top and bottom of the edge. This edge style is sometimes called a bullnose or full bullnose. This edge is available in 2cm, 3cm, 4cm, and 6cm thickness.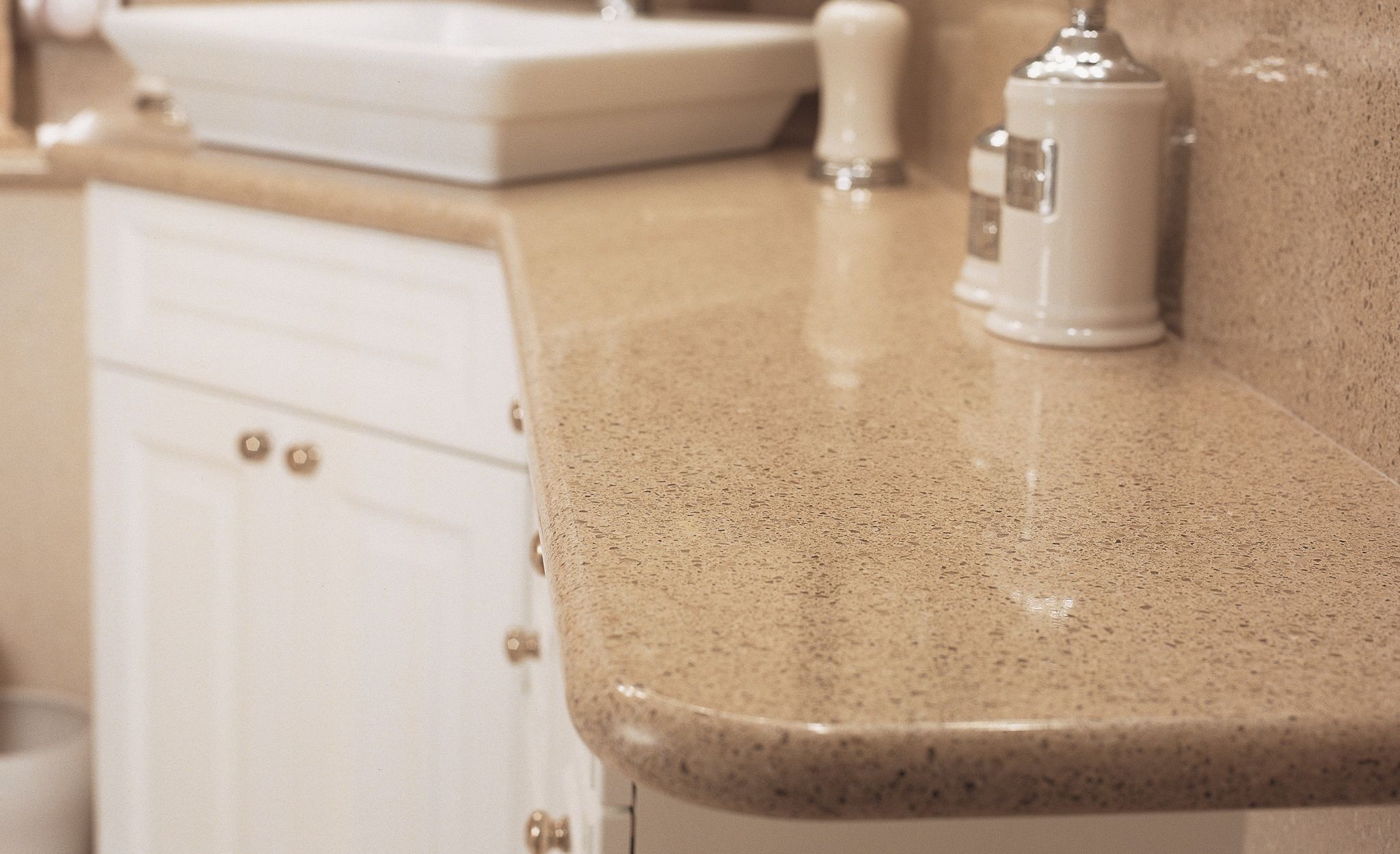 Beige and white bathroom featuring Tenby Cream™ countertops with a Volcanic edge and coordinating Cambria backsplash.
Rugged texture
A hand-chiseled edge adds dynamic texture and a rustic look. The edge is not glossy and feels rugged to the touch.

Edge: Moraine
This Cambria edge profile is hand-finished for a natural, rustic appearance. You may hear the Moraine edge profile called a chiseled edge, broken edge, or rock face. This edge is available in 2cm, 3cm, 4cm, and 6cm thickness.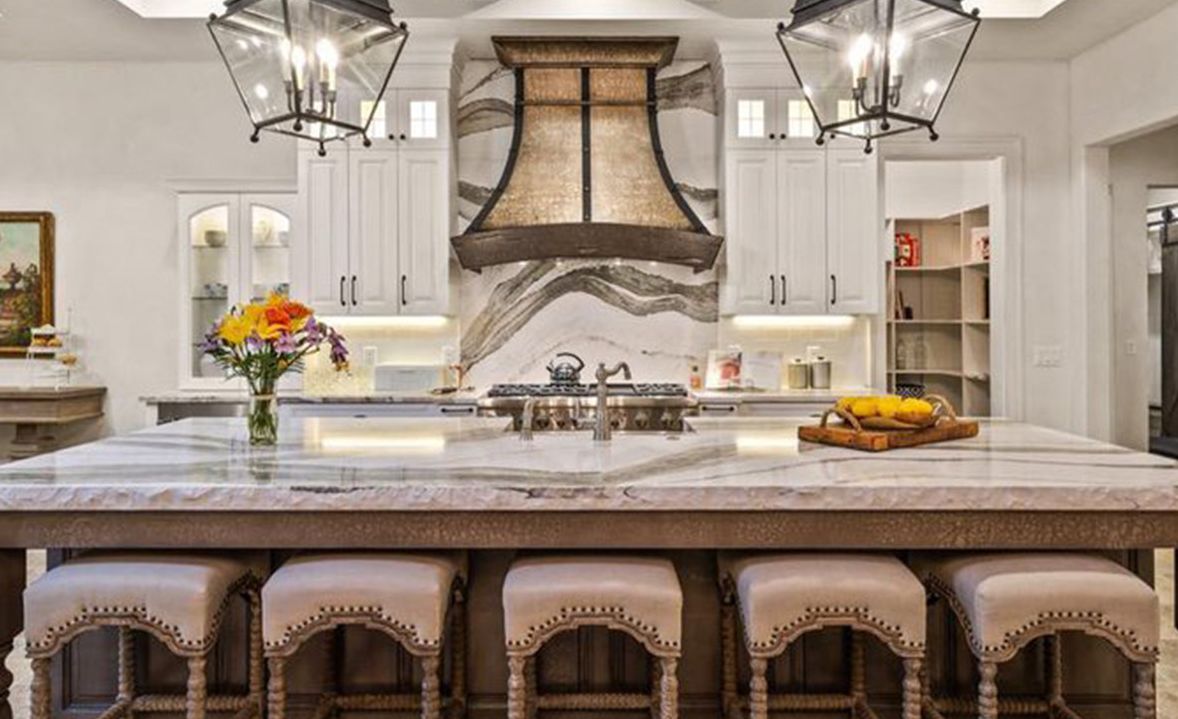 Skara Brae™ countertops with a Moraine edge lend old-world character and rustic texture to this luxury kitchen by Doni Flanagan.
Traditional movement
Edges with ornate or cascading movement offer a sophisticated look for traditional spaces.

Edge: Bryn
The Bryn edge profile is a traditional design with a twist. Often called a reverse waterfall, this edge is available in 4cm thickness.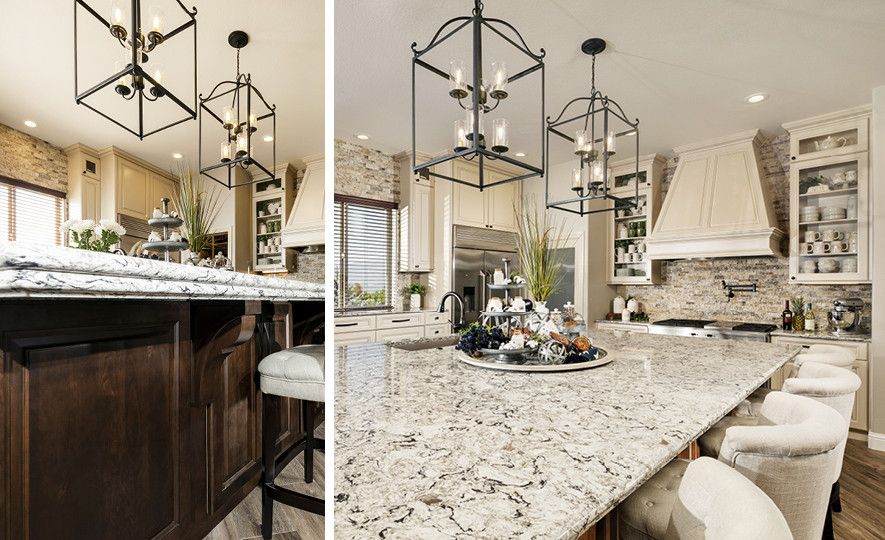 Bellingham™ countertops with a Bryn edge. Space by: Room Resolutions.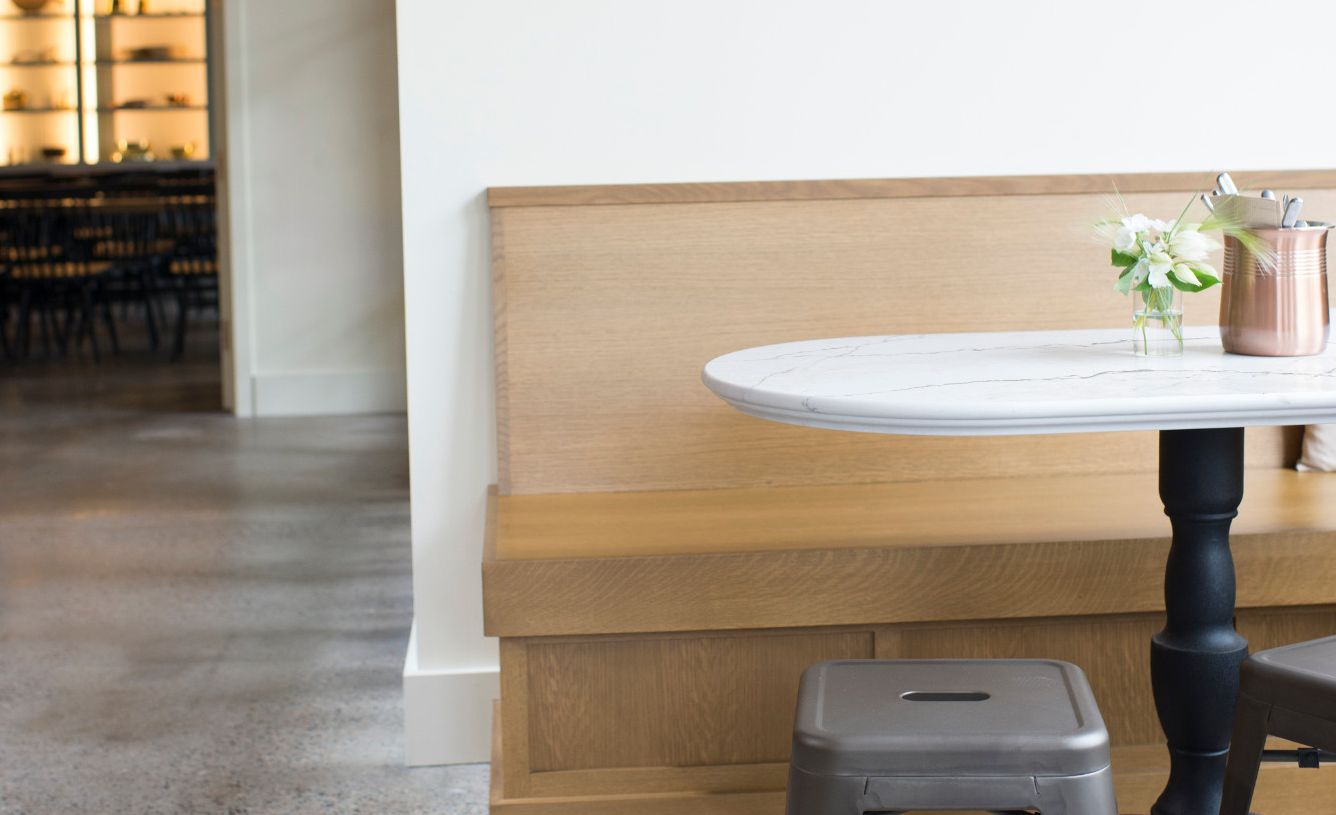 Elegant Ella Matte™ dining table with Bryn edge at The Lynhall.
Bold statement
A mitered edge gives the appearance of a thicker countertop for a crisp, clean edge. This is a stunning option to showcase the bold veining of designs like Brittanicca.

Edge: Rimrock
The Rimrock edge profile, also known as a mitered edge, is assembled from two pieces. This adds a weighty appearance to the design without requiring a heavier or thicker countertop. Cambria's proprietary techniques combine the two pieces for a cohesive look. This edge is made from either 2cm or 3cm stone that is mitered to the desired height for the thicker edge aesthetic.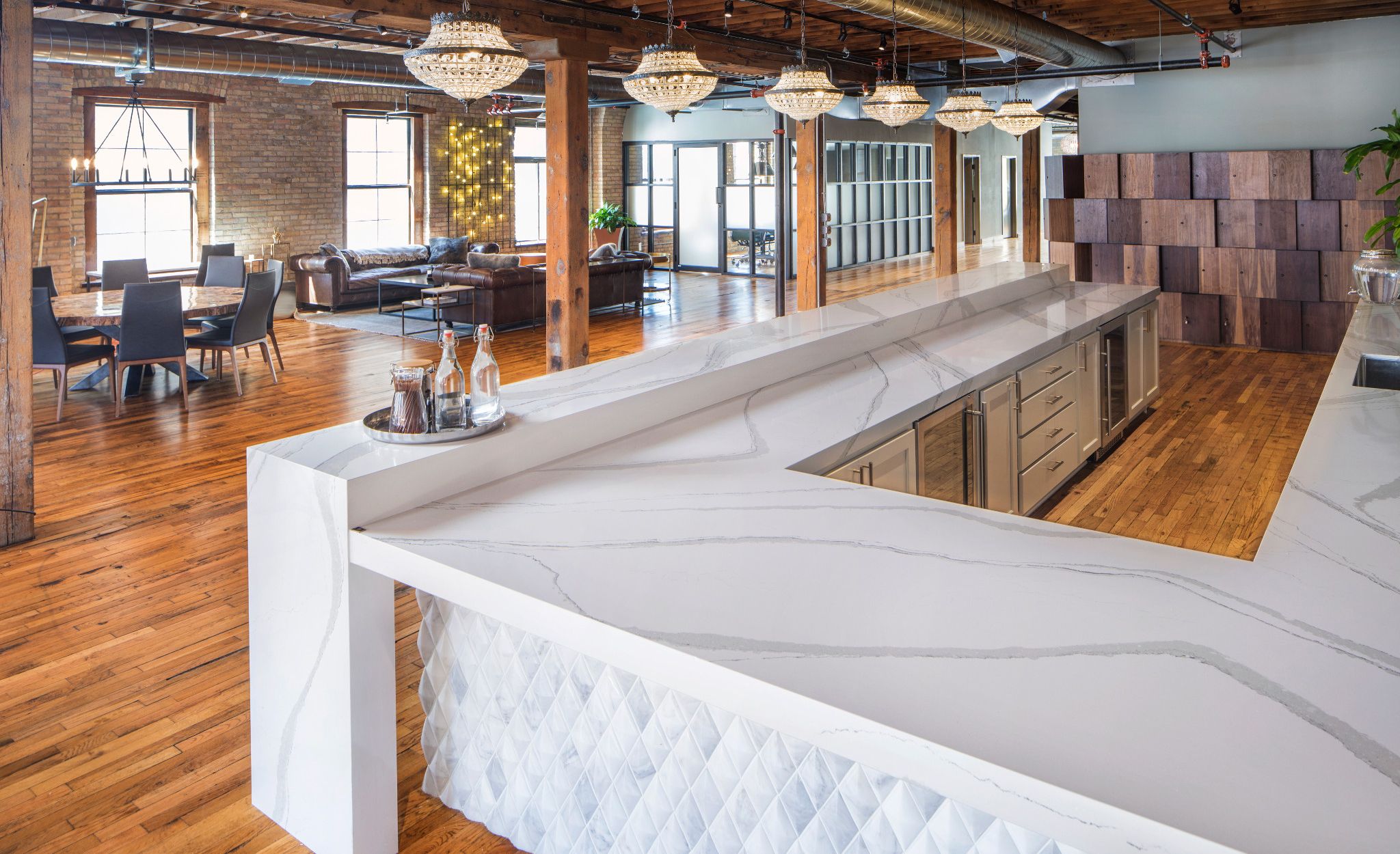 This Brittanicca bar at Brick x Mortar features a Rimrock edge.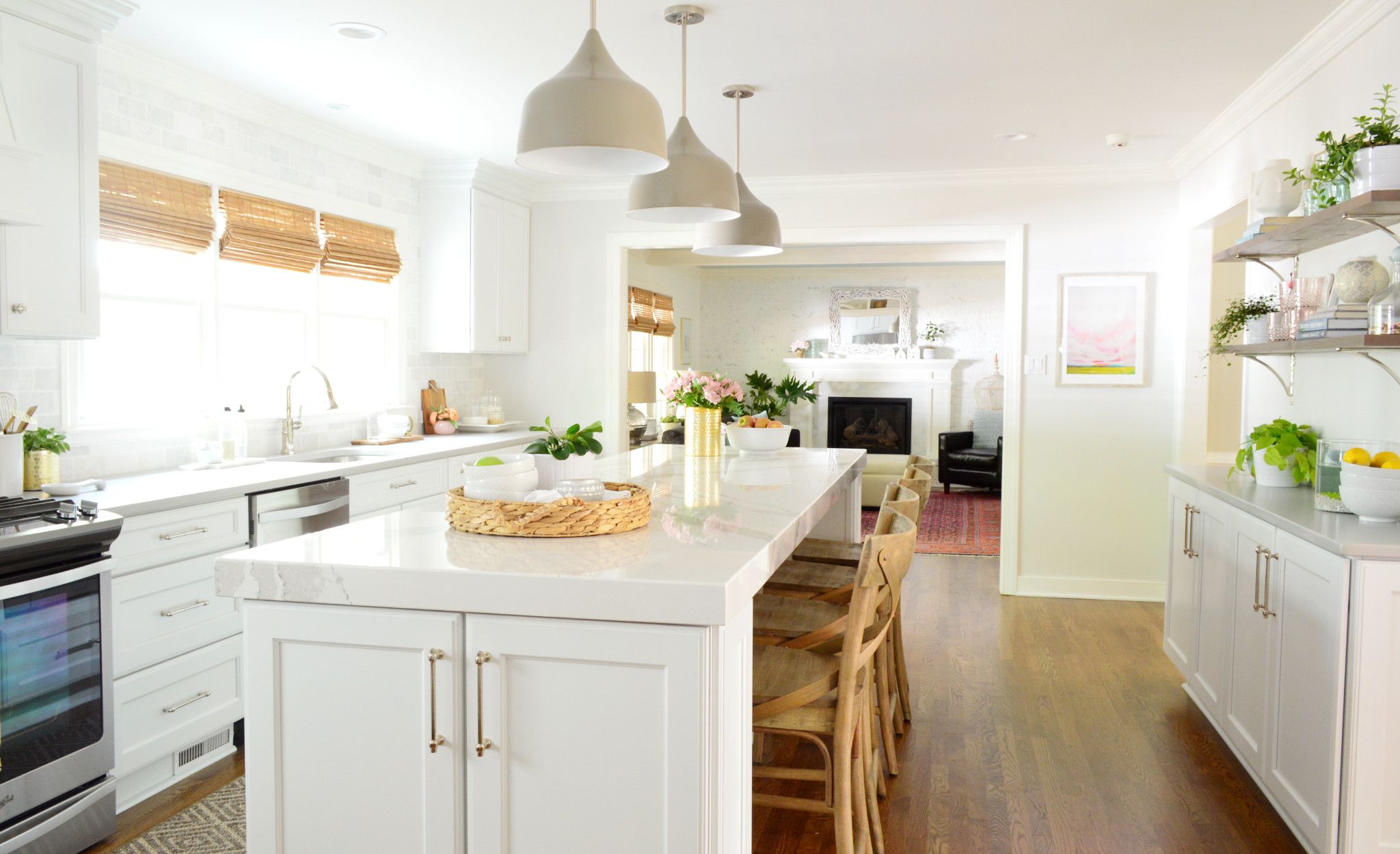 Young House Love's kitchen features a Brittanicca island with a Rimrock edge.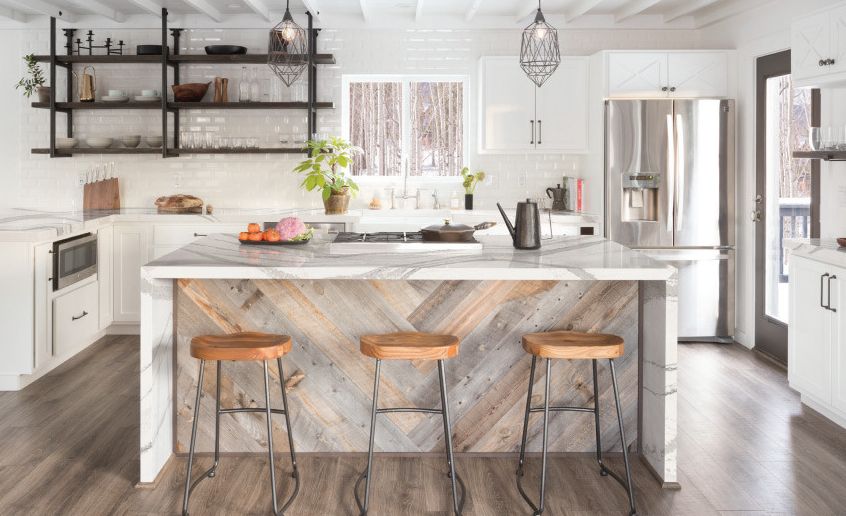 A Brittanicca island with Rimrock edge lends striking movement to Amy Purdy's kitchen.
Intriguing depth
Add depth and dimension to your countertop with angled or beveled edges.

Edge: Ledge
The Ledge edge profile fades back at the bottom edge for a versatile look with subtle yet captivating dimension. Sometimes called a reverse bevel or plater, this edge is available in 3cm thickness.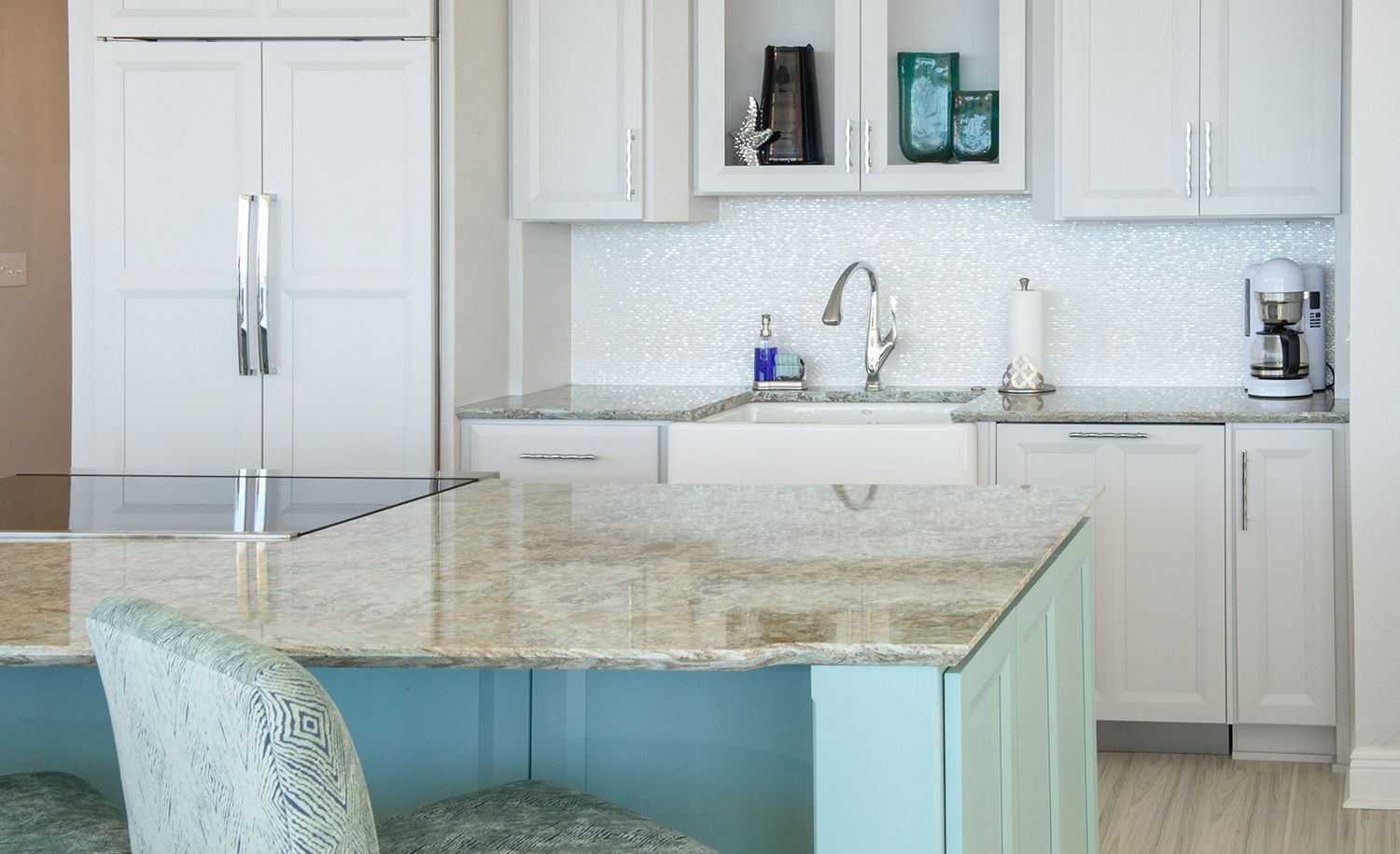 Coastal kitchen featuring Kelvingrove™ countertops with a Ledge edge. Space by KitchenScapes. Photo: Tony Thagard.
Modern simplicity
A crisp, square-cut edge is straightforward, versatile, and modern—ideal for contemporary and transitional kitchens.

Edge: Ridgeline
The Ridgeline edge profile is simple and bold. Ridgeline is available in 2cm, 3cm, 4cm and 6cm thickness.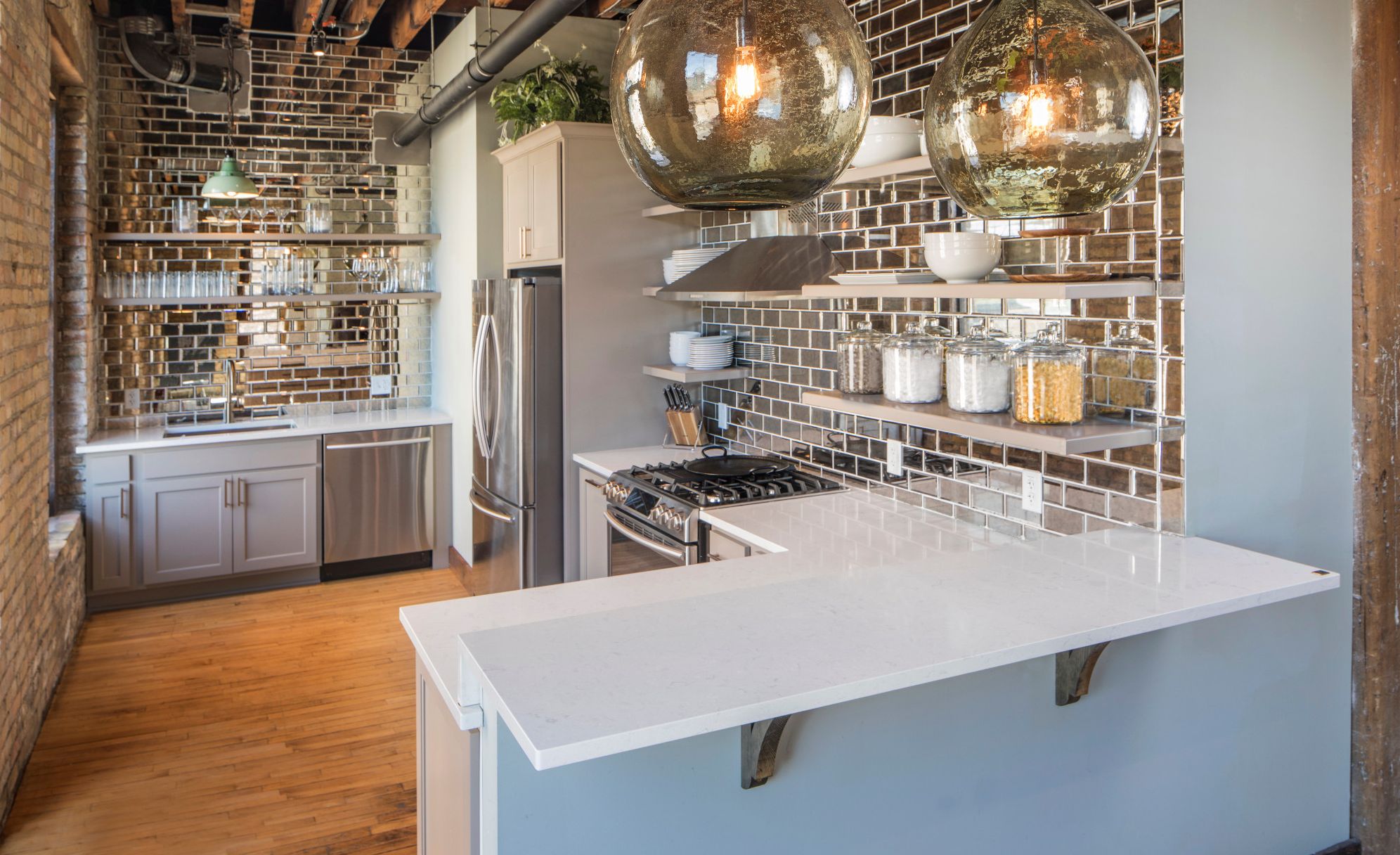 This glam kitchen at Brick x Mortar features Swanbridge™ with a Ridgeline edge.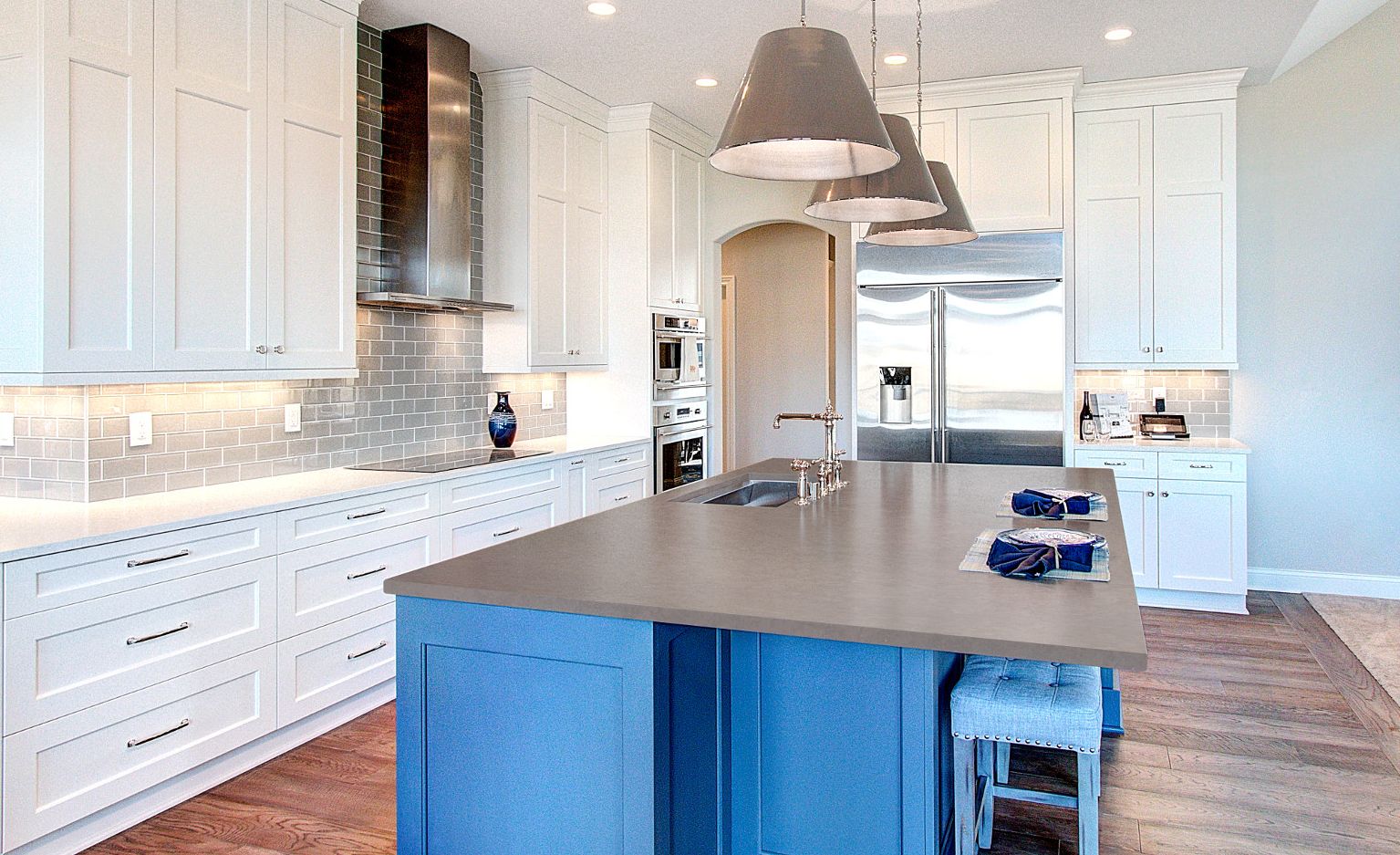 Blue, white, and gray kitchen featuring Carrick Matte™ and Swanbridge Matte™ with a Ridgeline edge. Space by: Anderson Homes.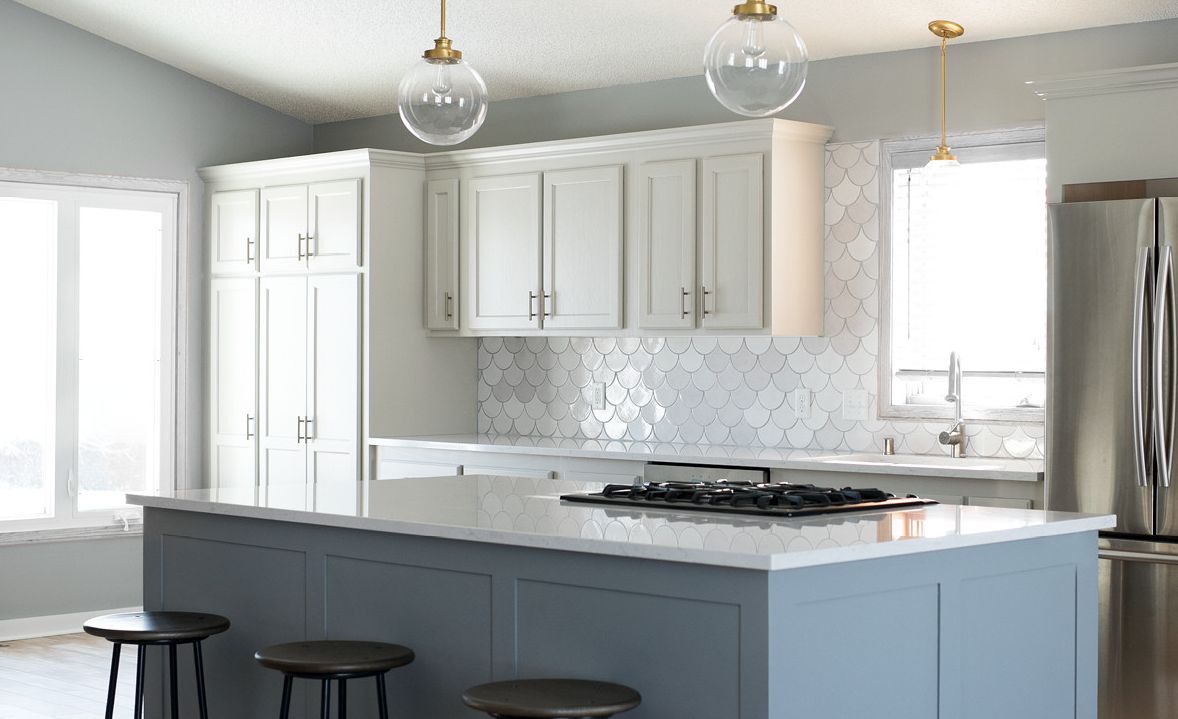 Chic gray and white kitchen by Construction2Style featuring Swanbridge with a Ridgeline edge.
Custom countertop edge profiles
Not finding the exact look you want from these selections or the other standard Cambria edge profile options? Custom countertop edges for commercial and residential applications are possible – speak to your dealer or fabricator about the possibilities.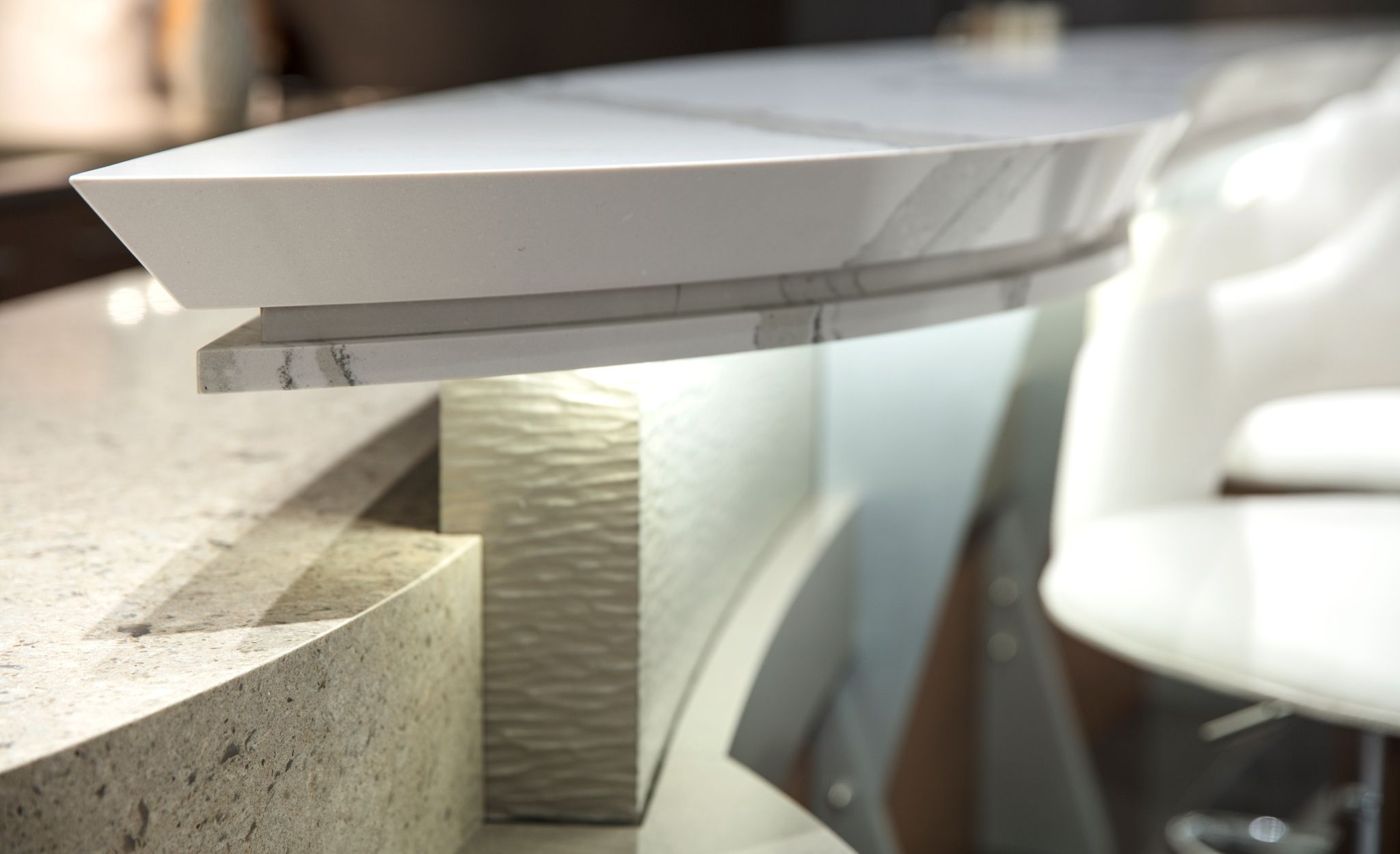 This custom countertop edge combines Brittanicca and Darlington™ for a uniquely modern look.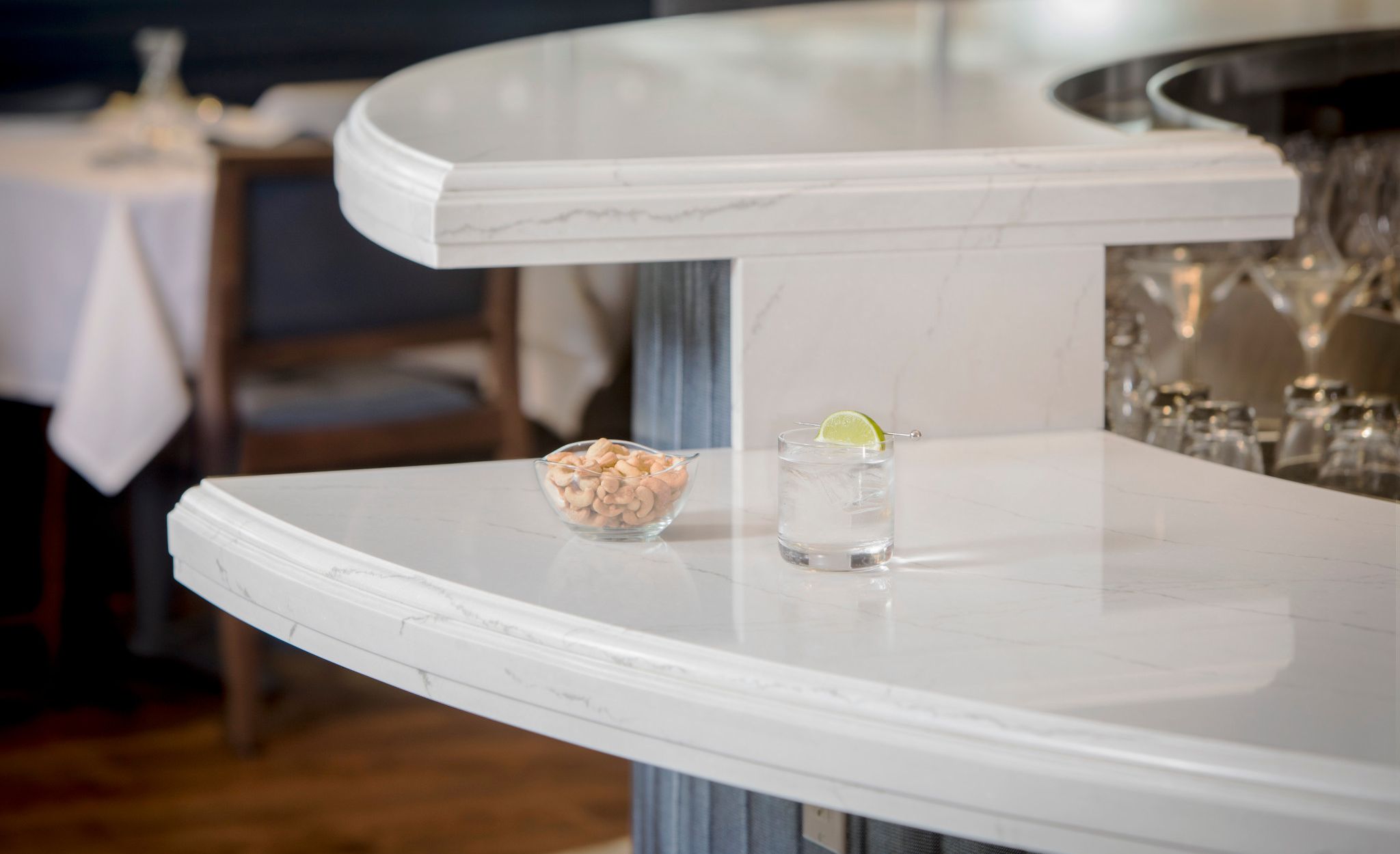 This bar in Yankee Stadium's Legends Suite features Ella™ with an ornate custom edge.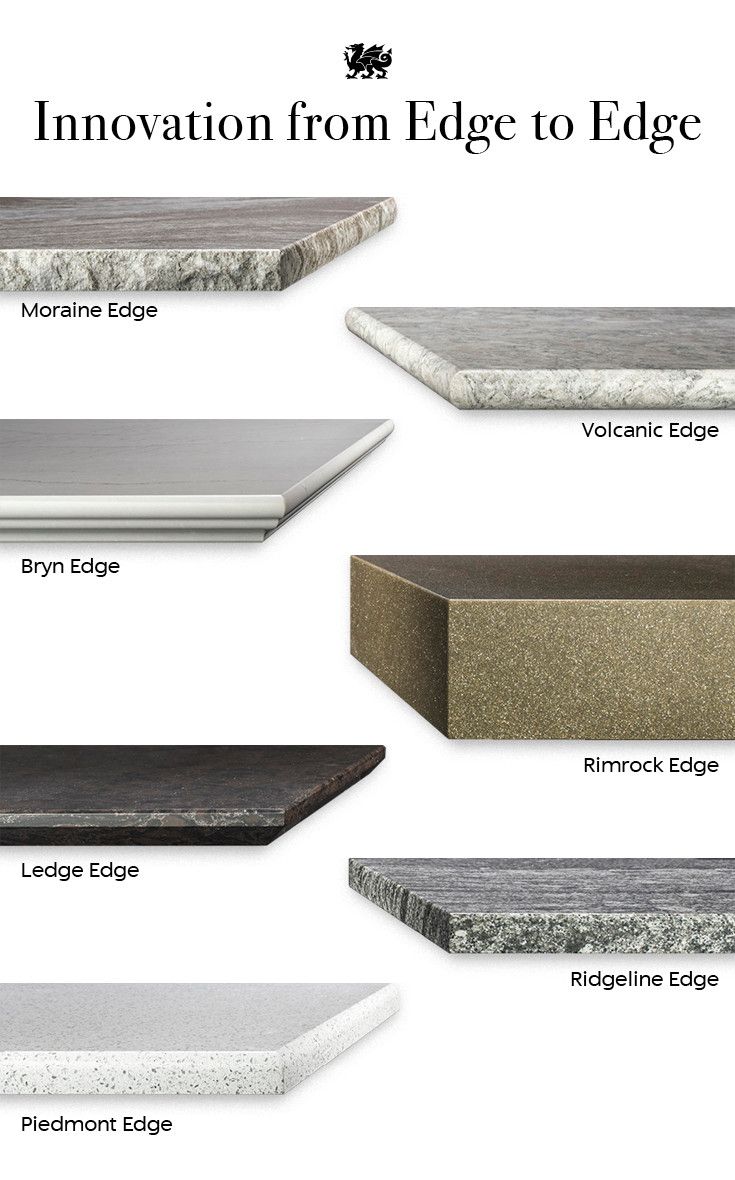 Please note that some edge profiles may not be offered in all markets. Check with your local retailer or fabricator for available options.
We look forward to seeing your space with Cambria that's sure to have the edge on style. Share using the hashtag #MyCambria on social media.