From dark slate to pale pebble, Cambria's gray countertop designs offer beautiful tones and a bounty of benefits. A smart alternative to concrete, these gorgeous gray quartz countertops can suit any kitchen style, bathroom design, and more. Scroll on for an abundance of gray kitchen countertop inspo—get ready to pin your favorites!
Alternative to concrete countertops
Love the concrete look but don't want to deal with the drawbacks? Concrete is difficult to install and some cabinetry may not be able to support its heavy weight. It also has to be maintained regularly and can stain. With Cambria, you don't have to concern yourself with DIY countertops or worry about maintenance, staining, or performance. Cambria is always professionally installed, warranty-protected, and maintenance free. Learn more about Cambria vs. concrete.
Design flexibility with an array of gray Cambria countertops
Cambria offers a variety of gray design styles to help you achieve the perfect tone and movement to suit your space. Designs like Queen Anne and Clareanne feature white marble-like veining for an elegant and elevated look, while a design like Carrick showcases subtle tone-on-tone movement. Customize your look with low-sheen Cambria Matte™ or high gloss finish depending on your desired aesthetic.
Farmhouse kitchens with gray countertops
Make your farmhouse kitchen stand out with gray quartz countertops for a compelling focal point or a modern, industrial touch. We love these looks with gray Cambria designs.
Topped with Carrick Matte, this open kitchen island creates a charming focal point and functional workspace in this white and green kitchen. A Brittanicca Matte perimeter completes the look.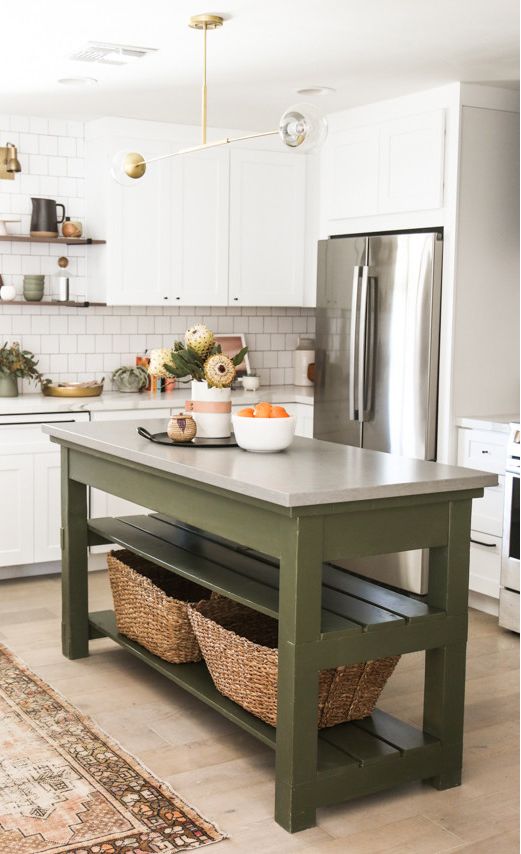 Modern farmhouse kitchen featuring Carrick Matte™ island and Brittanicca Matte™ perimeter. Space by: Jenny Komenda of Juniper Home.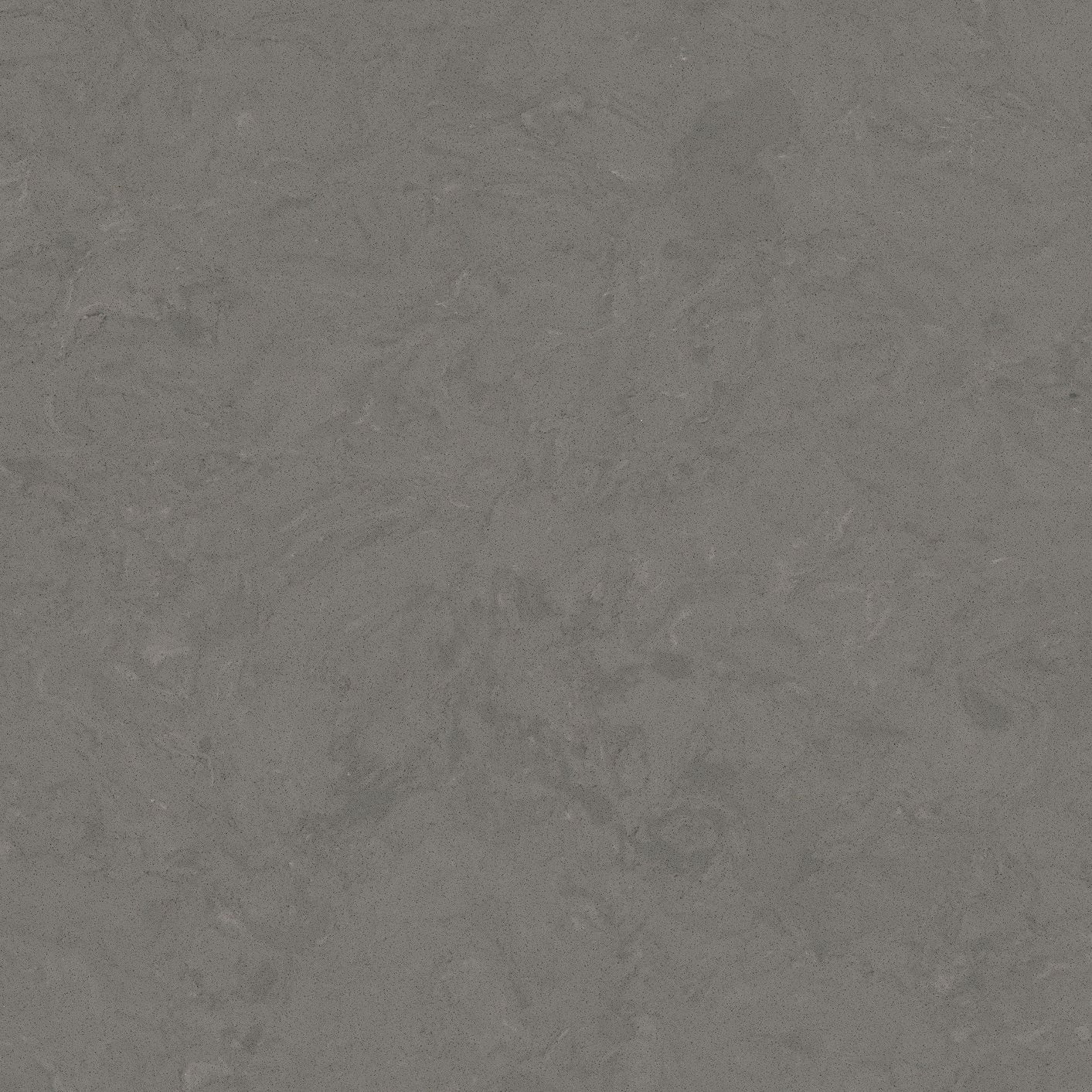 Cambria Carrick Matte design detail
This wood-and-white farmhouse features Clareanne Matte countertops complemented by brushed nickel accents.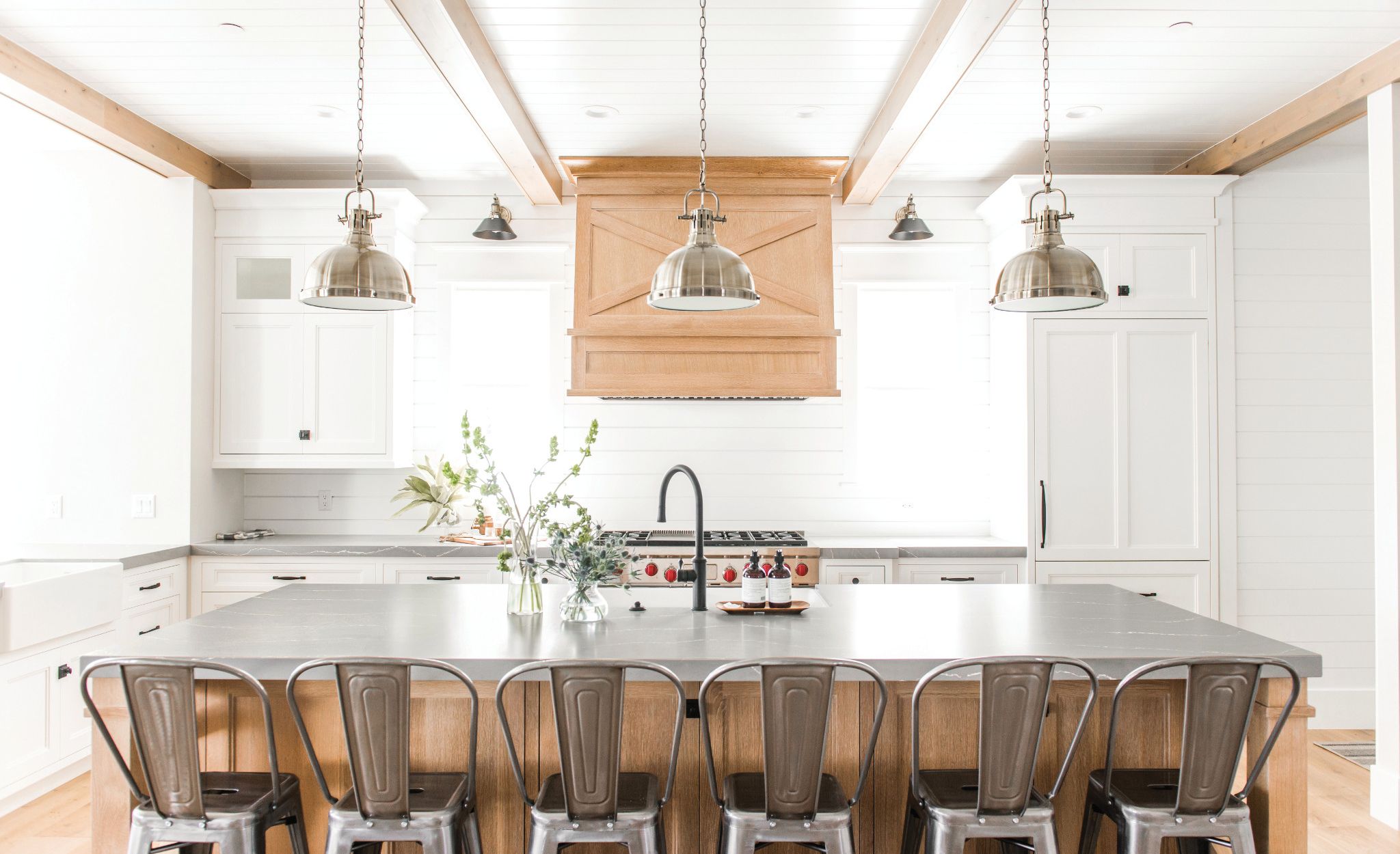 Cambria Clareanne Matte™ kitchen island. Space by: Millhaven Homes and Remedy Furniture & Design. Photo: Rebekah Westover Photography.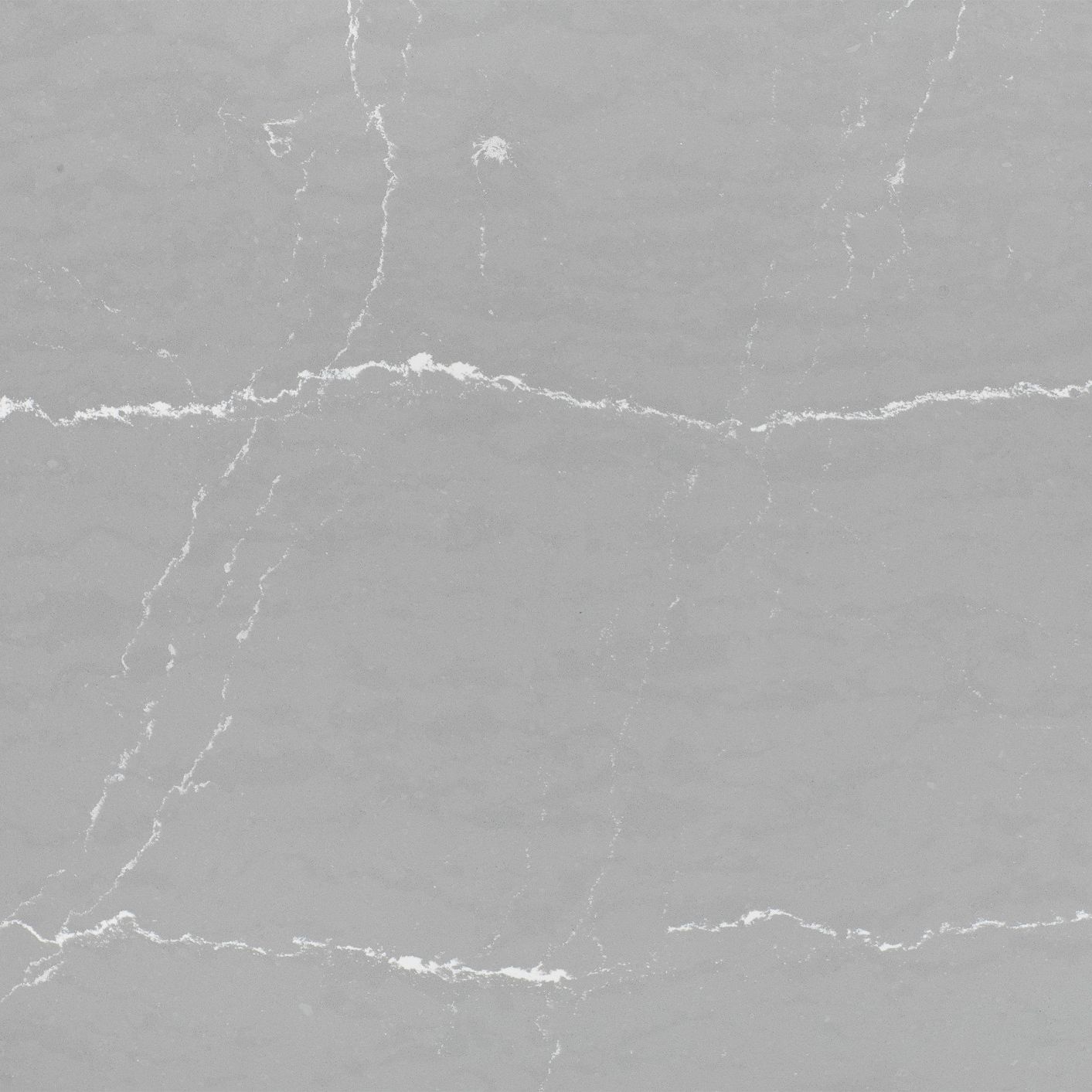 Cambria Clareanne Matte design detail
An open island with Queen Anne Matte, a marbled-gray quartz countertop, makes this rustic-glam farmhouse kitchen especially dreamy. Contrasting Torquay countertops on the perimeter allow the island to be the focal point, complemented by gray cabinetry and warm woods.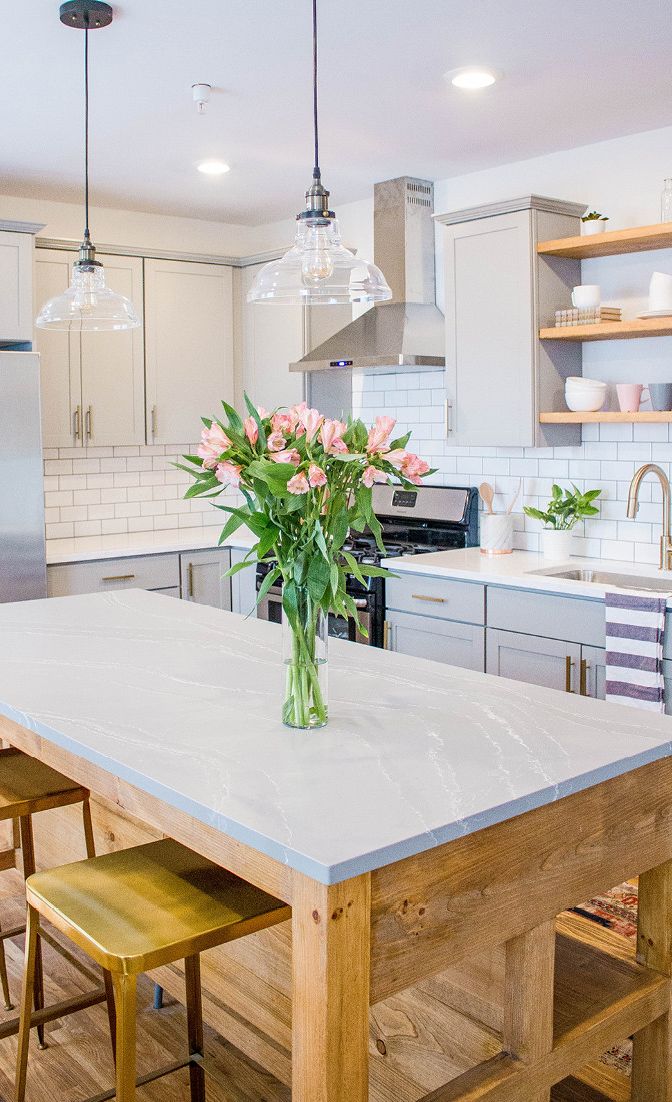 Modern farmhouse kitchen featuring Queen Anne Matte™ paired with Torquay™. Space by: Patti Wagner.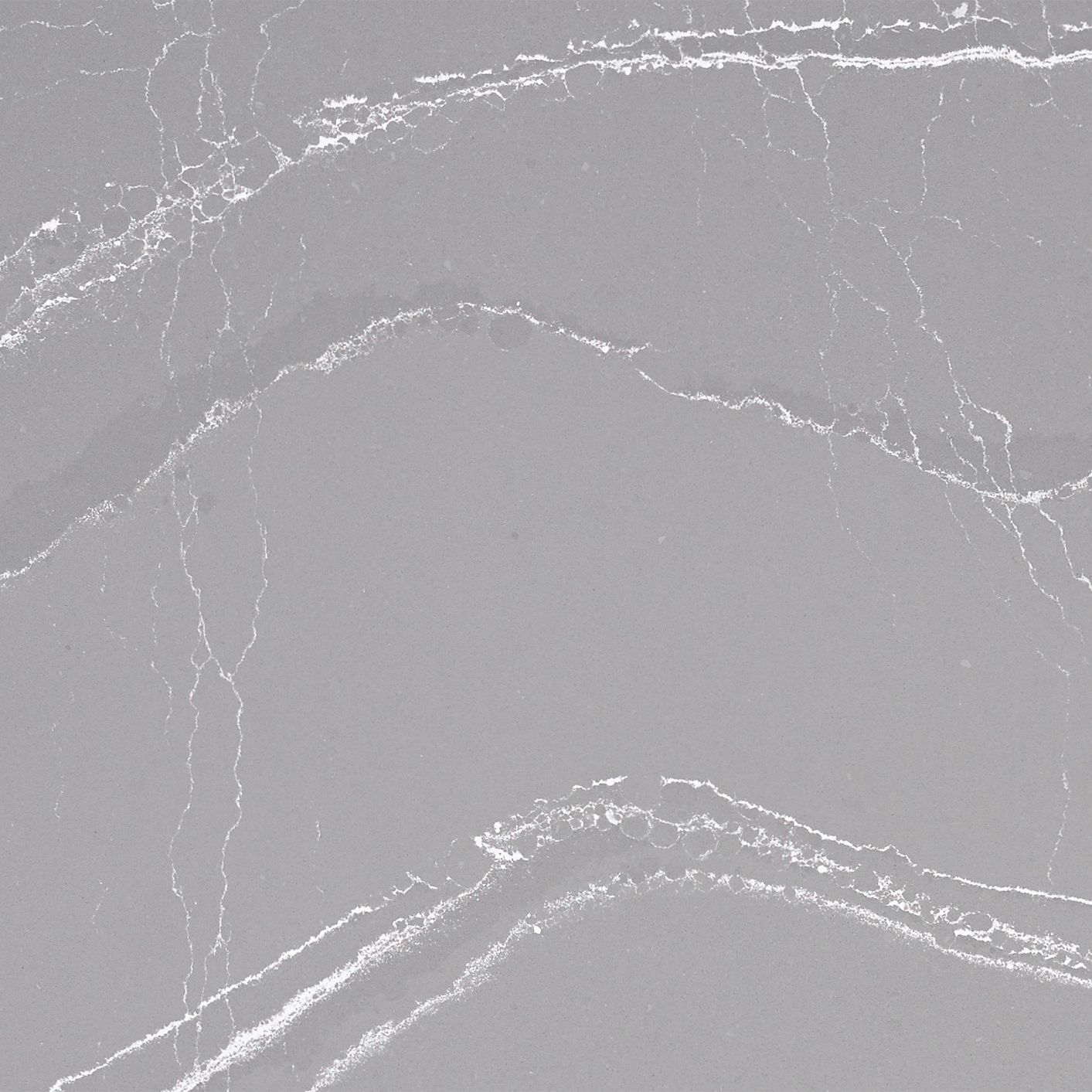 Cambria Queen Anne™ design detail
With wispy white veining and soft gray tones, Queen Anne countertops offer an elevated take on concrete for a stunning focal point in this white farmhouse kitchen.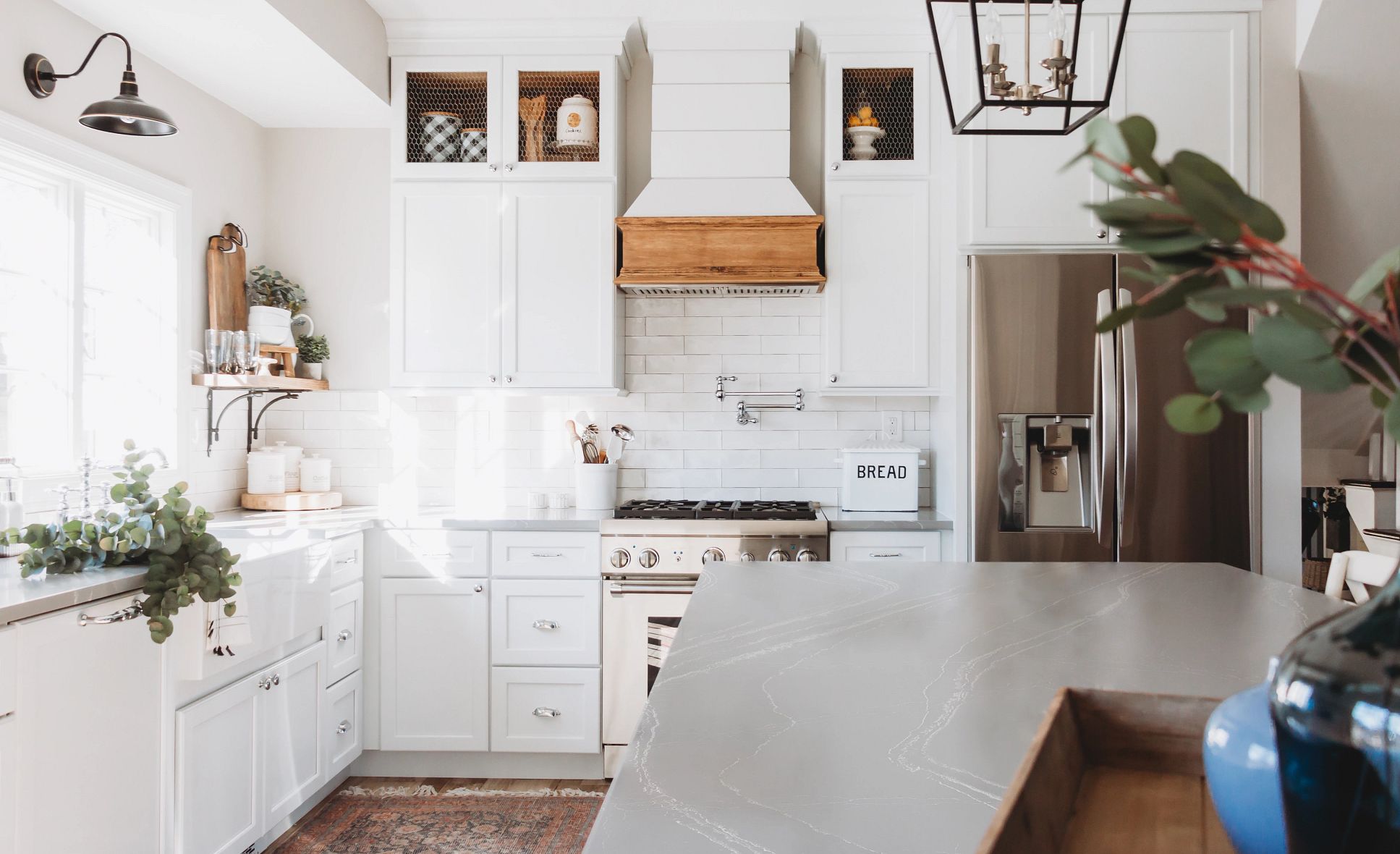 White and gray kitchen with Queen Anne countertops. Space by: Amanda Giuliano and Nicolette's for the Home.
Midcentury modern kitchens with gray countertops
Love midcentury modern style? Cambria's gray quartz countertops are an ideal fit for midcentury modern palettes and mixed-material spaces.
A waterfall-edge Clareanne Matte island offers a sleek concrete look in Matt Muenster's midcentury modern kitchen renovation. The low-sheen look and smooth feel of Cambria Matte™ countertops make them the perfect surface for a midcentury modern aesthetic.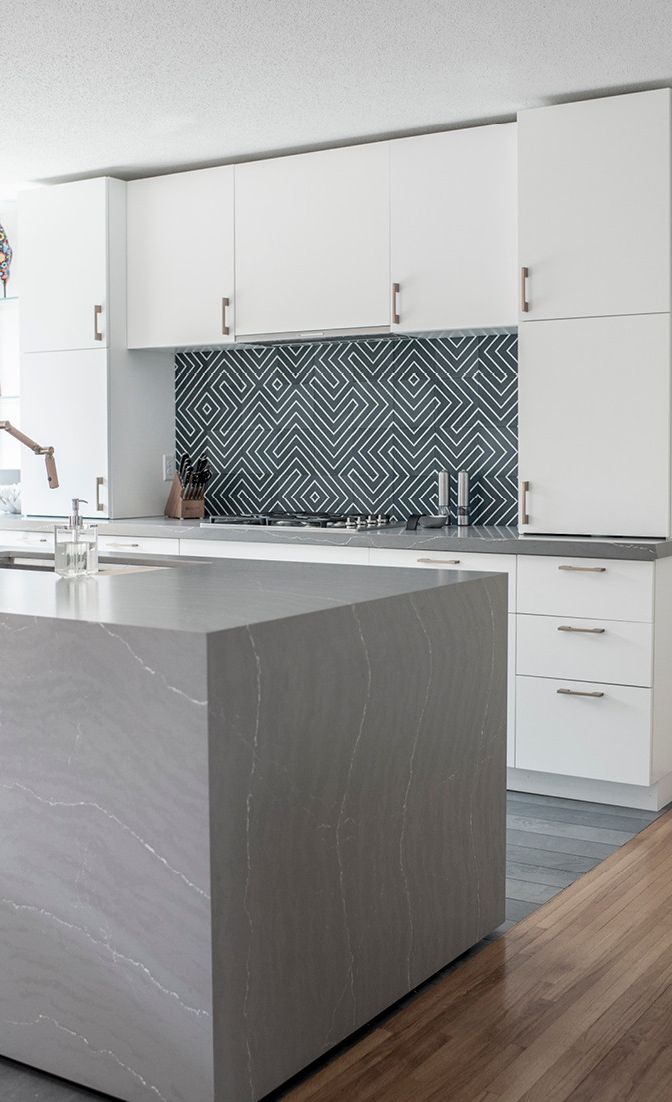 Midcentury mod kitchen featuring Clareanne Matte countertops. Space by: Matt Muenster and Studio Grey.
This vibrant and mod kitchen features a mixed-material island with Clareanne for the dining surface and Whitehall countertops for the prep area. Geometric tile, wood flat-panel cabinetry, and pops of aqua and chartreuse complete the look.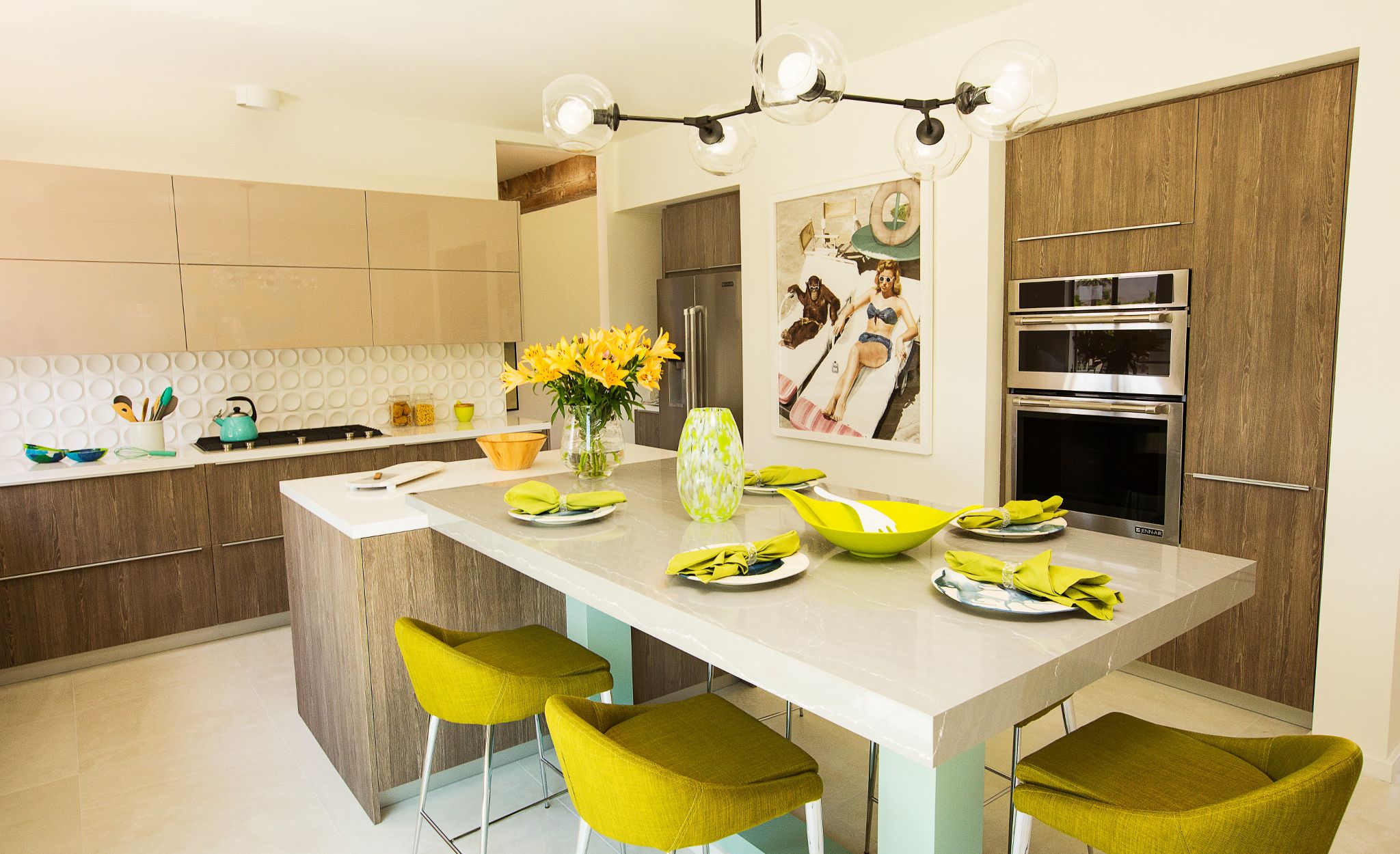 Colorful midcentury mod kitchen featuring Clareanne™ and Whitehall™. Space by: Christopher Kennedy.
Cambria Fieldstone countertops lend durability and a grounding hue of deep gray to balance the wood tones in this midcentury modern kitchen remodel.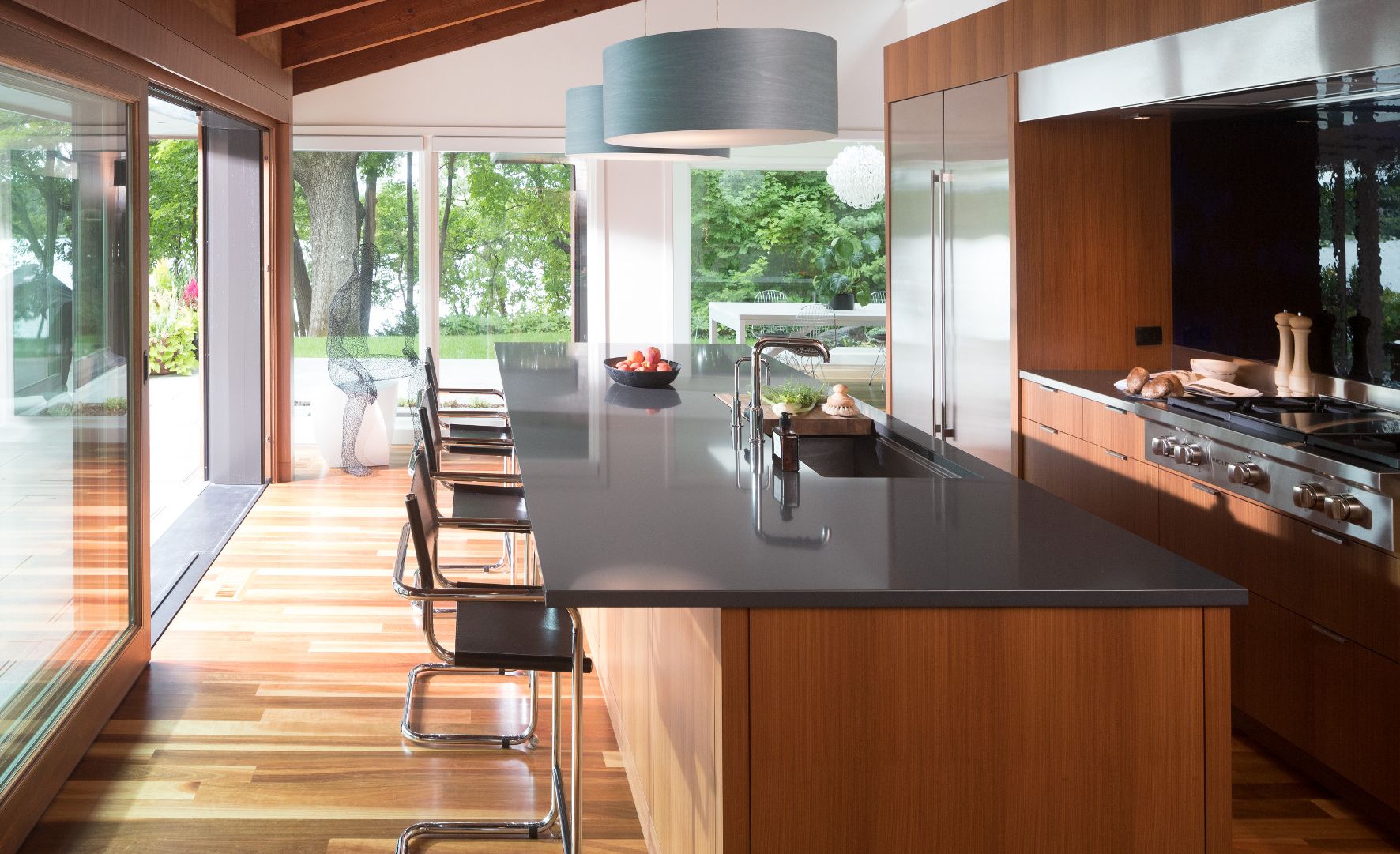 Midcentury modern kitchen featuring Fieldstone countertops. Space by: Petersen/Keller Architecture.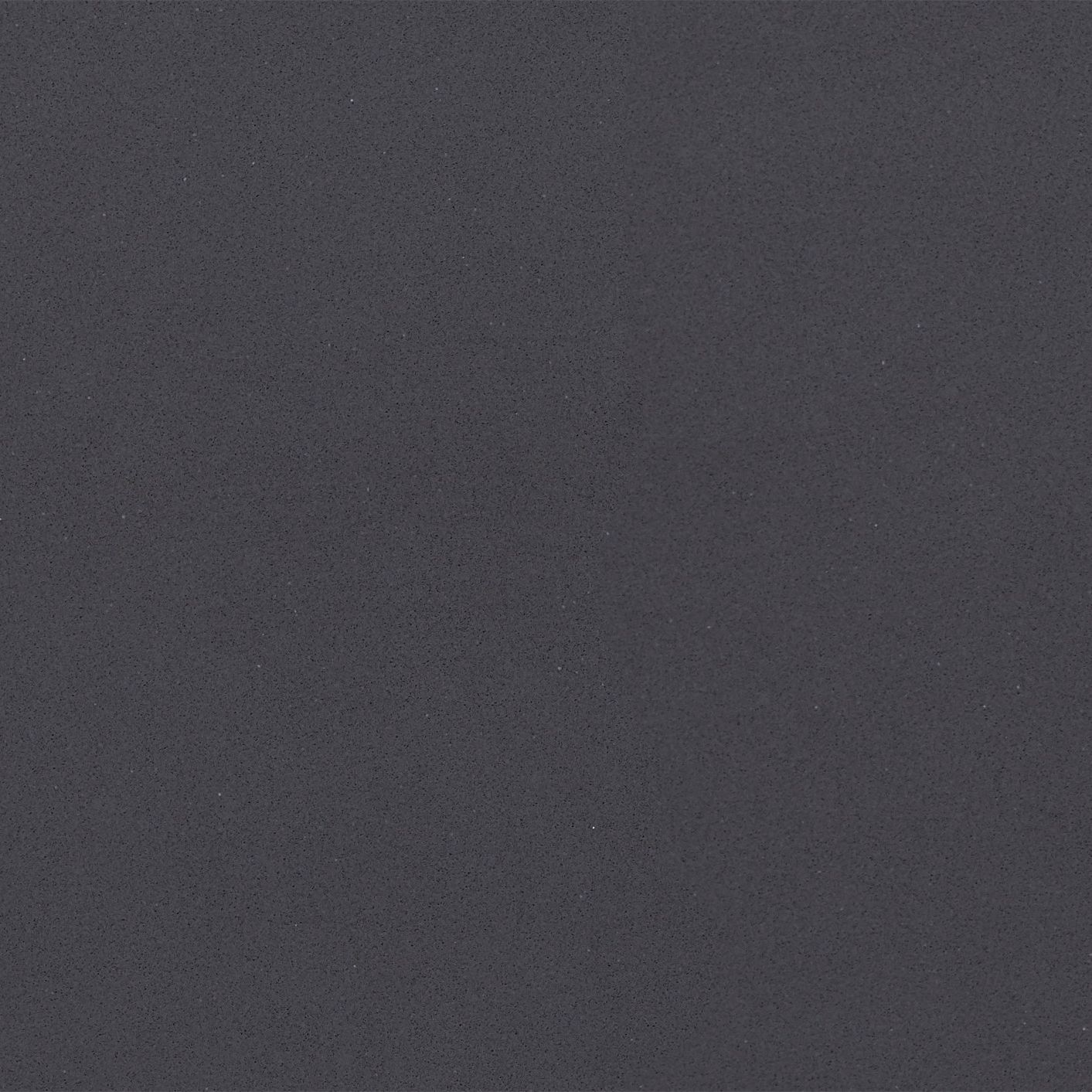 Cambria Fieldstone design detail
Rustic industrial kitchen with gray quartz countertop
Gray quartz countertops are well-suited for a rustic industrial aesthetic, as in this modular, moveable cabin by Nomadic Shack. Devon Matte reflects the look of concrete while providing stronger performance. Cambria's beautiful designs contribute to the luxurious lodge feel and the fuss-free benefits give travelers one less thing to worry about.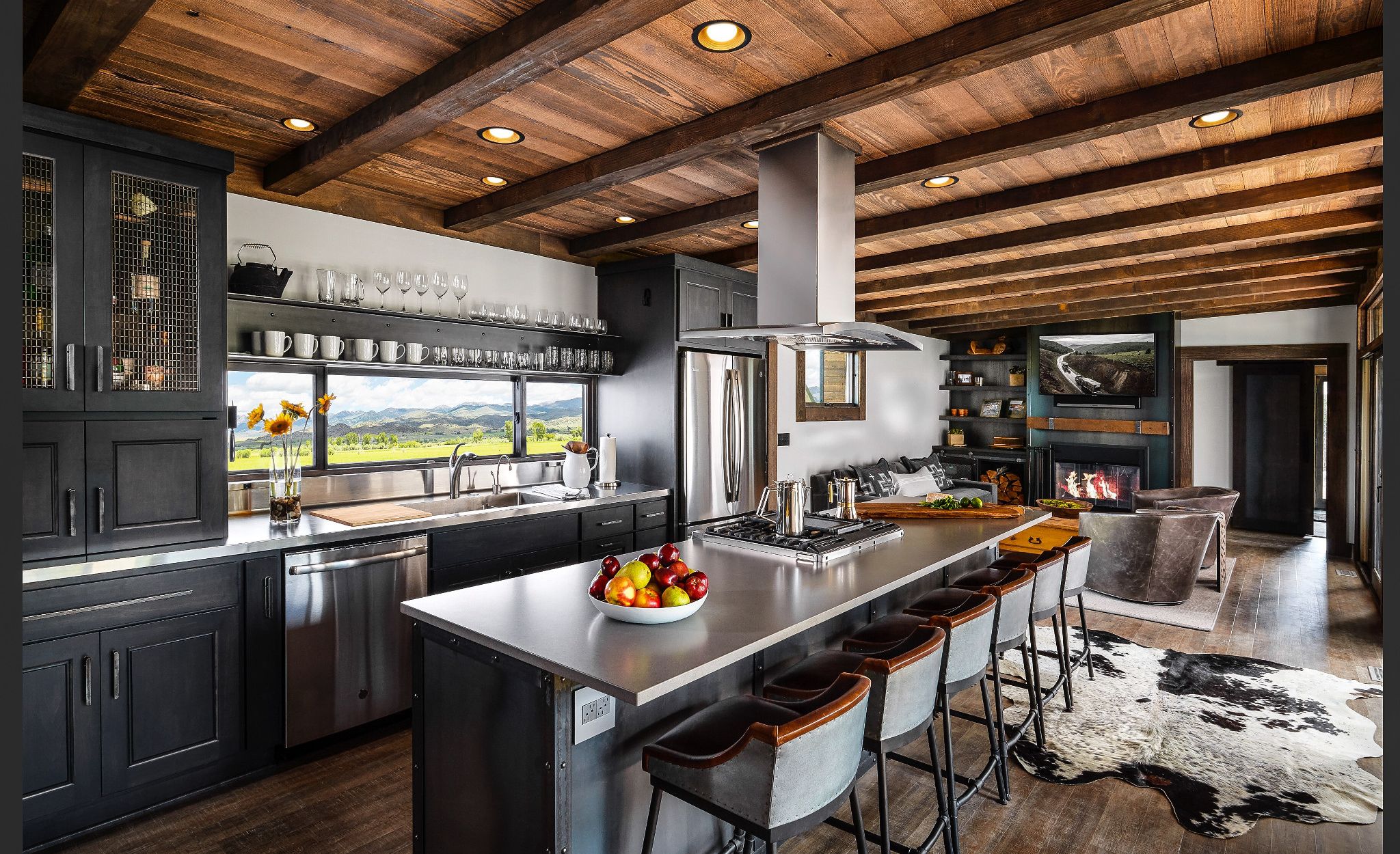 Rustic-industrial cabin kitchen featuring Devon Matte™.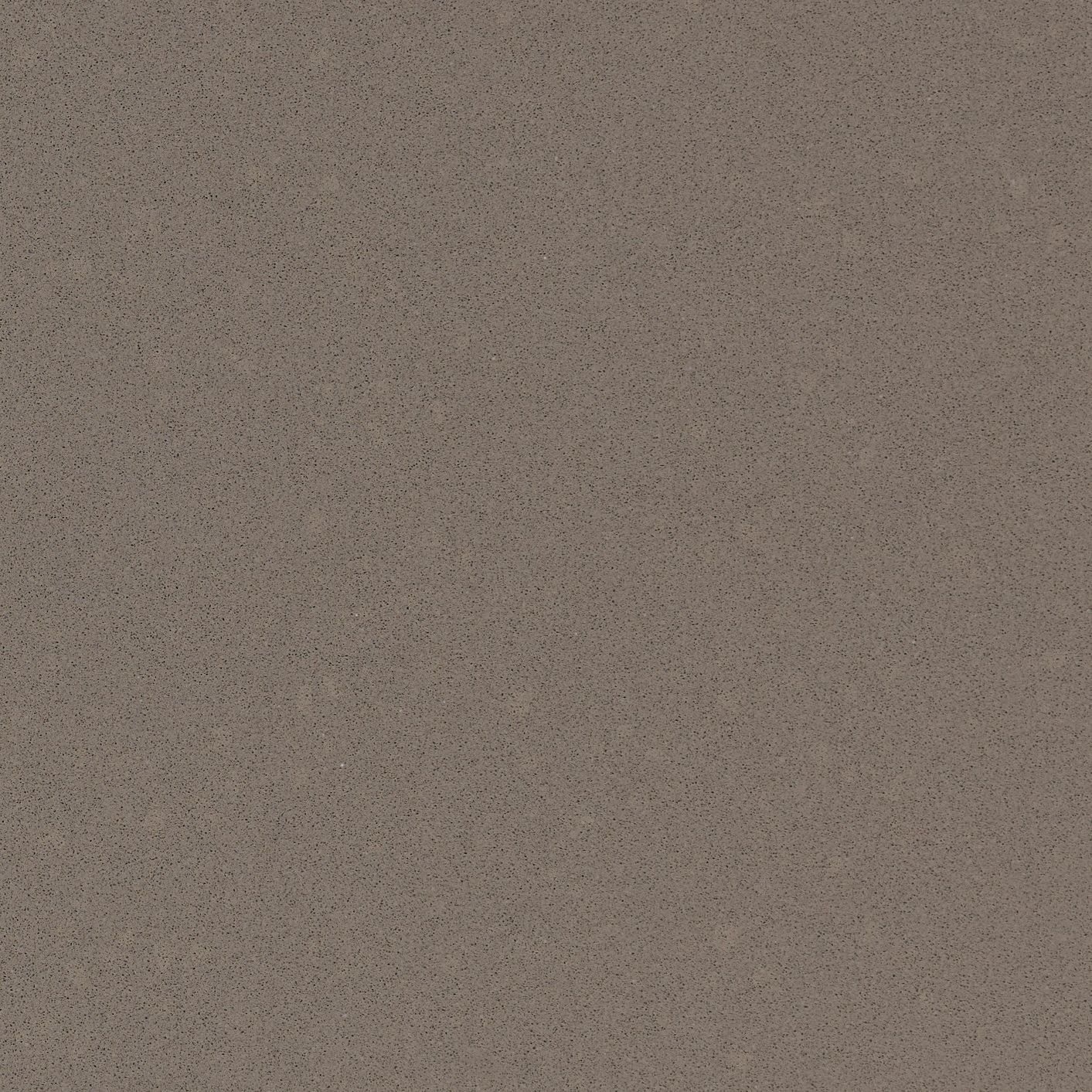 Cambria Devon Matte design detail
Contemporary and chic
Planning a contemporary kitchen? Cambria's innovative gray quartz countertop designs can make a show-stopping statement for a space that's always on the cutting edge.
A waterfall-edge island is the perfect way to showcase the beauty of Queen Anne, a velvety gray with white veining. Cambria's durability and versatility allows for custom island applications like this contemporary dining bar.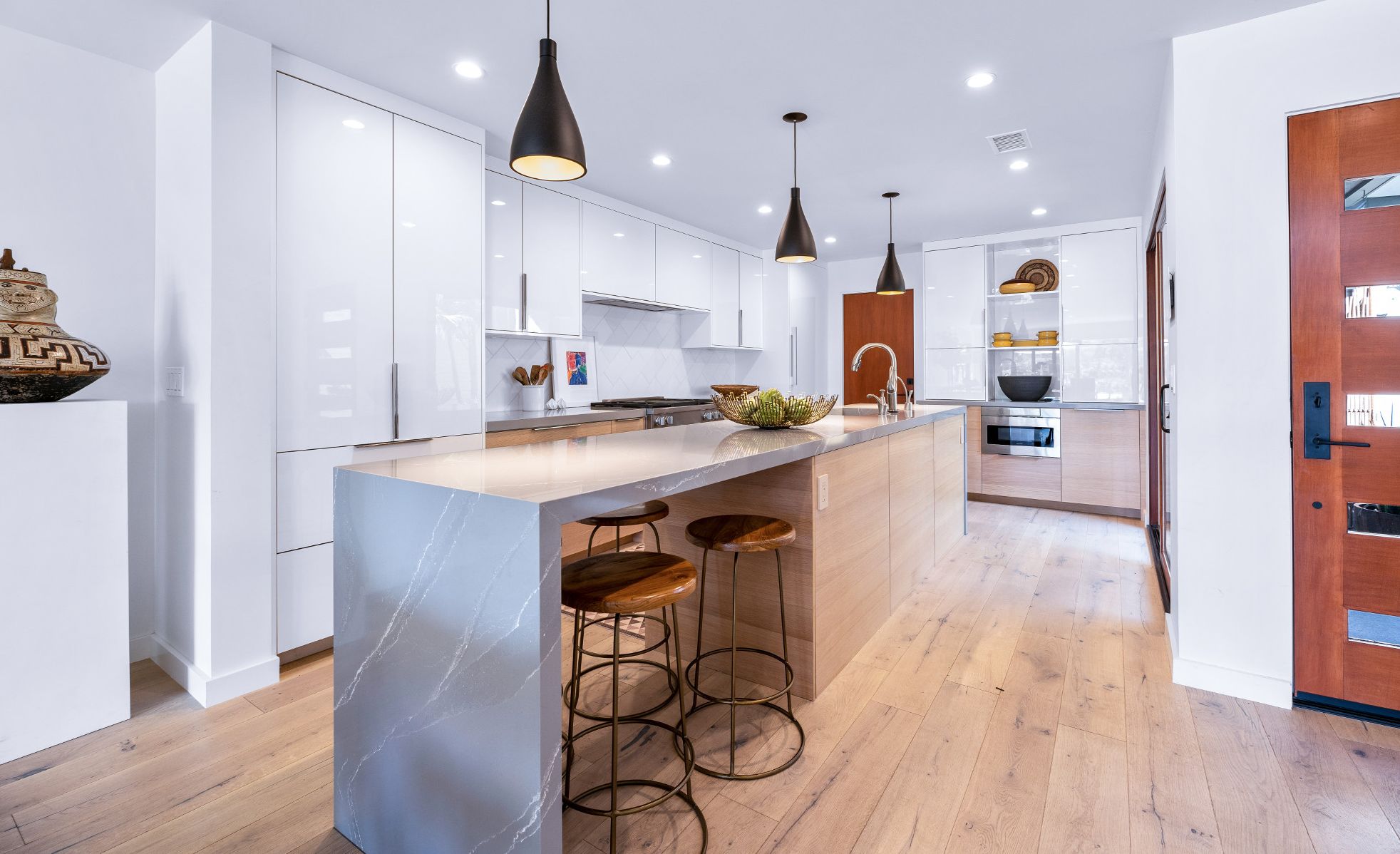 Queen Anne waterfall-edge kitchen island by JRP Design & Remodel.
Traditional and timeless
A gray kitchen will always be timeless. This traditional kitchen showcases versatile neutral palettes with gray quartz countertops.
A gray Clareanne island countertop lends refined elegance to this traditional kitchen. Clareanne's delicate white veining beautifully complements the island cabinetry and kitchen perimeter.
Traditional kitchen with Clareanne countertops.
Granite-look grays
If you're looking for a gray countertop with dense movement and a rich medley of tones, you may prefer one of Cambria's granite-alternative designs. Achieve a gray granite aesthetic with superior durability and maintenance-free convenience. Learn more about Cambria vs. granite countertops.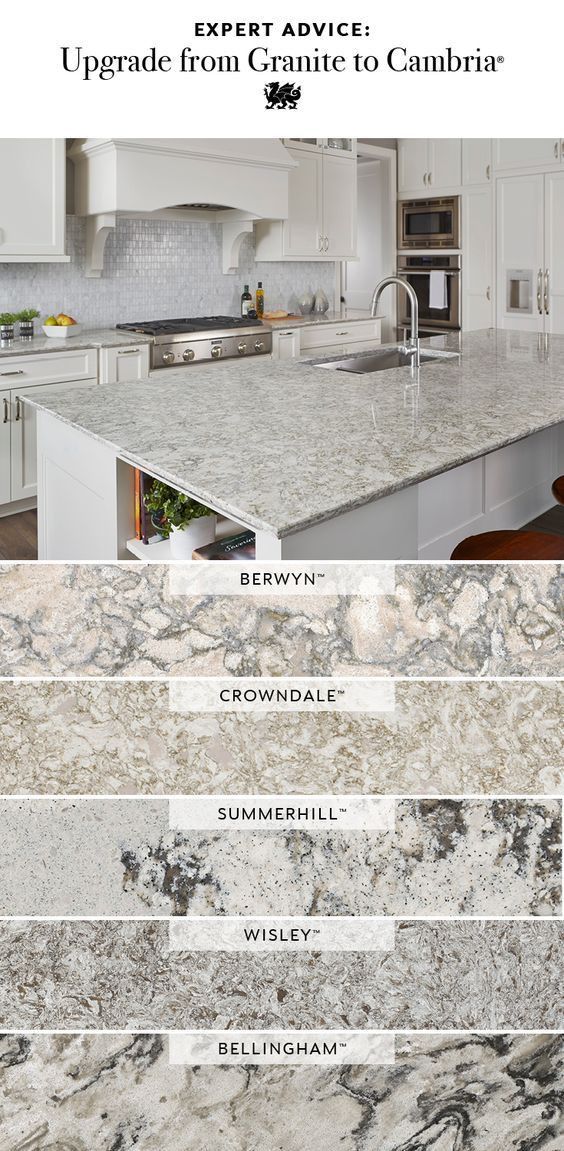 Cambria's granite alternatives are as beautiful as they are durable. Designs like Berwyn™, Crowndale™, Summerhill™, Wisley™, and Bellingham™ incorporate gray and other tones.
Transitional gray kitchens
Gray quartz countertops are perfect for transitional kitchens, which blend traditional and contemporary elements. These transitional kitchens feature gray countertops and a range of tones and textures.
Gray Cambria Clareanne countertops pair with blonde wood flooring, open shelving, and mixed metals in this transitional kitchen.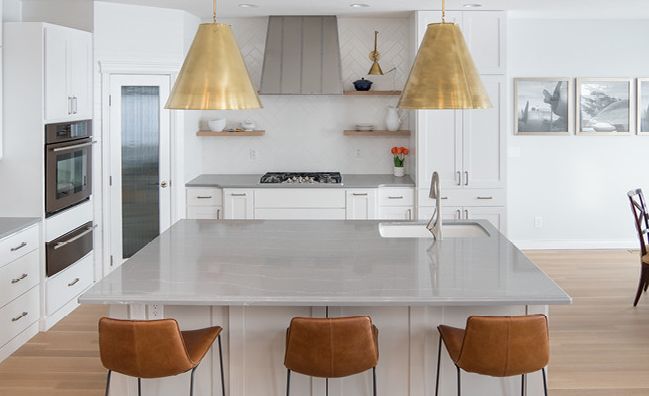 Transitional kitchen featuring Cambria Clareanne. Space by: Accent Kitchen and Bath. Photo: Alison Sund.
This transitional kitchen embraces bold color with a blue and gray island featuring Carrick Matte countertops. A subdued white perimeter with Swanbridge Matte countertops keeps the island as the focal point.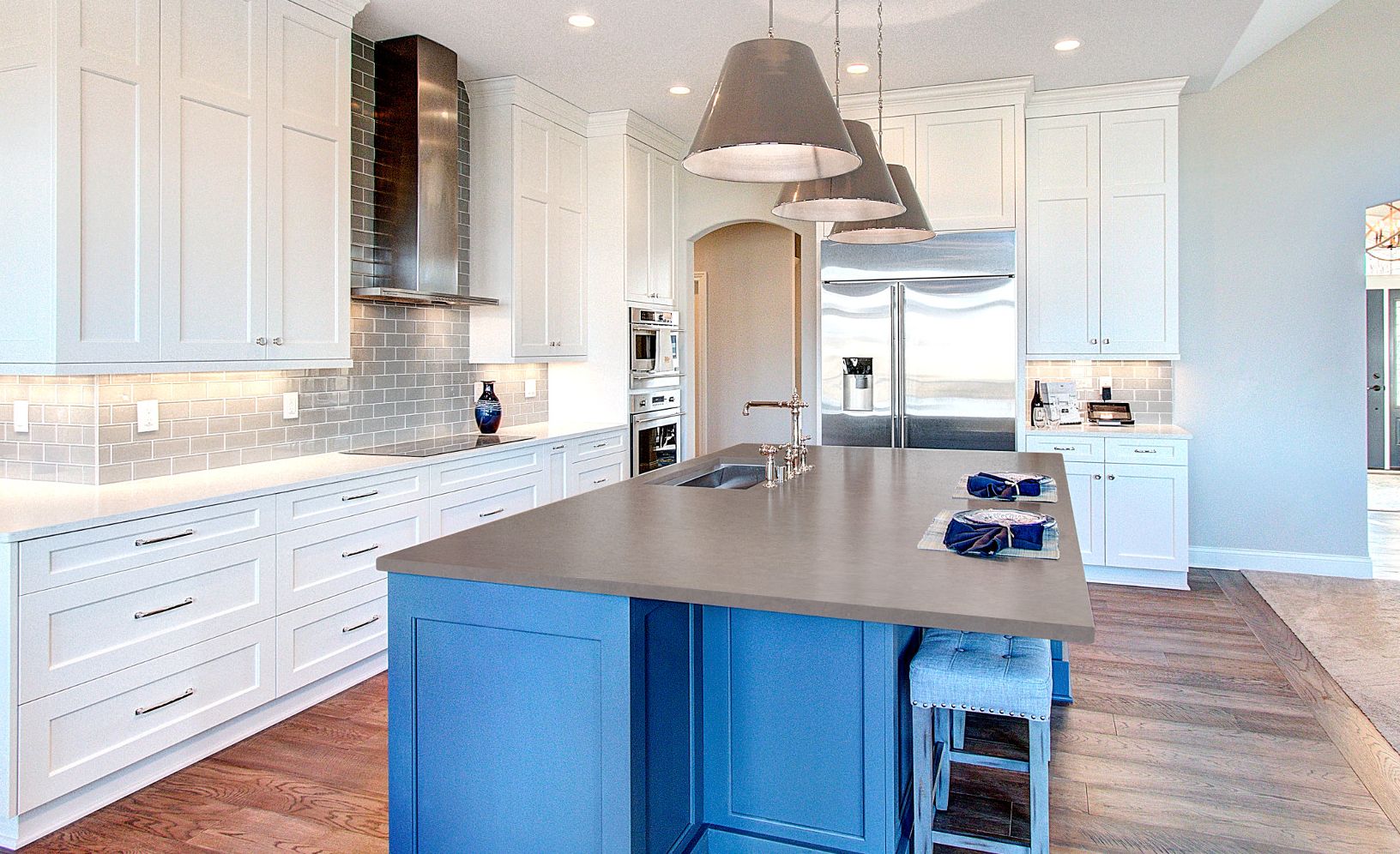 Blue, white, and gray kitchen featuring Carrick Matte and Swanbridge Matte™. Space by: Anderson Homes.
Vintage modern gray kitchen
Considering a space with modern convenience and vintage appeal? Cambria's gray countertop designs can lend character and substance to any space.
Carrick pairs with crisp subway tile and a retro-style mint green refrigerator in this small kitchen that's big on style.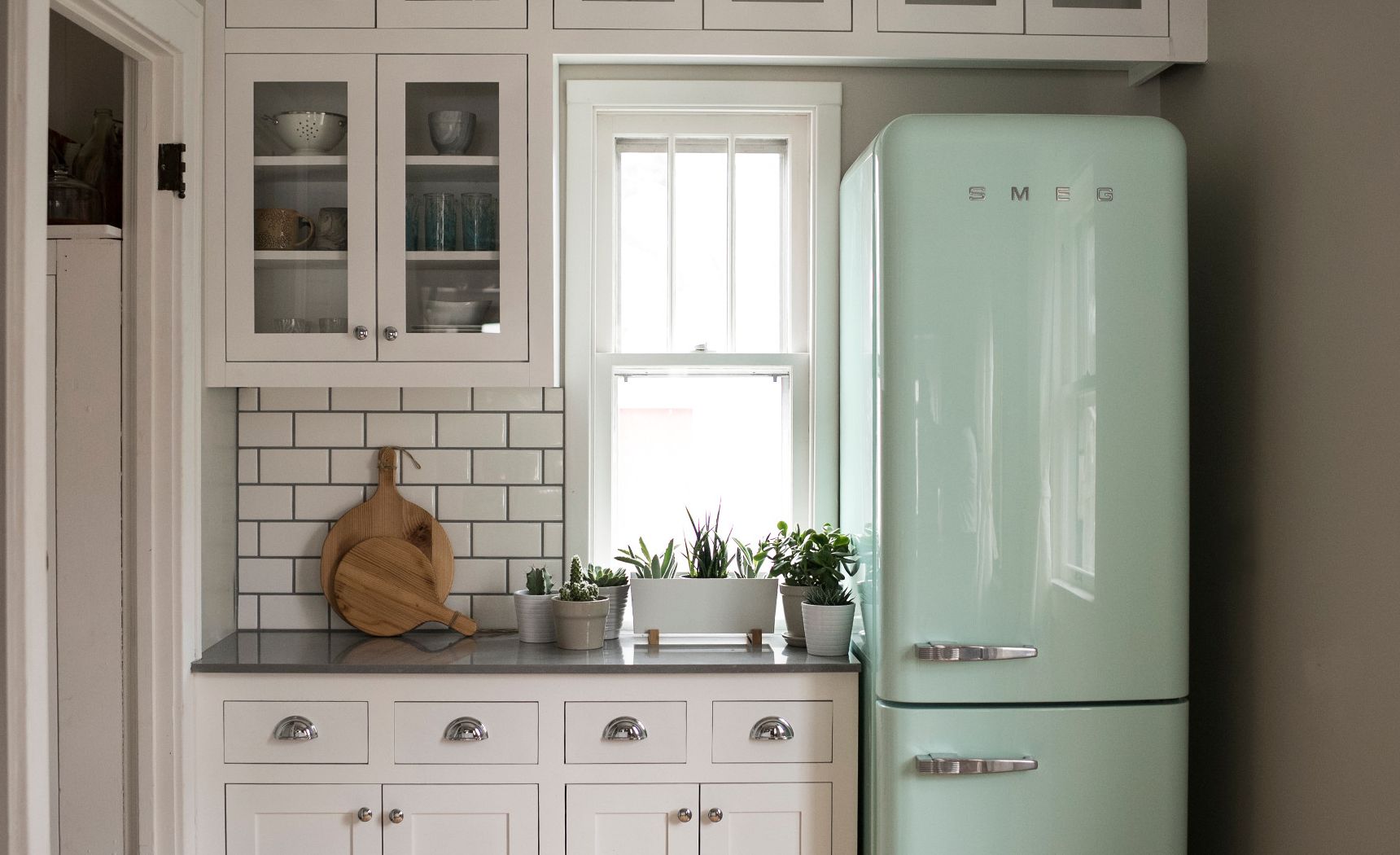 Vintage modern kitchen featuring Carrick countertops and mint green Smeg fridge
Coastal charm
Planning a coastal kitchen? Gray countertops pair well with typical coastal tones, including white, blue, seafoam green, and bleached woods. Find inspiration in these coastal kitchens featuring gray Cambria countertops.
A spacious island showcases the beautiful cloud-gray veining of Summerhill countertops and blue-gray cabinetry in this coastal kitchen. Summerhill features powerful veining amid a neutral palette of soft gray, cream, and subtle black.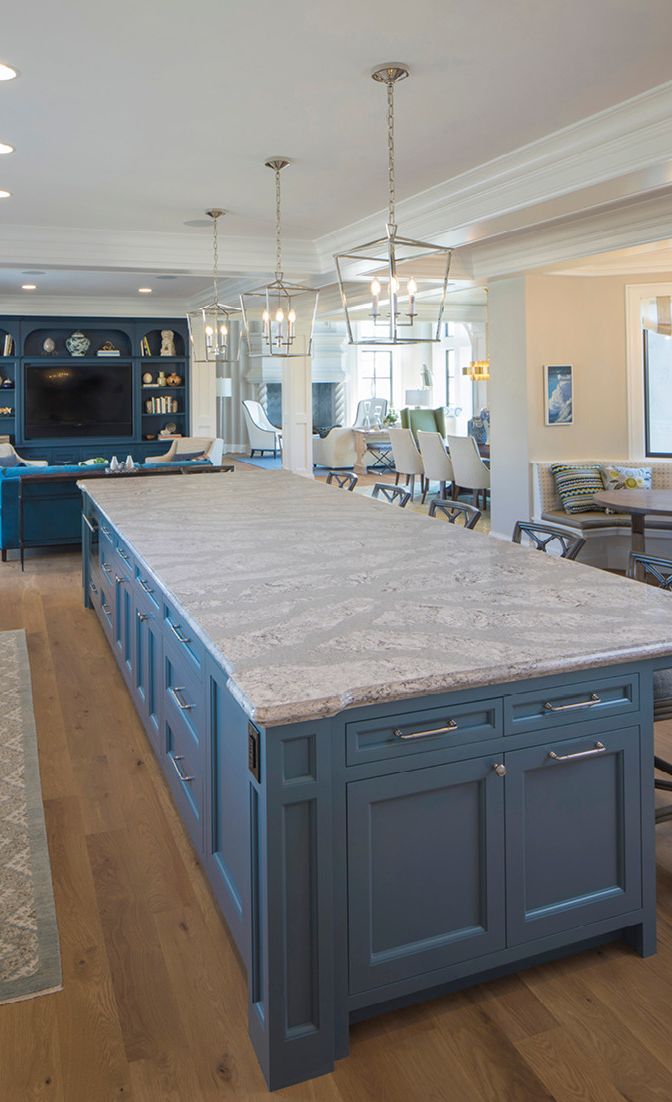 Coastal kitchen with Summerhill countertops. Space by: InUnison Design and JK and Sons.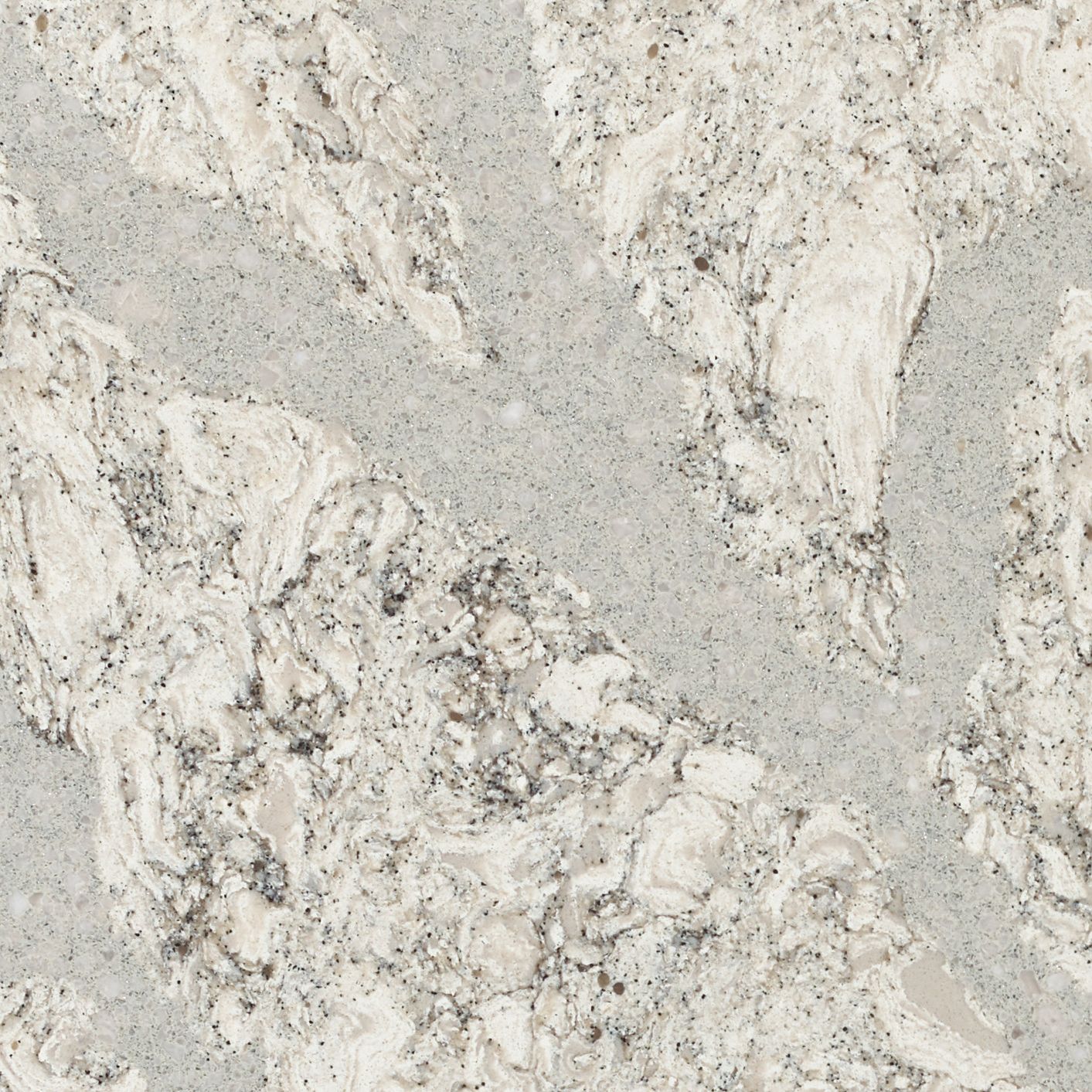 Cambria Summerhill design detail
In this inviting coastal kitchen, layered gray tones complement the hues of the Roxwell countertops. Roxwell features sweeping waves of stately gray pebbled with black, slate, and cream.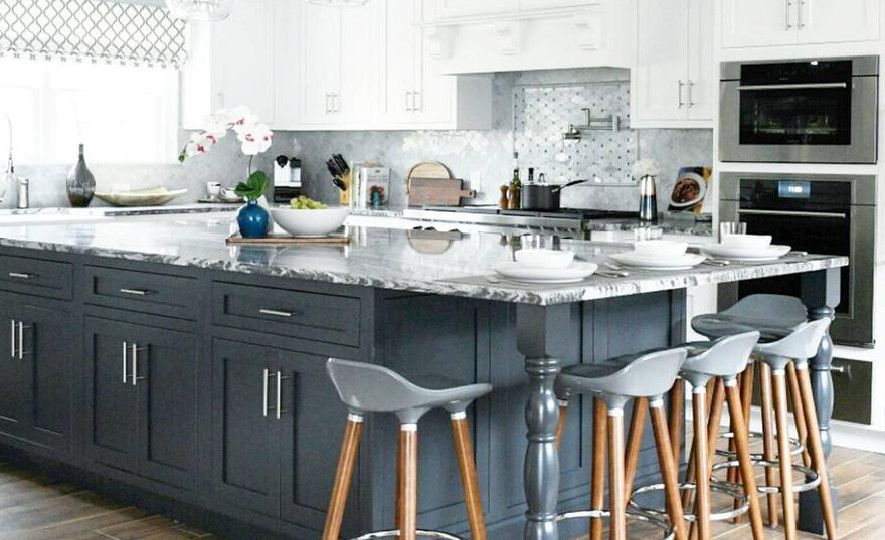 Gray coastal kitchen with Roxwell™ countertops. Space by: Jeanne Campana Design.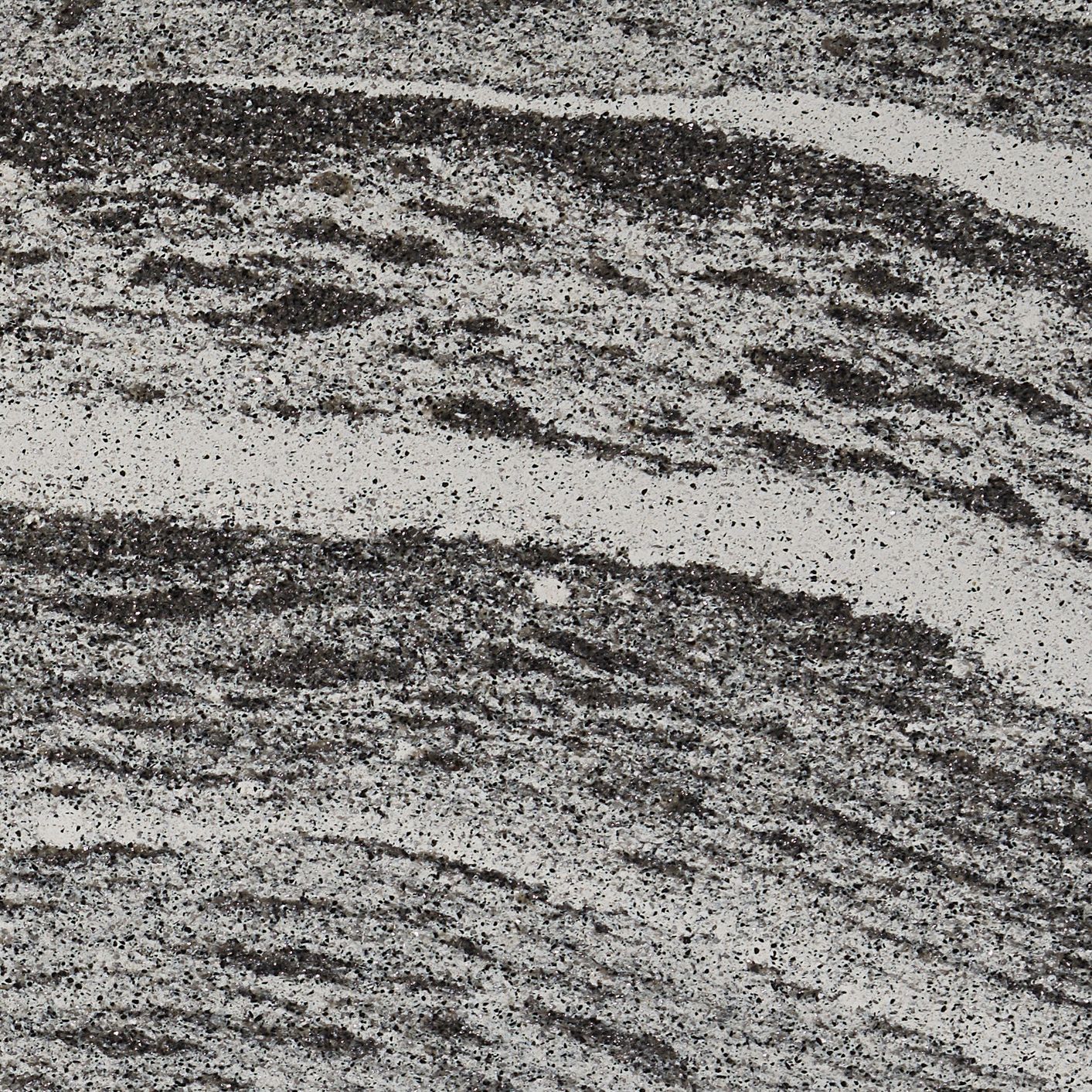 Cambria Roxwell design detail
Scandinavian kitchen with light gray countertops
Pale gray Templeton countertops are a sleek alternative to light concrete in this open and airy Scandinavian-style kitchen. The greige tones of the countertop pair with Nordic woods, matte black, and crisp white for a beautifully balanced space.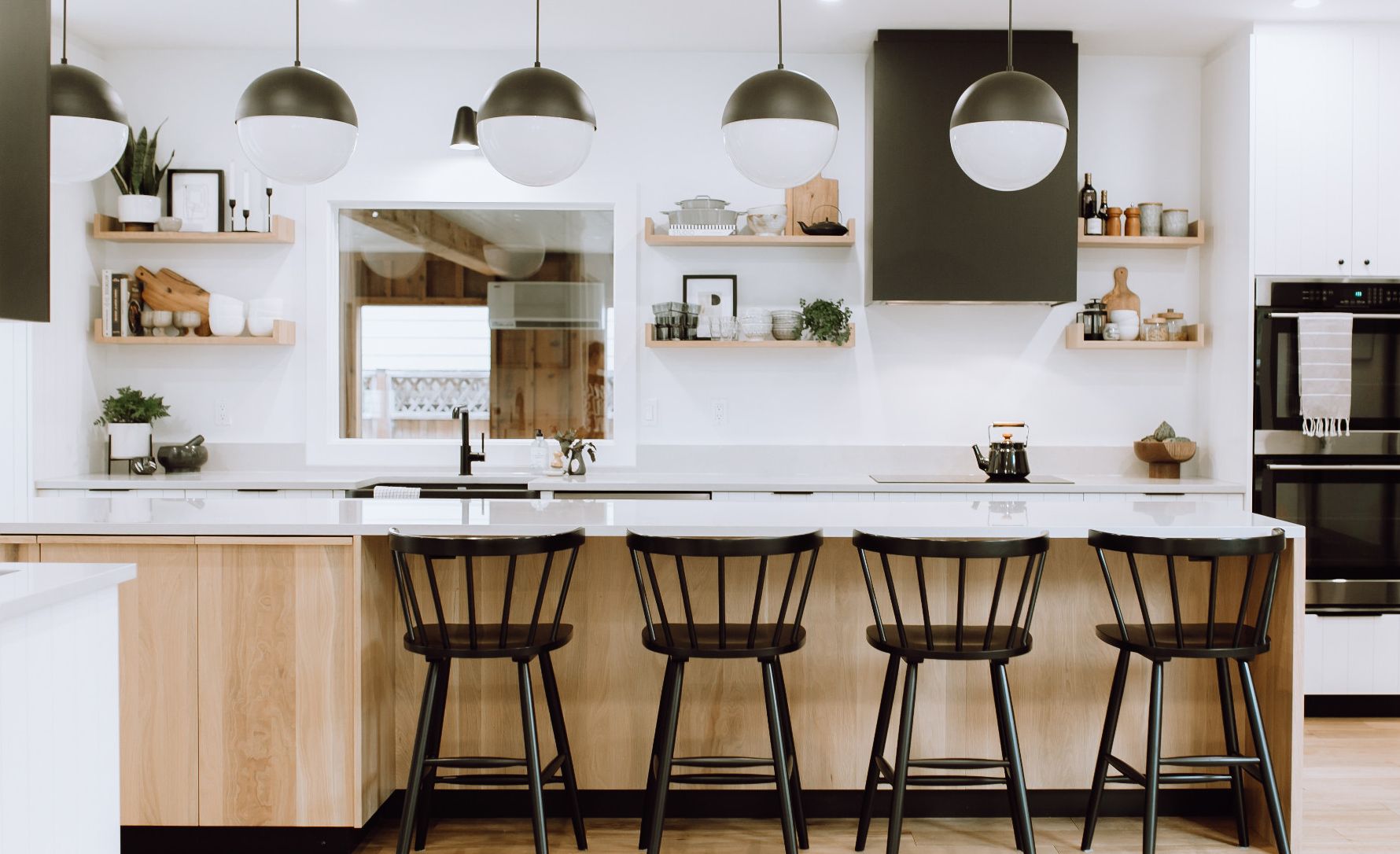 Scandinavian-style kitchen with Cambria Templeton™ countertops. Space by: Jaclyn Peters Design. Photo: Ariana Tennyson.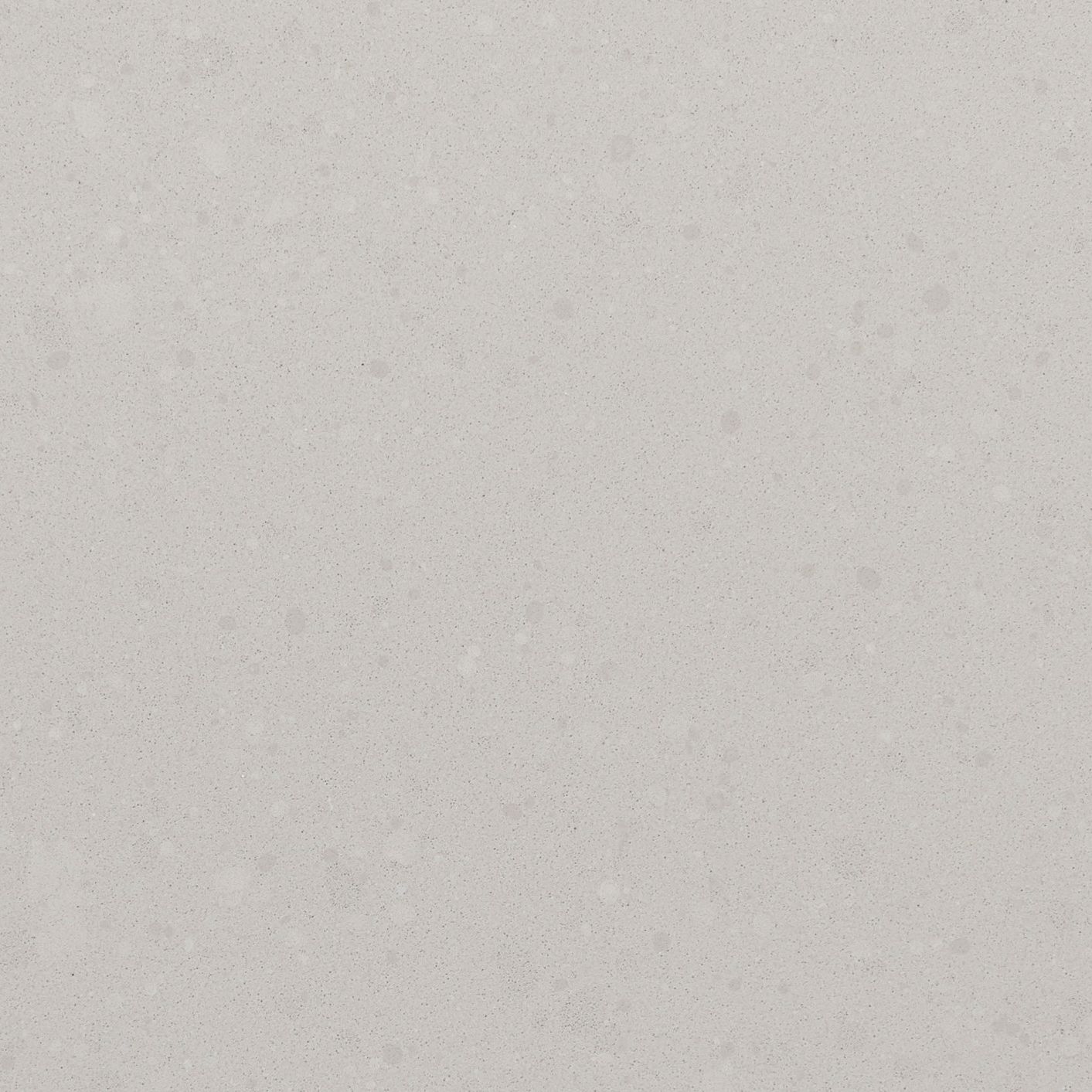 Cambria Templeton design detail
Perimeter perfection
Gray countertops don't always have to take center stage. A gray perimeter is often the perfect complement to a light or white island countertop, especially for Cambria's many marble-alternative designs with gray veining.
In this traditional kitchen, Clareanne countertops echo the movement and tones of the Ella island, with similar linear veining but reverse tonality.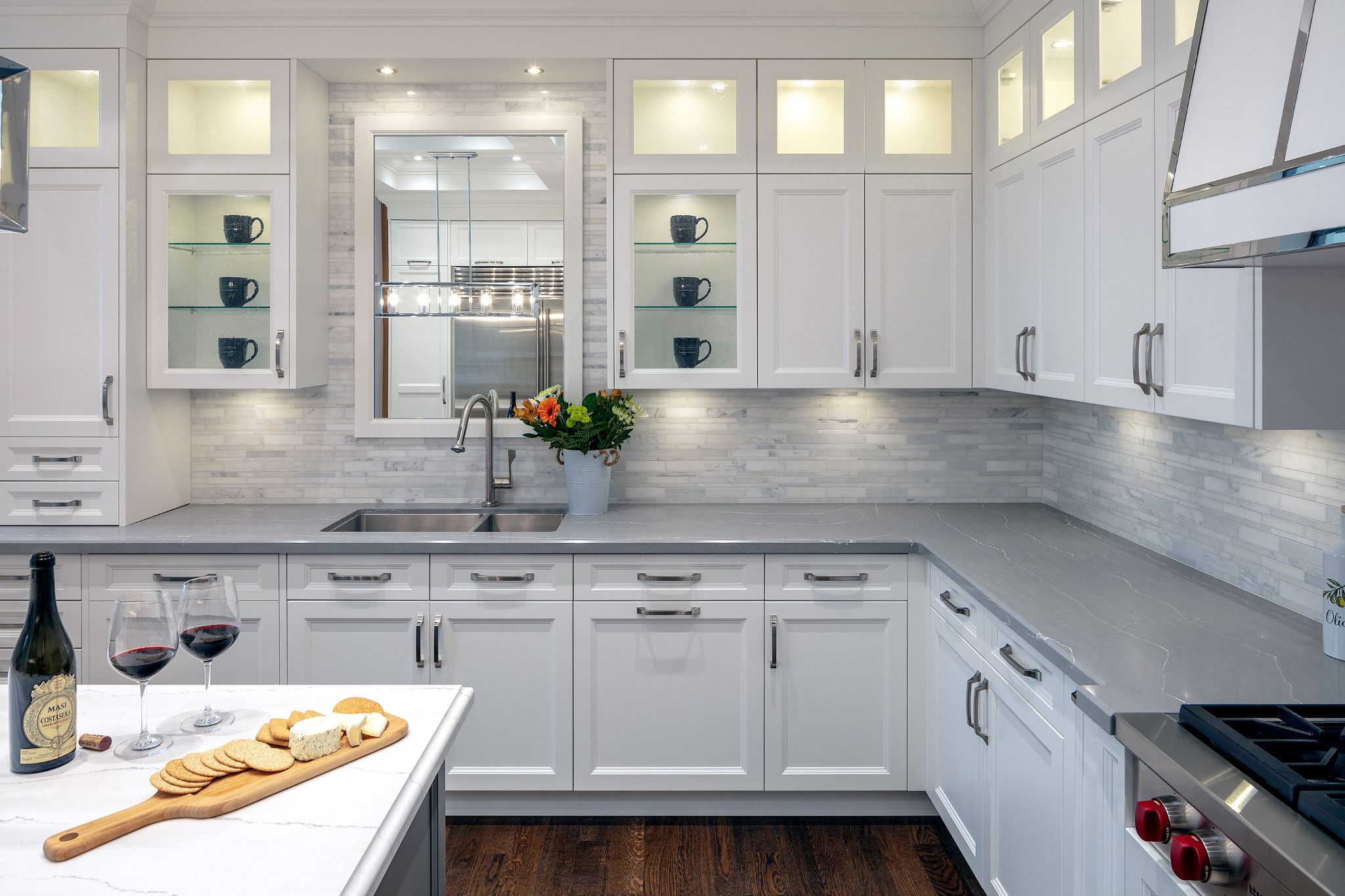 Clareanne perimeter countertops paired with Ella™ kitchen island. Space by: Eurodale Developments Inc and Distinctive By Design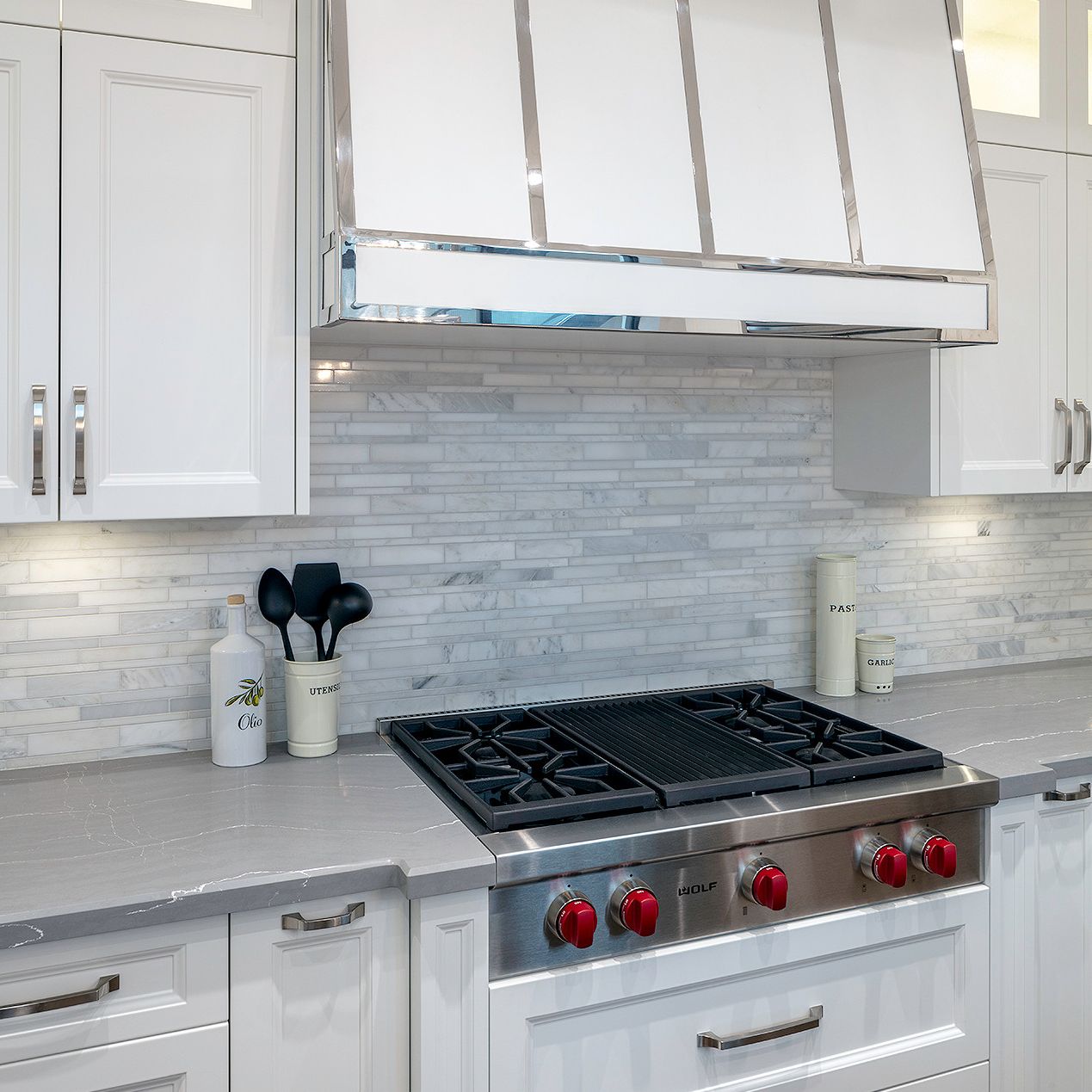 Traditional kitchen with Clareanne countertops. Space by: Eurodale Developments Inc and Distinctive By Design
This modern farmhouse kitchen features Cambria Ella on island paired with gray Fieldstone perimeter countertops. Ella's delicate gray veining and light whitish gray backdrop pair perfectly with the dark, slate gray quartz countertops.
Modern farmhouse with Fieldstone perimeter and Ella island countertops.
Gray bathroom countertops
Not only for kitchens, Cambria is a smart and stylish option for bathroom vanities, offering a nonabsorbent, hygienic surface that's easy to clean. Gather inspo from these bathrooms featuring gray Cambria countertops to suit any design style.
This glam double vanity from Lex LeBlanc of Listed Sisters features Clareanne countertops, dark cabinets, and copper tones.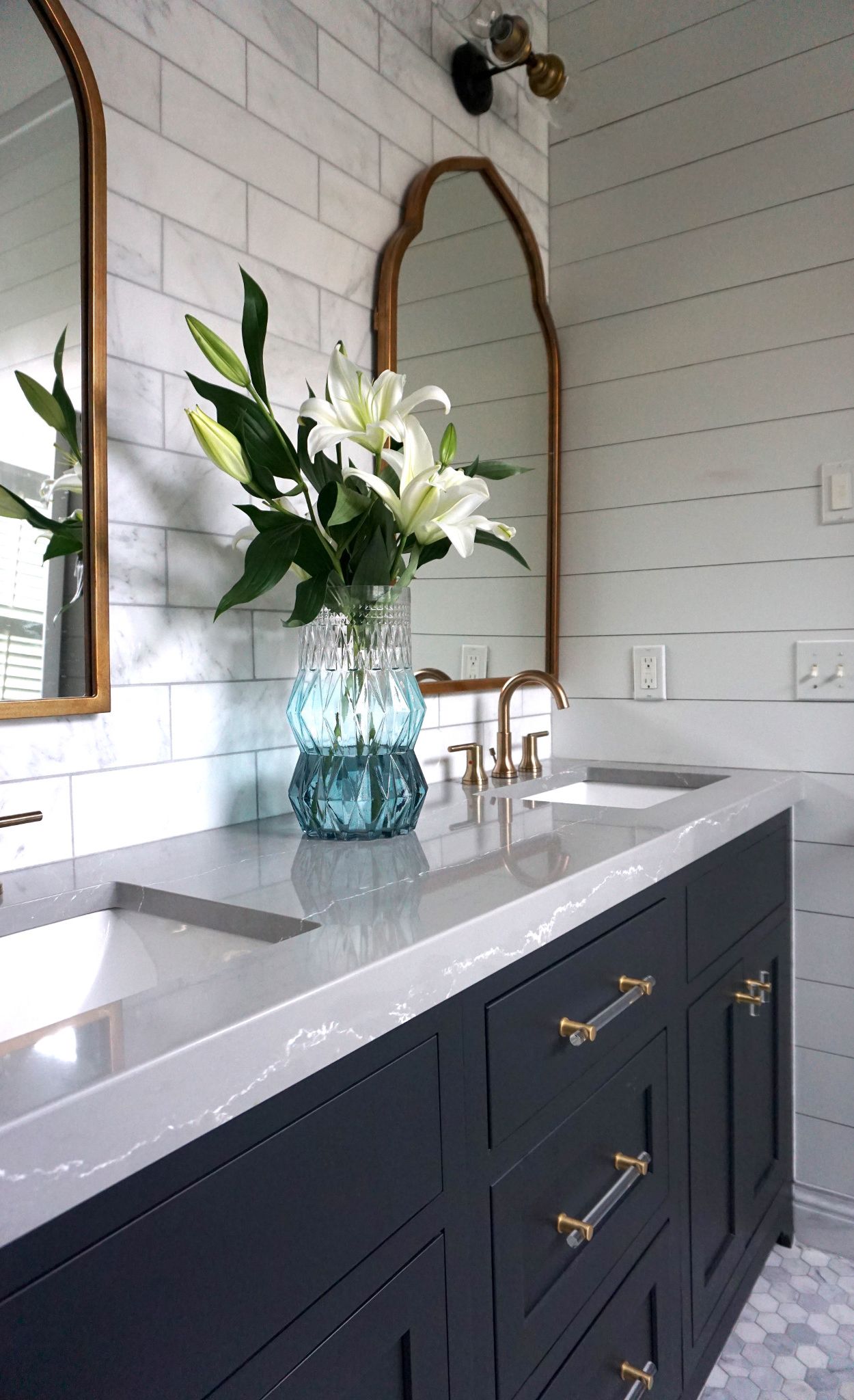 Featured Cambria design: Clareanne. Space by: Lex LeBlanc.
Opulent and luxe, this traditional powder bathroom features a mitered-edge Roxwell vanity showcasing the stone's flowing movement.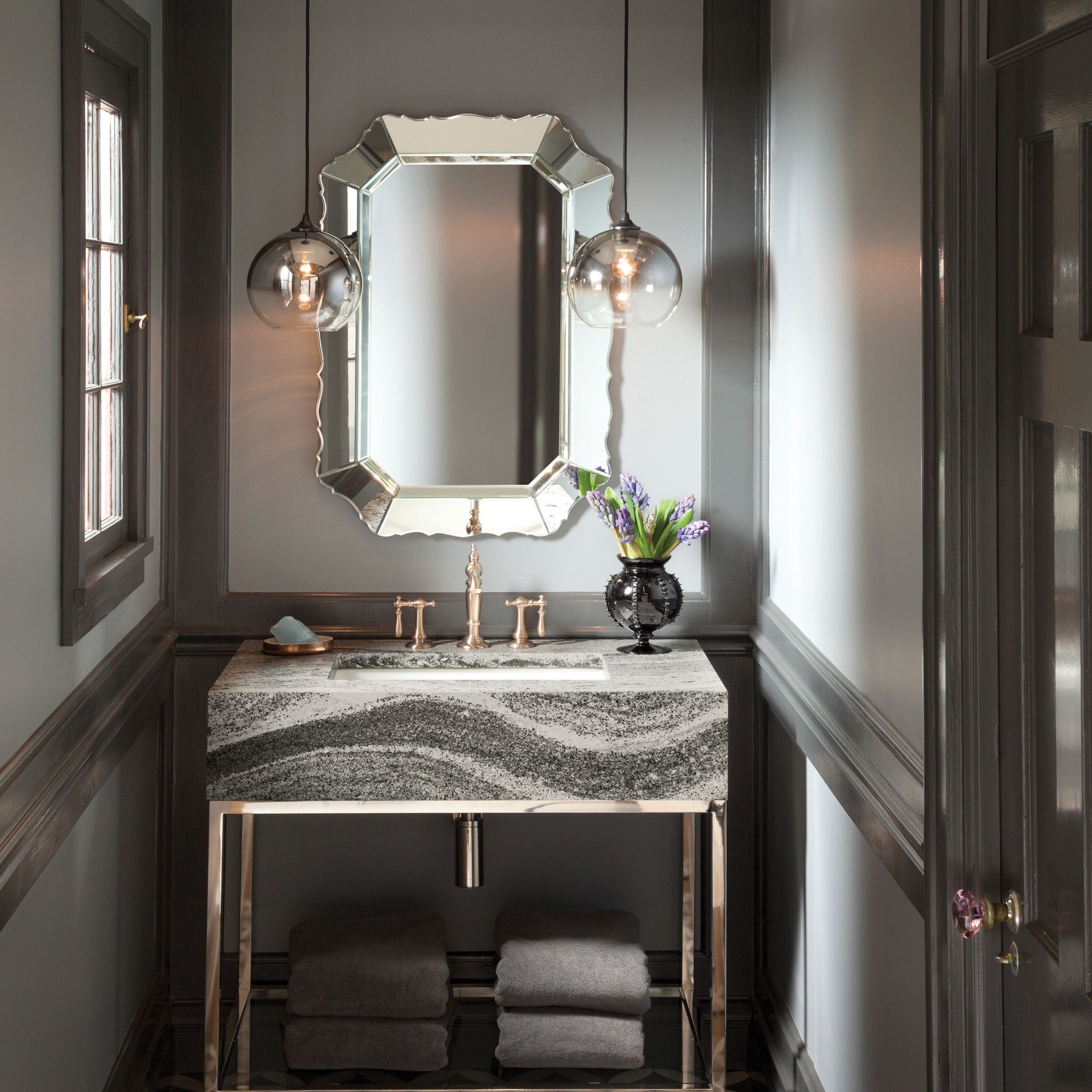 Featured Cambria design: Roxwell.
This pattern-filled contemporary powder room features a Clareanne vanity top, striped wall cladding (Clareanne and Ella), and a floral ceiling mural.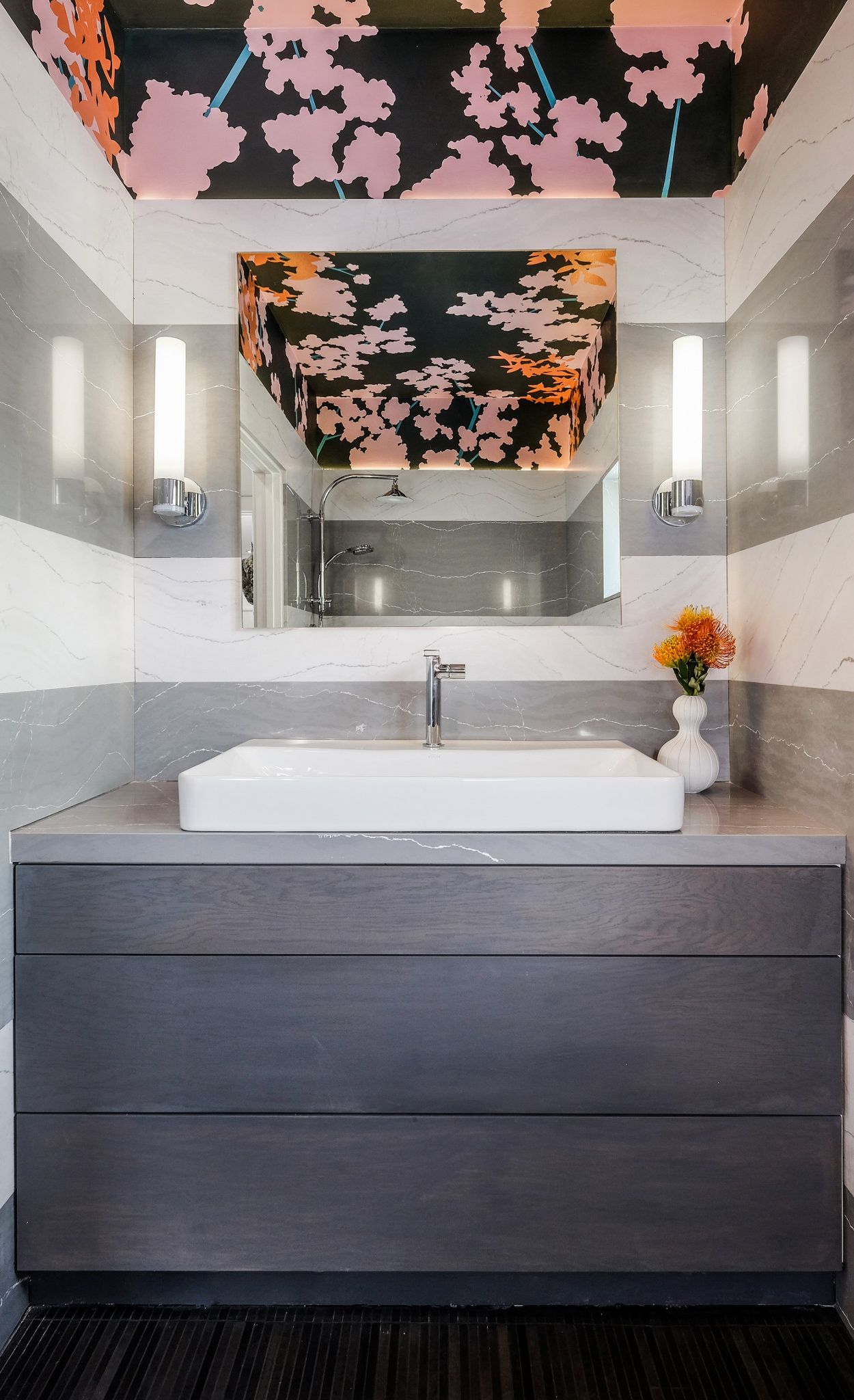 Featured Cambria designs: Clareanne (vanity top and wall cladding) and Ella (wall cladding). Space by: BLANKwalls Design Photo: Shutter Avenue Photography
A floating mirror and sconces above a Carrick vanity countertop and dark olive cabinetry combine for sleek contemporary master bath style.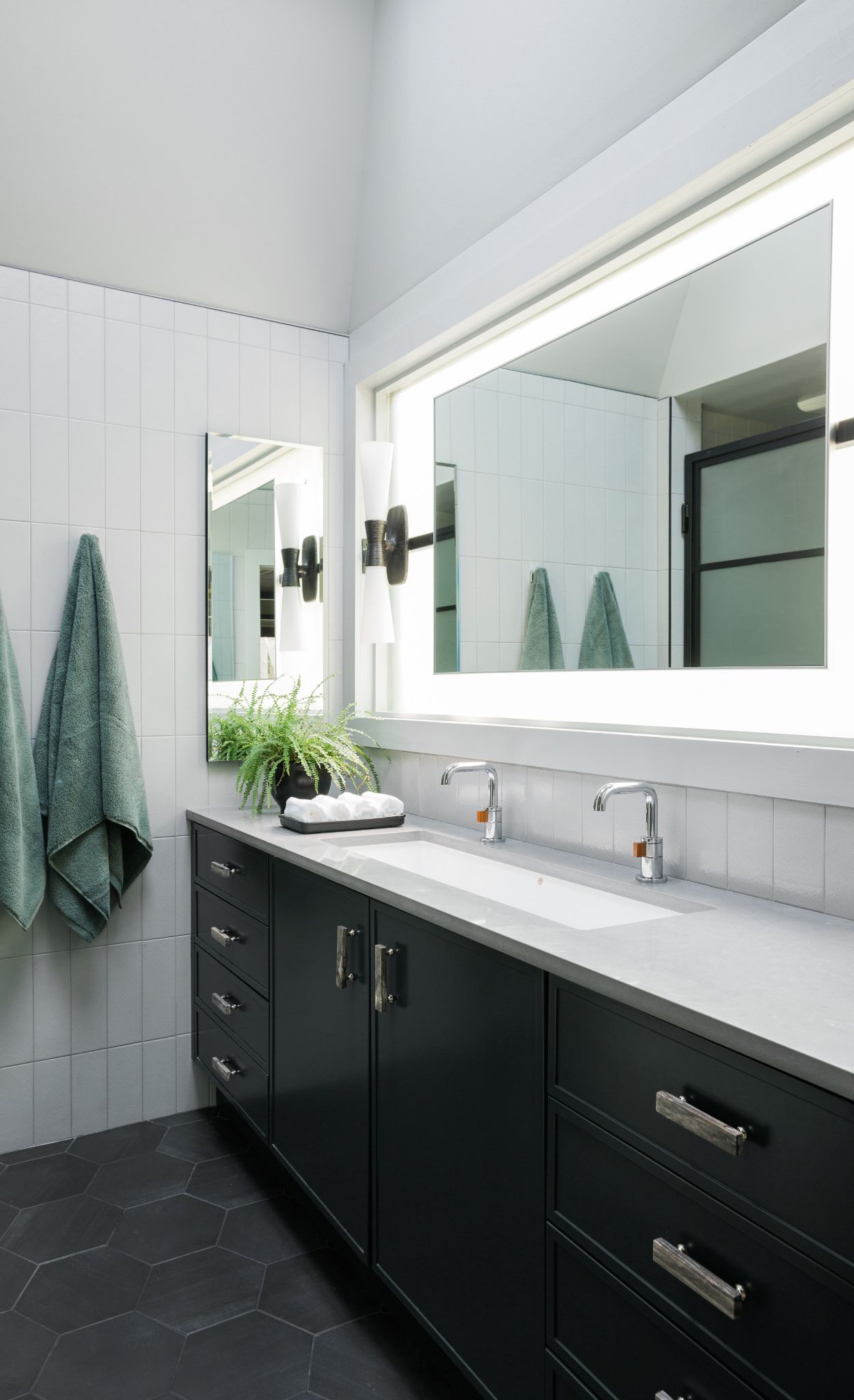 Featured Cambria design: Carrick. Space by: Brian Patrick Flynn.
Laundry rooms and workspaces
Cambria's gray designs can elevate utility rooms including home workspaces, laundry rooms, craft rooms, pantries, mudrooms, and more.
This dream home workspace features a built-in desk with gray, marbled Queen Anne, custom shelving, and a plush pink chair.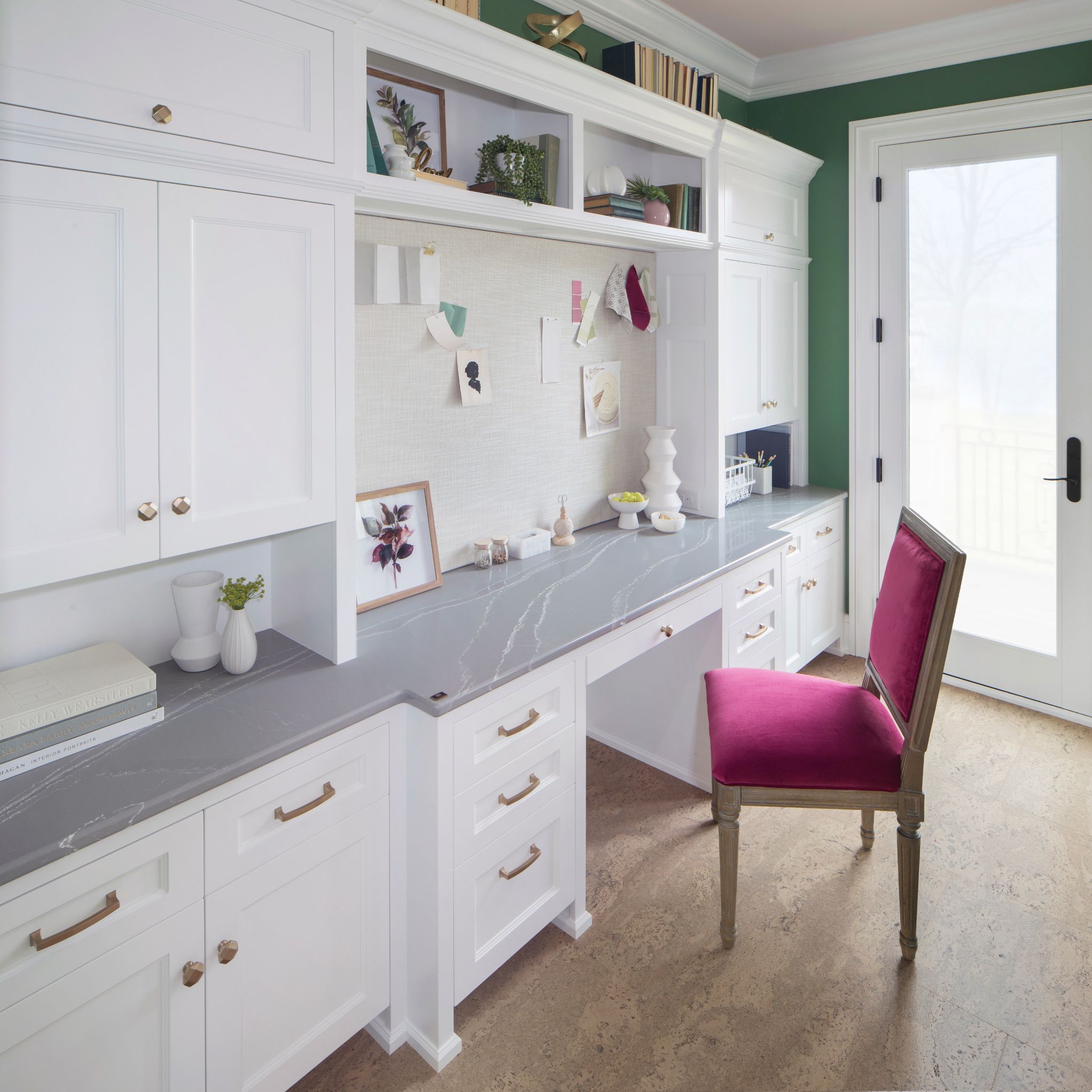 Featured Cambria design: Queen Anne. Space by: John Kraemer & Sons and Laura Engen.
This cozy and rustic home office features a Clareanne Matte desk, offering an elevated spin on concrete to give this rustic space an industrial modern edge.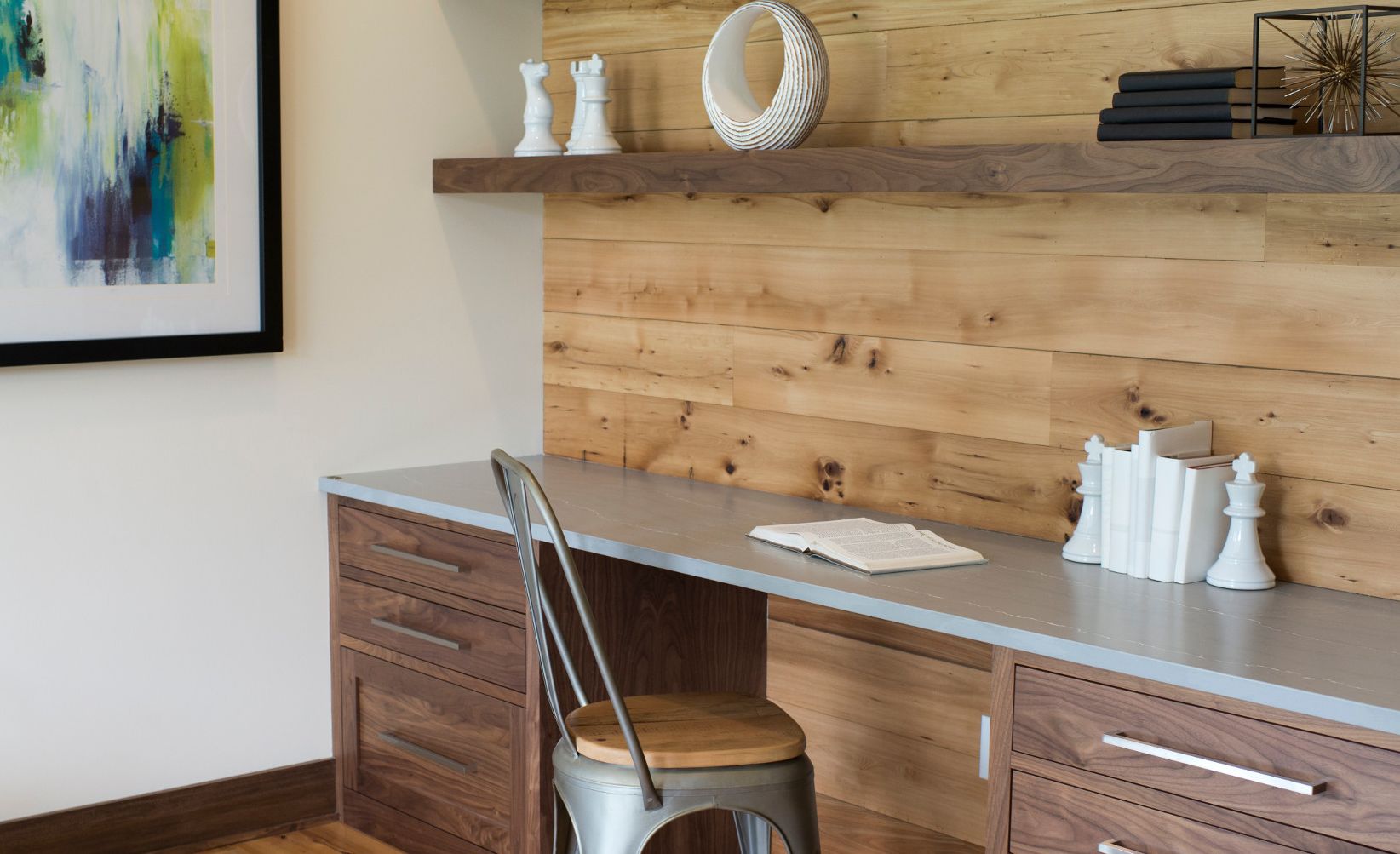 Featured Cambria design: Clareanne Matte. Space by: Sustainable 9 Design + Build.
This open and airy laundry room features Greystone and Weybourne countertops, playful floral wallpaper, and checkered flooring.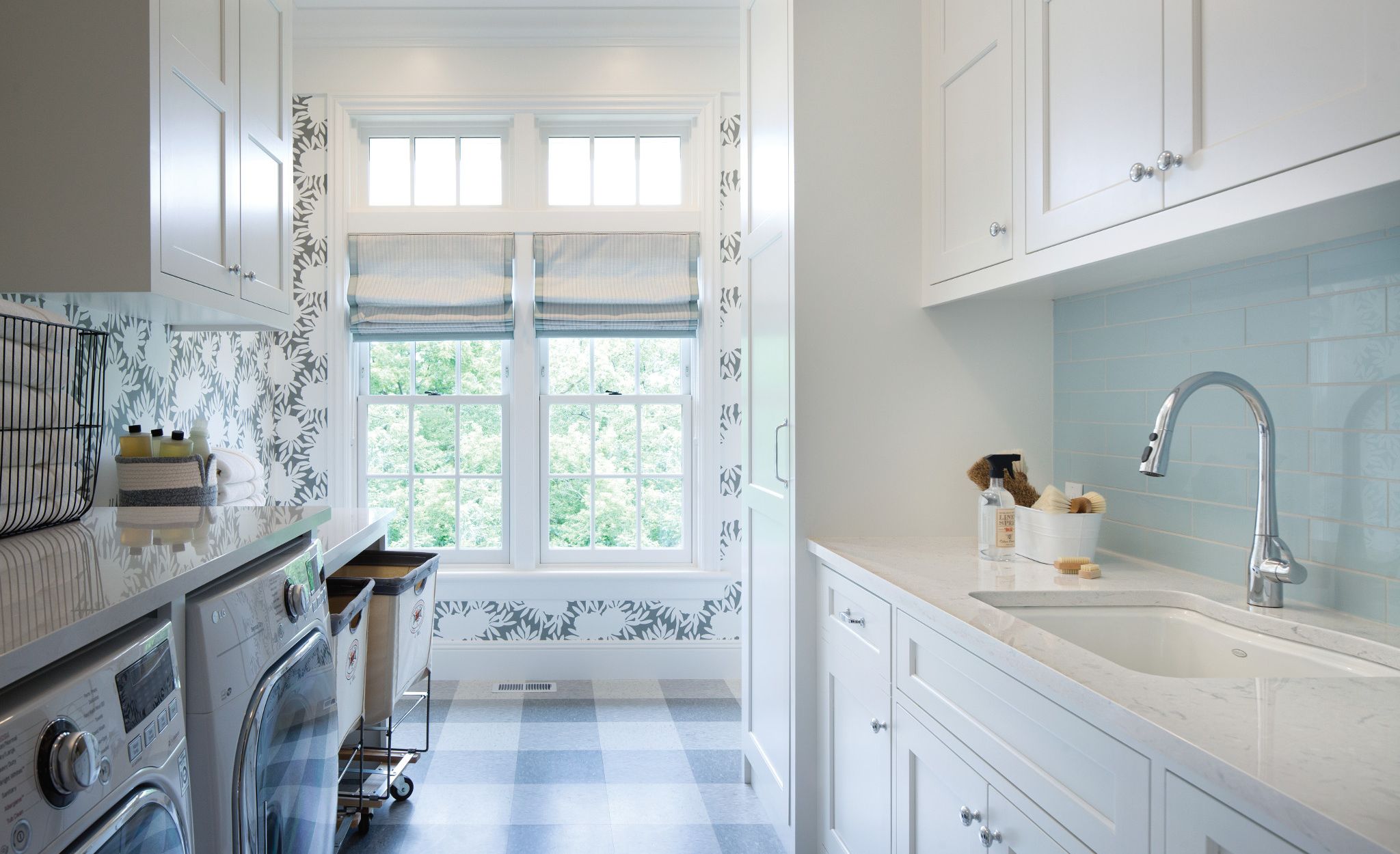 Featured Cambria designs: Greystone™ and Weybourne™.
Cambria Greystone design detail
This spacious laundry room offers stylish work surfaces with Devon countertops and plenty of storage.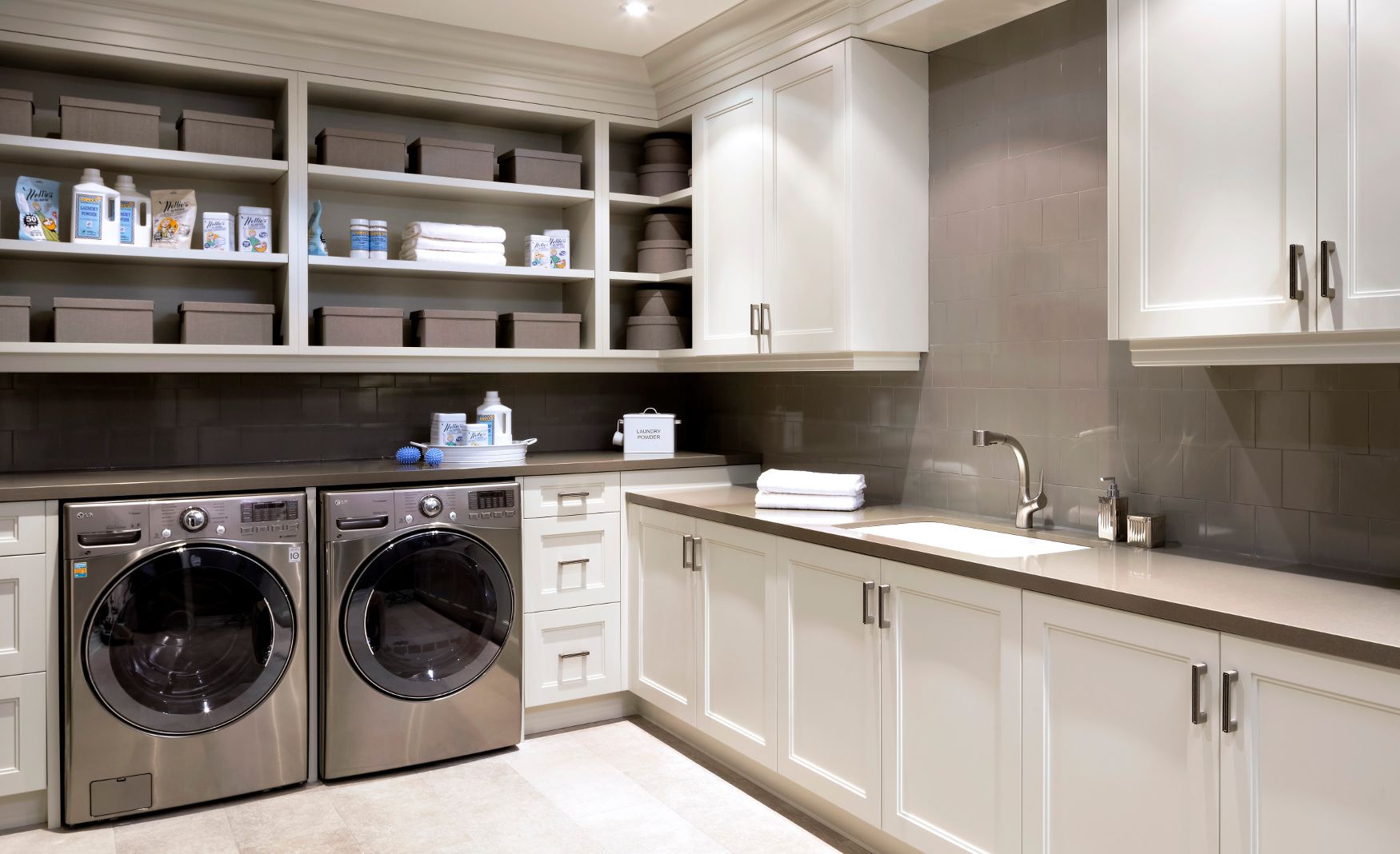 Featured Cambria design: Devon™.
Find your perfect gray Cambria countertop design
Ready to find the perfect gray for your space? Order a sample of any gray Cambria designs you're considering to find the best fit for your project.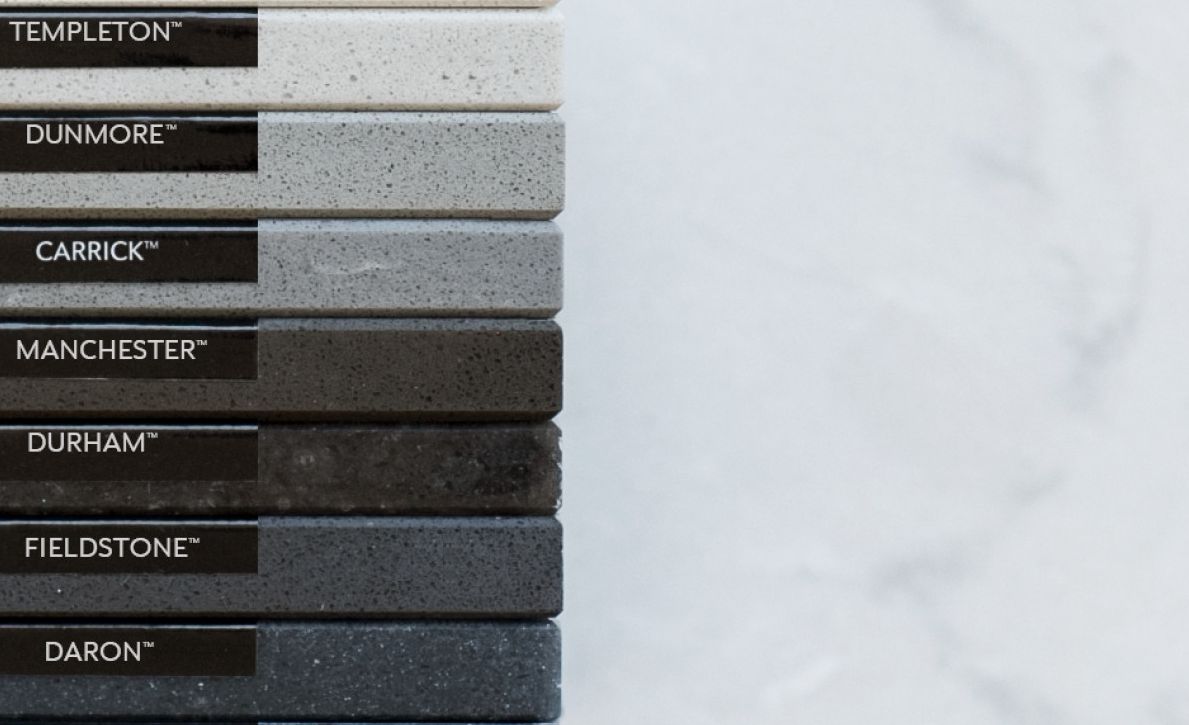 Cambria offers a range of gray countertop designs, including Templeton, Dunmore™, Carrick, Manchester™, Durham™, Fieldstone, and Daron™.
When you're ready to start your project, contact a Cambria dealer to bring your space to life. We'd love to see your gorgeous gray kitchen, bathroom, or other project. Share it with us on social media using the hashtag #MyCambria.