A beautiful white marble aesthetic lends high-end appeal to any commercial space, but there are drawbacks to using marble itself. An absorbent, porous stone, marble is not a safe or sustainable surface for hospitality spaces. Bacteria and moisture from spills can easily accumulate within the stone, and scratches and stains will permanently damage the appearance. Cambria's Marble Collection™ provides an elegant solution with durable and food-safe surfaces for hospitality design.
Here are 10 ways Cambria countertops and surfaces make it possible to achieve an upscale marble look without sacrificing performance in restaurants, bars, cafés, and other food-service spaces:
1. Timeless beauty for inviting ambiance and social-friendly moments
A delicious dish is meant to be shared, and not just with a dining companion. Photo-worthy backdrops inspire restaurant and café patrons to share their experiences on social media, and Instagram can be a deciding factor for the restaurants millennials choose to visit.
Not every stone is Instagram-worthy from every angle, with pattern and detailing limited to the top of the surface, creating a glazed tile look. Cambria's designs feature veining and movement infused throughout the slab to showcase intricate details through each edge.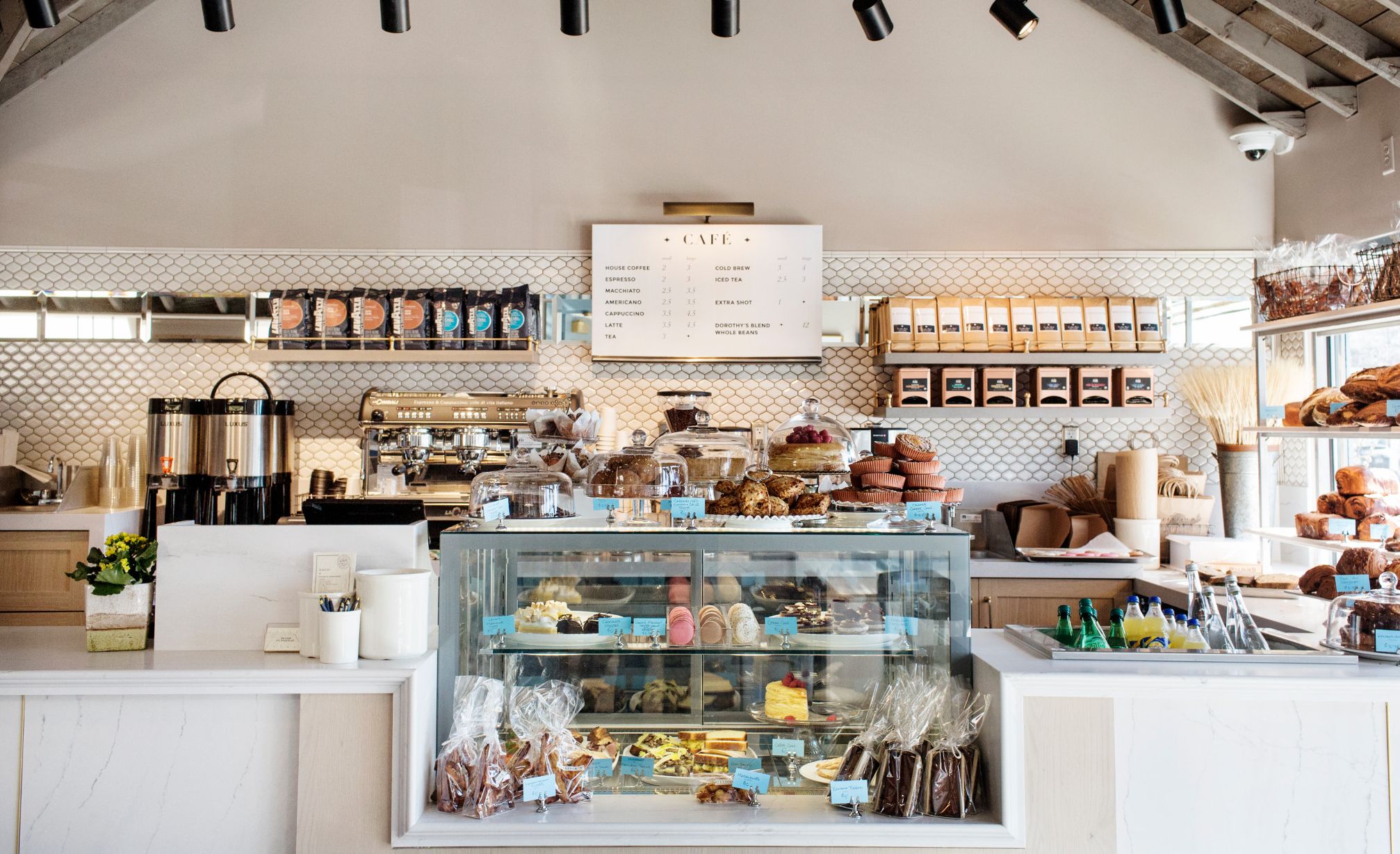 Ella Matte™ countertops and paneling add to the Insta-worthy appeal of the Bellecour bakery counter.
A luxe, marble-like Cambria table is a chic way to showcase a well-crafted latte or artfully styled entree, while a trend-forward counter area or bar becomes a shareable scene that entices new guests. Instagram appeal is particularly valuable as features such as geo-tags, hashtags, and the Explore tab allow users to discover a new space shared by someone outside of their social sphere. #Foodie, #eatingfortheinsta, and other popular Instagram food hashtags have millions of shares, and users can follow their favorites hashtags to see dishes and dining experiences from their community or around the world.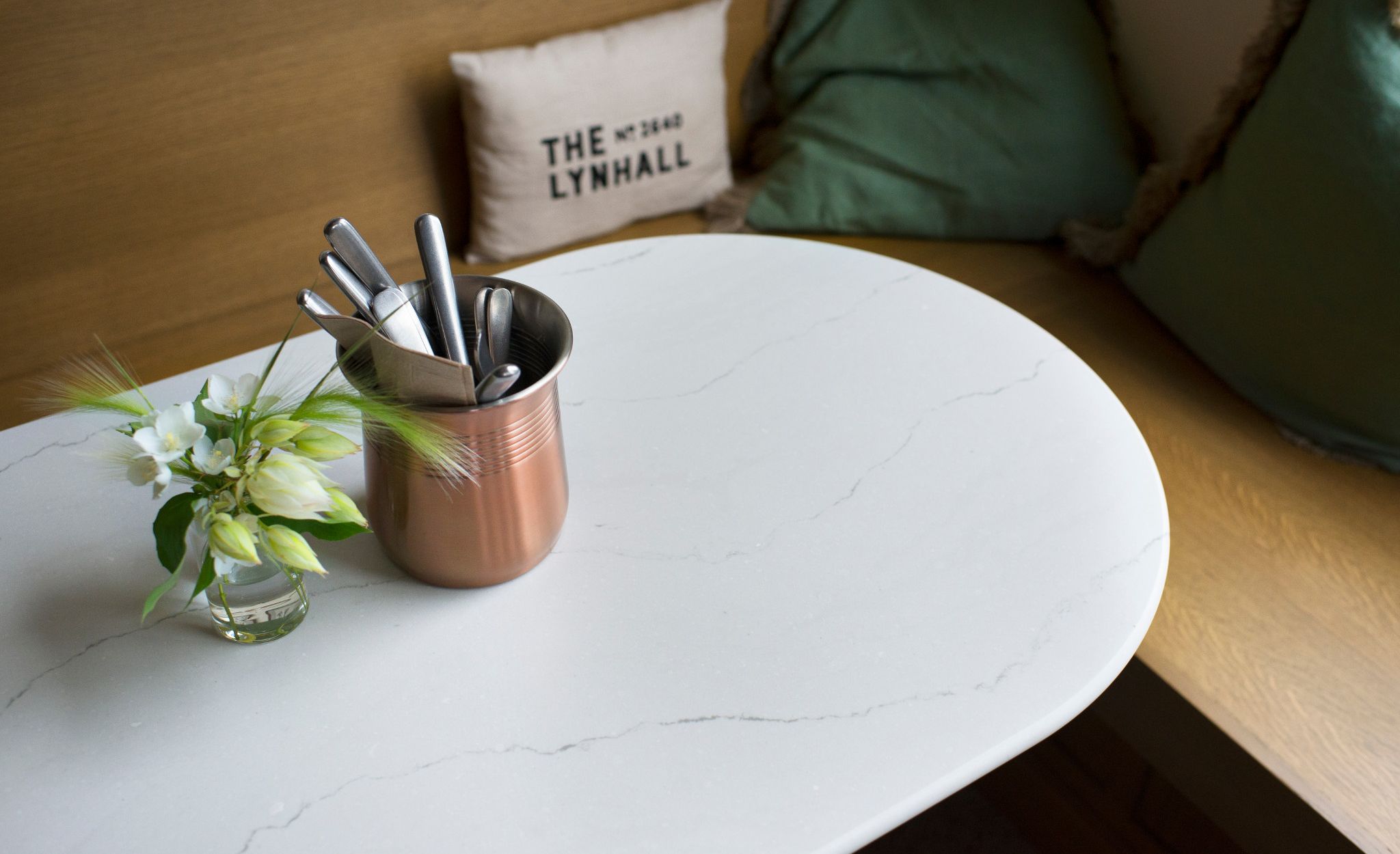 Ella Matte tables create inviting ambiance at The Lynhall.
"With our multi-functioning space featuring a TV kitchen studio, bakery, bustling bar/restaurant and event space, we needed beauty but also durability. We are so pleased with the Cambria product Ella Matte and how it has not only held up to the wear and tear of a restaurant environment but continued to provide a wonderful backdrop for our guests to gather and share delicious food and create memories in The Lynhall. It doesn't hurt that Ella Matte also provides the perfect canvas to capture our Instagram-worthy food images. We are grateful for our partnership with Cambria and honored to share the Star Tribune best restaurant design for 2017 with them."
~Anne Spaeth, Founder, The Lynhall
2. Unmatched durability to handle high traffic and heavy use
Any hospitality space requires a hardworking surface that can keep pace with customers. Cambria is made from natural quartz, one of the hardest minerals on Earth (7 on the Mohs scale of hardness), making it extremely durable and the ideal surface for high-traffic and heavy-use areas. Much harder than marble (3—4 on the Mohs scale) and even granite (5—6), Cambria is able to handle just about anything café patrons, food service customers, and hospitality clients can dish out.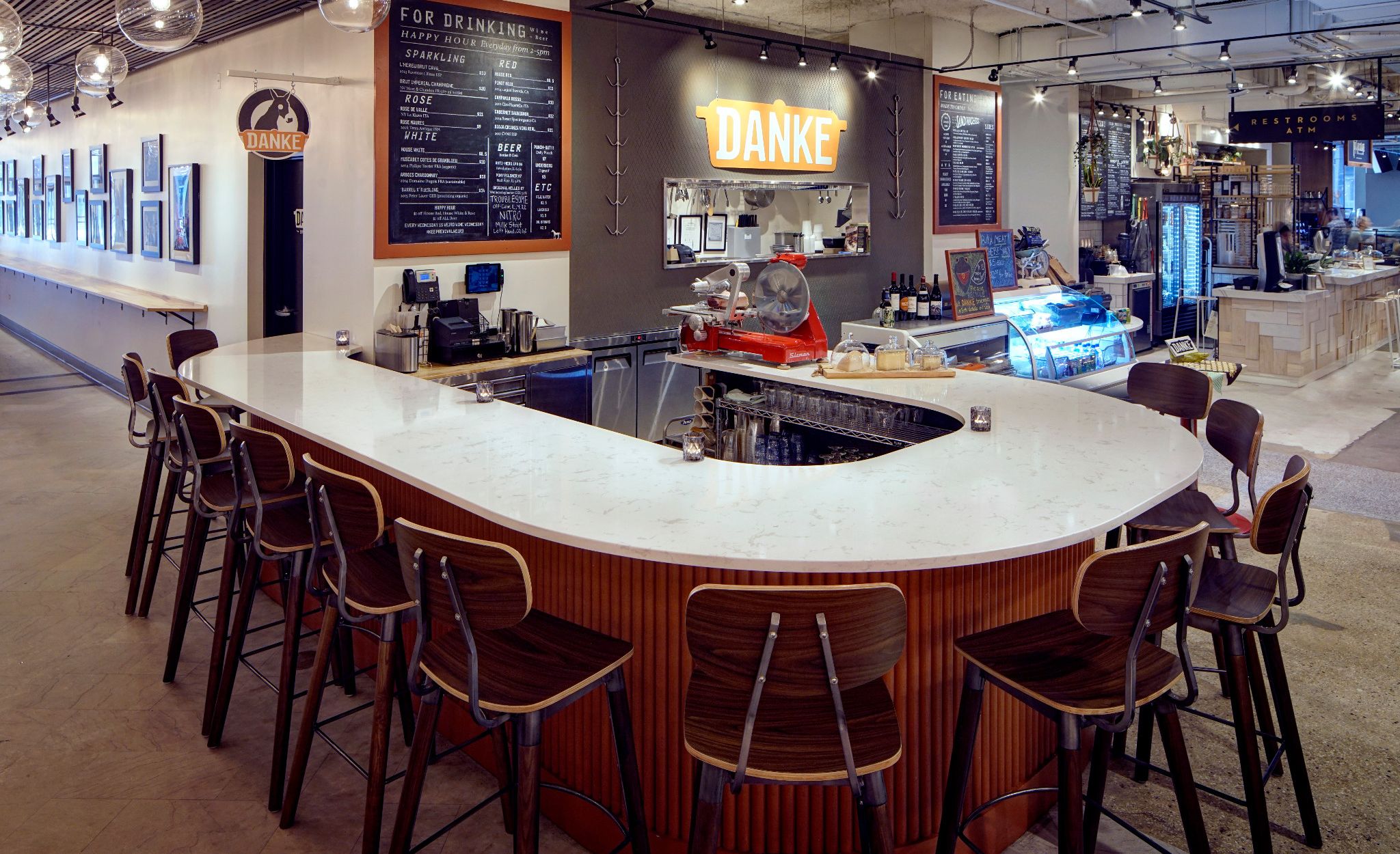 A rounded Torquay™ bar top is both stylish and strong at Danke in Revival Food Hall.
"Upon opening a food hall that would serve thousands of people daily, we knew it was necessary to select finishes that would maintain their integrity through heavy use and time. The options provided by Cambria fit seamlessly with Farmer's Fridge, Danke, and the overall aesthetic of Revival."
~Aryanna Mohseni, Designer, Blue Star Properties
3. NSF-51 certified safe for food preparation
Food service environments and other hospitality spaces require hygienic surfaces, and Cambria provides that peace of mind. Cambria is certified by NSF International as a safe food preparation surface, compliant with the NSF 51 food and splash zone standards. Unlike marble and other stones, Cambria is nonporous and nonabsorbent so it won't draw in moisture from raw or leftover food, which can harbor harmful bacteria.
Brittanicca™ countertops make a sleek backdrop for the salad station and dining counter at Farmer's Fridge in Chicago's Revival Food Hall.
Keep in mind that not all quartz surfaces are NSF 51 "food zone" compliant, so be sure to check the credentials of any product you are considering. Some quartz produced abroad might be adulterated and not subject to safety or quality standards, lessening performance and eliminating hygienic benefits. NSF International features a search function on its site for certified manufacturers and compliant products.
4. Stain-resistant surfaces for lasting luxury
White marble countertops stain easily, dulling their look over time. Cambria natural stone surfaces are naturally nonabsorbent and stain resistant, ensuring that tables, bars, and counters maintain their beauty year after year—even in high-traffic hospitality spaces.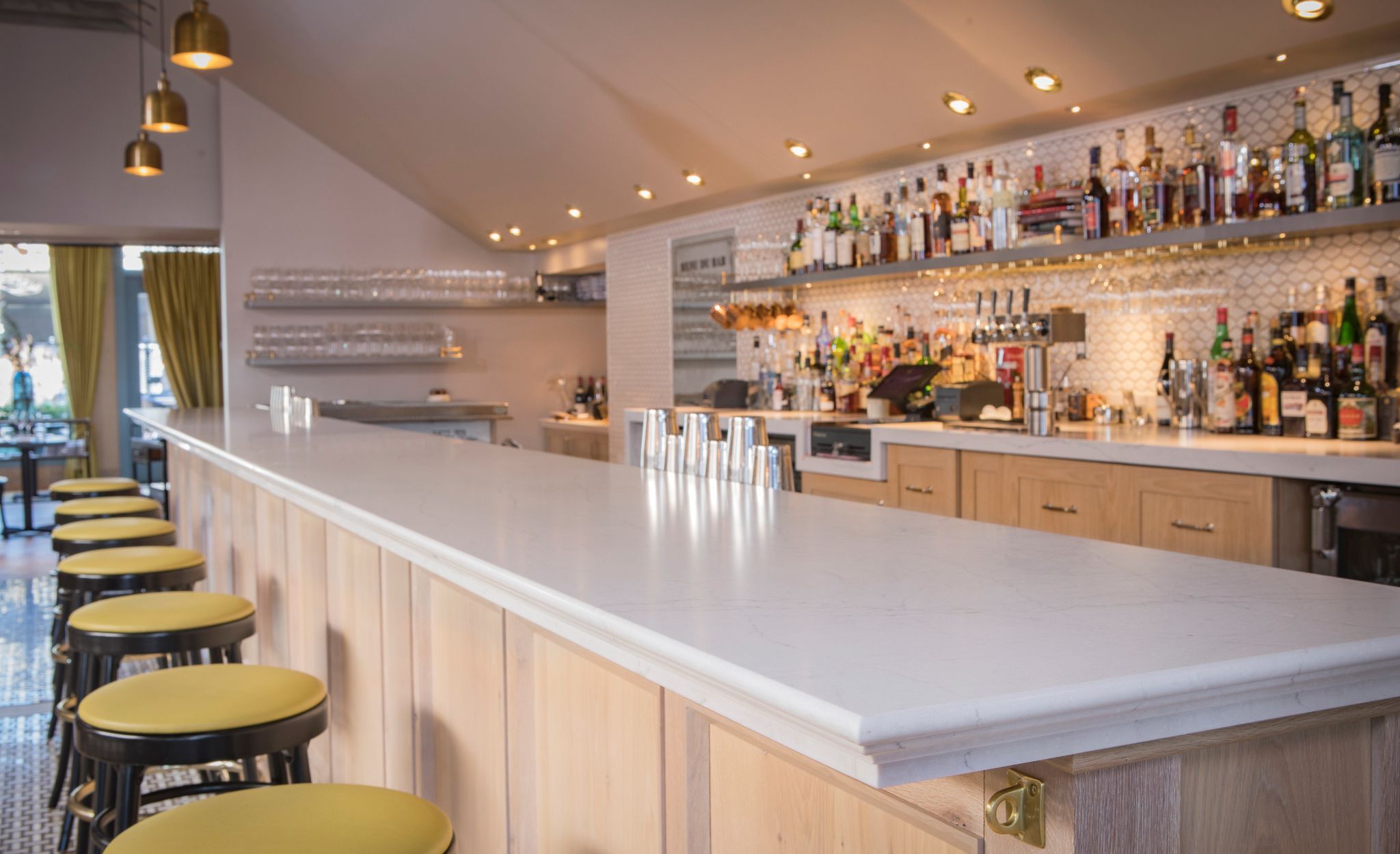 The wine can flow without worry at Bellecour, featuring a stain-resistant Ella Matte bar.
"When we designed Bellecour we knew we wanted the space to exude a timeless, elegant, and comfortable look and feel. Cambria's Ella Matte was the choice for our bakery and bar. The Ella Matte is both durable and stylish: it's ok if a guest accidentally spills a glass of rosé on our bar and our bakery with Cambria countertops has become our most photographed area. Two years in, we're still as pleased with it as we were when we first opened our doors."
~Gavin Kaysen, Owner & Executive Chef, Bellecour
5. Maintenance-free convenience for easy upkeep
A high-maintenance surface is not ideal for hospitality design. Surfaces like marble and granite require regular sealing and polishing and, if not maintained properly, their performance reduces further. Cambria surfaces are maintenance free, allowing employees to focus on providing hospitality rather than fussing over upkeep. Cambria can be cleaned simply with warm water, a soft cloth, and a mild cleaner if desired.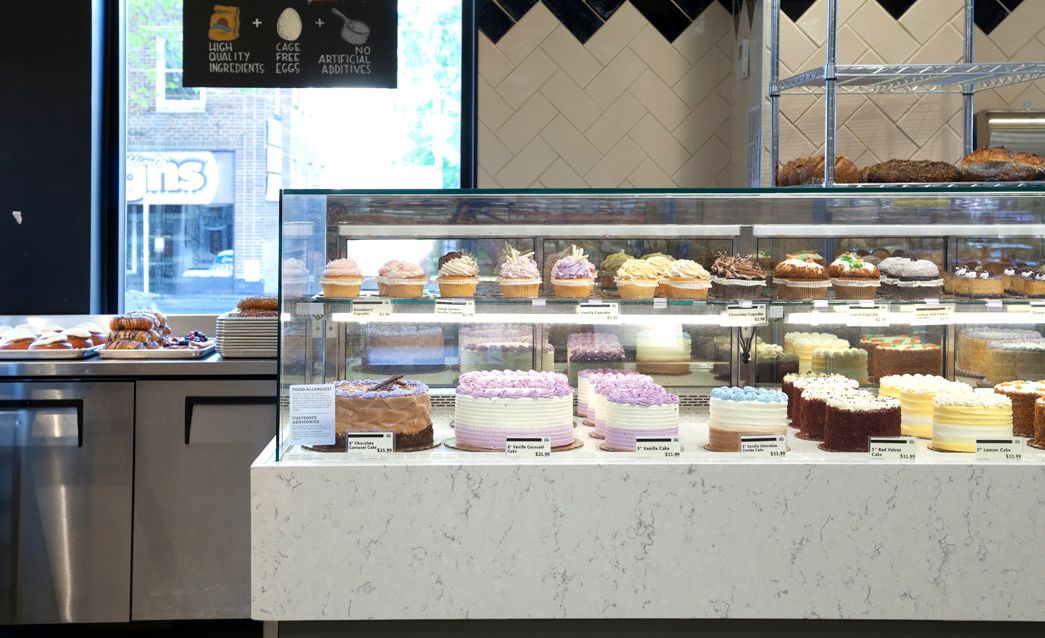 Waverton™ makes for a sweet display at Whole Foods Market.
"Cambria exceeded our needs in so many ways with its beauty, maintenance-free convenience, and exceptional durability. It exemplifies the top quality we require in all our stores – we couldn't be more pleased with our choice."
~Christine Sturch, Whole Foods Market, Midwest Interiors and Design Coordinator
6. Peace of mind with a transferable Full Lifetime Warranty
Offer your hospitality clients a worry-free experience with a surface product they can depend on and a company that stands behind it. Cambria is the only quartz manufacturer to offer a transferable Full Lifetime Warranty. When evaluating other warranties, be sure to look at whether they are transferable, how issues are resolved, if the project needs to be submitted up front, and other stipulations that could cause headaches down the line.
A Dovedale™ waterfall-edge bar offers an elevated spin on a diner counter at Little Goat Diner.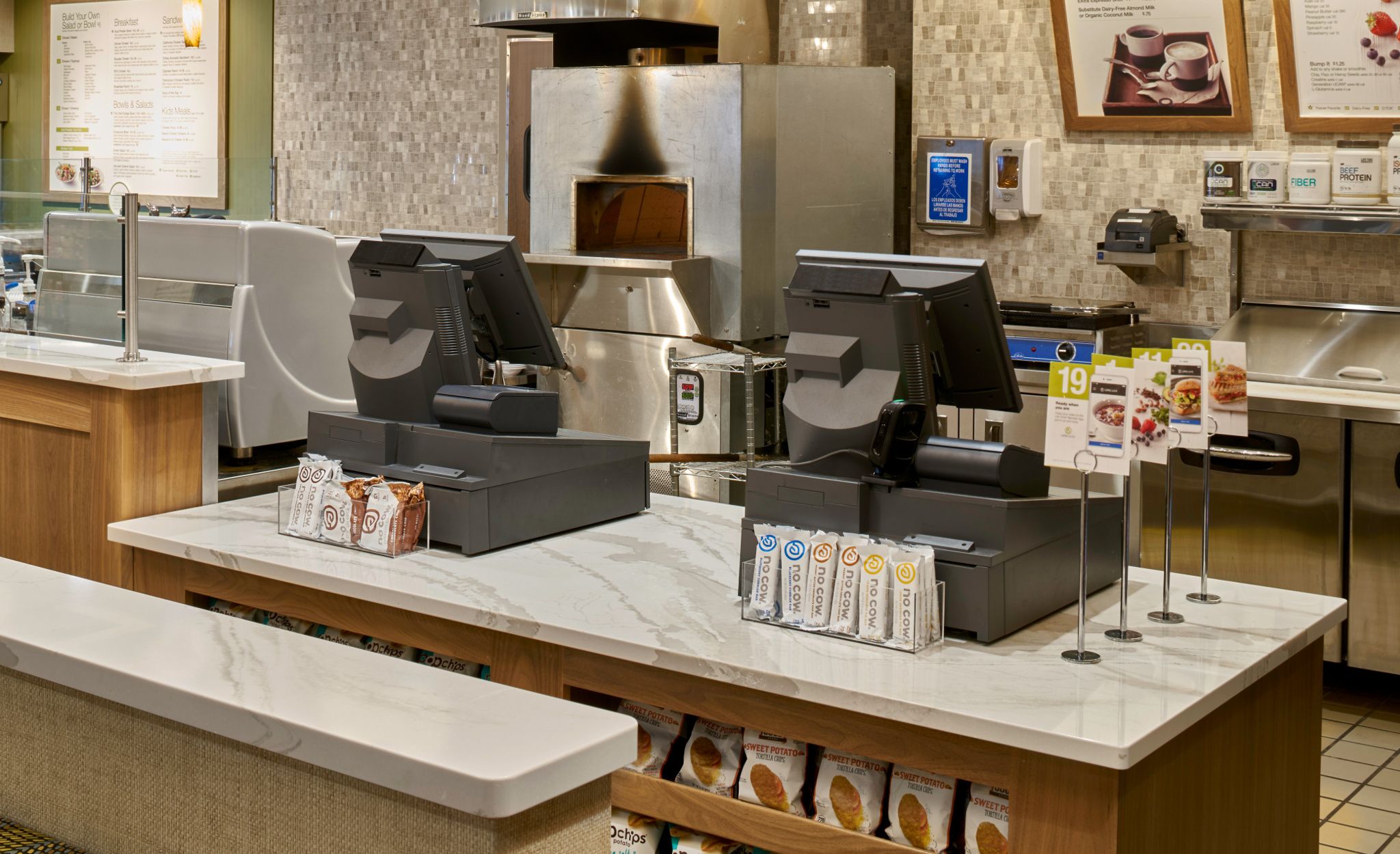 Durable Brittanicca Warm™ rails and countertops provide marble-like beauty in this Life Time Fitness café.
7. Sustainable surfaces for environmentally-friendly projects
Cambria is made from pure, natural quartz, which is an abundant and beautiful natural mineral. It is responsibly mined and removed from the Earth in particles rather than full slabs (unlike marble, granite, and other stones), creating much less waste and disruption to the surrounding landscape. Due to wear and tear, marble will likely need to be replaced in a commercial environment. Investing in a durable, American-made product like Cambria contributes to resilient design and minimizes the environmental impact.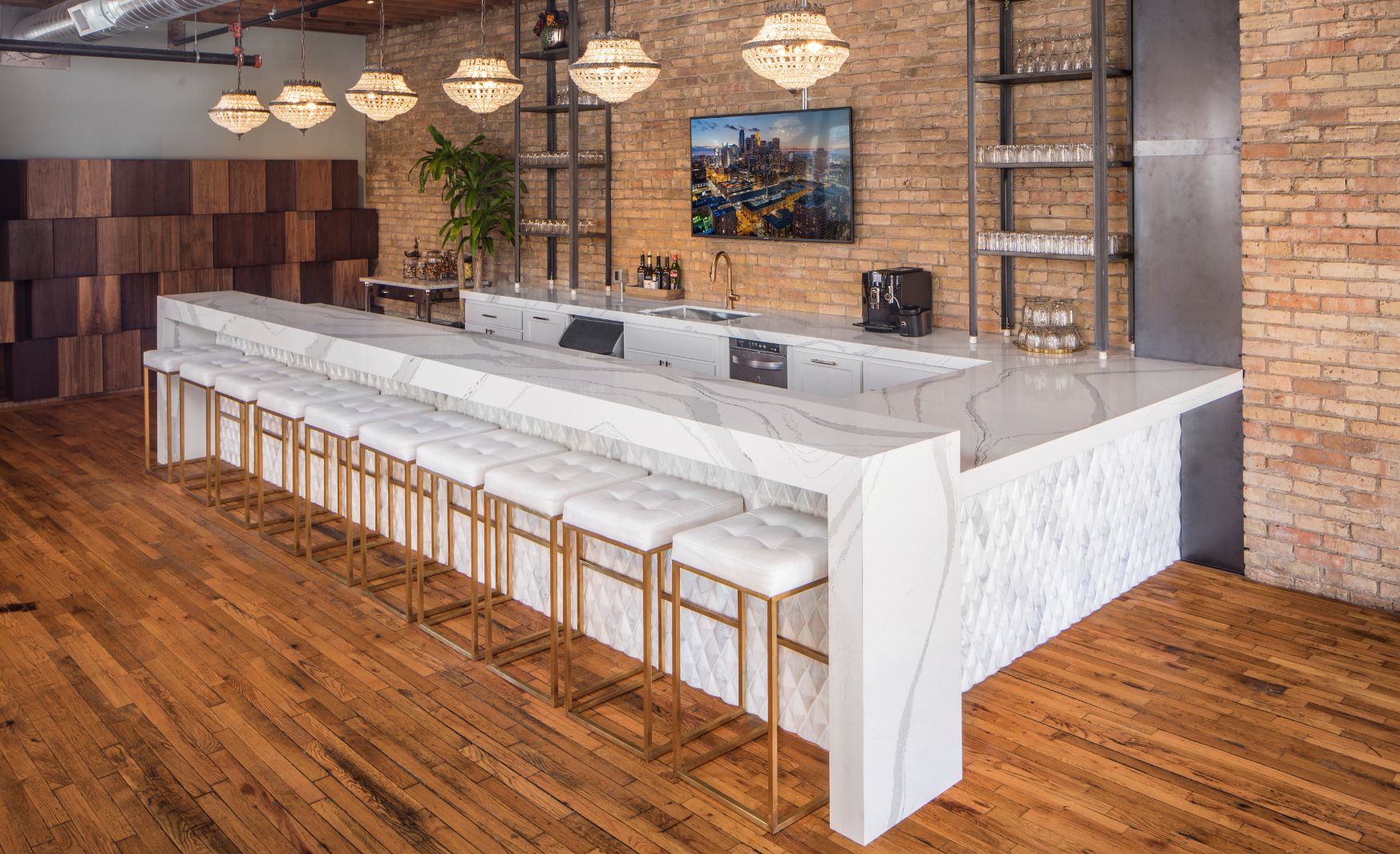 Brittanicca makes a durable waterfall-edge bar for enduring beauty at social club and event center Brick x Mortar.
Cambria's commitment to sustainability and product transparency is also evident through the company's business practices and product certifications. Cambria recycles all metal tooling, as well as 100% of the water used in polishing – saving an estimated 1.6 billion gallons of water per year. Additionally, Cambria's acquired quartz mine runs on full hydroelectric power for a smaller, greener footprint.
Cambria is a member of the Health Product Declaration (HPD) Open Standard which promotes transparency for projects focused on sustainability, wellness, and environmental responsibility.
Cambria participates in the Declare program and is Living Building Challenge Compliant. Both Declare and HPD can contribute to LEED points. Cambria has also earned GREENGUARD Gold Certification for low VOC emissions and been certified by Mindful Materials. View Cambria's professional resources for full details on these and other credentials.
8. Customization with surface finishes: high gloss or Cambria Matte™
Create a custom look to suit your desired marble aesthetic with Cambria's surface finish options, high gloss or Cambria Matte™. High gloss offers a gleaming, pristine look while Cambria Matte™ lends a velvety, low-sheen look. Unlike other honed surfaces on the market, Cambria Matte™ finish designs offer the same performance benefits as Cambria's high gloss (nonabsorbent, durable, and maintenance free) and are covered by a transferable Full Lifetime Warranty. Be sure to check if the warranty is voided when considering certain finishes with other manufacturers and products.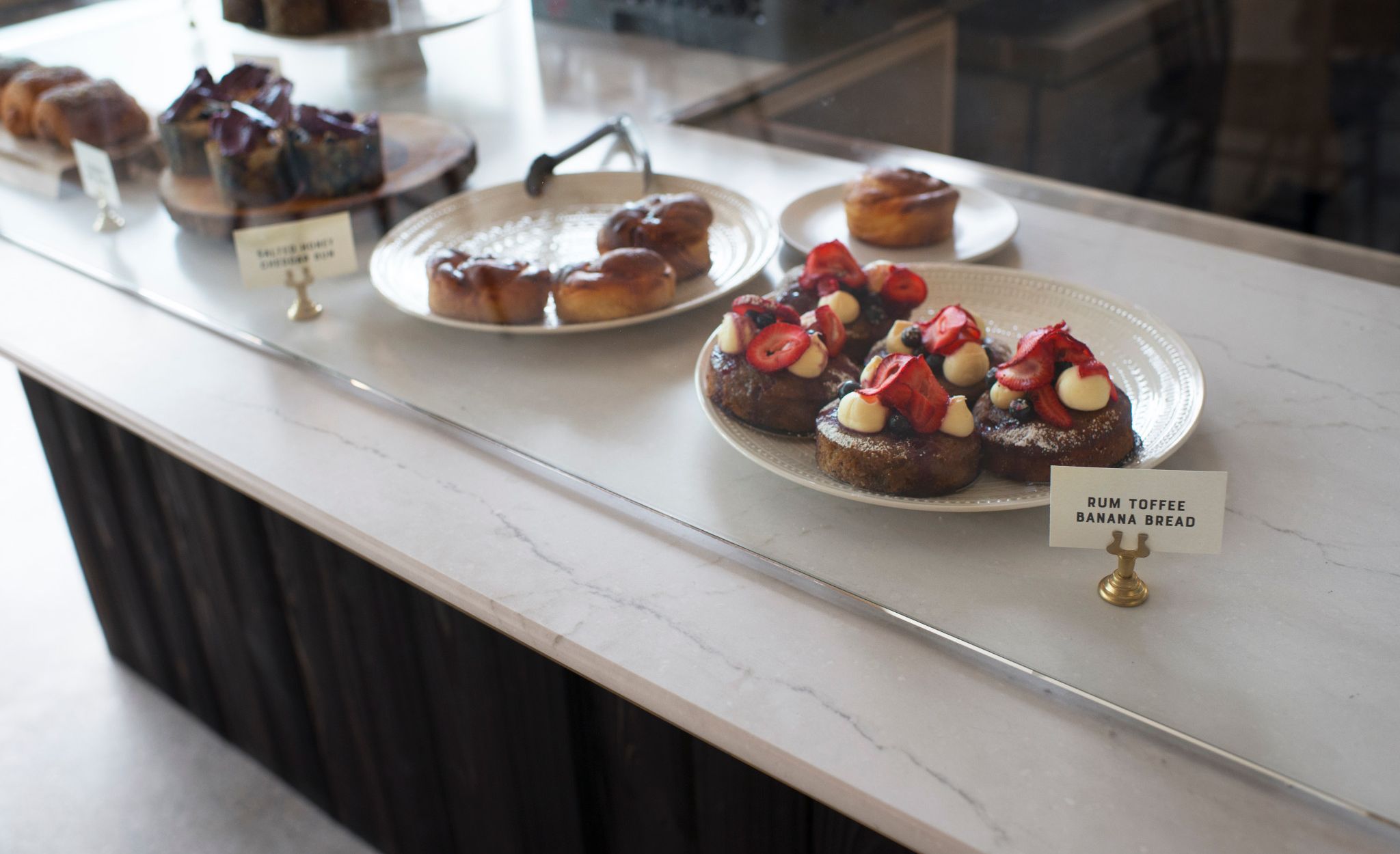 9. An array of application possibilities
The innovative fabrication capabilities for Cambria surfaces allow you to think beyond the countertop for a commercial space. Rounded bars and host stations, custom edge profiles, wall cladding, flooring, and hand-crafted furniture pieces are just some of the possibilities. Beverage stations and custom waste receptacles elevate overlooked areas for a cohesive look in hospitality interiors.
A charming beverage station with Ella Matte exhibits fine furniture appeal at Bellecour.
Stadiums, arenas, and other sports venues handle some of the toughest crowds. Custom Cambria applications provide distinctive style without sacrificing performance in luxury hospitality suites, high-traffic bars, and food-service areas with custom applications for signature style. Thermoforming allows for rounded applications not possible with other surface materials.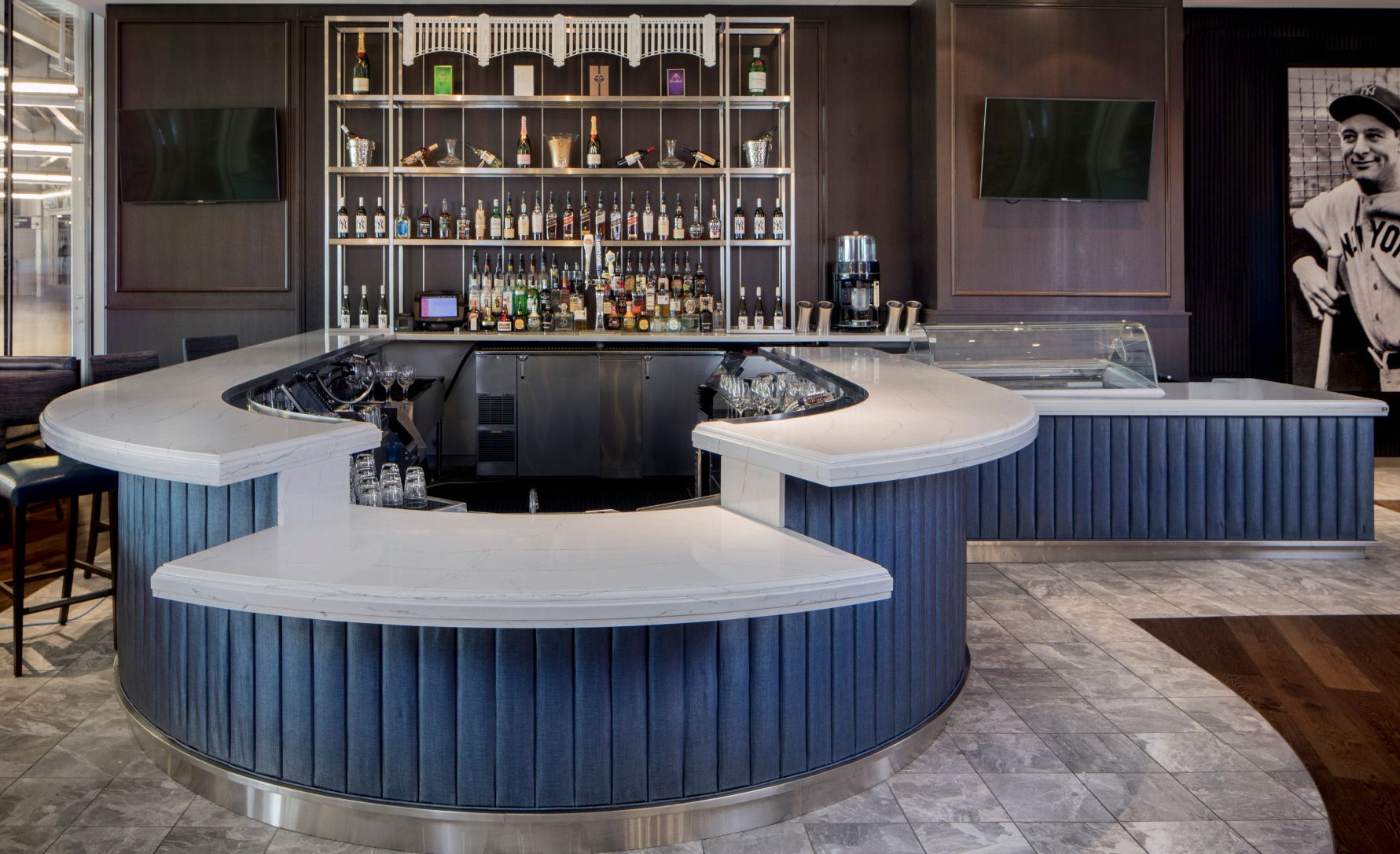 A rounded bar with Ella™ lends a character-filled conversation spot to Yankee Stadium's Legends Bar .
10. Extensive, industry-leading palette for any hospitality design vision
With Cambria's extensive design palette, the possibilities are endless for any hospitality space.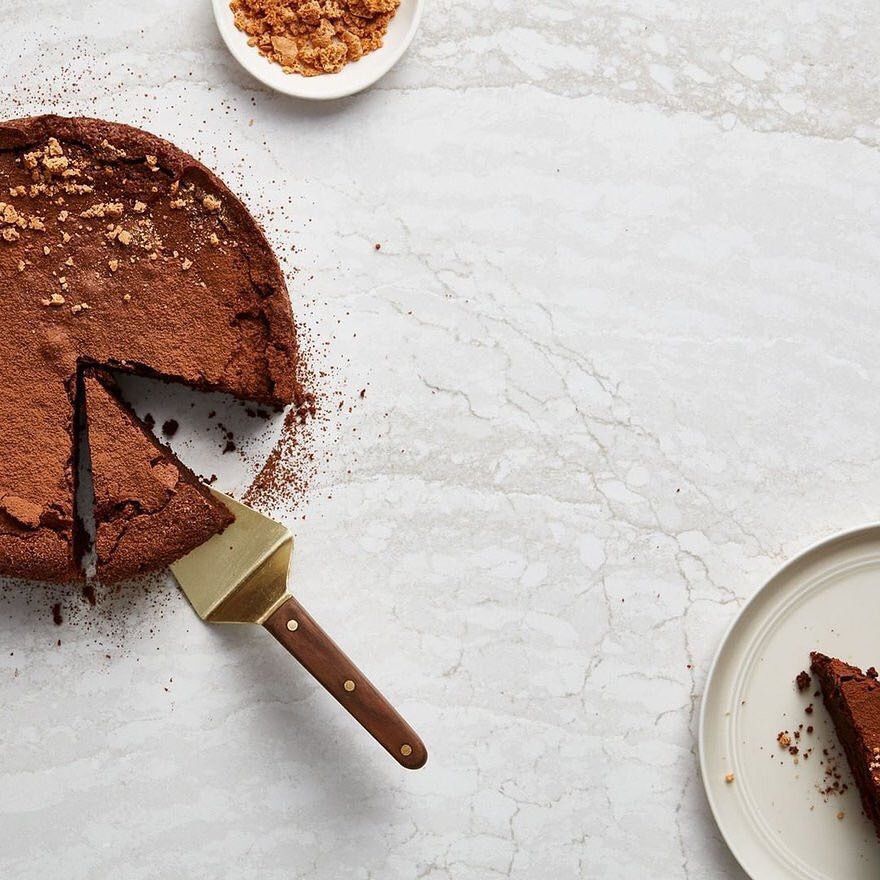 The tone-on-tone veining in Ironsbridge™ makes it a striking surface for food-service spaces. Photo: The Peg Board.
A versatile array of white marble alternatives in cool and warm tones range from subtle to bold, allowing you to achieve the perfect marble aesthetic.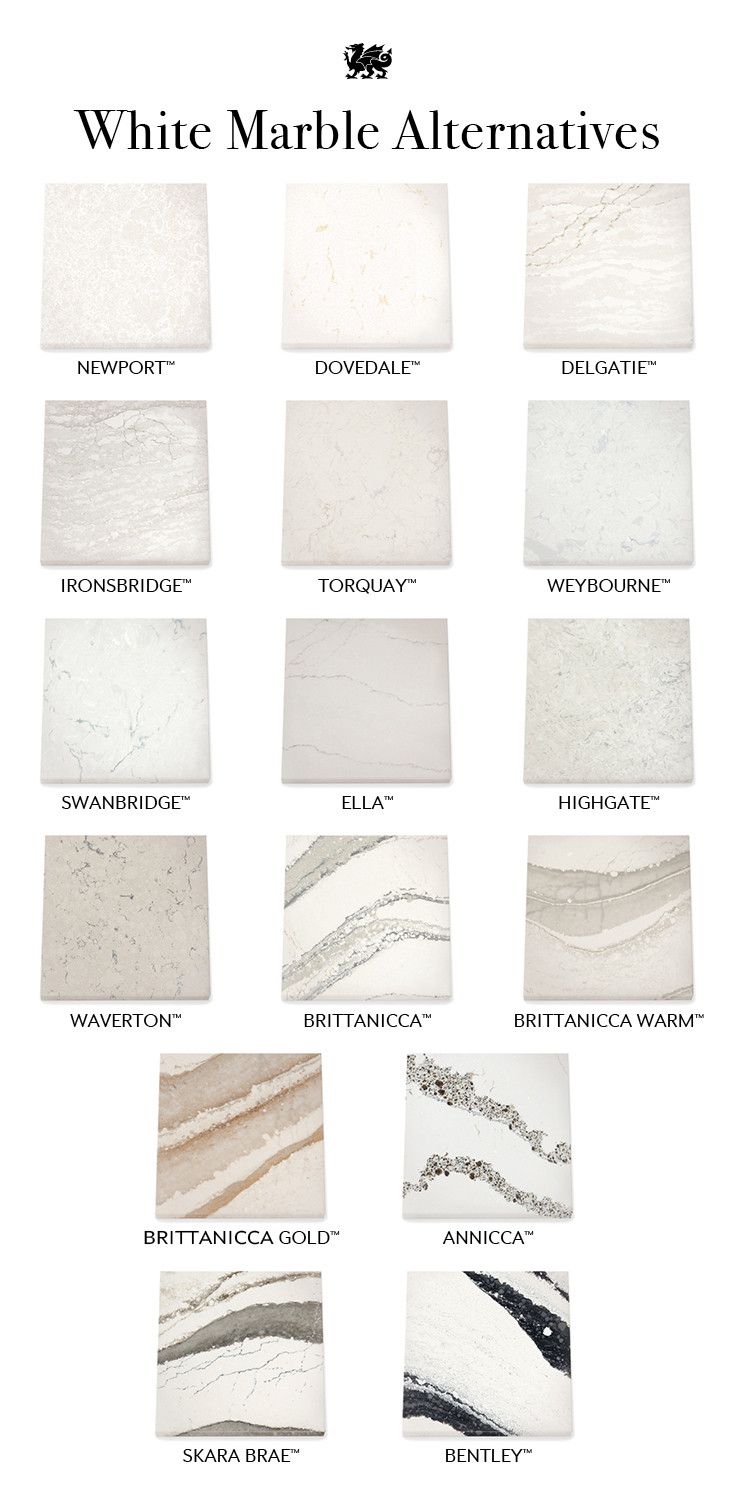 A sampling of Cambria's beautiful quartz alternatives to white marble.
Create your hospitality space with Cambria
For more information on Cambria, including performance data, product specifications, and certifications, see our Professional Resources. Learn more about how Cambria has benefitted various commercial projects in these case studies.
Interested in creating a show-stopping hospitality design project with Cambria? Contact the commercial representative for your region to get started.
Explore installs and share completed projects on social media by using the hashtag #MyCambria.