Have your sights set on Portrush? Elegant and beautiful, this Cambria design features a warm white base crisscrossed with bold navy, gray, and black veins accompanied by fine-spun filaments and gleaming gold flakes.
"Portrush has natural veining but with a fashion-forward color combination," says Wilshire Cabinet + Company's Travis Morelock. "It is not a supporting character and has the drama to be the star of any show. Portrush adds a visual 'wow' to a space without being overwhelming."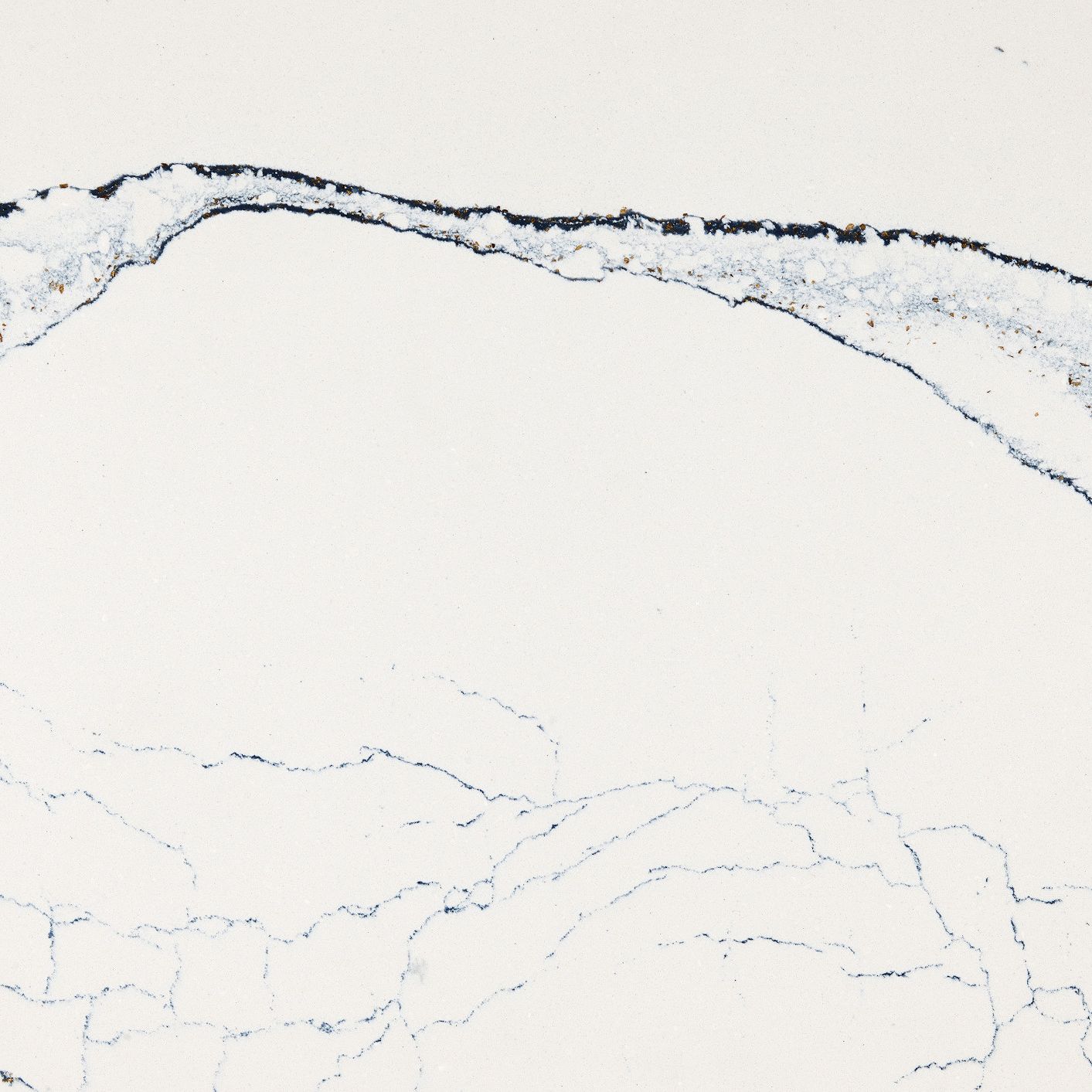 In 2020, Cambria celebrated its 20th anniversary by adding 20 groundbreaking new designs, including Portrush. A complement to Cambria's expansive design palette, Portrush offers both style and function and has since become a top seller.
Here, we have curated our favorite Portrush spaces—from farmhouse kitchens and striking reception desks to standout waterfall islands and unique backsplashes—that prove why Portrush is just as bold as it is versatile.
Farmhouse Kitchen
Portrush packs a punch in this charming modern farmhouse kitchen. Its notes of navy blue and gold bring out the teal cabinetry hue and metal fixtures and, with its deep blue tones and metallic-like details, this design can blend with on-trend lighting and plumbing fixtures as well as the most popular colors of today.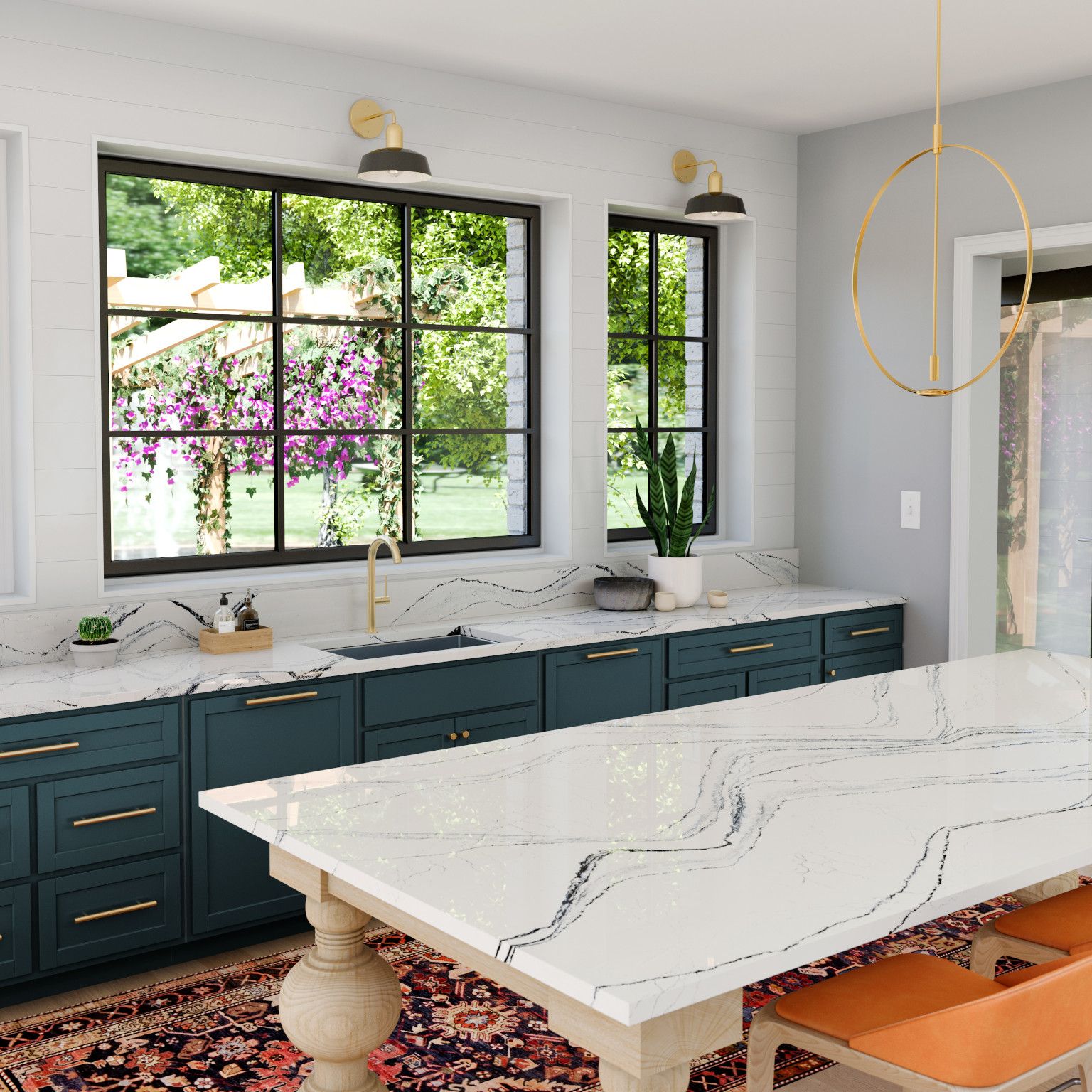 Take more inspiration from a powder blue cabinet pairing with Portrush by Jason and Gretchen Black.
Bold Kitchen
Oklahoma City–based design team we3dwellings created a culinary oasis in this kitchen remodel with a standout Cambria Portrush waterfall island—also replicated in the backsplash—and a 4′ cooktop, double oven, and pop-up outlets hidden within the countertops.
"We also integrated LED channels on both the top and bottom of this custom white oak floating shelf," says lead designer and co-owner Christina Long on Instagram. "We think the Cambria quartz deserves to be illuminated at all times. There's only one thing we have left to say about this stunning remodel…#KitchenGoals!"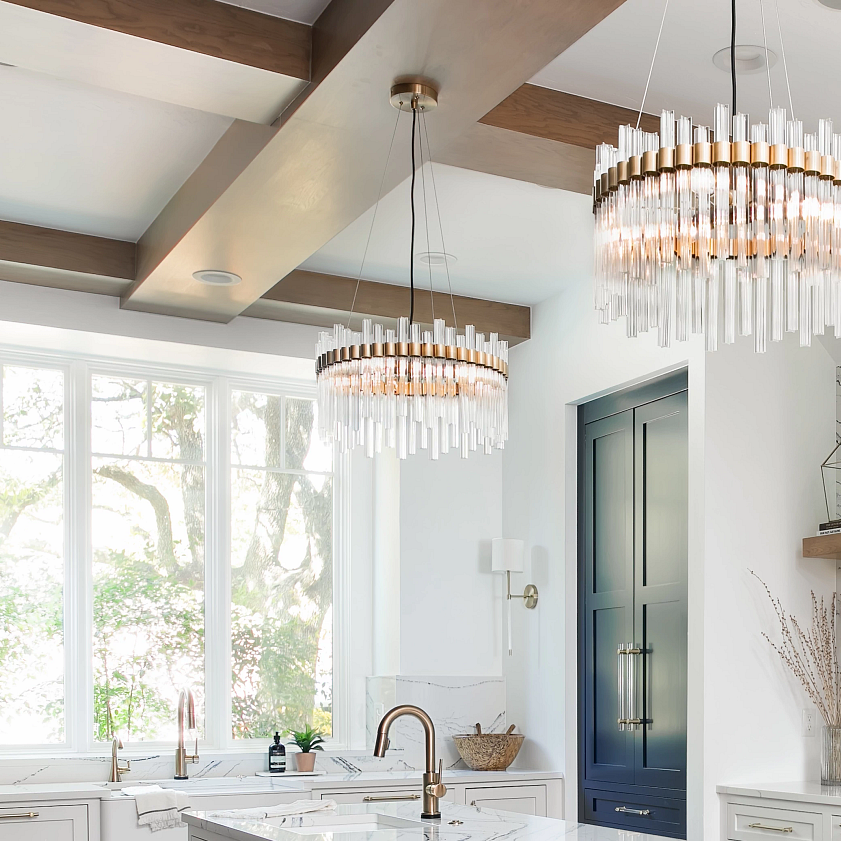 Modern Kitchen
This modern kitchen design features muted tones and clean lines that come together for a stunning execution. Think bold Cambria Portrush backsplash mixed with moody gray hues, white cabinetry, matte black fixtures, and white oak flooring, all of which is highlighted by an abundance of natural light flowing into the space.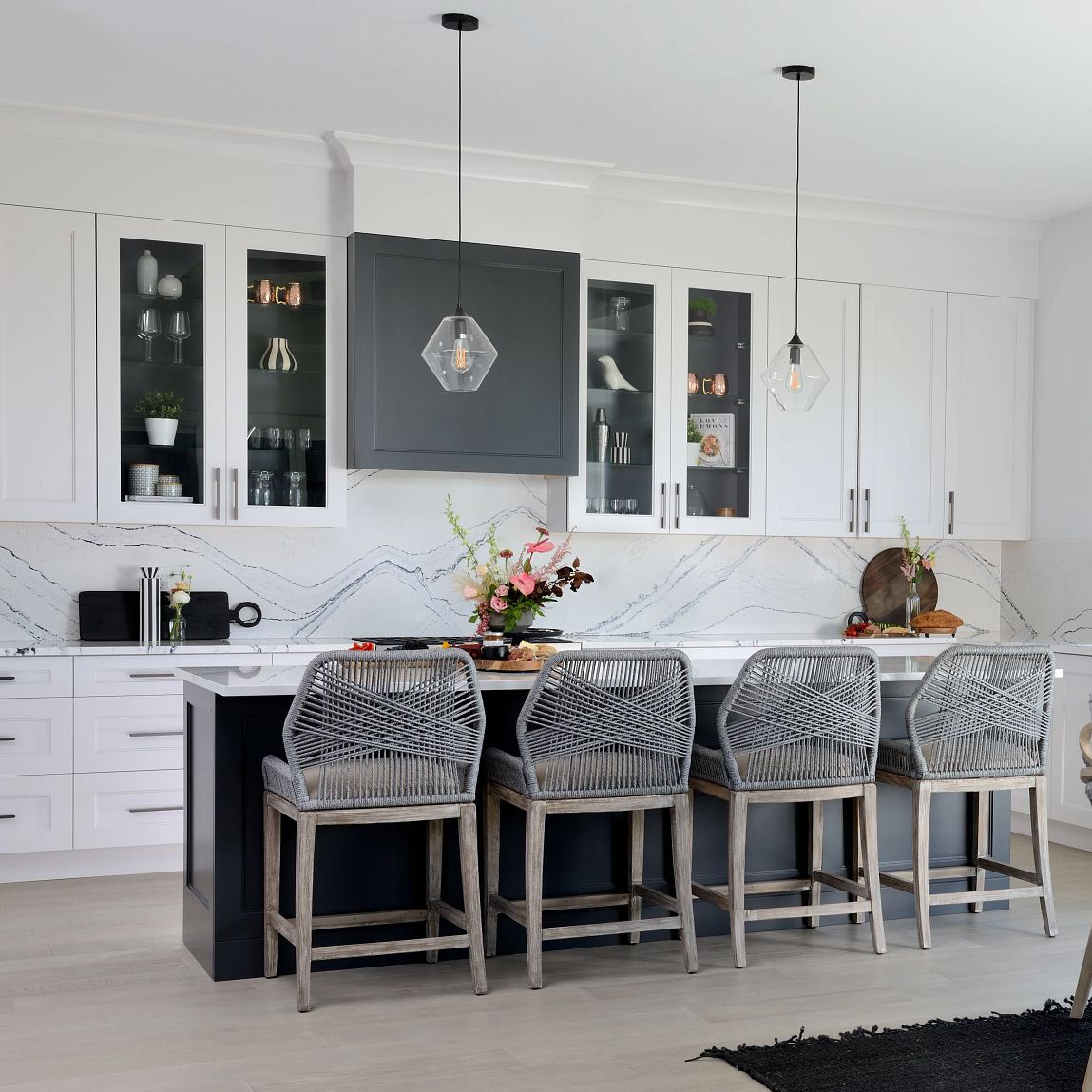 Bold Backsplash
Cabinetry manufacturer Moya Living paired its luxe navy powder-coated steel cabinetry with Cambria Portrush countertops and a complementary backsplash to create this bold kitchen vignette in the Pirch La Jolla showroom that is sure to inspire.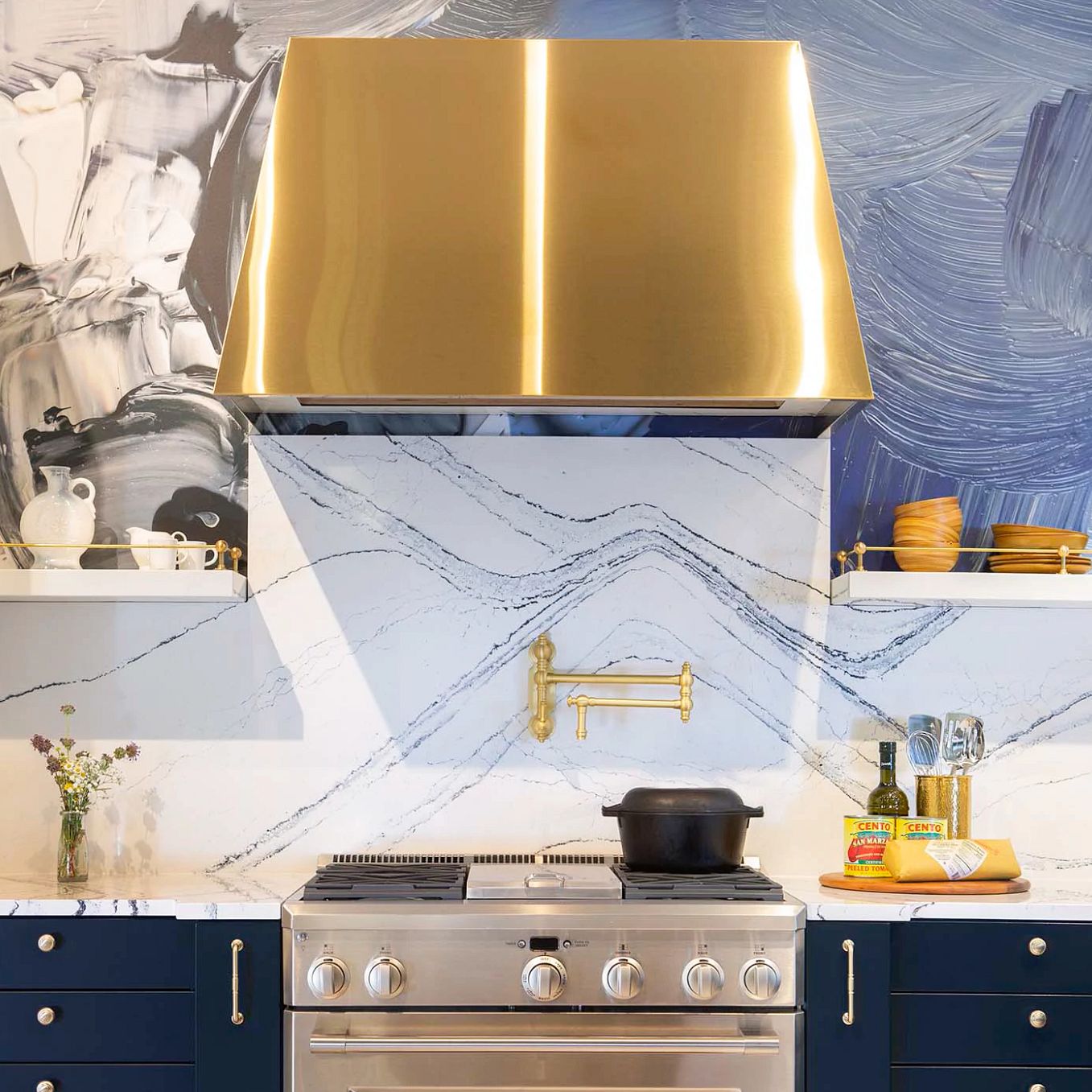 Warm Wood–Toned Bathroom
Create a bold bathroom design by pairing Portrush with a bright patterned wallpaper, matte black hardware, and a natural wood vanity. The playful colors and warm tones create an inviting atmosphere in this updated guest bathroom.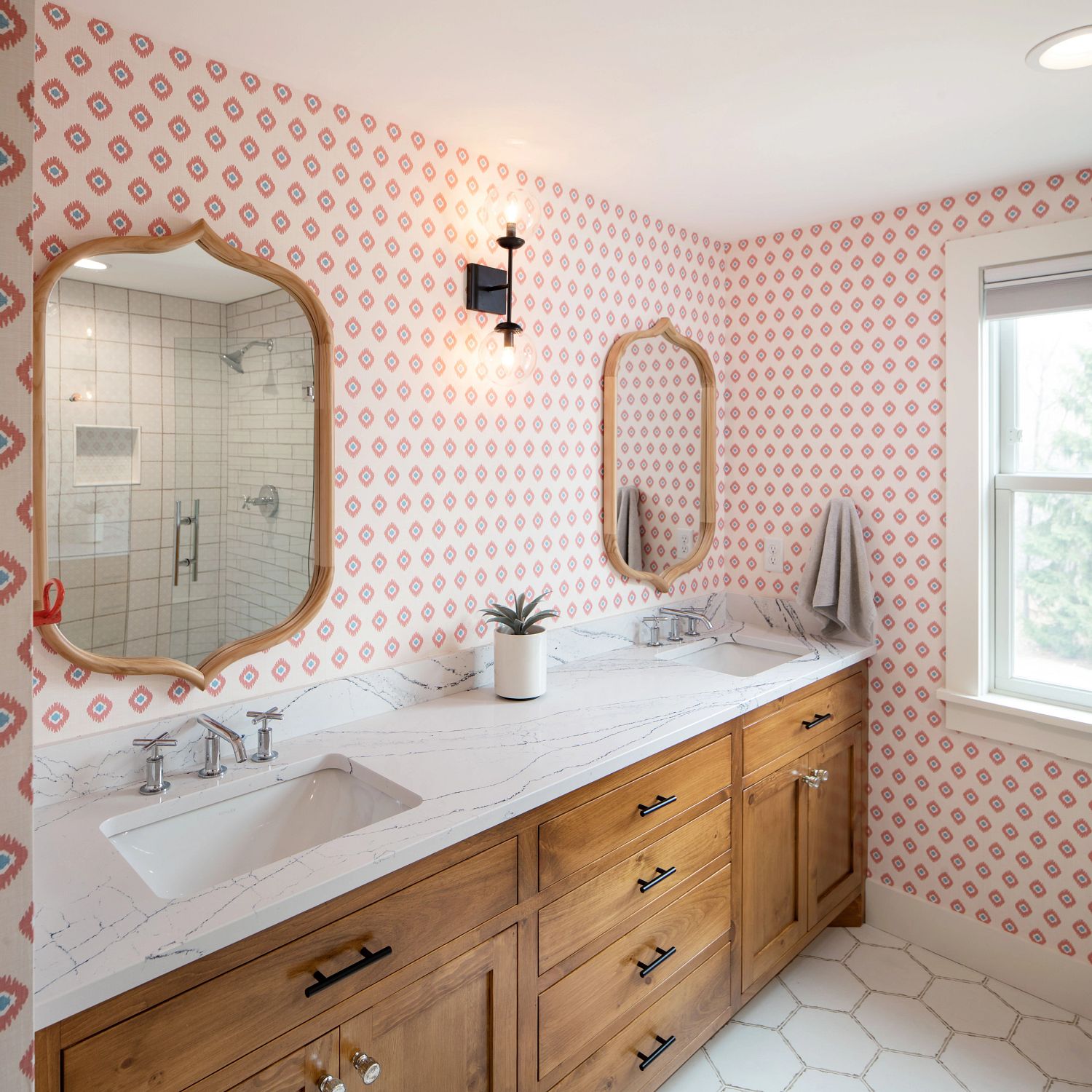 Warm Welcome
When paired with a rough-edge wood slab, this Cambria Portrush waterfall reception desk lets guests know they're in the right place. The bold navy veining plays well with the nature-inspired color palette of leafy greens and soft browns.
Cambria's maintenance-free and scratch- and stain-resistant quartz works well in any and all types of hospitality environments. Made from pure, natural quartz and featuring unparalleled strength and durability, Cambria surfaces are the perfect fit for highly trafficked environments where safety and sanitation are of the utmost importance.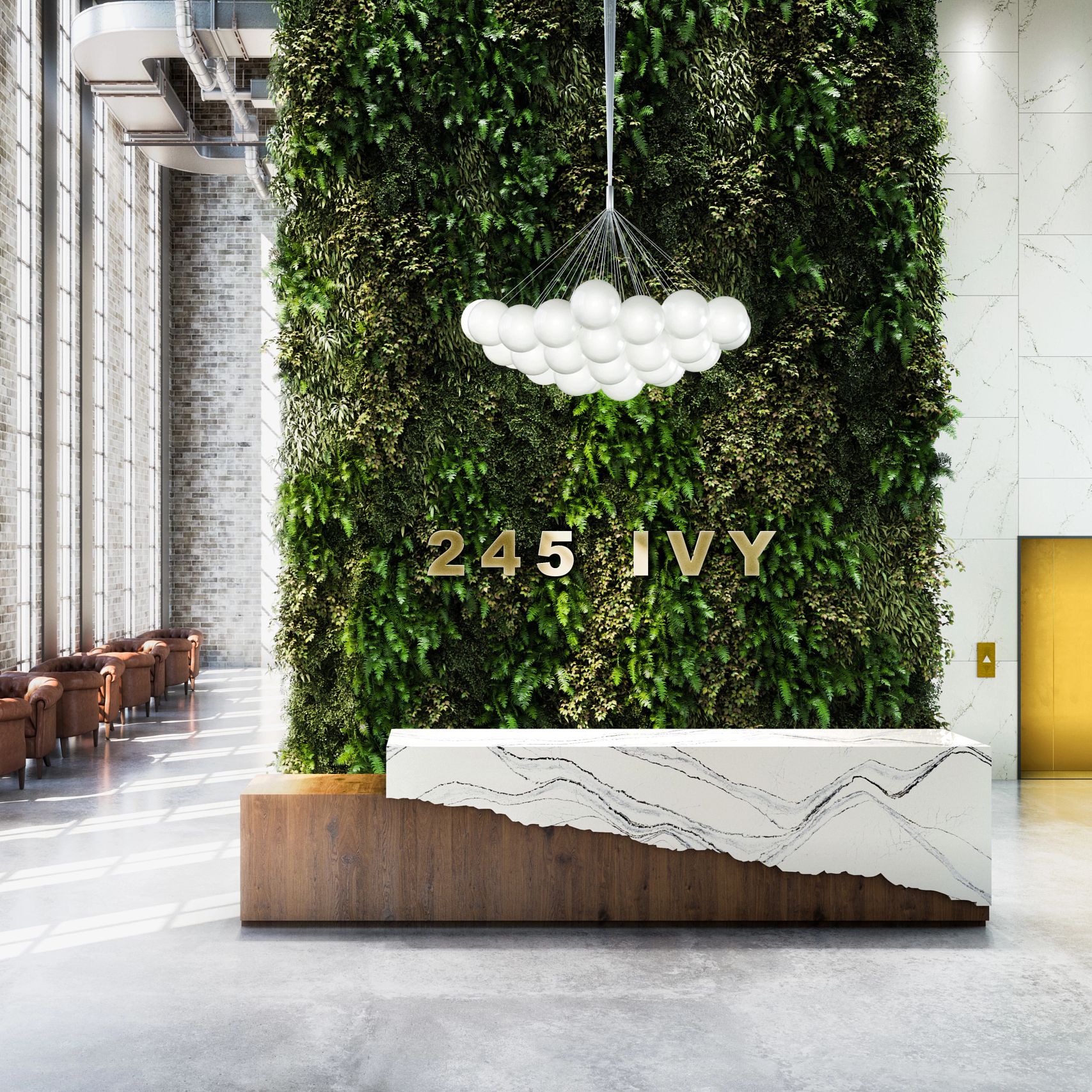 Get the Look
Follow Cambria on social media with #MyCambria for more standout designs.
For more information on Cambria, including performance data, product specifications, and certifications, see our Professional Resources.
Interested in creating a showstopping design project with Cambria? Buy a sample, find a dealer, or call 1-866-CAMBRIA (1-866-226-2742) to be connected with a market representative in your region. Or visit our website to set up a virtual design consultation.