Besotted with Brittanicca Gold? This highly coveted and classically elegant Cambria design features flowing, multi-hued streams of copper gold, fog, and translucent greige, all accompanied by wisps and ribbons of warm earth tones against a temperate white background.
We've made no secret of our love for Brittanicca, Brittanicca Warm, and Brittanicca Gold, all of which round out the aesthetic options in Cambria's Marble Collection. Often used as a marble alternative, Brittanicca Gold provides the best of both worlds with a design that is just as beautiful as it is easy to love—and care for.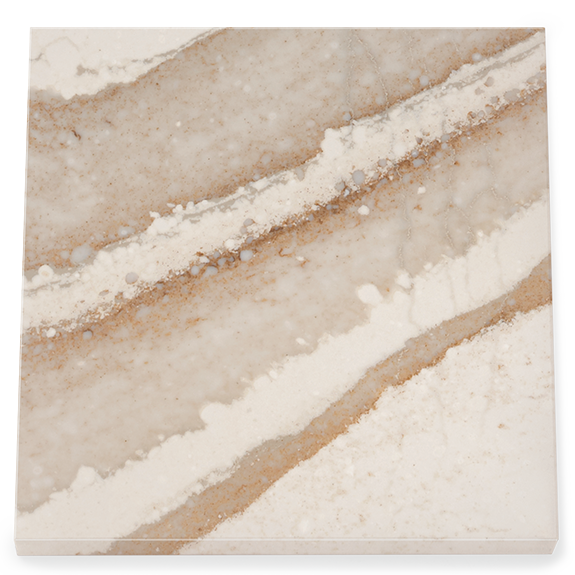 Unlike marble and other surface choices, Cambria does not require sealing or polishing, and cleaning it is as simple as warm water and a soft cloth. Even mild soap is optional. And whereas marble is very porous and conducive to staining, Cambria is nonabsorbent, so spills do not become stains and it will not draw in moisture that can harbor harmful bacteria.
Marble can also be difficult to install, has to be maintained regularly, and can stain. With Cambria, you never have to worry about maintenance, staining, or performance. Cambria is always professionally installed, warranty protected, and maintenance free.
Of course, Brittanicca Gold's beauty is unmatched, too, making the style the perfect choice for design-lovers. Here, a few of our favorite Brittanicca Gold interiors to inspire your next design.
A Bookmatched Bathroom
The design of the newly opened Omni Viking Lakes Hotel—a four-star luxury property located at the Viking Lakes sports and recreation development in Eagan, Minnesota, home to the Minnesota Vikings headquarters and TCO Stadium—features a nuanced aesthetic inspired by the rugged and resilient temperament of the historic Minnesota region.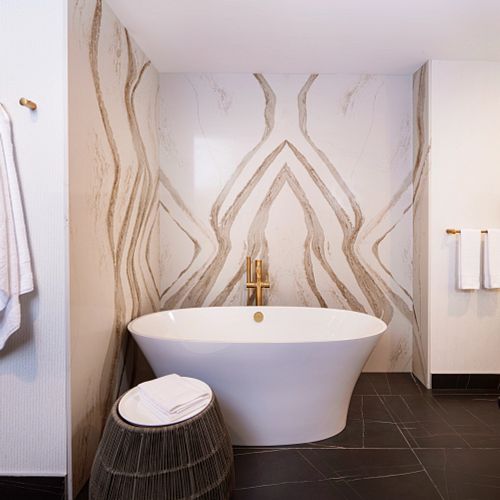 "We used a Brittanicca Gold bookmatch in the guest suite that aligns the veins," says ESG Architecture & Design senior interior designer Bridget Hale, who helped ideate the interior schematic along with ESG director of interiors Ann Fritz. "It really adds a beautiful backdrop to the freestanding tub."
Learn more about Cambria bookmatching here.
A Showy Surround
"The showpiece in our purple noir suite is the Brittanicca Gold fireplace surround," says Hale. "Not only is it using a mitered edge, but it also bevels, so it's really sculptural."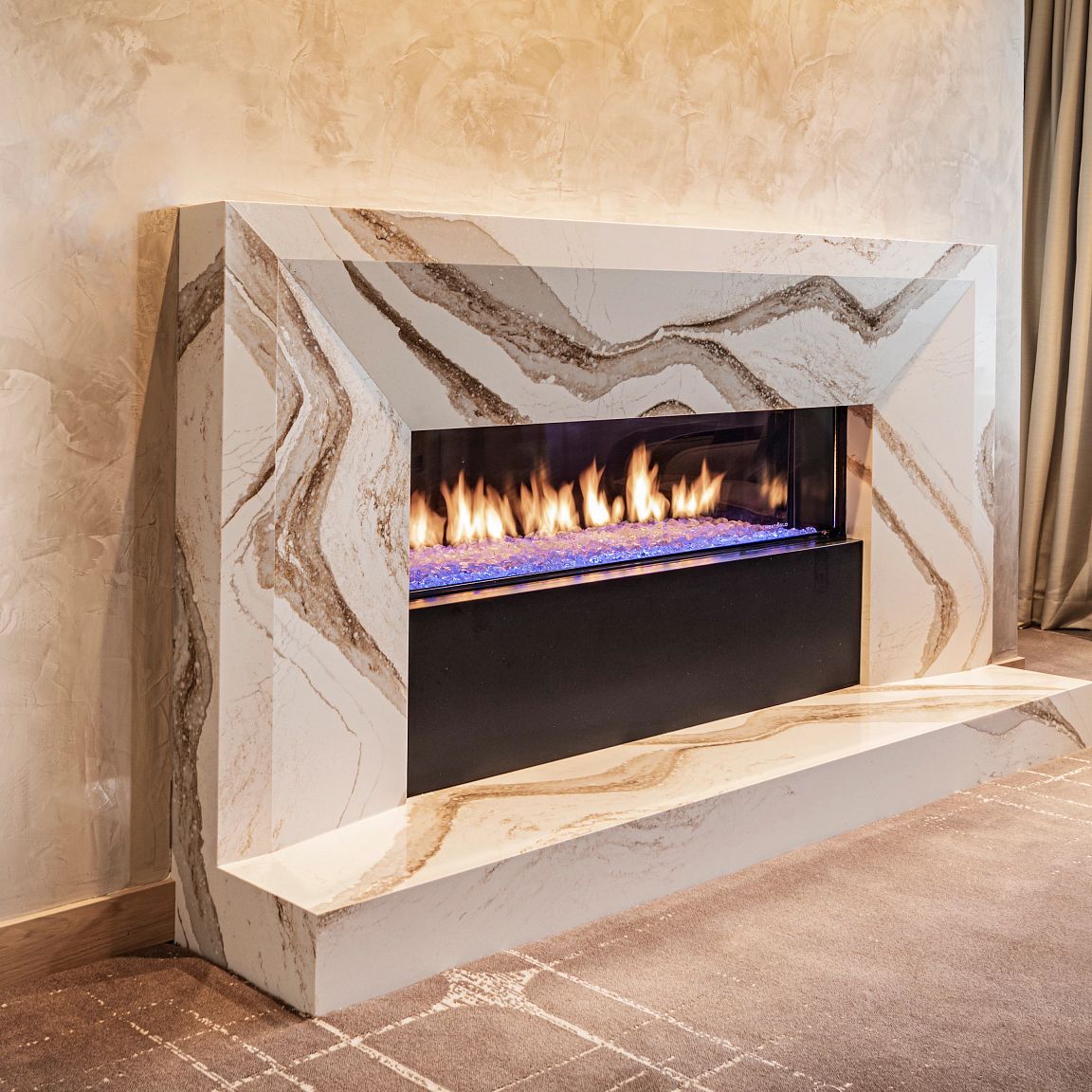 Take a full tour of the Hotel here.
Brittanicca Gold Breakfast Table
Cambria recently introduced the Pren collection, a new high-end furniture collection in partnership with Room & Board, the modern American retailer of furniture and home décor.
The versatile series of dining and conference tables, desks, coffee tables, console tables, and dining and bar cabinets within the Pren collection are made by Room & Board and finished with Cambria quartz in six signature designs: Brittanicca™, Brittanicca Gold™, Portrush™, Foggy City™*, Big Sur Mist™*, and Mammoth Cave™*.
*Gensler Product Design Consultant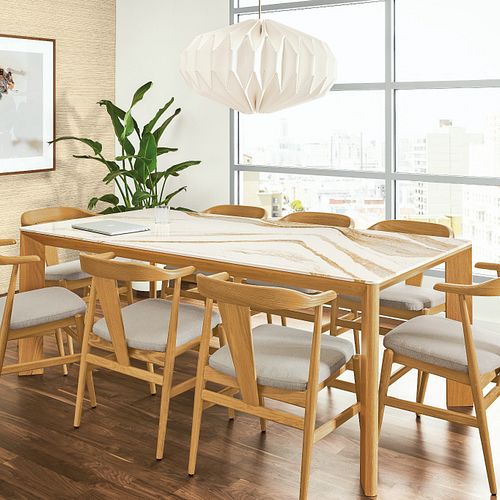 Each intricately detailed piece is available with a solid Midwestern walnut or Appalachian white oak wood base, sustainably sourced within the U.S. where selective harvesting allows surrounding trees to flourish.
Charming Kitchen
Twin Cities–based interior designer Bria Hammel created a cozy kitchen with farmhouse-like elements, including a warm wood-accented hood and floating shelves, for a recent character-filled remodel.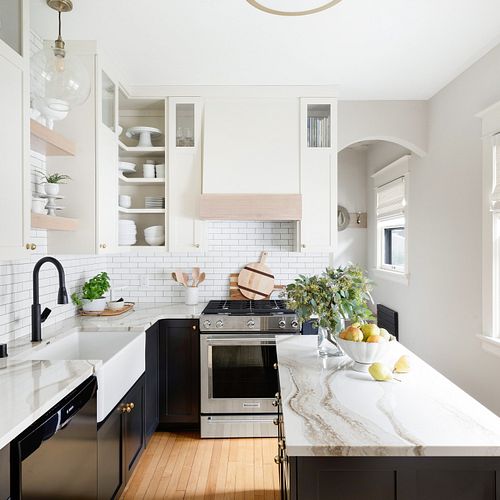 Taupe grout in the white subway-tile backsplash complements the copper-gold streams of the quartz countertops.
Modern Farmhouse Kitchen
The marble-esque Brittanicca Gold Matte quartz countertops in this elegant open-plan kitchen design by Louisville-based Artisan Signature Homes and Gretchen Black pair well with brushed gold fixtures, white cabinetry, and stunning Café appliances to create a tastefully modern farmhouse palette.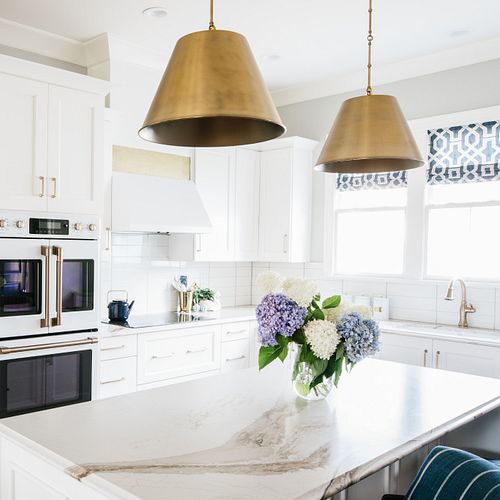 Cool Coffee Table
For nearly 50 years, Kips Bay Boys & Girls Club has celebrated the best of interior design by transforming a luxury home into an elegant exhibition of fine furnishings, art, and technology, all to raise critical funds for much needed after-school and enrichment programs for children.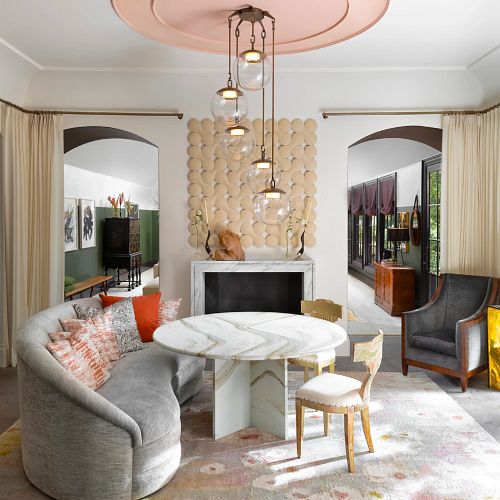 The Kips Bay Decorator Show House has become a must-see event for thousands of design enthusiasts, renowned for sparking interior design trends throughout the world.
Gorgeous Waterfall Island
We love how this kitchen design pairs a bold Cambria Brittanicca Gold waterfall island with a matching backsplash to further emphasize the beautiful design.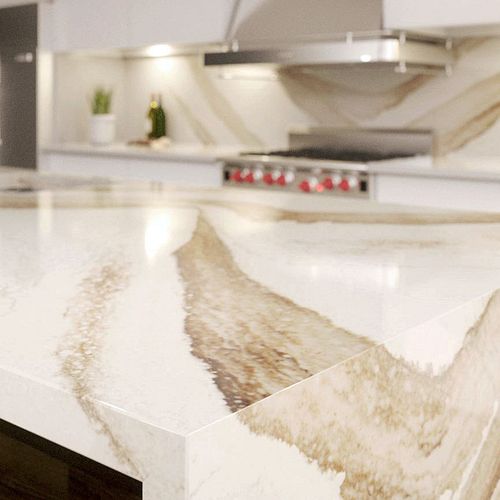 Warm Bathroom
Haven Builders created a warm and inviting bathroom design by pairing Cambria Brittanicca Gold countertops with a floating wood vanity and warm wood ceiling paneling.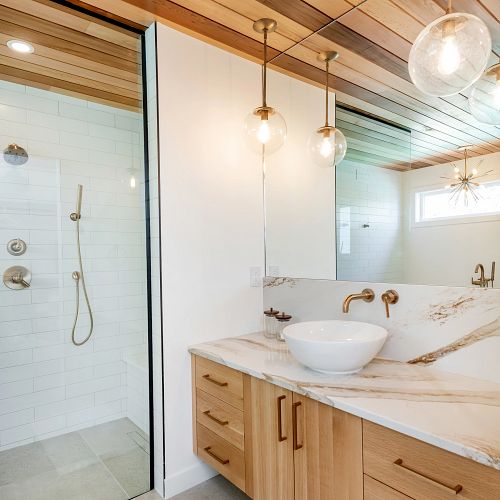 See more Cambria designs with movement here.
Timeless Kitchen
Wood and white is a timeless kitchen combination, and the coppery gold veins of Brittanicca Gold complement many wood cabinetry styles.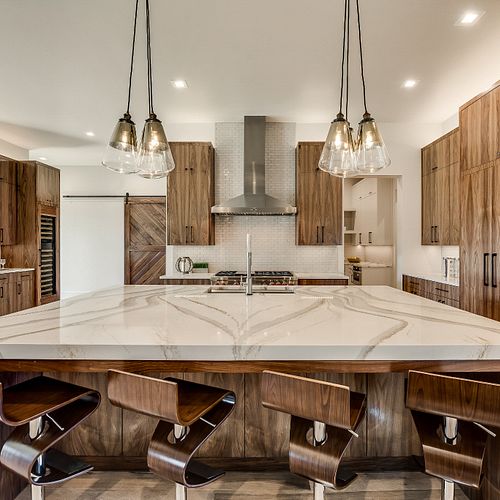 Modern Kitchen
In this kitchen by the Kitchen Design Center by Gramophone in Maryland, the team paired Cambria Brittanicca Gold island countertops with modern black and brass accents to add warmth and to create an inviting oasis.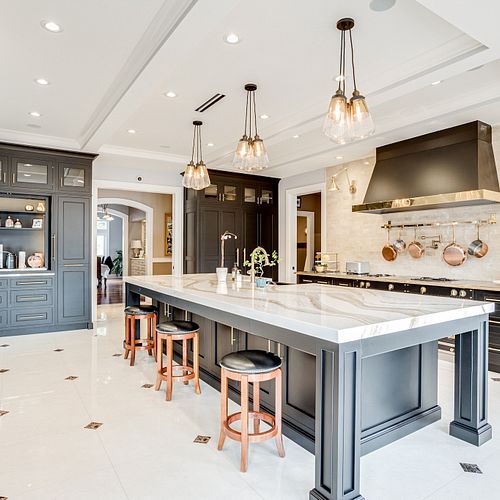 See more most-liked Instagram looks here.
Bold Backsplash
In a recent kitchen project, designer Elizabeth Scruggs of Superior Construction and Design highlighted a full-height Brittanicca Gold backsplash by pairing the feature wall with soothing earth tones throughout the rest of the space.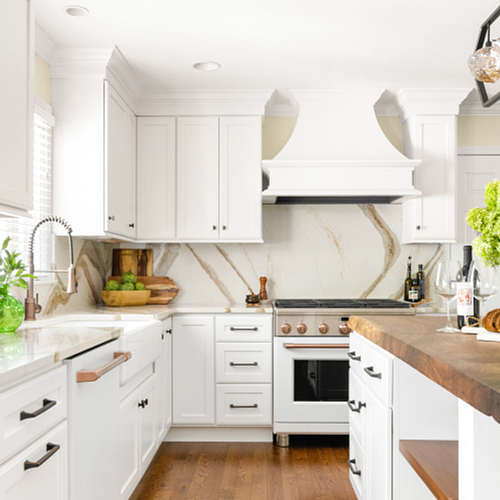 Contemporary Guest Bathroom
In this guest bathroom by Anne Sage and Caroline Ingraham Lee of Light Lab Interiors, a Brittanicca Gold Matte vanity with an integrated sink pairs with Jean Paul Gaultier wallpaper and blonde wood cabinetry for a look that's both contemporary and fresh.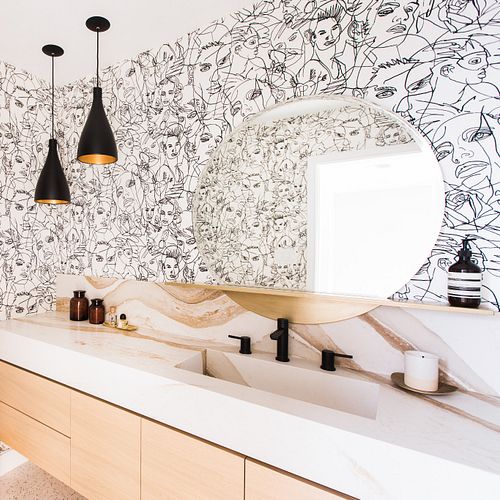 Tasteful Table
For the October 2020 One Room Challenge, Washington, D.C.–based designer and home décor blogger Jewel Marlowe of Jeweled Interiors—known for her soulful and glamorous approach to interiors—worked with her client to create a standout dining room.
Jewel created a custom-fabricated Cambria Brittanicca Gold Matte waterfall tabletop supported by—and creatively contrasting with—a beautifully rustic tree base crafted from bug-resistant and lightweight cedar wood.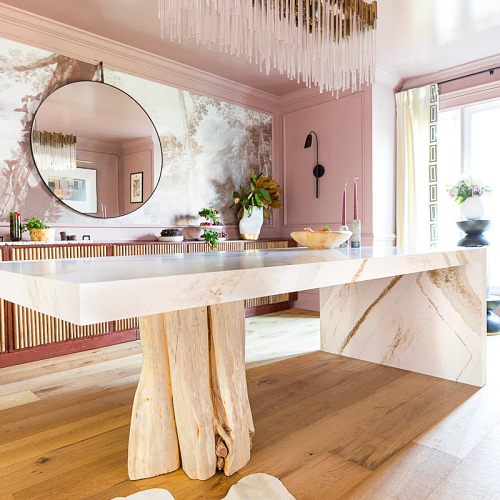 See more of the space here.
Pretty Pantry
This unique walk-in pantry features a Brittanicca Gold accent wall that adds depth and dimension to the ancillary space.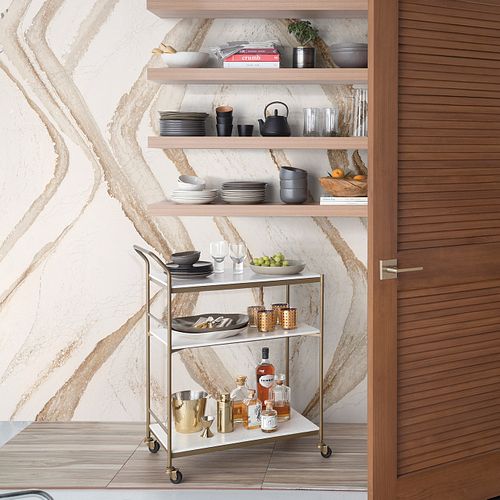 Glam Kitchen
Brittanicca Gold pairs with rich black cabinetry, copper accents, and pops of gray in this moody high-contrast kitchen by Vanessa DeLeon Associates.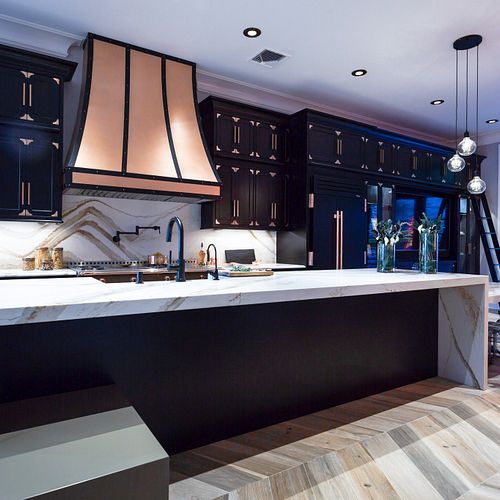 The matte black Brizo faucet and pot filler add a modern aesthetic against the massive island and backsplash in Cambria Brittanicca Gold, with warm earth tones against a temperate white background, to complete the unique look.
See more most-liked Instagram looks here.
Get the Look
Follow Cambria on social media with #MyCambria for more standout designs.
For more information on Cambria, including performance data, product specifications, and certifications, see our Professional Resources.
Interested in creating a showstopping design project with Cambria? Buy a sample, find a dealer, or call 1-866-CAMBRIA (1-866-226-2742) to be connected with a market representative in your region. Or visit our website to set up a virtual design consultation.