A widely anticipated biannual event each April and October, the One Room Challenge is a celebration of creativity, inspiration, and original ideas. During the six-week event, 20 featured interior designers completely transform a space and document their journey throughout the process. Currently in its 19th season, more than 4,800 rooms have been revamped through the One Room Challenge to date.
For the October 2020 One Room Challenge, Washington, D.C.–based designer and home décor blogger Jewel Marlowe of Jeweled Interiors—known for her soulful and glamorous approach to interiors—worked with her client to create a standout dining room.
"Two months ago, this dining room was anything but glamorous," writes Jewel, in a post on her blog, of the outdated and monochromatic space. "Don't get me wrong, the room was fine, but it did nothing to represent the personality of my client. It was a bit boring, and she is most definitely not!"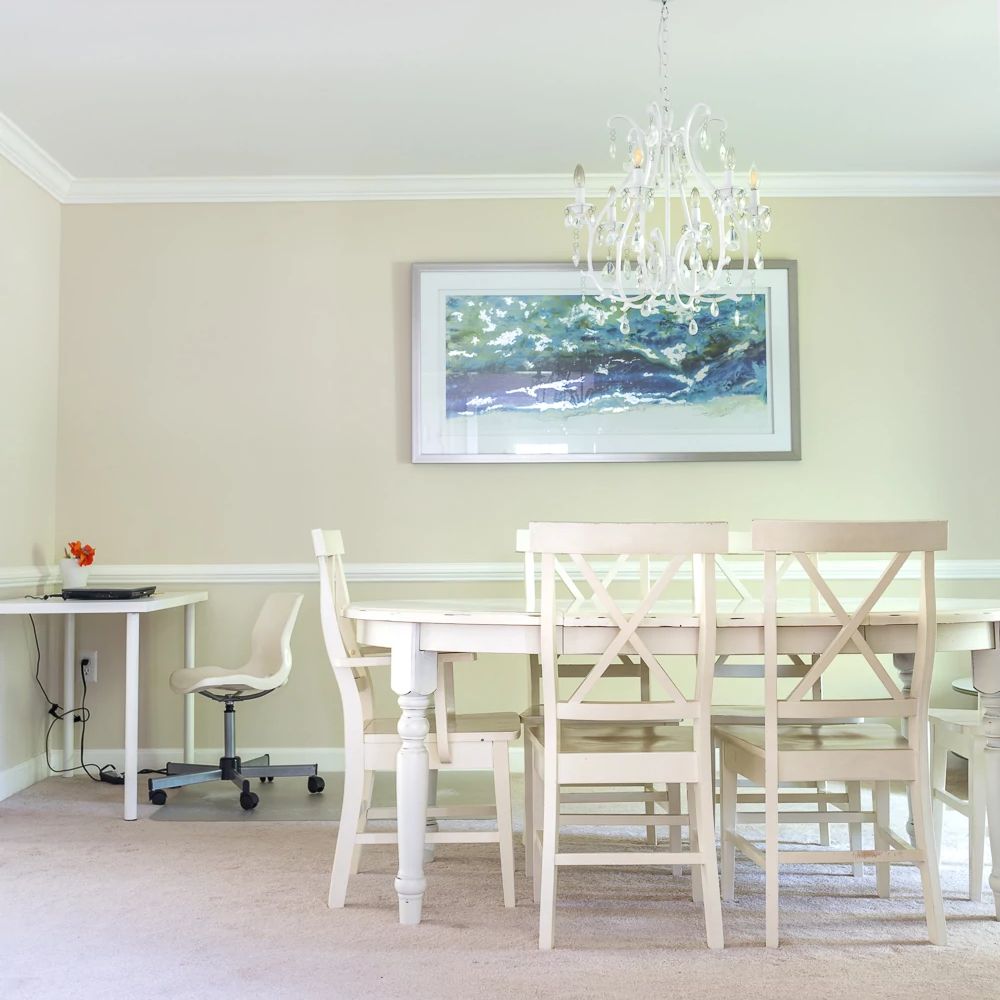 Supporting a quartz table with natural elements
Going into the makeover, Jewel knew she wanted to use a natural and organic element as the showstopping component of the room. She and the client landed on what Jewel describes as "a tree trunk with a marble alternative waterfall table" as the winning concept.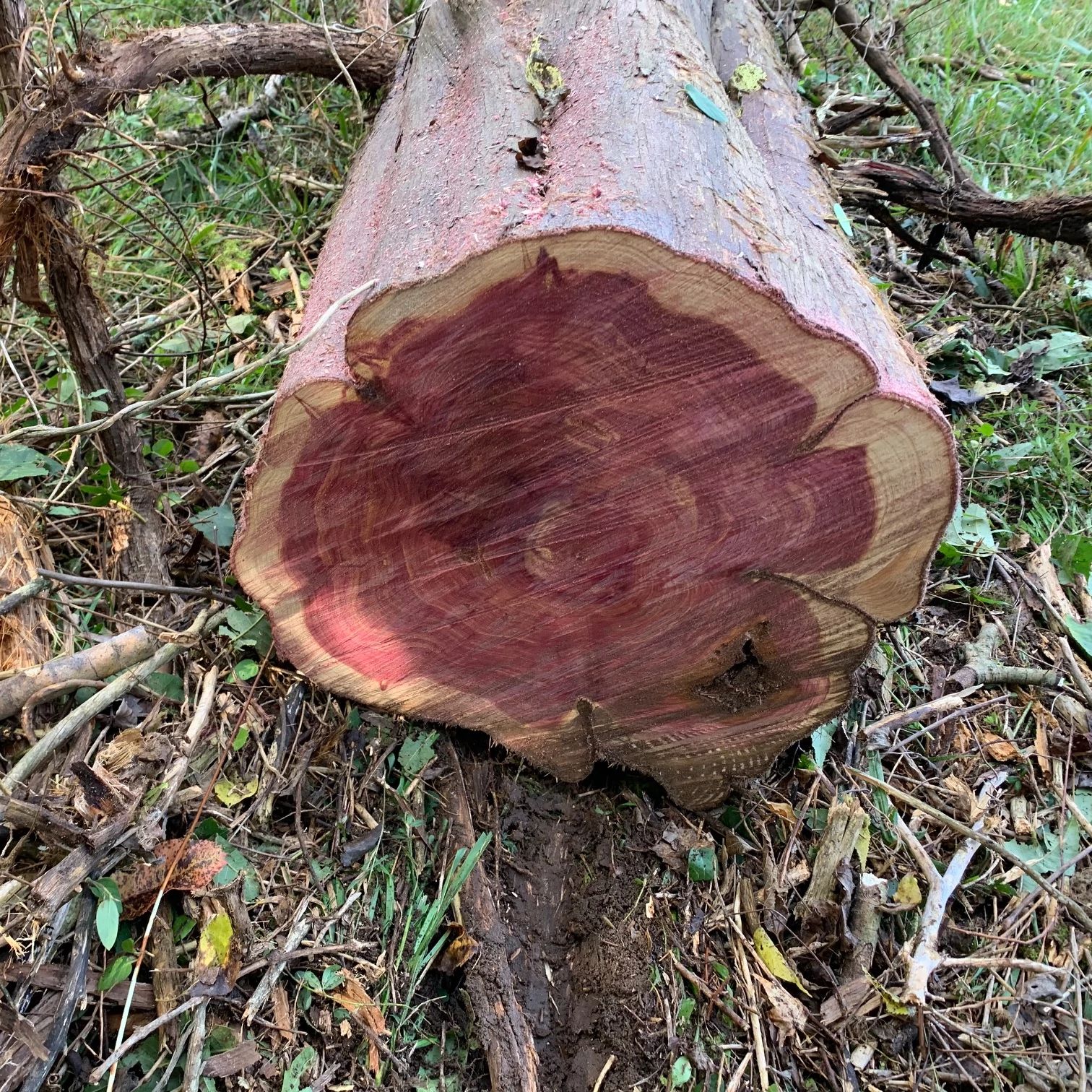 Jewel created a custom-fabricated Cambria Brittanicca Gold Matte waterfall tabletop supported by—and creatively contrasting with—a beautifully rustic tree base crafted from bug-resistant and lightweight cedar wood.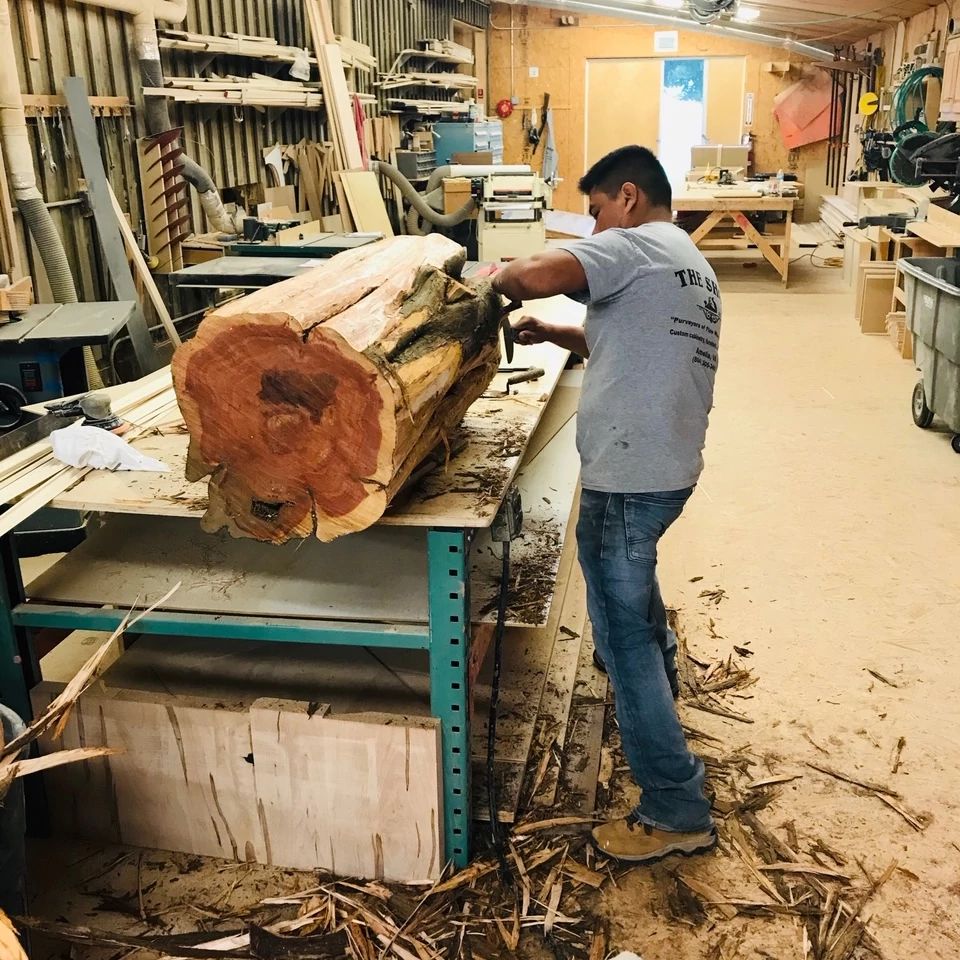 "It is a very special table," explains Jewel in a December Instagram Live with Cambria. "The Brittanicca Gold Matte in a mitered edge with a three-inch apron is absolutely stunning. This piece is truly just artwork. Cambria did a great job."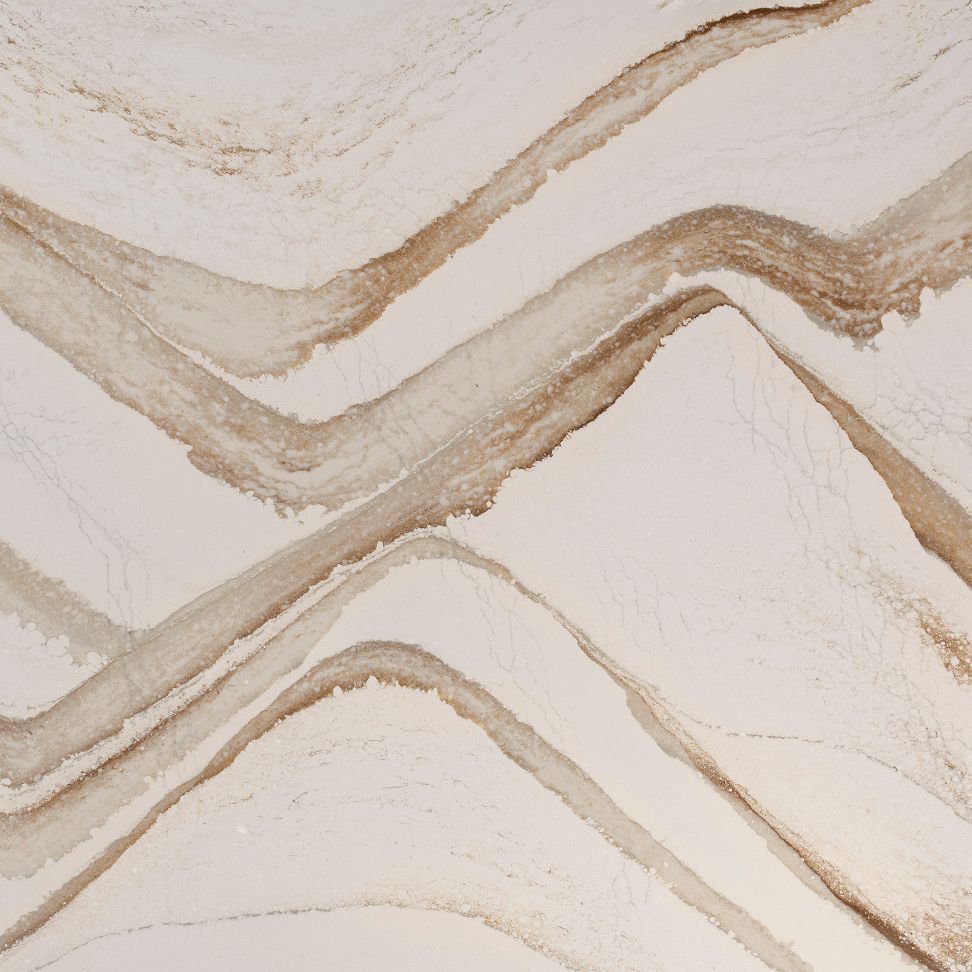 Fitting for the "challenge" component of the One Room Challenge, the dining table needed a bit of fabrication finesse to work in the space. Jewel worked with a steel fabricator who built a frame of one-by-two-inch tubing with brackets to support the weight of the quartz and to hold the l-shaped table in place with the stump.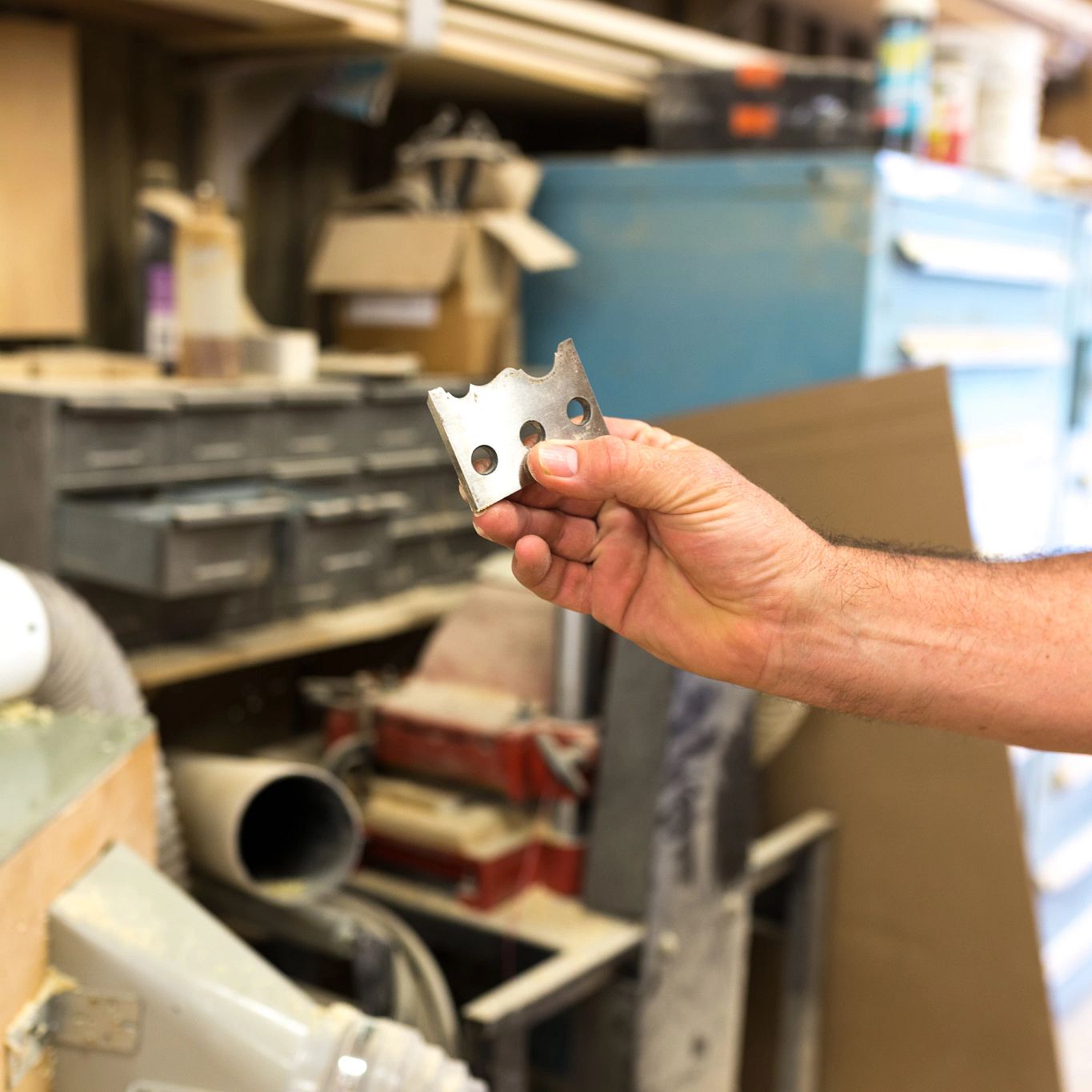 Now, the weight of the Cambria quartz is mostly supported by the stump base, which Jewel airbrushed to have what she calls a "lighter and softer" aesthetic that pairs well with the neutral tones in Brittanicca Gold Matte.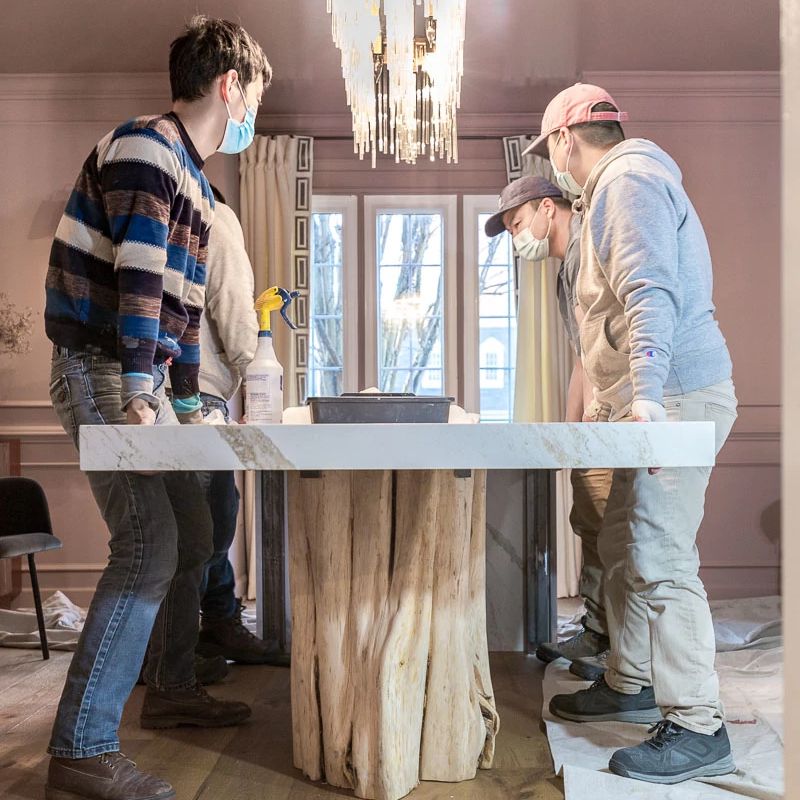 Is quartz a good material for a dining table?
"I have Bentley™ in my kitchen, which is similar to Brittanicca Gold Matte in that they are both graphic," says Jewel in the Instagram Live. "My client walked into my kitchen and said she wanted the same look but softer and less dramatic. That's how we landed on Brittanicca Gold Matte."
Jewel also chose Cambria because its surfaces are made of pure, natural quartz and feature unparalleled strength and durability. They're nonporous, nonabsorbent, and NSF-51-certified, so they're food safe; are scratch and stain resistant against common household items like coffee and wine; and they're maintenance free. Plus, Cambria backs everything with a transferable Full Lifetime Warranty.
"The table will never be etched, stained, or destroyed," says Jewel in the Instagram Live. "This quartz is so amazing. I have it in my own kitchen. It is so low-maintenance, and my client wants this table to last her forever."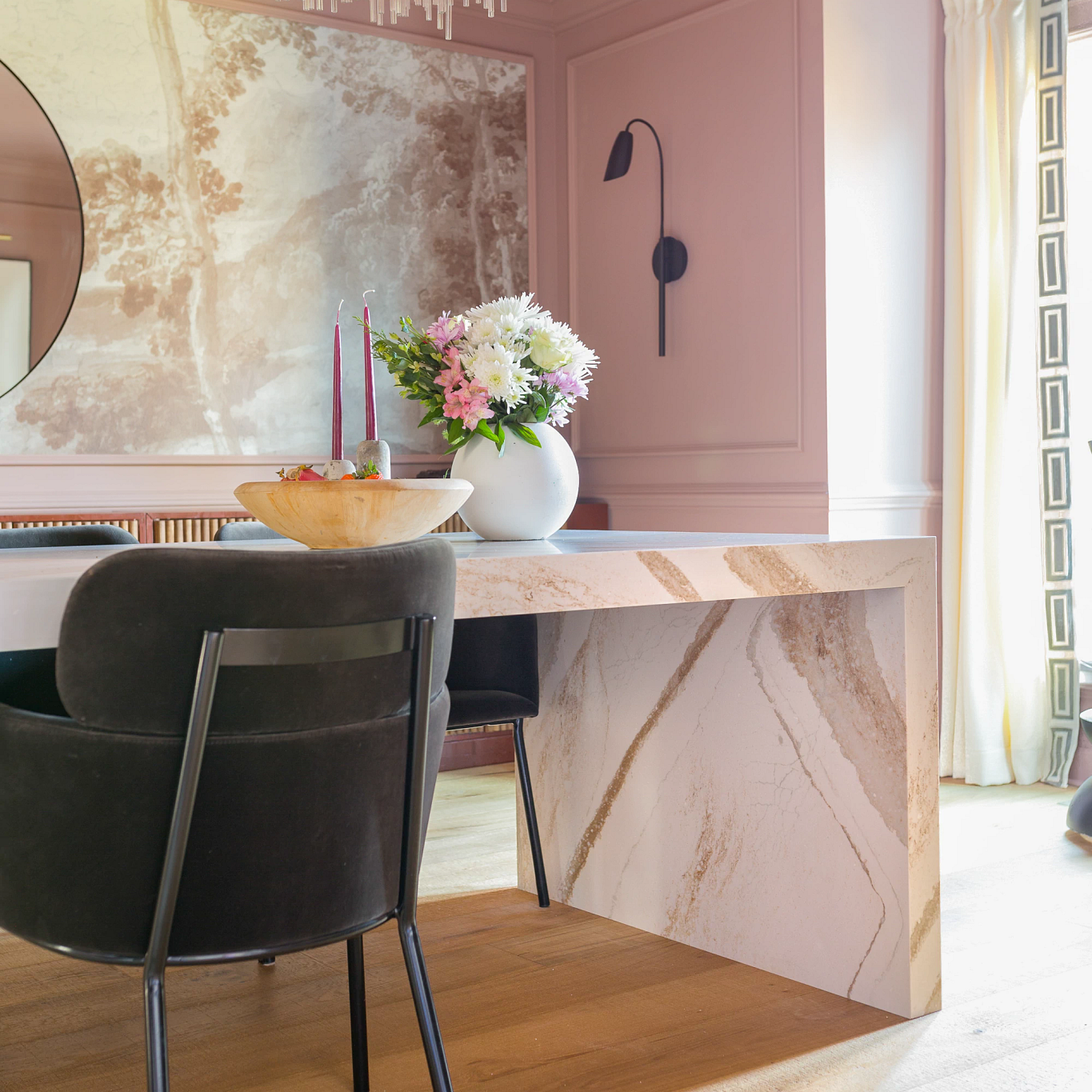 A study in contrasts, the room plays with scale in the solid, heavyweight tabletop against its organic base. It also mixes a 48-inch modern and edgy crystal chandelier by Varalux with timeless wide plank hardwood oak floors and a sultry, feminine purple-blush Sulking Room Pink paint by Farrow & Ball.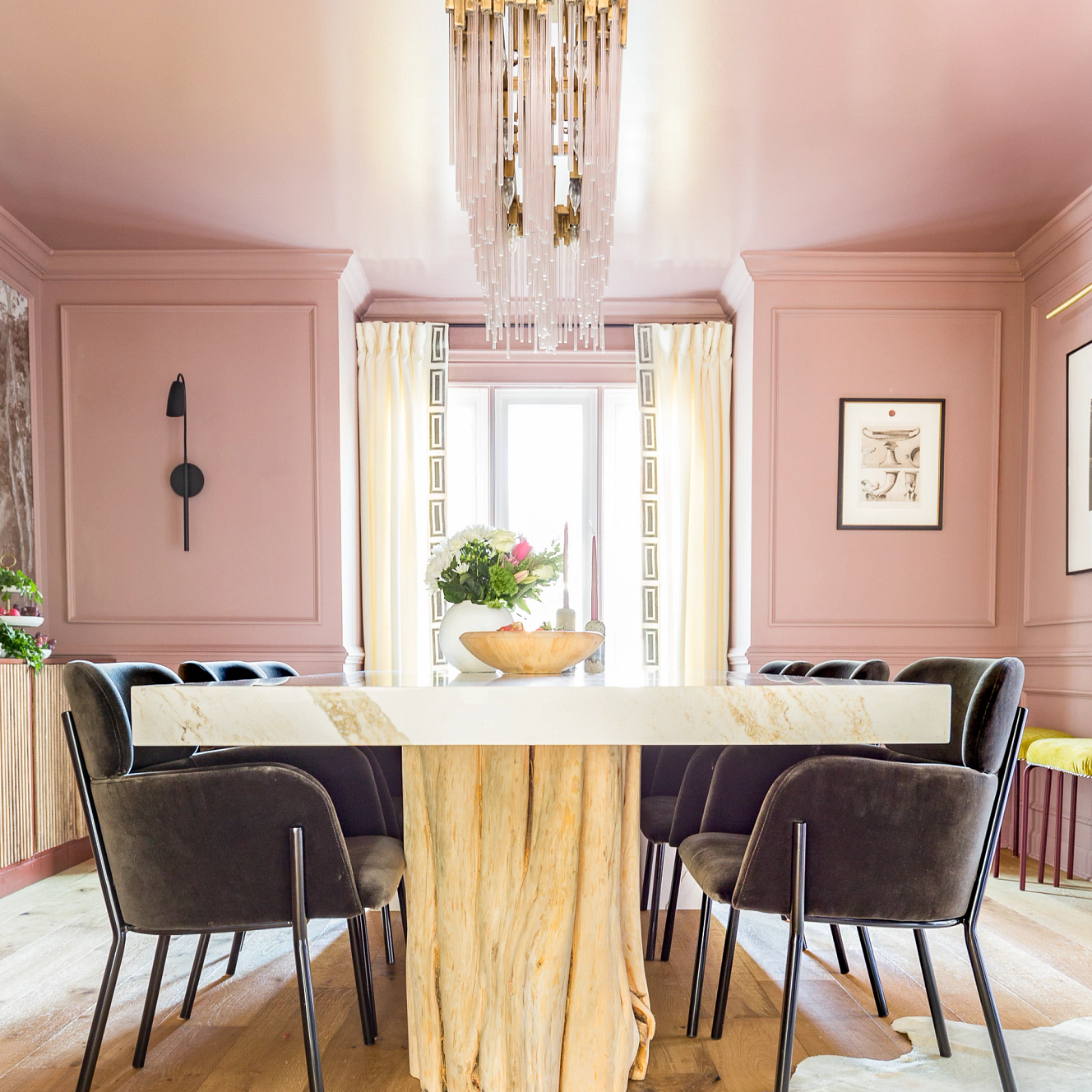 Re-create the Style
Jewel worked with Joe Allen from The Shop in Amelia Court House, Virginia, to create the custom base, and she says he can ship worldwide.
For the top, Academy at Cambria manager Cory Eccles recommends working with a skilled fabricator. "Mitering the underside of this table is crucial," he says. "Also, ensuring the alignment of the veining on this project to create that polished/finished look is a must."
He adds that, to hide the seam, use a color-matched adhesive—or two, if you are seaming a vein. And to measure the stump for clean contact from stump to stone, create stick templates for the bottom piece by using drop miters as your guide.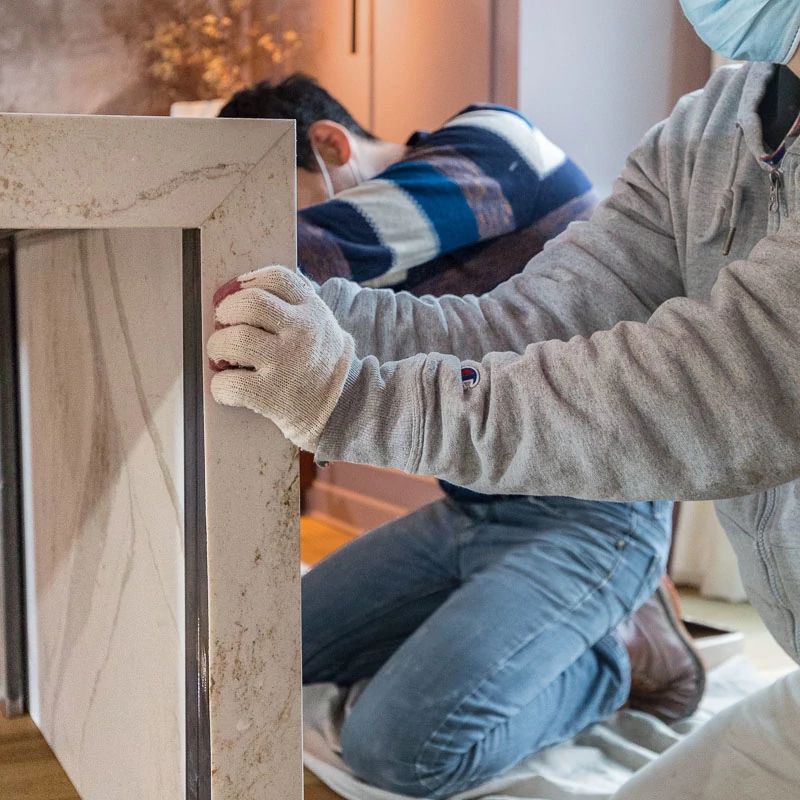 "If drop miters are not available, then use the overall drawing dimensions of the surface piece," says Cory. "Create a seam in the middle of the bottom piece to get around the stump or build the bottom piece under the substrate to keep it in one piece. Measure the setback on the three closest sides of the stump. Offset out 1/8″ to make your cut line. If cutting by hand, ensure personal protective equipment is worn."
Most shops, he explains, use a bridge saw to create a mitered edge. To dramatically increase the quality of the cut, use an "obligated 45 degree saw such as the Farnese mated with the correct tooling," says Cory.
"The table is so unique with wood marrying stone," he adds. "The overall look will be the perfect mix of rugged and refined."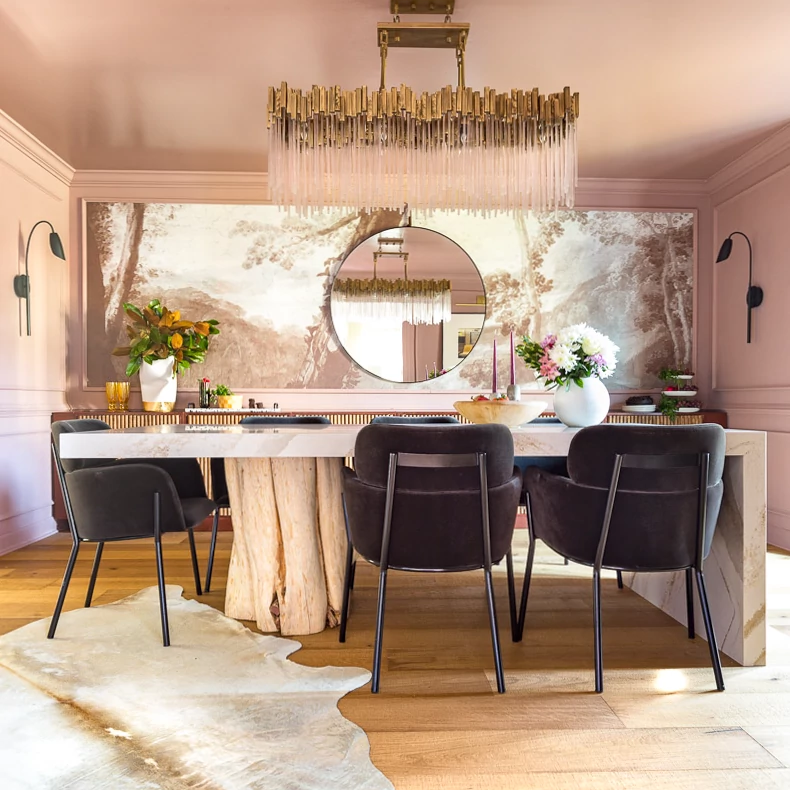 Get the Look
Follow Cambria on social media with #MyCambria for more standout designs.
For more information on Cambria, including performance data, product specifications, and certifications, see our Professional Resources.
Interested in creating a showstopping design project with Cambria? Buy a sample, find a dealer, or call 1-866-CAMBRIA (1-866-226-2742) to be connected with a market representative in your region. Or visit our website to set up a virtual design consultation.