Who's ready for 2021? We are already looking ahead to the New Year and, of course, to embracing myriad up-and-coming design trends.
From green kitchens and maximalist design to modern, desert-style aesthetics and customizable home offices, we're sharing the interior looks that will be "in" this year.
And, in case you missed it, here's what we loved in 2020 (think: mixed metals and statement islands).
Evolution of the Green Kitchen
You probably think you know green, but you haven't seen it like this. In 2021, we will "go green" with bold and beautiful spaces that contrast with the farmhouse chic hues of seasons past (ahem, Pantone 2017 Color of the Year Greenery).
In this party-ready bar for the Kips Bay Dallas Show House, Sees Design paired modern terrazzo-like Vail Village Matte countertops from The Coordinates Collection by Cambria™ with a rich Benjamin Moore sage green shade.
"Vail Village Matte countertops, brass shelving, and 18th-century terra-cotta urns make the room feel like a luxurious greenhouse, while near-priceless antiques and Regency-style mirrors elevate the space," wrote Lauren Wicks for Veranda.
Finished with a Monogram wine fridge and gorgeous glassware, this quirky-yet-sophisticated bar is sure to be a hidden gem to which party guests can steal away. Arteriors pendant lighting and a curated stack of books from Caitlin Wilson also make this bar an excellent secret reading nook.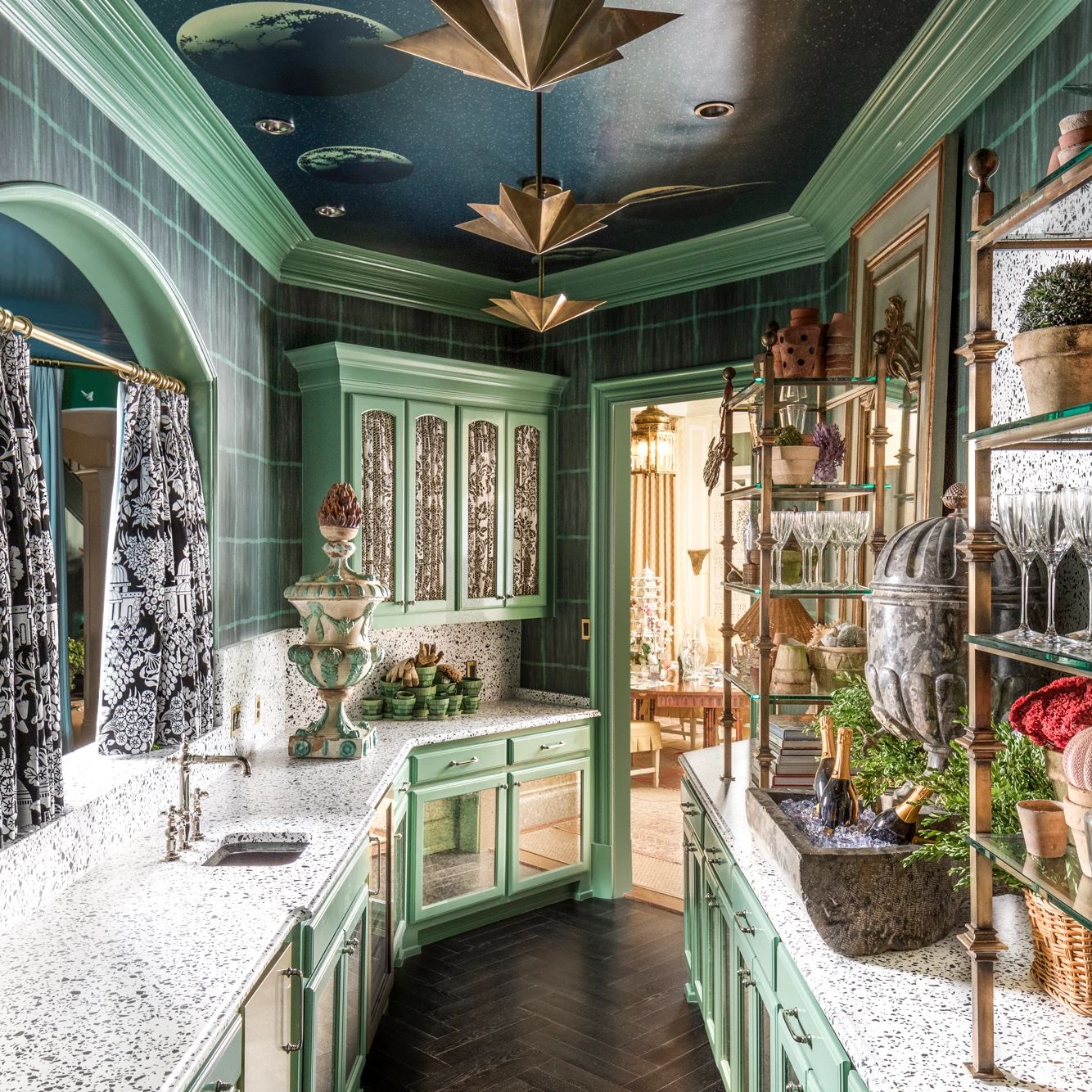 Known for their eclectic, high-end designs that marry modern pieces with international flourishes, the husband and wife duo behind interior design firm French & French Interiors based in Santa Fe, New Mexico, created a classically elegant kitchen with our Bentley design.
Throughout the space, the team relied on a standout Bentley countertop to contrast against the island's natural wood base with vertical architectural lines, to play with the oversized refrigerator paneled in matte black, and to highlight a shiny green tiled backsplash above the stove.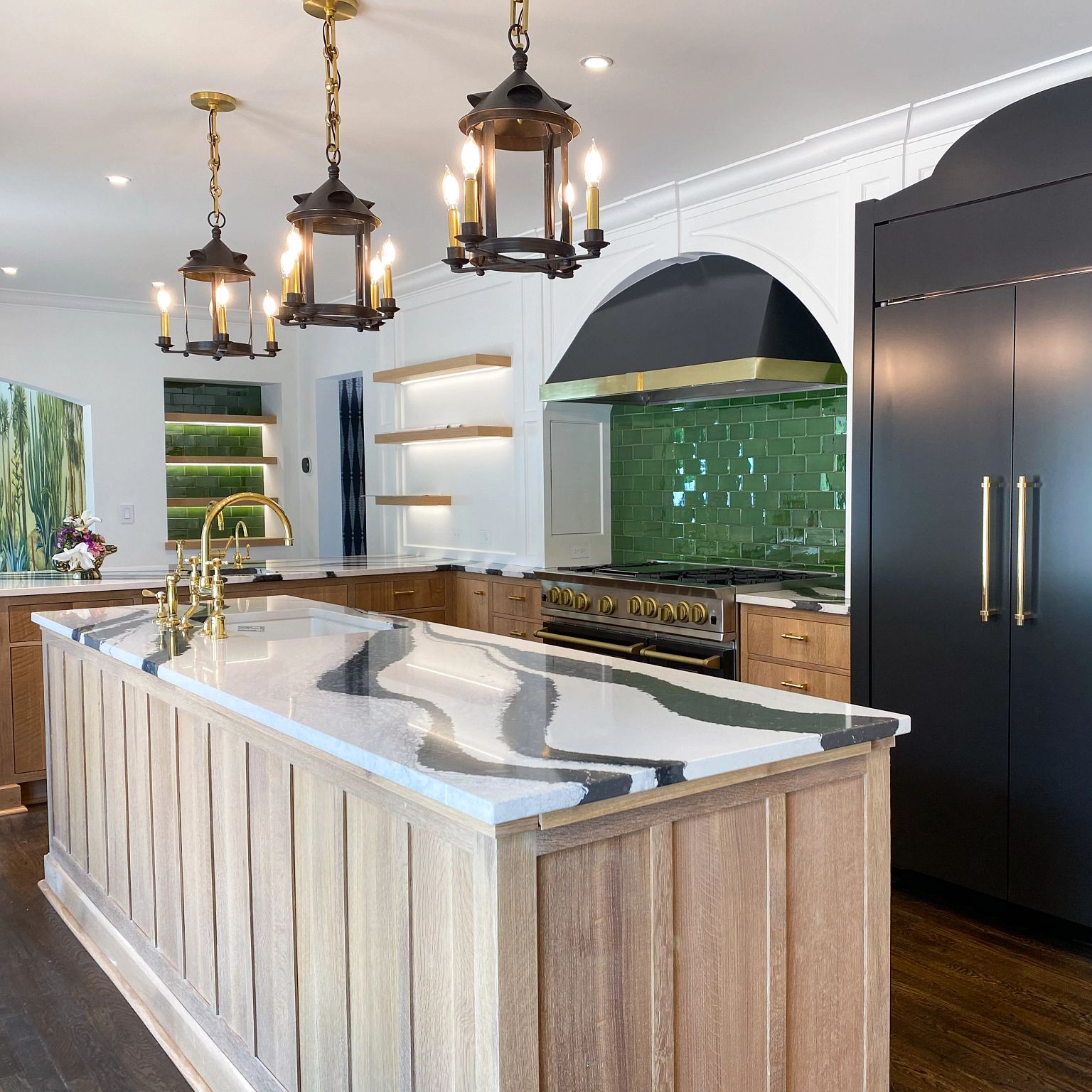 In this mid-century kitchen, New York–based international interior designer and tastemaker Alberto Villalobos emphasized an eye-catching green hue on the cabinetry by adding a lacquered finish. In his work, he strives to create unique environments that are relevant, functional, livable, and always timeless.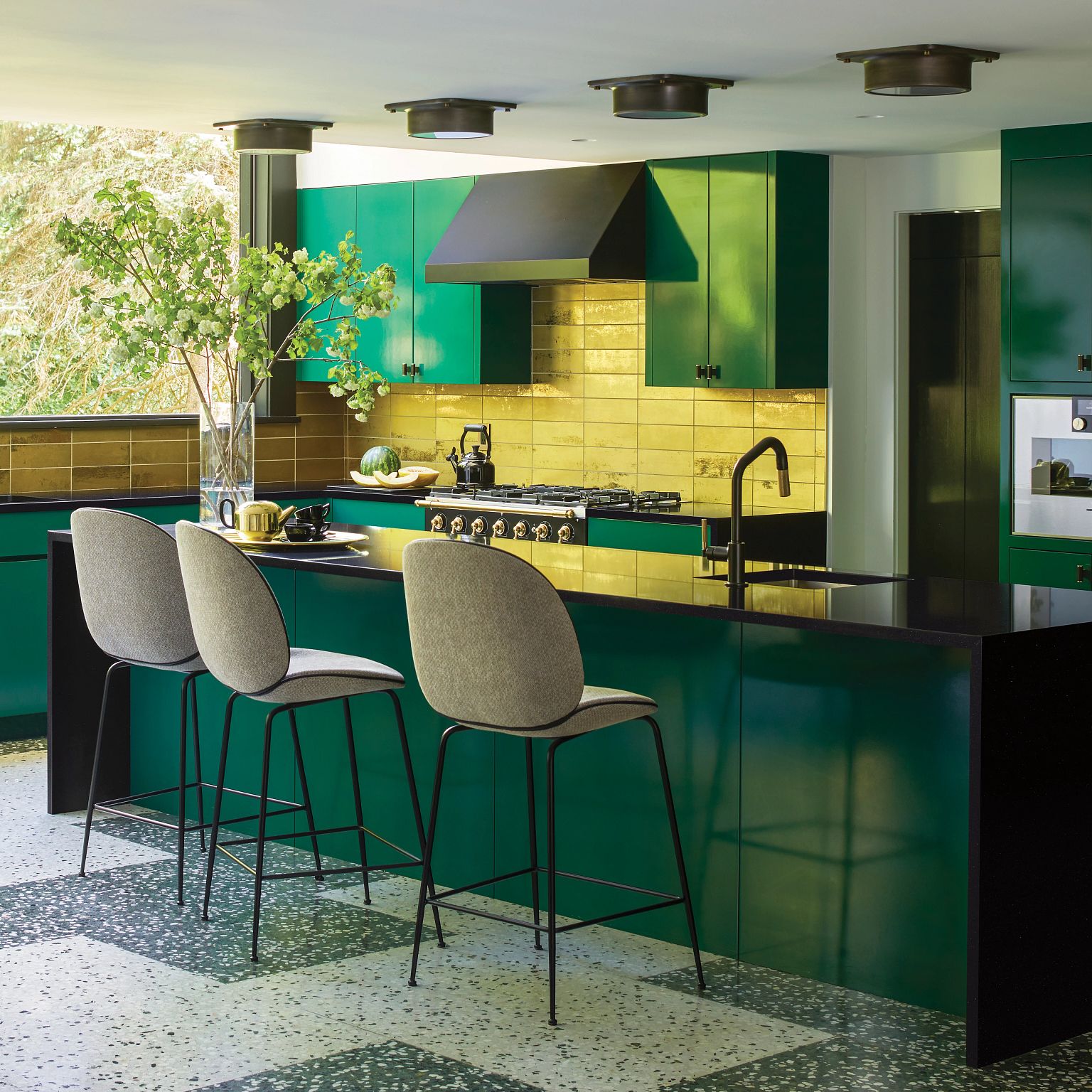 Here you'll find even more green kitchen ideas to spark inspiration.
Study Space
The home office quickly became the "it" room of 2020 and, in the New Year, the space will continue to dominate. But we'll make the now-essential spaces even more personal and custom to facilitate work, study, and play time.
In this stylish office nook by AFT Construction, working from home never looked so chic with Cambria Swanbridge countertops, warm white cabinetry and walls, richly hued hardwood flooring, and rose gold hardware and fixtures.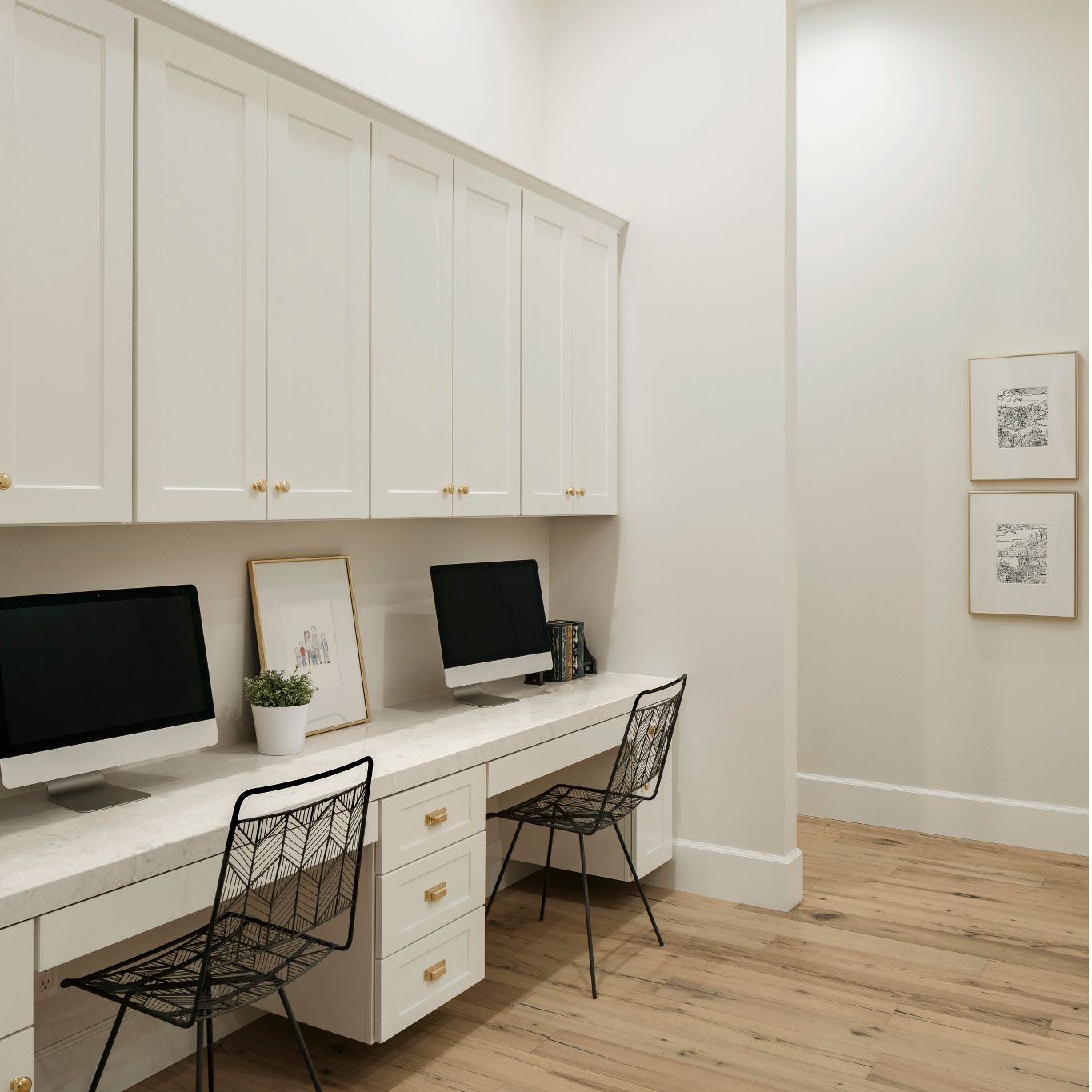 A Brittanicca Gold fireplace surround is a stunning pairing to blonde woods and matte navy in this moody and mod home office by Louisville-based Artisan Signature Homes.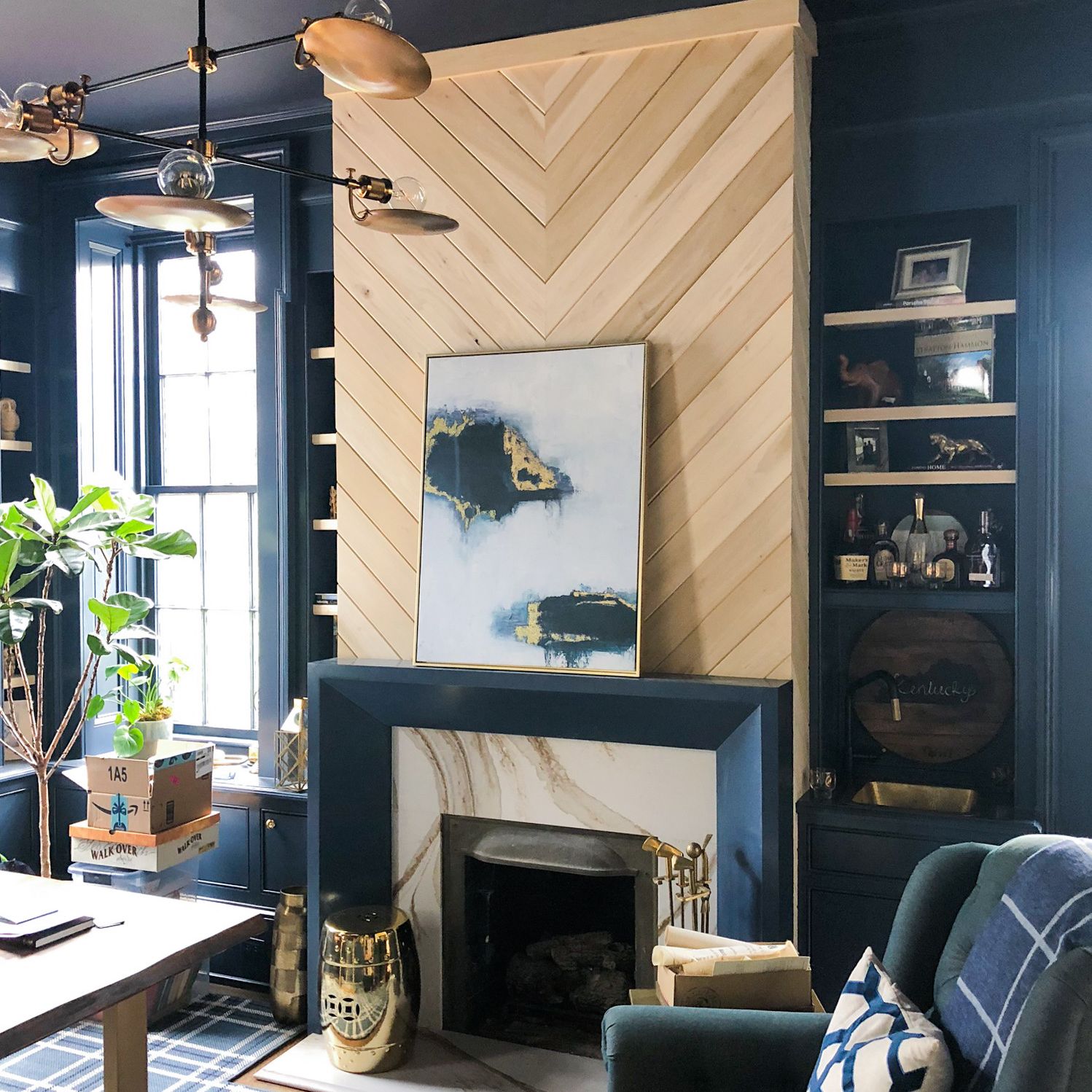 Does your laptop often end up on your countertops, or has your kitchen island become a homework help-desk? Then consider a kitchen workstation the ideal update for your home. Try a dedicated space with a built-in working surface and storage to help keep your kitchen organized and your countertops clear.
If you're planning a kitchen remodel, consider incorporating a built-in desk into your plans. Using the same countertop as your kitchen keeps the design cohesive, while choosing a complementary design for the desk will set the workstation zone apart.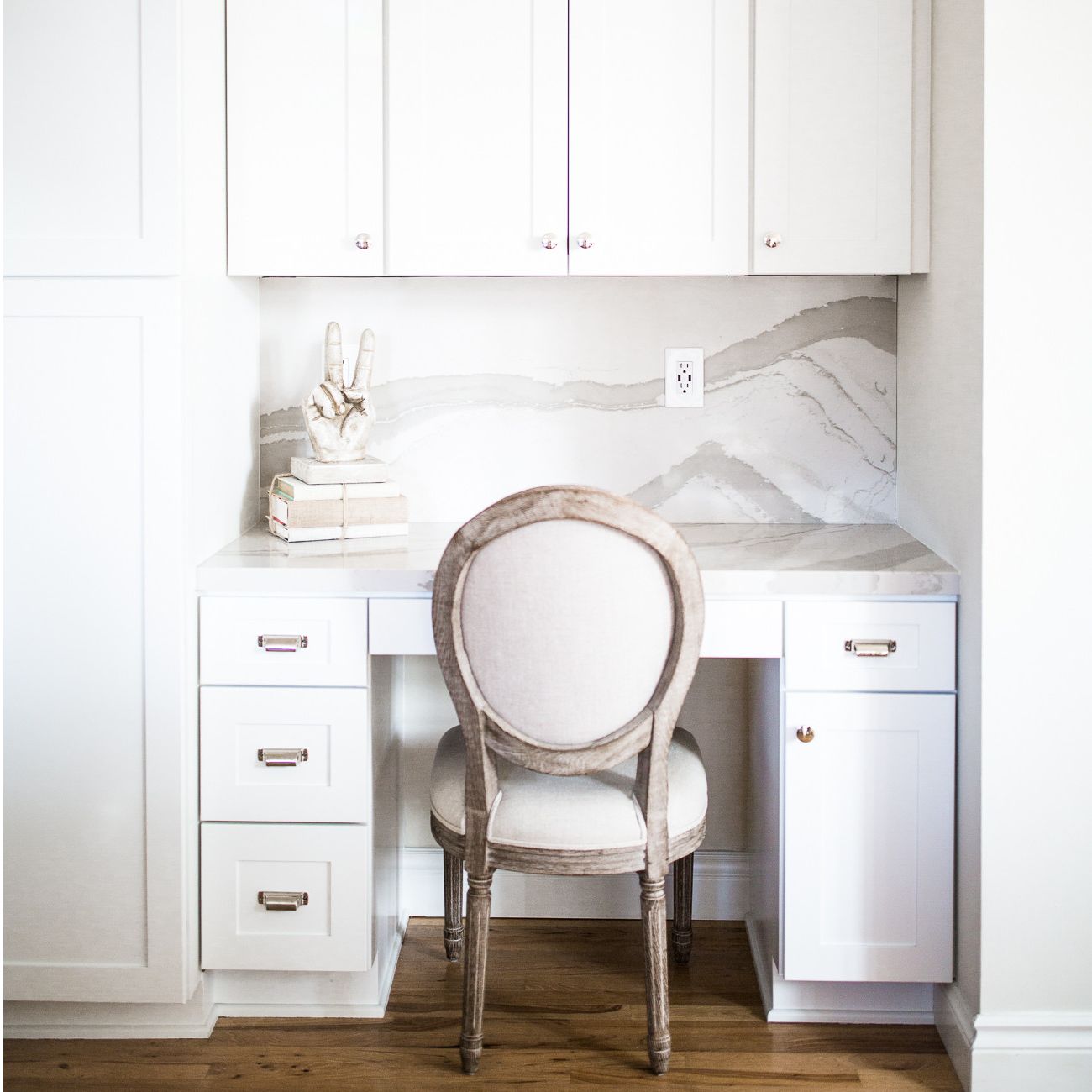 Here, tips for creating a dreamy at-home work space.
New Seating at the Table
As we spend more time at home, we have continually reimagined the functionality of our spaces. Nowhere is that clearer than in the kitchen, where the island has become an extension of the dining room and a multipurpose gathering place for everything from eating and cooking to studying and working.
Designers Jennifer Austin-McGrath and Angela Parker added extra seating to this Ella kitchen island for the Mpls. St. Paul Magazine 2016 ASID Minnesota Showcase Home Tour.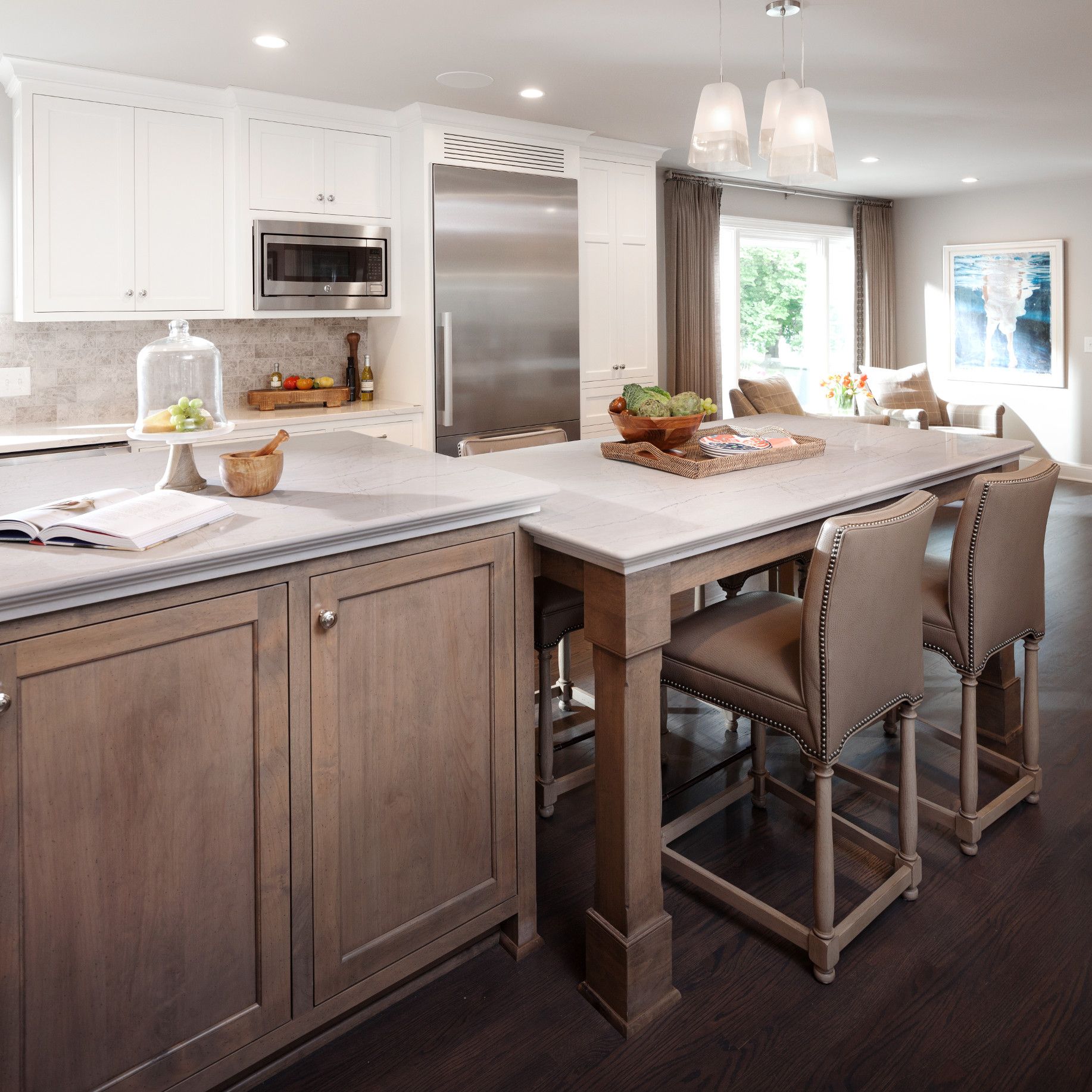 Globe pendants and Cambria's Summerhill design combine for a glamorous take on the traditional style in this kitchen by Happy Interiors Group that features an island extension for extra seating.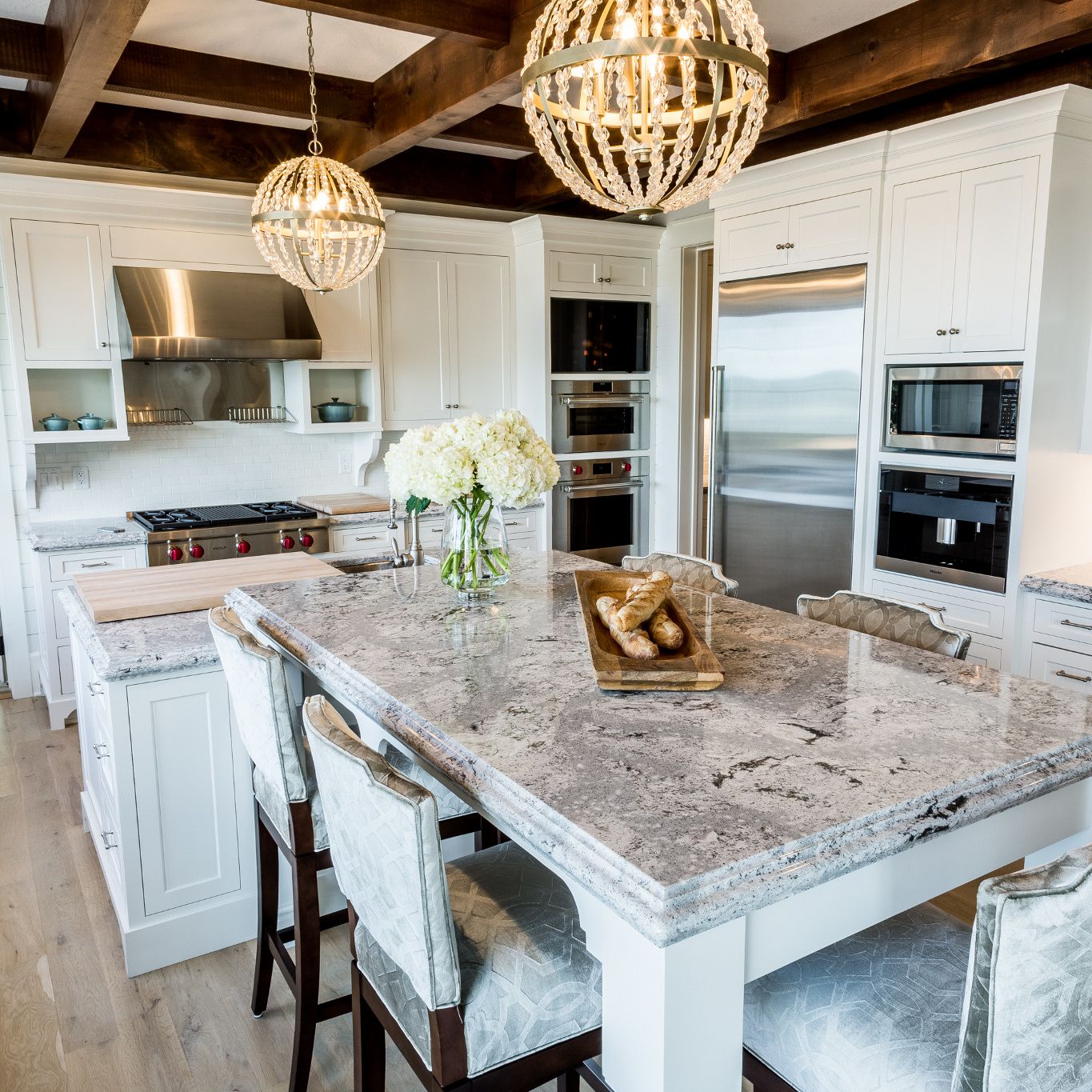 Vanessa DeLeon of Vanessa DeLeon Associates curated her own Edgewater, New Jersey, kitchen with matte black cabinetry, including a matching True Residential refrigerator and contrasting copper hardware and corner details.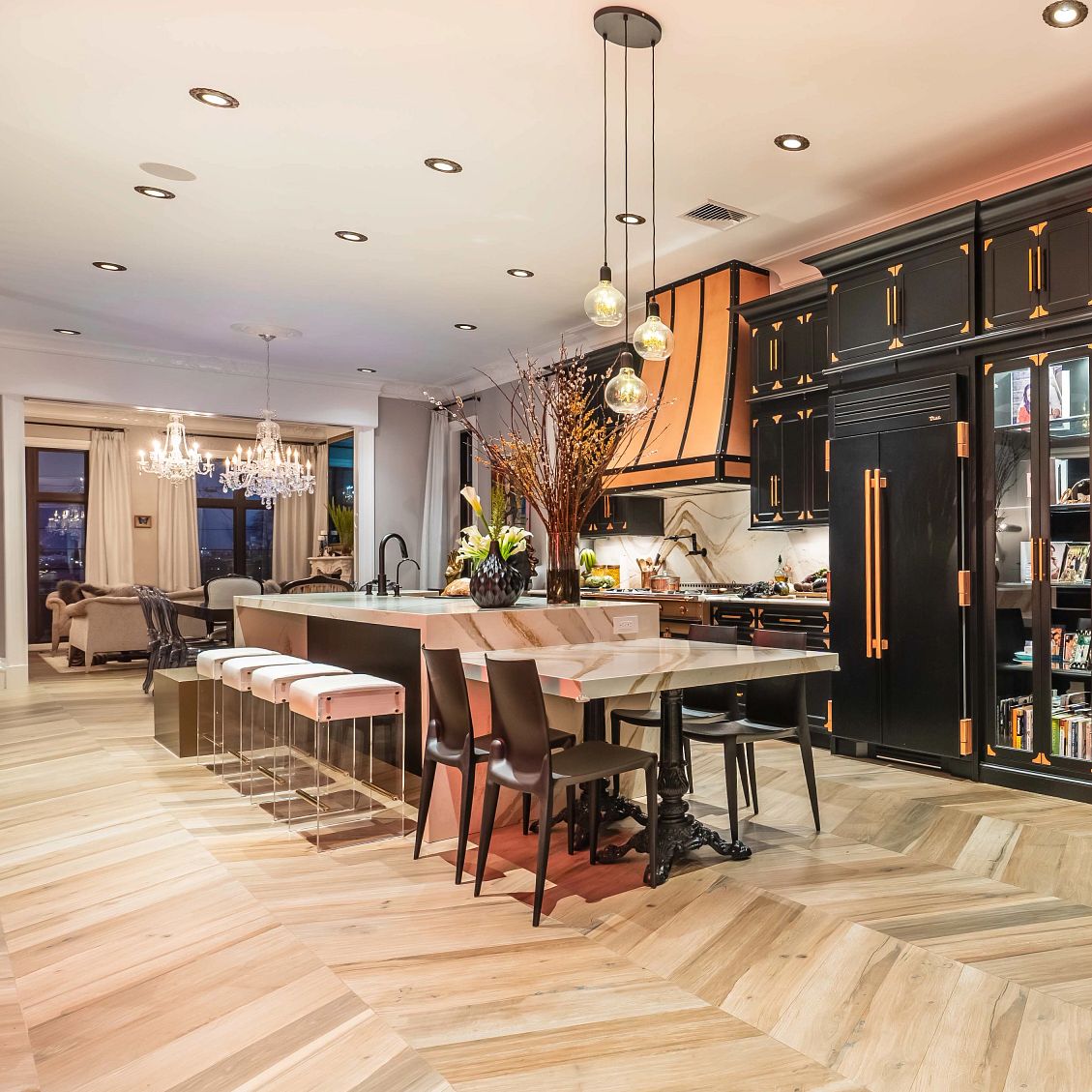 Here, more unique kitchen island ideas.
A New Take on Waterfalls
To achieve unique design styles and aesthetics, designers are increasingly turning to the waterfall island to do the heavy lifting. Think artistic shapes to add texture and strong angles for modern looks.
In this master bathroom by Elizabeth Erin Designs and CKF, a high-contrast vanity with a Cambria waterfall edge is a stunning—and durable—alternative to marble.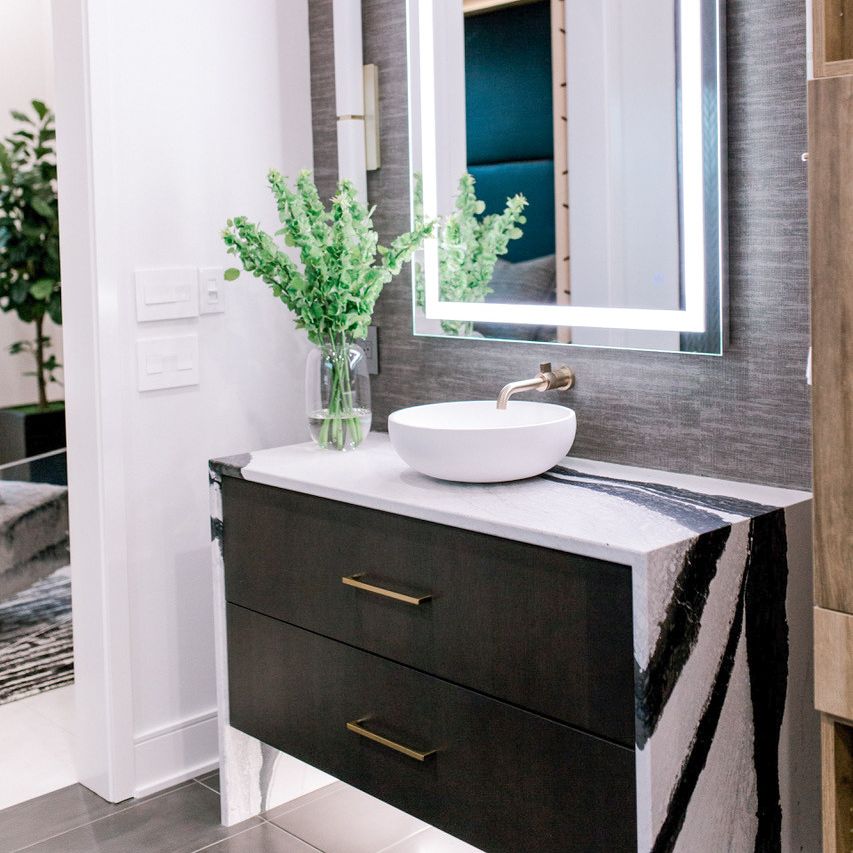 In this kitchen by Bria Hammel Interiors and Sustainable 9, a custom Cambria waterfall island in the bold Bentley design features an under-counter opening for extra seating.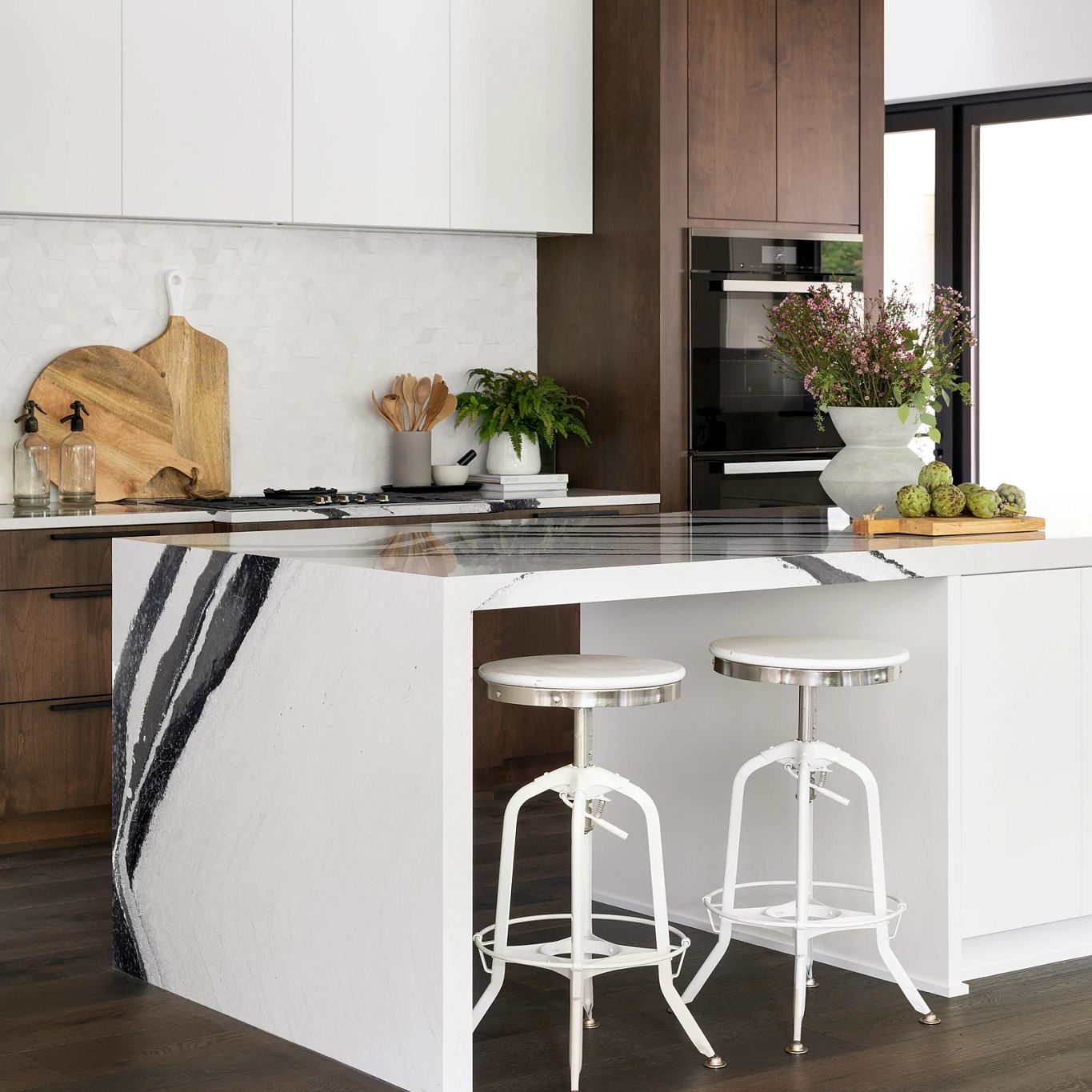 A luxurious master bathroom by Swanson Homes and Carbon 6 Interiors features matching Ella waterfall islands that lend structure to the airy space.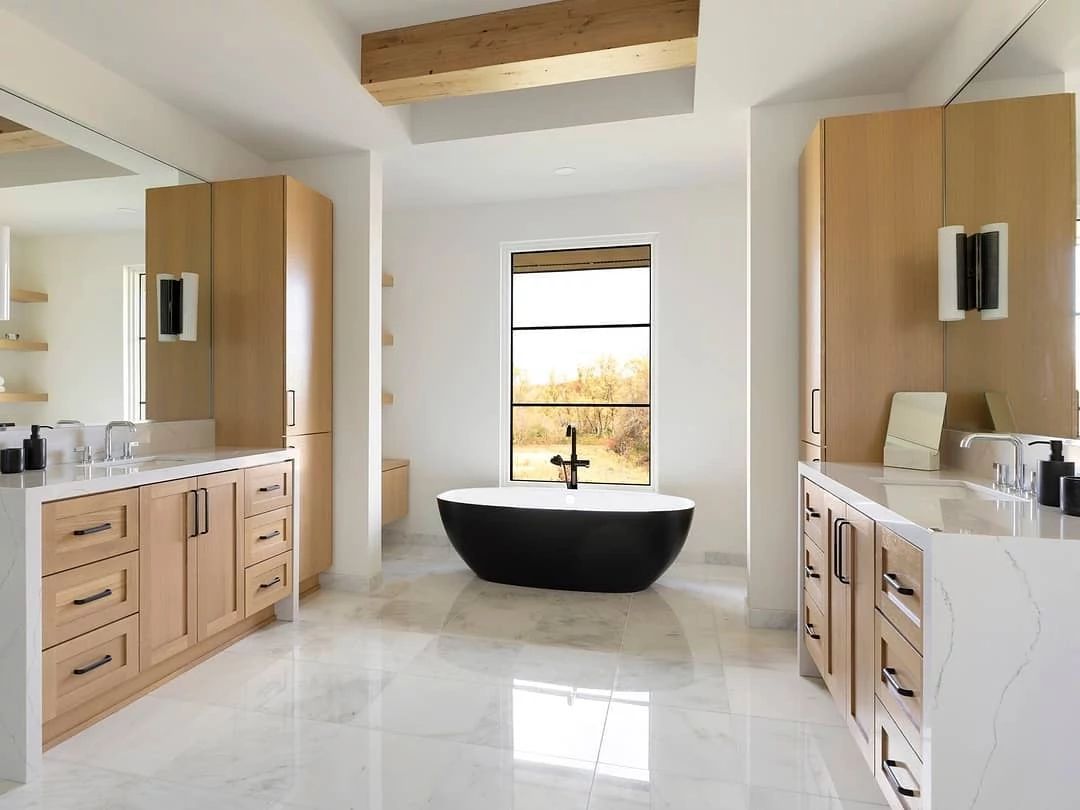 A geometric pattern with touchable texture on this waterfall kitchen island in Cambria Buxton by Mondragon Design + Build adds dimension to an otherwise monochromatic design.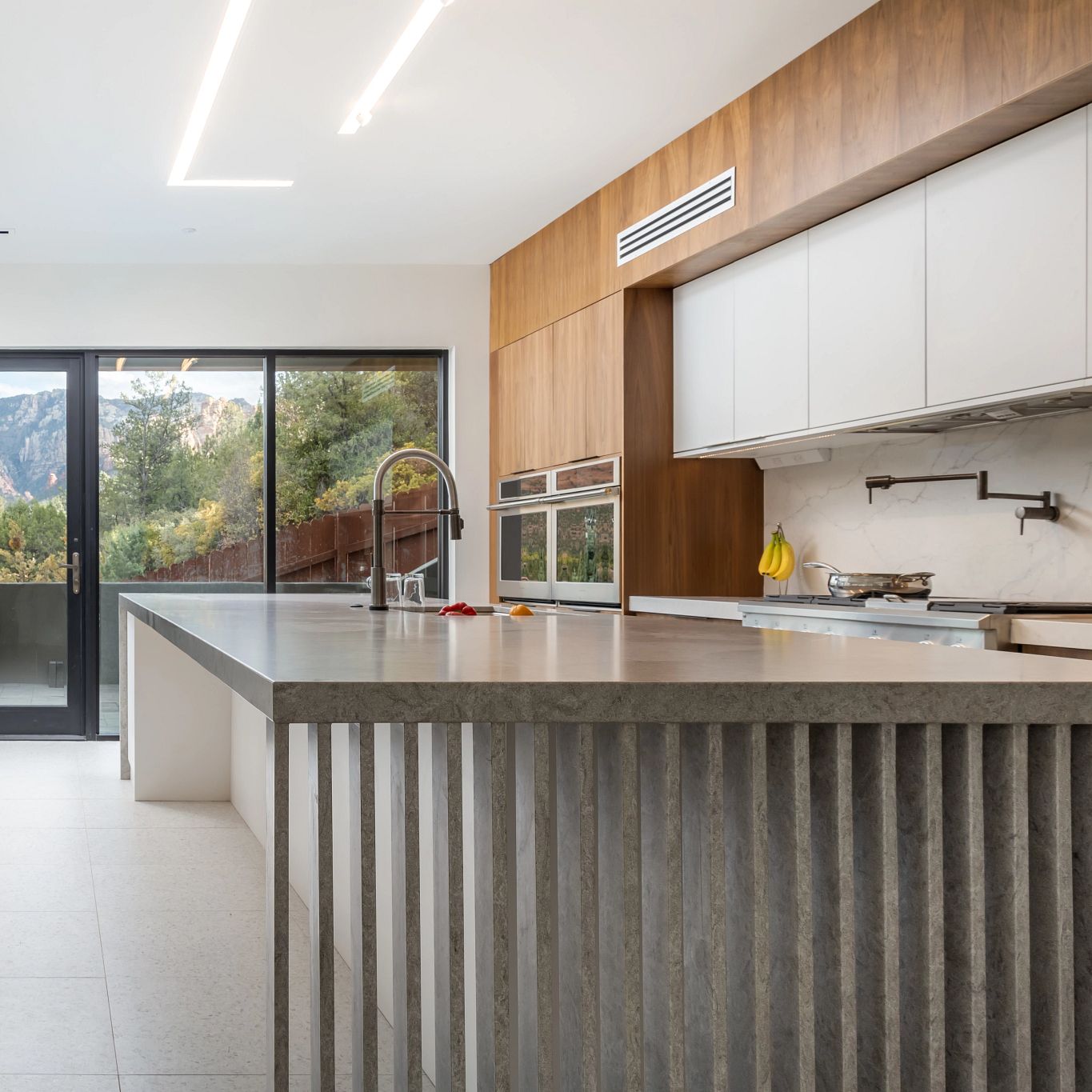 One-of-a-Kind Bookmatch Experience
Create custom works of art in 2021 with Cambria natural quartz thanks to the bookmatch technique that fuses art and design.
Instead of hanging a large-scale painting, the Omni Viking Lakes Hotel chose to turn Cambria's Brittanicca Gold into the guest bathroom highlight using bookmatching behind an inviting freestanding tub.
Cambria is a nonabsorbent, full-slab material, so no steam or moisture can escape through its panels and there's no grout to clean, making it perfect for bathrooms.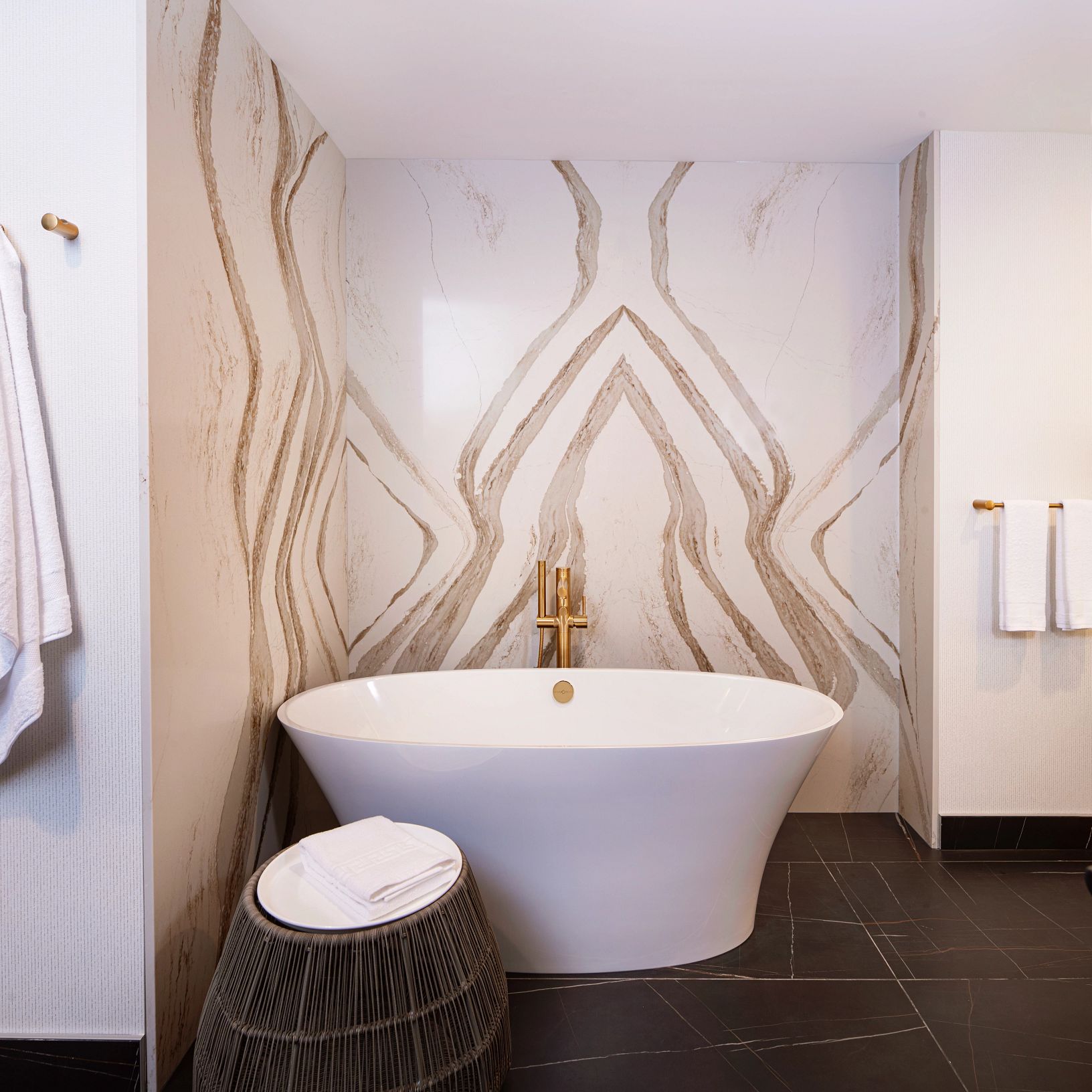 And this Cambria Bentley island stands out thanks to the bookmatching detail.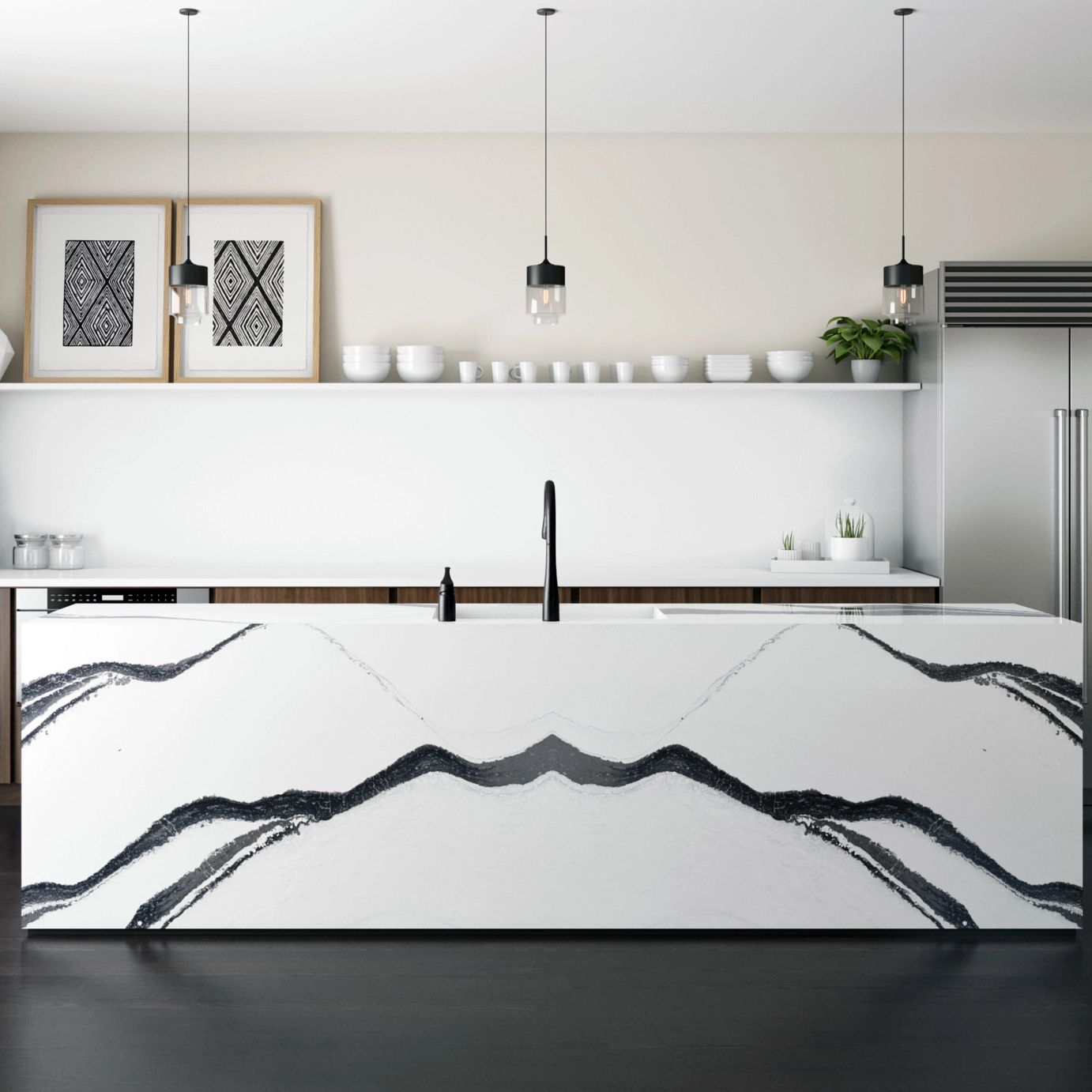 Reset of the In-Home Spa
To create a true spa-like oasis in your home, consider full-height Cambria quartz wall cladding in the bathroom. Cambria can even be installed on shower walls, curbs, casings and jambs, and overhead applications.
In the master bathroom of his weekend home, O, the Oprah Magazine creative director Adam Glassman installed Cambria's Rose Bay design from floor-to-ceiling.
In this master bath, Cambria Brittanicca cladding on the walls and in the shower draws the eye throughout the spacious room.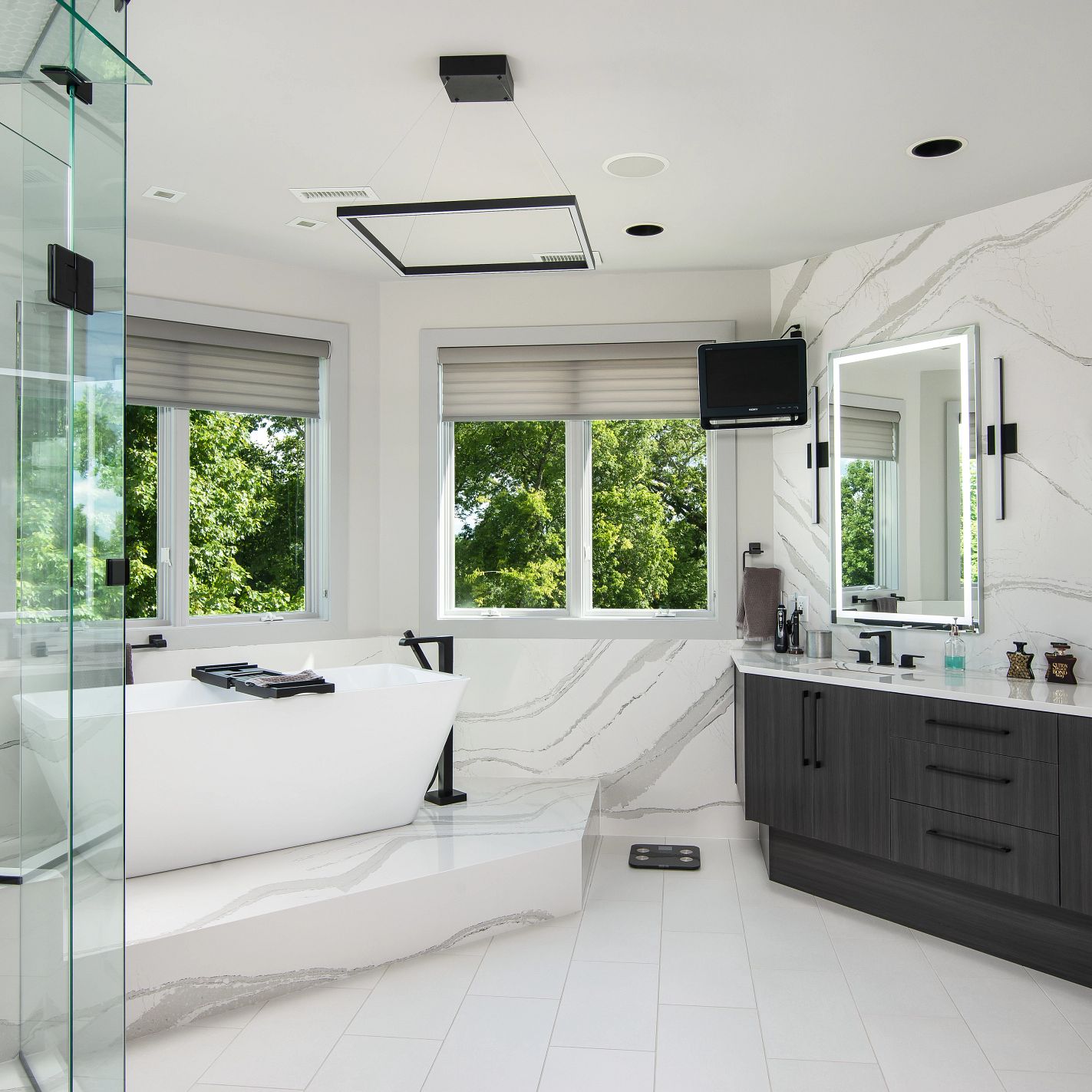 In this luxurious master bathroom by Happy Interiors Group, 300 square feet of Cambria's Annicca design is prominently featured in the standout walk-in steam shower, the size of which was increased to accommodate a bench.
"Annicca has gorgeous bold veining, so we knew it'd be a showstopper with the size of the shower," said interior decorator Abby Tallman, founder of Happy Interiors Group, who also used Annicca for the double sink and makeup vanities in the room. "Annicca has gold flecks that tie in perfectly with the brushed bronze fixture choices, plus it has a lot of white to complement the white cabinetry and flooring. We wanted something American made that would hold up well, be durable, and that we wouldn't have to be careful about or continually care for, like with marble or granite."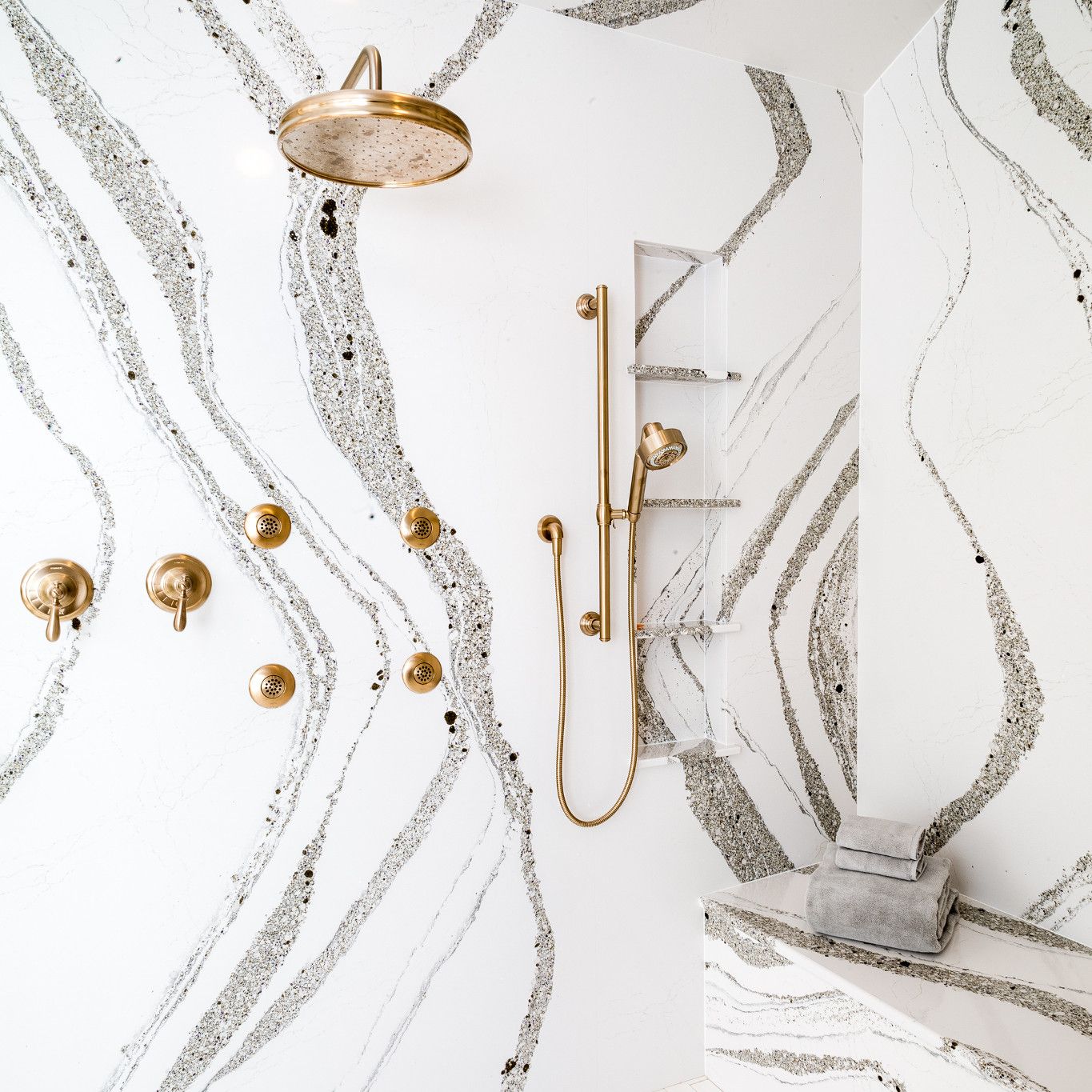 When Two Become One
To create a dynamic yet cohesive palette, consider pairing two complementary Cambria designs in a single space. Try a vertical backsplash against a contrasting countertop or a statement island with a different perimeter. Mixing tones, patterns, and veining will achieve a similar effect.
After falling in love with an upstate New York cabin, HBO Girls star Zosia Mamet and her husband Evan enlisted the help of Brett and Kara Phillips, the interior designers behind High Street Homes based in Fort Worth, Texas, to breathe new life into the house.
"We wanted it to be a place of retreat for them and their extended family, which informed the design process," said Brett and Kara. "They wanted a spot to hole up when not working, where family could visit and just hang and do creative 'artist things,' like read, write, and play music. It really needed to be a place to gather that felt homey but still elevated."
For Zosia and Evan, the style of Winterbourne Matte felt modern on the kitchen island, and Brett and Kara liked that the Ella Matte design also felt natural on the perimeter countertops when paired with the blue cabinetry.
For the Kips Bay Dallas Show House, designer Chad Dorsey created a prep kitchen, pantry, and work-from-home space to assure that all the day-to-day messy work stays out of the way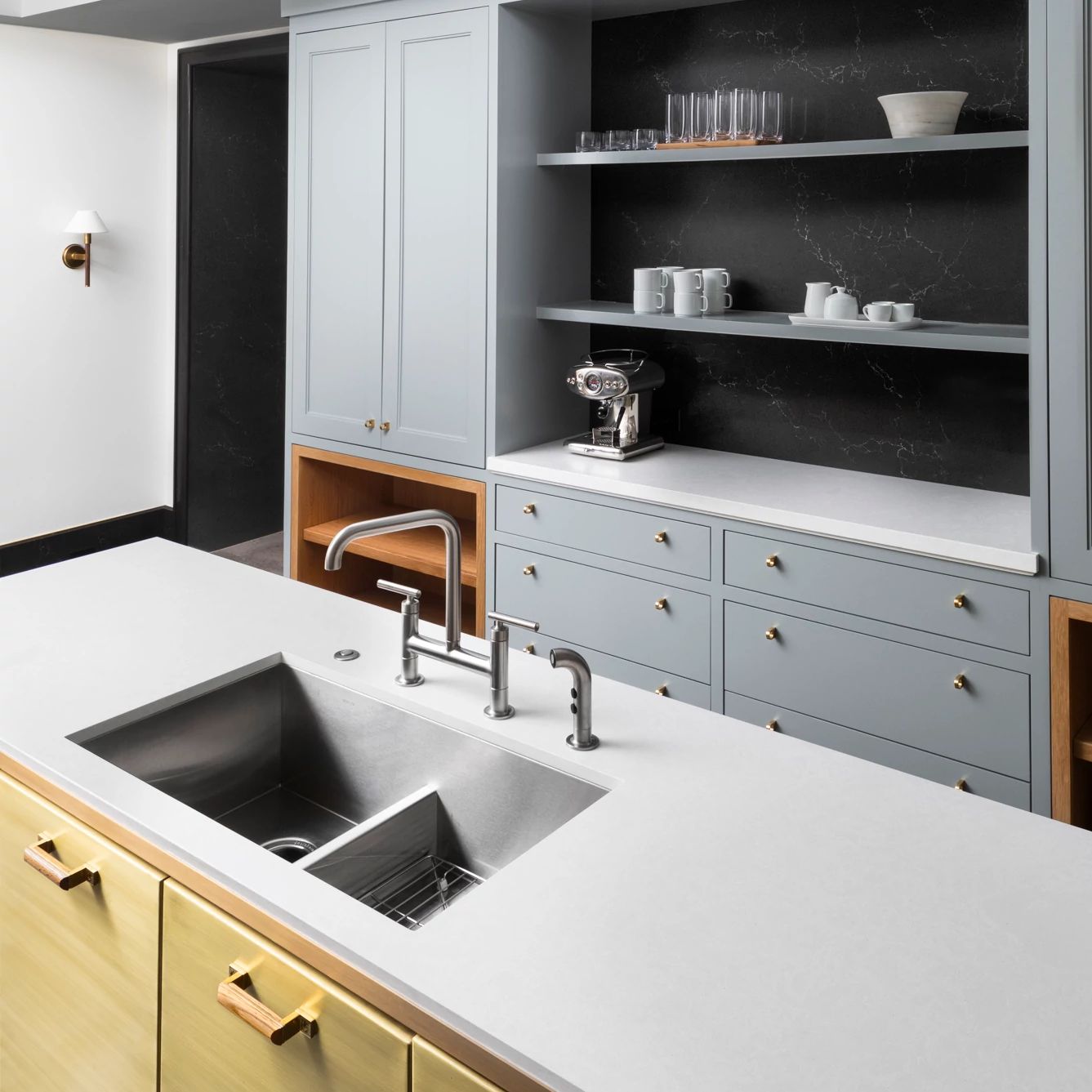 This lake home kitchen offers relaxed and refined coastal style with a Skara Brae island with taupe-toned wood cabinetry. A coordinating wood range hood and pop of patterned tile combine to create a compelling focal point, and Cambria Black Matte™ perimeter countertops add contrast and create a cohesive look with the living room fireplace in this open-plan layout.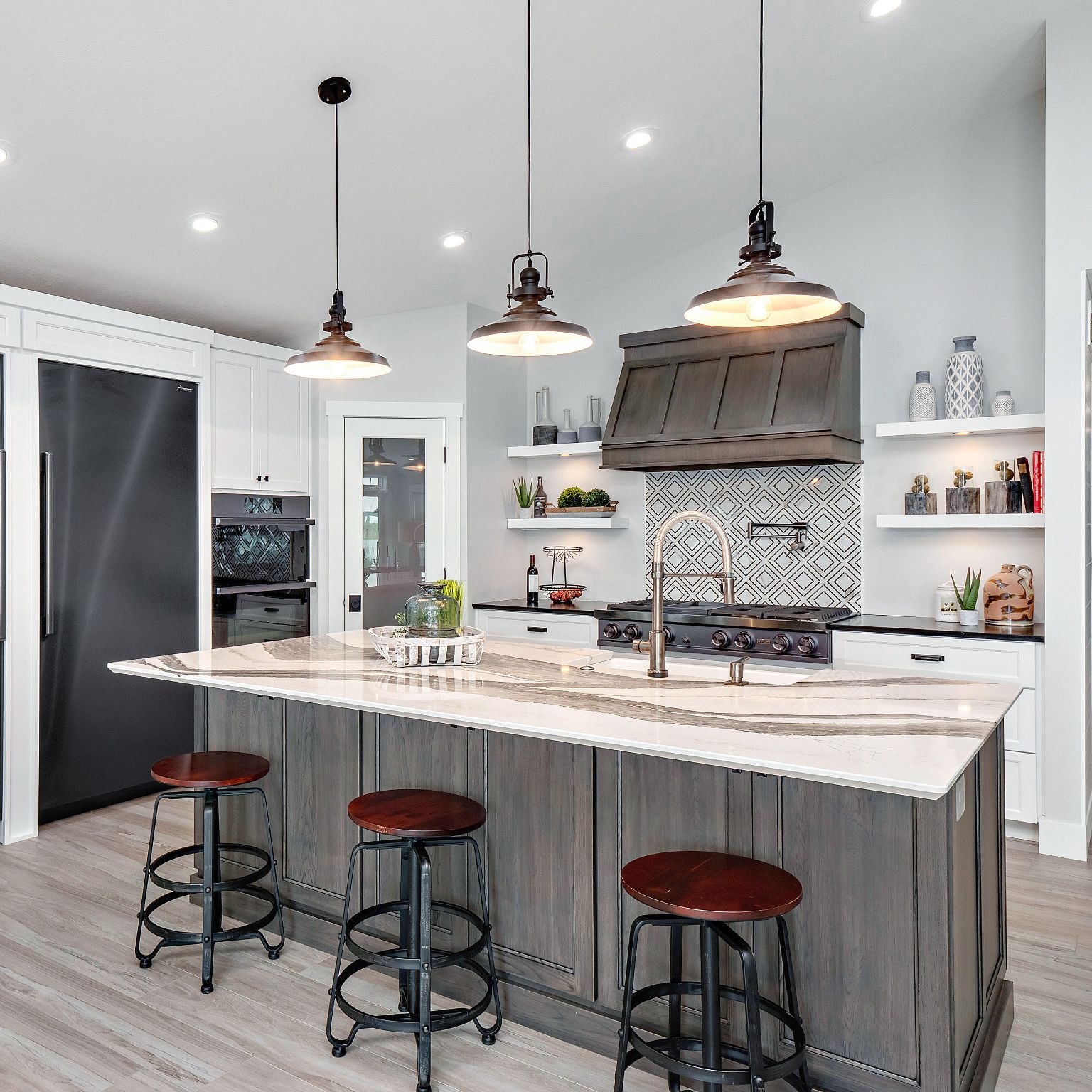 Here, more Cambria combinations we love.
Sustainability of a Full-Height Backsplash
We still love the clean and streamlined aesthetic of a white kitchen, especially when paired with a full-height Cambria backsplash that is both beautiful and functional.
"Great room" doesn't quite cut it as a descriptor for this gorgeous space by husband-and-wife duo Bryan Baeumler and Sarah Baeumler. In stunning symmetry, Brittanicca serves as a sky-high backsplash in the kitchen and a majestic fireplace surround in the living room.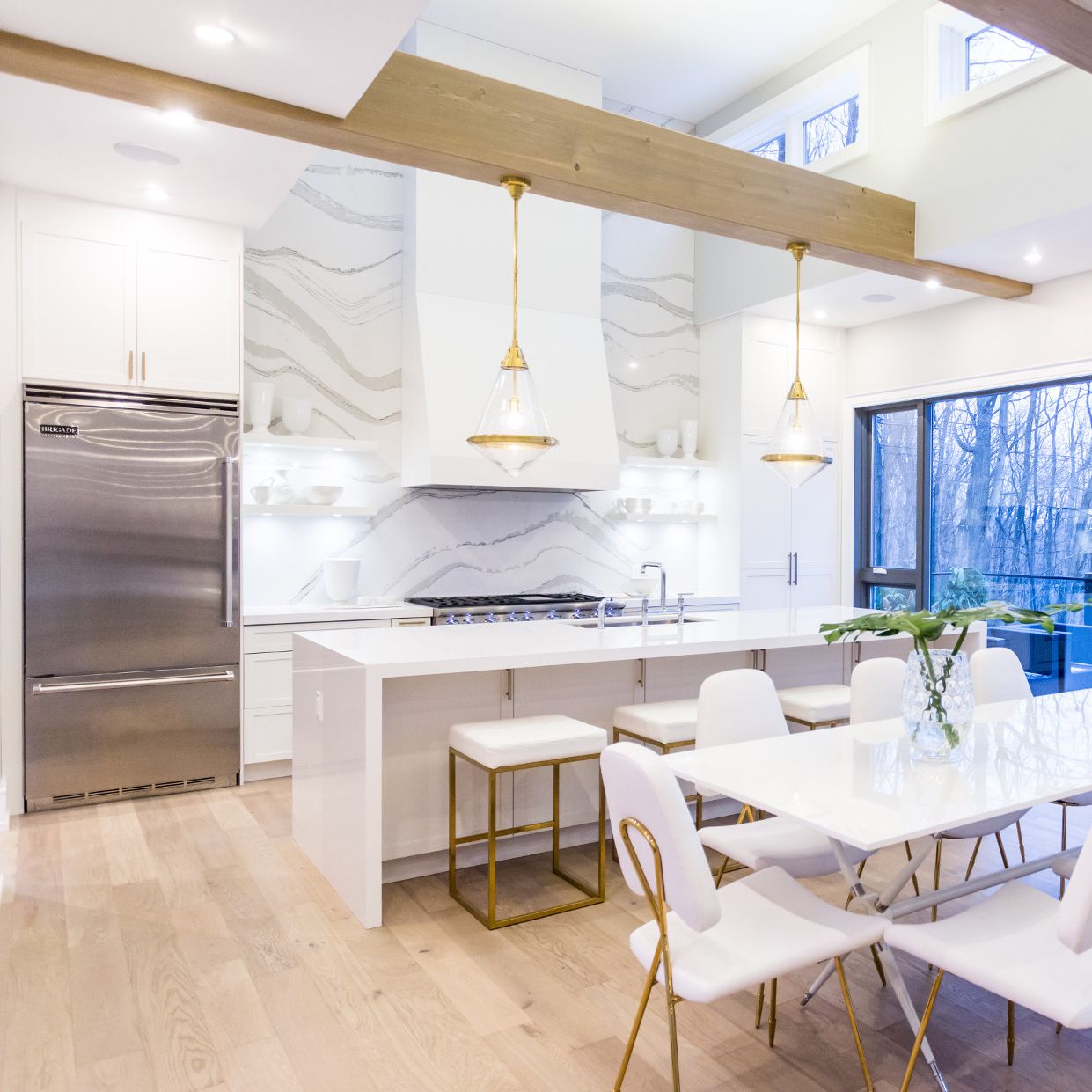 Here's another look at Adam Glassman's weekend home, where he added a full-height Brittanicca backsplash in the kitchen to match his island countertops.
Cambria surfaces are made of pure, natural quartz and feature unparalleled strength and durability.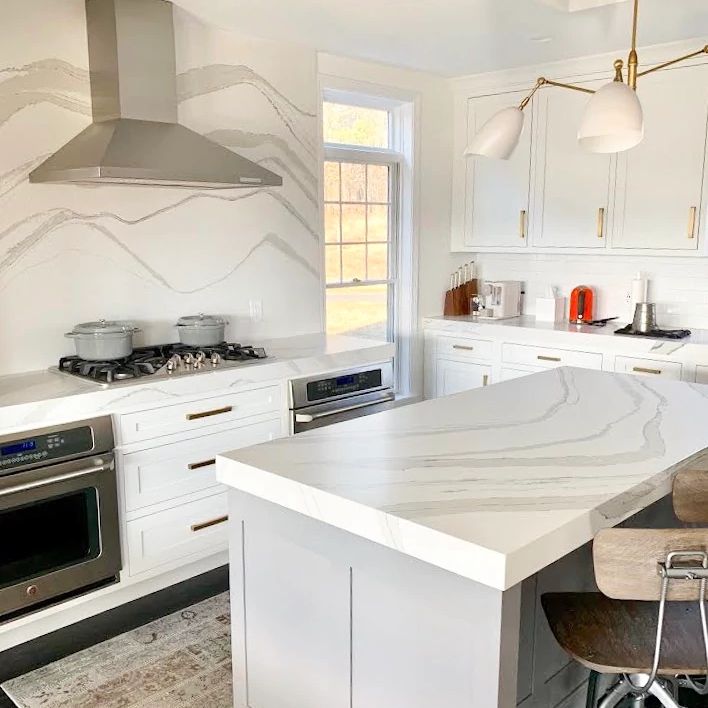 Elizabeth Scruggs from Superior Construction designed this kitchen renovation to include a full-height Cambria Brittanicca Gold backsplash and Café appliances.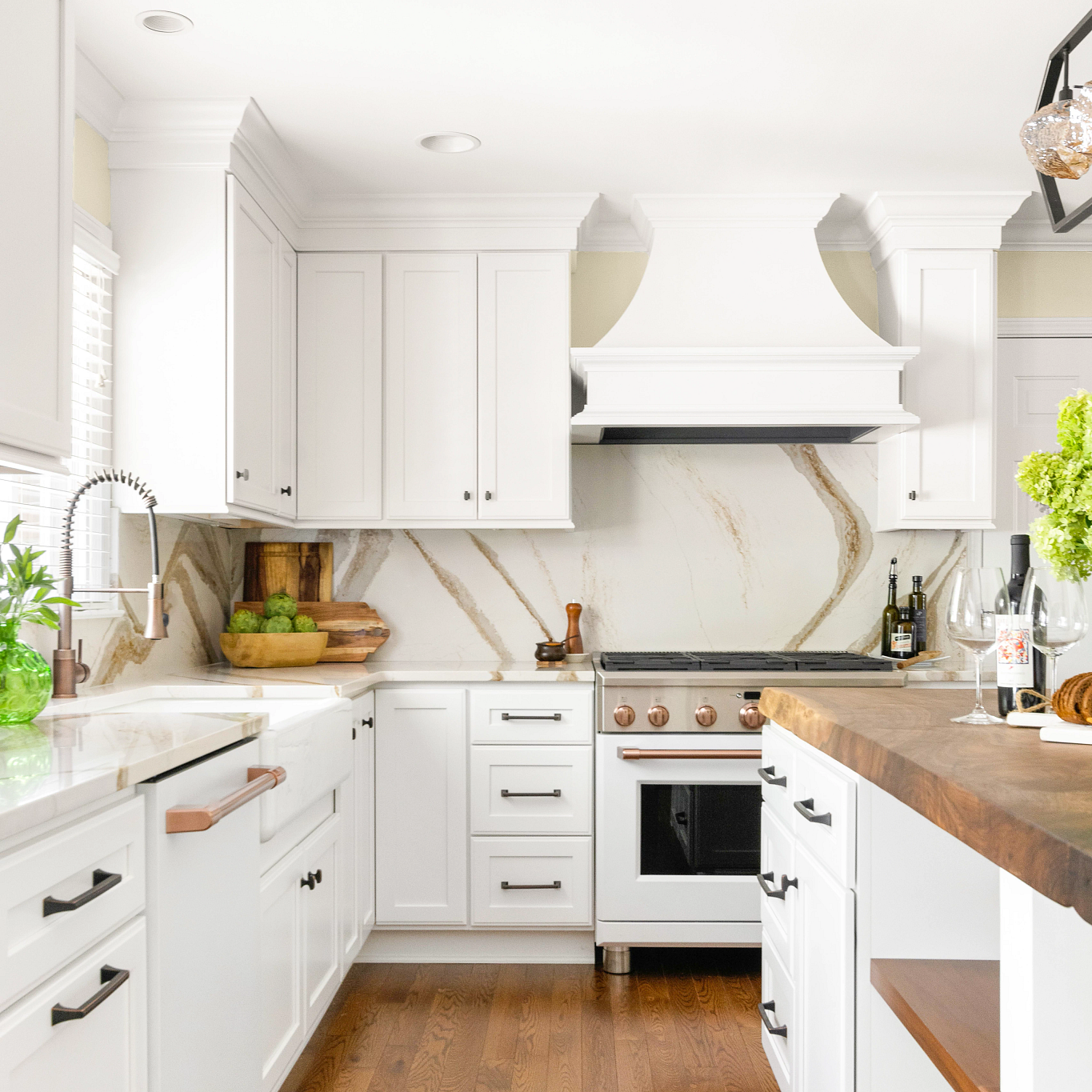 Here, backsplash ideas to spark inspiration for your next design.
Go Big or Go Home
As we head into the New Year, embrace maximalism. A contrast to the minimalist aesthetic of years past, maximalist design is a bold style comprised of mixed patterns and excessive—but curated—collections that push the boundaries in design.
In the Lake Forest Showhouse, guests are greeted by a cloak room and powder room designed by Sarah Vaile Design. She created the powder bathroom jewel box with a color palette—Sherwin-Williams Framboise—inspired by the burgundy Rolls Royce driven by Princess Margaret in The Crown. In fact, Princess Margaret served as the muse for the entire space.
"We sought to create a design that felt both original to the home and simultaneously modern," says Vaile. "A black-and-white stone mosaic felt like a natural go-to, which is what brought us to Cambria. We loved that their latest collection offered a quartz with all the veining and visual elements of marble but yet suitable for modern living with its durable nature. We had used this fun and young geometric mosaic on a master bath project and sought to have Cambria custom create the design for the Showhouse."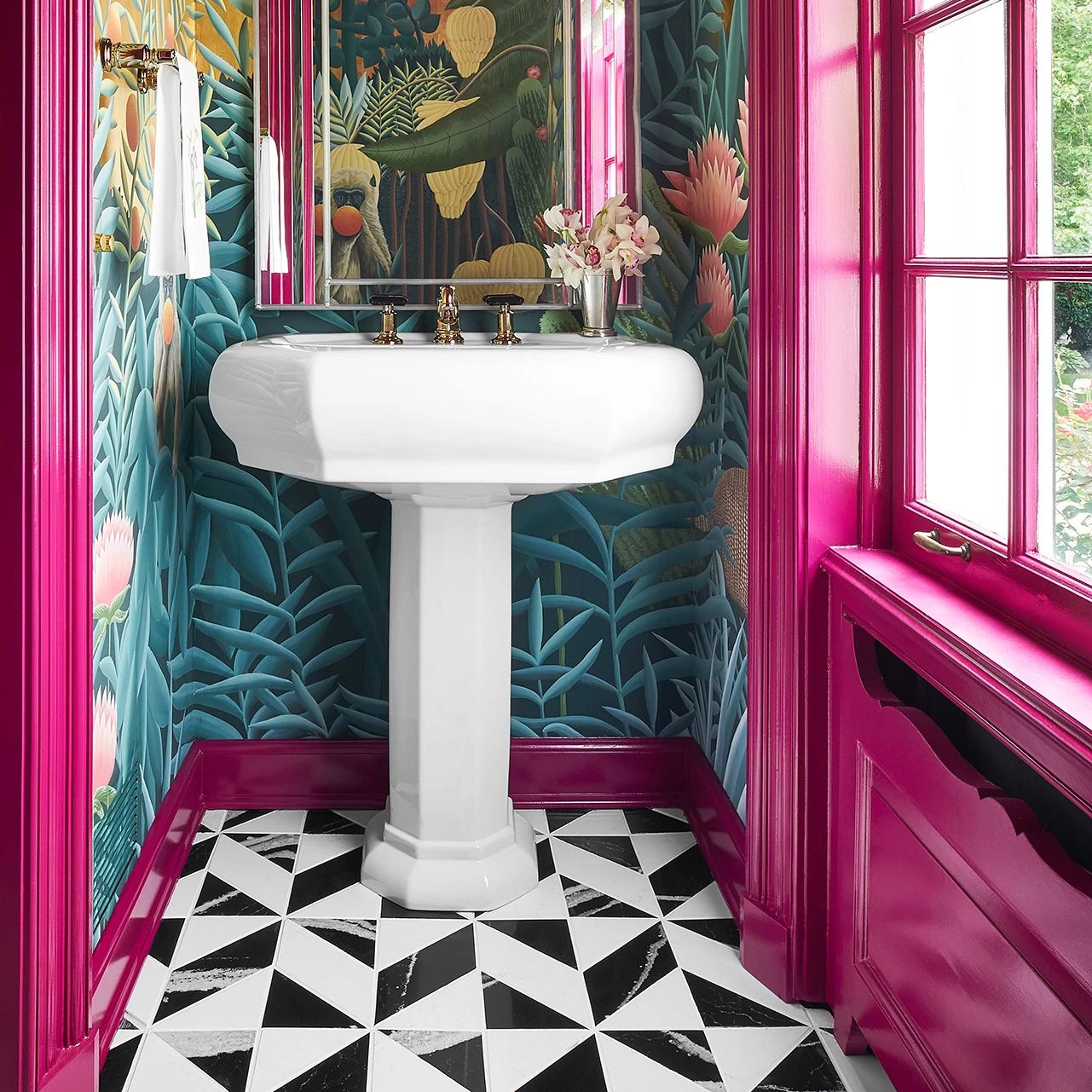 For Kips Bay New York Show House, designer BA Torrey created "a cocktail intended to pique the senses," he told 1stdibs.
"From the cerused oak of the custom millwork, brass of the stools and coffee table, crystal of the lamps, plush velvet and mohair of the upholstery, shimmery black-and-gold wheat-inspired fabric of the Hermes throw pillows, and chunky honed stone of the fireplace and Cambria Hollinsbrook Matte bar counter, this room was made to touch," says Torrey.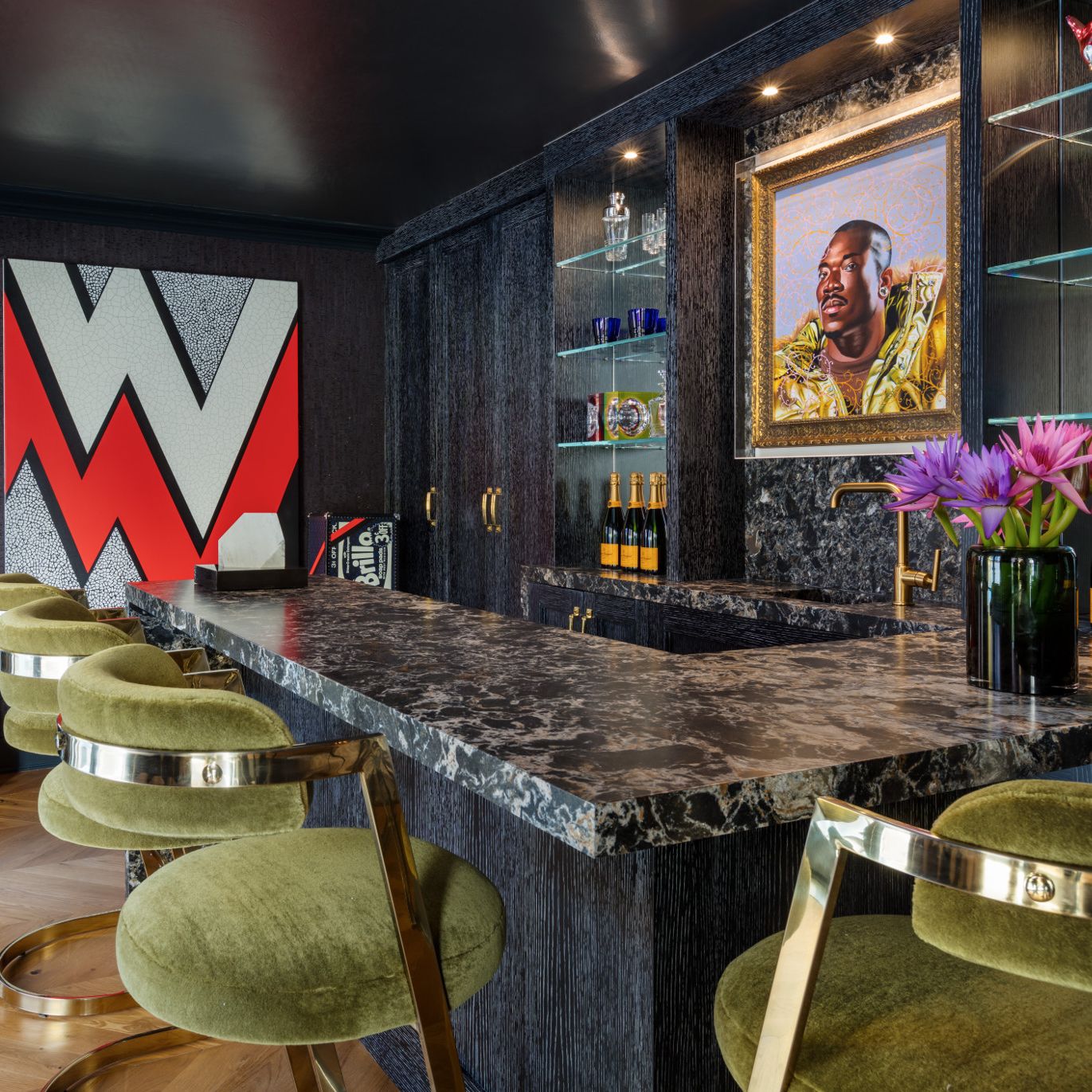 A Twist on Open Shelving
Now de rigueur, open shelving lets homeowners both store and display their most beautiful pottery and tchotchkes—and also allows for easy access. Add a stunning quartz backsplash to anchor the shelving, and the effect is even more wow worthy.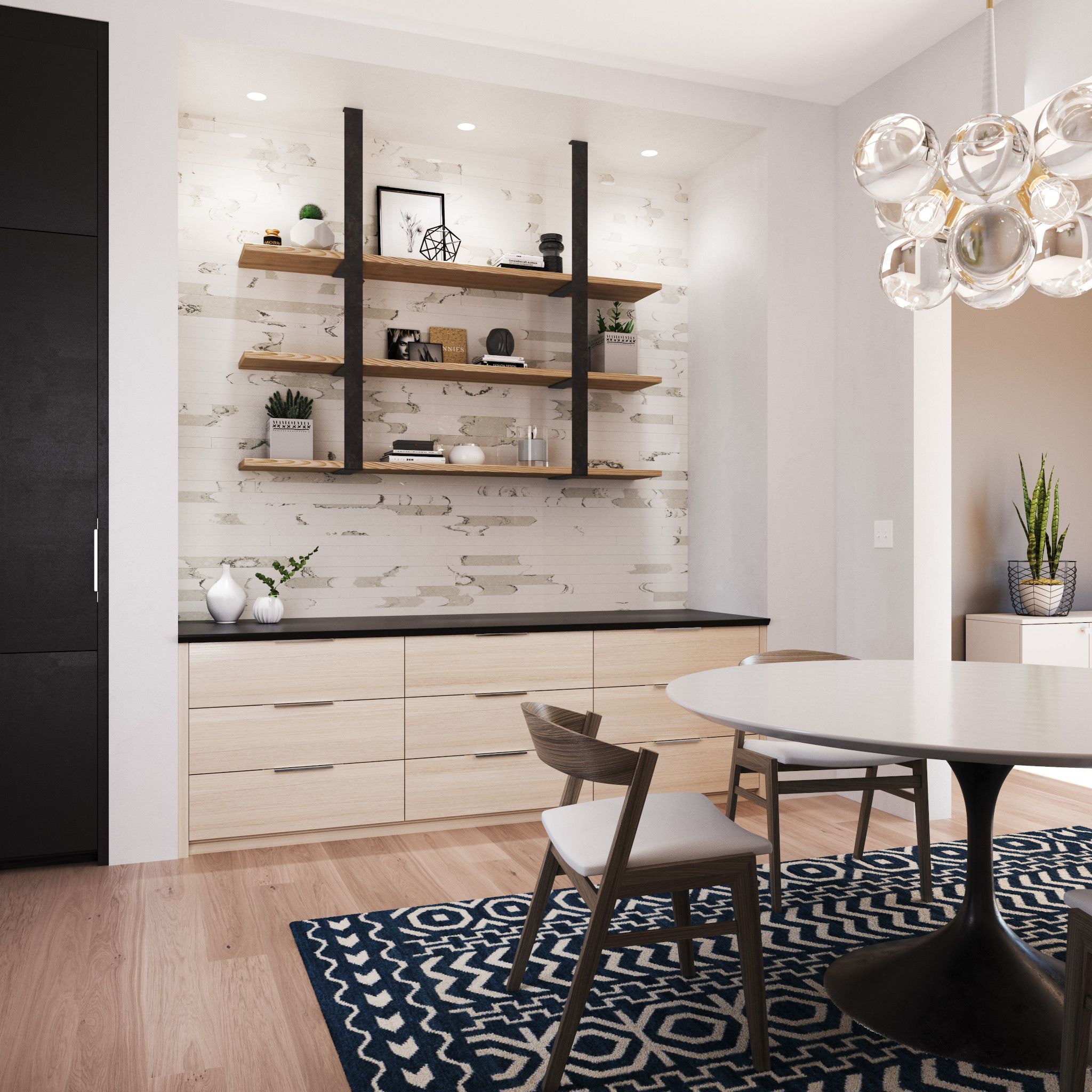 The prep kitchen in the Kips Bay Dallas Show House features a Charlestown backdrop by Chad Dorsey.
The homeowners of a waterfront estate overlooking the Long Island Sound interviewed four kitchen designers before finding their perfect match in Ellen Lopez at EL Design Studio, an expert kitchen and bath designer with over 15 years of experience in the remodeling industry and a background in textiles and styling.
Here, how to create the ultimate support system with Cambria shelving.
Modern Desert Style Home
Inspired by the newly released palette of sundrenched hues that Benjamin Moore paired with its 2021 Color of the Year Aegean Teal, we are calling it: Modern, desert-style design will be "in" in 2021.
Soothing, sunbaked tones create an emotional connection with one's surroundings. Never has it been clearer that the home is a place of comfort, restoration, revitalization, and rejuvenation, and the need to find simple moments of joy has become paramount.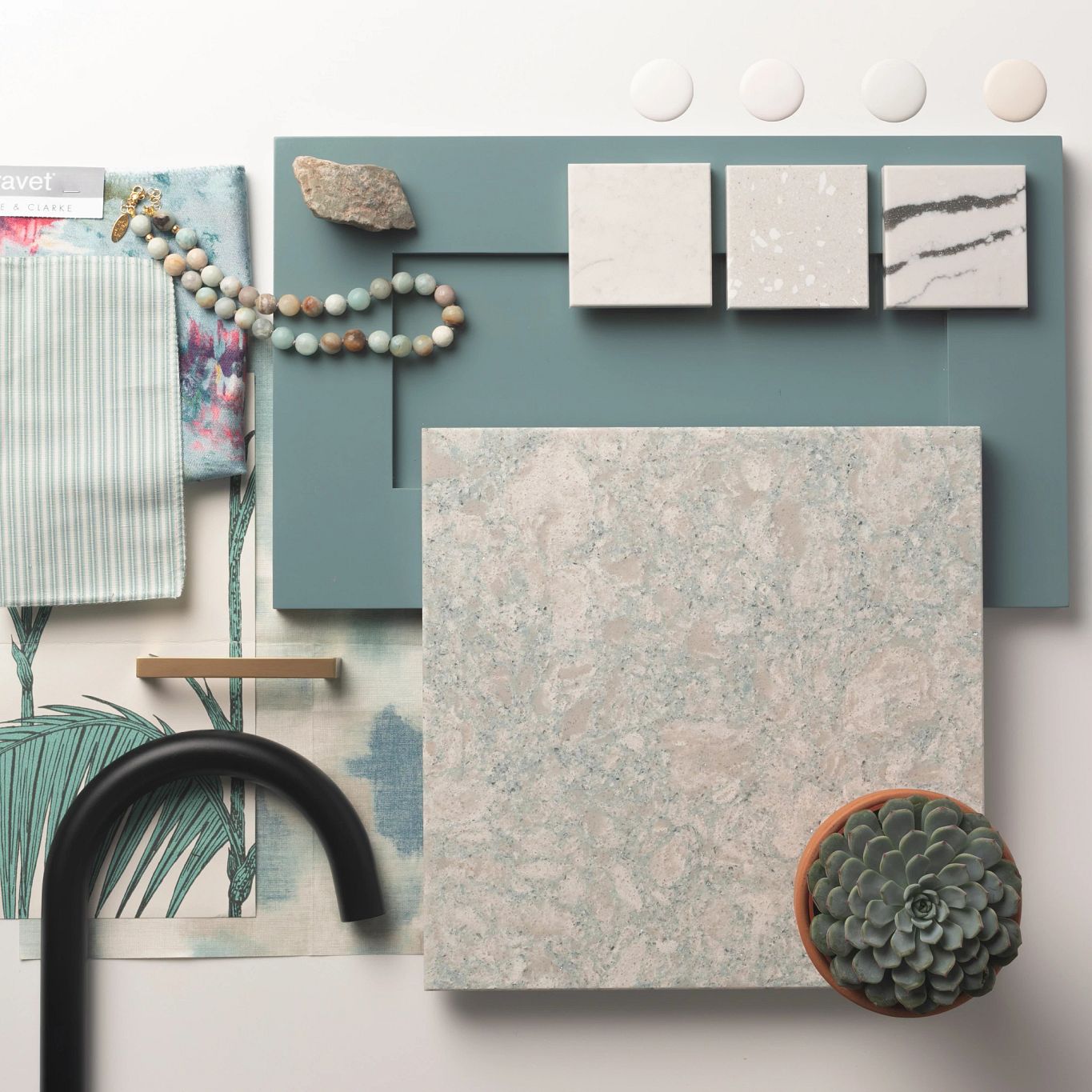 The warm palette in this kitchen creates a warm and inviting ambiance with wood tones, matte black accents, and Cambria's Buxton design on the island and backsplash.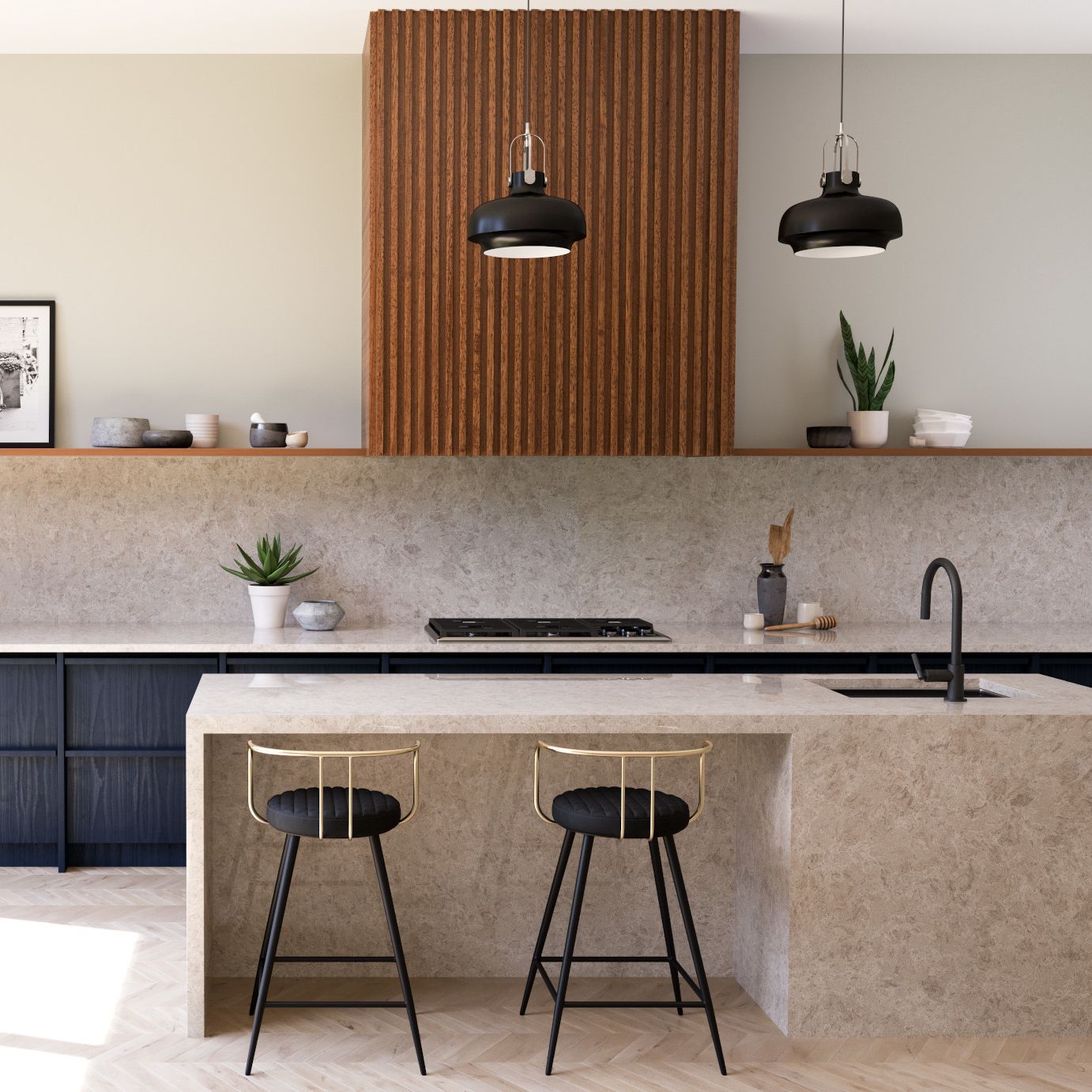 A foundation of wood lets Cambria's Snowdon White be the star of the show in this modern kitchen by Pine Street Carpenters.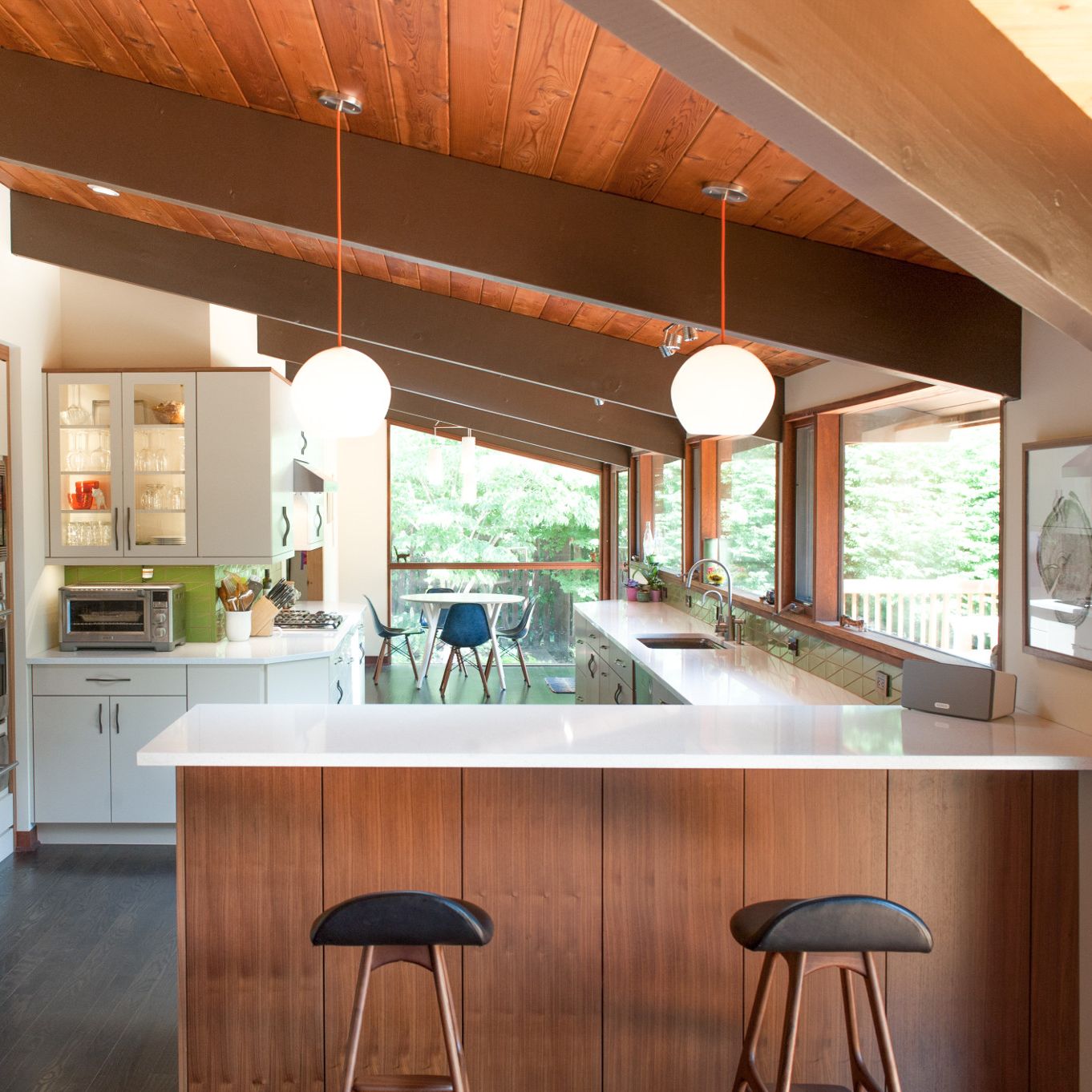 Here, learn more about how to pair Cambria with the Benjamin Moore 2021 Color of the Year.
Featured Designs
Get the Look
Follow Cambria on social media with #MyCambria for more standout designs.
For more information on Cambria, including performance data, product specifications, and certifications, see our Professional Resources.
Interested in creating a showstopping design project with Cambria? Buy a sample, find a dealer, or call 1-866-CAMBRIA (1-866-226-2742) to be connected with a market representative in your region. Or visit our website to set up a virtual design consultation.