According to Houzz's 2021 Kitchen Trends Study, white is holding steady as the top choice for countertop color. An especially deceiving interior design misconception is that white equates to boring, but Cambria knows white is timeless.
The best white quartz countertops never go out of style
"Cambria starts with the purest, whitest, natural quartz on Earth," says Cambria EVP of Design Summer Kath. "Because we own our own mine, we are highly selective about every piece of quartz we use and only select pure white or clear. By using the highest purity natural quartz available, it allows us to achieve depth, quality, and saturation which, in turn, results in stunning designs."
Here, we prove white is anything but basic with our roundup of the best of Cambria's white quartz designs.
Prep Kitchen
For the Kips Bay Decorator Show House Dallas, interior designer Chad Dorsey paired a Cambria Charlestown™ backsplash with white Foggy City Matte countertops and Black Rock Matte™ perimeter flooring for a "European elegance-meets-industrial-edge aesthetic" in the prep kitchen.
"The prep kitchen is meant to be more personal, where all of the day-to-day activities happen, like cooking, so you could keep it a bit more cluttered," explains Dorsey. "I wanted the countertops to be clean and simple—because I wanted all of the vertical surfaces to be bright—but on the floor, I wanted it to sit on something dramatic."
Traditional Kitchen
Cambria Brittanicca Warm countertops pair perfectly with creamy white cabinets, white oak flooring, and warm wood accents in this open, airy kitchen by Custom One Homes. Versatile Cambria countertops ensure the white tones throughout the space never compete with one another.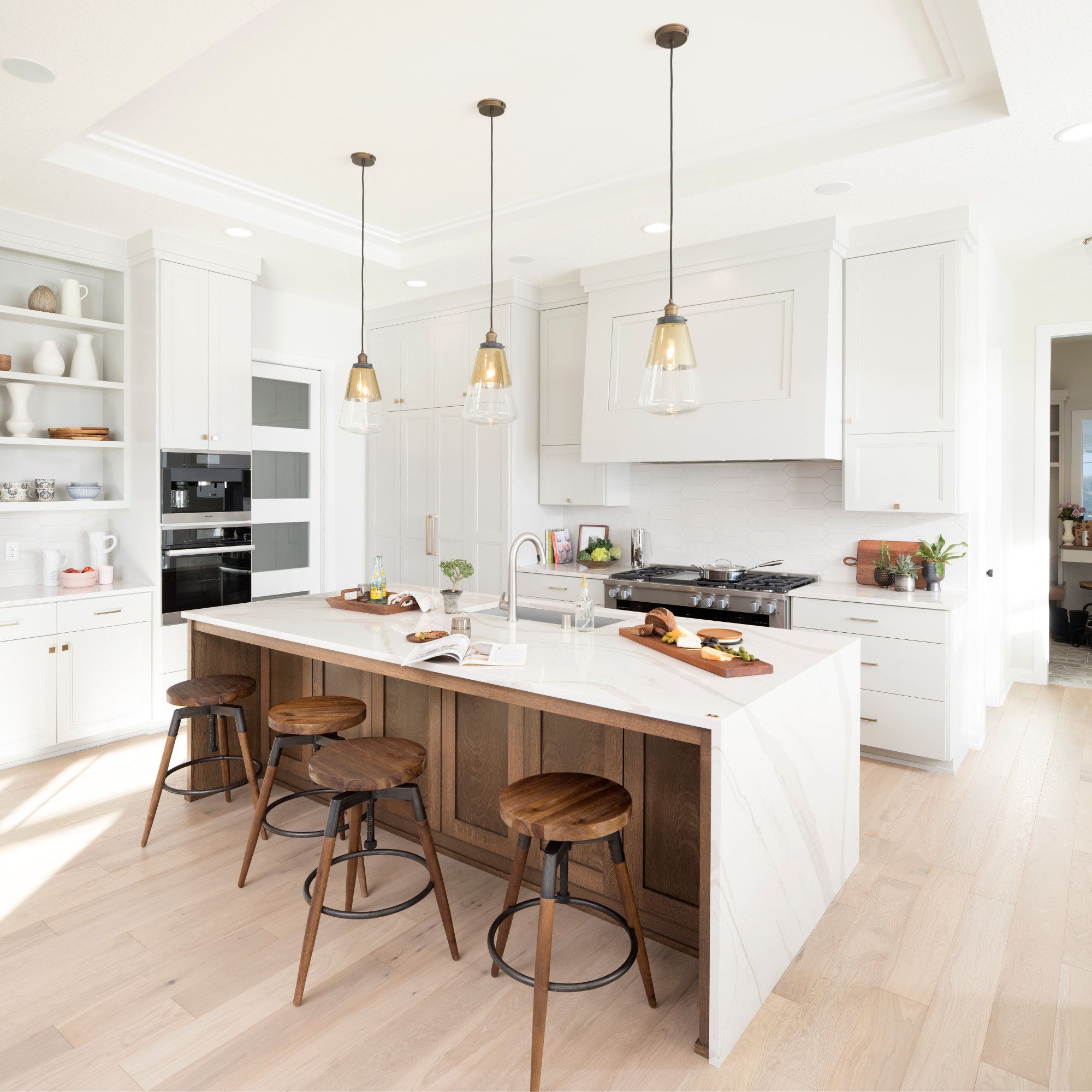 Elegant Kitchen
In this kitchen for the Lake Forest Showhouse, The ABL Group played with an existing marble and travertine checkerboard floor and wood beams original to the home, adding a reclaimed barnwood butcher block by Lake County Barnwood to the island with an antique sewing base, Amish-made cabinetry by Dovetails Cabinetry, and a food-safe quartz countertop by Cambria on the island and area countertops in a custom edge option.
"From the beginning, we knew we had to have a high-quality, maintenance-free countertop option with the natural look and feel of classic marble," says The ABL Group's George Markoutsas. "We settled on Cambria's Colton design for its timeless elegance and its warm and creamy tones, which paired nicely with the existing floor."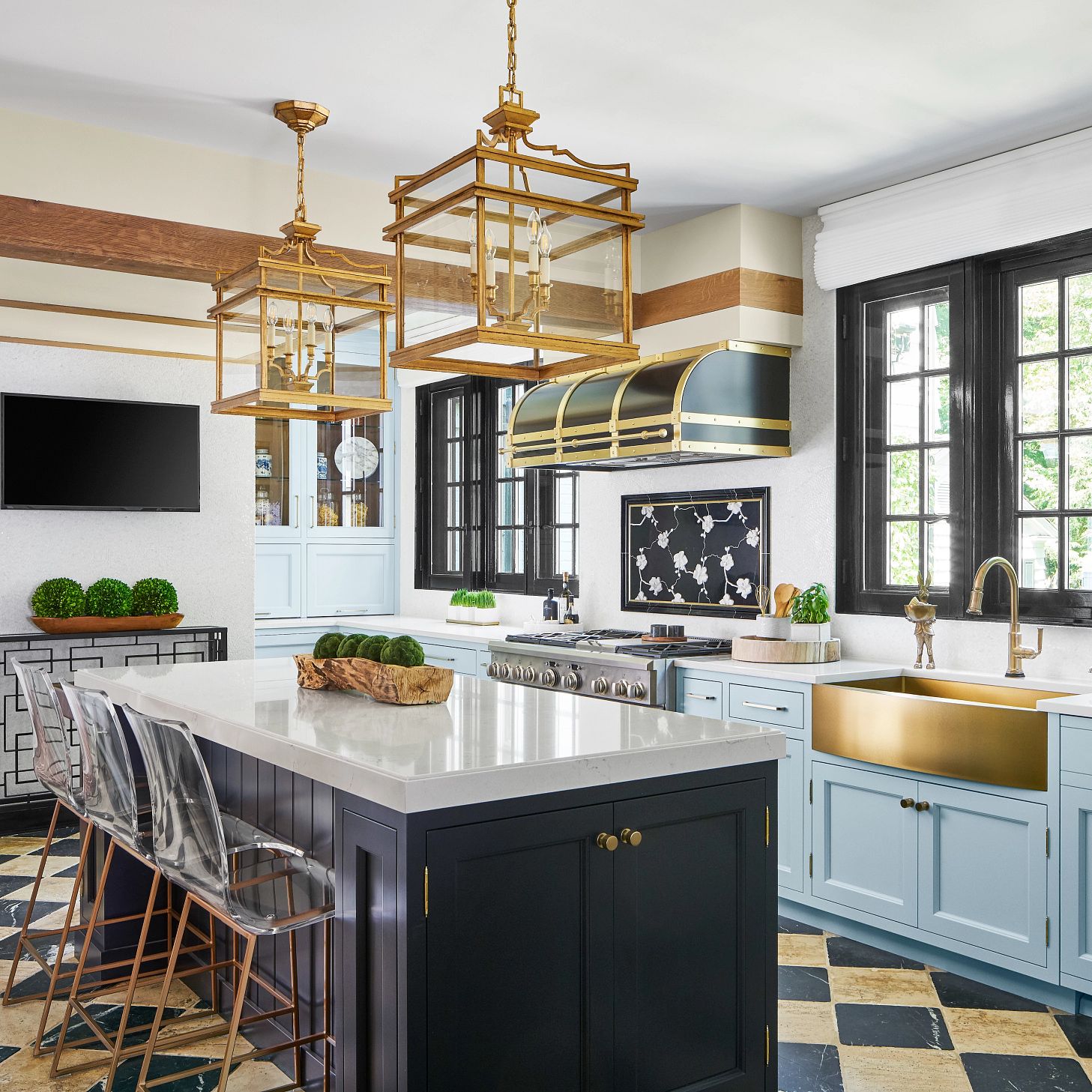 Modern Kitchen
The white waterfall edge Cambria Salt Lake island in this modern kitchen helps create a light and bright focal point. We love Salt Lake's neutral ivory backdrop, which is spread with innumerous faint warm dots overlaid with freeform and geometric shapes. The design from The Coordinates Collection takes its name from Salt Lake City and the largest saltwater lake in the Western Hemisphere.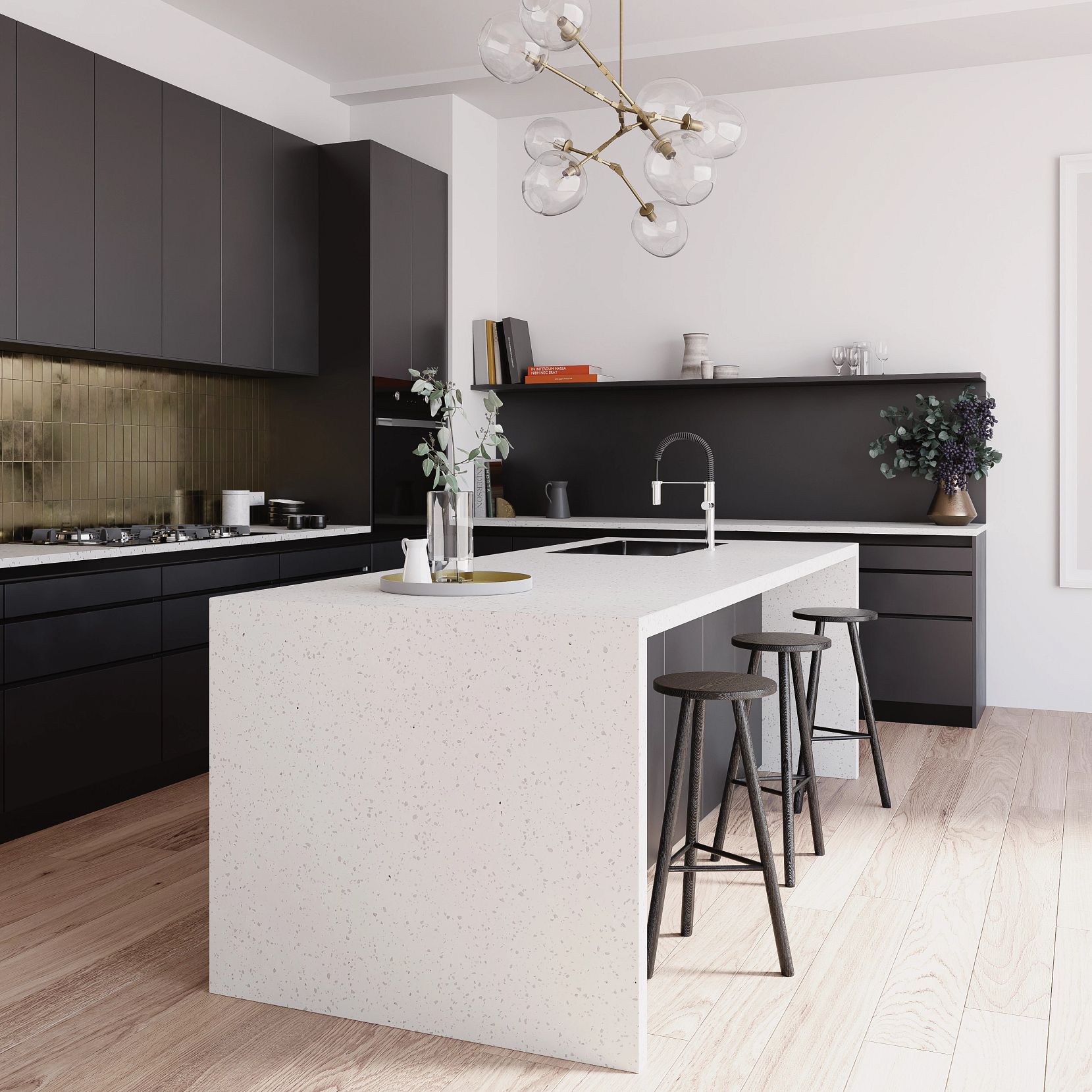 Dramatic Kitchen
The brightest white in Cambria's expansive design palette, Smithfield countertops blend seamlessly with Blackpool Matte™ and gold accents in this upgraded tuxedo kitchen design.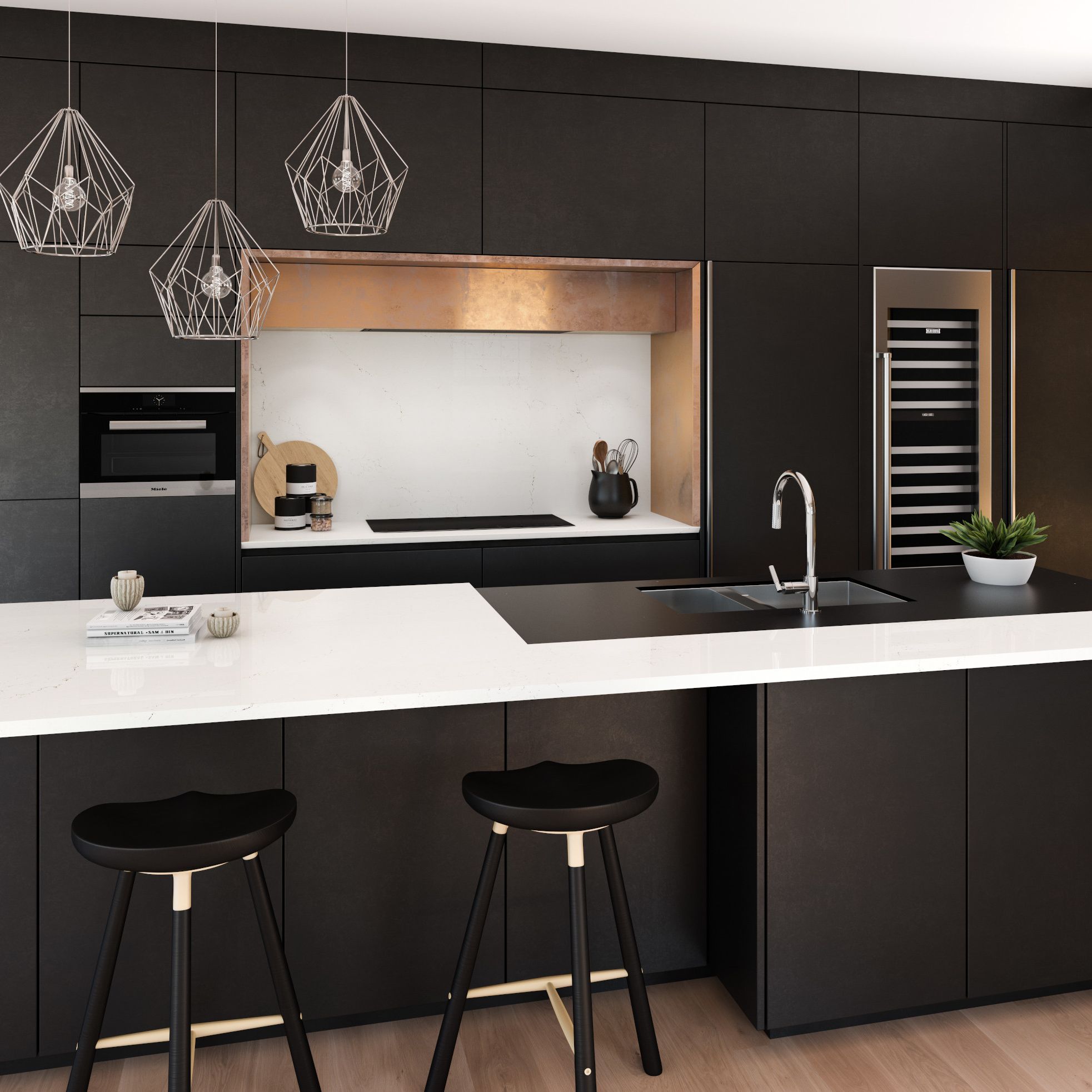 Farmhouse Kitchen
The Beekman 1802 mission is to "make life more meaningful," and founders Josh Kilmer-Purcell and Brent Ridge brought that same thoughtful and sustainable approach to the renovation of their kitchen, choosing to partner with Cambria for the design.
"Several years ago, when building our flagship mercantile store, we used Cambria for the countertops because we knew they'd be more functional and durable than marble, especially in a place open to the public," explains Ridge in an Instagram Live. "Cambria worked out so perfectly that we really wanted to bring the quartz into our own kitchen."
The goal? To create an efficient place to cook and entertain, and also to develop recipes, shoot food photography, and teach and film cooking classes. With the nearest grocery store 40 minutes away, Kilmer-Purcell and Ridge raise and grow almost all of their own food.
"Given everything this kitchen has to do, the decision to use Cambria was an easy one," says Kilmer-Purcell to Cambria Style. "We knew Cambria counters would both look great and stand up to heavy use in our home kitchen."
They chose Cambria Sutherland perimeter countertops where they could continue its rich veining across the matching backsplash, and the subtler all-over pattern of Whitby for the large island. The classic white designs work beautifully with the painted cabinets (the couple saved and updated the existing cherry cabinets to reduce waste), brass hardware, and herringbone floors.
Transitional Kitchen
When paired with warm wood accents and creamy white cabinetry, white inset Cambria Smithfield countertops help tie together the warm wood accents, Café appliances, and creamy white cabinetry in this transitional kitchen design by Ritchie Home Builders.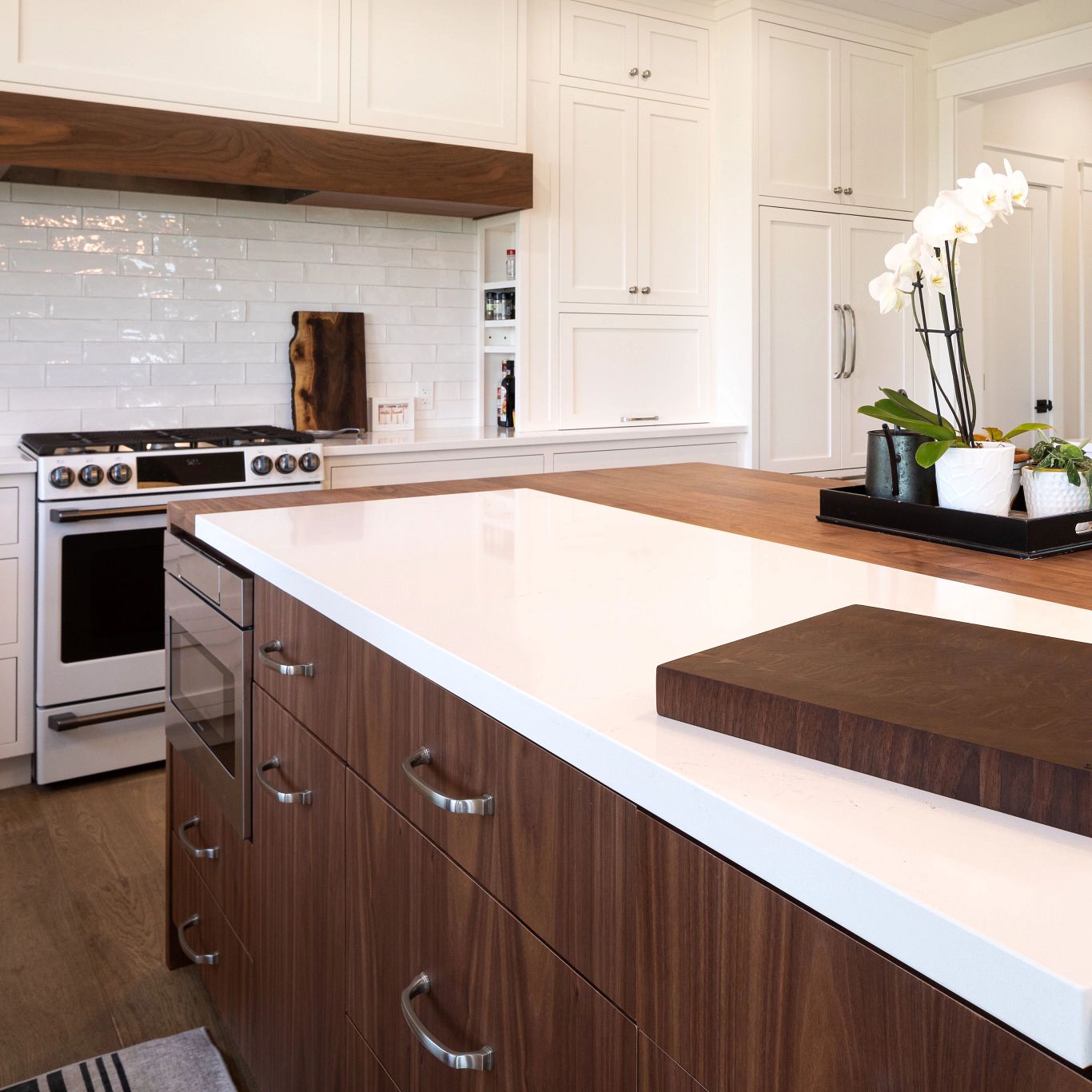 Glam Kitchen
To create this glamorous kitchen, interior designer Gretchen Black and Artisan Signature Homes paired Cambria White Cliff waterfall island and countertops with metallic gold accents and warm wood flooring.
Desert Kitchen
In this desert vacation home kitchen by interior designer Vern Yip, white Cambria Torquay countertops reflect the abundance of natural light streaming in through oversize windows and ensure the modern design feels both warm and inviting.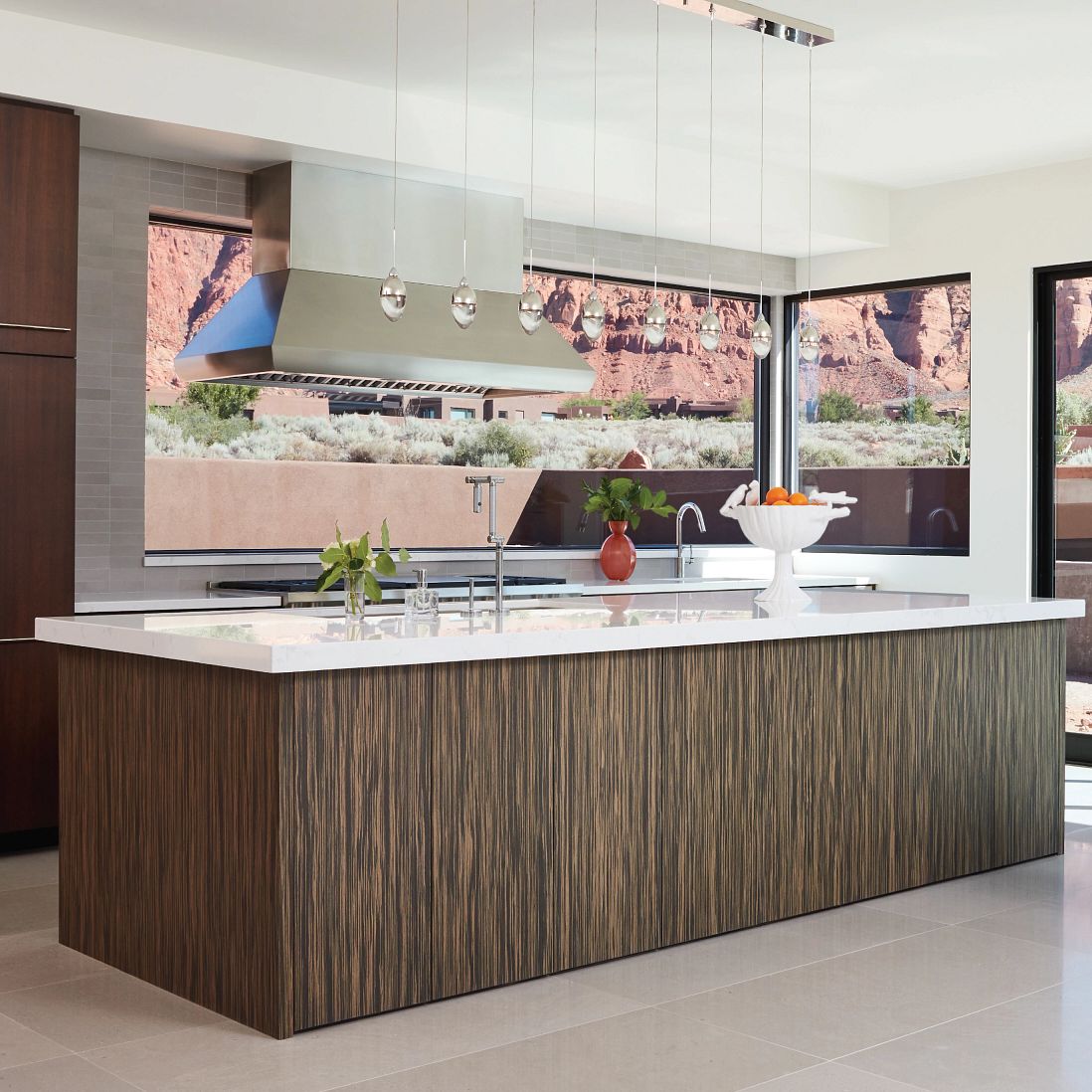 Bold Bathroom
Entrepreneur Jaclyn Johnson worked with British interior designer Ginny Macdonald on the renovation of her Los Angeles–area home, which Architectural Digest describes as "inspired by the spirit and aesthetic of Napa, Palm Springs, and Tulum" with a "predominance of black, pink, beige, and white."
In the primary bathroom, Johnson and Macdonald paired white Cambria Colton countertops with a Colton shower surround to ground the design scheme, which also features glass, tiles, concrete, terrazzo, leather, cane, wood, and an abundance of greenery. The effect is at once both subdued and eclectic.
"Our house has a lot of 'moments,' a lot of distinct rooms with their own personalities, which I think reflects my style," says Johnson to Architectural Digest. "It brings a smile to my face!"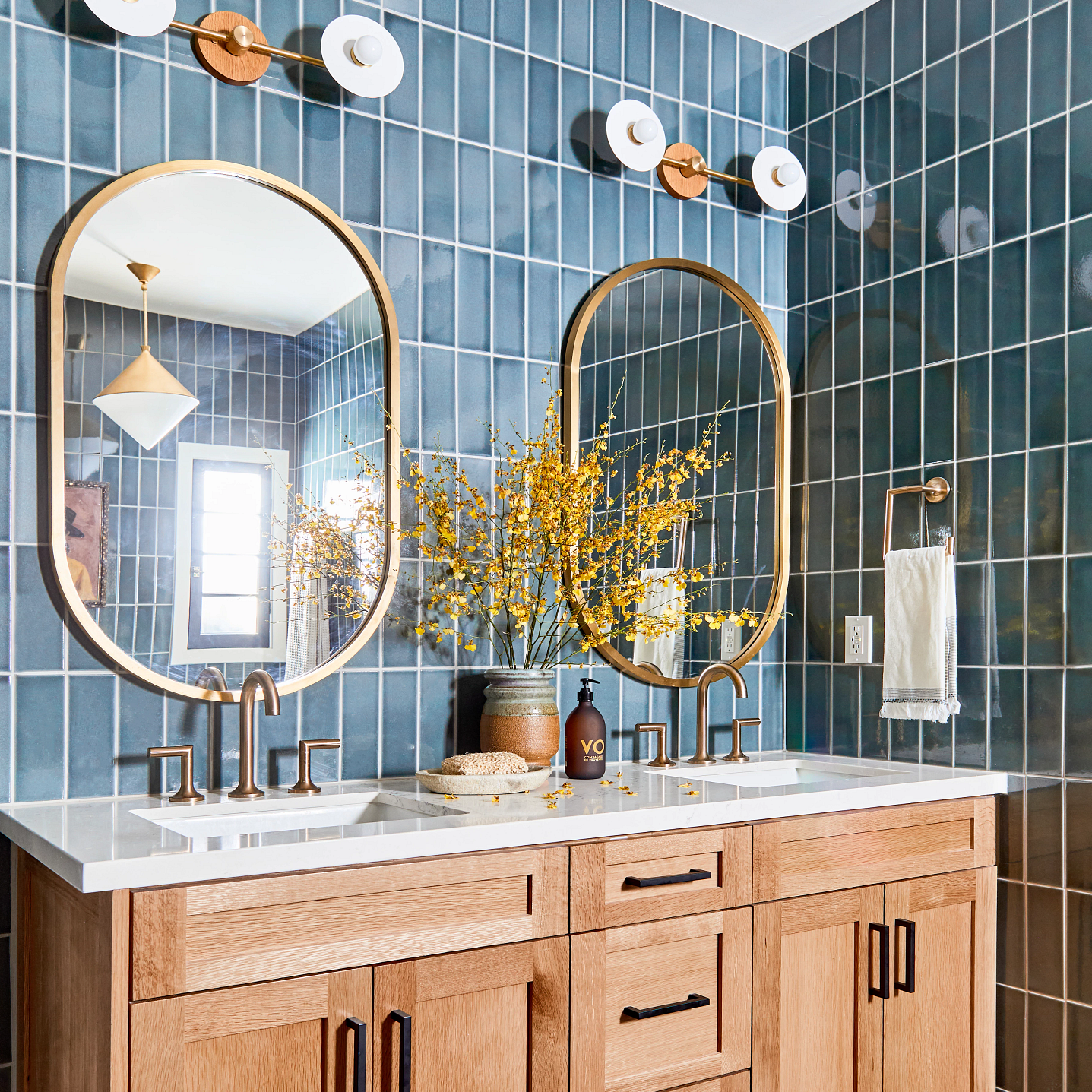 Fun Laundry Room
White Cambria Whitby countertops let the unique elements—including patterned wallpaper and blue cabinetry—in this laundry room design take center stage.
Whitby, one of Cambria's newest designs, features an elegant study of muted contrasts with a light crème brûlée background gently marbled with ever-so-subtle gray shapes and lines that give this intriguing design depth and character.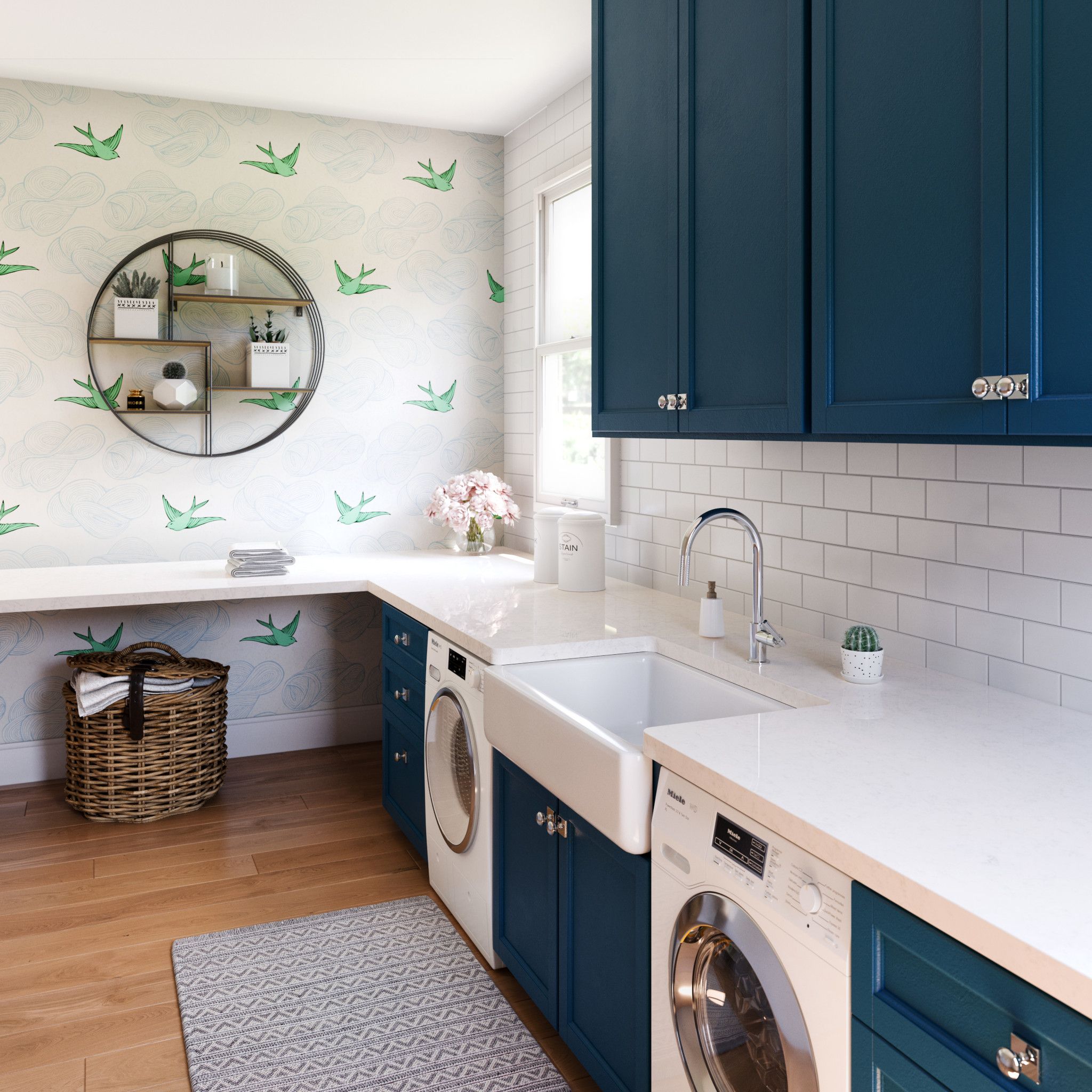 Modern Office Kitchen
We love how the extra thick Cambria White Plains countertops—from The Coordinates Collection—lend a modern edge to this black and white office break room.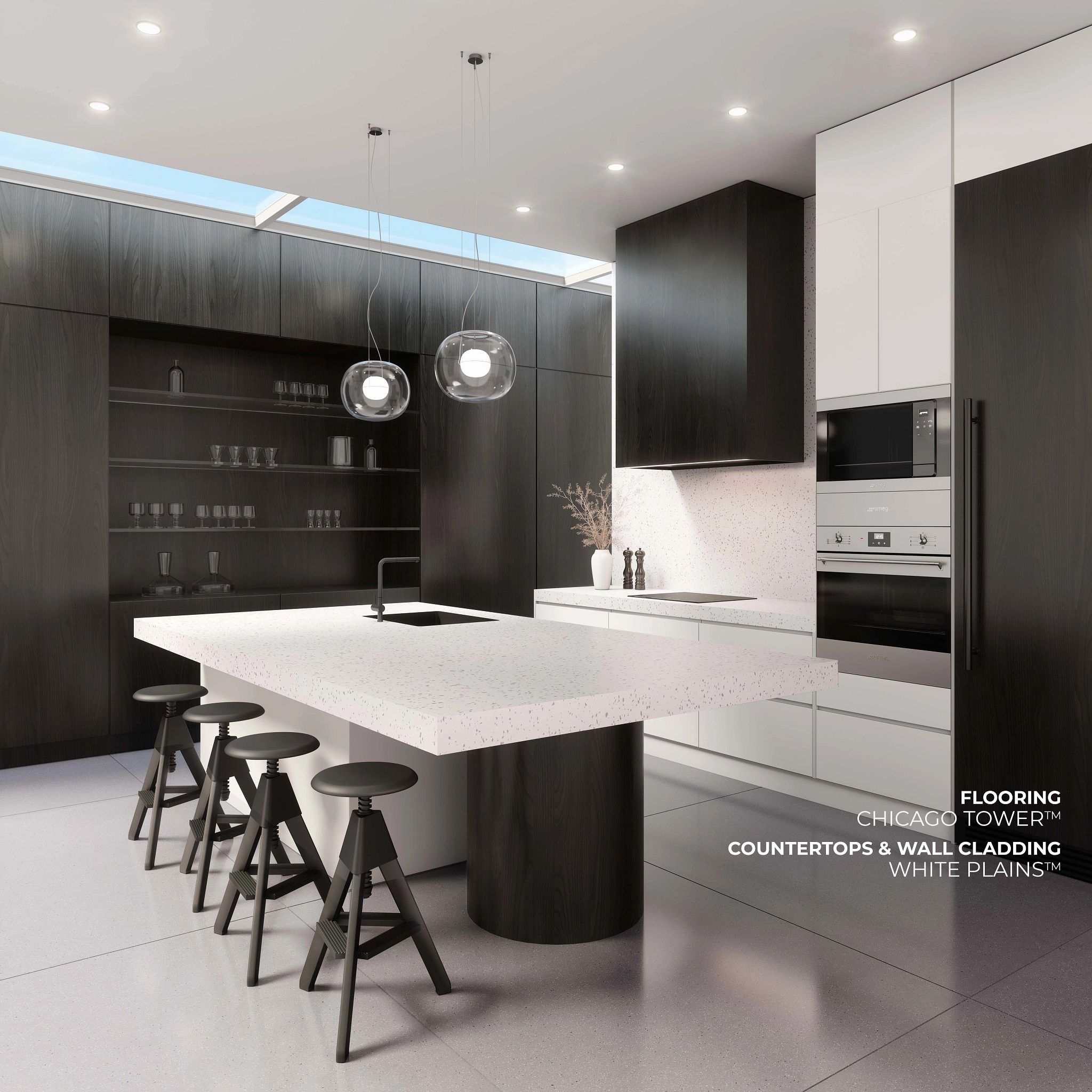 Airy Break Room
White Sanibel Shoreline wall cladding combines with terrazzo-like Vail Village flooring and countertops to complete a modern aesthetic in this light and bright break room.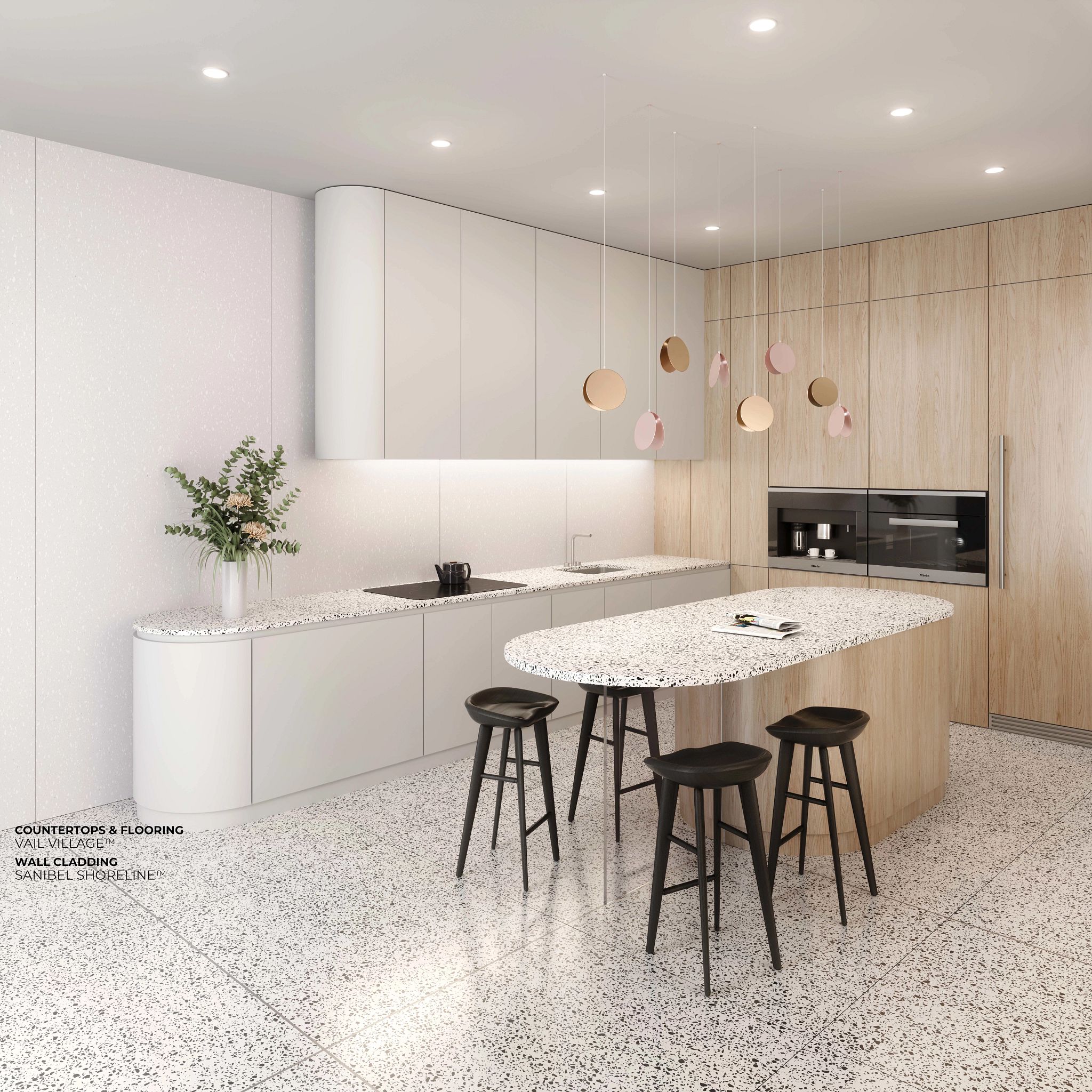 Gorgeous Guest Room
In this Omni Viking Lakes Hotel guest bathroom, cleanliness is of the utmost importance. A white Cambria Weybourne shower sets the tone, and the seamless Cambria quartz even eliminates the need for grout to further ensure cleanliness and functionality.
"Cambria was really one of the perfect product selections for us across the board, even in the guest room showers, cladding them floor to ceiling," says ESG Architecture & Design senior interior designer Bridget Hale, who helped ideate the Omni Viking Lakes Hotel interior schematic. "Again, it's not just for aesthetic purposes, but for its performance—nonporous and easy to clean and maintain."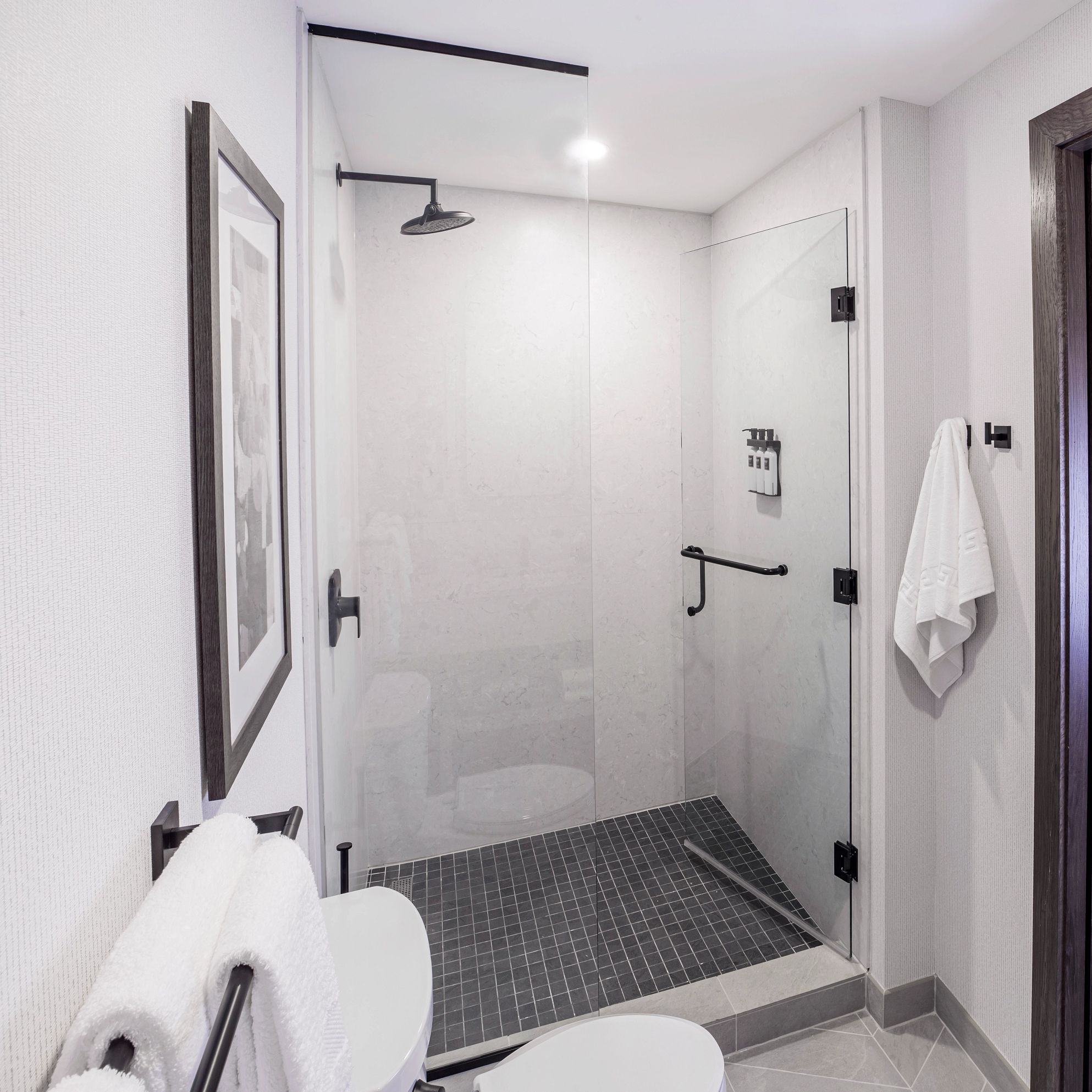 Featured Designs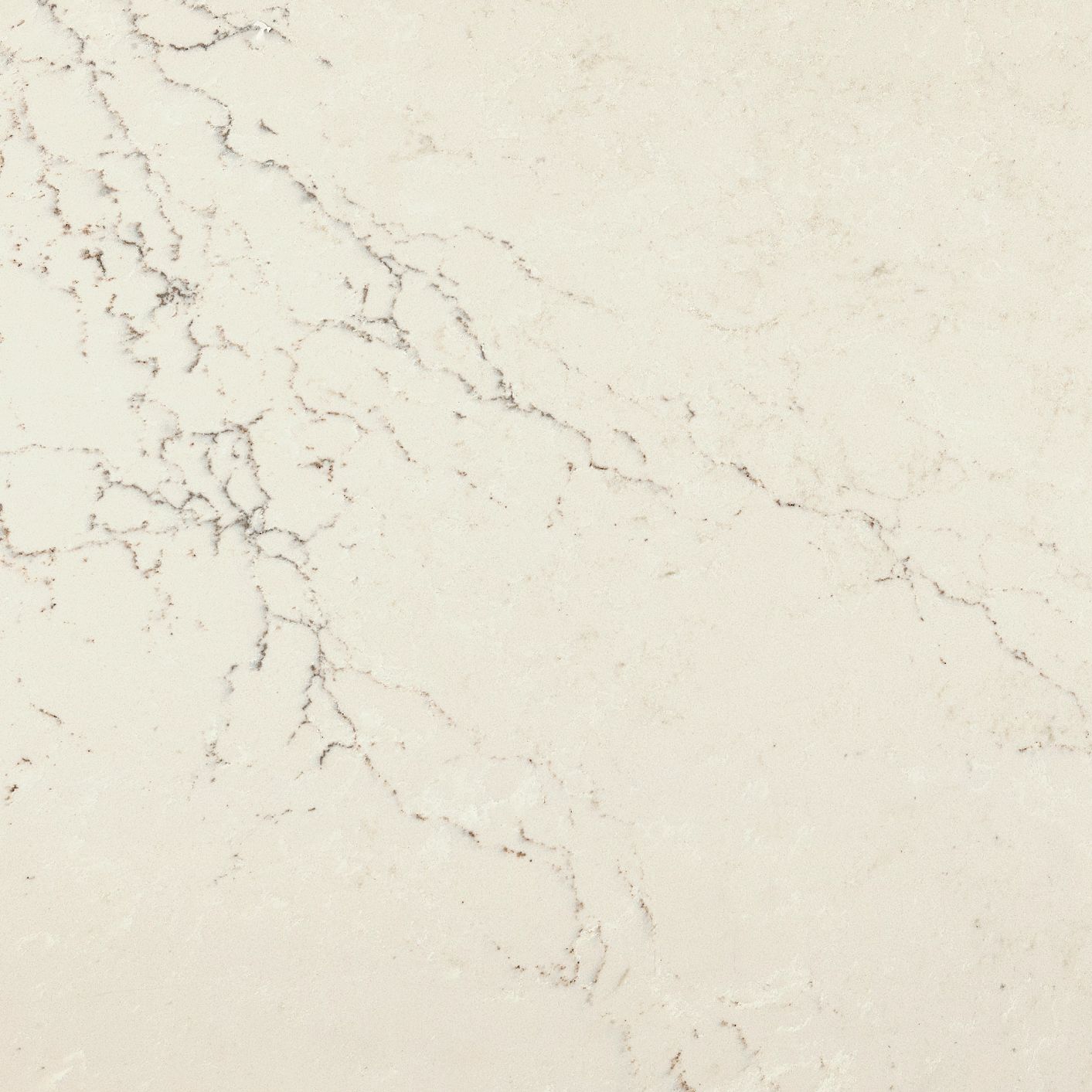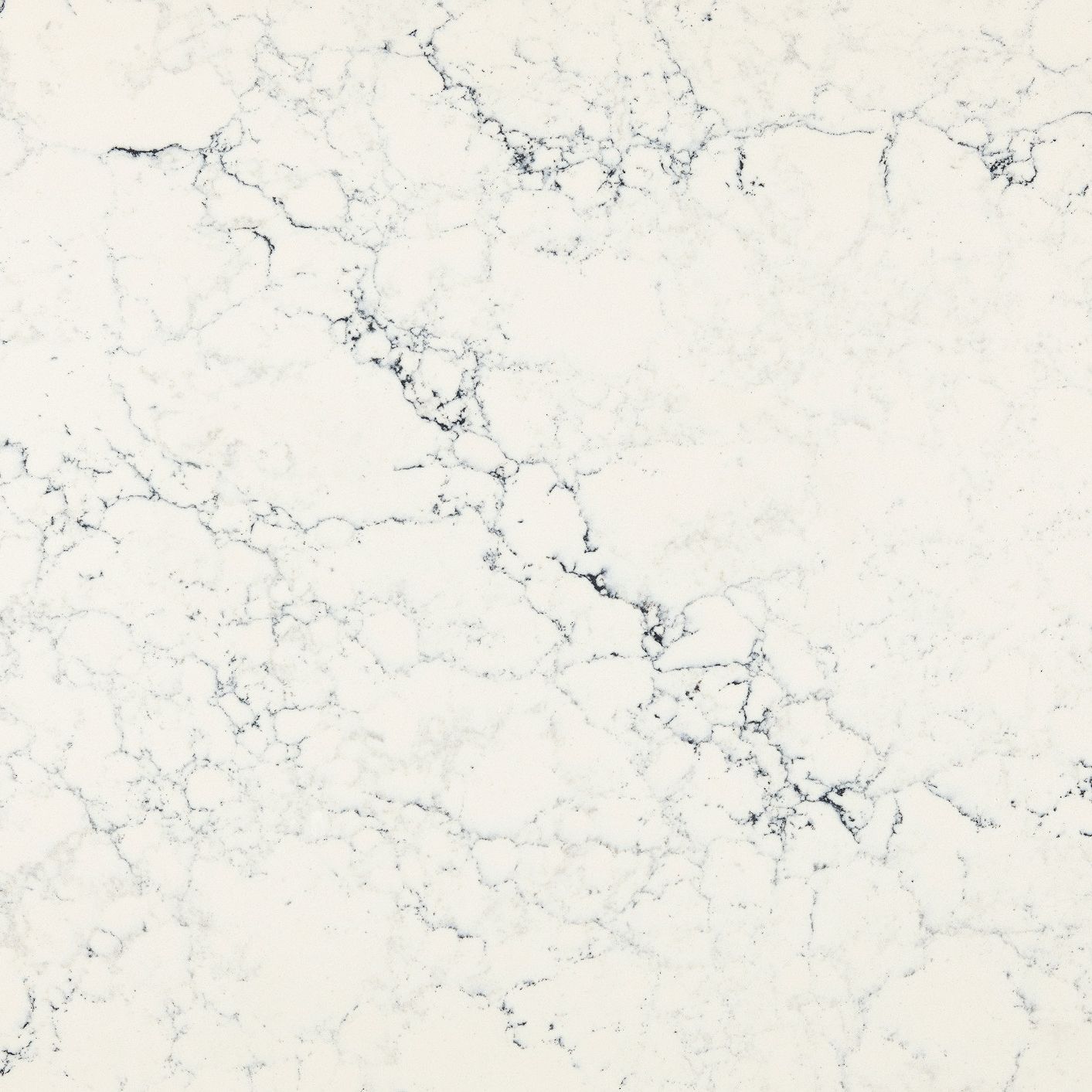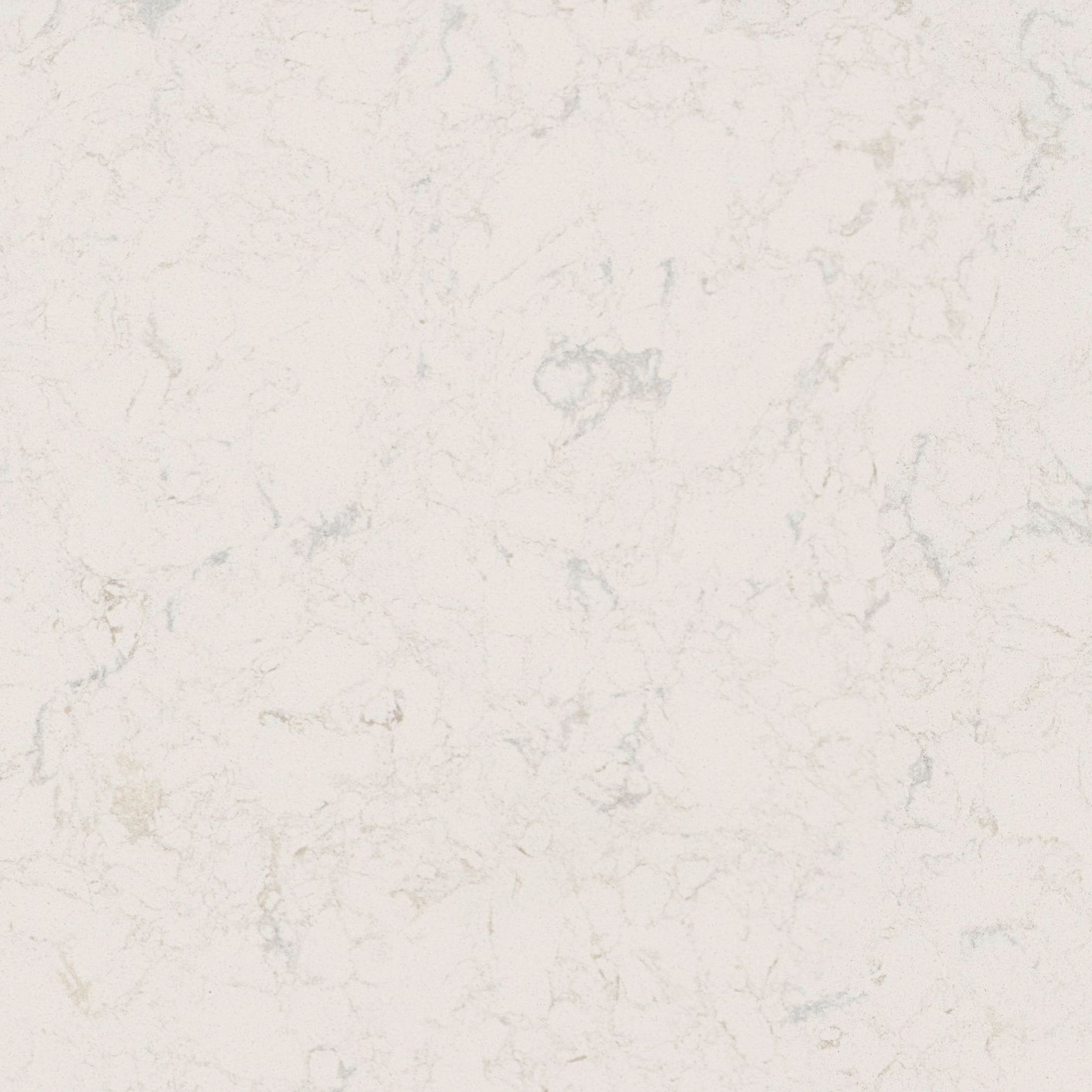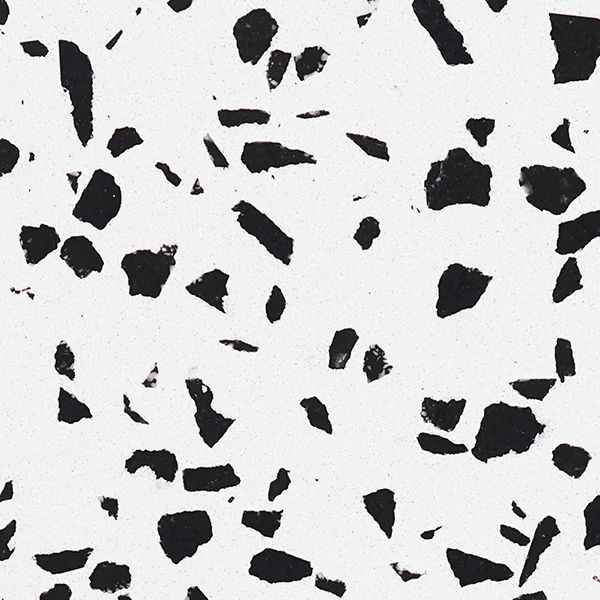 *Product design consultant: Gensler
From creamy quartz to bright white quartz, let Cambria help brighten your space!
Follow Cambria on social media with #MyCambria for more standout designs.
For more information on Cambria, including performance data, product specifications, and certifications, see our Professional Resources.
Interested in creating a showstopping design project with Cambria? Buy a sample, find a dealer, or call 1-866-CAMBRIA (1-866-226-2742) to be connected with a market representative in your region. Or visit our website to set up a virtual design consultation.