Have you set your sights on Skara Brae? This striking, sought-after design features robust, earth-toned veining with occasional interruptions of delicate black and white cross-veins on a bone-white backdrop. The organic flowing movement and captivating combination of tones give this bold countertop a versatility usually reserved for more subtle styles. With translucent taupe and olive veins, Cambria Skara Brae countertops can complement wood cabinet hues, pop against matte black, or add drama to an all-white space.
We've curated 10 swoonworthy spots that showcase how Cambria Skara Brae is the secret to an exceptional space, from kitchen islands to quartz backsplashes and more.
Cambria Skara Brae countertops
As strong as it is stunning, Skara Brae is a superior alternative to marble countertops. Like all of Cambria's natural quartz designs, Skara Brae is more durable than granite and marble, resists staining and scratching, and never requires any maintenance.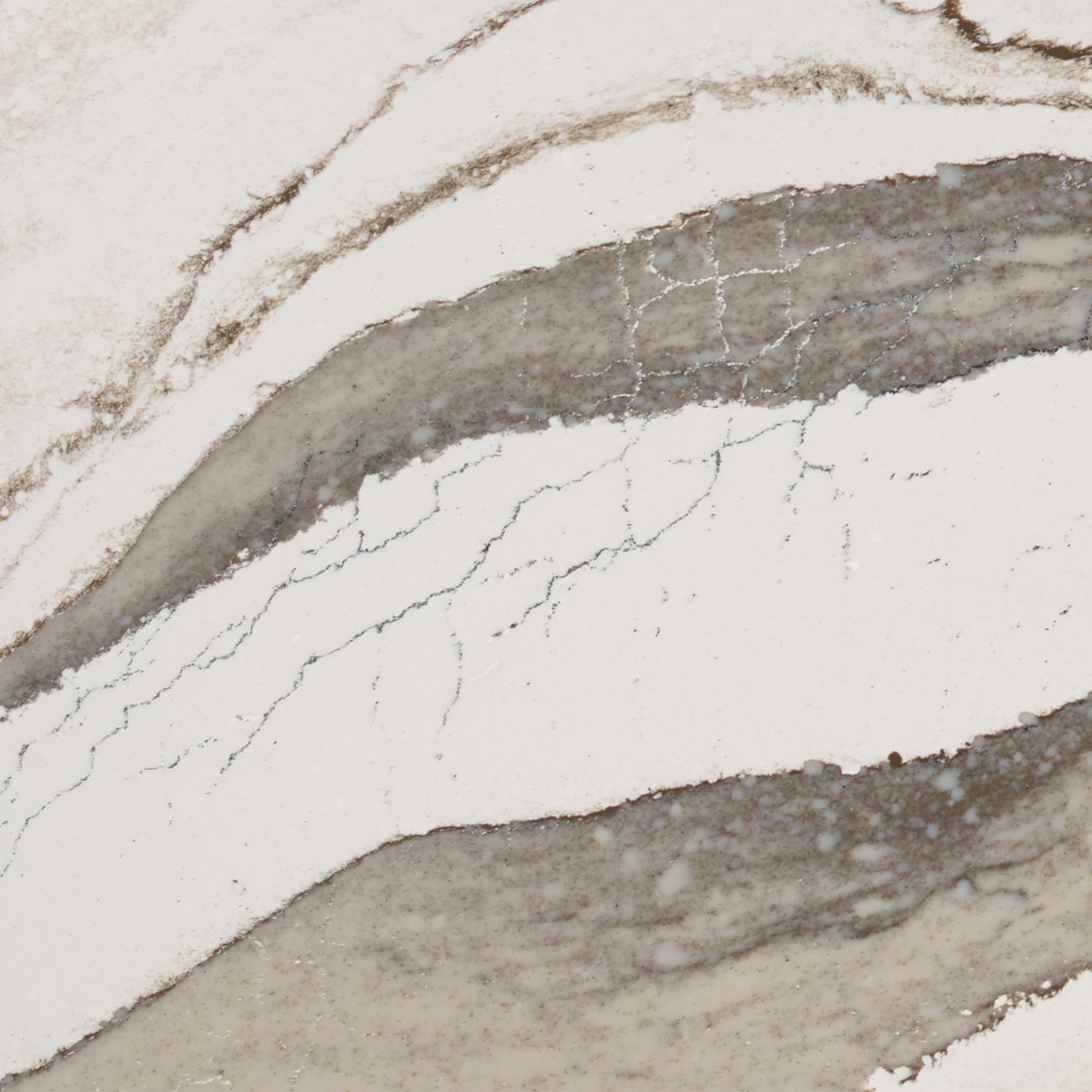 Check out these 10 spaces with Cambria Skara Brae countertops, backsplashes, and more to ignite your kitchen design plans.
1. Cozy farmhouse kitchen with Skara Brae countertops
A Skara Brae kitchen island is the perfect focal point in this chic farmhouse space. The bold olive green and taupe veins in these white quartz countertops pair beautifully with rich black accents and pops of green. For a similar dark perimeter countertop accent, we recommend Blackpool Matte™ or Cambria Black™. A charming coffee nook, window bench seating, and vintage touches round out the cozy space.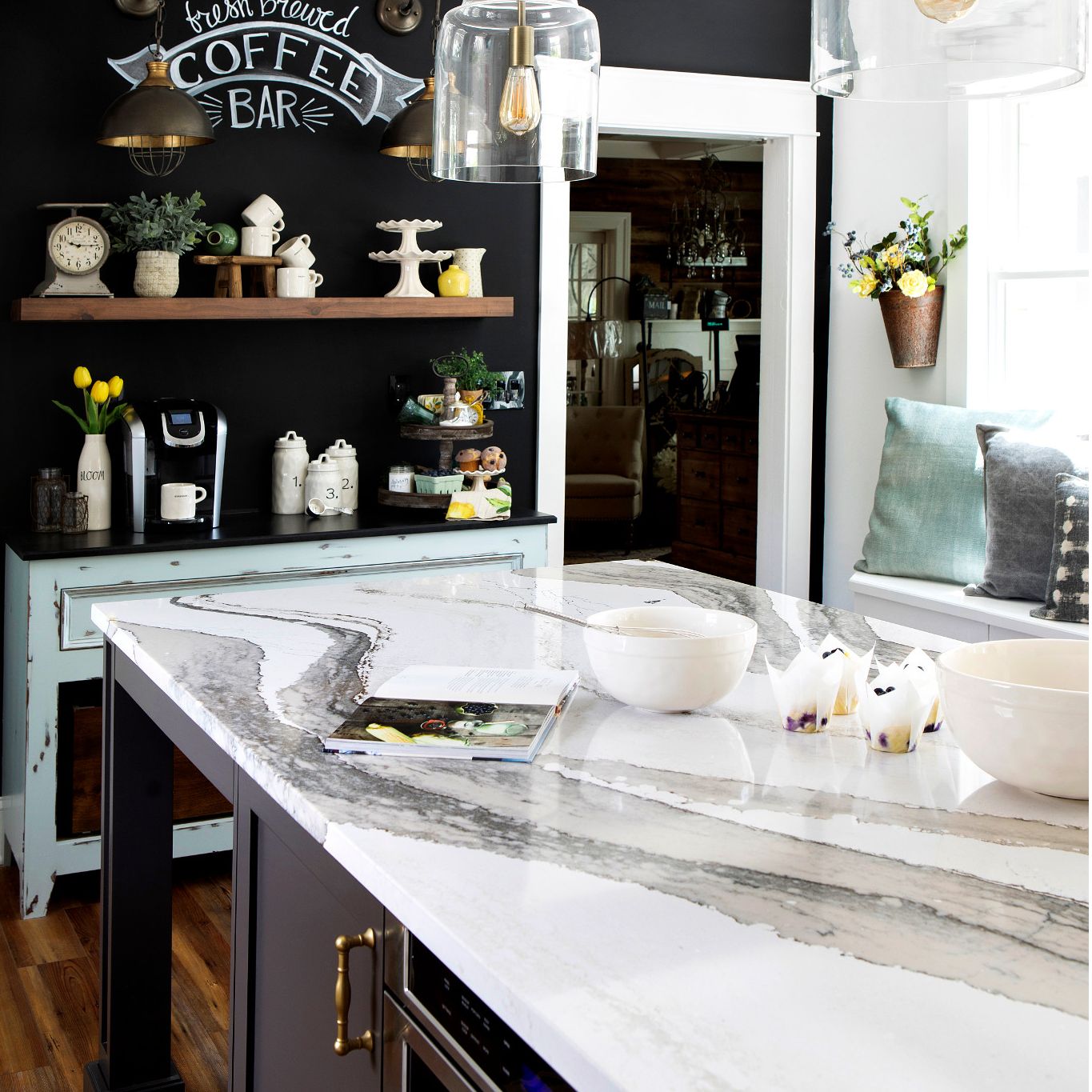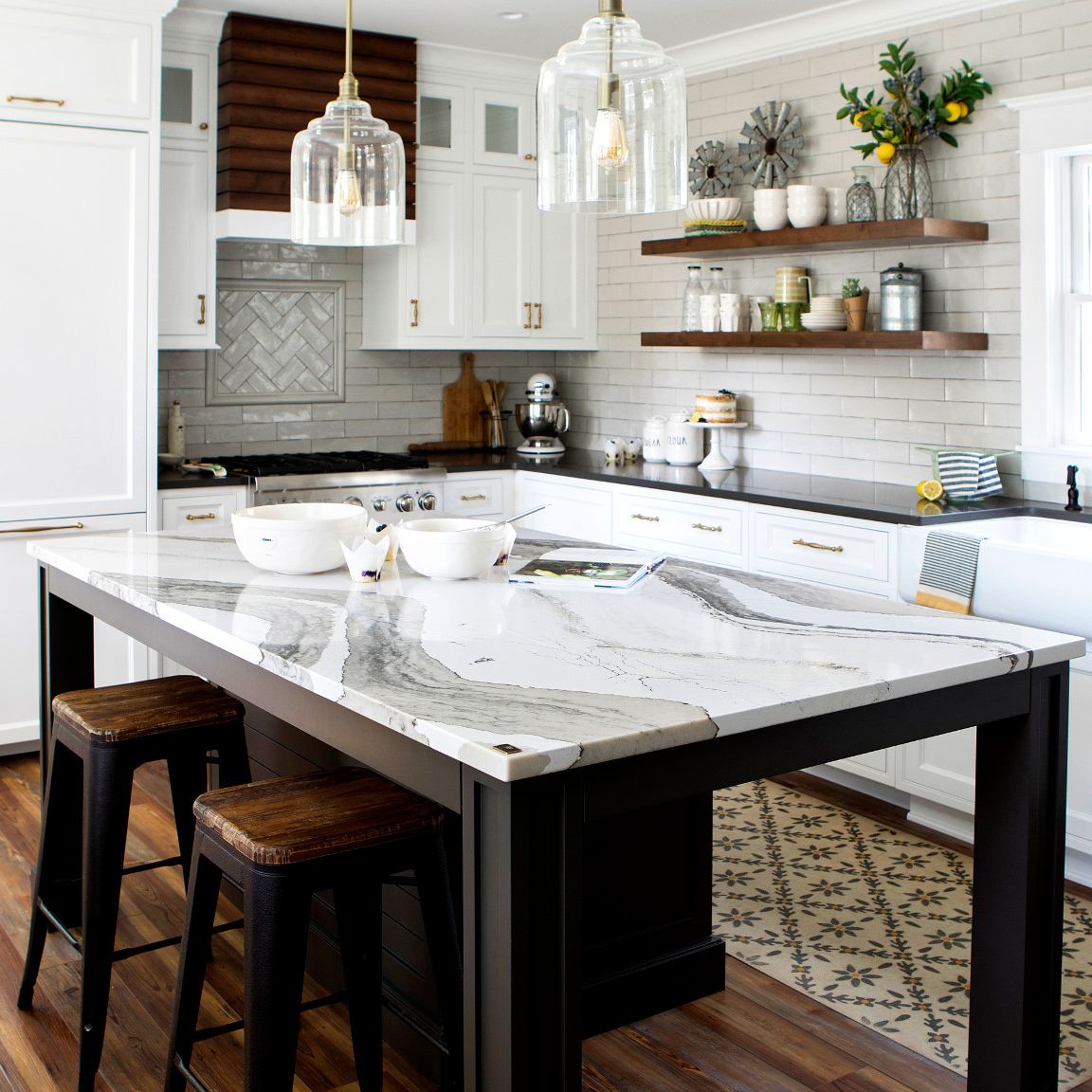 Love this farmhouse style? See Skara Brae paired with Ironsbridge in another farmhouse kitchen, including videos detailing the installation process. Plan your final kitchen look with these tips for farmhouse beauty.
2. Wood-and-white kitchen with Skara Brae
This breathtaking open kitchen pairs warm woods with waterfall-edge Skara Brae countertops for a spacious island design with an extended overhang for dine-in convenience. Mixed metal hues, including a trio of brass pendants and a chrome-detailed range hood, add a glamorous touch in this inviting, airy space.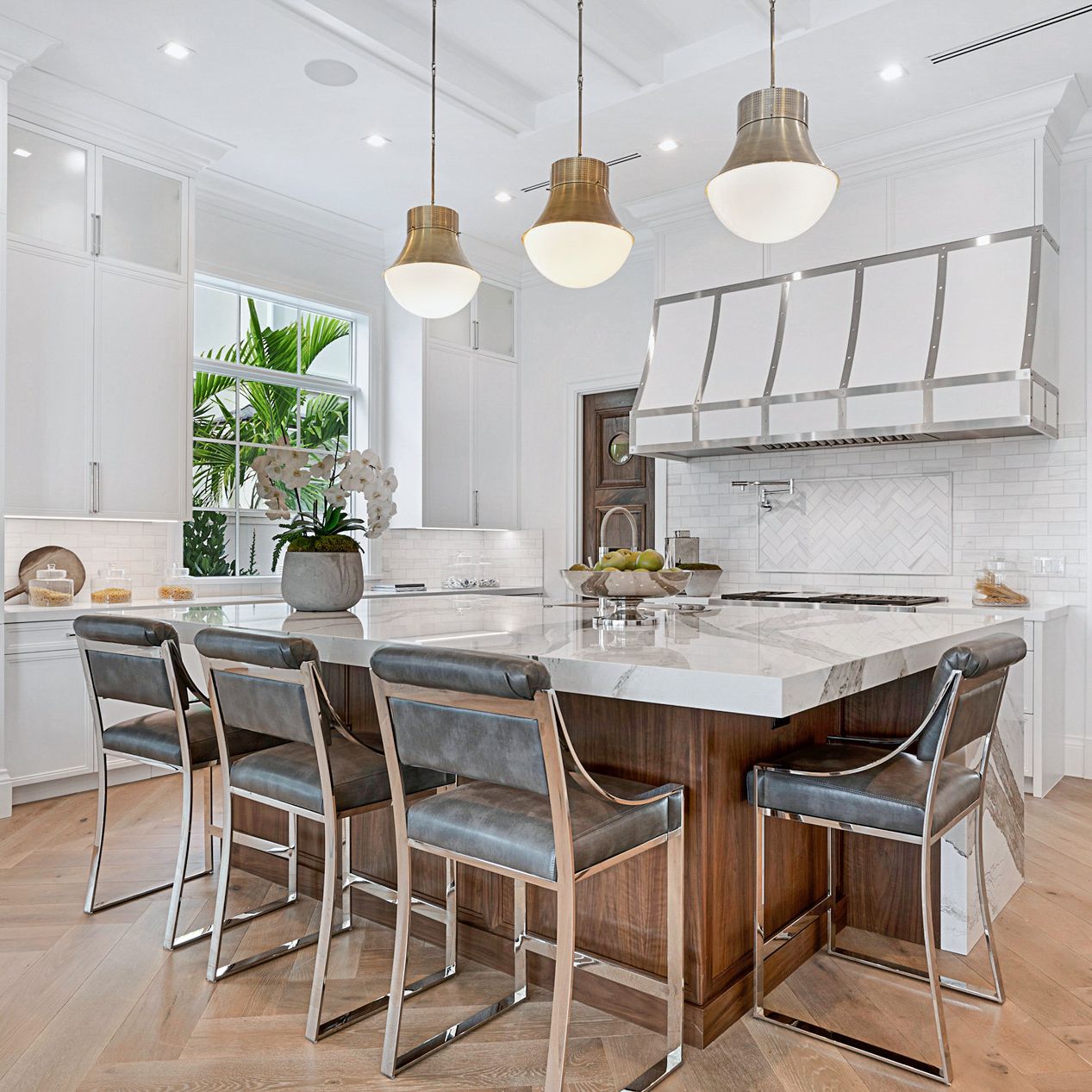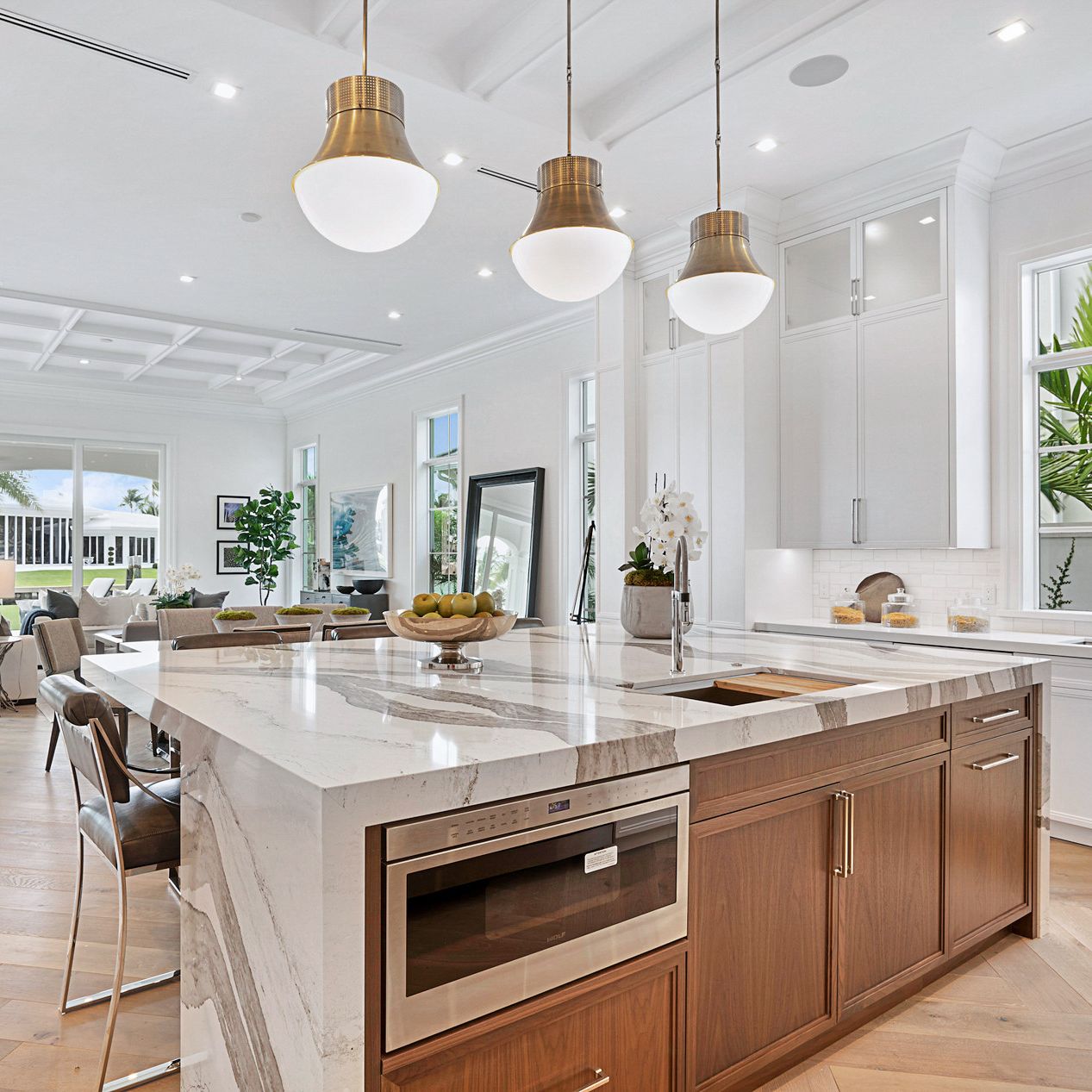 3. Modern two-tone kitchen with patterned play
This lake home kitchen offers relaxed and refined coastal style with a Skara Brae island with taupe-toned wood cabinetry. A coordinating wood range hood and pop of patterned tile combine to create a compelling focal point with the Skara Brae island. Cambria Black Matte perimeter countertops add contrast and create a cohesive look with the living room fireplace in this open-plan layout. See a full view of the living room featuring a Cambria Black Matte fireplace surround in our fireplace design roundup. Love the two-tone kitchen countertops look? Find more ideas for pairing Cambria designs in your space.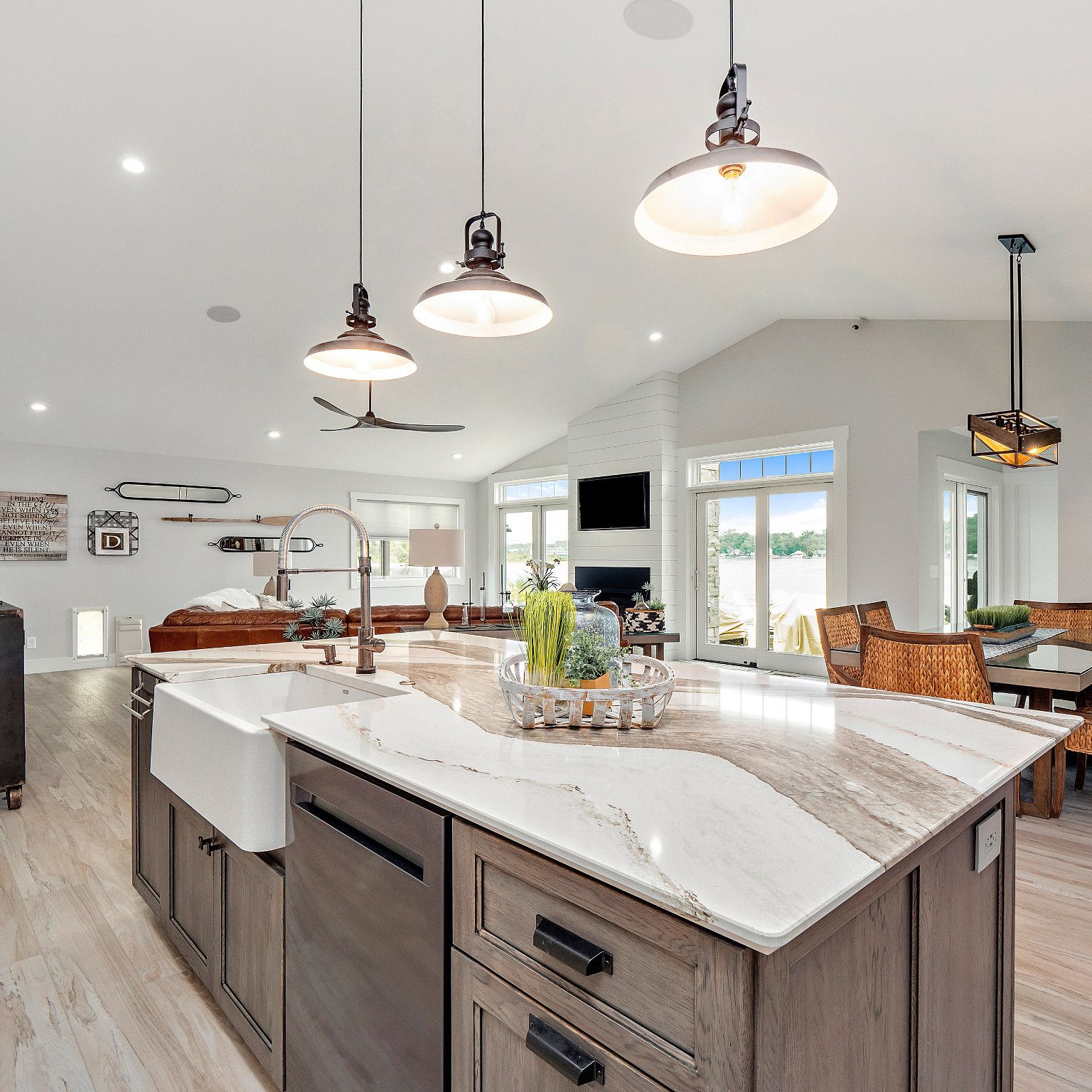 4. Contemporary high-contrast kitchen
We love when kitchens break the mold with unique island shapes and this space does so in stunning style. A prep island pairs with an expansive waterfall-edge kitchen island table with seating for six. The perpendicular orientation of the two connected islands creates an intriguing contrast of Skara Brae's movement. A Cambria Ironsbridge backsplash and perimeter lends an airy effect and allows Skara Brae to take centerstage. Get more ideas for incorporating a sleek quartz backsplash in your space.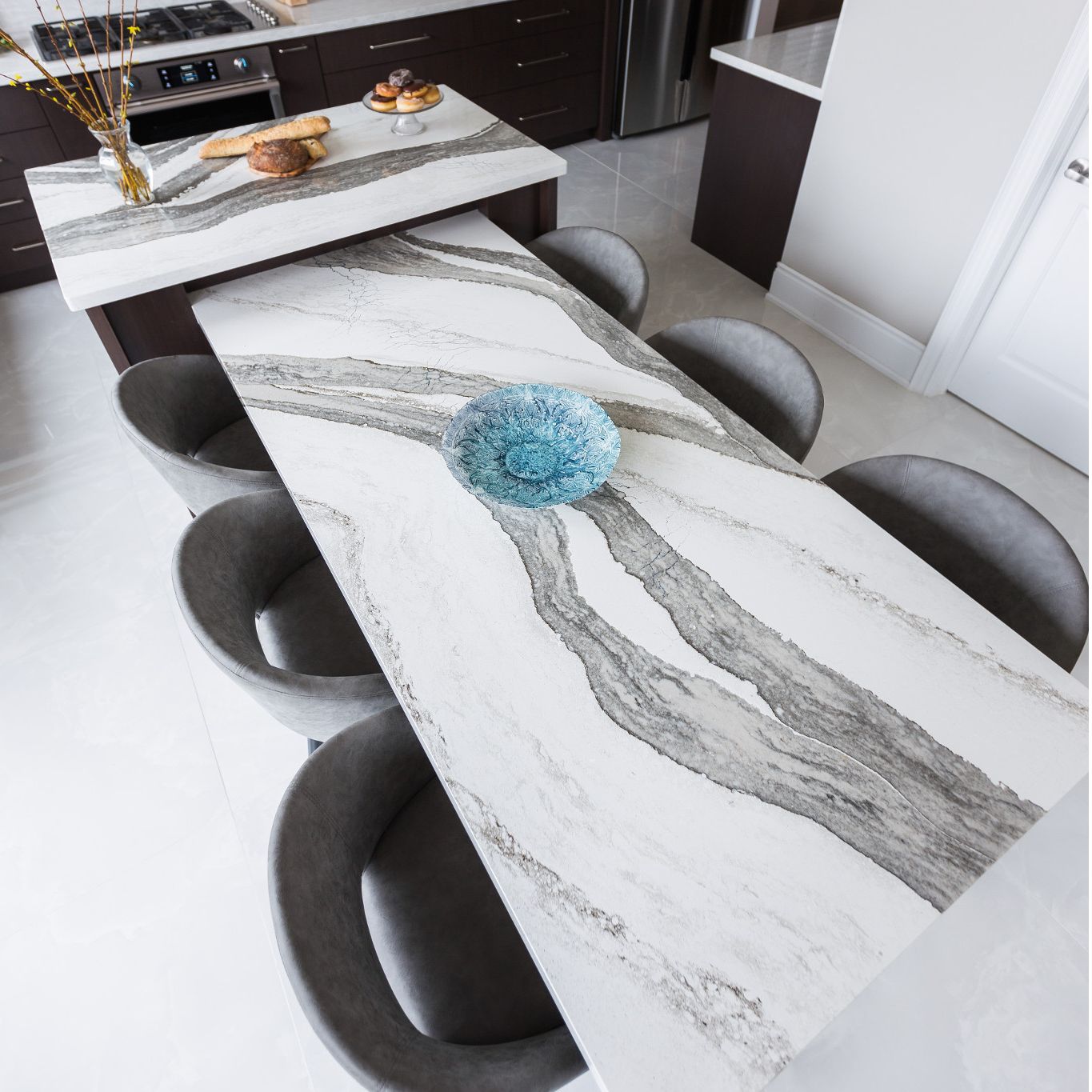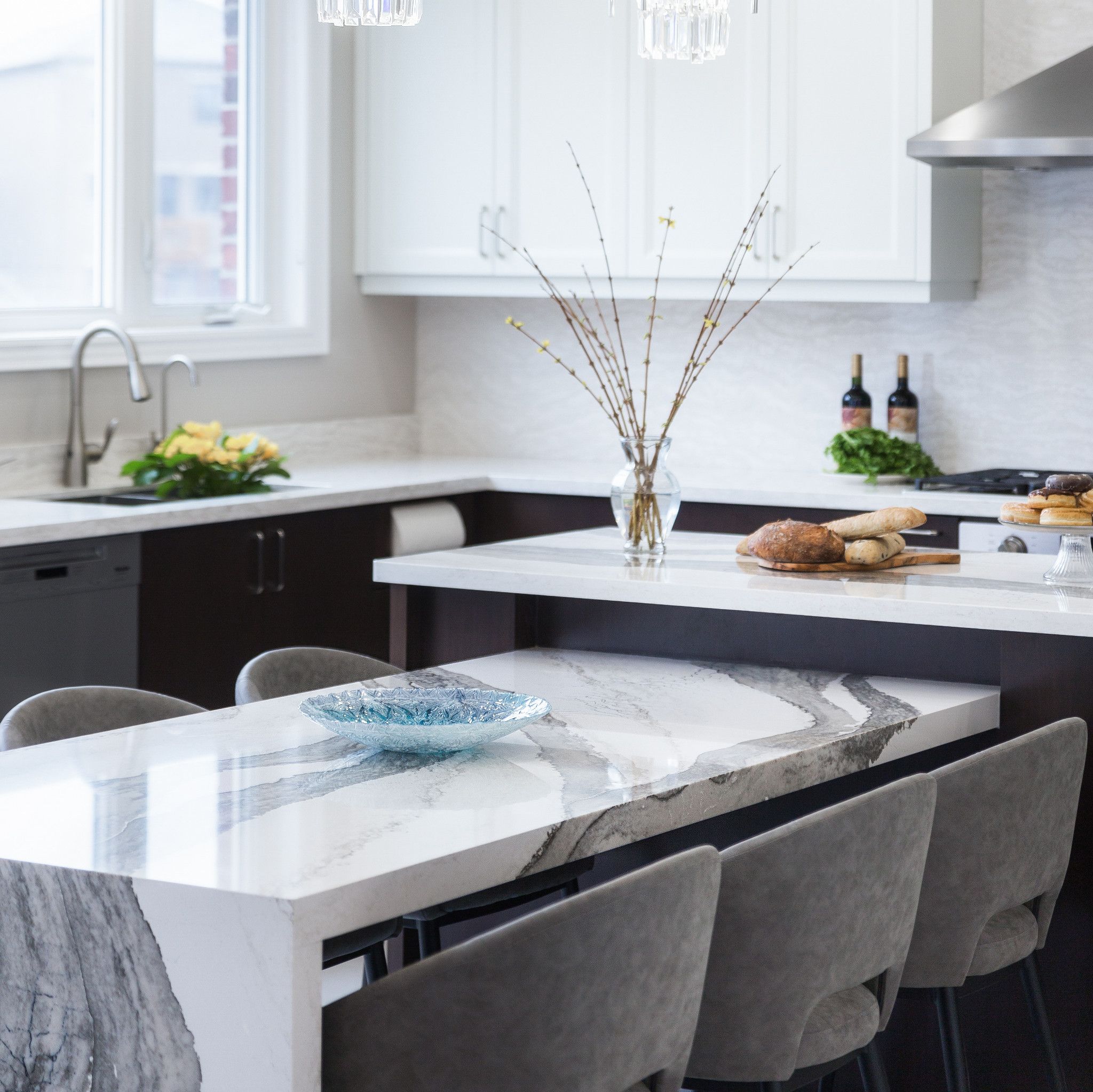 5. Timeless white kitchen with historic charm
While small in size, this white jewel-box kitchen with Skara Brae overflows with character and charm. Designer T. Phillips was inspired by Skara Brae's translucent olive and taupe veining, selecting it for the backsplash as well as the countertops for this historic home remodel. "Skara Brae has beautiful veining which is very much like a Carrera to me, but volumized, almost zoomed in," he says. "It is almost like a topography map, if you will, [as if you're] looking from space at water and different rhythms." Mirror-front cabinetry reflects the beauty of the space and creates the feeling of more space. See the before-and-after and more details of the Skara Brae kitchen and coordinating conversation area.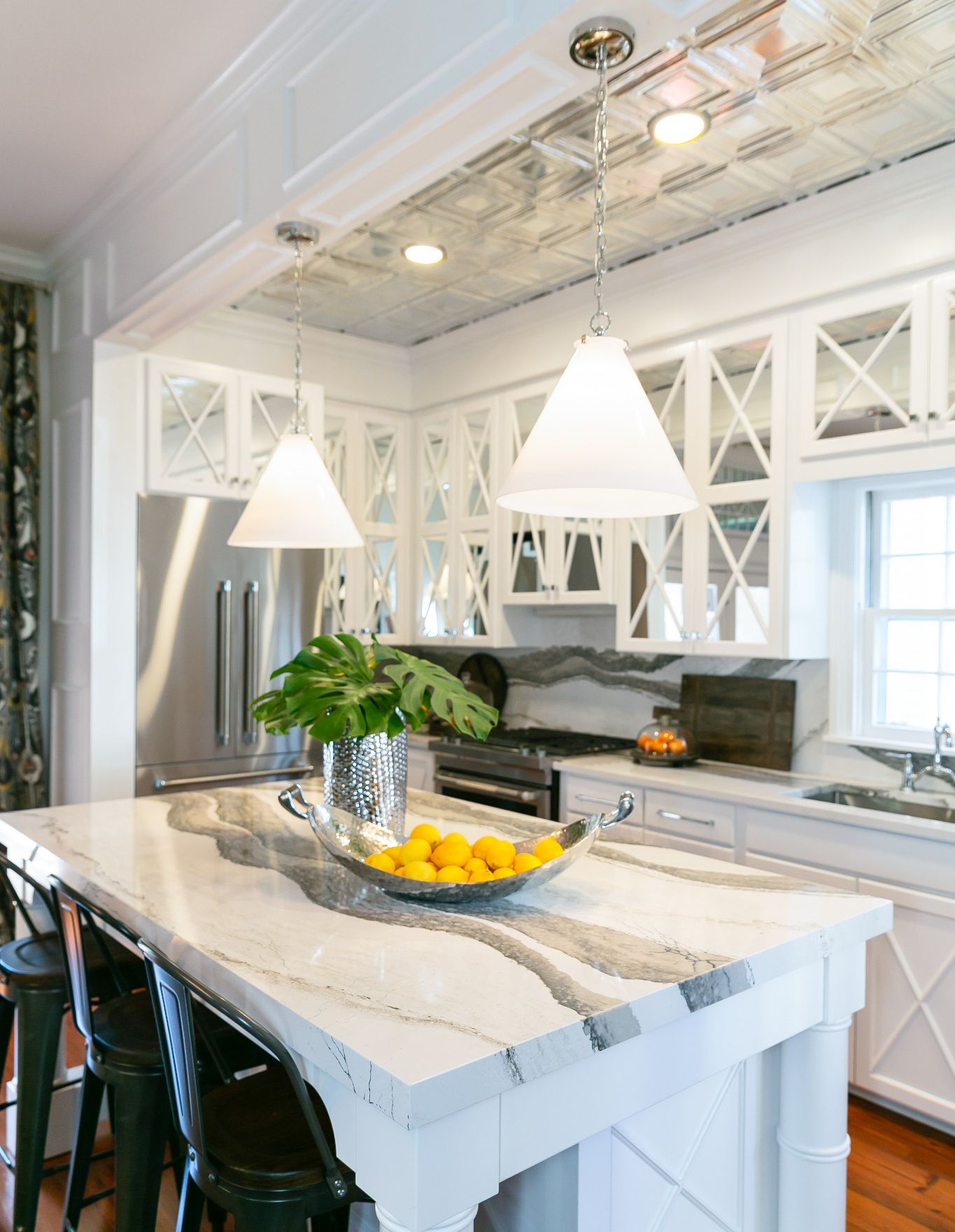 6. Traditional kitchen with rich texture and old-world appeal
A Moraine edge profile lends rugged texture to the Skara Brae countertops for a traditional kitchen with old-world ambiance. Paired with a custom range hood, a Skara Brae backsplash creates a captivating statement and defined focal point. We love how the cross beams of the rustic coffered ceiling contrast the organic veining of the quartz countertops and backsplash in this character-rich space.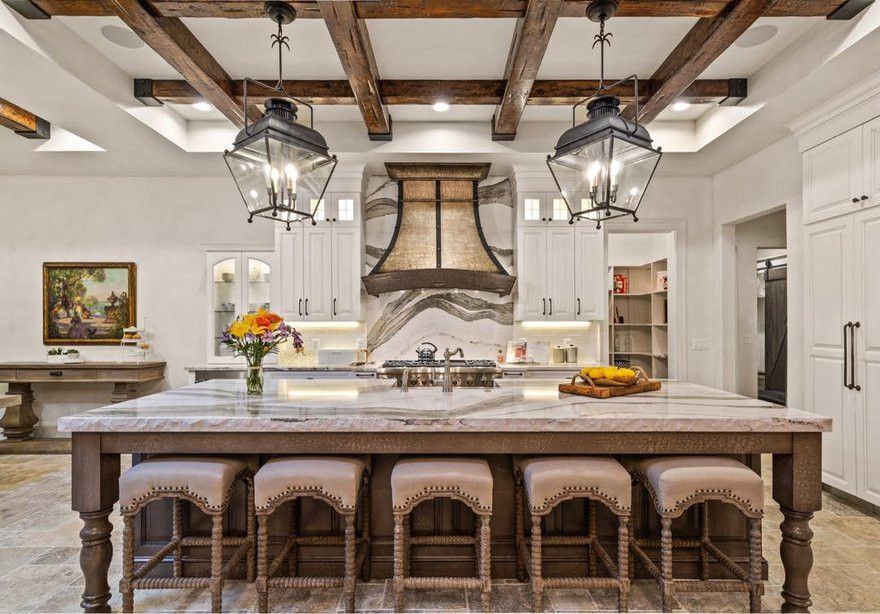 7. Casual contemporary loft kitchen with Skara Brae countertops
Skara Brae's rich veining pairs beautifully with dark-taupe cabinetry in this casual contemporary loft kitchen. A rolling kitchen island base offers a flexible alternative to a traditional kitchen island, pairing with wood saddle stools to lend a rustic-industrial vibe to this open space.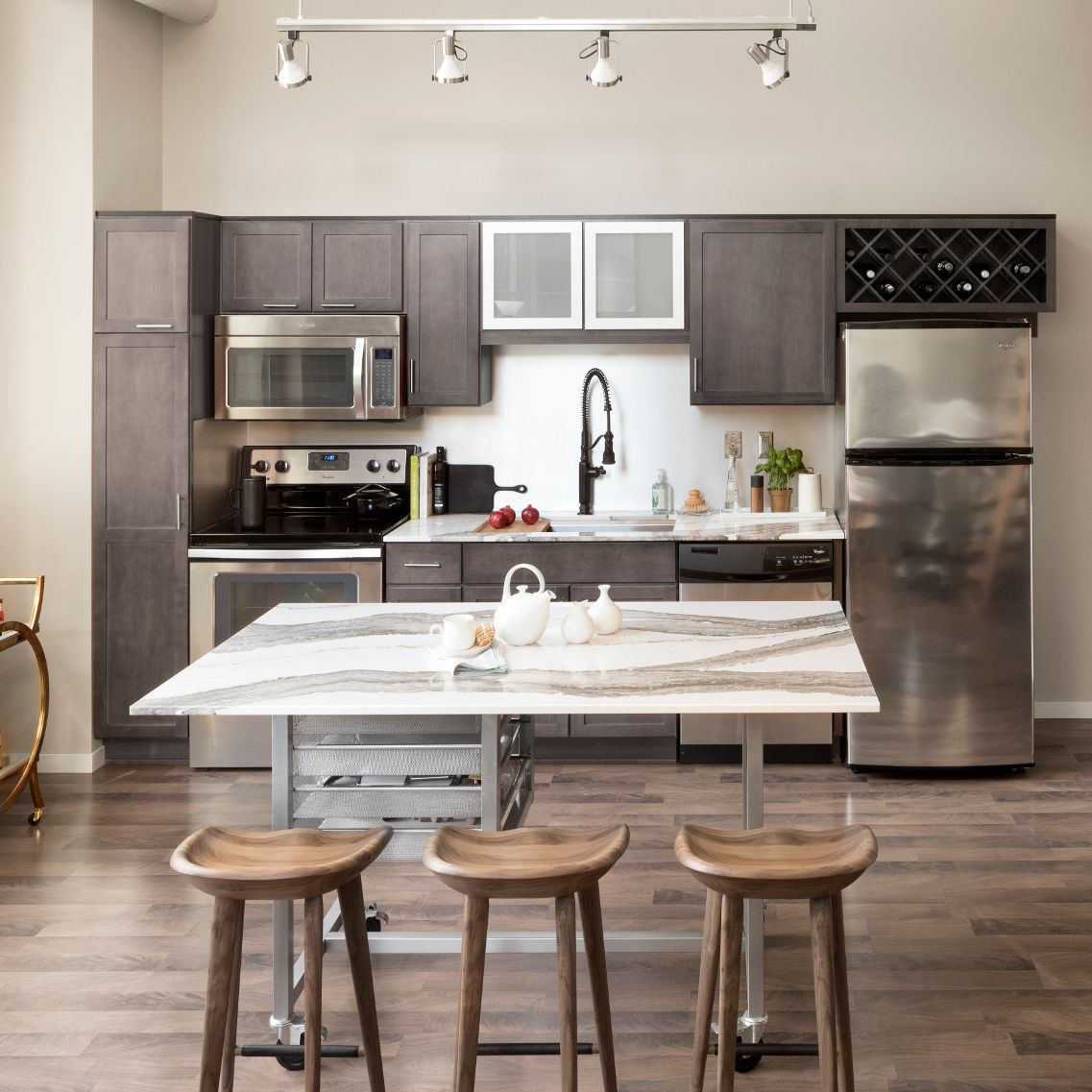 8. Contemporary studio space with Cambria Skara Brae Matte table
With a modern low-sheen finish, Skara Brae Matte brings statement style and a hardworking surface to The Frances Chicago. This photo studio and creative space benefits from the durability and versatility of Cambria, with the waterfall-edge table serving as a backdrop for product shoots, conference table, prep space, and more. Designs in Cambria Matte™ finish offer the same superior product performance as high gloss Cambria countertops, allowing for aesthetic flexibility in any space. Matte black pendants and sculptural seating complete the chic studio look. Find more ideas for Cambria furniture applications for the workplace and beyond.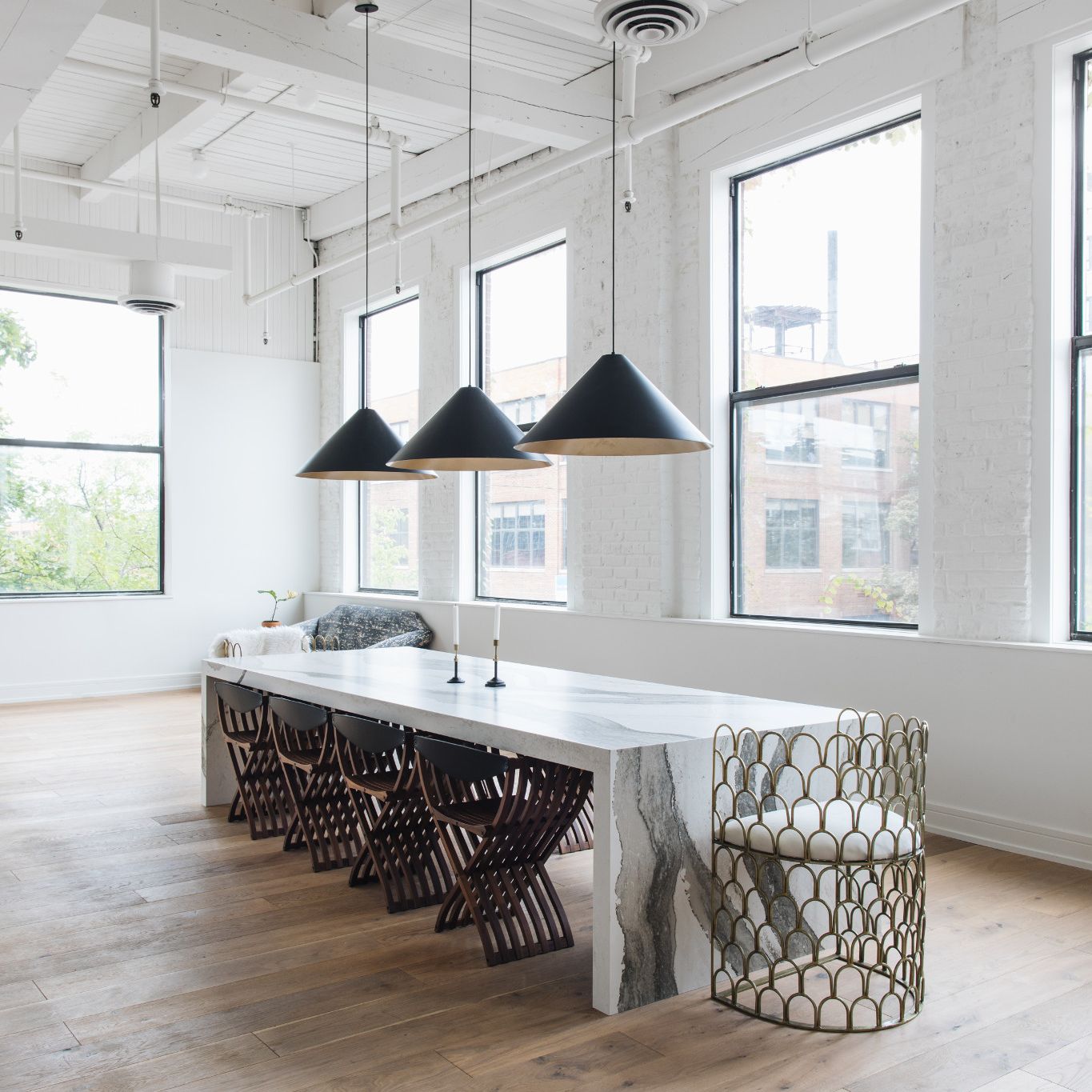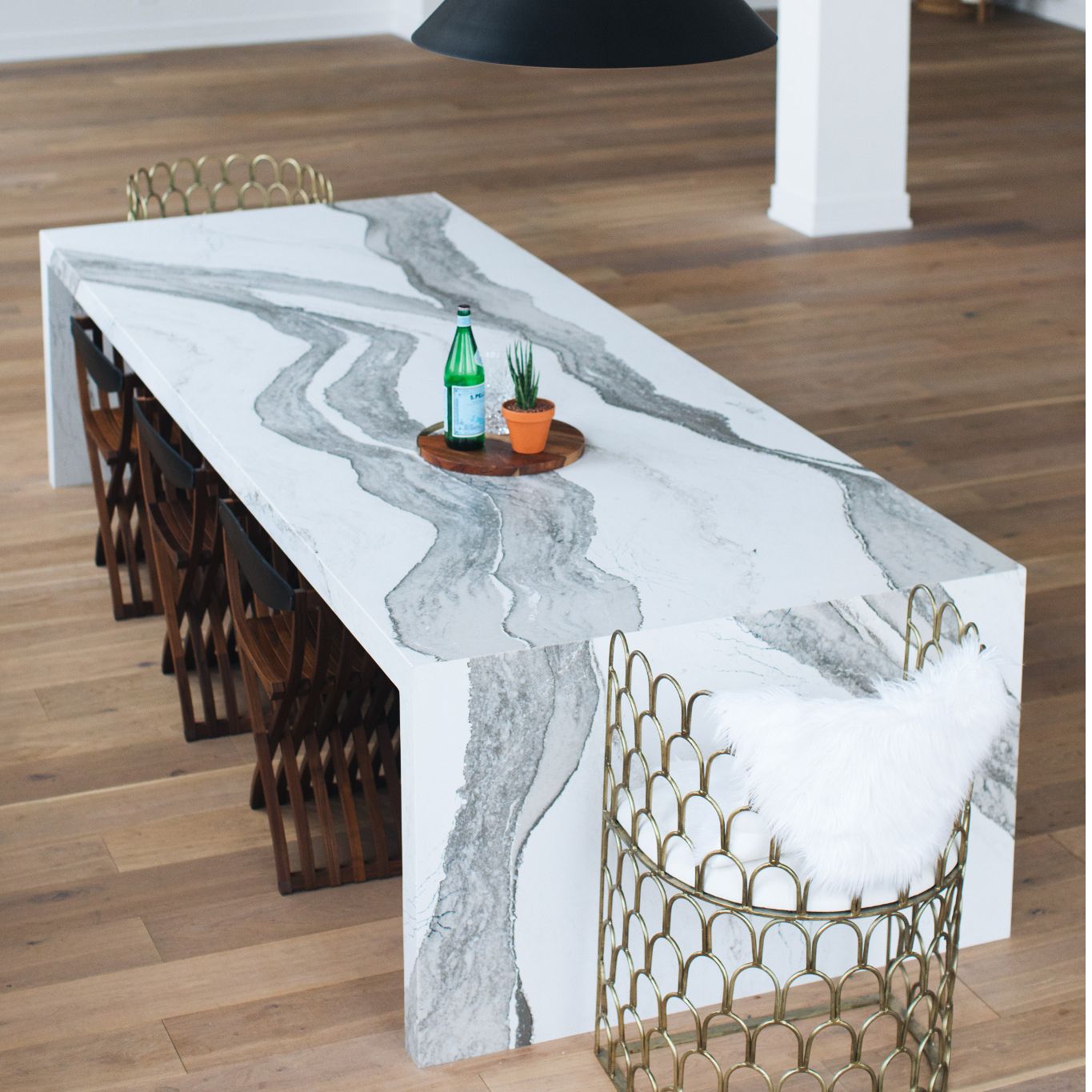 9. Glossy Quartz Retail Bar and Bench at Love Your Melon
Cambria Skara Brae is an integral part of Love Your Melon's flagship store in Minneapolis. An eye-catching Skara Brae bench frames the bottom of the company's statement beanie wall. "It captures your attention right when you walk in," founder Zachary Quinn tells Cambria Style. Skara Brae is also featured in the office kitchenette and upstairs bar, adding a contemporary spin amid original building elements. "We set out to create a place where the historic building and new fixtures and finishes could interact. The line between new and old turned out beautifully," says Quinn. Check out Cambria Style to see more of Love Your Melon's brick-and-mortar space and learn about the company's commitment to giving back. Discover more examples of how Cambria can elevate retail environments.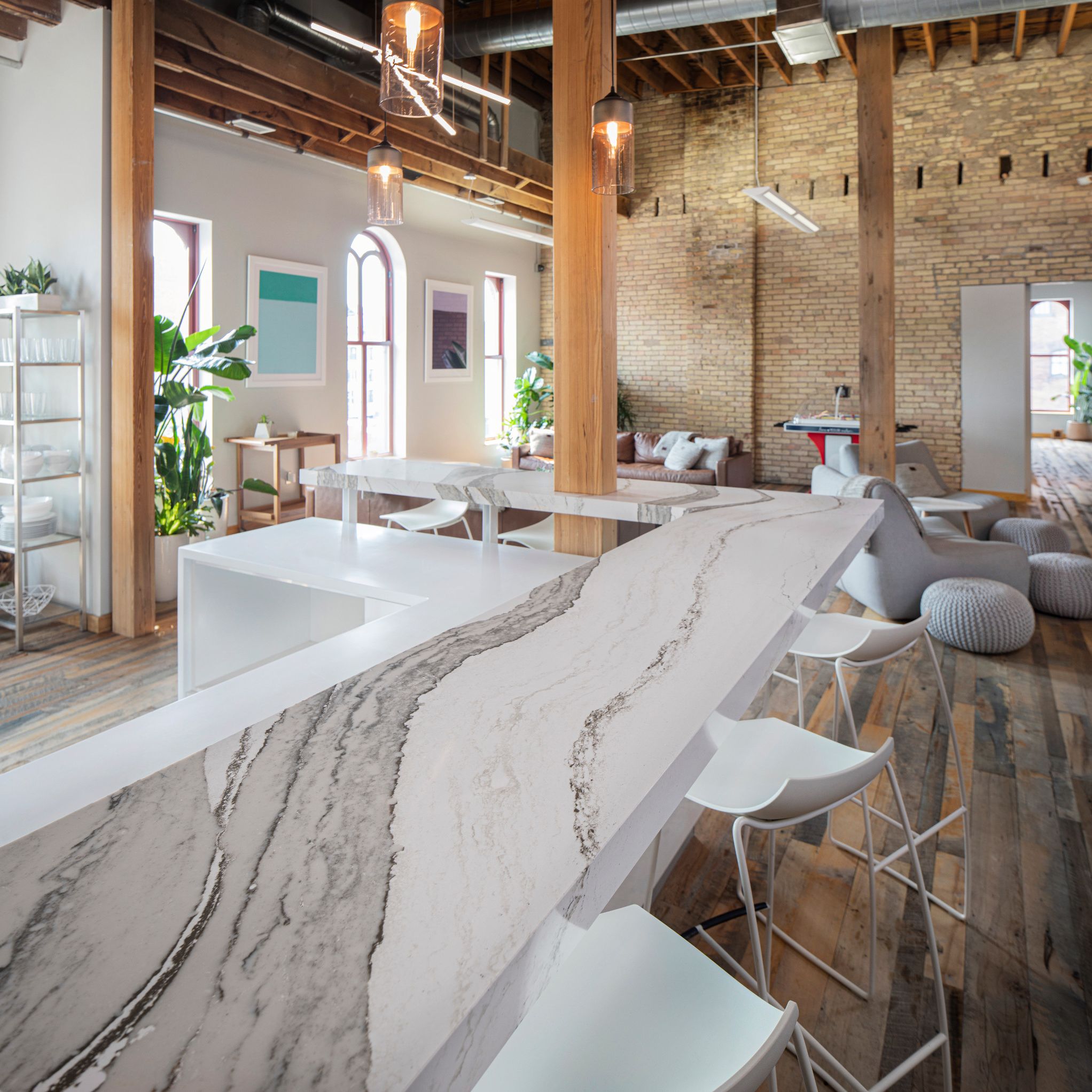 10. Contemporary kitchen mini bar with Skara Brae countertops
This kitchen transformation turned a lackluster kitchen desk area into a fresh, fun, and functional mini bar. Remodeling duo Construction2Style has a knack for making a statement with tile backsplashes paired with Cambria, as in this combo of Skara Brae with a diamond and hexagon tile mosaic.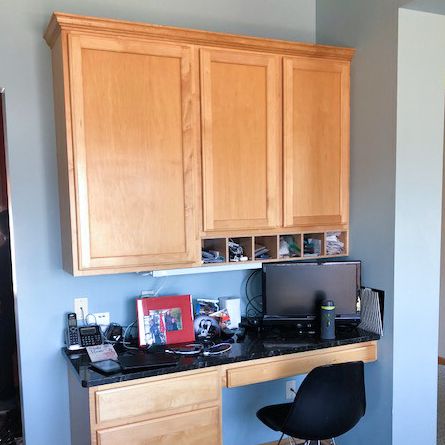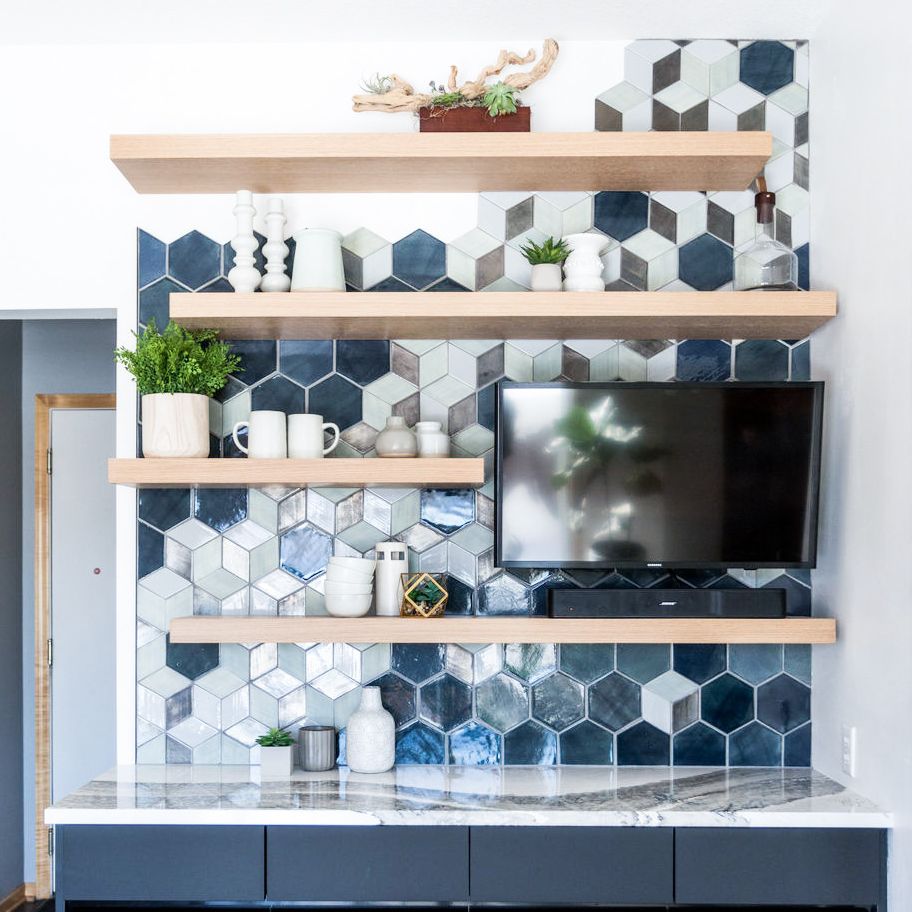 The intermittent dark and light neutral tones of the Mercury Mosaics tile add mod flair for bold-on-bold pattern play with Skara Brae. The floating wood shelves provide a place for dishware, décor, and a television—important for the lifestyle of the news-anchor homeowner. Find other ways to upgrade a kitchen workspace and more ideas for styling a home bar area with Cambria.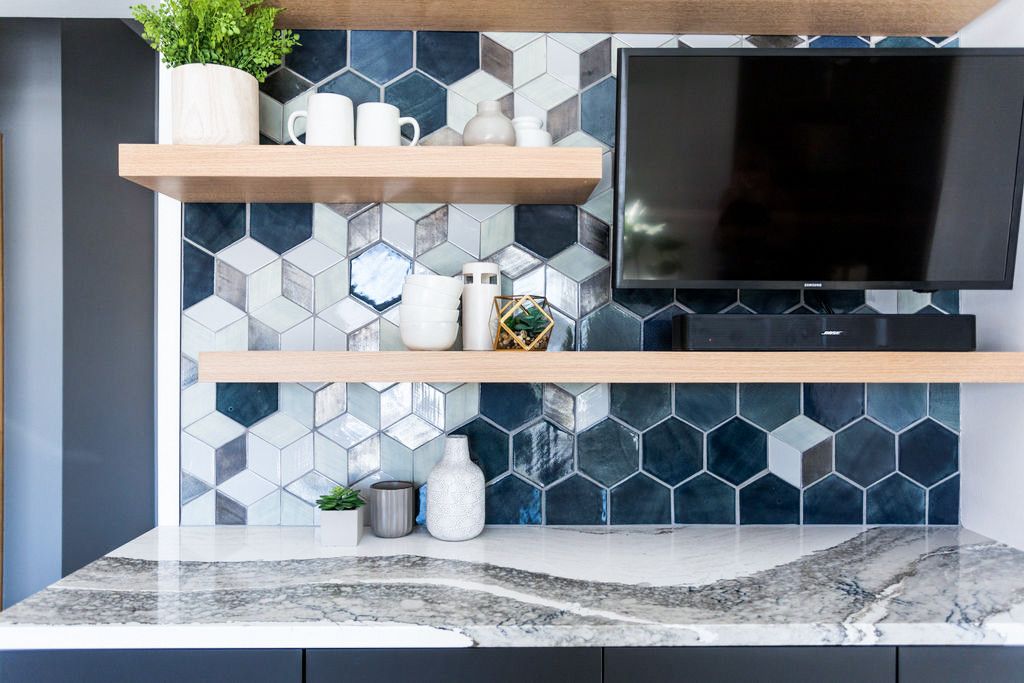 Plan Your Space With Cambria Skara Brae Quartz
Has Skara Brae struck a design chord with you? While images can convey a lot, you'll need to see Skara Brae in person to fully soak in the beauty. Order a sample and try out the design virtually in your space using the Cambria AR™ app.
Contact a dealer near you when you're ready to bring your project to life. We can't wait to see how you style your Skara Brae space—share with us on social media using #MyCambria.