Are your backsplash goals set in stone? Natural stone backsplashes are a sleek and striking way to set your space apart. In an array of stunning natural quartz designs, a Cambria backsplash can take your kitchen or bathroom from beautiful to breathtaking (with benefits to boot!). Here are five ways a quartz backsplash can truly make a space.
1. Create a defined focal point with a quartz backsplash behind the range or sink.
We love the symmetry created in these spaces with a Cambria backsplash taking center stage. When aligned with a range and statement hood, a quartz backsplash with bold movement like Brittanicca Matte or Skara Brae creates a commanding focal point.
This dreamy blue kitchen features a custom Brittanicca Matte backsplash that slides to reveal hidden storage. Paired with a black and brass range hood, the marble-like quartz backsplash is both luxe and practical.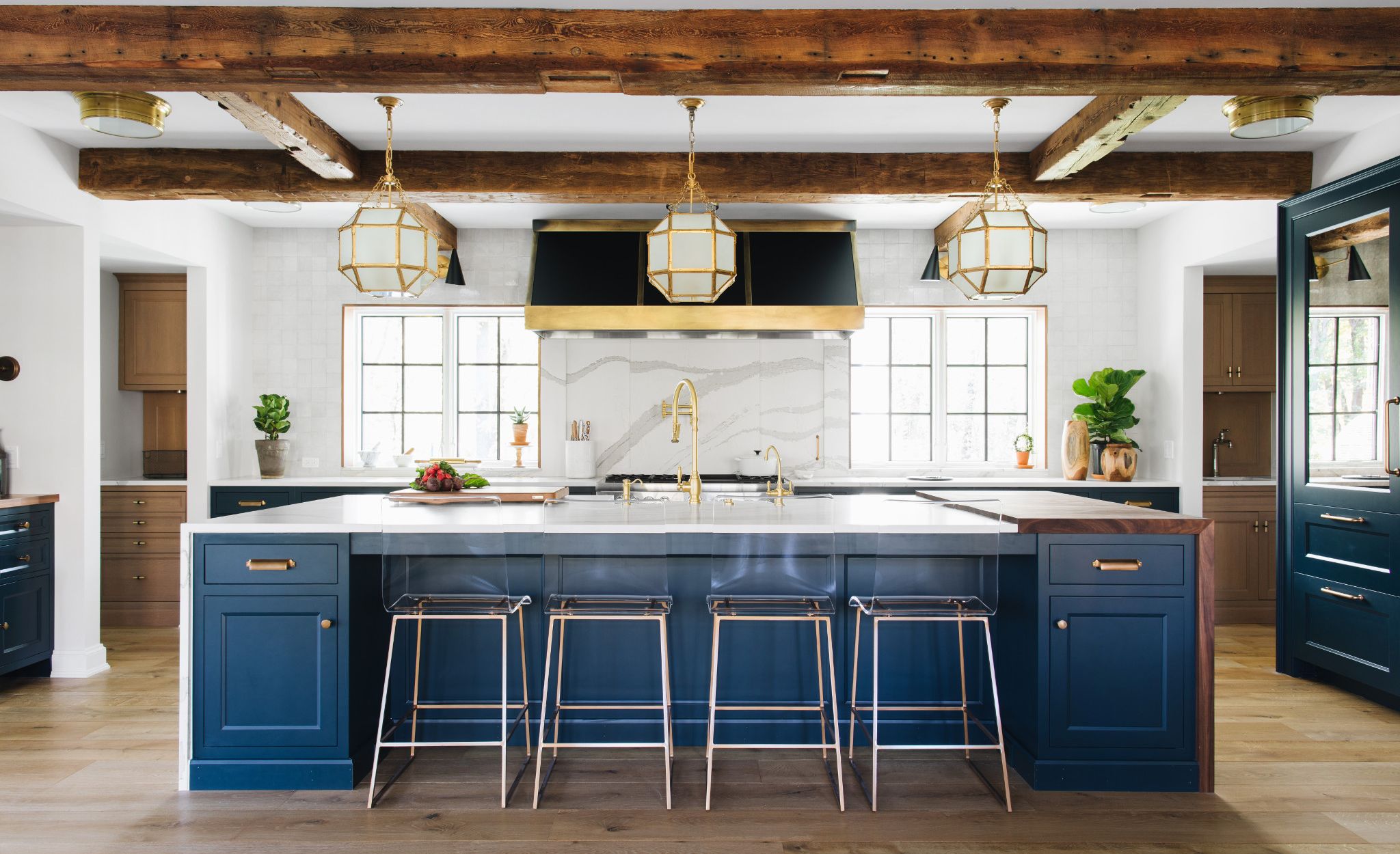 A Brittanicca Matte™ backsplash adds a beautiful, functional focal point in this high-contrast blue kitchen from Jean Stoffer Design and Kenowa Builders. Photo: Stoffer Photography Interiors.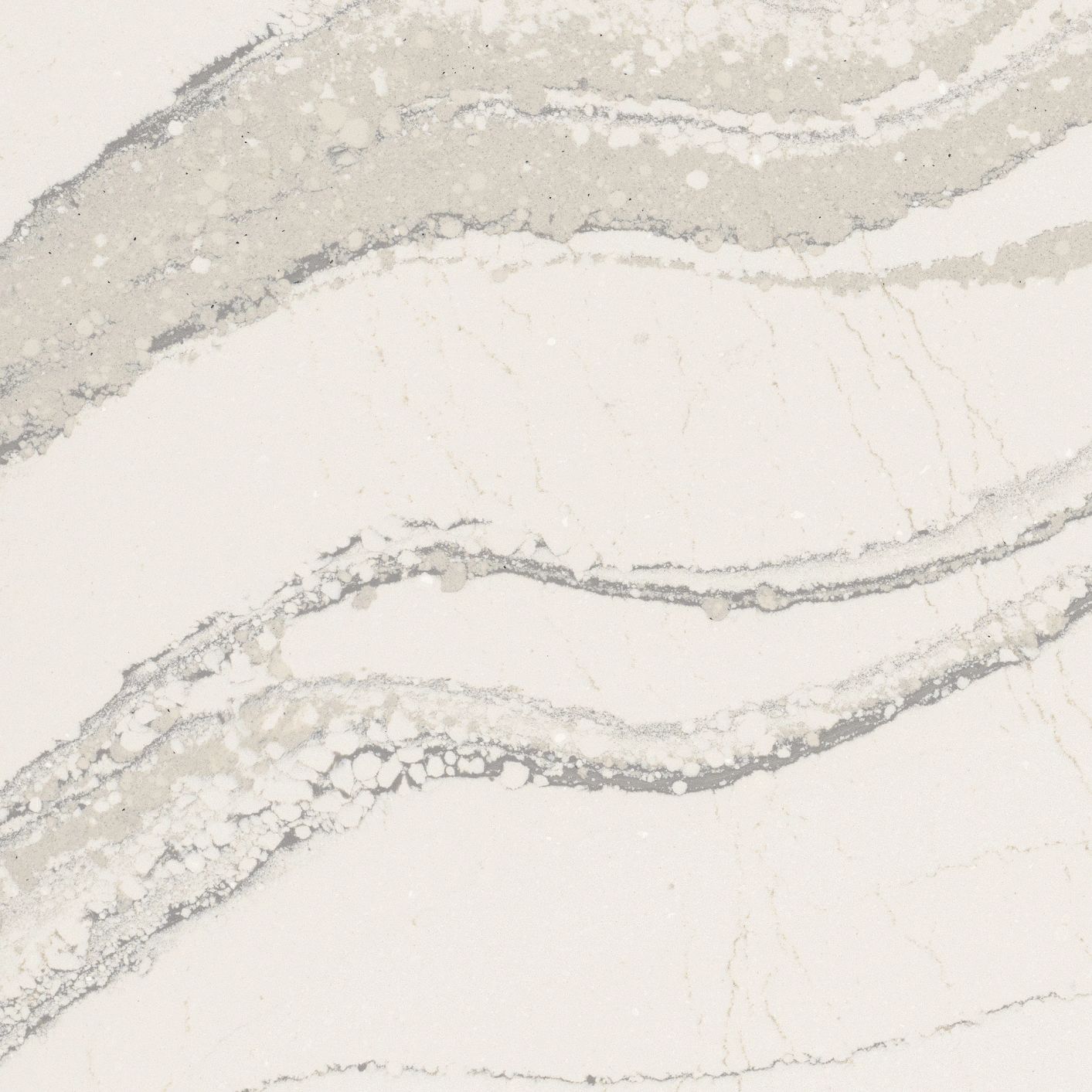 Brittanicca Matte design detail
Paired with a custom hood, Skara Brae lends earthen-luxe elegance and old-world charm to this striking farmhouse kitchen. This statement-making stone backsplash features olive and taupe tones and translucent veining.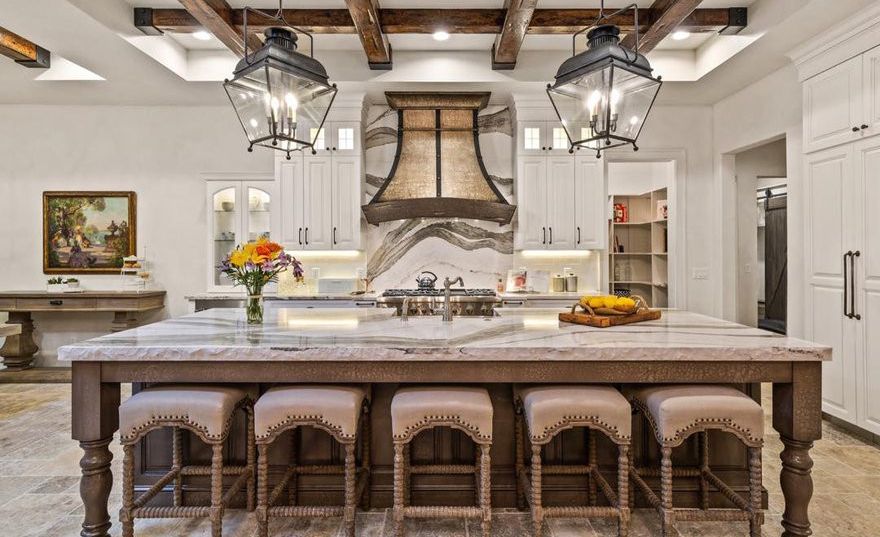 A grand space requires a statement-making design like Skara Brae™ for a quartz backsplash and countertops. Kitchen by Doni Flanagan and Justin Doyle Homes.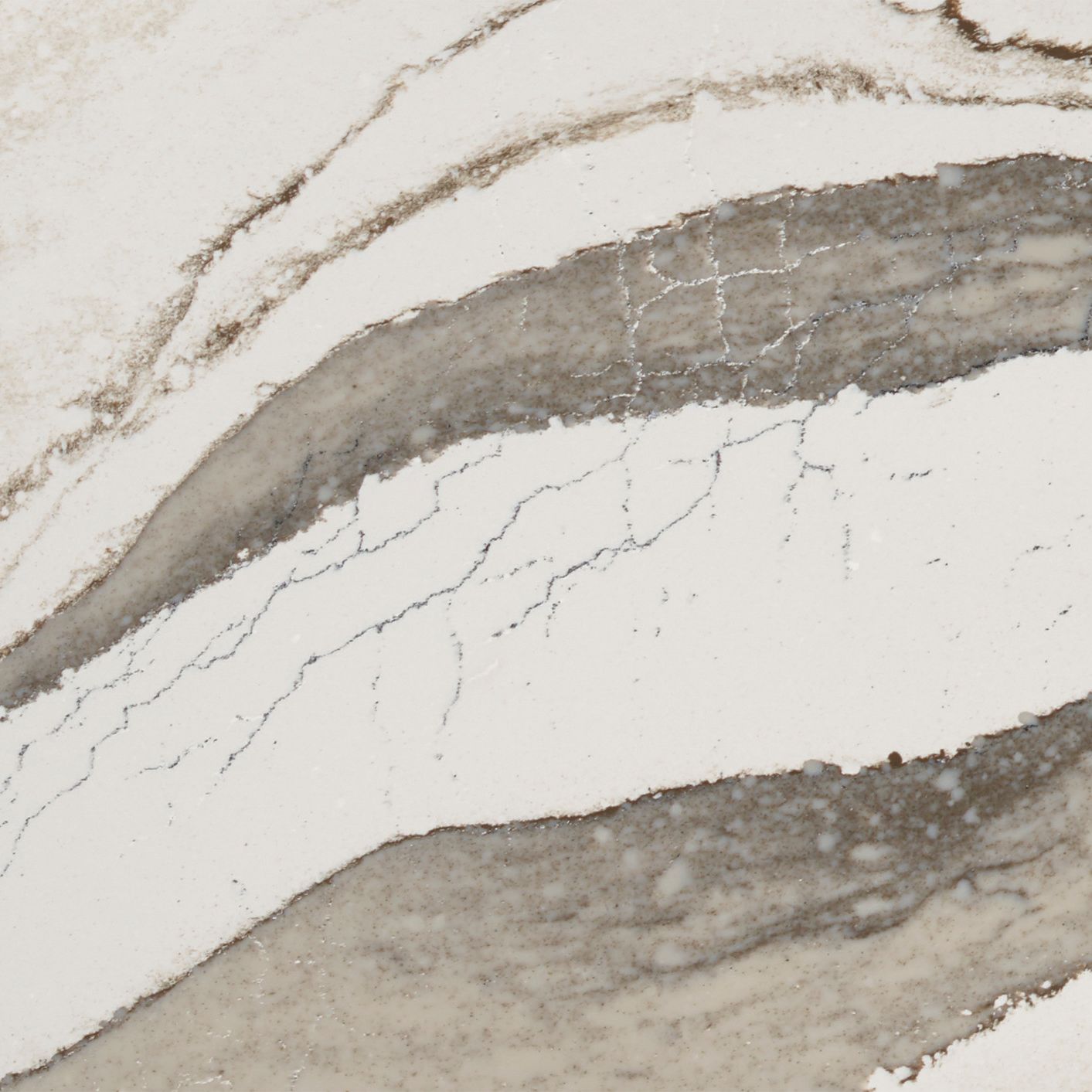 Skara Brae design detail
In more minimal spaces, a Cambria backsplash can help to define a focal point and create visual interest. In this studio kitchen, a Brittanicca Matte backsplash creates a focal point with bold gray veining behind the sink area. Matte black appliances and dark tile create contrast on either side to make the quartz pop.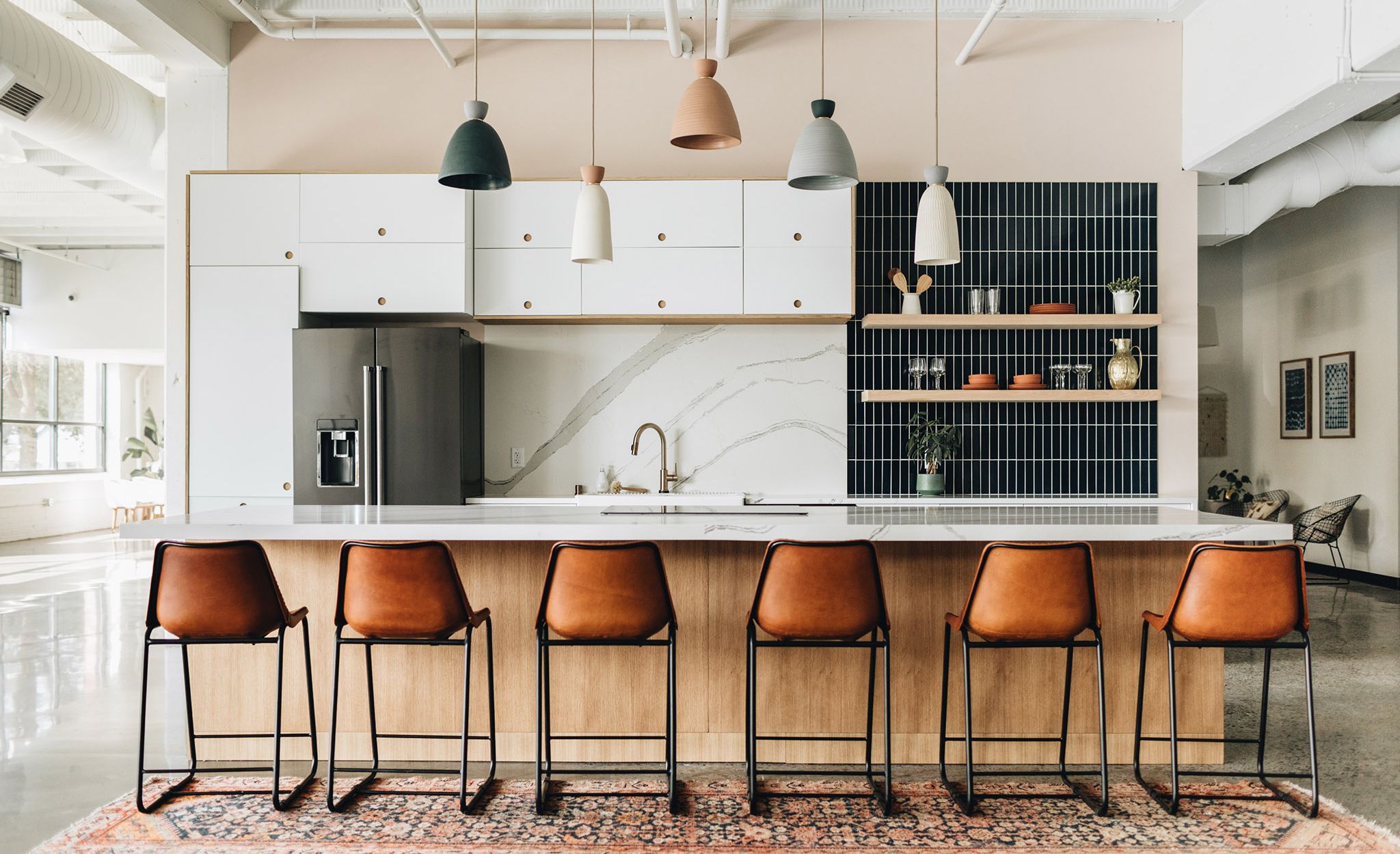 Brittanicca Matte makes for a powerful backsplash focal point in Studio 125 from Wit & Delight.
See more bold quartz backsplash ideas in our trend report, including a Brittanicca Matte backsplash with an integrated shelf.
2. Showcase flowing movement with a cohesive design throughout the space.
Choosing your countertops is a big decision. If you've fallen in love with a Cambria design for your countertops, you can maximize the beauty and the benefits by extending the design to your backsplash.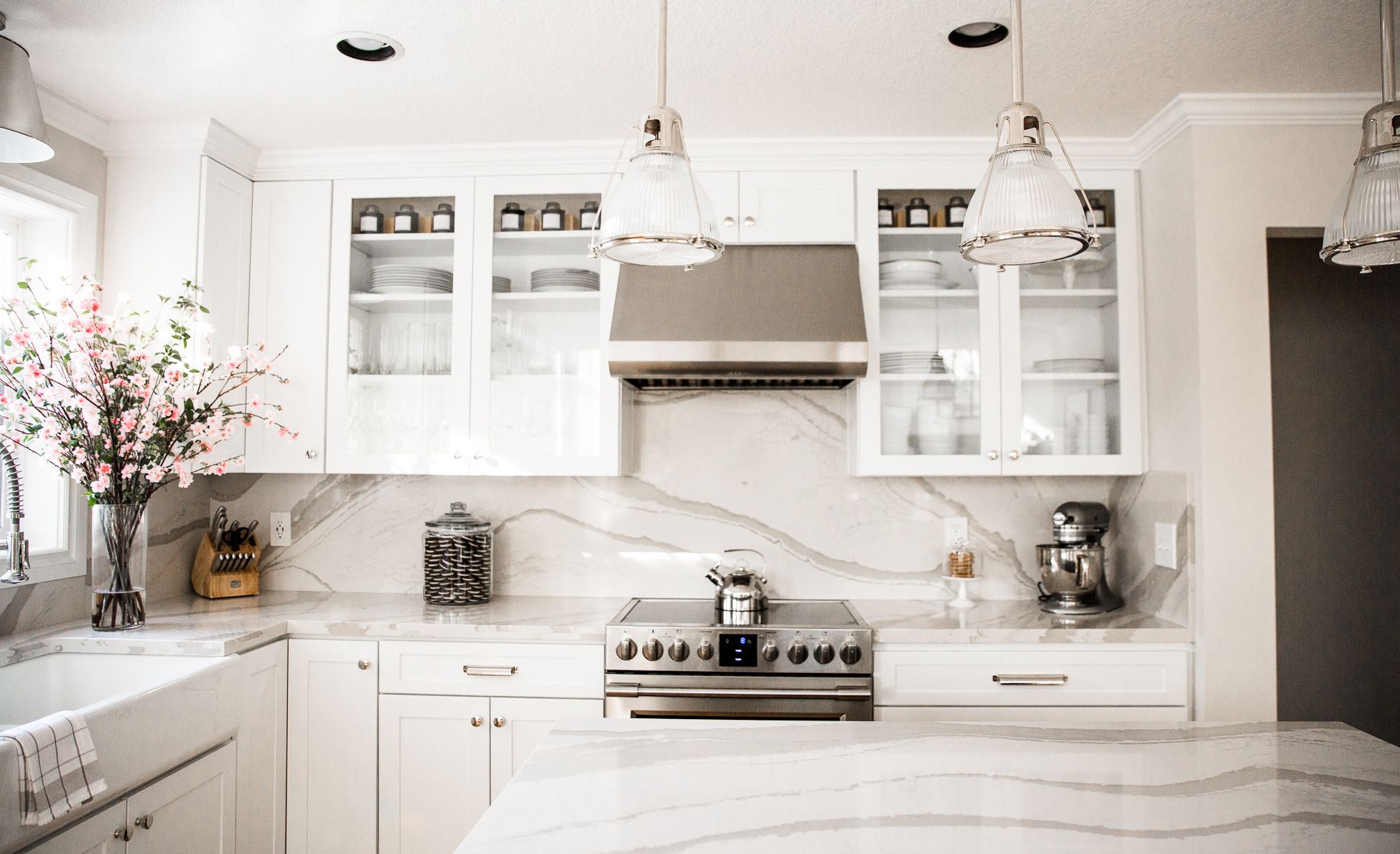 A Brittanicca Warm™ backsplash extends the intriguing movement of the countertops in Mia Mia Mine's elegant white kitchen.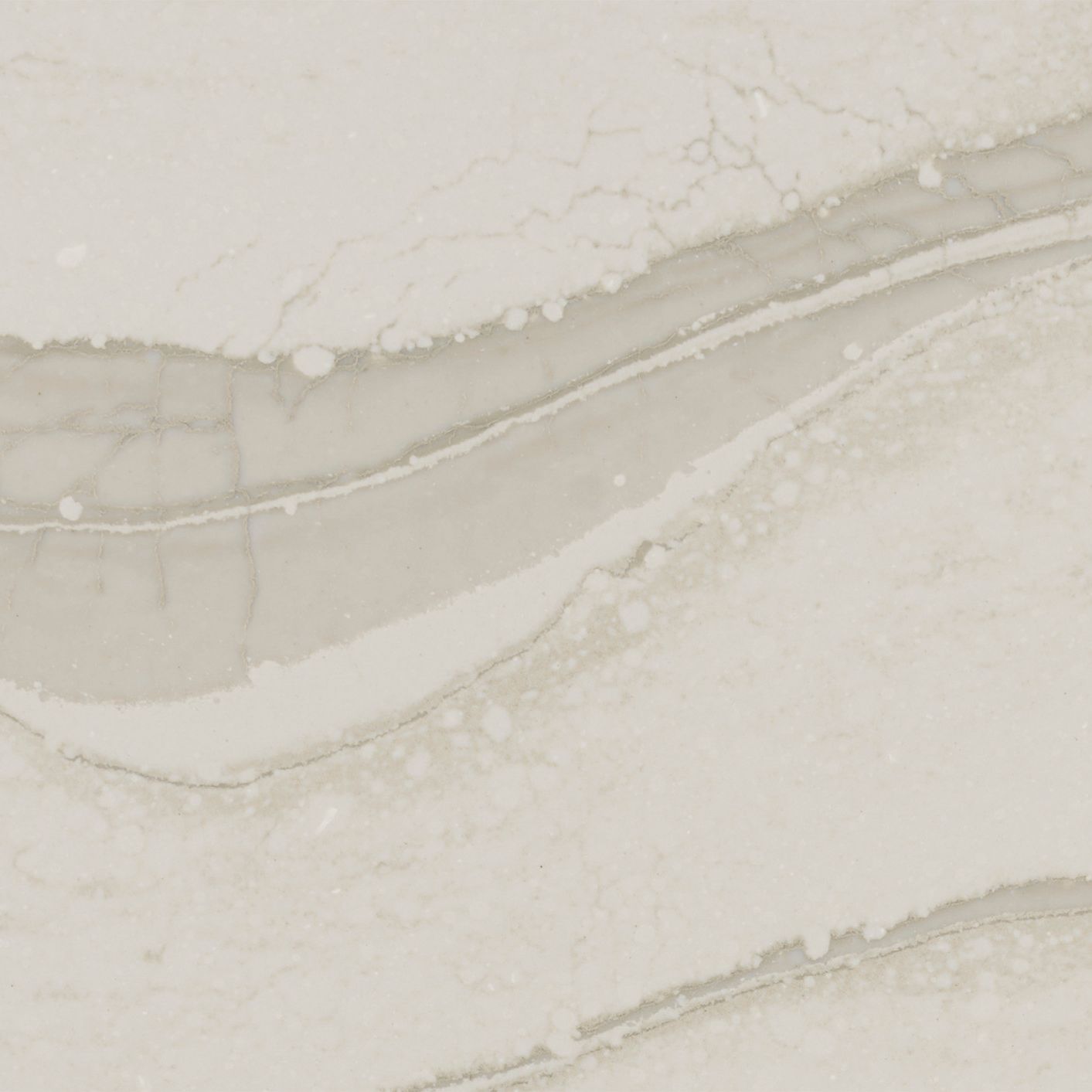 Brittanicca Warm™ design detail
A coordinating backsplash creates a cohesive look and brings the design features of your countertops into broader view so you can appreciate the movement and depth from all angles. You'll also boost the enjoyment of your kitchen with a fuss-free Cambria backsplash. A sleek alternative to a tile backsplash, Cambria is durable and easy-clean, with no grout lines to contend with.
Designs like Brittanicca, Brittanicca Warm, and Brittanicca Gold™ feature flowing movement, making them some of our favorites to achieve this look.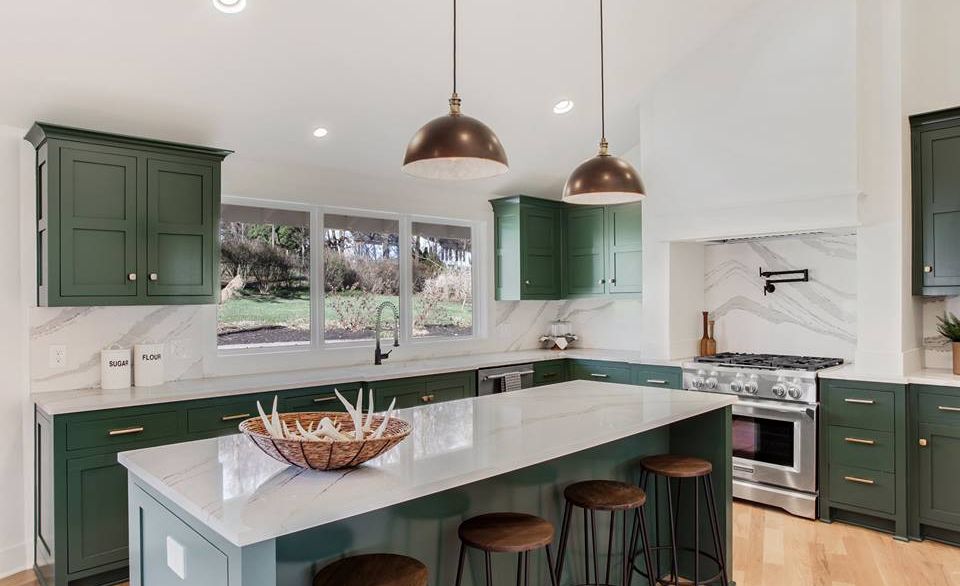 A Brittanicca™ backsplash and countertops contrast emerald green cabinets in this chic farmhouse kitchen from Rooted KC.
If you love clean, streamlined spaces or worry you'll tire of a backsplash tile in a few years, this single-stone style may be perfect for you. It's also ideal if you'd like to incorporate a unique nook such as a mini bar, coffee station or workspace in your kitchen.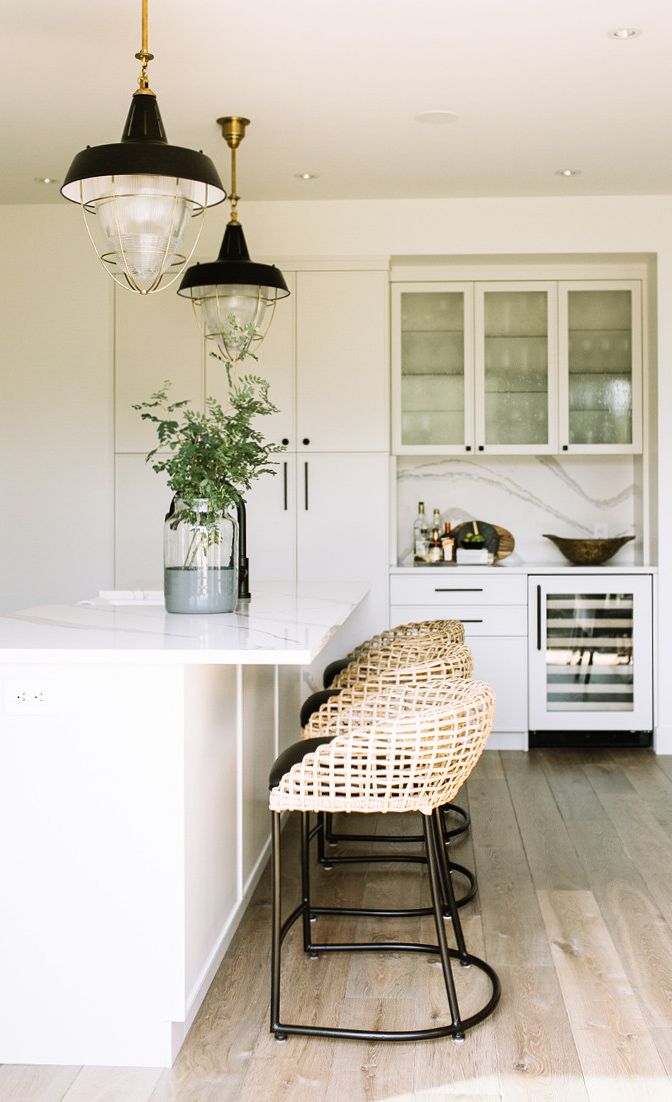 A Brittanicca backsplash is a stunning and stain-resistant backdrop to this mini bar in this white kitchen from Jaclyn Peters Design. Photo: Ariana Tennyson.
3. Add drama and contrast with a full-height quartz backsplash for a feature-wall effect.
Some spaces simply demand drama. And a full-height Cambria backsplash that functions like a feature wall is a sophisticated and elegant way to achieve it. Choose two complementary Cambria designs for the backsplash and countertops, with a distinct backsplash design extending up to the ceiling and outward to the cabinetry or windows. For a statement wall effect, we recommend pairing a bolder Cambria design for the backsplash to contrast a more subtle or monochromatic Cambria design for the countertops.
Boldly patterned backsplashes are on trend, and Cambria has many show-stopping designs to perfect the look. Some options we love include Galloway, with dramatic veining and mixed metal tones, and Brittanicca, with luxe marbled veining.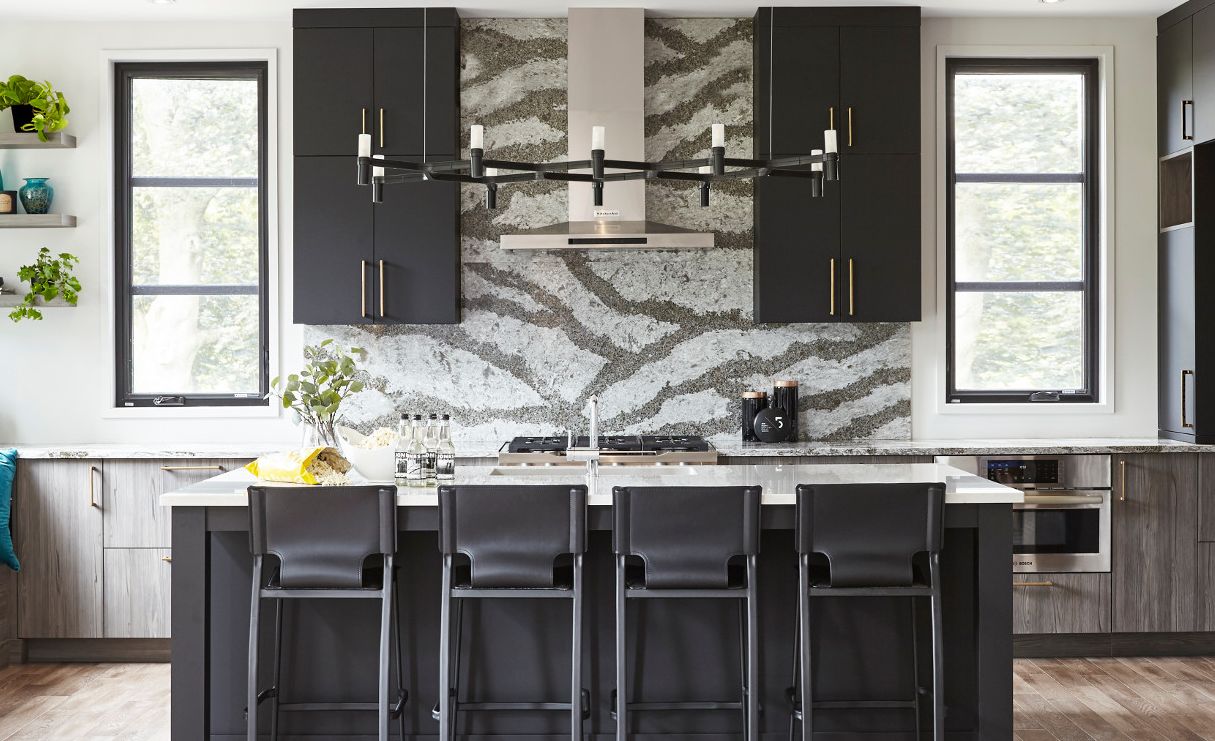 A full-height Galloway™ backsplash makes a stunning feature wall in this kitchen by Square Footage. Photo: Valerie Wilcox.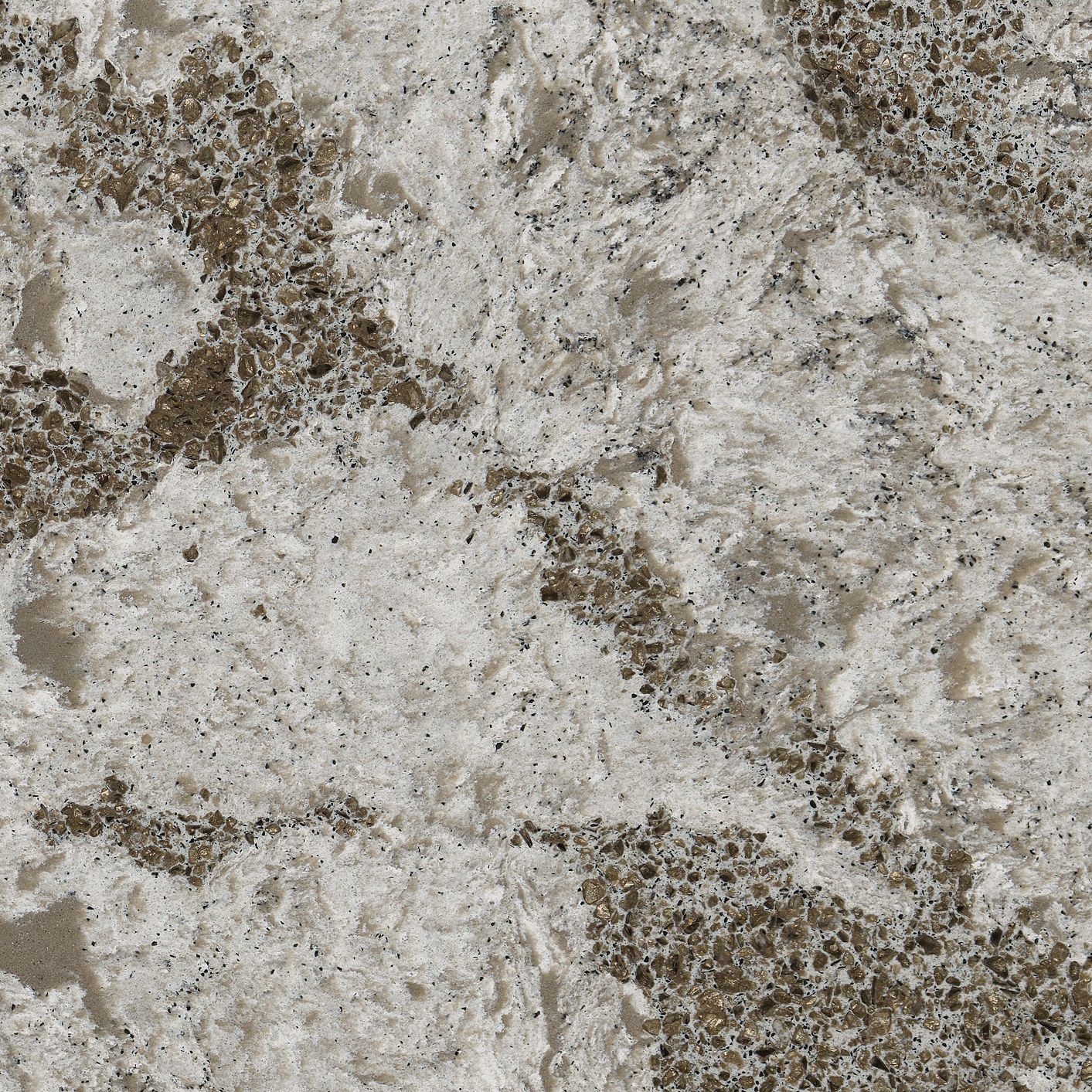 Galloway™ design detail
This statement stone backsplash look is a great option if you have unique features such as vaulted ceilings or exposed beams you want to highlight. A quartz backsplash with movement is also a great way to create height if you want to draw the eye up in a smaller space.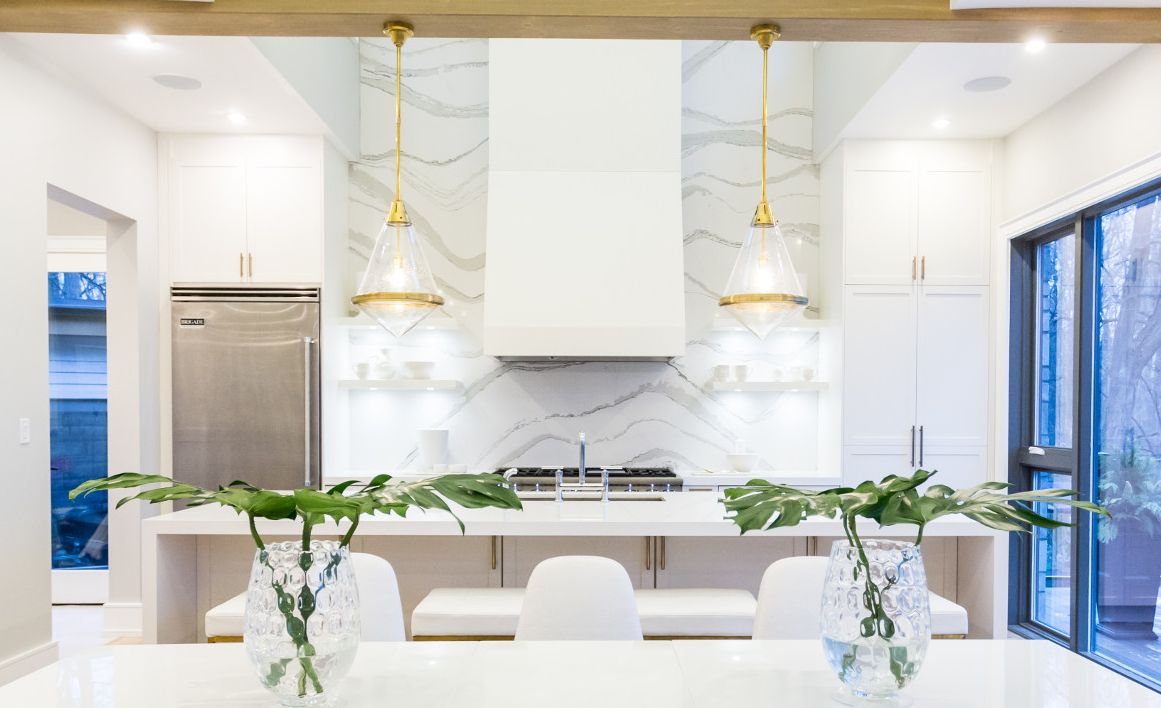 The bold movement of a Brittanicca backsplash contrasts crisp, monochromatic White Cliff™ countertops in this space by Bryan Baeumler and Sara Baeumler.
If you're drawn to the idea of a feature wall, a natural quartz backsplash is more powerful than paint or wallpaper – especially with both the beauty and performance of Cambria. Find ideas of Cambria designs that mix and match well here, or look for the related designs recommended in the Design Details for each design in the palette.
4. Make a bold statement with a quartz bathroom backsplash.
Kitchens aren't the only place where a Cambria backsplash is a smart investment. Cambria is nonporous and nonabsorbent, ideal for a bathroom backsplash in addition to the vanity countertops. Because no water is absorbed, Cambria offers a hygienic surface unlike any other stone–keeping mold, mildew, and bacteria at bay. And the continuous look from countertops to backsplash makes a bold and stunning statement, showcasing the beauty of the stone with mesmerizing depth.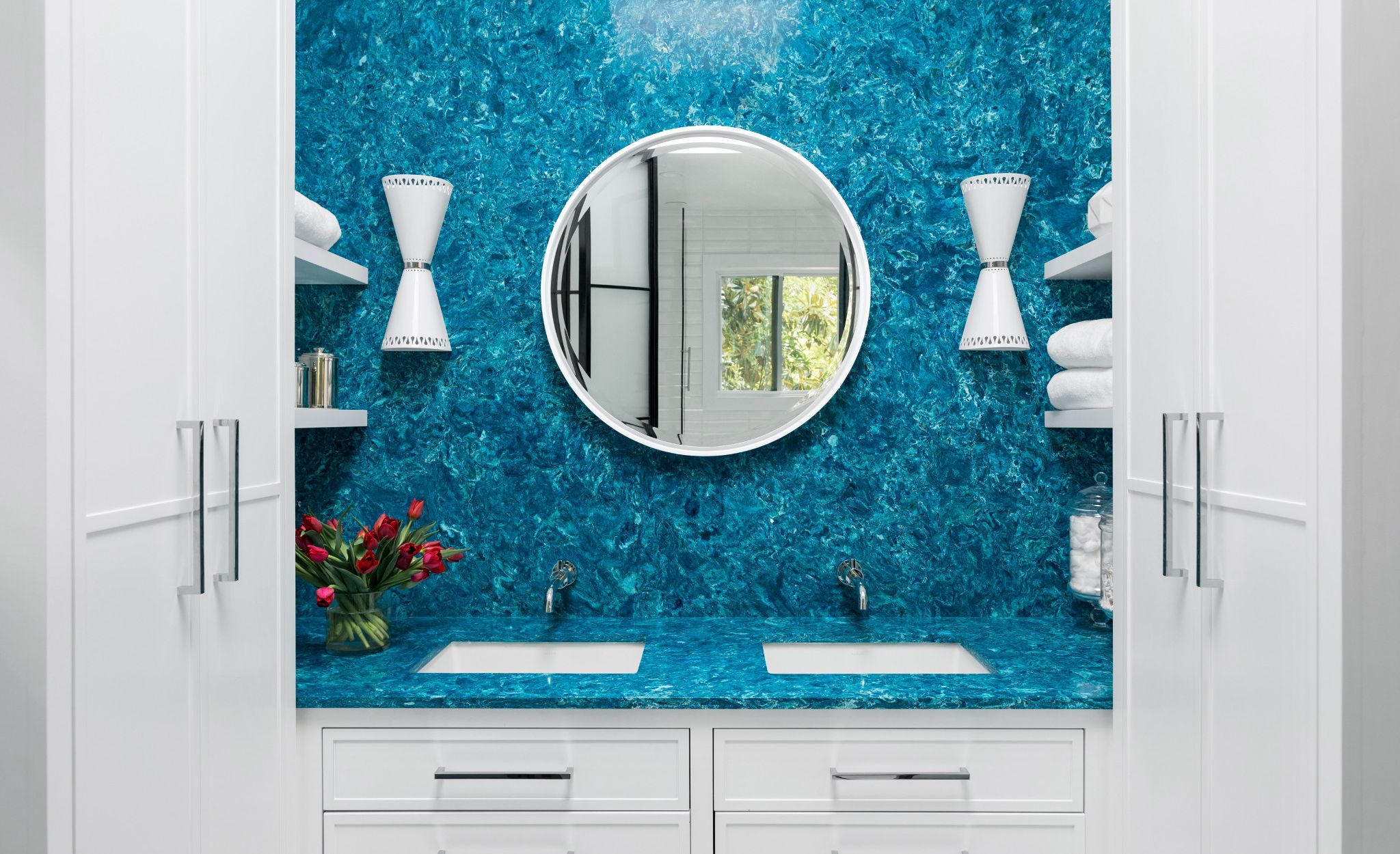 Our Skye™ design is a mesmerizing bath vanity backsplash in this blue bathroom from Brian Patrick Flynn. Photo: Rustic White Interiors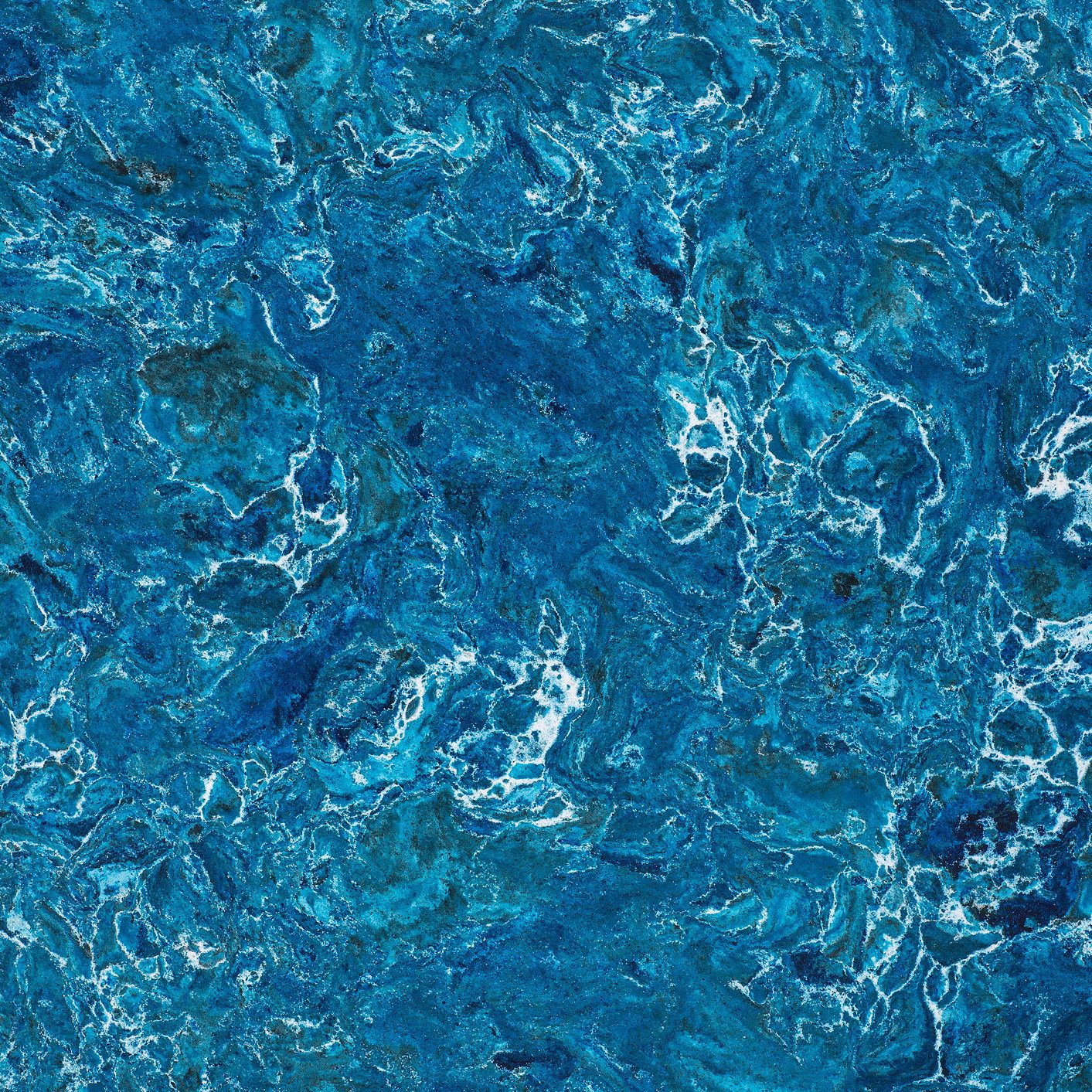 Skye™ design detail
For a master bath or powder room, extend the backsplash to the ceiling for high-impact style or opt for a partial backsplash to create an easy-clean zone where water tends to collect.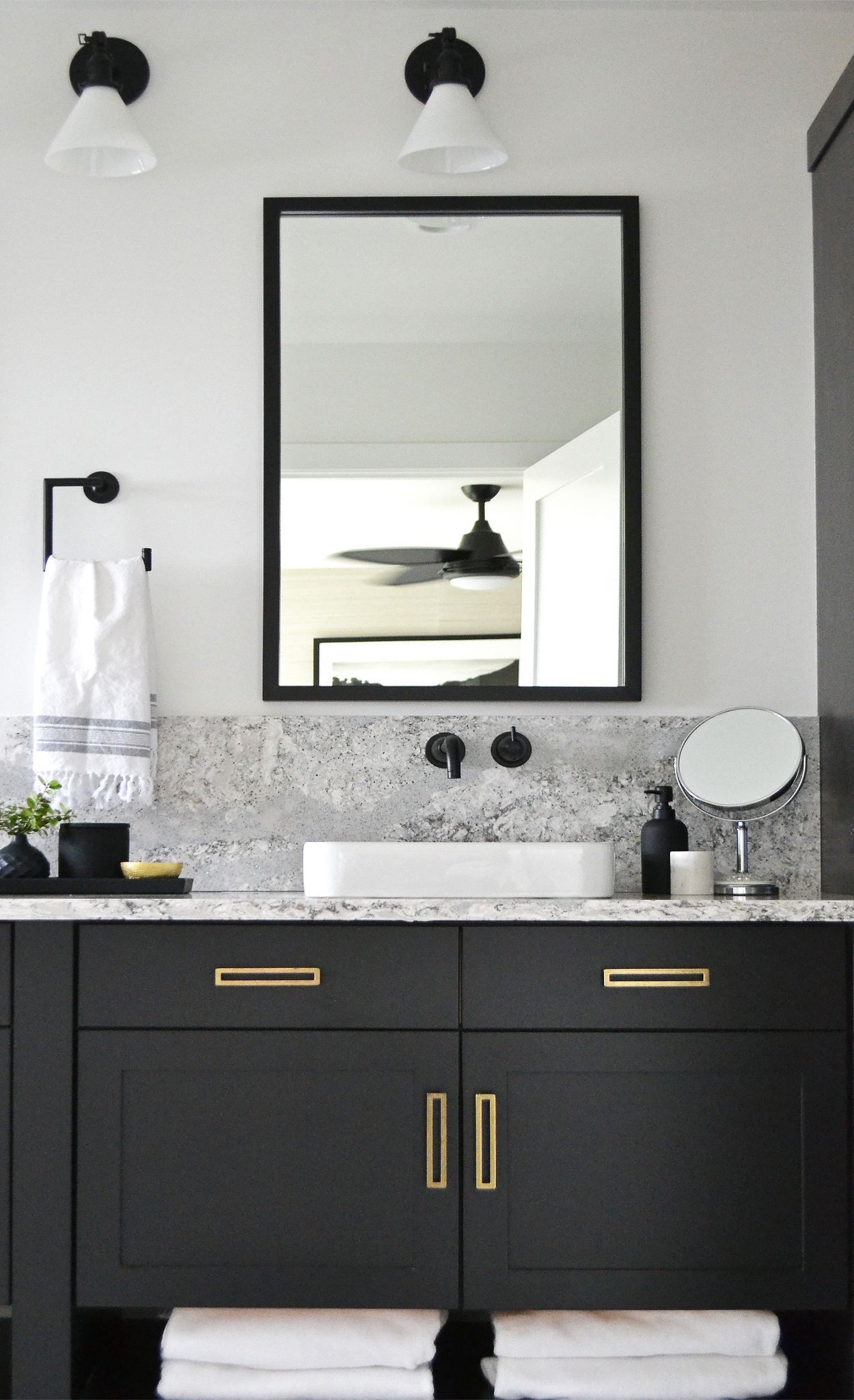 A Summerhill™ bathroom backsplash offers a sleek stone look paired with matte black wall-mounted faucet in this space from Jaclyn Peters Design.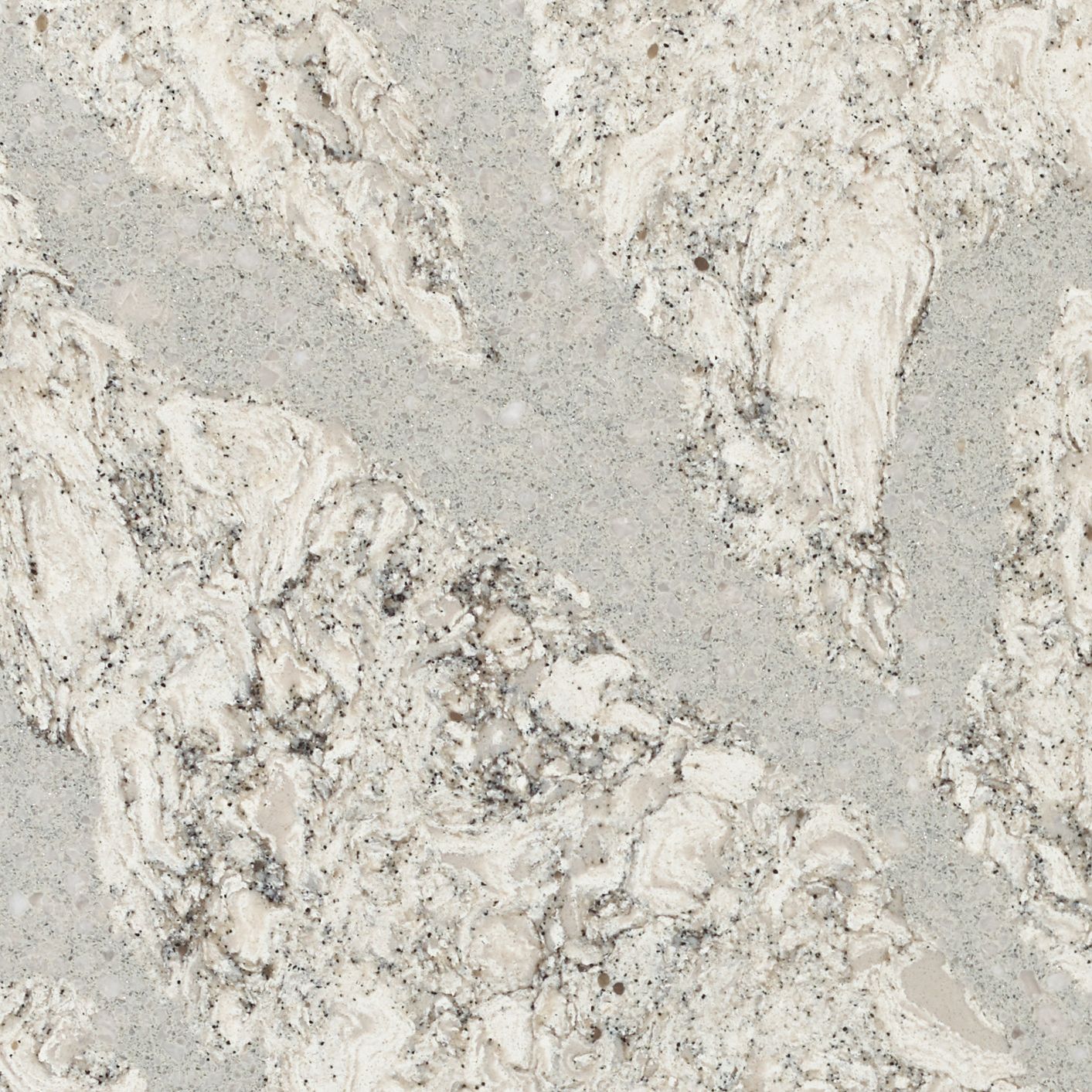 Summerhill™ design detail
5. Create an open and airy effect with a subtle white marbled quartz backsplash.
If you're dreaming of an open, airy space with understated elegance, you can create a marble-wall effect with a white quartz backsplash in many of Cambria's designs. Designs like Torquay and Swanbridge™ offer subtle marble veining that adds light texture and a pristine feel.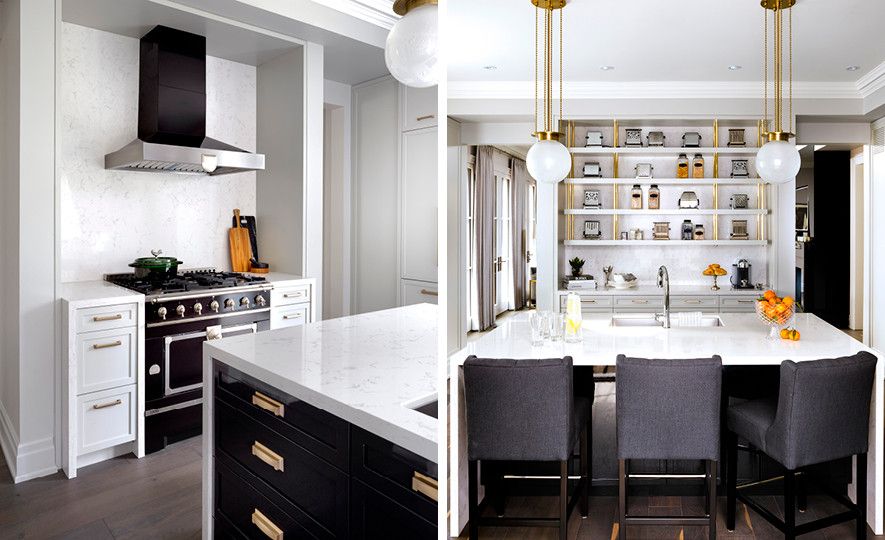 Torquay™ creates subtle marble texture behind a statement range and open shelving in this kitchen by Gluckstein Design. Photo: Brandon Barre.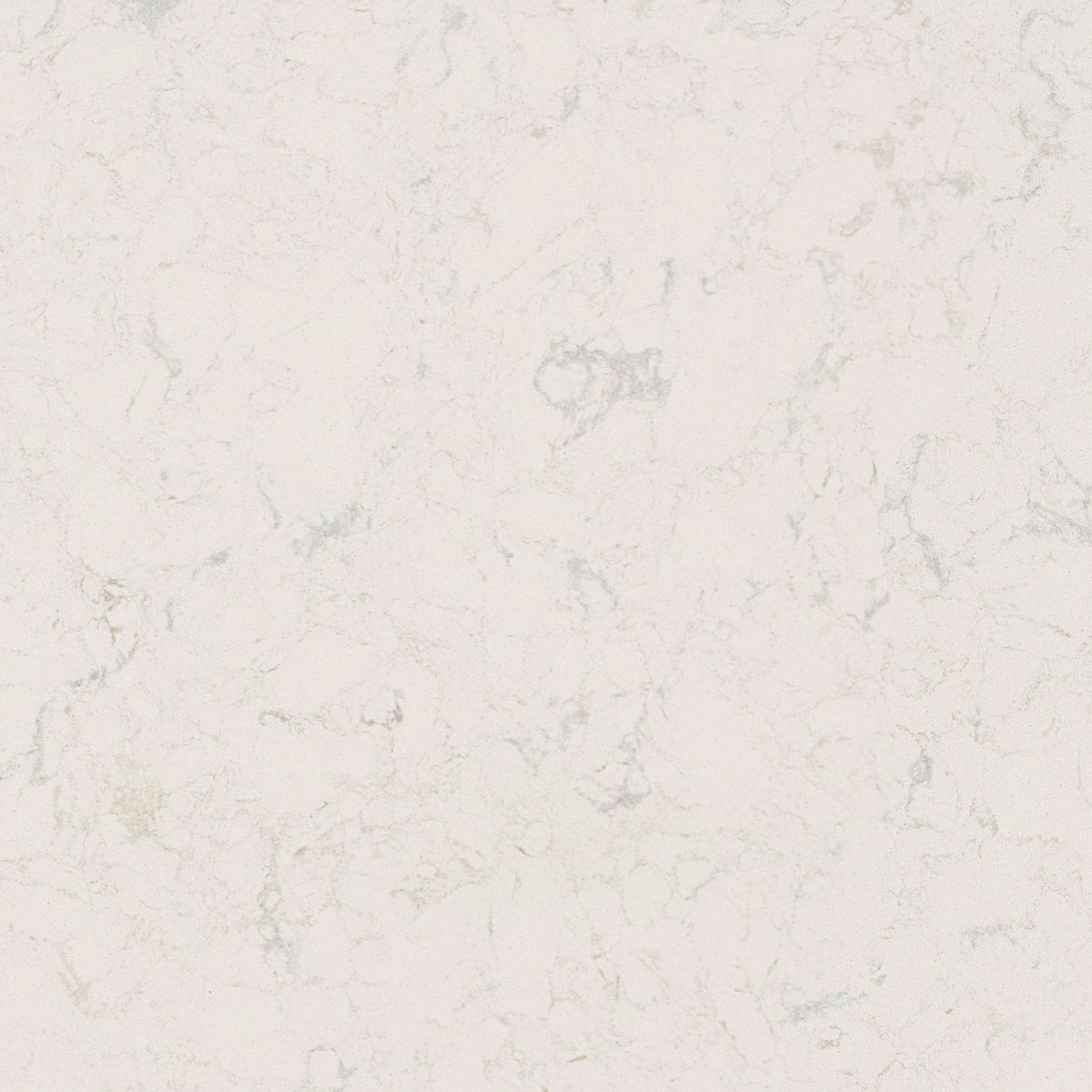 Torquay™ design detail
The streamlined transition from countertops to backsplash creates almost a floating look, allowing chic décor selections to pop against a stunning stone canvas.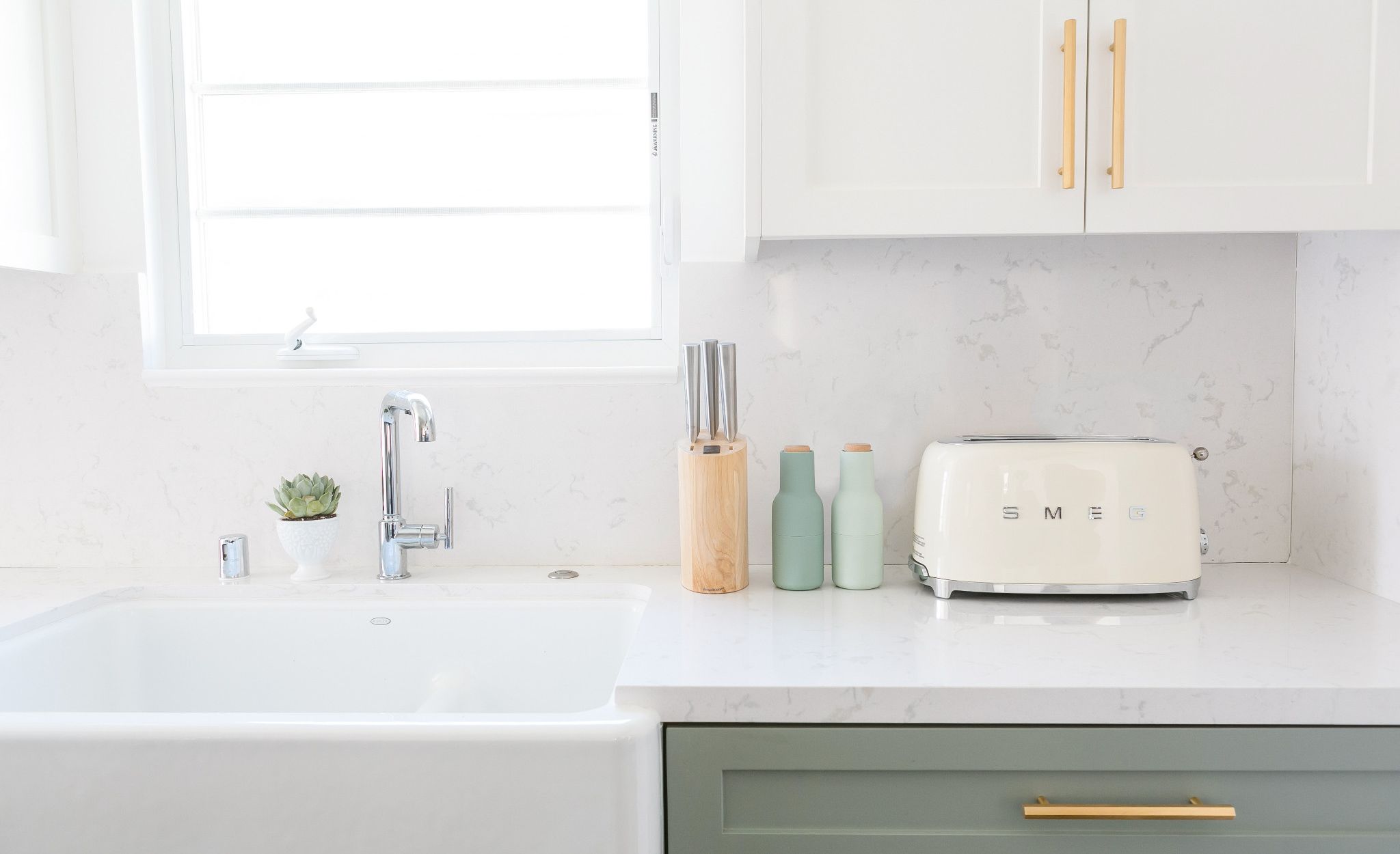 Effortless and elegant, Torquay's marbled beauty creates a serene palette paired with sage cabinets and mixed metals in Jaclyn Johnson's green and white kitchen.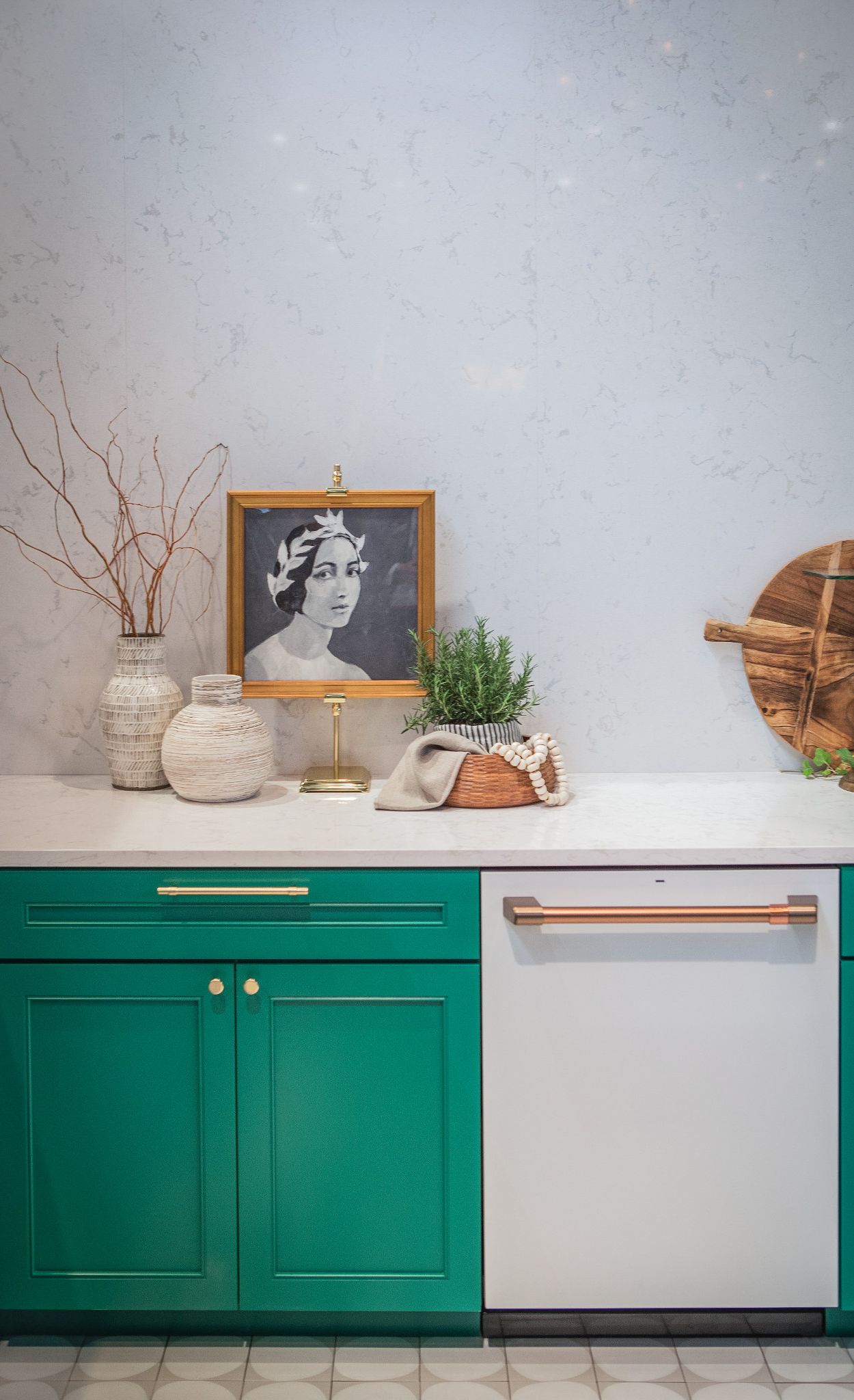 A Torquay backsplash is a glam backdrop for décor in this vibrant kitchen space featured at KBIS from GE Appliances.
See more marble-look backsplashes in our kitchen layouts post, featuring a double island kitchen and a peninsula kitchen with Torquay.
If you crave more movement in your marble-white quartz, designs like Delgatie and Ironsbridge offer tone-on-tone texture and organic cross-veining.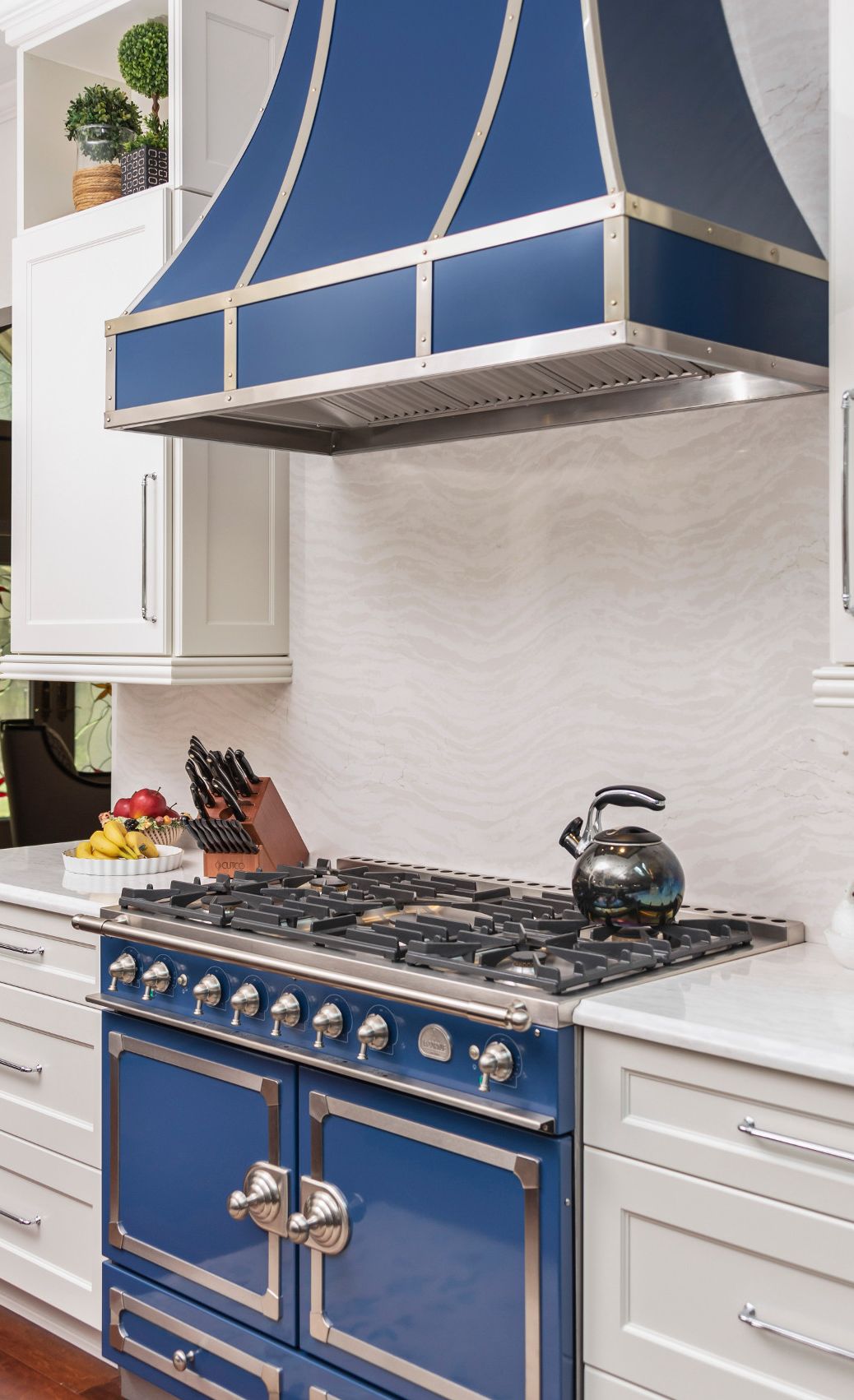 Delgatie™ creates a cascading tone-on-tone effect as a backsplash and countertops in this blue-and-white kitchen.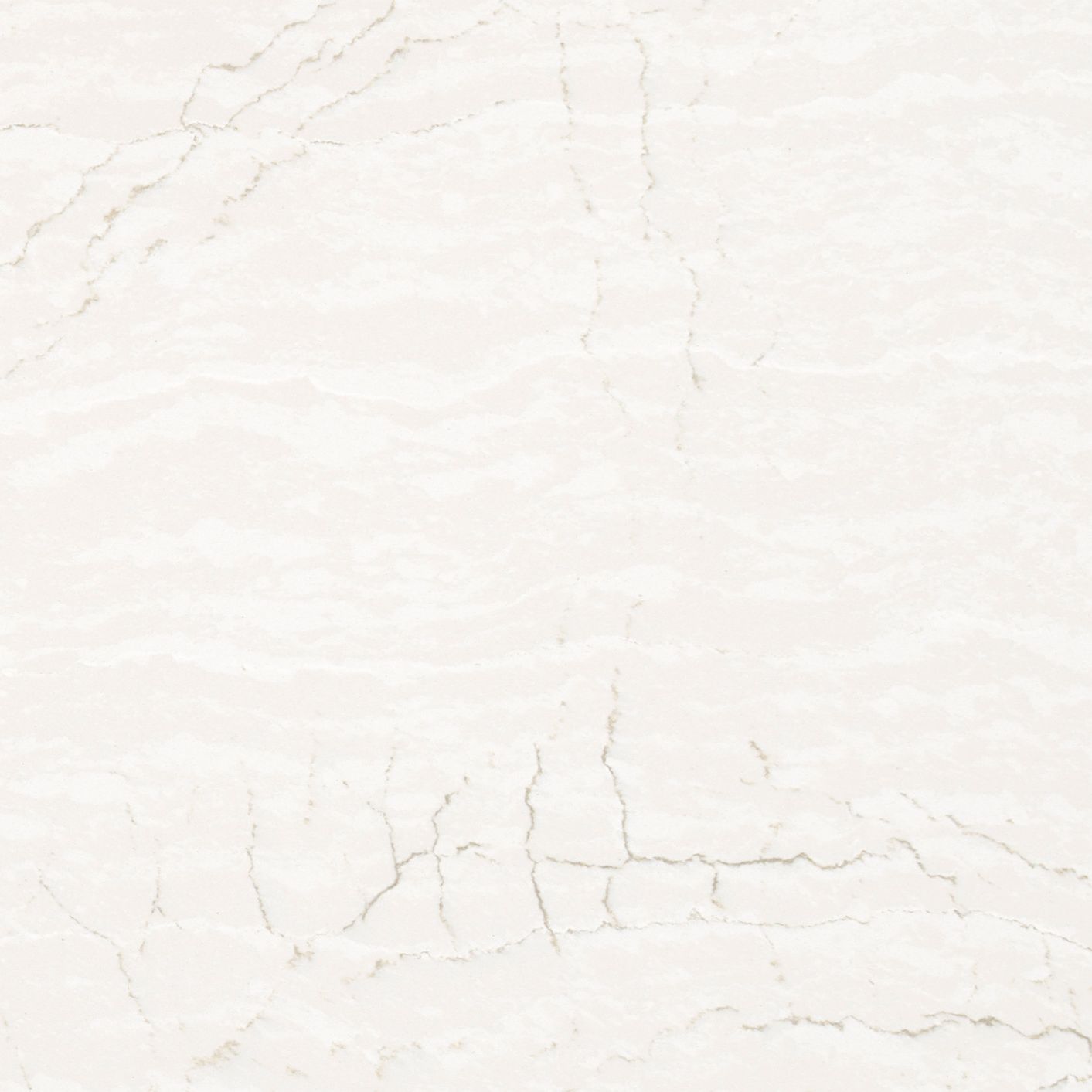 An Ironsbridge™ backsplash complements a Skara Brae island in this space from Bobeche Interiors.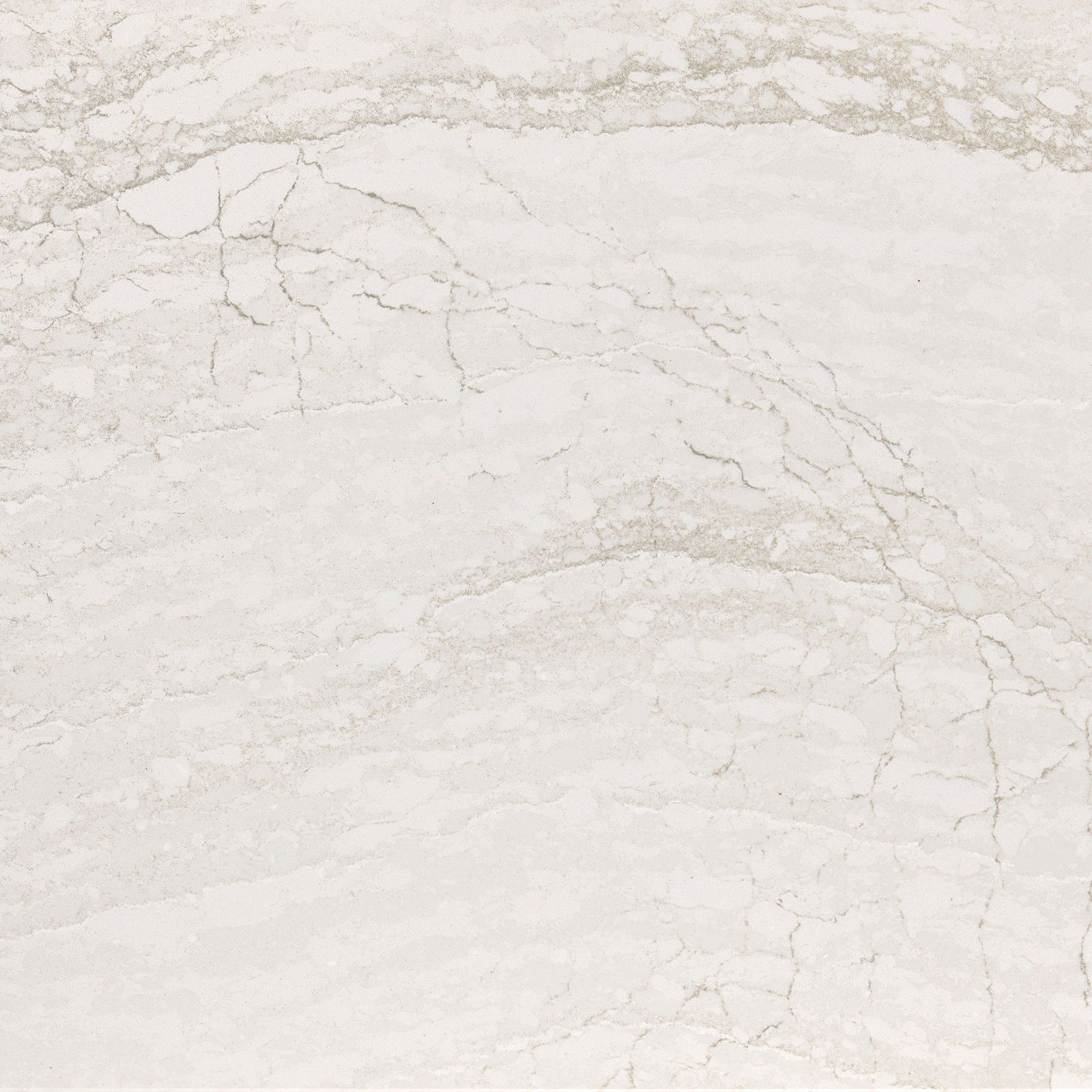 Cambria Ironsbridge™ design detail
Cambria is your source for quartz countertops and backsplash
Need more quartz backsplash ideas? See more bold backsplashes in our trend report, including a Brittanicca backsplash with integrated shelf.
Order samples of the designs featured here to make the perfect natural stone backsplash statement in your space. Find a dealer near you when you're ready to start your project.