Sometimes the smallest piece can make the biggest difference in a room. Cambria's new Lazy Susans and Charcuterie Boards are stylish, new must-haves for the home. Featured in the July issue of O, The Oprah Magazine, these darling décor items are at the top of our summer wish list. Forget what you know about a single-function lazy Susan and explore new ways to use this piece.
Kitchen
The beauty of Cambria is now transportable, so your stylish serving can easily go from kitchen to living room to patio. Our Lazy Susan makes the perfect platter for tasty appetizers or desserts. Available in a number of beautiful designs— there is an option for any style.
Cambria's durability and low-maintenance benefits aren't compromised. There is no need to use harsh cleaning agents or worry about stains or bacteria absorbing in the surface. Build your best charcuterie spread or sample delectable bites without concerns that may arise with wooden or plastic serving trays.
Upgrade your at-home happy hours with Cambria's Rose Bay Lazy Susan or Cambria Black™ Cheeseboard.
Linen napkins and an Ironsbridge Lazy Susan elevate your next wine night.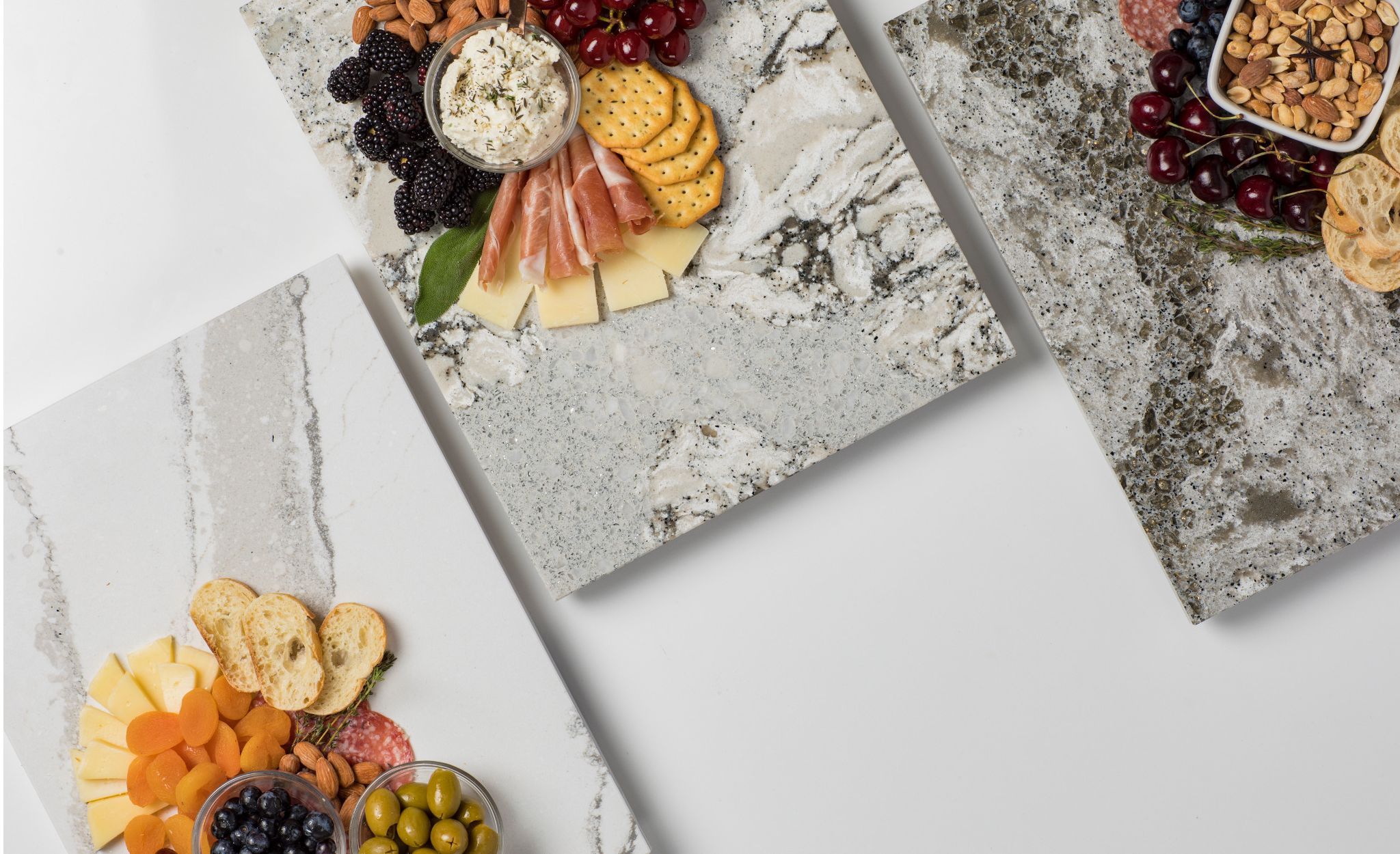 Entice your guests with a carefully curated charcuterie board in Brittanicca™, Summerhill™, or Galloway™.
Living spaces
Play with patterns, textures, and scale in your home by using your lazy Susan to showcase décor rather than food. Looking to style a photo-ready vignette? Arrange decorative plants, colorful vases, and other treasures atop your lazy Susan. A beautiful bouquet can stand out on your kitchen island with a charcuterie board as a platform.
Rose Bay's intricate veining and contrasting black-and-white pattern make a bold pop in any room and complement spaces with matte black accents. For a more subtle marble look, try an Ironsbridge Charcuterie Board. Add some mood lighting with a scented candle to create an Insta-worthy corner of your home.
Pastel vases, fresh greenery, and a Rose Bay Lazy Susan create a chic centerpiece on this Swanbridge™ island.
Bath and powder room
Add pattern and polish to your powder room or bathroom with a Cambria charcuterie board or lazy Susan. This is a simple way to declutter and keep your most-used toiletries elevated and within easy reach. Personalize the look with ceramic vases, metallic canisters, florals, and your favorite makeup palettes and brushes.
Start styling
Cambria can be a beautiful focal point in any room, big or small. Start elevating your spaces with a Cambria Lazy Susan, Charcuterie Board, or Cheeseboard from the Cambria online store. (Use the promo code OPRAH from O, The Oprah Magazine's July 2018 issue for a 20% discount.)