Love a mix of modern and cozy in your space? Casual contemporary may be your vibe. A versatile style, casual contemporary design emphasizes organic textures, plenty of light, and natural color palettes. We've created a moodboard inspired by this relaxed vibe and chosen a few of our favorite casual contemporary spaces to showcase.
How to make a moodboard
Creating a moodboard is the first step in a kitchen update or home remodel. A moodboard is defined by personal style, so if you don't love an item, lose it. It's all about achieving a look that fits you and your home. Selecting your favorite Cambria design is a good place to start. See how to build a moodboard for your dream space with these easy steps, starting with inspiration all the way through final touches.
Cambria's design Skara Brae™ inspires this casual contemporary moodboard.
1. Find inspiration from everyday objects
Cambria's palette has a range of designs and styles to offer inspiration, whether you love the look of marble or prefer a granite alternative. Finding items that inspire your creativity and incorporating them into a moodboard is part of the process. Turn to your favorite kitchenware, like platters or flatware to get inspired. Start small and build from there.
Cambria pairing ideas
We love the bold yet neutral Skara Brae from the Marble Collection for a casual contemporary palette. The white backdrop offset with bold olive green and black veins makes it a striking marble alternative. For similar bold marble-like movement but warmer hues, try Brittanicca Gold™ or Brittanicca Warm™. For similar tones yet softer movement, opt for white quartz countertop designs like Dovedale™ or Delgatie™.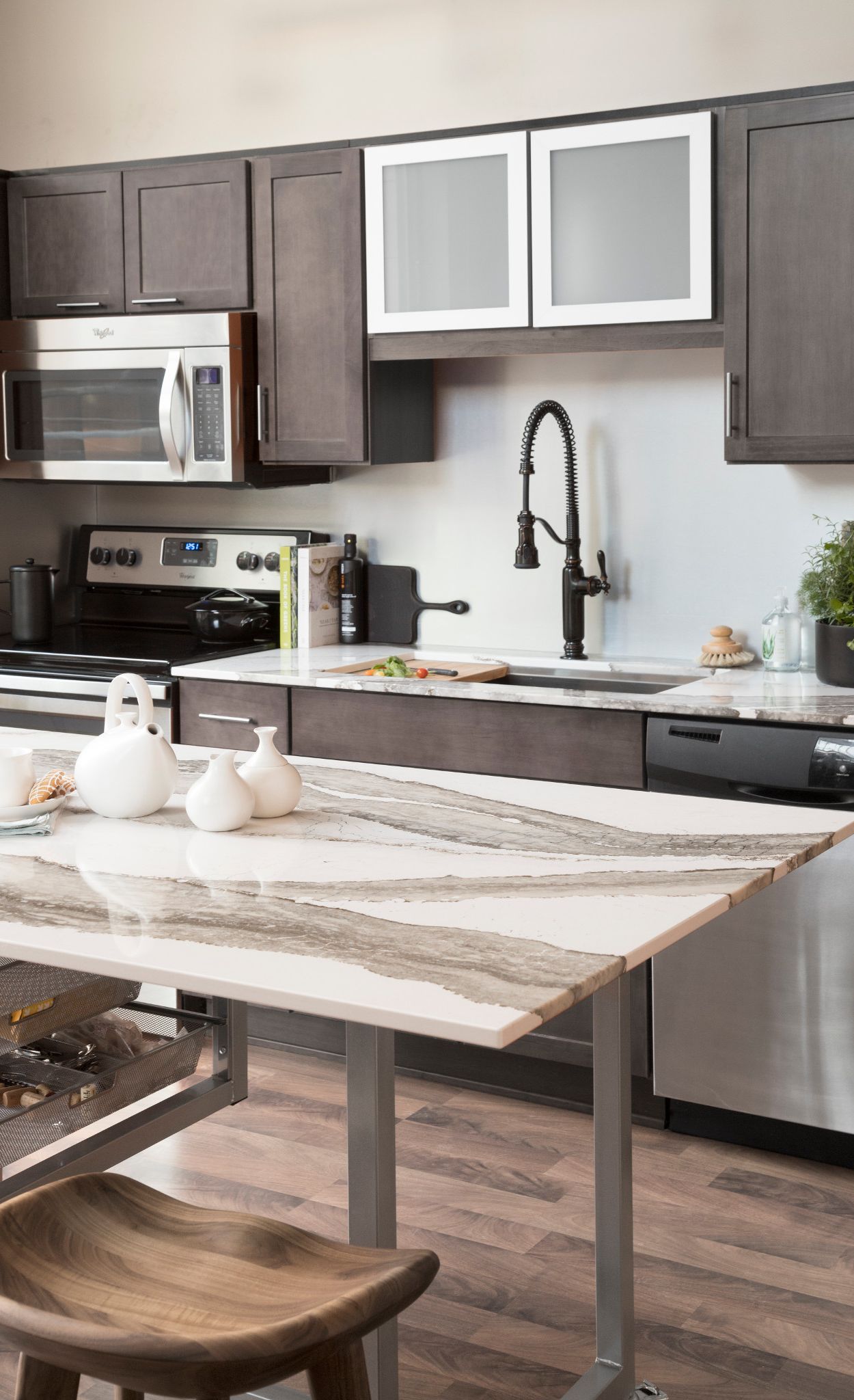 The rich veining of Skara Brae countertops inspired the look of this contemporary loft kitchen featuring taupe-gray cabinets, wood stools, and matte black faucet.
2. Play with patterns and palette
Introducing patterns and colors to a moodboard is vital for a well-balanced space. Many casual contemporary designs pair a blend of neutrals like beige, white, or gray with pops of muted colors (think navy, taupe, and browns). Patterns can come in the form of wallpaper samples, textiles, or backsplash tiles. We love the look of crisp white and clean lines paired with earth tones and free-flowing movement, like white shiplap paired with and the sandy waves of Cambria Oakmoor in a bathroom palette.
Cambria pairing ideas
Designs like Oakmoor and Levven™ offer neutral tones with distinct patterns, perfect for an earthen-inspired, casual space. For dark and moodier spaces, Mersey™ is a captivating design for a maintenance-free black marble alternative. If the countertops make a big statement, seek out subtle patterns to complement.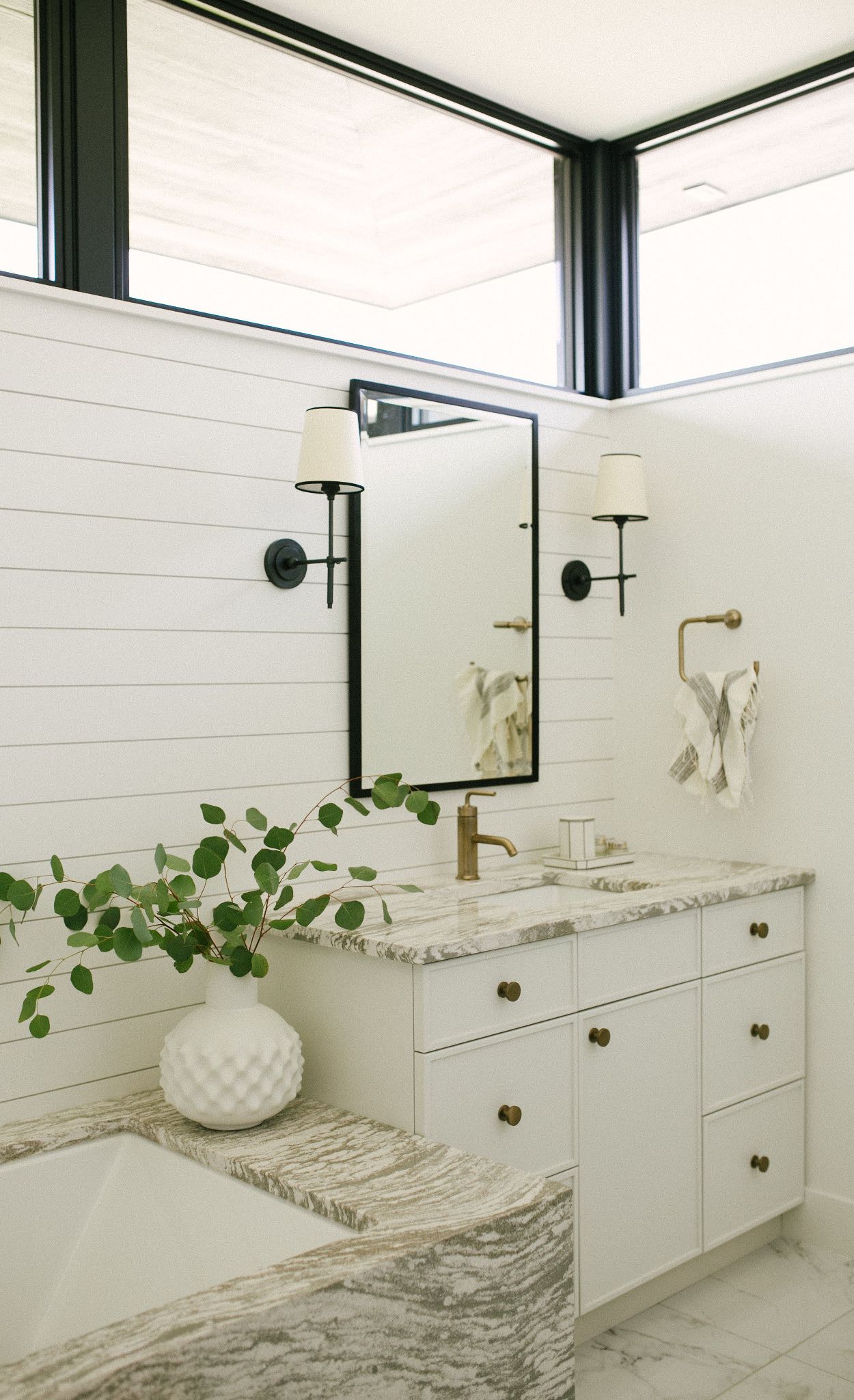 This bathroom from Jaclyn Peters Designs balances patterns and textures with shiplap walls, mixed metal hardware, and wave-like movement of Oakmoor™. Photo: Ariana Tennyson
3. Liven it up with natural accents
Adding organic elements, like air plants, succulents, or florals to a moodboard offers palette inspiration or a final pop of color. Greenery is a large part of an emerging style: modern bohemian. This softer, nature-inspired combination of contemporary and boho is ideal for those who love a minimalistic take on bohemian design.
Cambria pairing ideas
Natural woods play an important part in balancing harsh lines, creating a cozier vibe for the room. Experiment with a variety of wood cabinetry and Cambria samples in your moodboard to get the tone that suits your contemporary casual space. Airy and bright Cambria countertop designs like Swanbridge™, Torquay™, or Weybourne™ will allow natural elements and textures to pop in any room.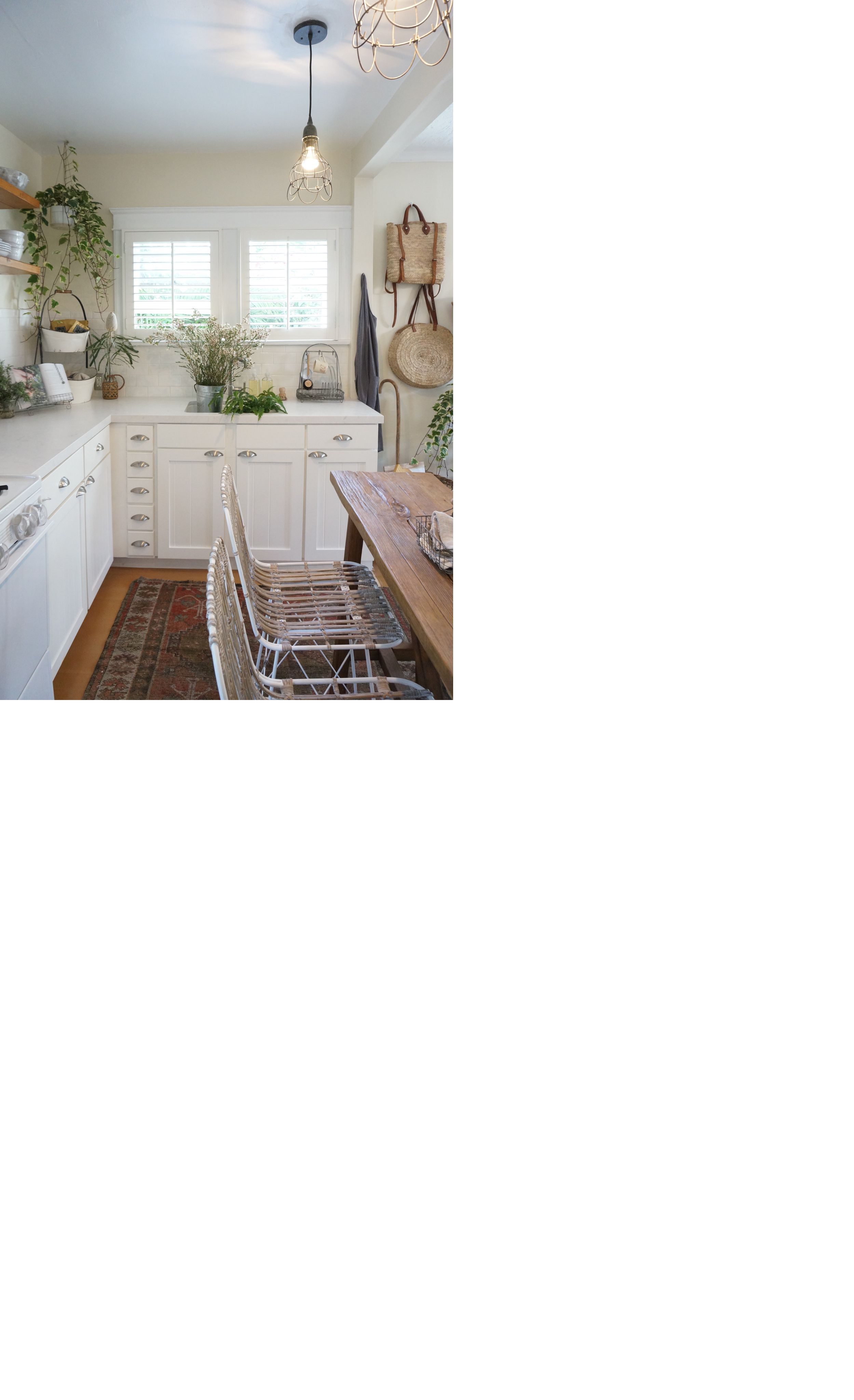 The Tiny Canal Cottage kitchen softens the modern look of Weybourne Matte™ countertops in an all-white space with woven bags, rustic wood table, and plenty of greenery.
Building a moodboard allows you to bring colors and finishes together to see how they pair together. Order a sample of your favorite Cambria design, or even multiples to mix and match. Stop by local hardware stores for paint samples and print out images of hardware, furniture, and décor if you don't have them on hand.
See our High-Contrast Design post for more moodboard ideas. We'd love to see your moodboard designs featuring Cambria. Share them on social media and tag @CambriaSurfaces or use #MyCambria!