Seeking a granite look for your space but worried about the drawbacks of granite? Cambria is a smart alternative to granite, with beautiful natural quartz designs to suit any aesthetic and performance that no other stone can match. Unlike granite, Cambria is completely nonporous, never requires sealing, and is protected by a Full Lifetime Warranty. Cambria's design director, Summer Kath, shares four favorite design picks for granite alternatives.
Bellingham countertops
"Bellingham is my top recommendation for those who want a traditional granite look," says Kath. "Its beautiful movement and earthy tones make it casual yet elegant. And it's so versatile, with swirls of beige, black, and gray tones against a cream backdrop. I love it with white or walnut cabinetry, but it can also work with grays, blacks, and range of wood cabinet styles."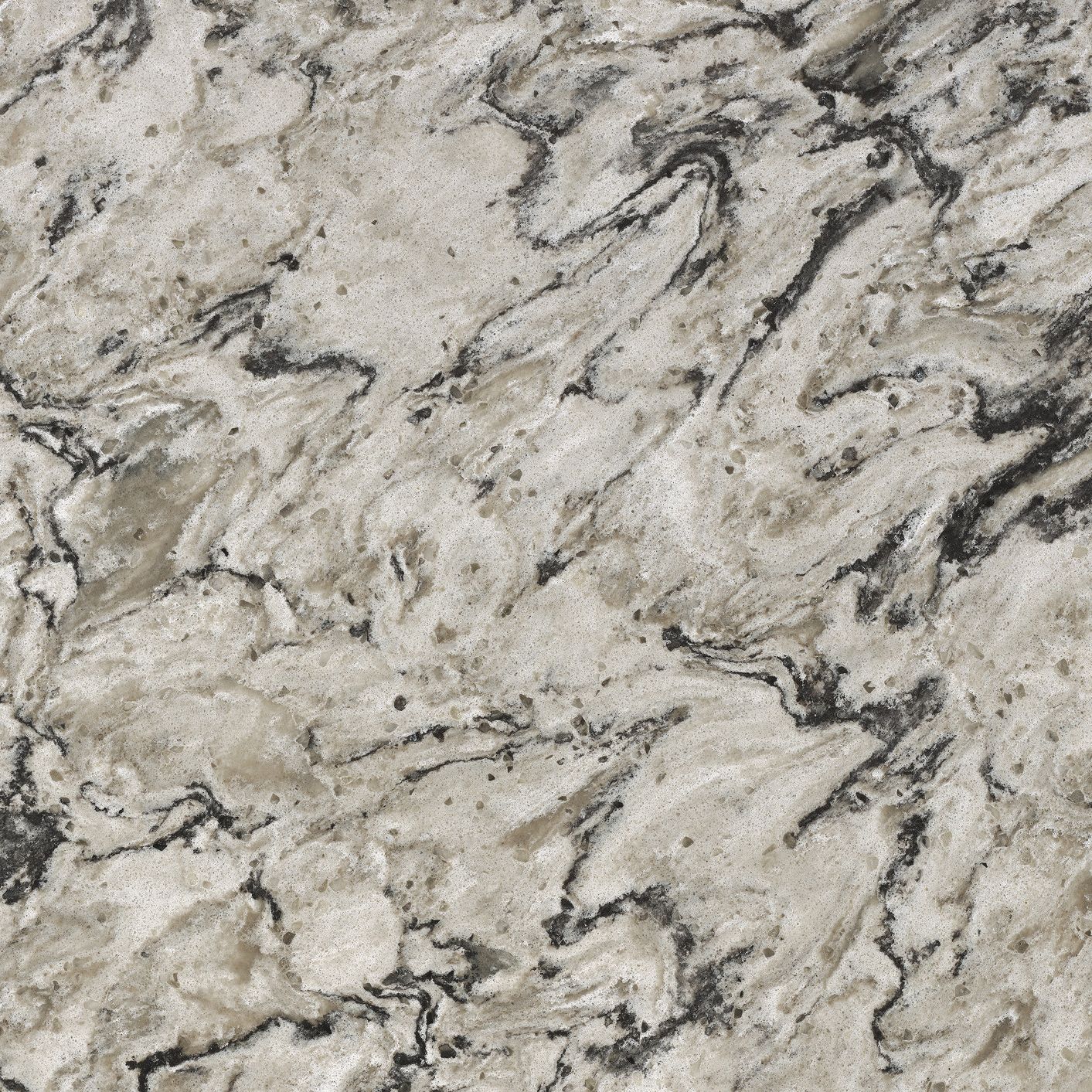 Cambria Bellingham™ design detail
Like the idea of pairing two countertop designs in your space? Bellingham is the perfect design to feature as an island, accented by a perimeter in a complementary Cambria design. "I recommend a rich gray like Devon™ to bring out the darker tones, or even the navy Hadley™ for a modern take," says Kath. "For an airier look, try one of Cambria's marble-like designs like Newport™ or Torquay™."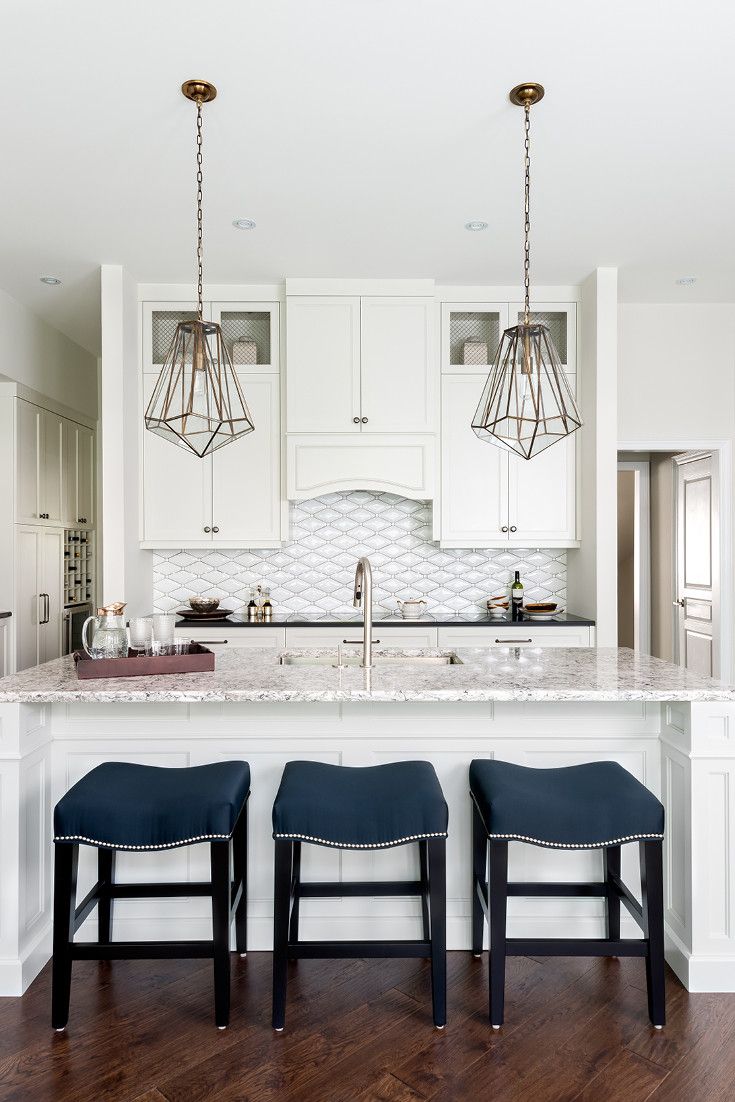 A Bellingham island adds sophisticated tone and texture to this white kitchen from Toronto Interior Design Group. Photo: Gillian Jackson Photography.
For another versatile alternative to granite countertops, consider Cambria Wisley™. A captivating neutral, Wisley countertops feature more tans and browns than Bellingham and subtle pinpoints of black.
Berwyn countertops
"Berwyn is so chic," says Kath. "It's soft and sophisticated with a subtle sparkle. For people considering light granite countertops, this is a glam alternative that has broad appeal. The dense medley of heathery gray, taupe, and ivory tones make it perfect for a gray kitchen that won't feel sterile."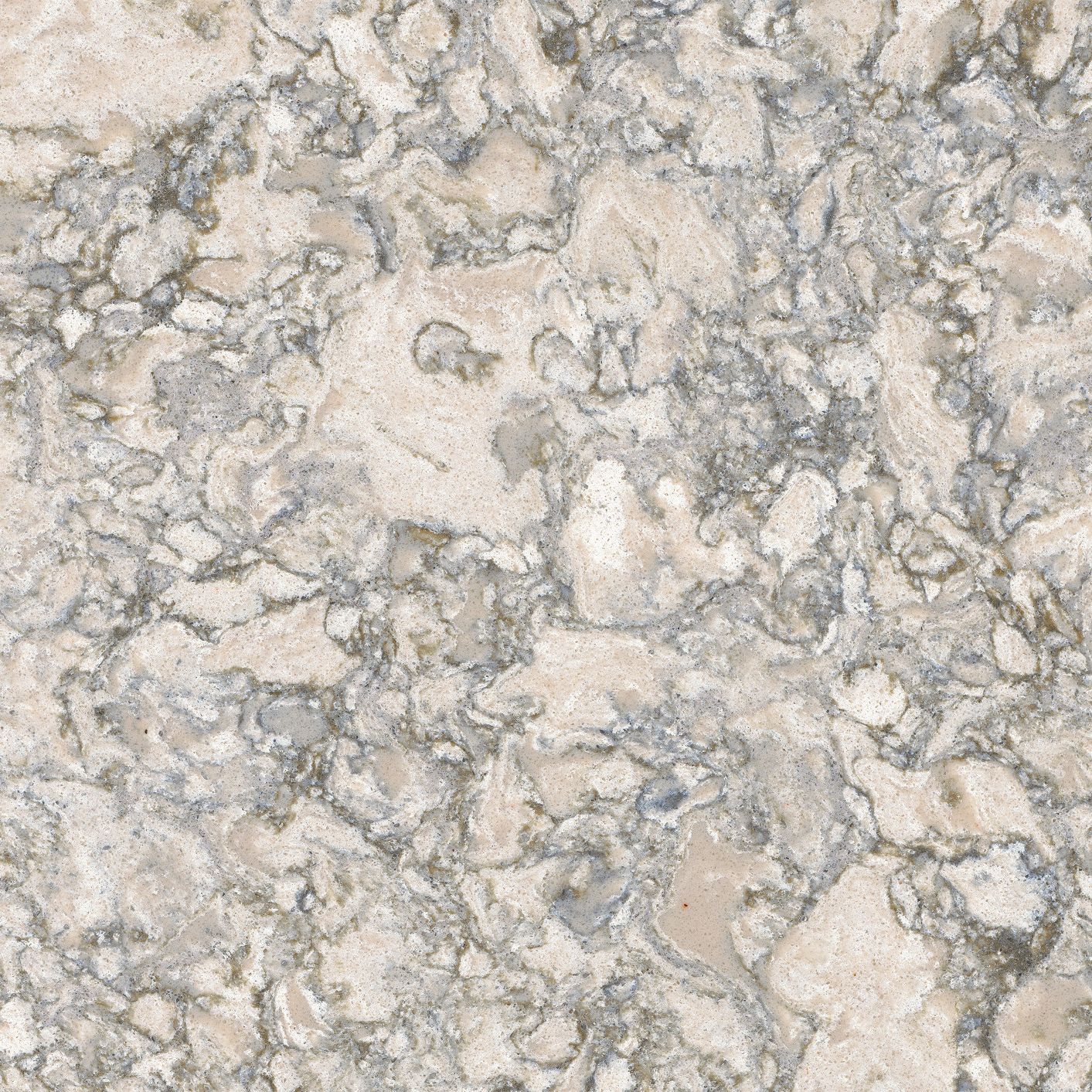 Cambria Berwyn™ design detail
While gray cabinets are a natural complement for Berwyn countertops, this design has endless pairing possibilities. "I also love how Berwyn adds dimension to an all-white space, elevates a rustic farmhouse style, and pairs with shades of blue," adds Kath. "As for hardware, I like polished chrome or brushed nickel for a timeless look and matte black for a more contemporary feel."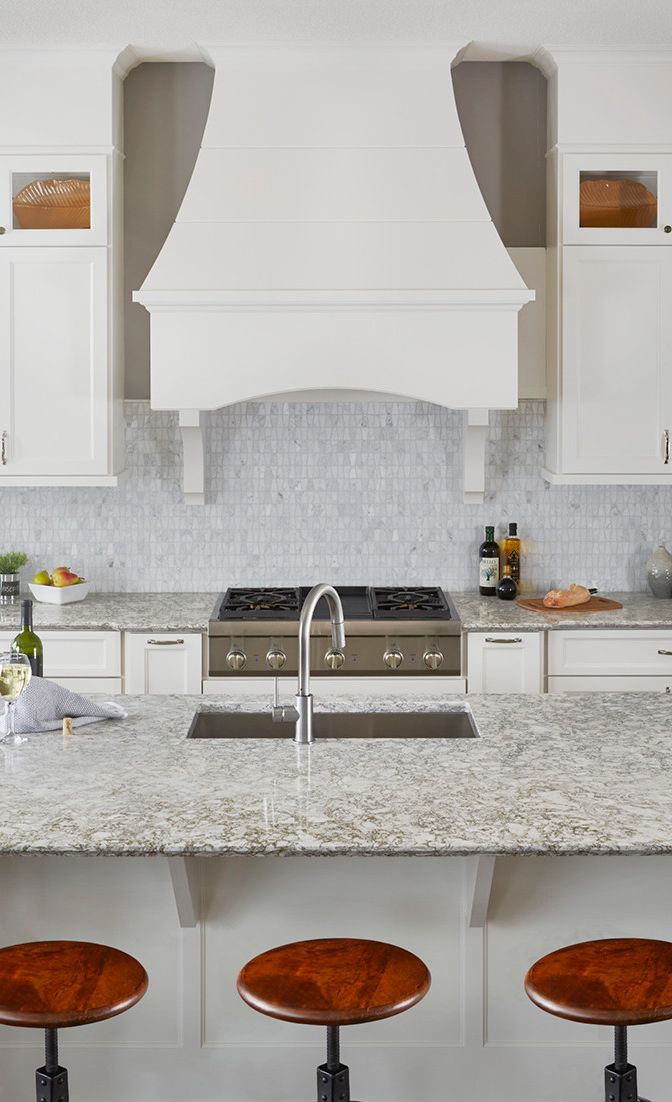 A light granite alternative, Berwyn countertops lend intriguing movement and tones to this traditional white kitchen.
For a similar look with warmer tones, try Cambria Crowndale™, which features a blend of cream, beige, and golden tan. "We've been seeing a trend toward warmer countertops and Crowndale would fit well with a greige kitchen or bathroom palette," says Kath.
Laneshaw countertops
"Bold black and brown is back! Laneshaw is an oldie but a goodie from Cambria," says Kath, "and I love to see designers and homeowners reinvent a classic." This alternative to dark granite countertops features an intriguing mix of espresso, tan, and black hues with subtle highlights of white.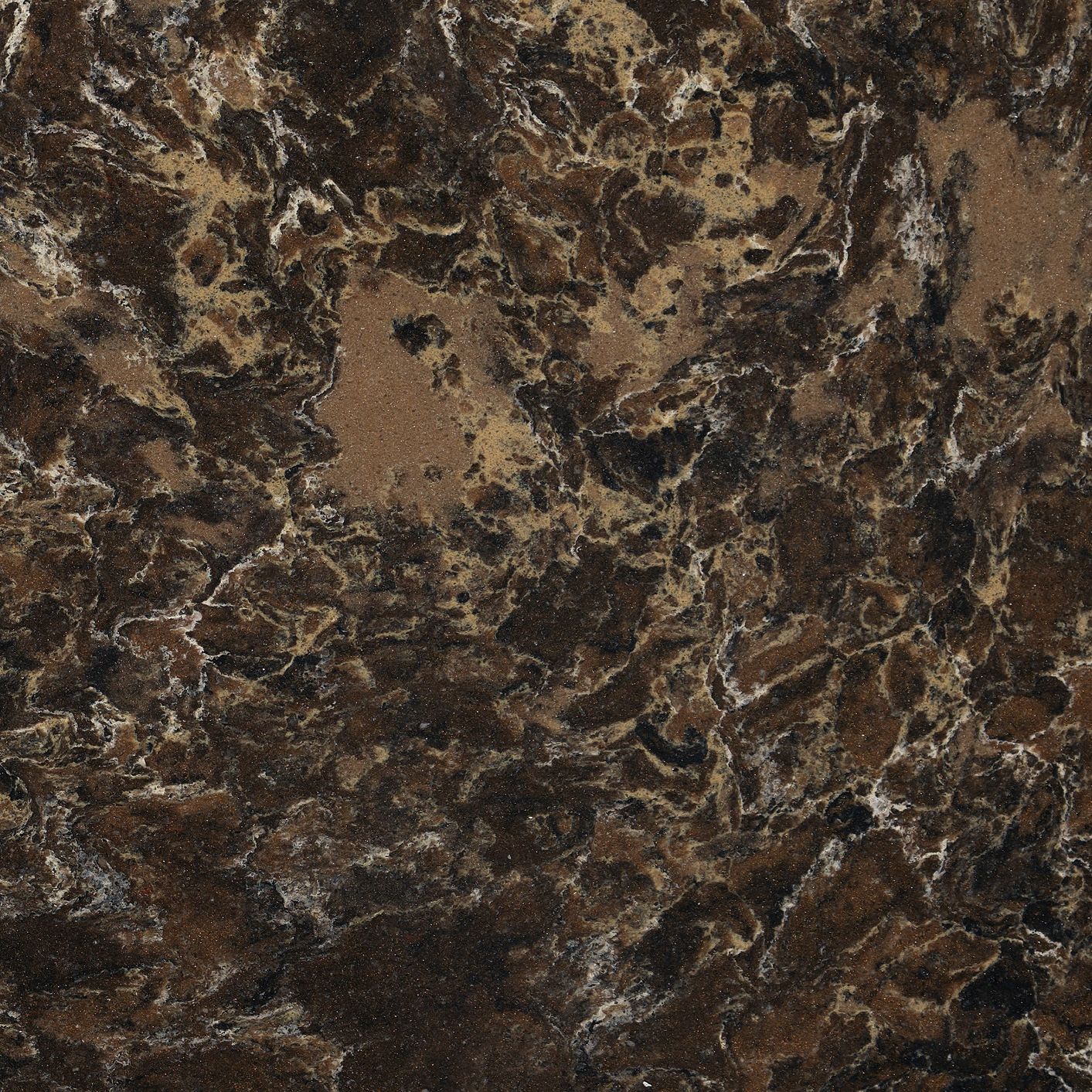 Cambria Laneshaw™ design detail
"As we see darker countertops back en vogue, Laneshaw has reemerged as a favorite of mine," adds Kath. "It captures great depth, natural movement, and clarity we all love. I like to see it paired with cream or white for contrast, and dark walnut or black for a dark and moody space. Mixed metals are a stunning complement to Laneshaw as well."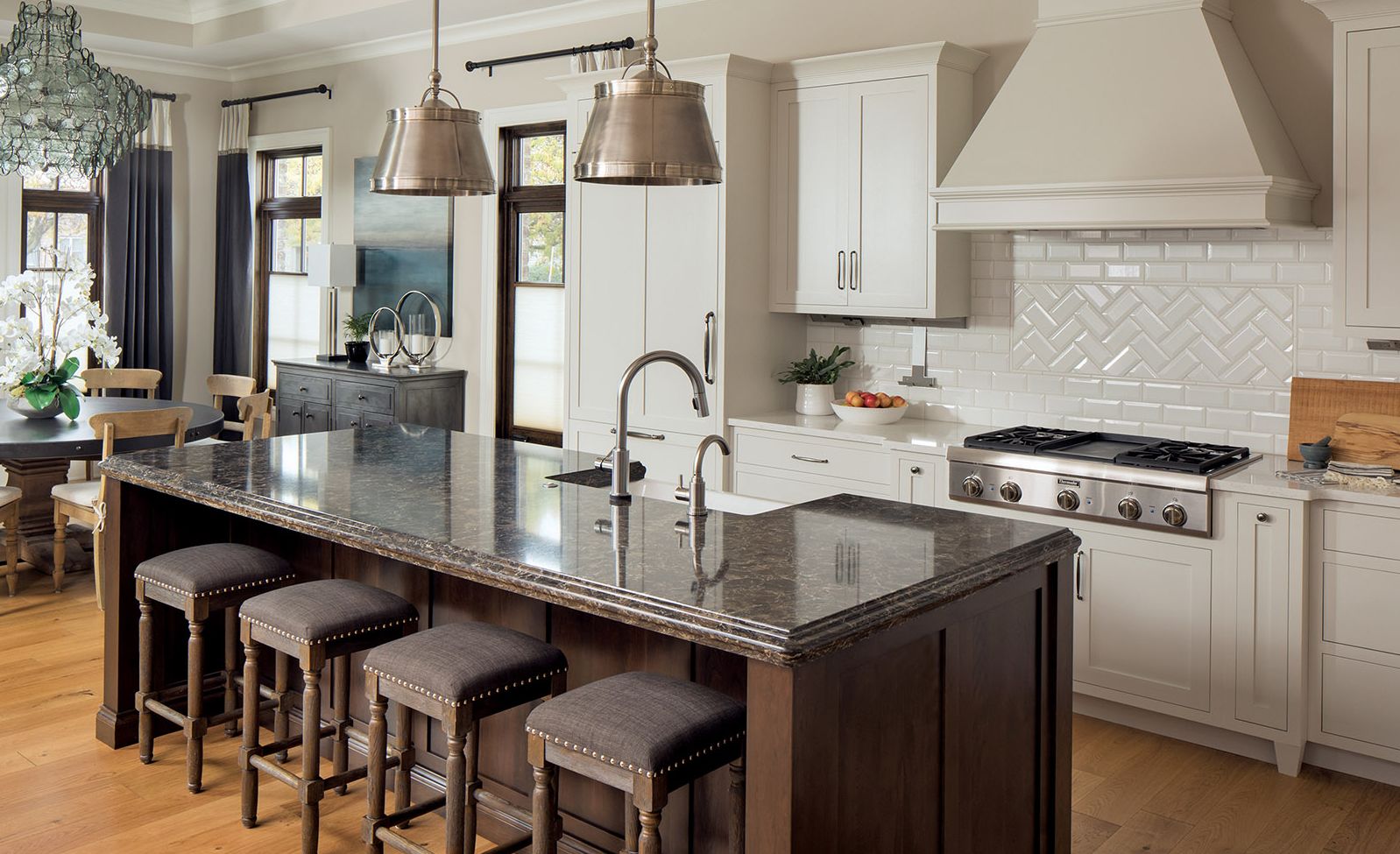 With swirling tones of dark brown, tan, and black, Laneshaw is a beautiful alternative to dark granite countertops. Kitchen by: MB Designs.
Cambria has many stunning dark granite alternatives. For a warmer walnut brown with softer tan and cream swirls, try Hampshire™. For more black with coppery brown and white highlights, try Hollinsbrook™.
Havergate countertops 
"We are seeing a revival of gold and rich bold patterns within interior design," says Kath. "Havergate reminds me of a modernized granite with copper, gold, tan, and a cool pewter which brings the elevated, modern appeal to this design."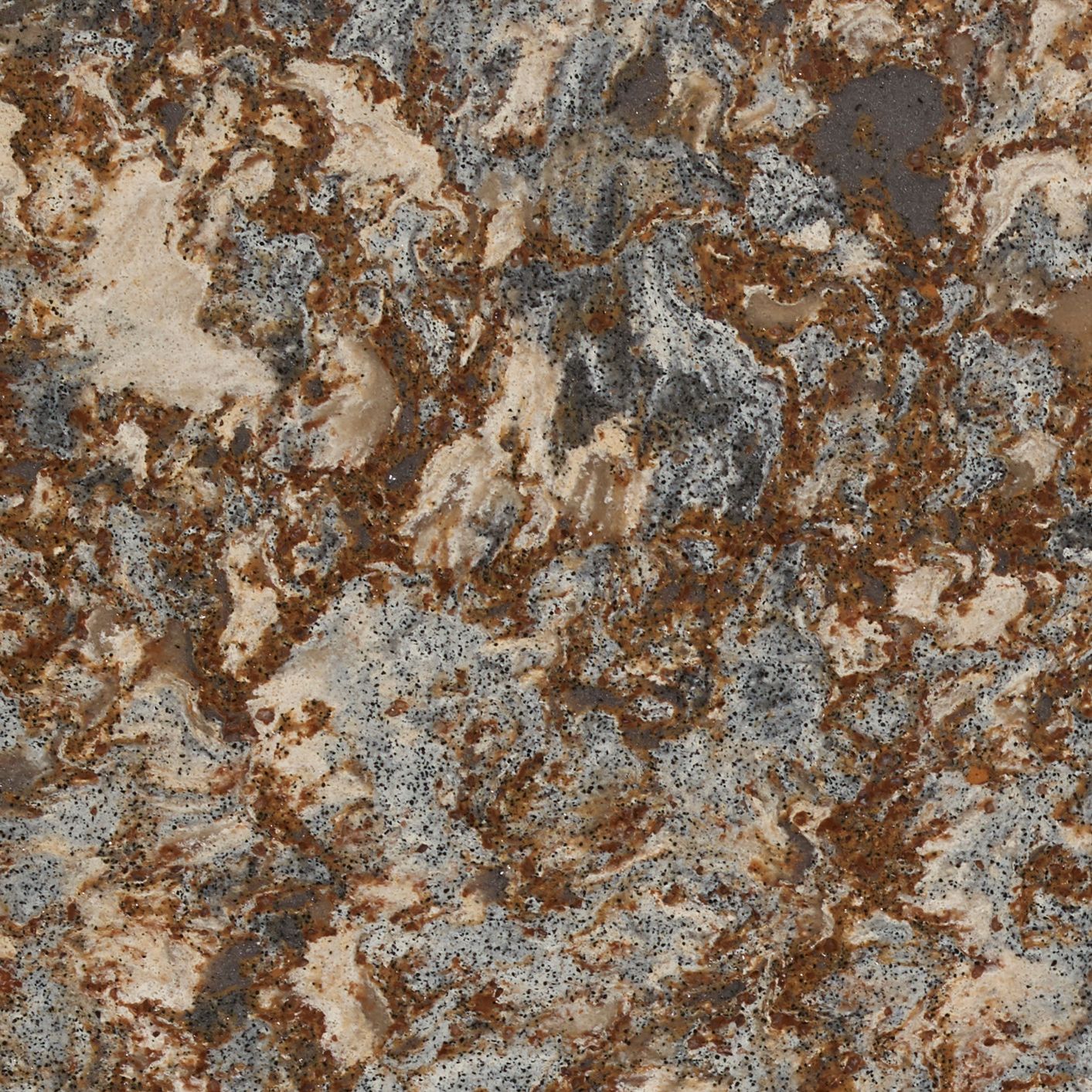 Cambria Havergate™ design detail
"Havergate pairs well with copper, a trend we're seeing in décor and hardware," notes Kath. "To complement the pewter tones, stainless steel appliances are a timeless choice. Warm wood cabinetry or open shelving is a natural pairing as well—perfect for a rustic-industrial kitchen or bar space."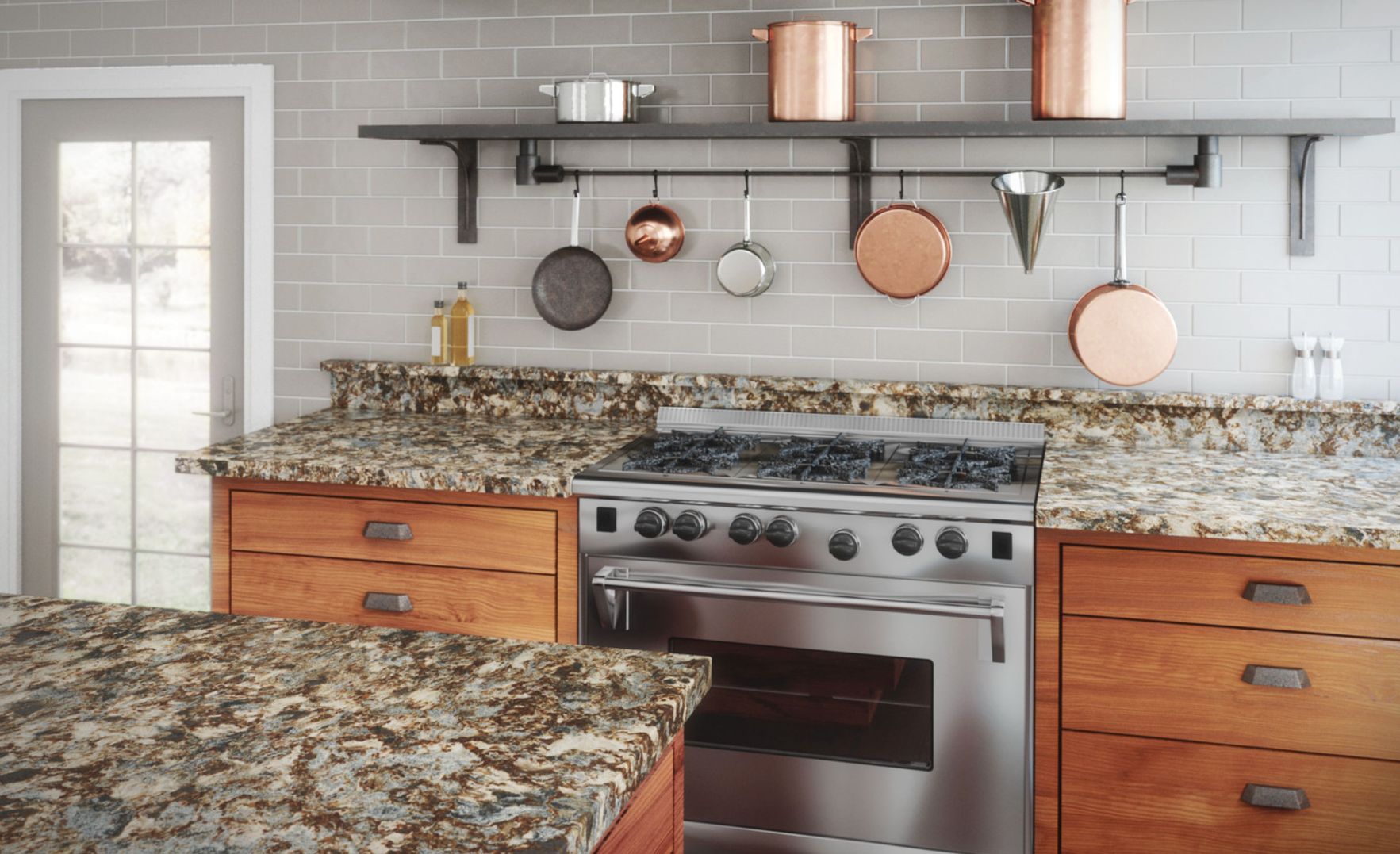 A maintenance-free granite alternative, Havergate is rustic and refined with alluring earth tones and mixed metal hues.
For similar tones but bolder movement, consider Helmsley, with powerful veining that showcases steely gray.
Elevate your space with smart granite countertop alternatives
If you love the look of granite countertops but want a surface that is more durable and maintenance free, try these Cambria granite alternatives. As with all natural quartz countertops from Cambria, these stunning selections ensure a lifetime of beauty for your kitchen, bathroom, home workspace, laundry room, basement bar, and more.
Find a dealer near you or order a sample to get started on your next project.