Hey guys! Morgan and Jamie Molitor here from construction2style. We are so honored and excited to be here with you today on Refine + Define talking through some of our favorite projects and how to pair your Cambria countertops with a tile backsplash to create the perfect statement. We'll let you in on our process for making our material and design selections and share five tried-and-true countertop and backsplash ideas.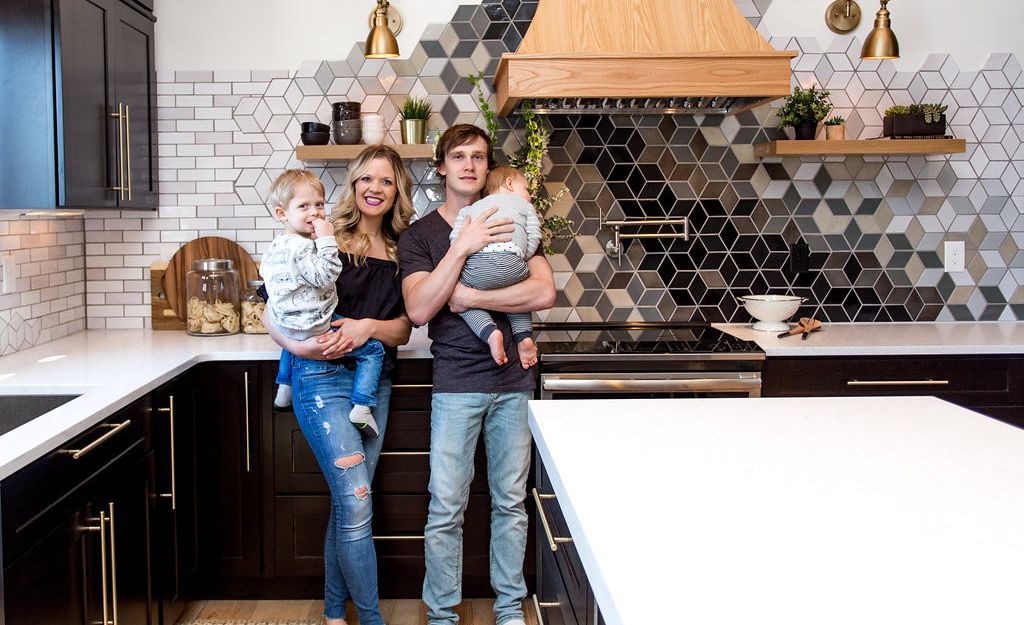 Our family in our newly remodeled kitchen featuring Cambria countertops (Delgatie Matte™) and Mercury Mosaics tile backsplash
Where do you begin with your kitchen remodel?
Homeowners come to us feeling either completely overwhelmed with all of the selections out there or they have no clue where to begin.
The biggest question is: which is the most important selection to decide first? Kitchen countertops or backsplash? Cabinets or flooring? Should I be thinking about the lighting and fixtures yet? Do they all need to match?
A kitchen remodel is a big investment and sourcing all of your selections within your space shouldn't be taken lightly.
Which materials will work best for you in a kitchen remodel?
We work with clients who have completely different lifestyles, design styles, budgets, and needs. But the first question we ask and you should think about is: how do you use your space?
Do you like to cook or go out to eat five nights a week? Do you have crazy kids, like us, and have zero time for maintenance and need a lifetime guarantee? Are you creating your forever dream home or are you remodeling for resale?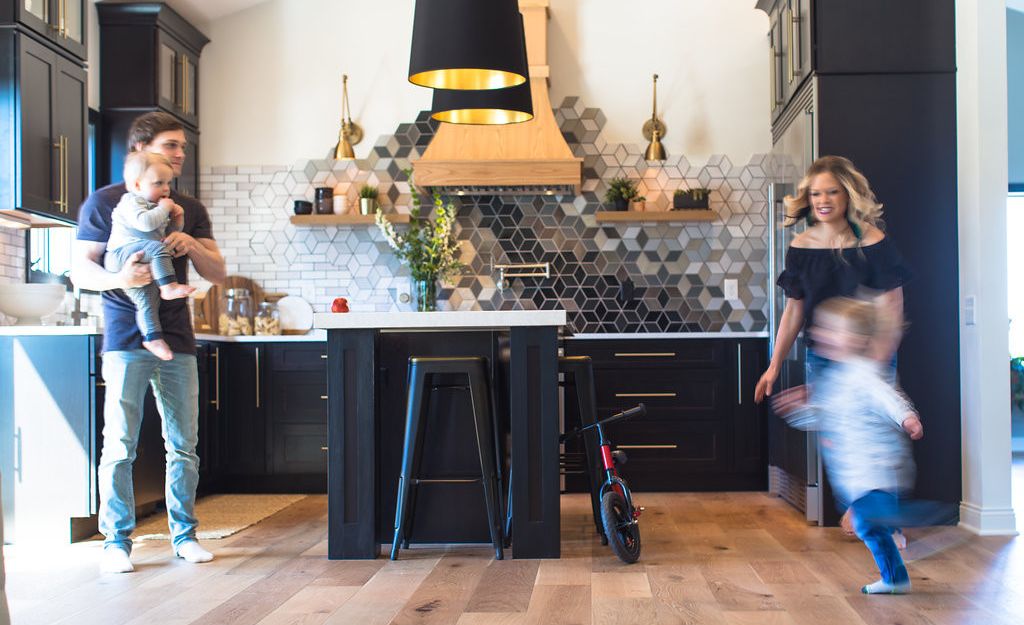 There is never a dull moment in our kitchen, and we selected materials to suit our lifestyle.
Before sourcing selections, we always get to know our clients and their lifestyles so we can determine the best options to recommend investing in for their projects that will make the most sense.
Choosing Cambria: quartz countertops that suit any lifestyle
However, regardless of your lifestyle, when it comes to countertops, Cambria is a selection we always recommend.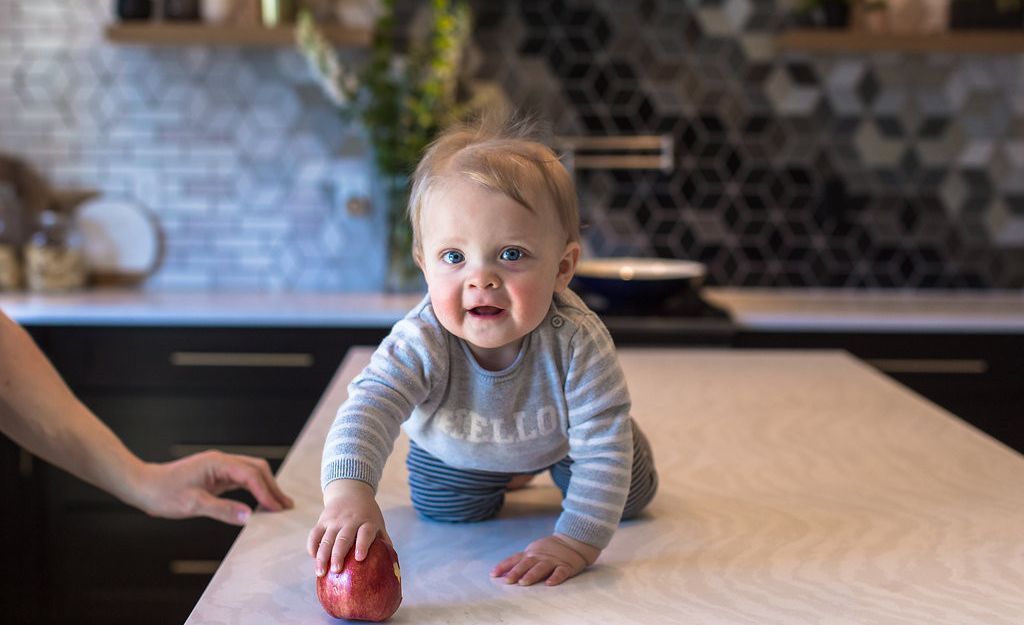 With two kids keeping us on our toes, we love that Cambria is easy-clean, maintenance free, and guaranteed for life.
We're big advocates of Cambria for many reasons, but the biggest reason is it is zero maintenance and comes with a Full Lifetime Warranty (even when you sell your home). And on top of that, it is made of quartz which is one of the hardest minerals on Earth, is stain resistant, and features gorgeous designs that cater to any style. Read more about why we choose Cambria vs. granite and other countertop materials.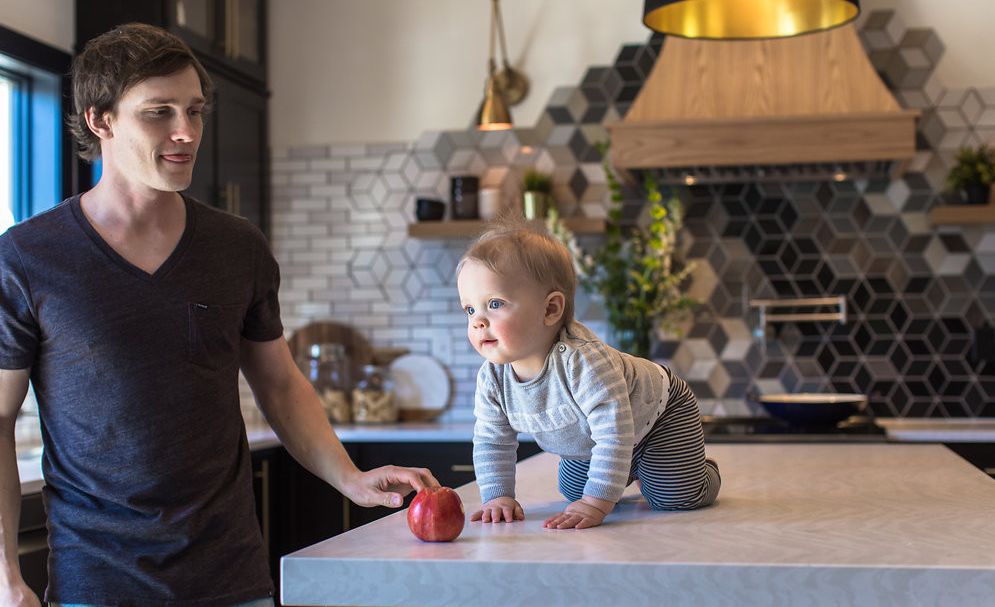 Quartz countertops also cater to any lifestyle. I love that our kids can always play in the kitchen and our Cambria tops don't scratch or stain.
Which comes first: countertops or backsplash?
When it comes to which selection to choose first between countertops and backsplash, we always suggest choosing your countertops before your backsplash.
Your countertops are what you'll be using every single day—not just for cooking, but for dining, entertaining, work, and more. Also, they're a bigger financial investment. You want to make sure the countertop design you choose is one you won't want to replace for a very long time.
We've incorporated a number of different Cambria designs into clients' homes we've remodeled, as well as our own home, and each design was chosen for different reasons.
Check out our kitchen before-and-after and find out what we chose for our home: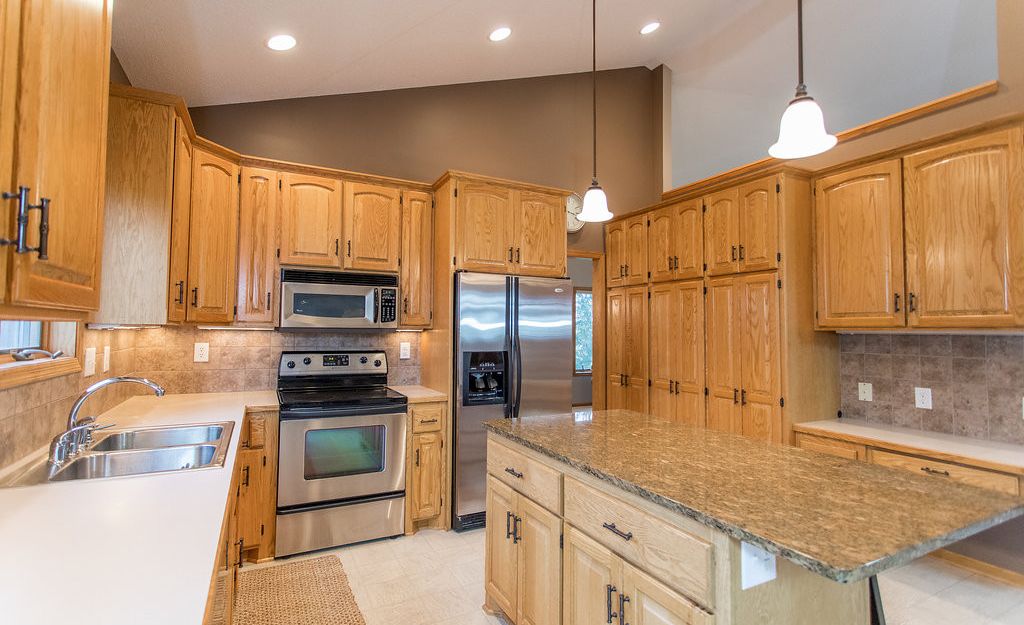 BEFORE: As you can tell, this home was the typical outdated 90s style with oak cabinets, laminate countertop, and what was once considered a "statement" stone design for the center island.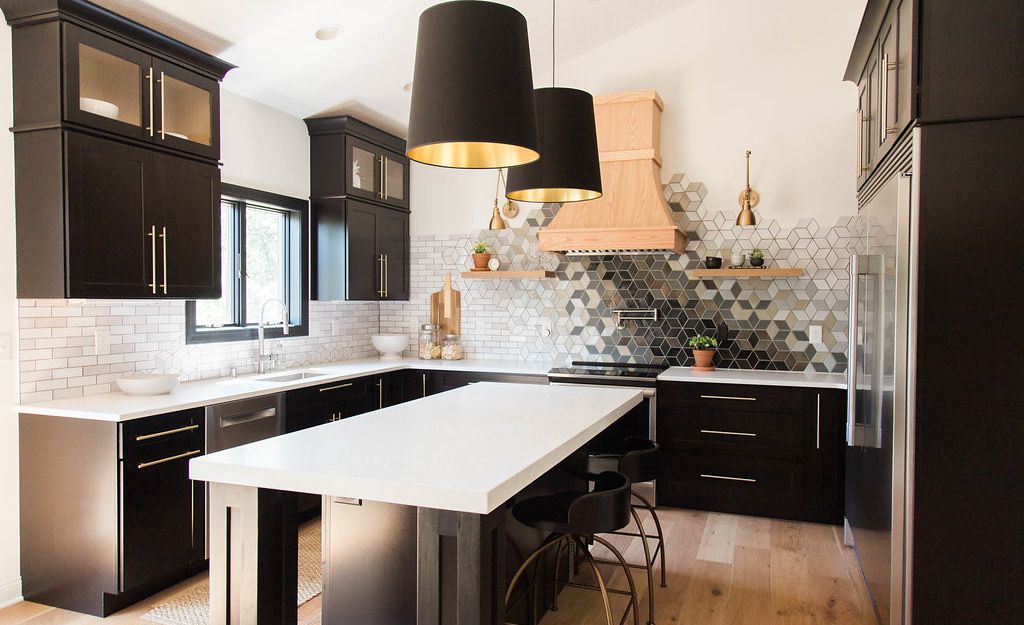 AFTER: Our remodeled kitchen featuring Delgatie Matte™ countertops and custom mosaic tile backsplash.
Delgatie Matte countertops + mosaic tile backsplash
Want to make a bold statement in your kitchen remodel? This pairing may be for you.
Delgatie is currently one of our favorite designs and is one of Cambria's many designs that is a smart alternative to marble. The first time we used Delgatie was Delgatie Matte in our own home remodel and it hasn't been our last time using this beautiful design.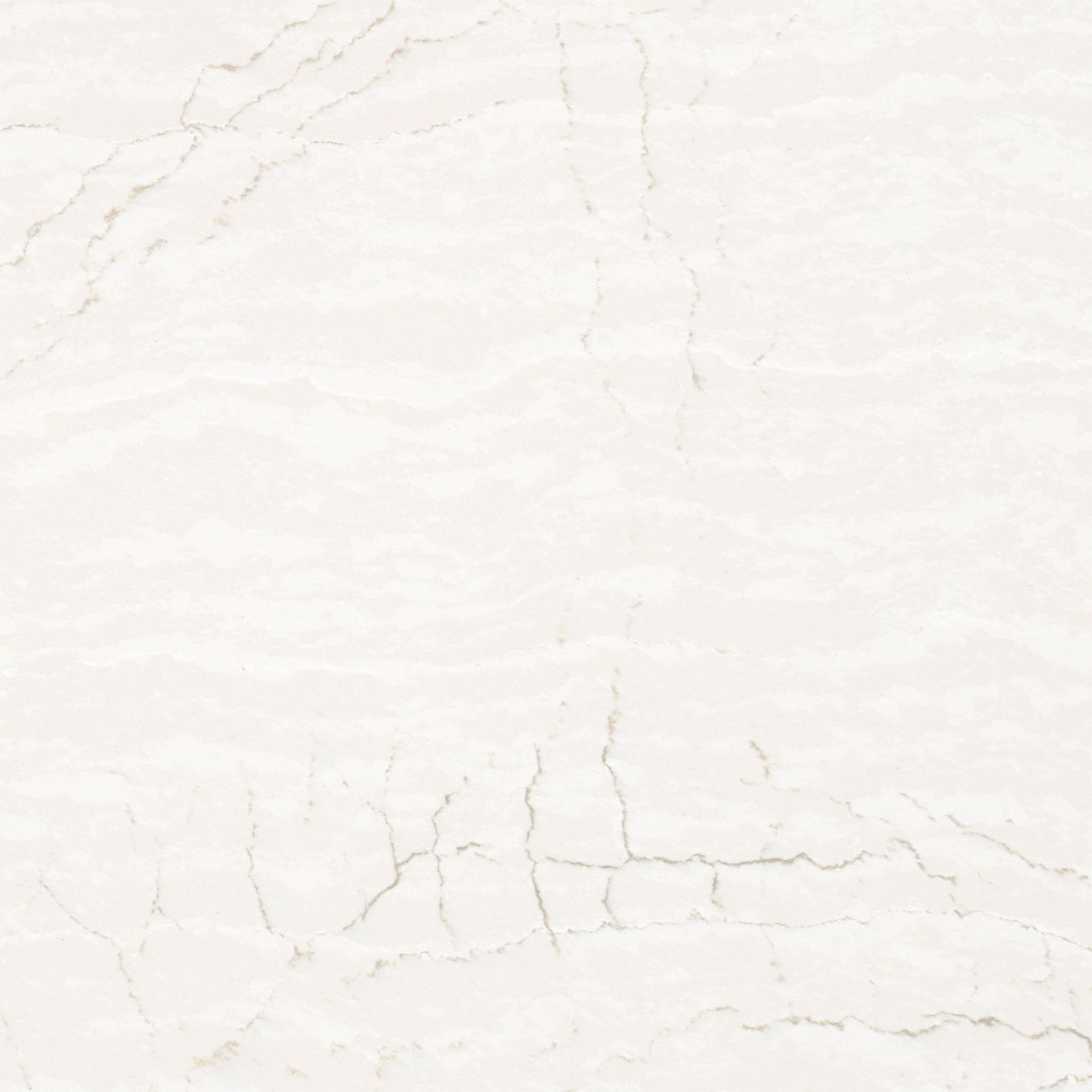 Delgatie™ design detail
For our home project, Jamie knew he wanted dark wood cabinetry, and I knew that I wanted a light and bright kitchen. I also knew we were going to incorporate a custom one-of-a-kind backsplash—what the design would be, we weren't sure. And our tile elves wanted to know our countertop design first before they got to work on designing our custom backsplash.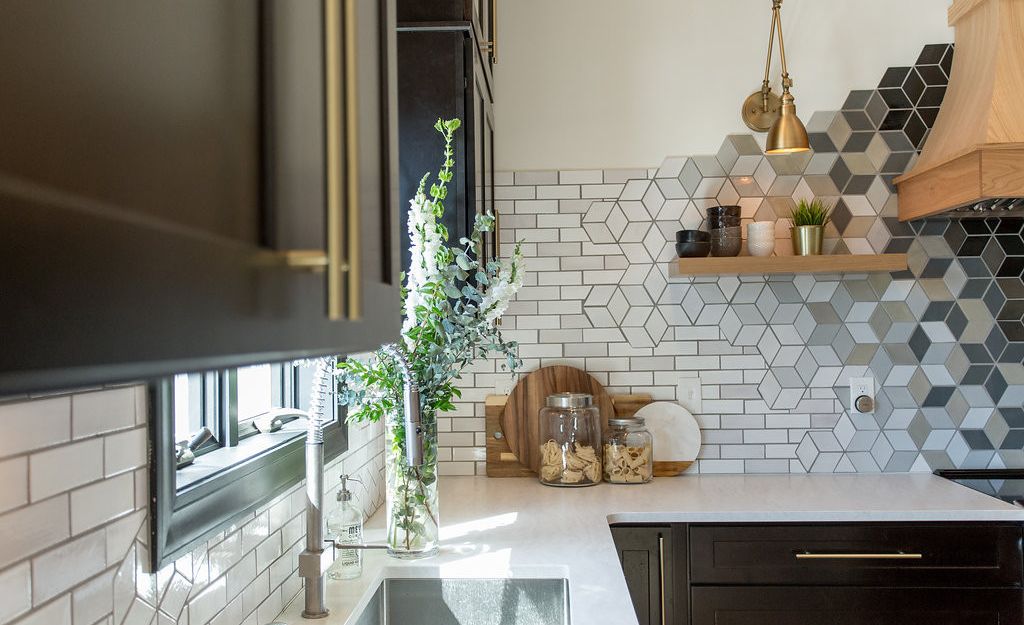 The warm white Delgatie Matte countertops complement our custom tile backsplash.
Knowing we were using dark cabinetry and a soon-to-be wild backsplash, we knew we wanted a more subtle white countertop, yet something that had flavor. Delgatie Matte fit the bill, with warm white-on-white waves and intricate cross-veining. We love how this design contributes to the contrasts in our space, from the high contrast of dark cabinets with the white quartz to the contrast of the geometric lines of the backsplash with the flowing movement of Delgatie Matte.
We also were incorporating a lot of lighting within this space to brighten it up, from pendants to sconces and can lighting in the ceiling. So we knew we wanted to do our countertops in a matte finish to avoid glare. Jamie's always been drawn to matte as he likes the overall toned-down look but it's also a lot less reflective than glossy which is something that is often overlooked. And we love that with Cambria Matte™ finish, we get the same durability, high performance, and warranty coverage as the high gloss finish. One year into our newly renovated space and we haven't been disappointed.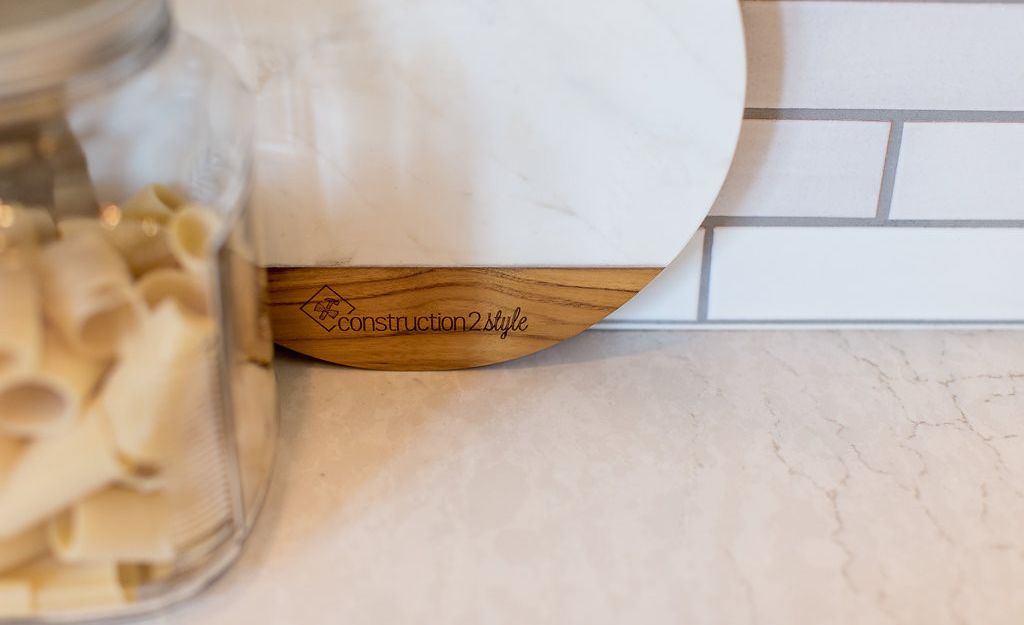 Our kitchen corner featuring Delgatie Matte
After we chose our countertops we then worked with Mercury Mosaics on custom designing our one-of-a kind statement backsplash. Delgatie Matte was the perfect selection to play off of all of the design elements in the space. Enhancing yet not competing with all the moving textures, colors, and elements in our Delgatie Matte countertop design. As you can tell, this design has a beautiful subtle cross veining of gray and warm tones along with flowing movement.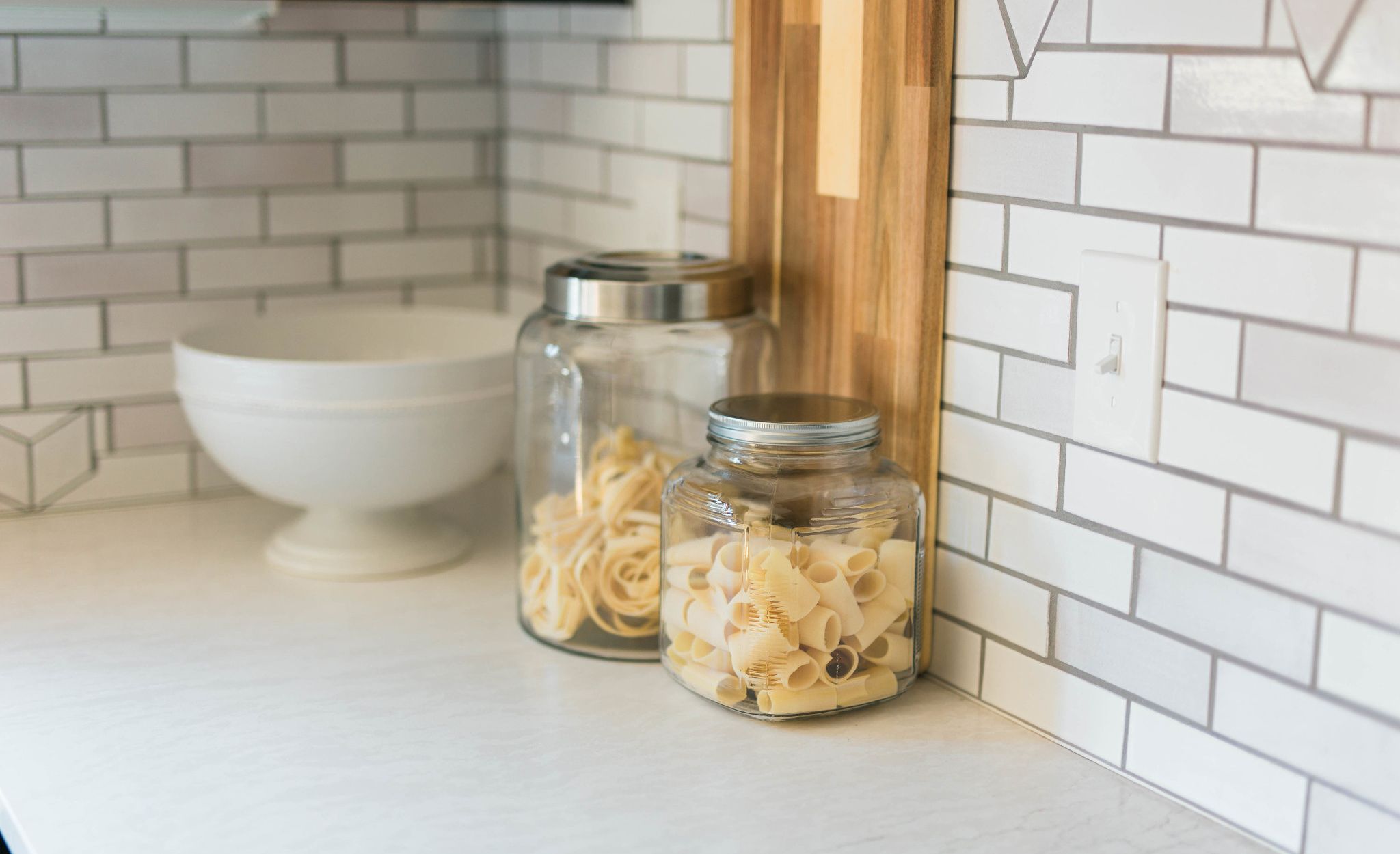 The flowing movement of Delgatie Matte contrasts with the geometric lines of our backsplash.
You don't have to be doing a custom backsplash to try out a similar pairing—Delgatie or Delgatie Matte can pair well with a bold color backsplash or patterned artisan tiles for a fresh and playful design statement.
Choosing your Cambria countertop design
When working with clients, we start with the overall design style our clients are drawn to most.
Do you, like me, want to see every crumb so you can keep your countertops spotless? Do you like the bold movement that some designs bring? Do you want a countertop color or pattern that sets your kitchen apart from the crowd? Do you want to make a statement but still keep it classic and timeless?
We then start pulling samples for our clients and watch their first gut reactions to see what they're drawn towards. (It's always important to view or order samples of any materials you are considering. With countertops, larger sample sizes give you a better idea of the intricacies and movement in the design.)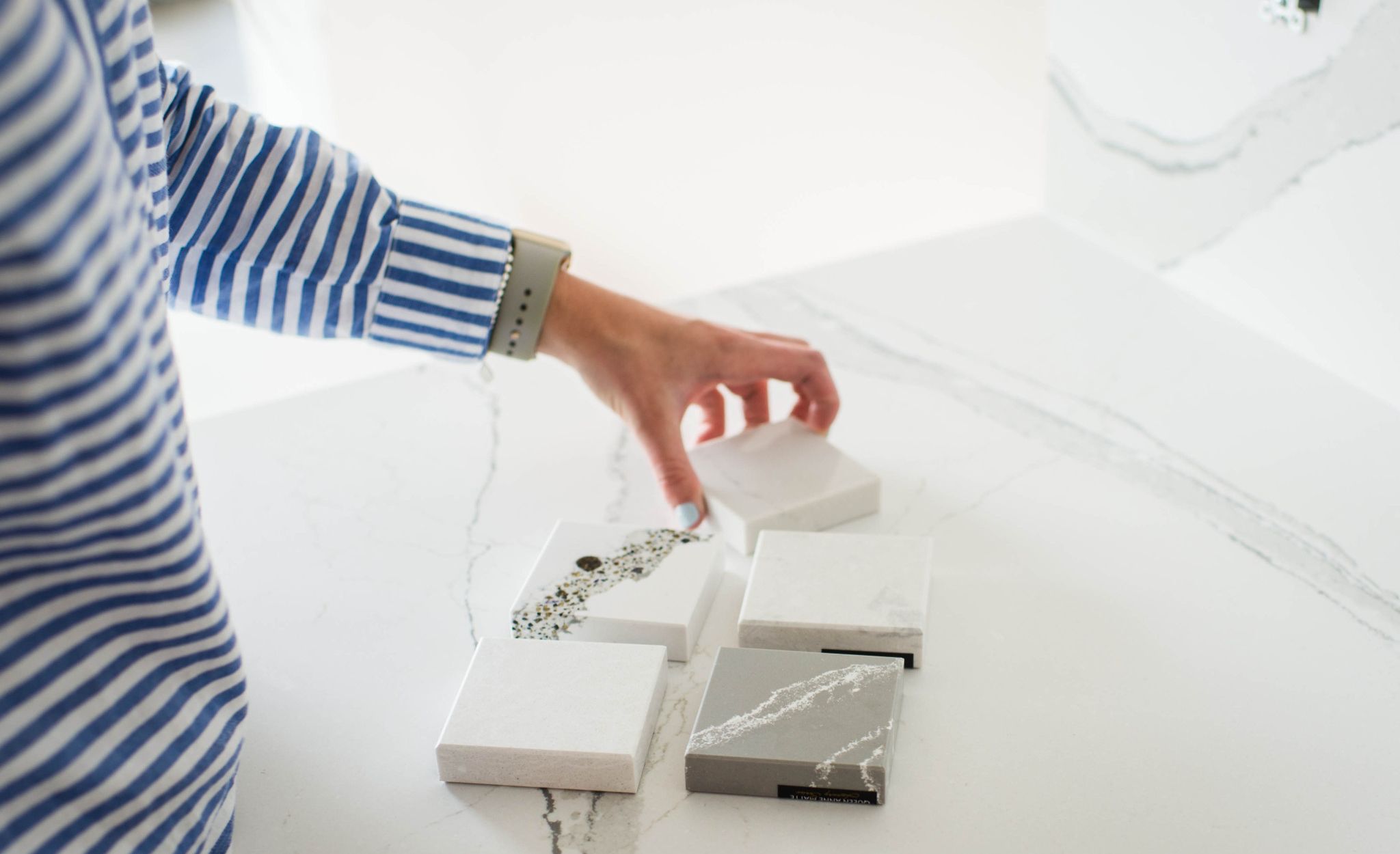 Viewing Cambria samples helps narrow down selections.
Once we narrow it down to two final selections, we look at different backsplash options and how they play off their favorite countertop selections and make the final call on the countertop.
More Cambria countertop and backsplash ideas we love
Here are four more of our favorite Cambria and tile pairings we've done for clients. Each of these countertop and backsplash ideas makes a statement, from daring and dark to classically elegant. Take note of which pairing you're most drawn to—we hope it inspires ideas for your next project!
Ella countertops and herringbone tile
Seeking a classic, timeless statement? Or are you planning a fixer upper and need a kitchen remodel with universal appeal? This is one of the countertop and backsplash ideas we recommend.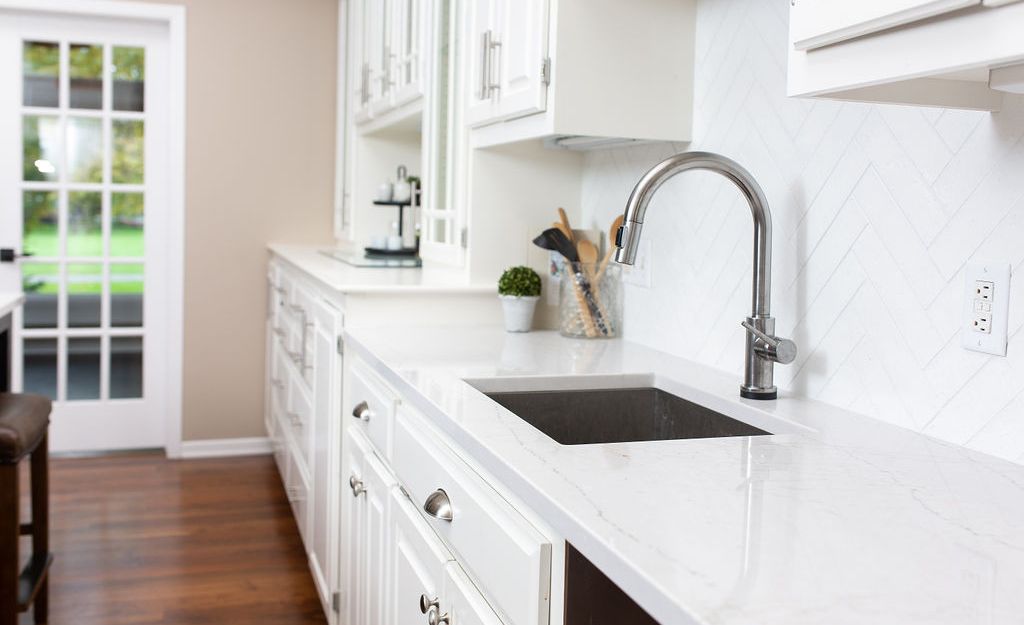 Ella™ countertops paired with a white herringbone tile backsplash
If Delgatie seems too subtle for you but you don't want the bold movement of a design like Brittanicca™, you're going to fall in love with Ella. Ella is one of our favorite designs, with flowing movement similar to Delgatie.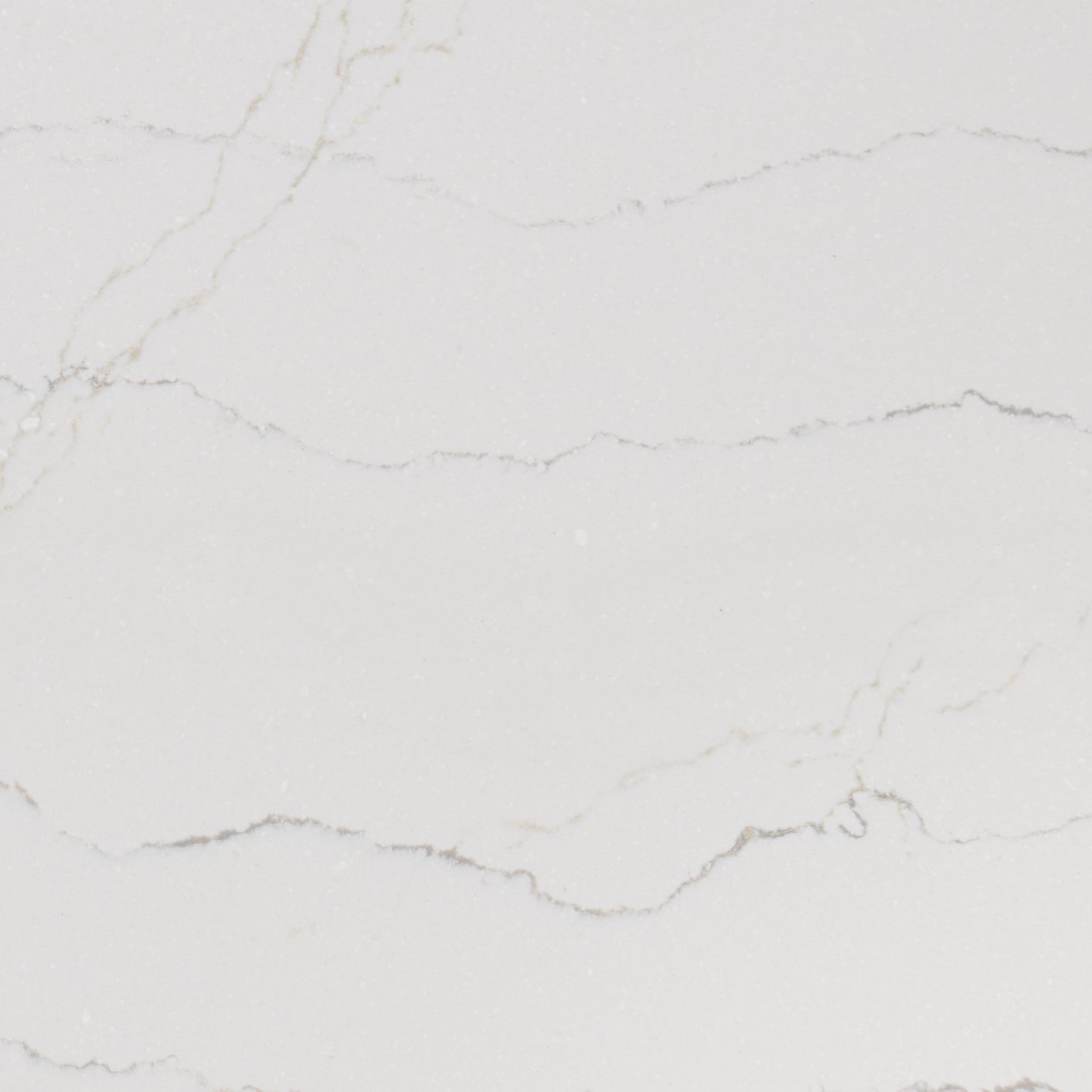 Ella design detail
Cambria Ella features horizontal, subtly moving lines with a dove-gray background. If you ask us, it's the perfect countertop design for almost any style of backsplash. I love the versatility of quartz, and with Ella, the movement and pattern is very consistent.
In this kitchen we renovated, our client wanted to make an overall updated yet timeless statement with the countertop and backsplash. We selected Ella complemented by a crisp white herringbone backsplash.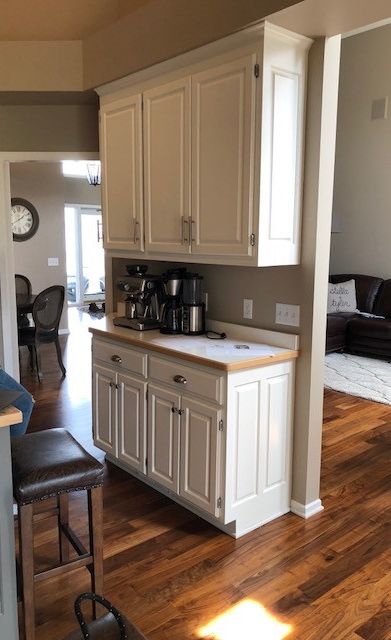 BEFORE: This kitchen lacked a functional layout and didn't have a backsplash or natural stone countertops.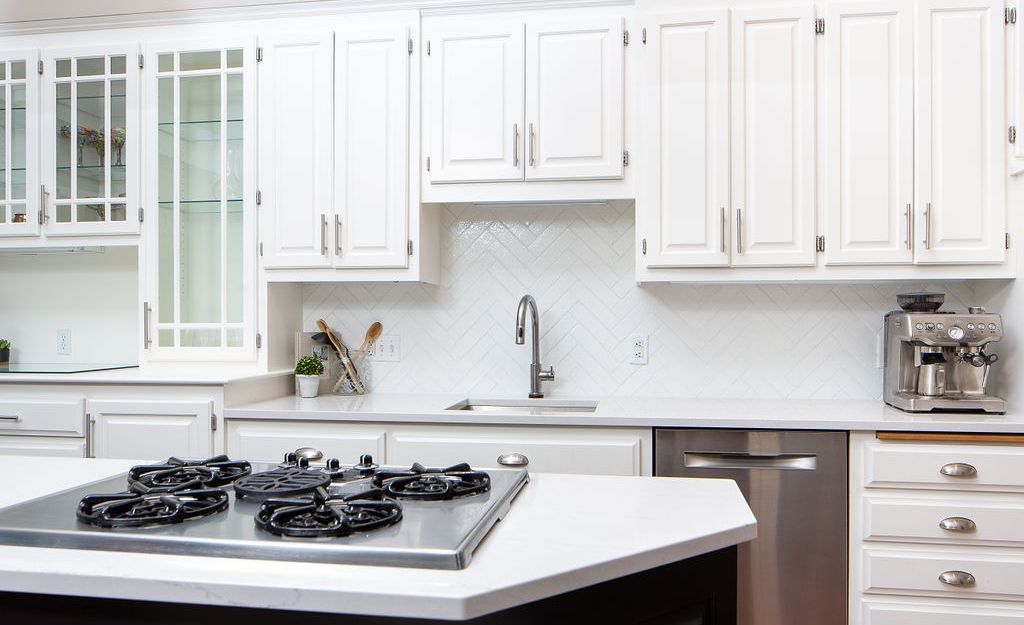 AFTER: An optimized layout and upgraded materials like Cambria Ella countertops and white herringbone tile created a functional and stylish kitchen.
Ella is more of an understated design, so when clients choose this option, I always urge them to do something a little more fun with their backsplash. I was excited when this client wanted to do the white subway tile but move it into a herringbone pattern. Still keeping the timeless and classic look, but taking it up a notch. The herringbone pattern has been around for decades and isn't going anywhere soon.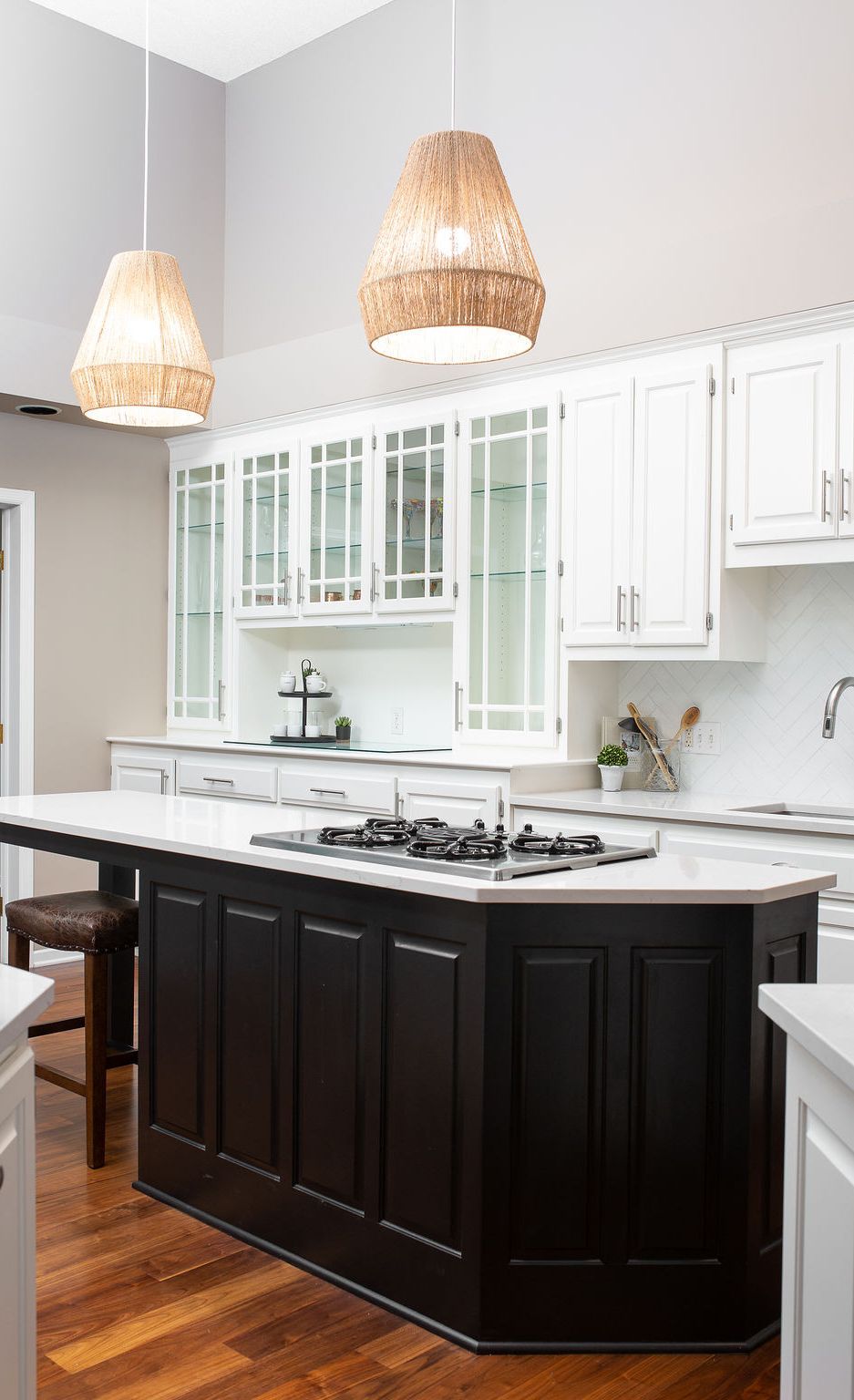 Pendant lights and dark cabinetry create a focal point for the Ella-topped kitchen island.
Brittanicca countertops and subway tile backsplash
Want to add the "wow factor" to an all-white kitchen? This pairing makes a stylish and luxe statement no matter the size of your space.
Like most of our clients, you may already be set on a more classic subway tile backsplash in the traditional stacked design, but the countertop option is what you're hung up on. If this is the case, we always recommend going big and bold with your quartz countertop.
Brittanicca has been a favorite of ours for a while now. And subway tile is a timeless design that a lot of people know they want, so if that's what you want—stick with it!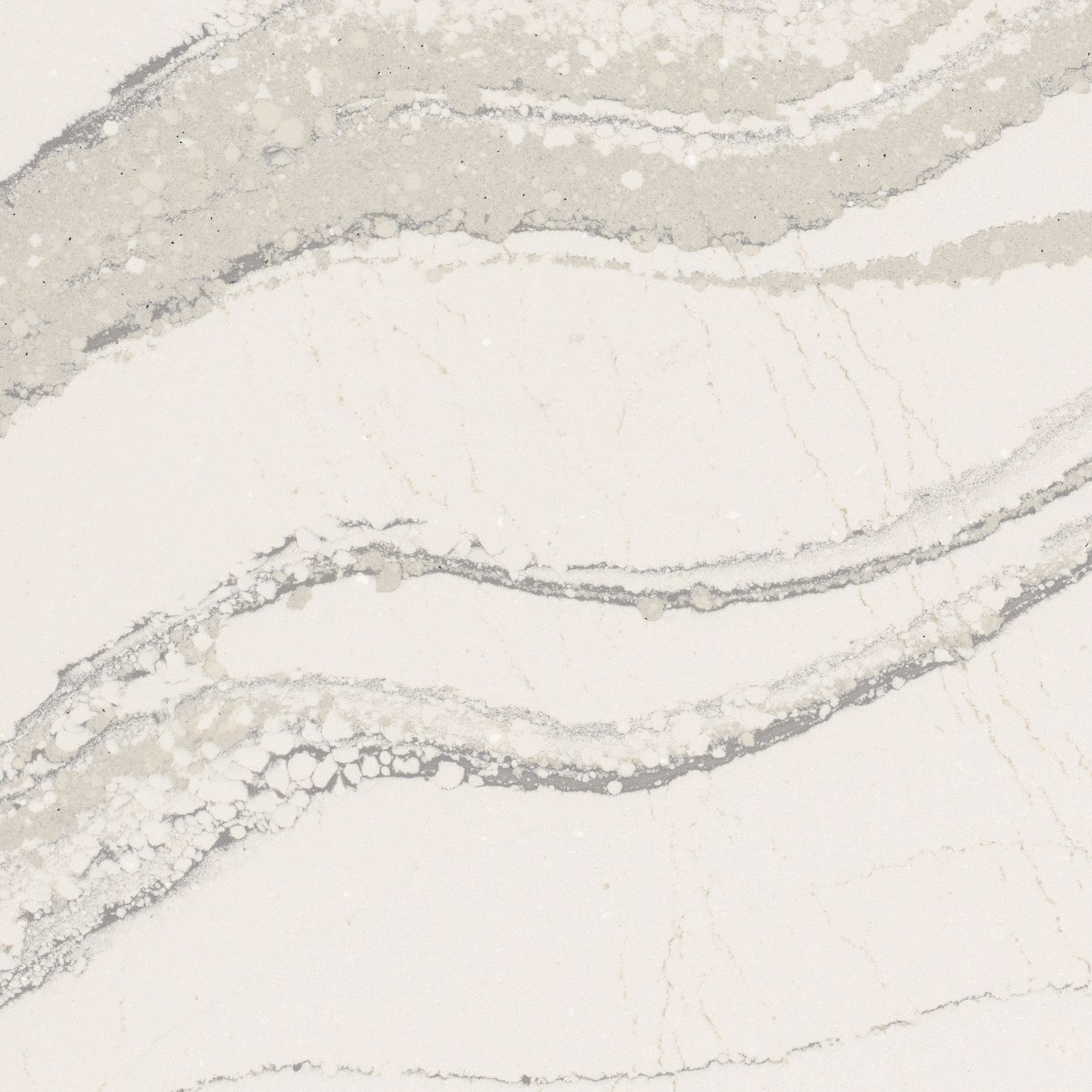 Brittanicca design detail
Brittanicca has warm and dominant gray veins that almost look like an ocean wave. I find that, just by looking at it, it naturally brings a calming effect. A wonderful quality to have in a space you use every day!
We've used this Cambria design in a number of projects, but this "before and after" will always be our favorite. Because of the large oversized island, Cambria Brittanicca was the perfect statement design for this kitchen remodel.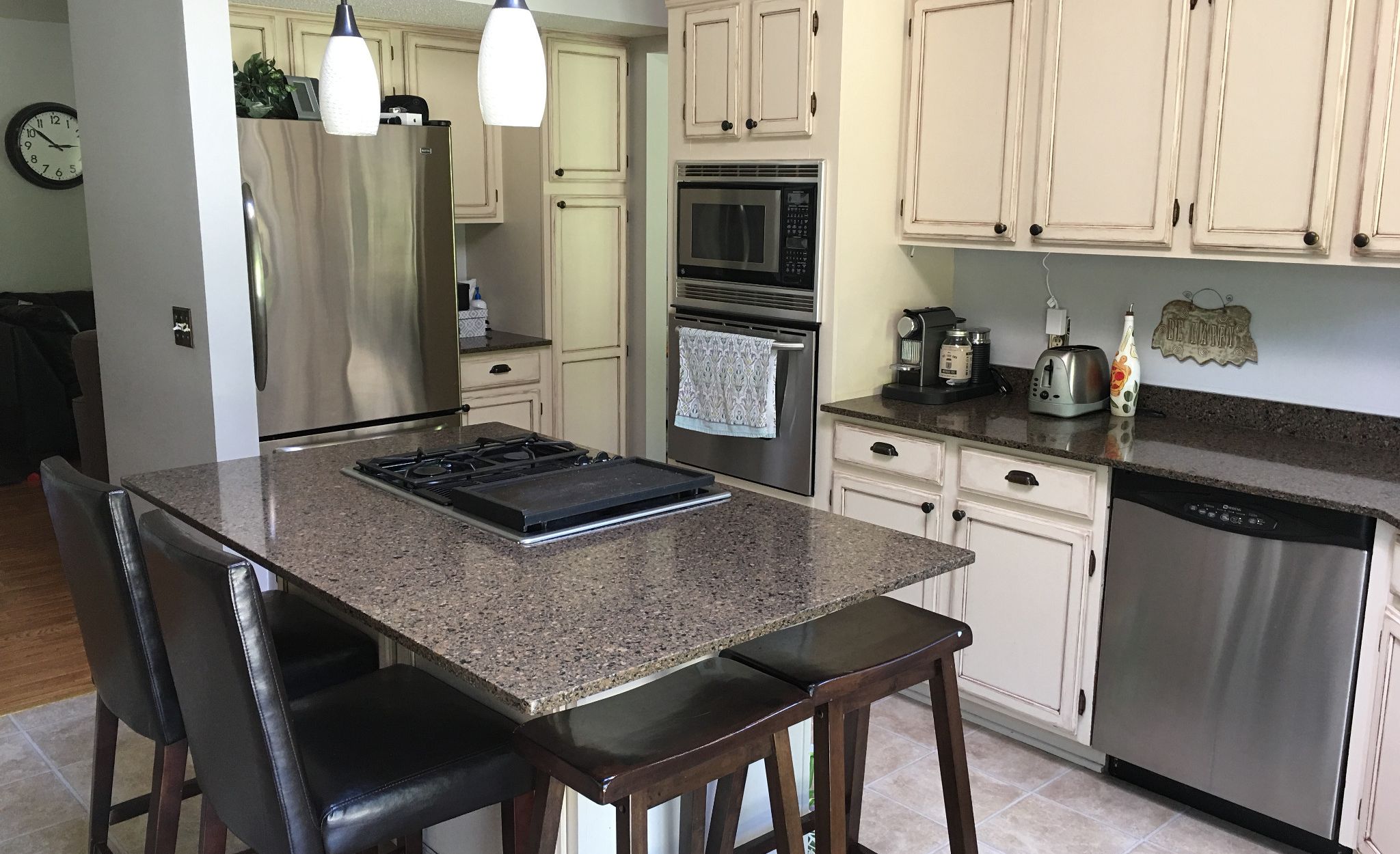 BEFORE: Dark and drab countertops and outdated cream cabinets left a lot of room for improvement.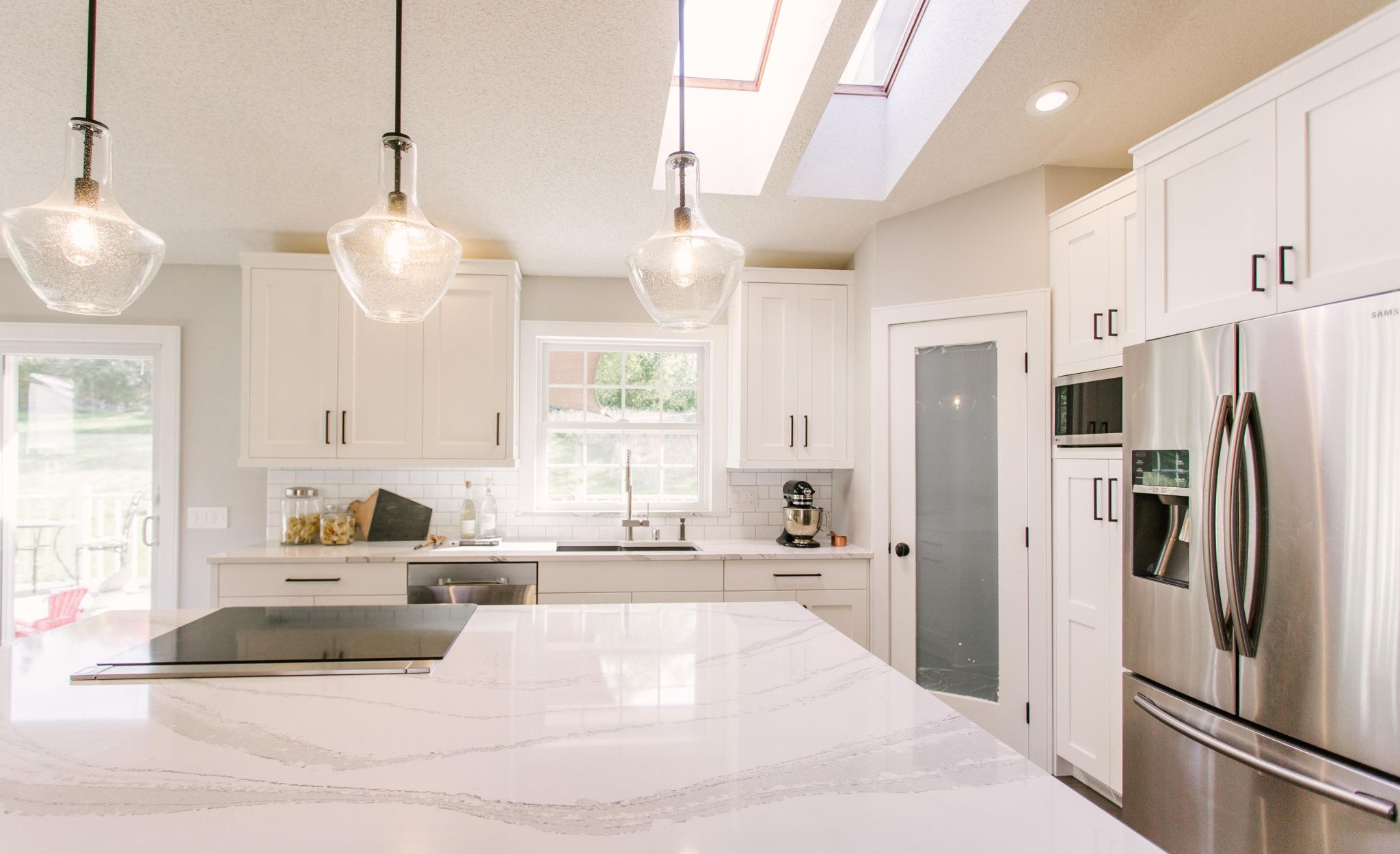 AFTER: This white kitchen is a showstopper with an oversized Brittanicca island and classic white subway tile.
As you can see, if they would have gone with a countertop design such as Swanbridge or Delgatie, the space would have looked too washed out.
When you first view a slab of Brittanicca, you may feel like the large veining could be a distraction. However, when installed it feels elegant and cohesive in the space while still making a statement. It will also give you that light, bright, and clean feel to the space. And with this particular space, the gray veining complemented the black hardware, fixtures, and lighting perfectly.
If you have a large oversized island, Brittanicca is a showstopper and you won't have one guest not say "WOW!" when walking into your home. And if you love the movement of Brittanicca but want warmer tones, Cambria has you covered with related designs Brittanicca Warm™ and Brittanicca Gold™.
Swanbridge countertops and mermaid tile
Do you want to make a unique statement in your kitchen while keeping the color palette soft and simple? Pairing these white quartz countertops with a whimsical mermaid tile is a fun twist on traditional.
When clients are thinking of resale or seeking a more subdued countertop, Swanbridge is the one we suggest.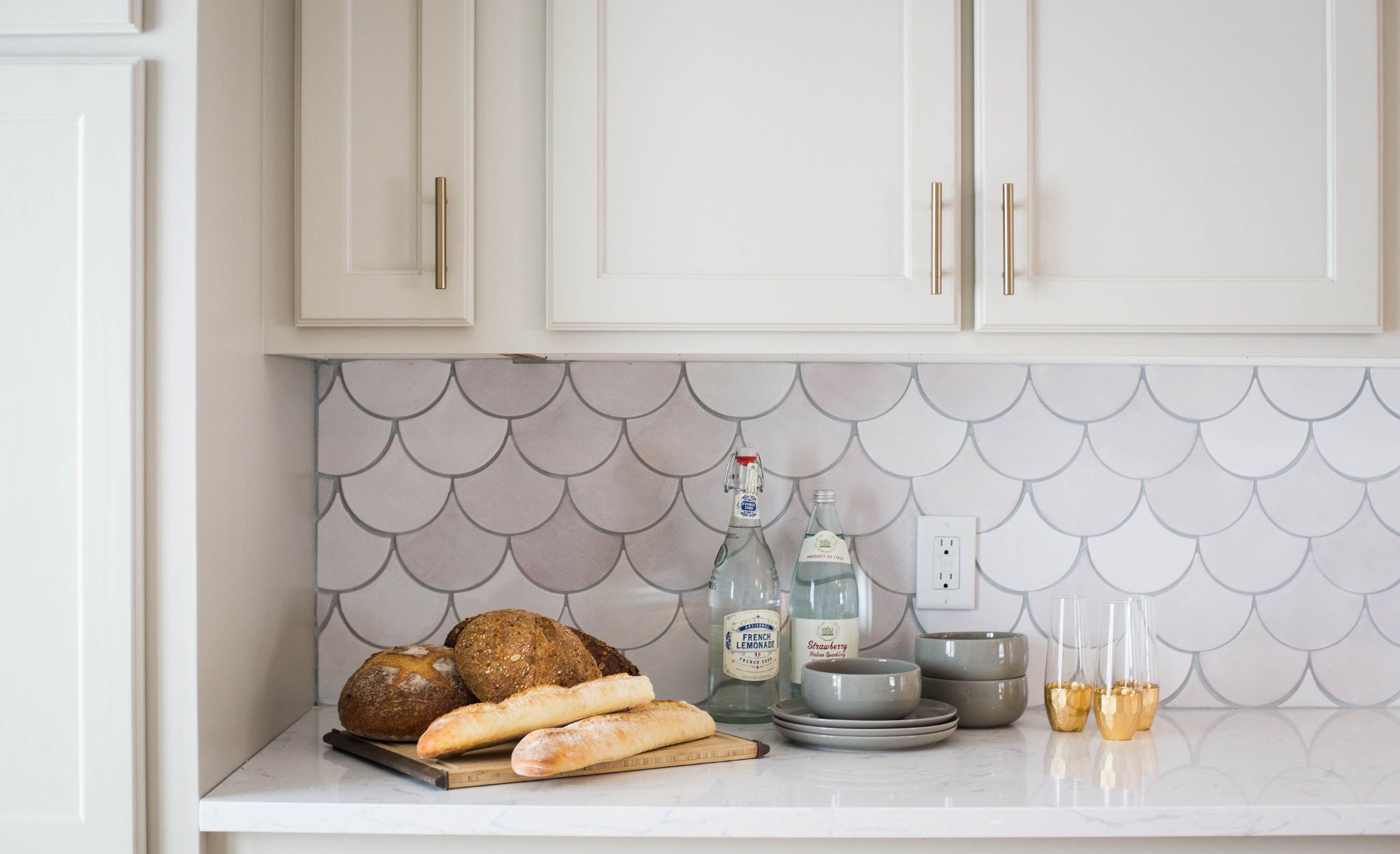 Marble-like Swanbridge™ countertops and grayish-white fish-scale tile offer inviting elegance.
Alongside Delgatie, we love to use this design in kitchens where they want to get funky and do a fun bold statement backsplash. It's perfect to subtly play off of yet not compete with the other elements in the space.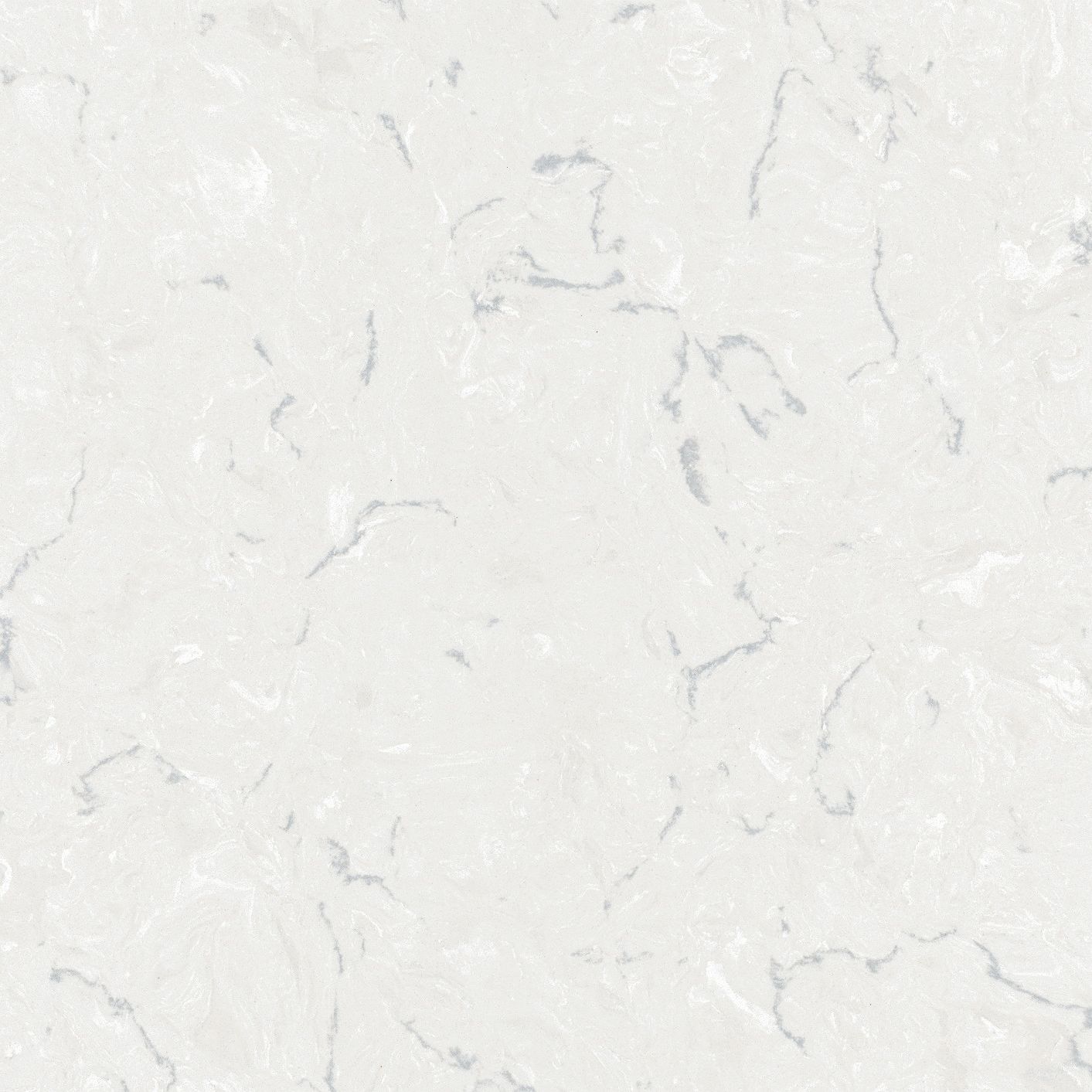 Swanbridge design detail
Swanbridge features a pillowy marble-like foundation, with medium-tone gray veins, dabs of creamy white accents, and pinpoint charcoal speckles scattered throughout. It's the perfect countertop if you want to play it safe or be able to easily see when there are those pesky crumbs on your countertop. (Fortunately, Cambria couldn't be simpler to clean no matter which design you choose!)
Here are a couple of projects where we incorporate this personality-filled pairing, showcasing mermaid tile backsplashes with the tile laid out in two different directions. We love the aesthetic both ways – it all depends on your personal preference.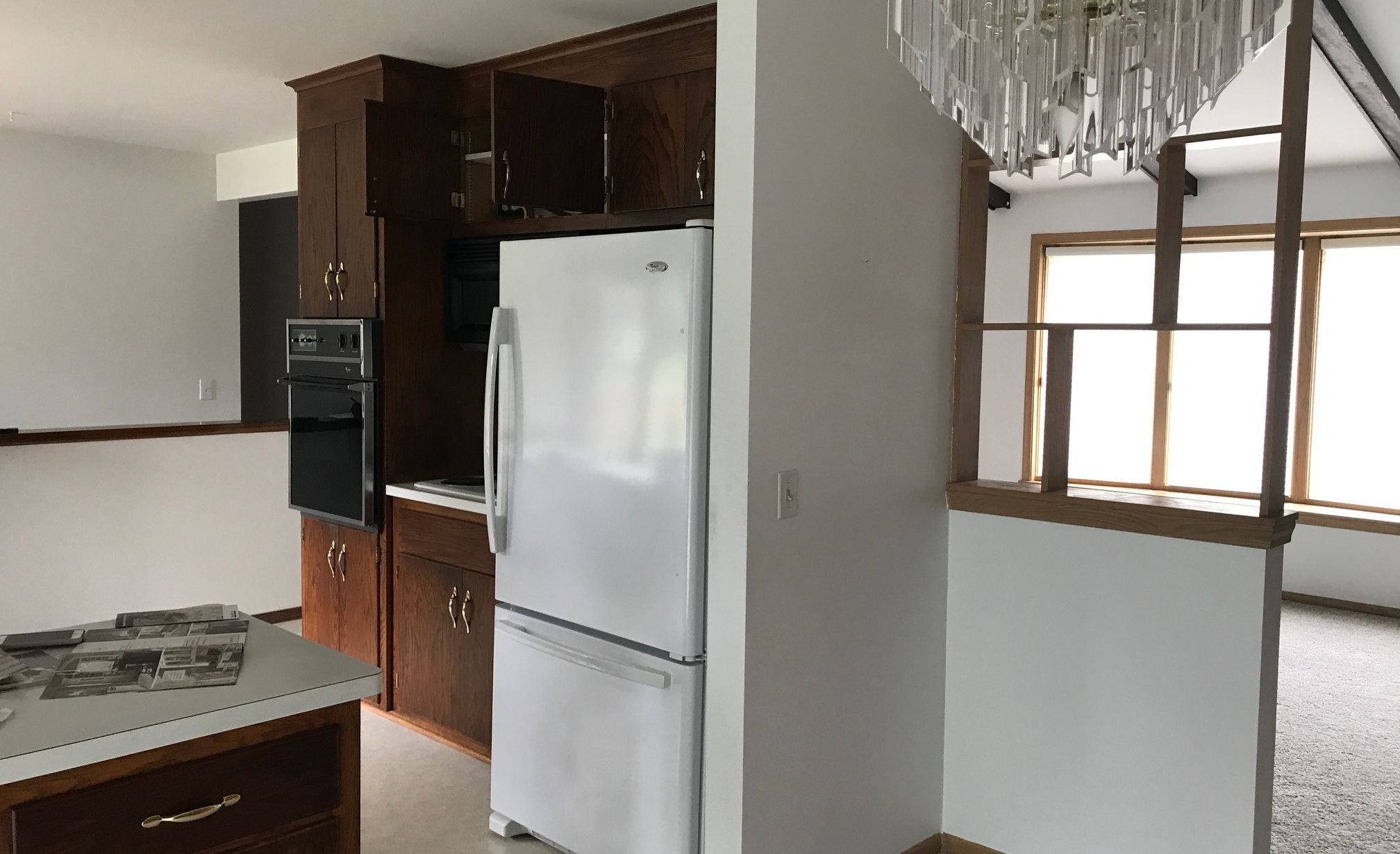 BEFORE: This kitchen was overdue for a refresh for both function and style.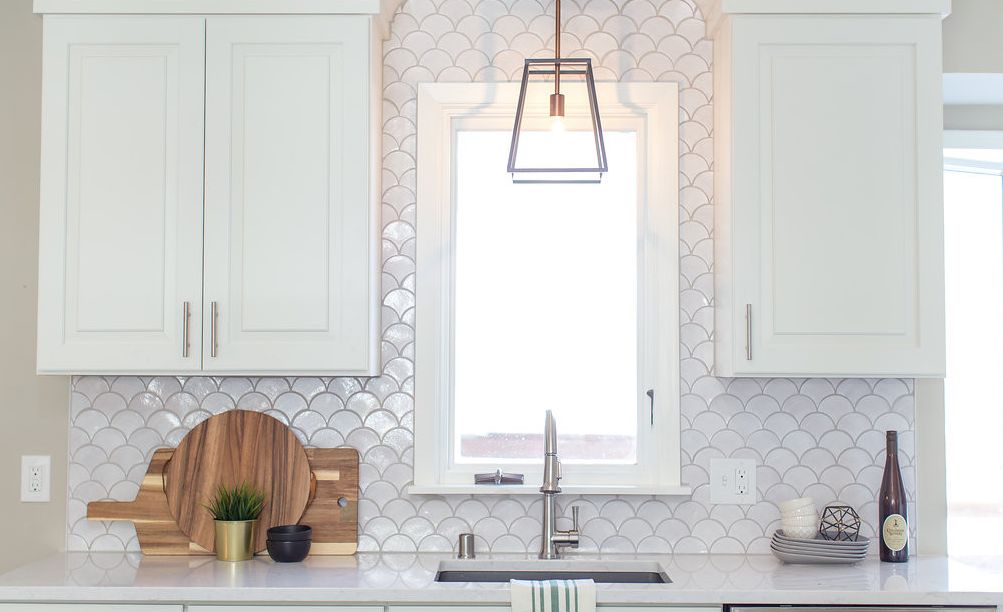 AFTER: This white kitchen has plenty of texture and character with mermaid tile and Swanbridge countertops.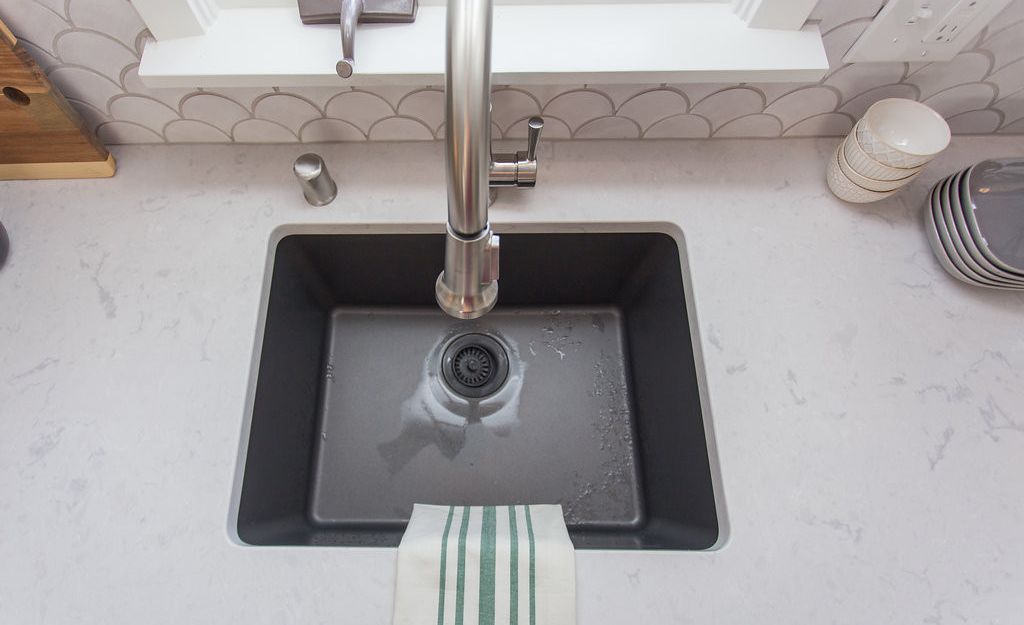 Like all Cambria designs, Swanbridge is durable, easy-clean, and maintenance free.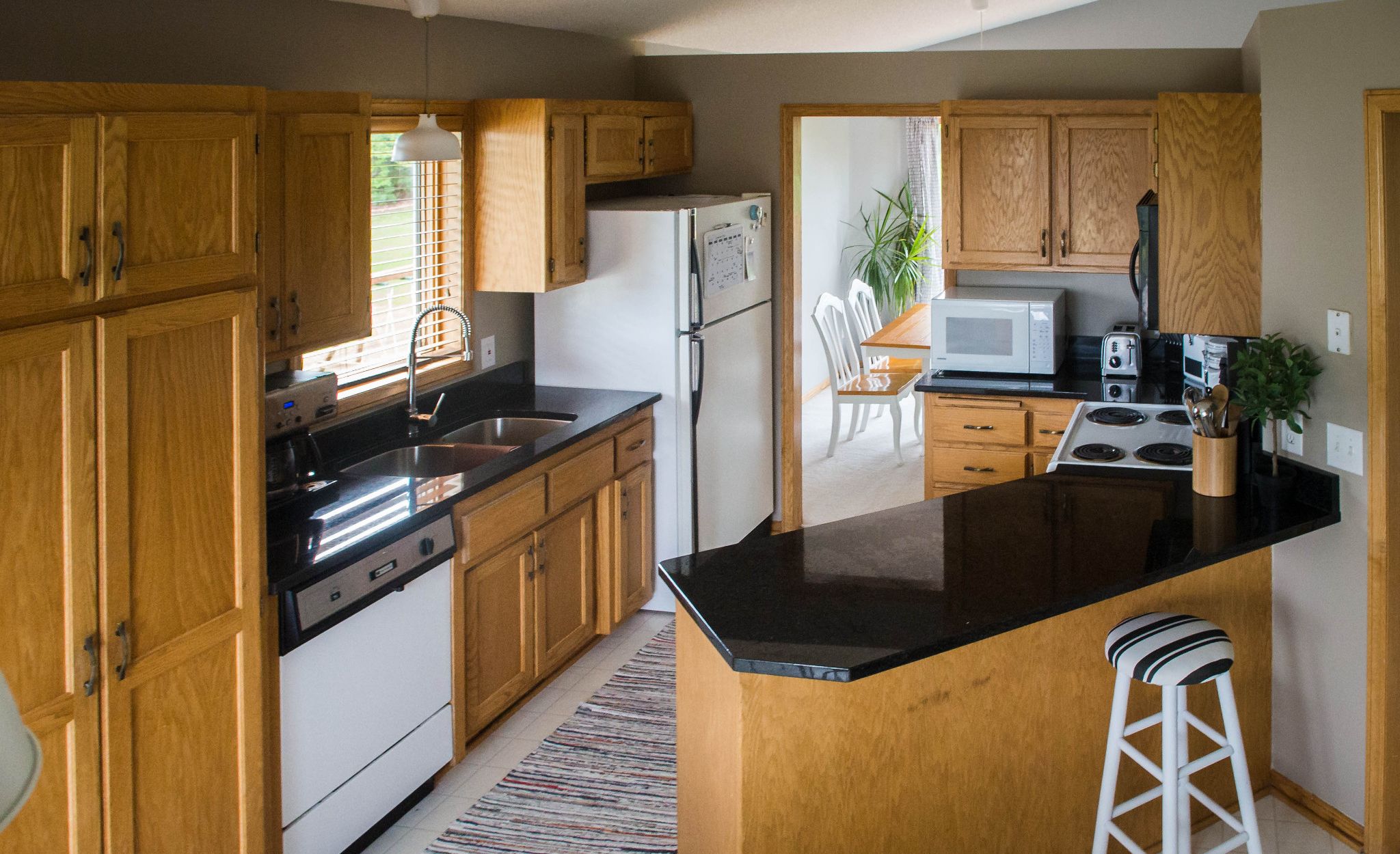 BEFORE: An awkward layout and 90s color palette was ready for a refresh.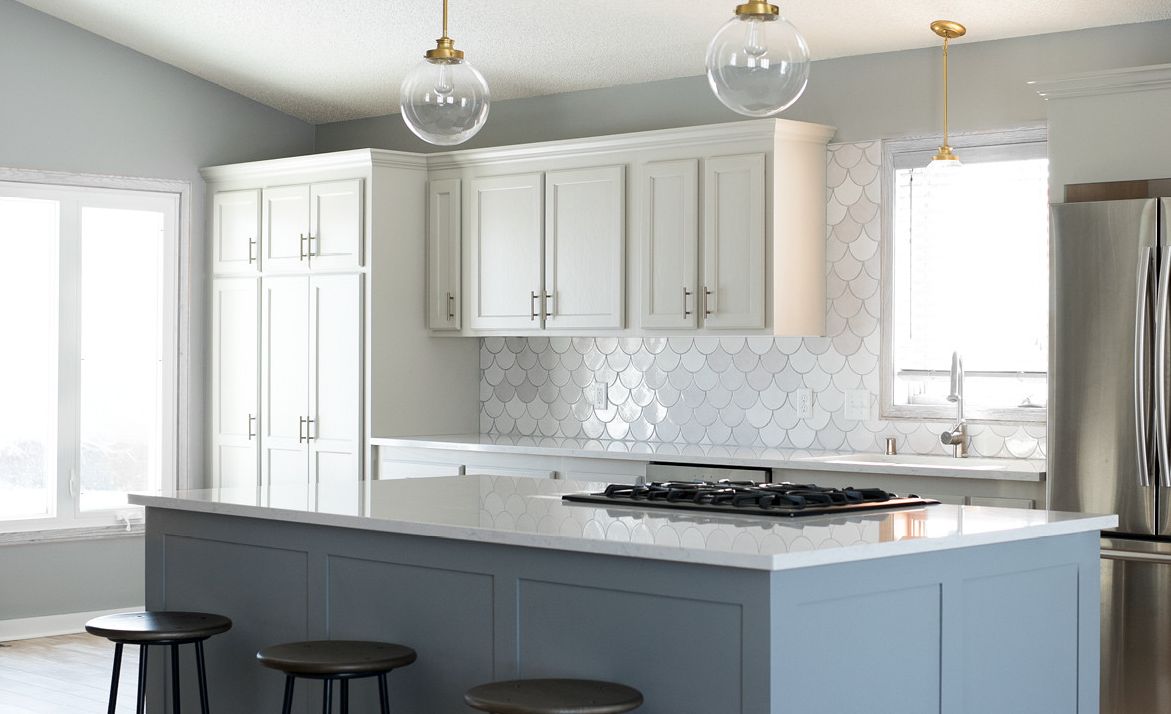 AFTER: An open layout with gorgeous Swanbridge, mermaid tile, and gray cabinetry makes a perfect family-friendly kitchen.
Glossy mermaid tile in shades of white is a playful pair for Swanbridge countertops.
Ellesmere countertops and gray subway tile
Ready to set the mood in your space with a darker design? This pairing offers an unexpected yet sophisticated statement.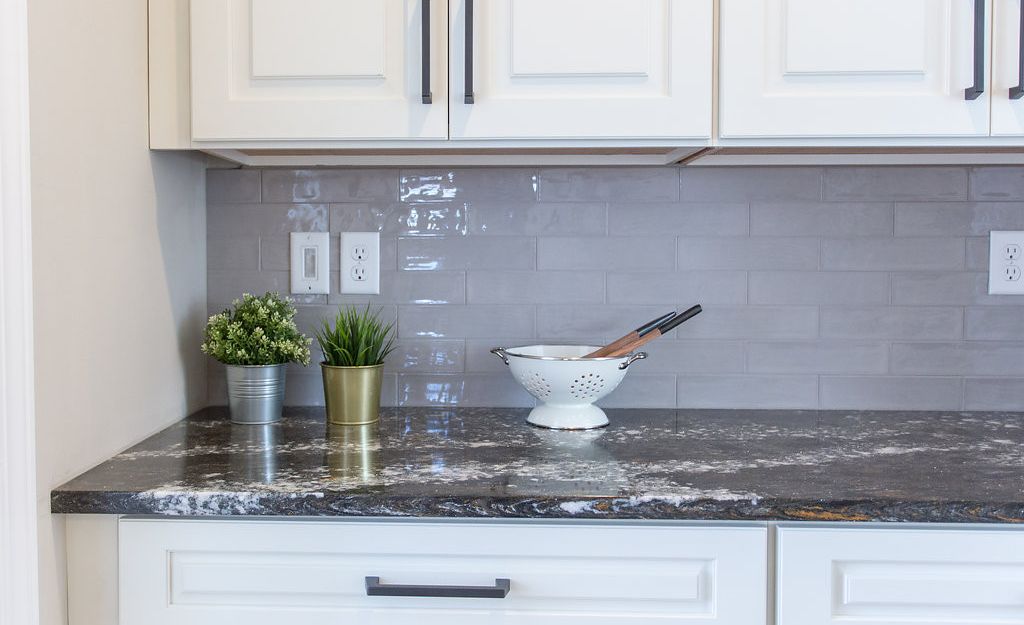 A sophisticated dark countertop design like Ellesmere™ pairs well with soft-gray subway tile.
For this project, our clients were building their home for retirement. They wanted to do something fresh and new, yet keeping the style a little more traditional.
We started with countertops and they were immediately drawn to all of the design styles that had a lot of movement going on with darker tones.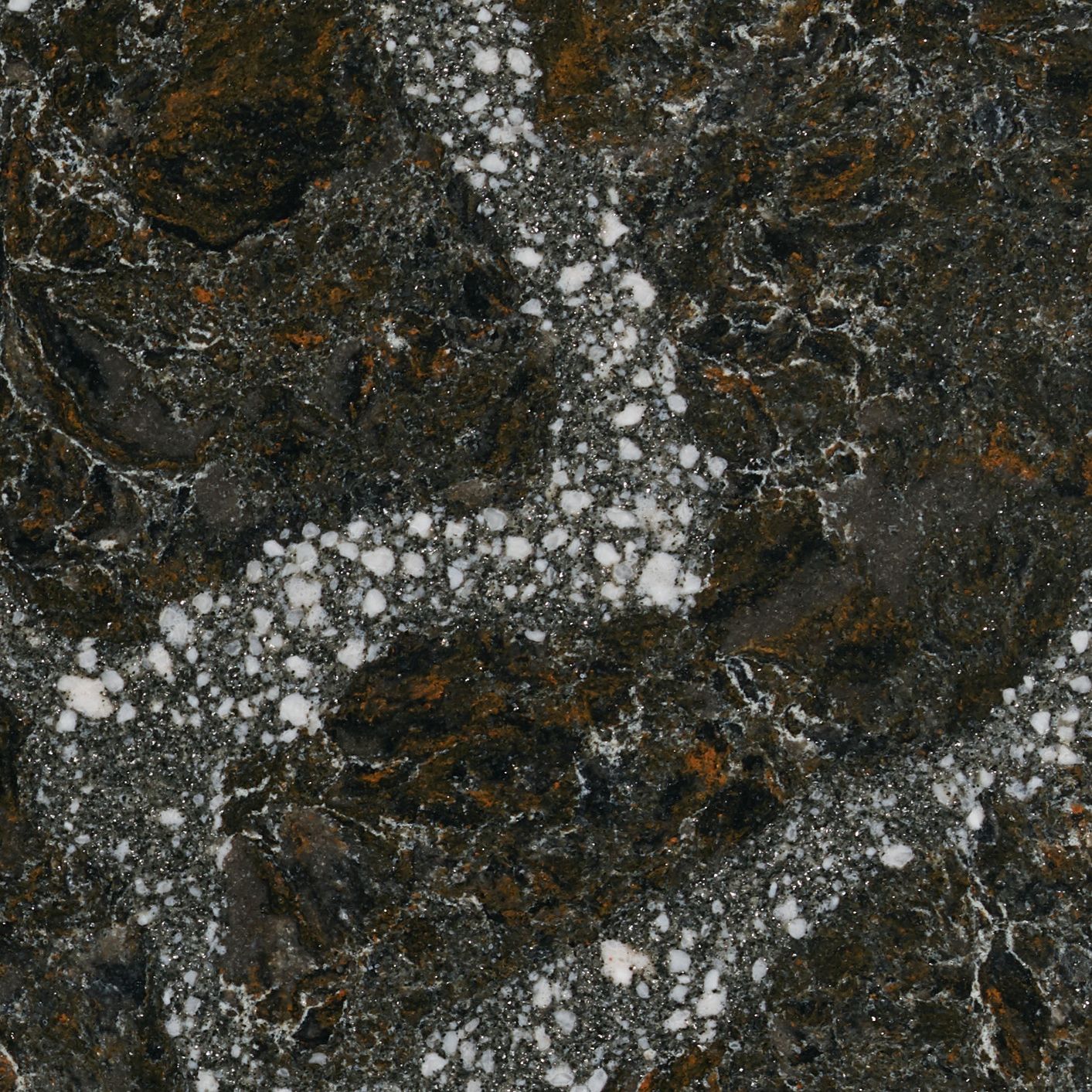 Ellesmere design detail
Ellesmere is the final selection that won in the end! We loved how it had a combination of colors that showcased black, gray, white, and brown tones. Every color in the countertop we pulled into the space in subtle ways… gray subway tile, black hardware and fixtures, white cabinetry, barnwood doors, and brown floors.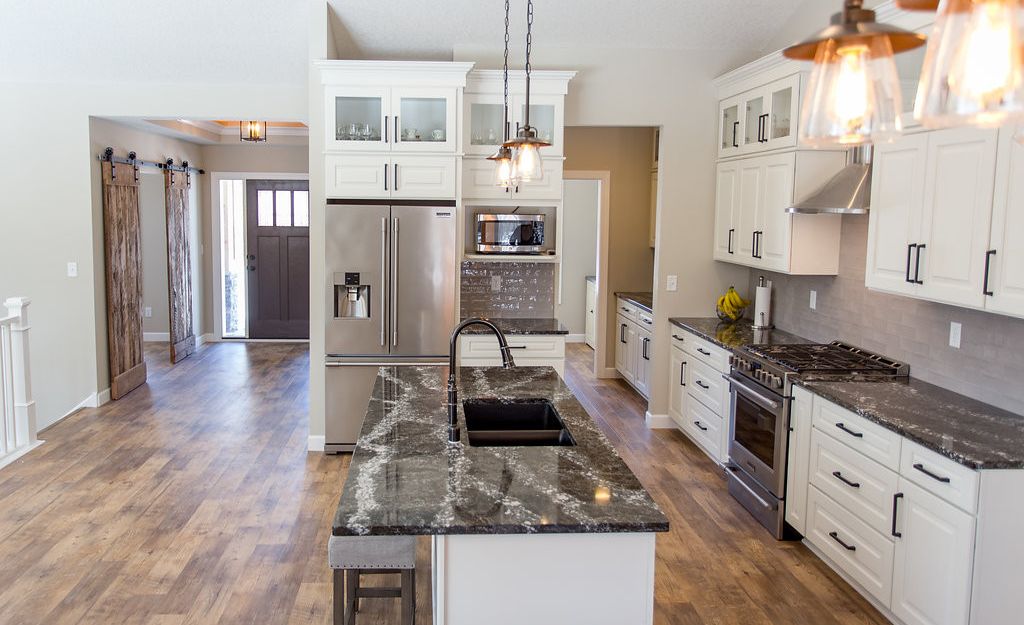 Open kitchen with Cambria Ellesmere countertops and gray subway tile backsplash.
The countertop was the must-have selection in the beginning which made pulling all the other selections together for this space simple.
Once the design for the dark quartz countertops was chosen, we moved into tile. At first we were leaning towards white, but after deciding on white cabinetry, we recommended pulling out some of those soft gray tones with the tile since the rest of the space was going to have more brown tones. Instead of going with the traditional subway tile, we chose a subway style where no two tiles are the same. All have a weathered and glass finish, giving that imperfectly perfect look.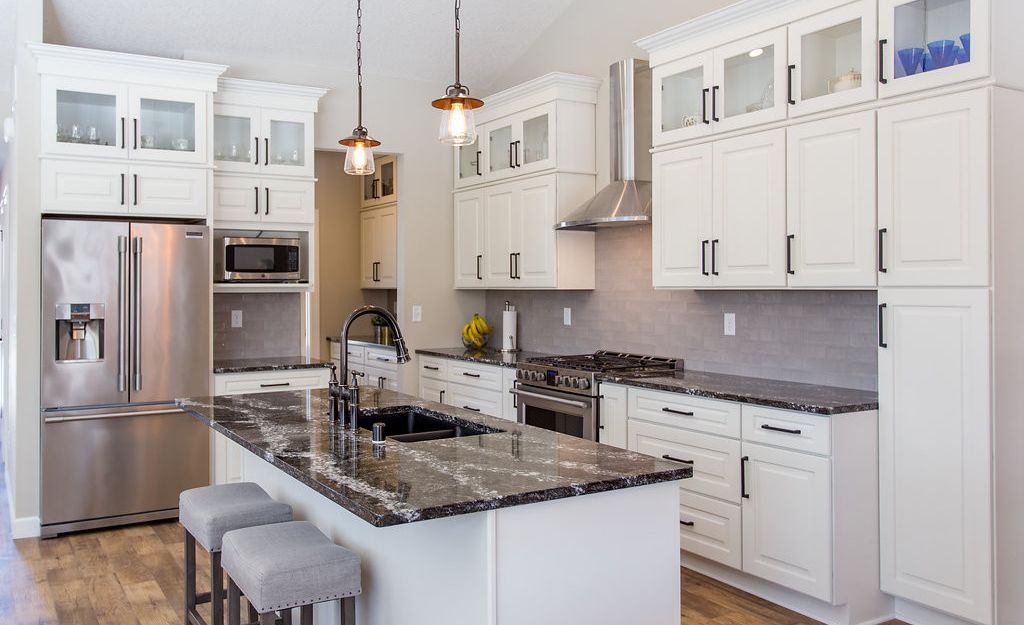 Design elements play off of the variety of tones in the dark Ellesmere countertops.
If you're stuck on how to pair your perfect countertop with backsplash, we hope we were able to help. If you'd like more countertop and backsplash ideas, check out these suggestions for pairing handmade tile with Cambria. If you have any questions, reach out to us on social media (construction2style)and we'll be sure to answer!