Two emerging trends and priorities for architecture and interior design are materiality and resiliency. We've rounded up a dozen captivating commercial furniture pieces that reflect these themes, including conference tables, credenzas, accent tables, chairs, and workplace desks. These stunning mixed-material pieces can adapt to various spaces and functions with cutting-edge design and innovative applications.
1. Quartz-topped credenza with wood-grain aesthetic
Featured at NeoCon 2019, this office credenza from Tuohy features Clairidge. This captivating Cambria design mimics the movement and tones of wood grain while providing a smooth, high-performing quartz surface. According to Jeremy R. Aug, Tuohy's VP of Sales, the piece was inspired by the need for a high-end credenza to complement an executive boardroom table. "Adding the Cambria to the credenza was a natural fit for the space," says Aug. "The reason we selected the Clairidge design was the look of wood that it offered. As a natural wood supplier, it fit perfectly for our product line and vision."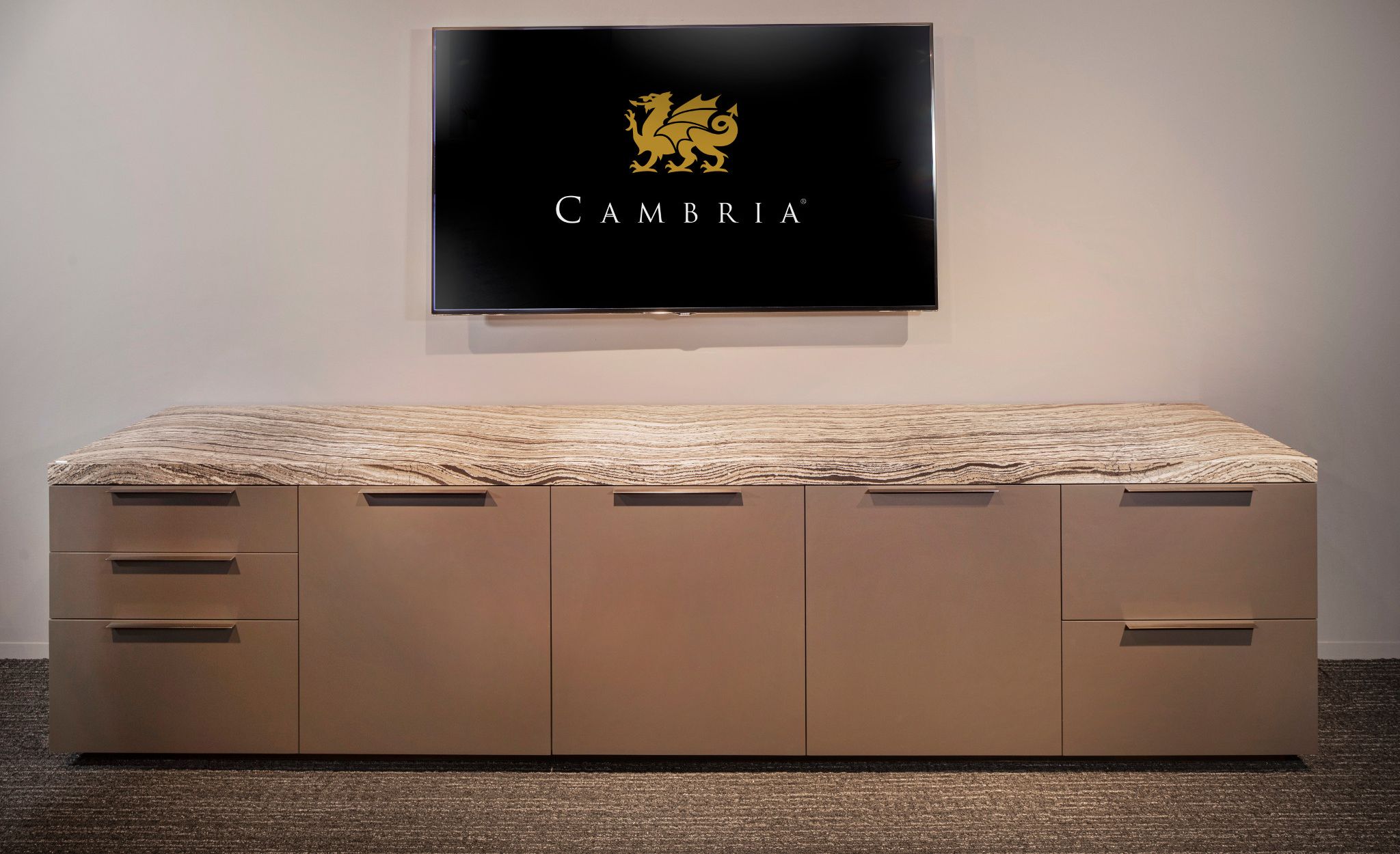 Tuohy workplace credenza featuring Cambria Clairidge™ top and wood cabinetry.
2. Configurable, flexible conference table
Flexibility was front and center in the Prismatique showroom at NeoCon. "In collaborative environments it's about movement, flexibility, and adaptability," says Kevin Munroe, Prismatique's VP of Sales and Marketing. "This year what we're trying to talk about is reconfiguring." These quartz-topped conference tables are designed to challenge the conventional rectangular aesthetic in office and retail spaces.
Forming a square as a starting point, these two trapezoidal tables can quickly transform into a multitude of combinations to serve different functions or aesthetics. "From that [square] we can move into a semi-airplane wing [or] other abstract combinations," explains Munroe. The tables can also be used as two distinct tables. "A table can park on the perimeter and be pulled in [for] added seating or a storage area for quick gatherings," he says. When not being leveraged, the tables can pair for an artful focal point, such as a bow-tie configuration.
Prismatique workplace table set with adaptable design configurations featuring Carrick Matte™.
This Prismatique table duo features Carrick Matte for a low-sheen concrete look with superior performance for collaborative environments. Cambria Matte™ finish allows for design flexibility and customization, offering the same performance benefits and durability as the standard high-gloss finish.
3. Wood desk with waterfall-edge quartz inlay
Debuted at NeoCon 2019, this executive office desk by Nevers incorporates a waterfall quartz inlay for an elevated look. Cambria's Huntley design was selected for its movement and tones to complement the wood grain veneer, but unique parallels with the name confirmed the design was the perfect fit. The designer of the commercial furniture piece is named Terry Hunt and the desk's name, "Cazzador," is inspired by the word for "hunter" (cazador) in Spanish.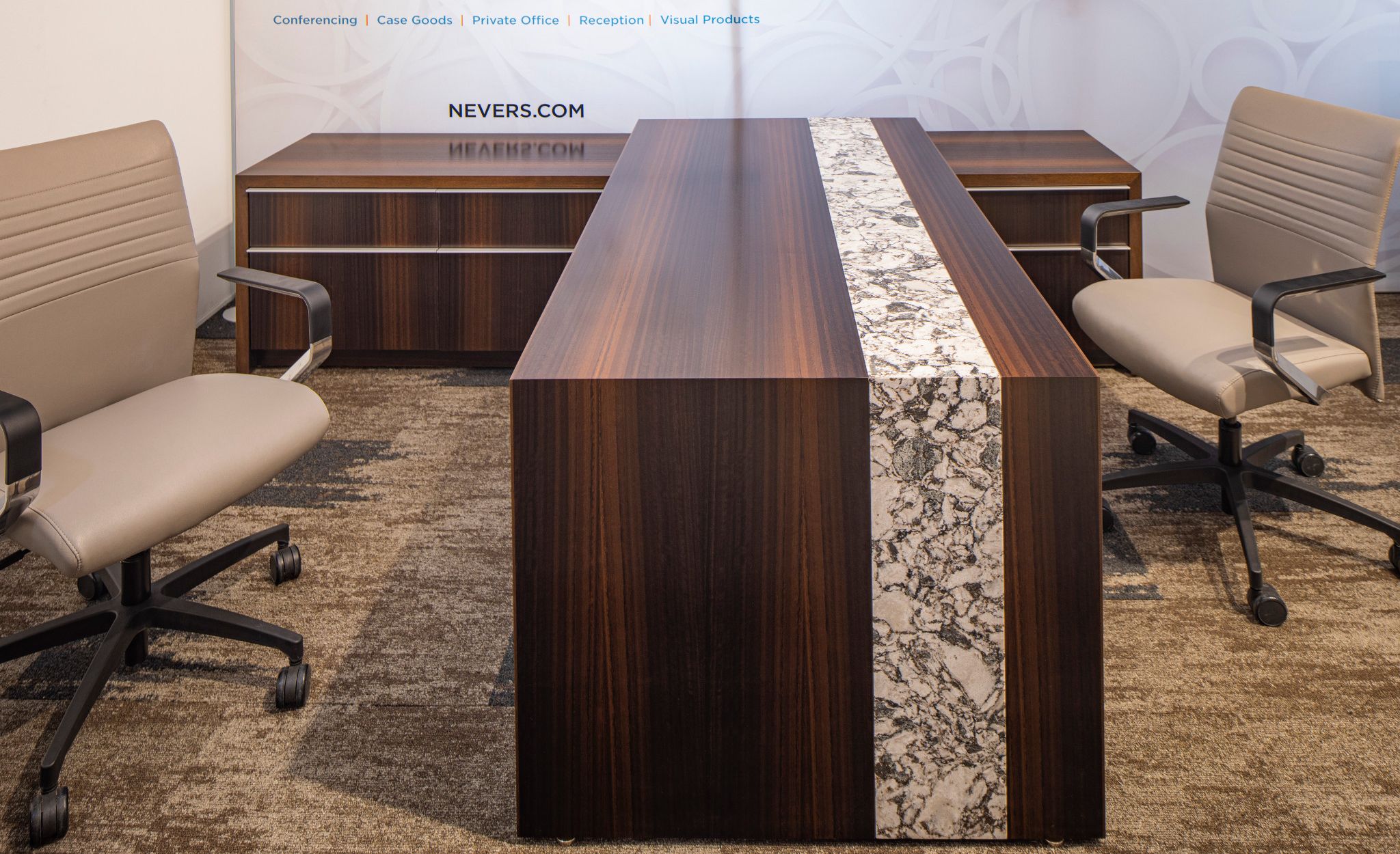 Cazzador executive desk from Nevers featuring Eucalyptus veneer and Cambria Huntley™ inlay.
4. Residential-inspired tables for a modern workplace
Keilhauer's new line of Juxta LE tables are a beautiful fit for the living room aesthetic, or residential-inspired workplace, a trend we spotted at NeoCon 50 that continues to take hold. Offered as round or square shapes in three heights (occasional, lounge, or conference table), these quartz tables can hold up to heavy use with the appeal of high-end furniture selected for a carefully curated living space.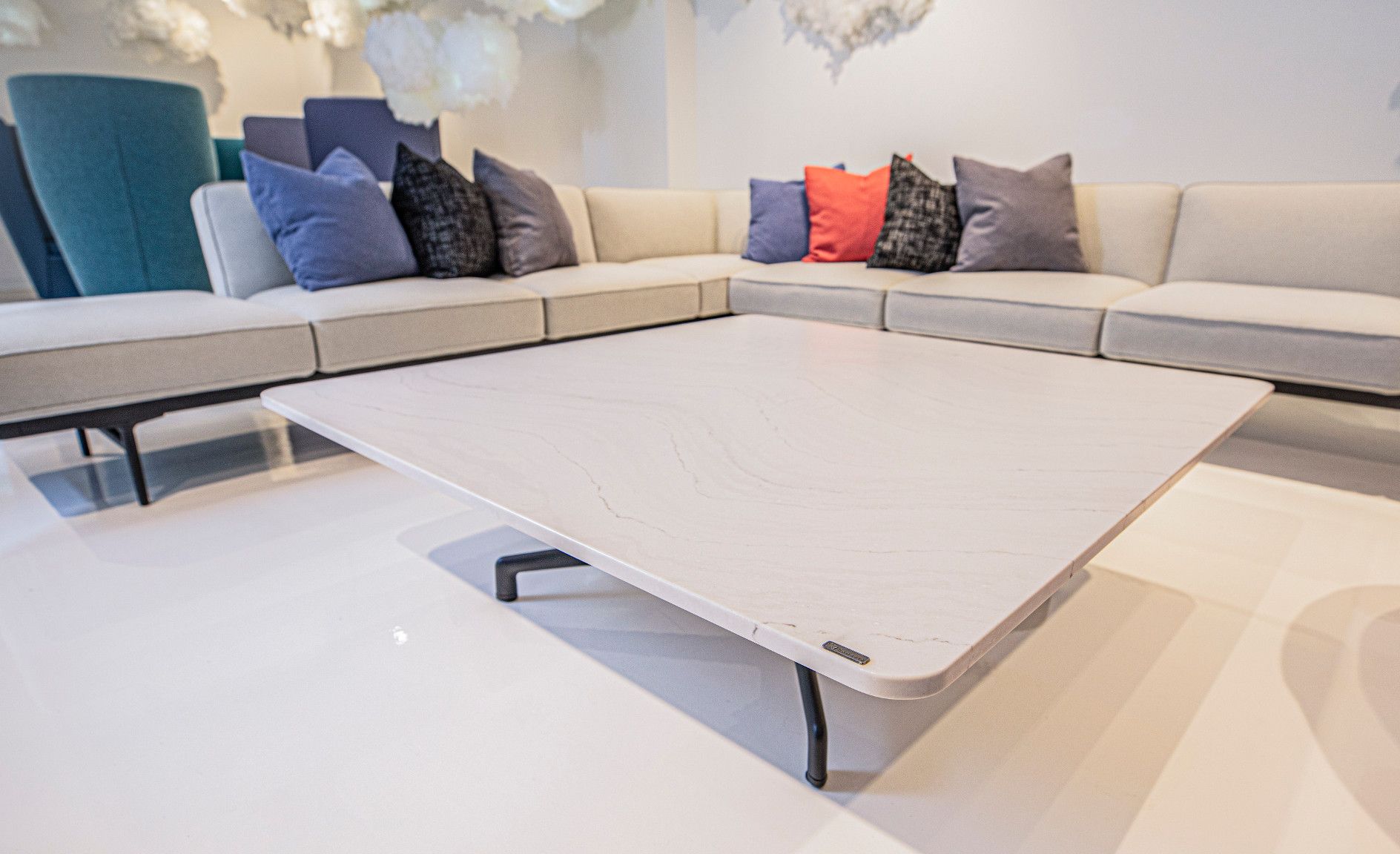 Keilhauer square Juxta Table featuring Cambria Ella™.
According to Meghan Sherwin, Keilhauer's VP of Marketing, Cambria was selected for the product's commercial-grade quality and company's trusted, well-respected reputation. Cambria designs like Ella offer the movement and color variation of marble they desired for a European-inspired space. "We were looking for the strength and durability that comes from quartz, but the look of a natural stone and inspired by European love of marble," says Sherwin. "We wanted to offer Cambria tops because designers are looking for interesting and unique pieces that are inspired by residential, but have the durability for a commercial environment."
Paired with chic, cushioned seating the tables create a flexible communal workspace that fosters conversation.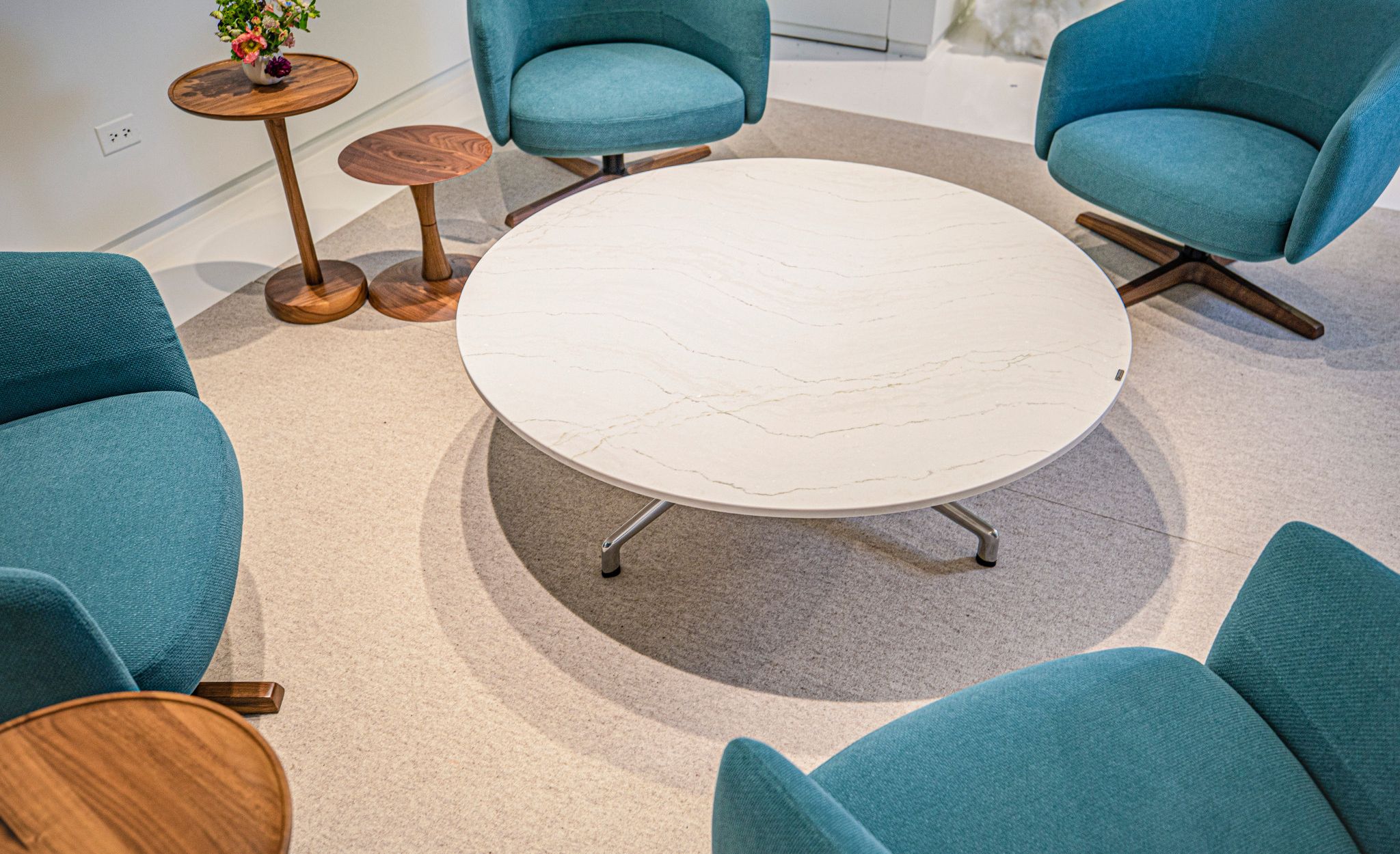 Keilhauer round Juxta Table featuring Cambria Ella.
Keilhauer's Elevate collection aims to accommodate a wide range of working styles, adapting to individual preferences in the workplace and providing solutions tailored for diverse tasks, projects, and work environments. This Garner bench pairs steel-blue cushioned seating with square center table featuring Cambria Ella.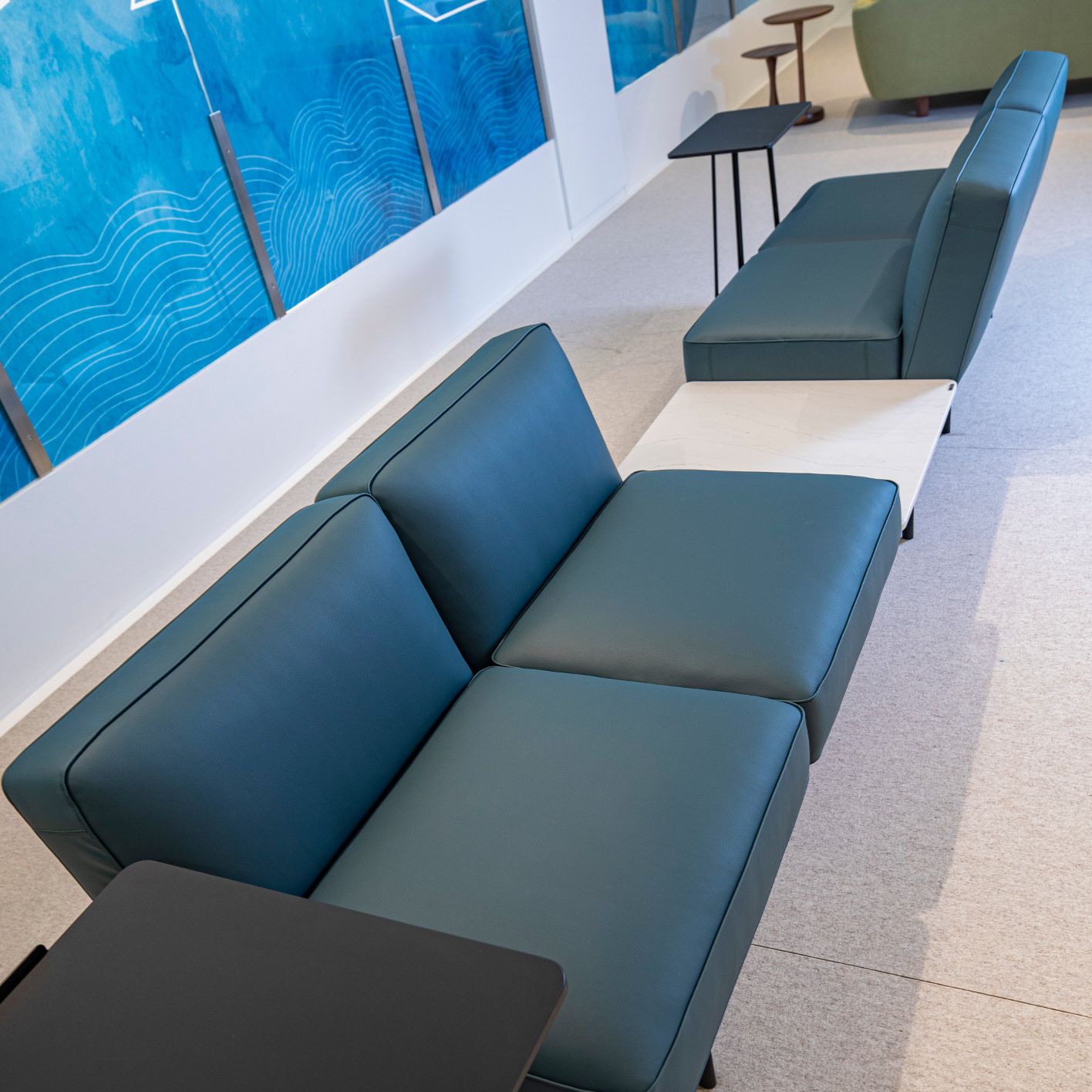 Keilhauer Elevate Garner bench featuring Cambria Ella integrated table.
5. Industrial-modern quartz conference tables
Designed for open, high-use collaborative spaces and applications, Enwork's Adventure Table is a compelling focal point. A thin Brittanicca slab tops an architecture-inspired base for a wow factor in any workplace.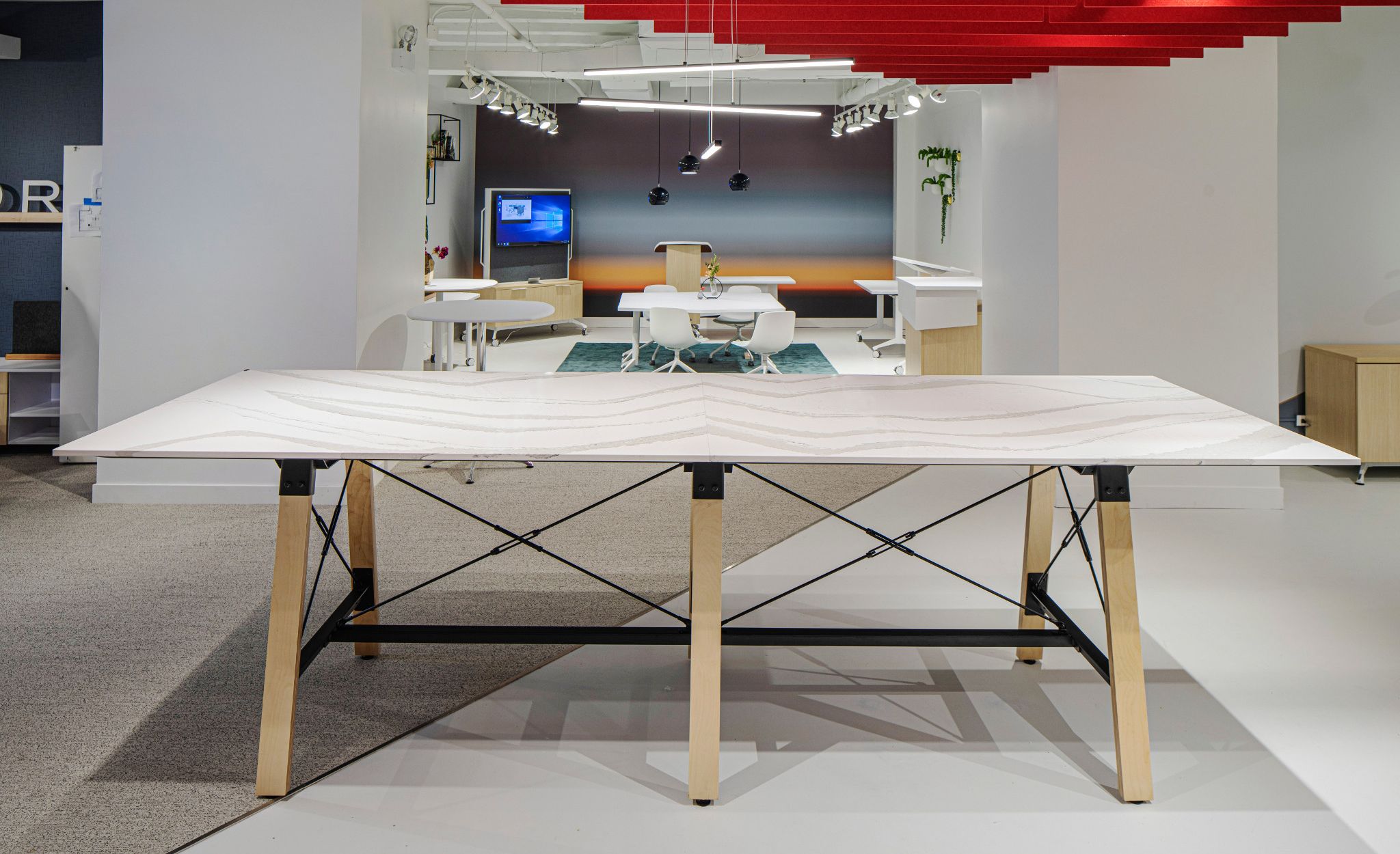 Enwork Adventure Table featuring Brittanicca™.
"The Adventure Table was designed to highlight a mix of materials, including steel components and accessories, paired with a wood frame that features exposed ply edges," says Brandon Reame, Enwork's VP of Sales and Marketing. "We selected Brittanicca for its overall light aesthetic and movement created with the veining. The surface design and material pairs well with the industrial yet modern Adventure base. Durability and maintenance were also an important aspect. Cambria is our go-to material when high-durability and low-maintenance surfaces are required."
Another stunning focal point and engineering feat is Enwork's Equilibrium Table, featured at NeoCon 50 in 2018. This contemporary conference table features a light-scale Brittanicca top that appears to float as it extends from an asymmetrical cantilever base.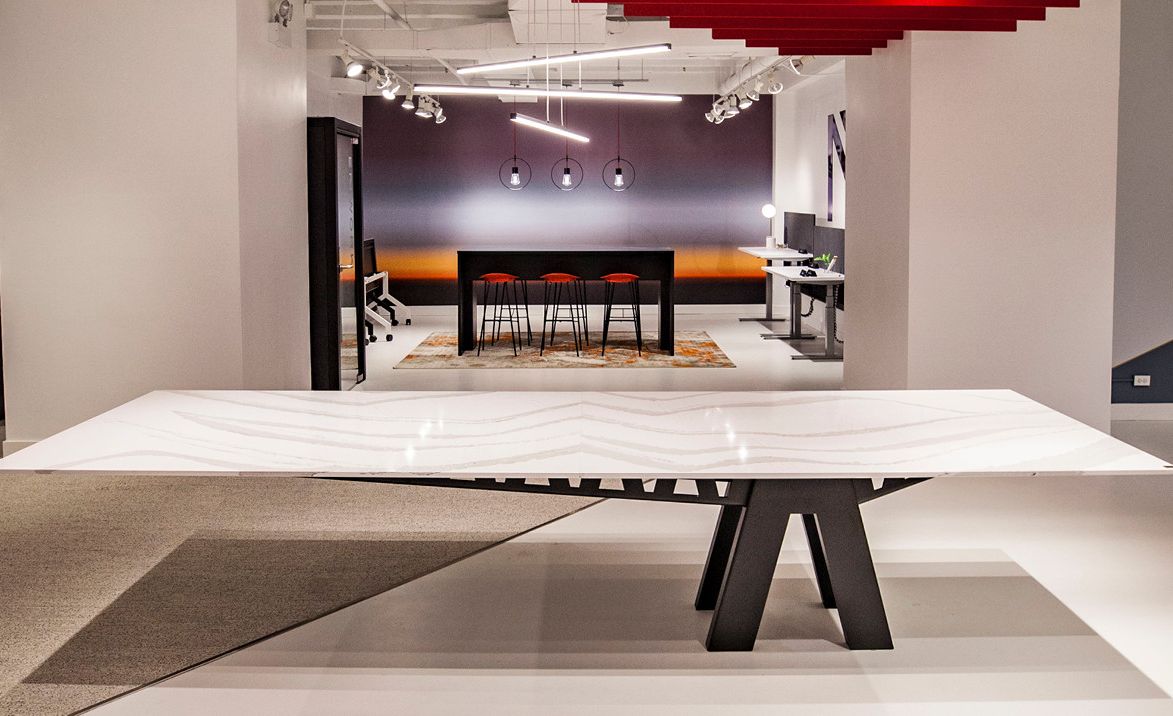 Enwork Equilibrium Table featuring Cambria Brittanicca top and asymmetrical cantilever base.
6. Adjustable office desk with midcentury modern aesthetic
This office by Geiger features a sleek midcentury modern aesthetic with layered dark-neutral tones and intriguing texture. A height-adjustable desk with a dark Cambria natural stone top and wood veneer base creates a customizable, upscale space. "The inspiration was to create an office experience where no expense was spared," says Brian S. Fuller, Sr. Product Development Manager at Geiger.
"High-end finishes such as the Natural Mildly Figured Paldao and the Cambria Blackwood Matte quartz work seamlessly together to convey that luxe feel," adds Fuller. "Blackwood Matte was the perfect complement to the Paldao veneer as the matte finish plays well off the matte veneer, giving the office a subtle but sophisticated feel."
Height-adjustable desk from Geiger featuring Cambria Blackwood Matte™ top and wood veneer base.
The dark tones of the materials also complement each other for a quintessential midcentury mod palette. With subtle flecks of gold, cream, and blue on a rich black base, Blackwood Matte is an ideal alternative for a dark granite aesthetic with superior performance and durability. (See why Blackwood makes our list of top 10 granite alternatives.)
7. Light-scale, mixed-material workplace table
Decca's GAIT collection is inspired by reductive design, with elegant clean lines and narrow forms. This workplace table, crafted in a subtle trapezoid shape, features a light-scale effect from the 4″ reverse knife-edge Cambria slab to the narrow metal leg design. The stainless steel is coated in Decca's Mirror Black Matte, offering a gun-metal look and fingerprint-friendly finish. A slim metal band wraps around the tabletop edge, providing a cohesive look with the legs and a modern industrial touch. A center access port with custom-made metal access lid offers a convenient office solution for collaborative meetings, impromptu work spaces, and more.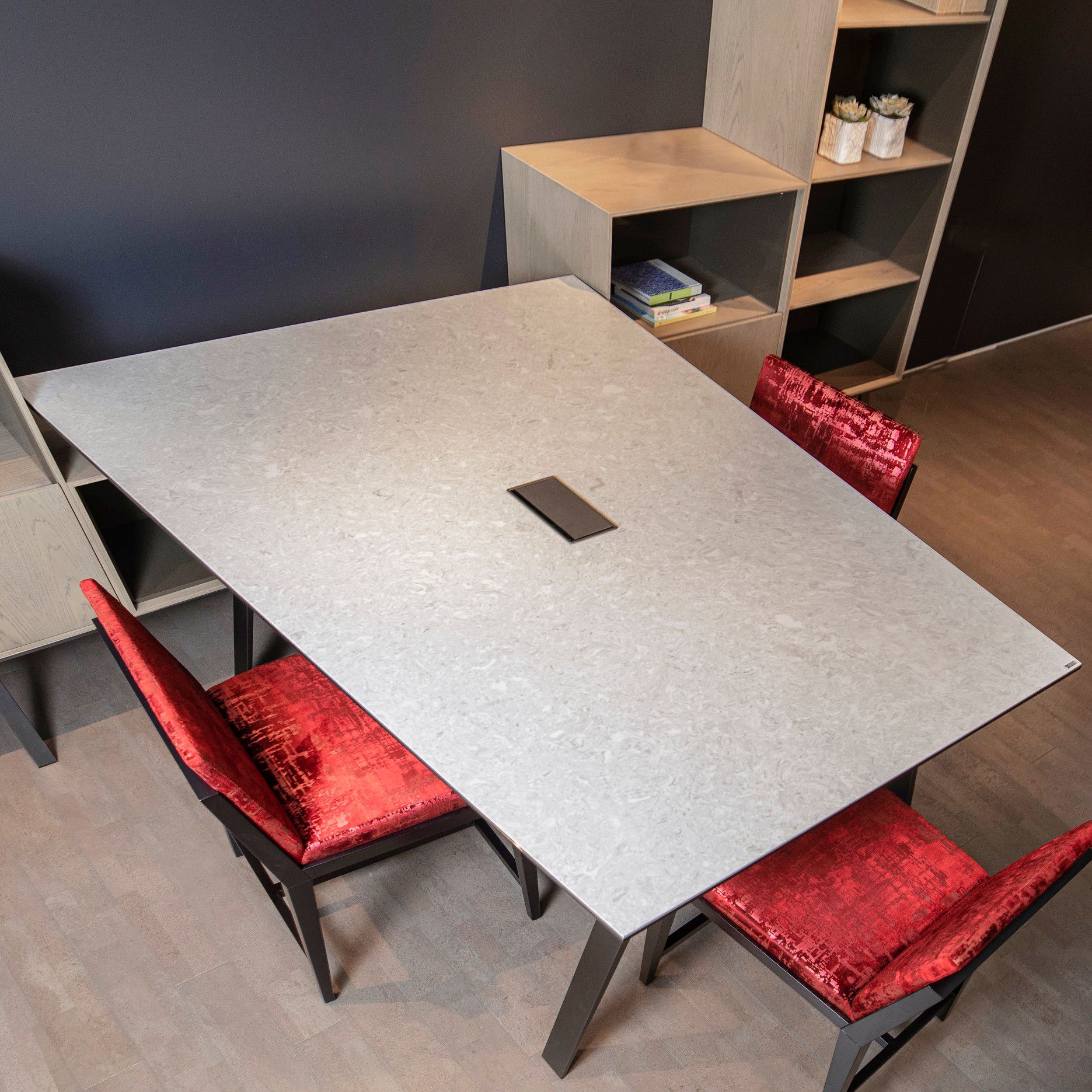 Decca geometric workplace table featuring Cambria Highgate™.
"The Gait configuration for the Decca NeoCon 2019 Showroom was selected to showcase the product's versatility in both function and materiality," says Gary Lee Partner, Decca's Showroom Designer. "This shelving and table combination could be used anywhere from an open-office collaboration zone to an eat-in kitchen space." The table features Cambria Highgate, a high-performing marble alternative with unique fossilization pattern and warm neutral tones. "The Cambria quartz top perfectly paralleled the furniture's design with neutral hues and captivating detail," notes Partner.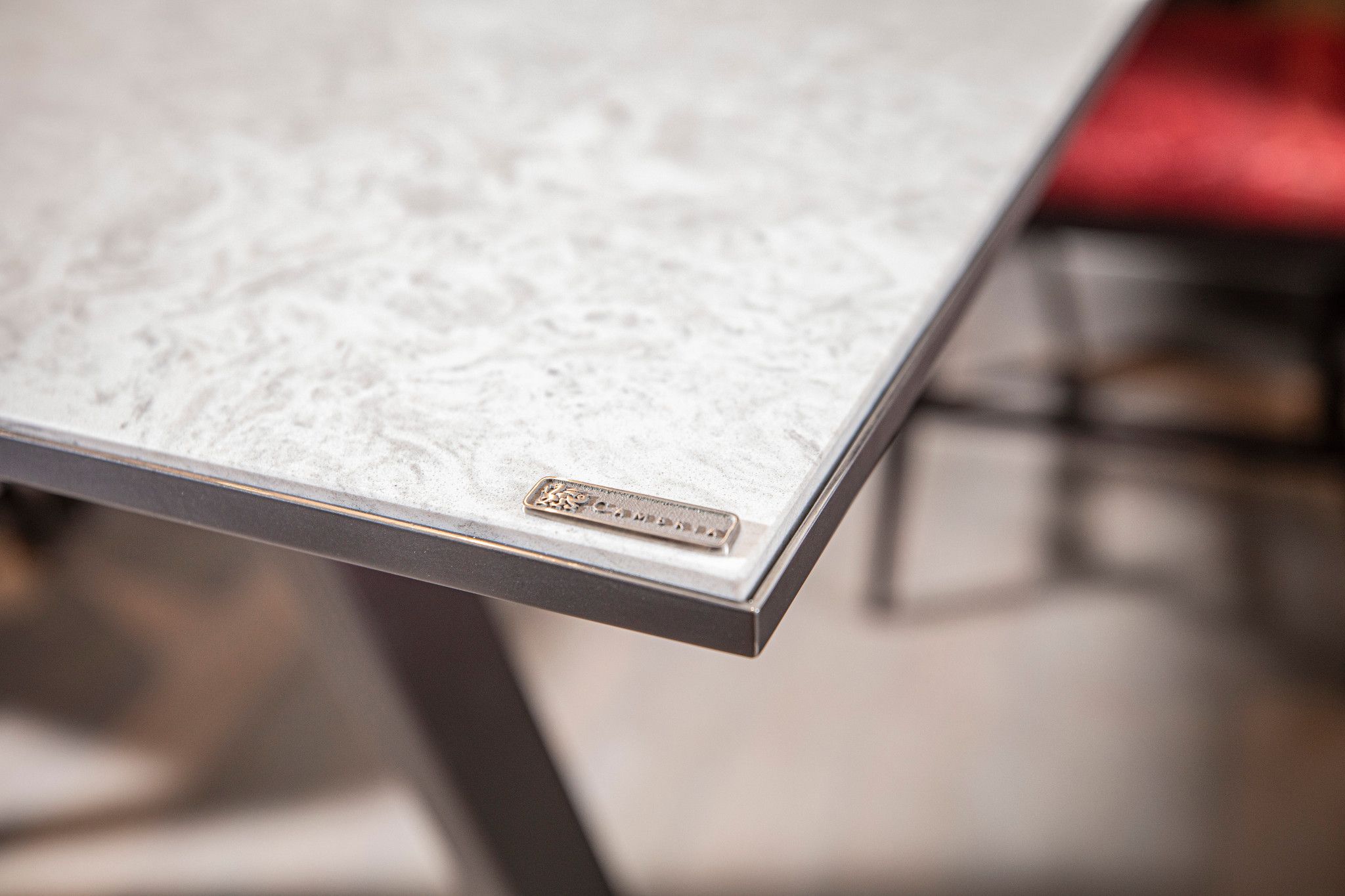 Decca table detail featuring Cambria Highgate and metal banding.
To create this custom-shaped tabletop, Decca's engineering team provided the Cambria fabricators a 3D CAD template. Advanced fabrication techniques and precision tooling allowed the Highgate top to fit perfectly within the protective wrapped metal edge and accommodate the ECA Interact G2 UT technology port.
8. Quartz side table and seating combo
This stunning quartz chair and side table crafted of Cambria Galloway has the best of midcentury modern sensibilities with its undeniable marriage of design-meets-functionality. The chair, with its high sides and plush orchid structured seating provides just the right amount of style and privacy—enough to provide some separation in an open space. The attached table is a seamless design statement that beautifully displays brand materials, beverages, or magazines—with the added durability and versatility of quartz. Best applications? An open space in need of a structured seating area or longer-term seating such as a hotel lobby, reception area, retail entry, and wellness waiting rooms.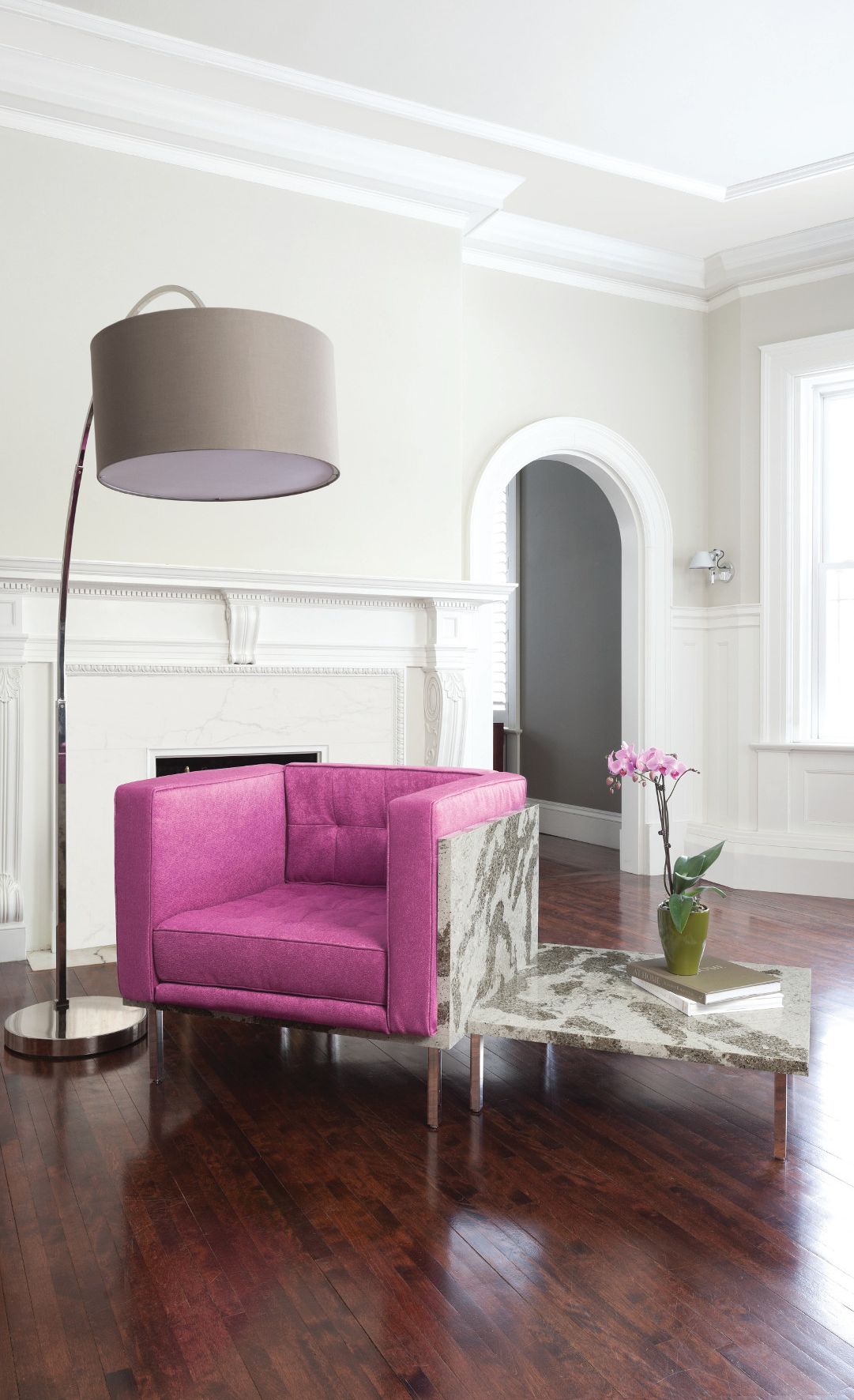 Contemporary combo: chair and table featuring Cambria Galloway™ as seen in Cambria Style.
9. Marble-look quartz coffee table with acrylic base
This elegant coffee table creates a refined lounge area in this gallery setting. Cambria's Annicca Matte design offers a modern and distinctive marble look with subtle purple and gold sparkle embedded in translucent gray veining. A wave-pattern acrylic base and oval quartz top create an artful and unconventional material pairing. The Annicca Matte design adds a subtle splash of color and movement to the gallery's light-neutral color scheme. (See more commercial and residential spaces featuring Annicca.)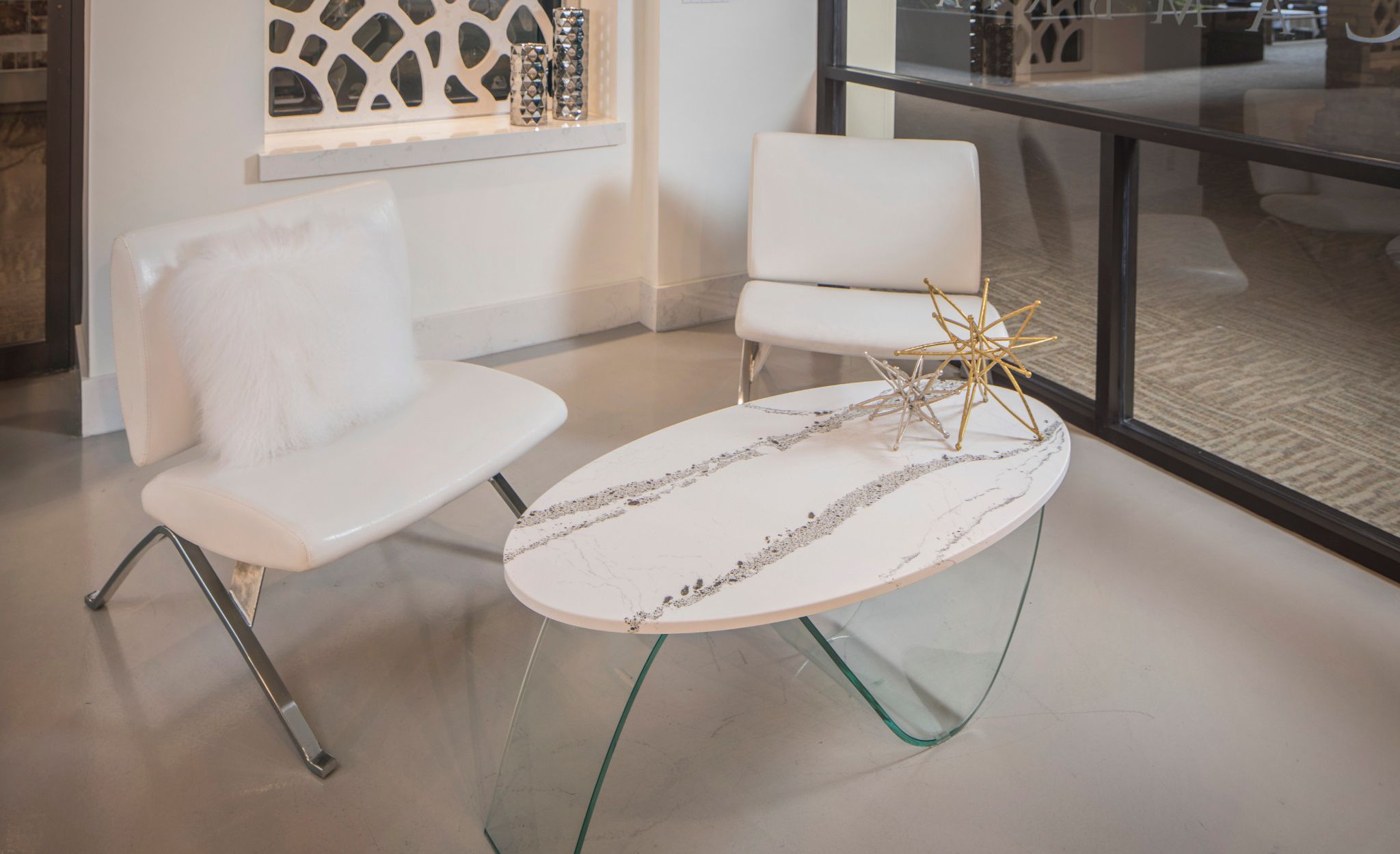 Coffee table with Annicca Matte™ top and sculptural acrylic base.
10. Wood conference table with blue quartz inlay
This walnut conference table fits the industrial-modern vibe of Brick x Mortar, a social club, shared workspace, and event venue. A flowing current of Cambria Parys, a sparkling gray-blue quartz design, weaves down the middle for a spectacular land-and-sea effect.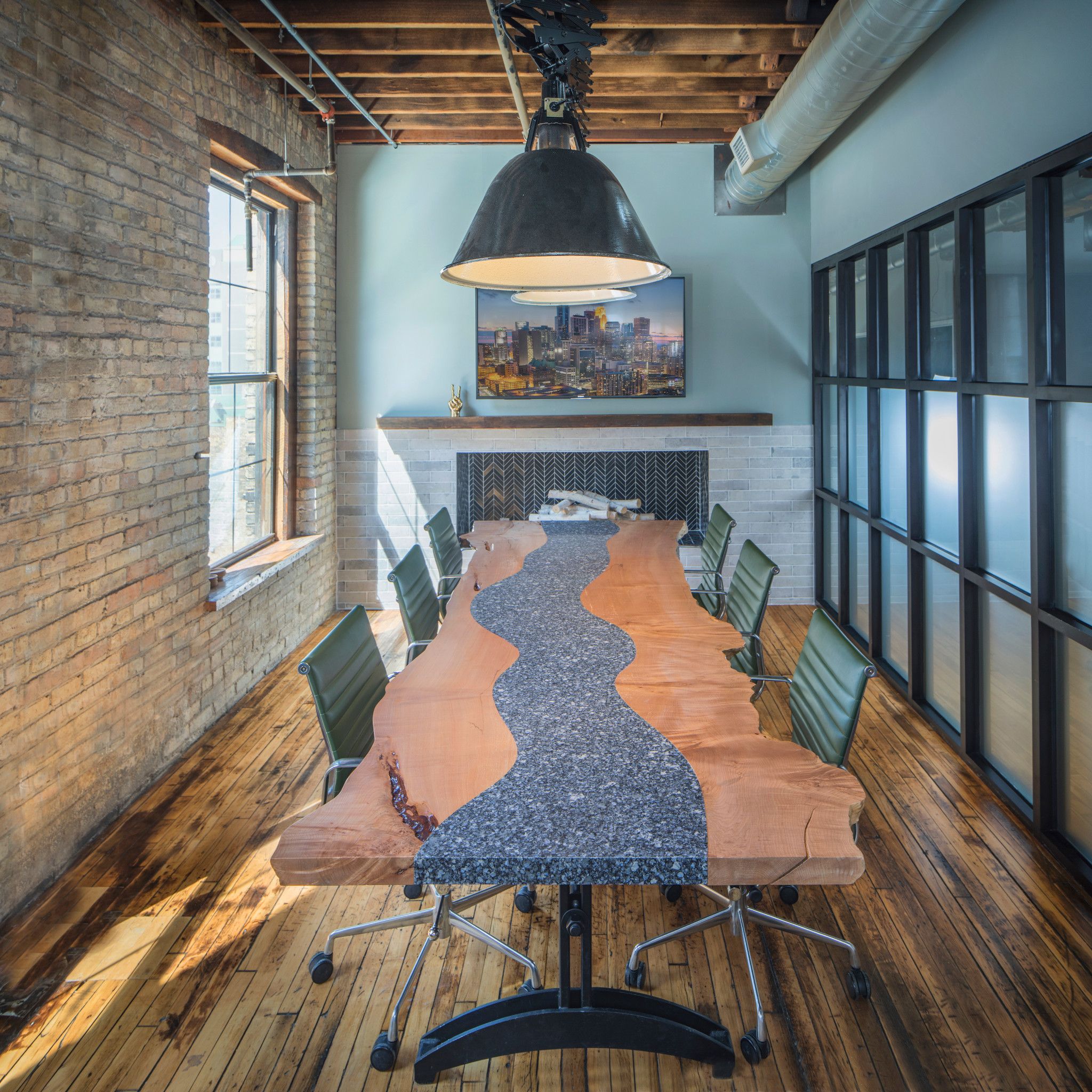 Walnut conference table featuring Cambria Parys™ center inlay at Brick x Mortar
Interested in commissioning a custom furniture piece with high-end appeal and high-traffic compatibility? Explore more commercial furniture pieces on our Furniture's Favorite Surface page. For more inspiration, explore these marble-look commercial furniture and other Cambria applications for hospitality spaces.
To request more information on Cambria contact us by calling 1-866-CAMBRIA (1-866-226-2742).
Special thanks to our NeoCon 2019 commercial furniture partners featured: Tuohy, Prismatique, Nevers, Keilhauer, Enwork, Geiger, and Decca.