Captivating movement, dreamy neutral hues, and subtle shimmer. Cambria Berwyn countertops are a gorgeous light granite alternative with superior performance and endless versatility. With swirls of heathery gray, taupe, white, and cream, this crowd-pleasing quartz can pair with a variety of colors and textures to add interest to a casual kitchen or set the tone in a formal space.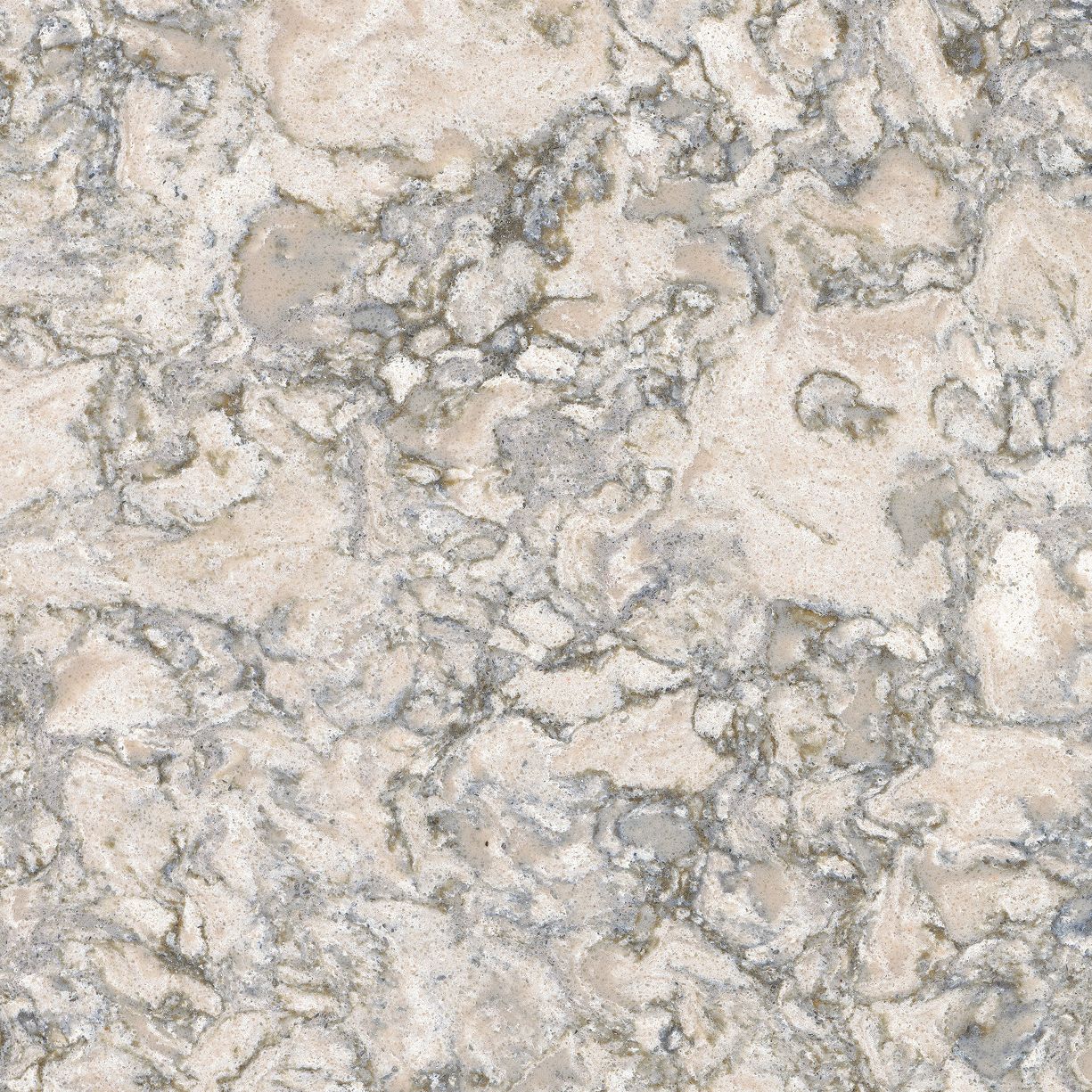 Cambria Berwyn™ design detail
These four kitchens are some of our favorites and feature a range of pairing ideas for Berwyn countertops. Get inspired for your space and fall in love with this one-of-a-kind design that elevates any kitchen style.
Traditional gray and white kitchen with Berwyn countertops
Berwyn unites all the beautiful neutral shades and metallic tones in this elegant traditional kitchen. A two-tier Berwyn island is a stylish and functional focal point, accented by a pair of globe pendants. Gray cabinets on the island help to highlight Berwyn's intricate veining while cream perimeter cabinets play off the design's softer undertones. Chrome accents and classic stainless-steel appliances complement the touch of silver sparkle infused in Berwyn. Love this palette? Get tips for designing the perfect gray kitchen.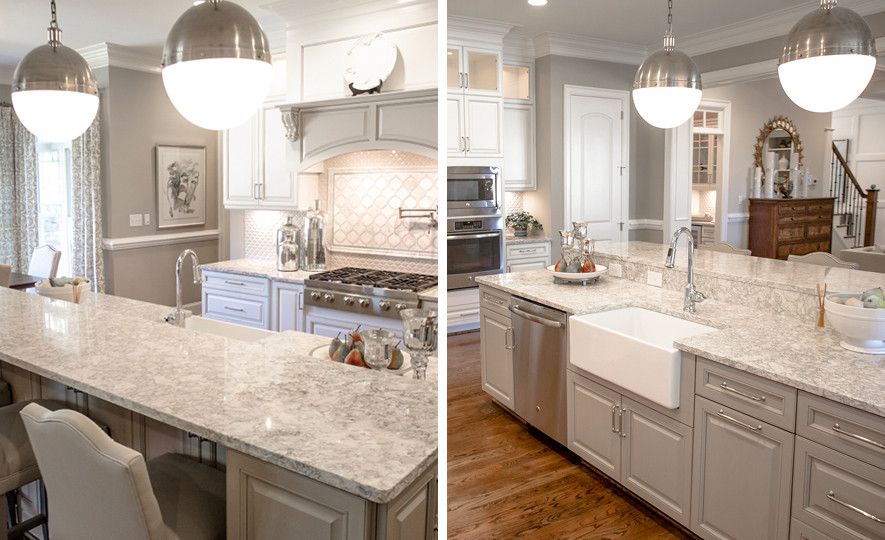 Gray kitchen with Berwyn countertops by Marva Stone and Design, ROCKin'teriors, and Wardson Construction. Photo: Chris Frick Photography.
Modern farmhouse with Berwyn countertops and pattern play
This modern farmhouse mixes glam details and rustic staples for a playful and pattern-filled look with Berwyn. We love how the clean lines of the herringbone tile backsplash contrast with Berywn's organic, swirling movement. The rustic wood base of the island echoes the herringbone pattern of the backsplash while complementing Berwyn's earthy tones. White cabinets, mixed metal accents, bronze pendants, and an apron sink complete the look. Planning on a tile backsplash? Get more tile pattern ideas to pair with Cambria.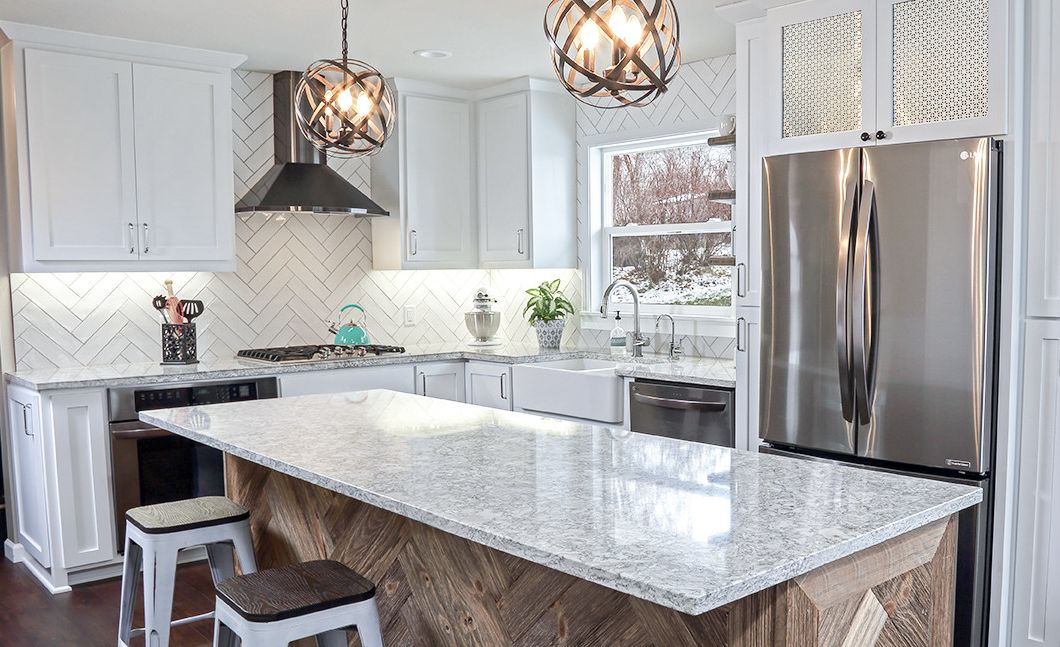 Modern farmhouse kitchen with Berwyn countertops and herringbone tile by Mom's Design Build and Pro Design Custom Cabinetry.
Open-concept kitchen with waterfall-edge Berwyn island
A double waterfall-edge island makes Berwyn the showstopper in this transitional open kitchen. The Berwyn island creates a captivating focal point and durable hub for activity, maximizing style and function in a small space. Berwyn's rich tones add depth to the white kitchen backdrop of shaker-style cabinets and glossy square tile backsplash. Rounded stools and circular brass pendants add modern flair and contrast to this condo kitchen's crisp, clean lines, while oak flooring lends an inviting, natural vibe.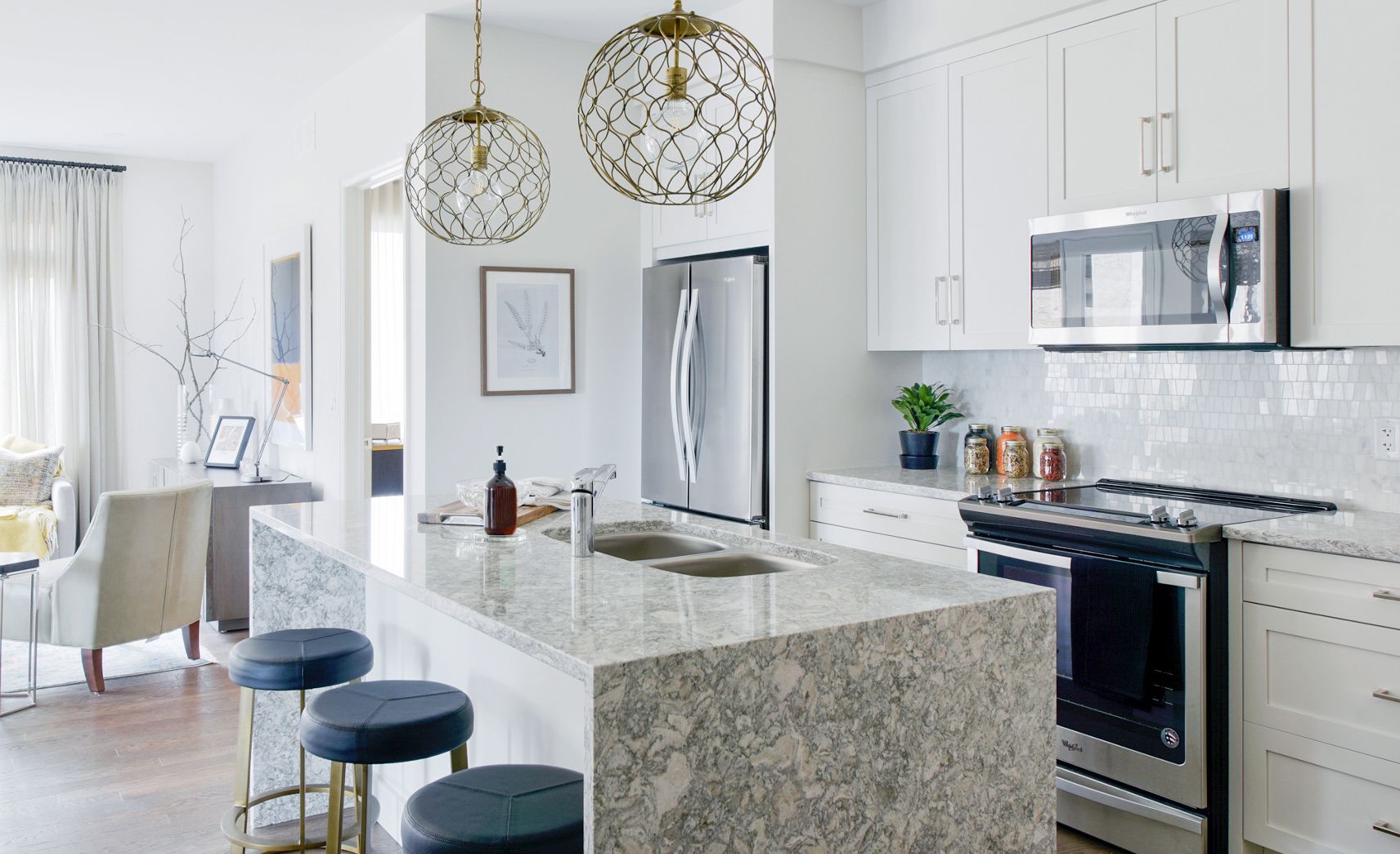 This award-winning space with Berwyn from Hobin Architecture, Uniform Developments, 2H Interior Design, Deslaurier Custom Cabinets, and Urban Quarry was "Low-rise Suite of the Year," GOHBA Housing Design Awards 2018.
Rustic farmhouse kitchen with Berwyn and dark wood cabinets
Berwyn's versatility is evident in this timeless farmhouse kitchen that's full of warmth and character. As a light granite alternative, Berwyn countertops are a stunning contrast to dark wood cabinetry in this rustic farmhouse renovation. The kitchen island offers airy contrast, pairing Berwyn with a white-washed wood island and white stools. Classic farmhouse décor adds charm while the countertops offer modern conveniences that outperform granite. Love this look? Get more ideas for farmhouse kitchen style and follow the full renovation of this Yellow Brick Farmhouse on Instagram.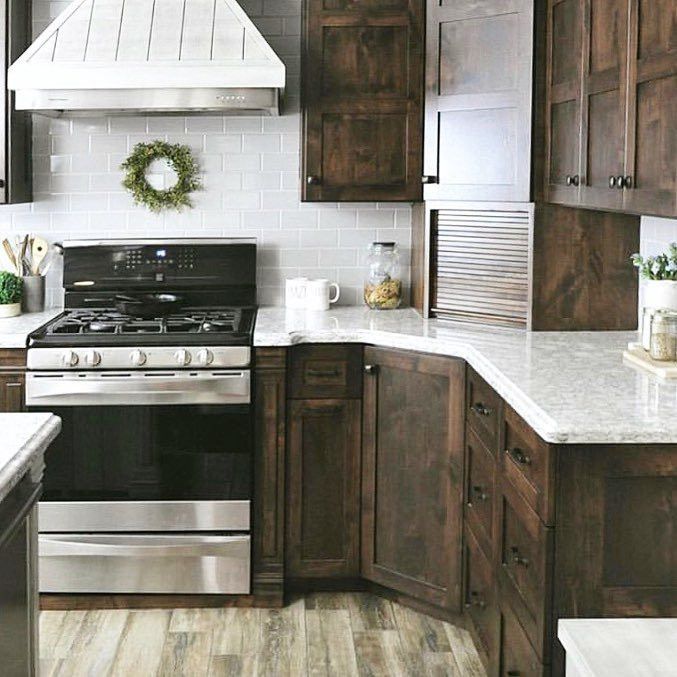 Dark wood cabinets pair with Berwyn countertops in this kitchen from Yellow Brick Farmhouse.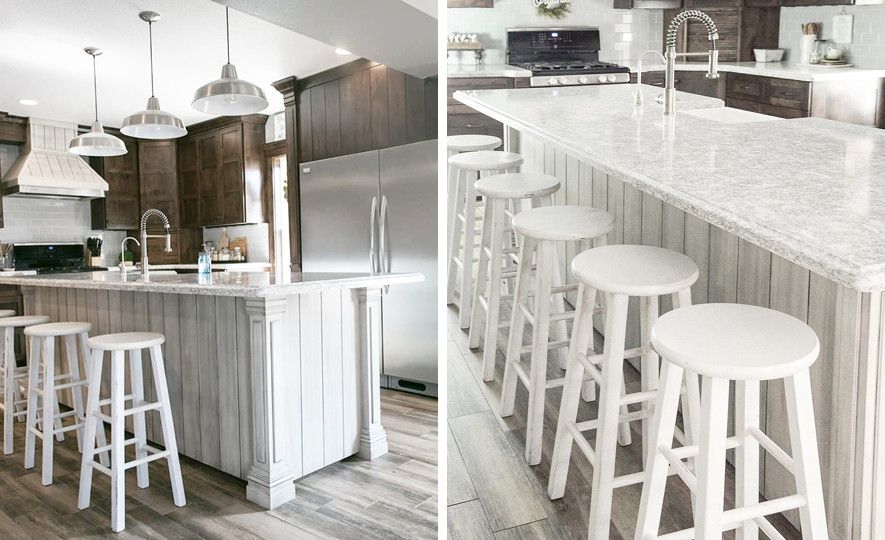 Farmhouse kitchen with Berwyn countertops paired with dark wood cabinets and whitewashed wood island. Photo: Yellow Brick Farmhouse.
More ideas for Berwyn countertops
Curious how Berwyn looks paired with a pop of color? See two kitchens with Berwyn and Berwyn Matte™ paired with blue accents in our blue kitchens roundup. Find more ideas for Berwyn and other designs in Top 10 Cambria Designs for Granite Alternatives and see a yacht with Berwyn countertops in Sea to Slopes: Exceptional Spaces Showcasing Cambria.
To fully appreciate the beauty of Berwyn, you have to see it in person. Order a sample of Berwyn and try out the design virtually in your space using the Cambria AR™ app.
Ready to plan your space with Berwyn countertops? Contact a dealer near you to get started.