Our current countertop crush? Glam and dreamy Annicca, featuring purple and gold flecks embedded in translucent gray veins on a milky white backdrop. If you like the movement of designs like Brittanicca™ but are craving a little more color or shimmer, Cambria Annicca countertops may be the perfect fit for your space.
Don't mistake Annicca's marble-like beauty for a delicate surface. Made of natural quartz, it is a strong, stain-resistant, and maintenance-free alternative to marble countertops. Dive into an array of Annicca inspiration for kitchens and more.
Farmhouse kitchen with Cambria Annicca countertops
What we love: How Annicca elevates this white farmhouse kitchen, complemented by a gray subway tile backsplash.
See more: Gather your favorite farmhouse kitchen ideas.
Annicca in a stunning master suite
What we love: Annicca is prominently featured in this standout walk-in steam shower, the size of which was increased to accommodate a bench.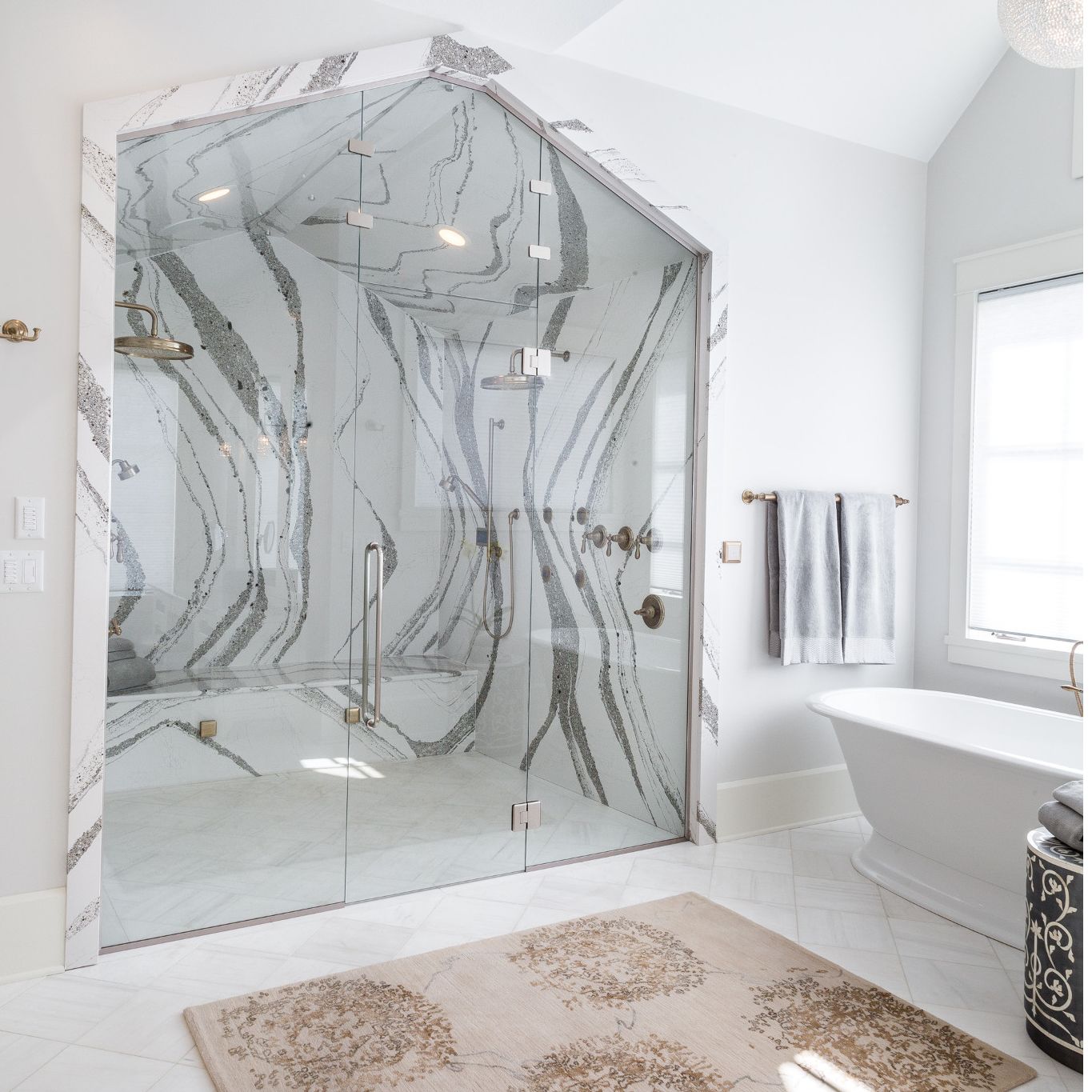 See more: Check out the rest of this can't-miss home.
Black and white kitchen with Annicca countertops
What we love: Pairing brass and black with Annicca for a relaxed yet glam space, accented by a chic chevron tile backsplash.
See more: Find tips for incorporating matte black accents and high-contrast design.
Two-tone cabinets and brass accents with Annicca countertops
What we love: This powder blue and gold kitchen palette incorporates a bold black island and Annicca's deep purple tones for an unexpected, yet striking pairing.
See more: Find more blue kitchen's paired with large movement and check out one of our favorite cool toned-marble alternatives.
Two-tone kitchen with Annicca and Minera countertops
What we love: How Minera's mixed-metal hues highlight Annicca's regal tones for an unexpected pairing that doesn't shy away from shimmer.
See more: Explore stylish ways to mix and match countertops.
Office kitchen with Cambria Annicca and Edinburough countertops
What we love: The rustic-industrial mix of Annicca with natural wood bordered by dark ebony Edinburough countertops and shades of pewter.
See more: Get ideas for pairing natural wood cabinets with white countertops.
Luxe Kips Bay kitchen with Annicca Matte countertops
What we love: Focal point perfection with a bold brass pendant over an Annicca Matte island, accented by an abundance of opulent metallic and jewel tones.
See more: Explore other designer Kips Bay kitchens: an old-world-meets-modern baker's kitchen and a sophisticated, mixed-material kitchen.
Blue kitchen with Annicca backsplash and countertops
What we love: An Annicca backsplash bridges rich cobalt blue and white cabinets for a cohesive look with the countertops.
See more: Soak in blue kitchen inspiration and check out our favorite quartz backsplash ideas.
Yoga studio with Annicca reception desk
What we love: Annicca paired with greige tones, brass accents, and weathered woods for relaxed vibes and trendworthy style.
See more: Find other welcoming Cambria spaces in our reception desk roundup.
Contemporary hotel lounge with Annicca fireplace surround
What we love: Embracing Annicca's bold movement for a full-height fireplace surround, offset by vibrant fuchsia for statement style.
See more: Learn why Cambria is not just for countertops and get more quartz fireplace design inspiration.
Plan your space with Cambria Annicca
Has Annicca captured your imagination? Get your hands on a sample to start your moodboard and plan your perfect look.
We can't wait to see how you make Annicca your own—share with us on social media using #MyCambria.