Blue is one of our favorite kitchen colors for effortless sophistication and versatile range of shades. Hues like navy and blue-gray can function as a neutral while cobalt, turquoise, and other blues make a bold statement. We've curated some of the best blue kitchens we've seen showcasing a variety of pairings, from blue cabinets and kitchen islands to blue quartz countertops and colorful appliances. Whether you're envisioning a chic, high-contrast palette or a subtle pop of color, these beautiful blue kitchen ideas are sure to inspire.
Navy kitchen ideas
A navy-blue kitchen palette is an elegant option for many kitchen styles. Navy cabinets provide a softer neutral than black to pair with marble-look white quartz countertops for a crisp, clean look.
Navy and gray kitchen with Torquay Matte countertops
This beach cottage kitchen is an Instagram favorite for good reason. Rich navy kitchen cabinets (Cosmos, Waterworks) pair with Torquay Matte countertops for chic contrast and refined coastal style. Along with the Cambria Matte™ finish countertops, a pale gray peninsula (Decoy, Waterworks) and oak flooring add to the airy feel. See the transformation of this blue kitchen reno from Will Taylor in our before-and-after story.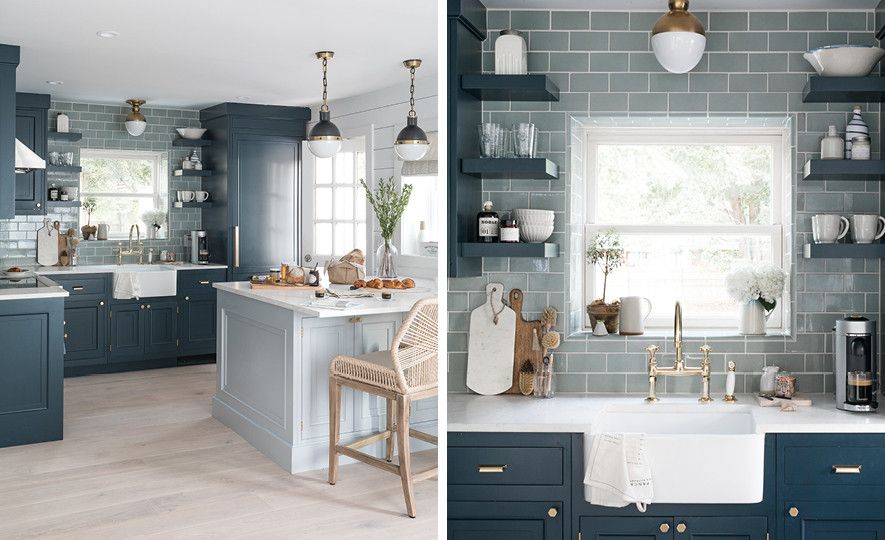 Kitchen featuring navy cabinets and Torquay Matte™ countertops from Will Taylor of Bright Bazaar.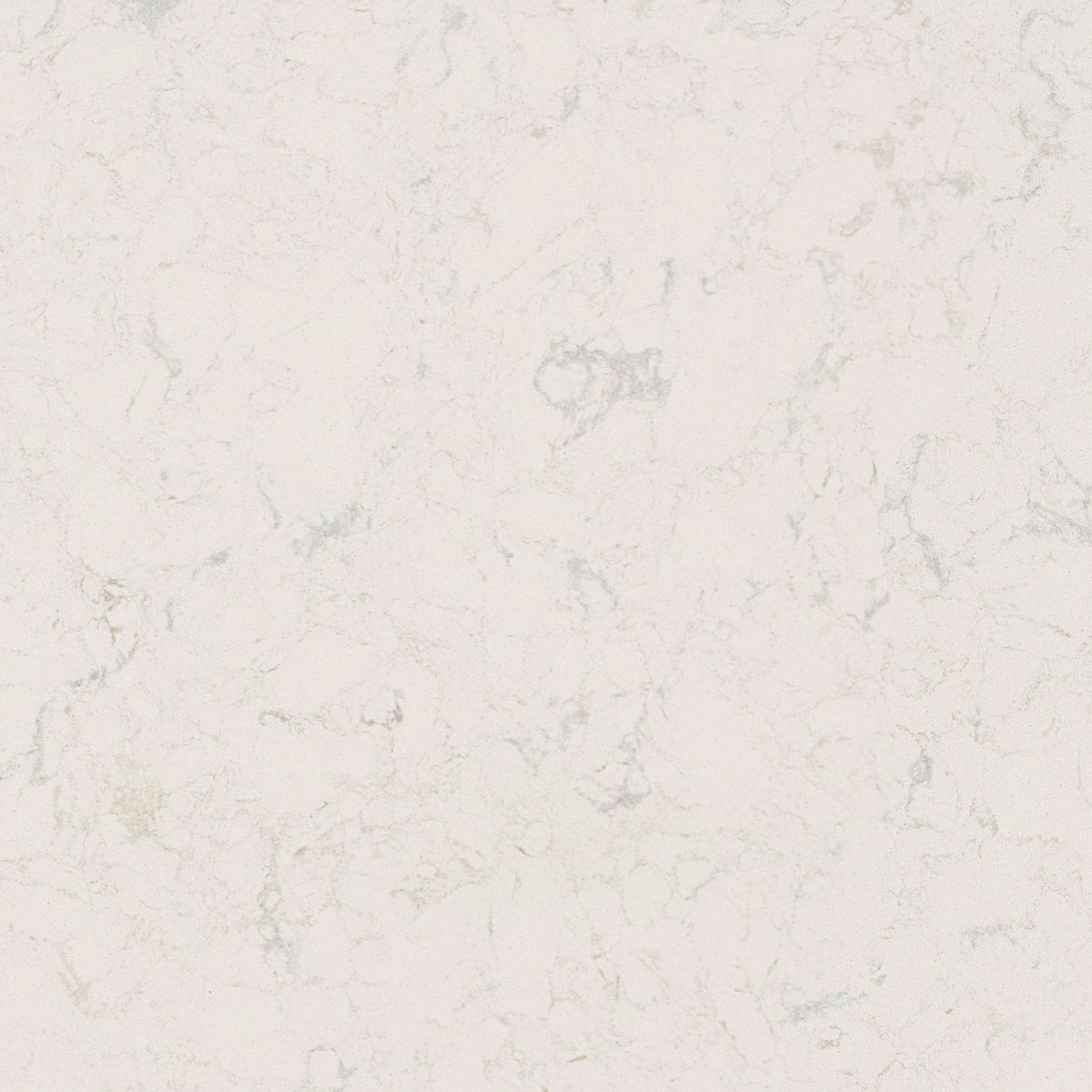 Torquay Matte™ design detail
Navy blue and white kitchen with Ella countertops
Classic and elegant, this modern farmhouse kitchen pairs navy cabinets with Ella countertops, accented by brass pendants, greige subway tile, and oak flooring. White upper cabinets and a peninsula layout open up the space.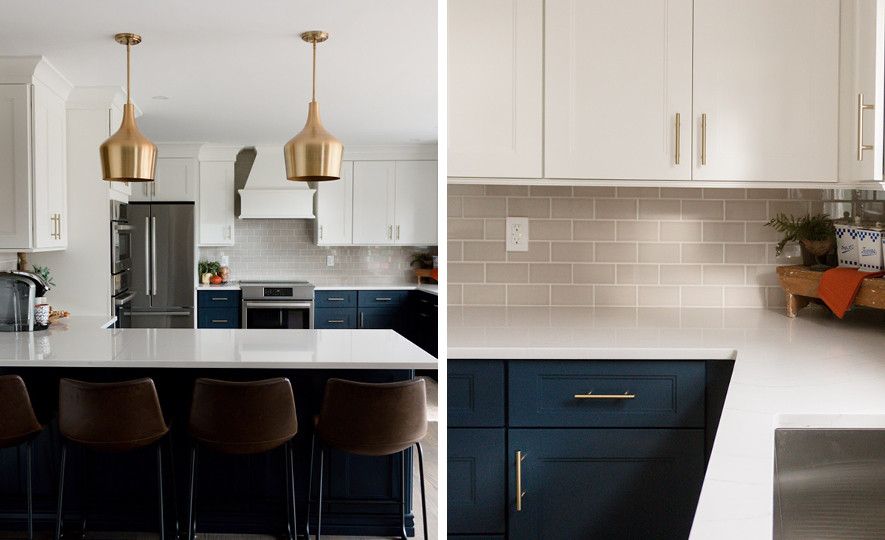 Kitchen featuring Ella™ countertops and two-toned navy and white cabinets. Space by Giuliano Designs and Nicolette's for the Home.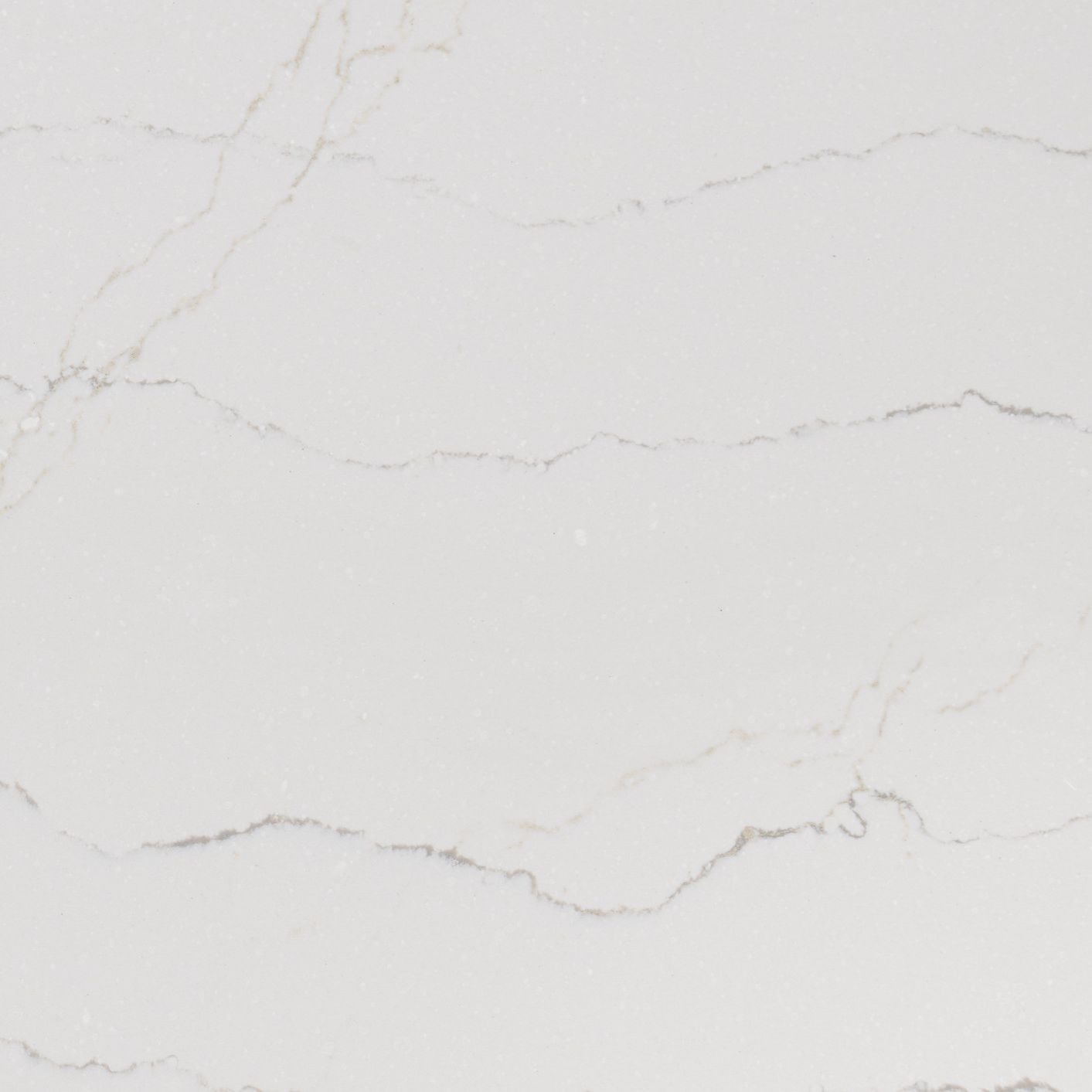 Ella™ design detail
Navy kitchen with Portrush countertops
Cambria's Portrush design packs a punch in this charming modern farmhouse kitchen. Portrush features bold navy, gray, and black veins accompanied by finespun filaments and gleaming gold flakes.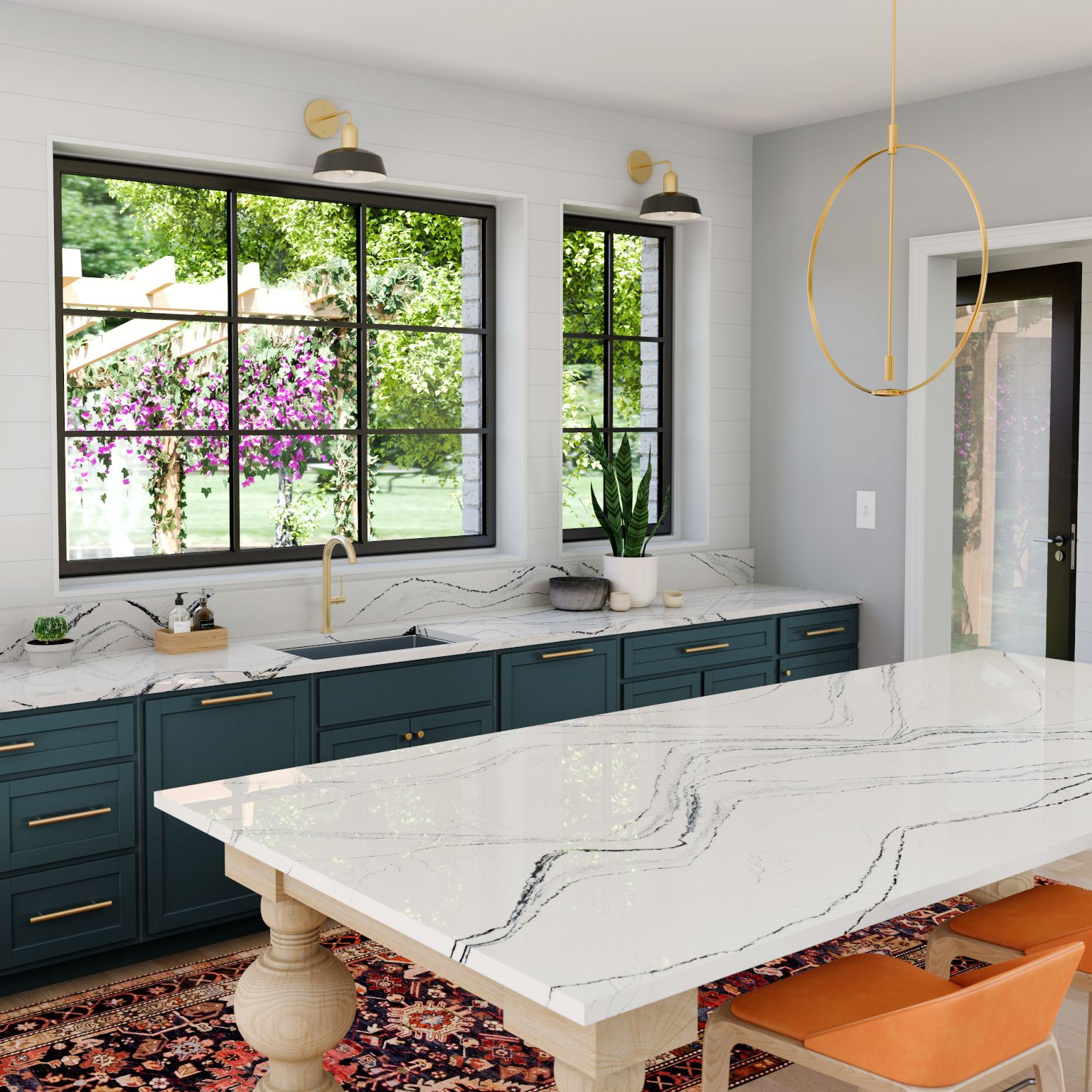 Cambria Portrush in a fresh, farmhouse kitchen.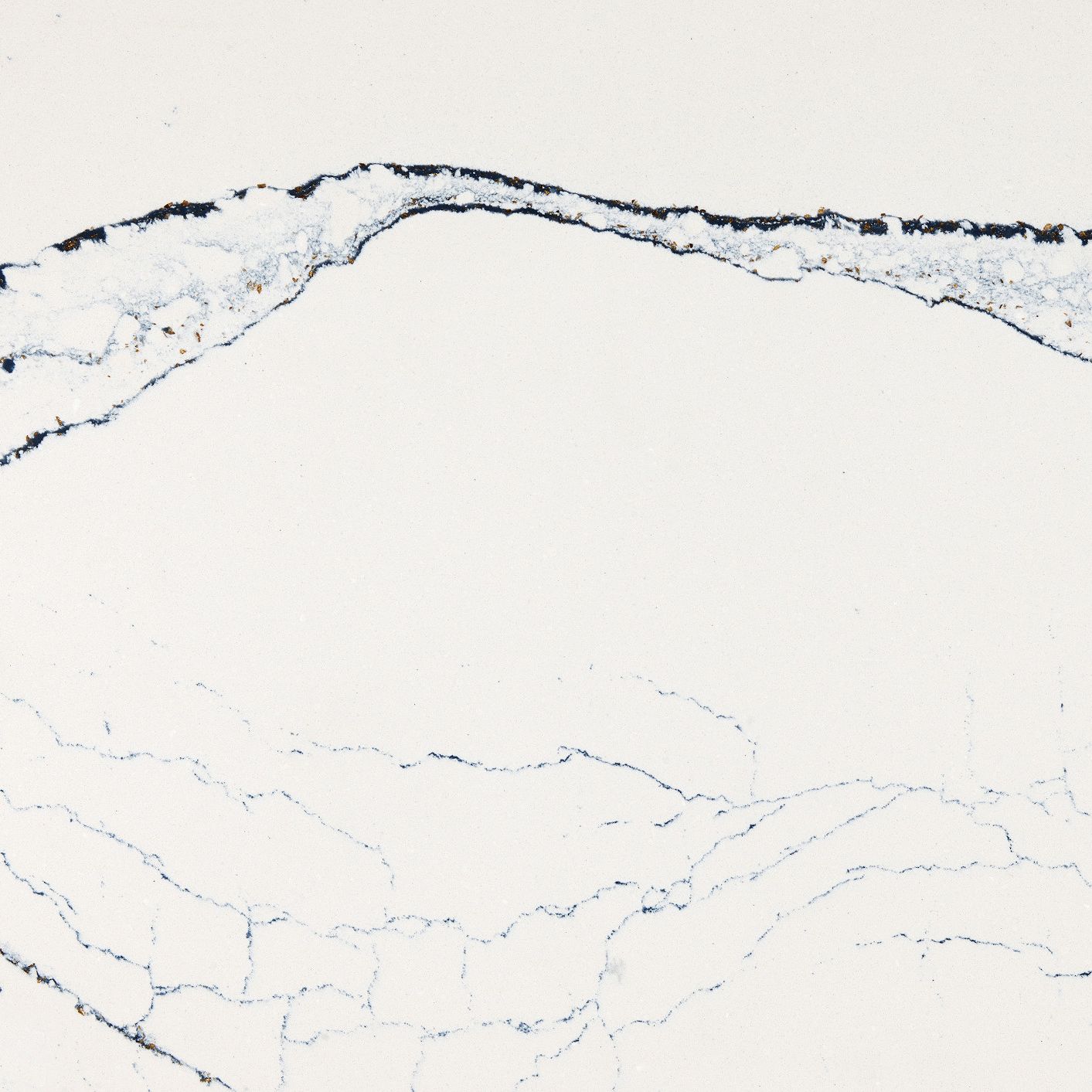 Portush™ design detail
Navy kitchen with Ella countertops
Marbled grayish-white Ella countertops pair with navy cabinetry (Anthracite, Aya Kitchens) for a contemporary look that's polished and inviting. See more of the dark blue and white kitchen from Linnea Lions.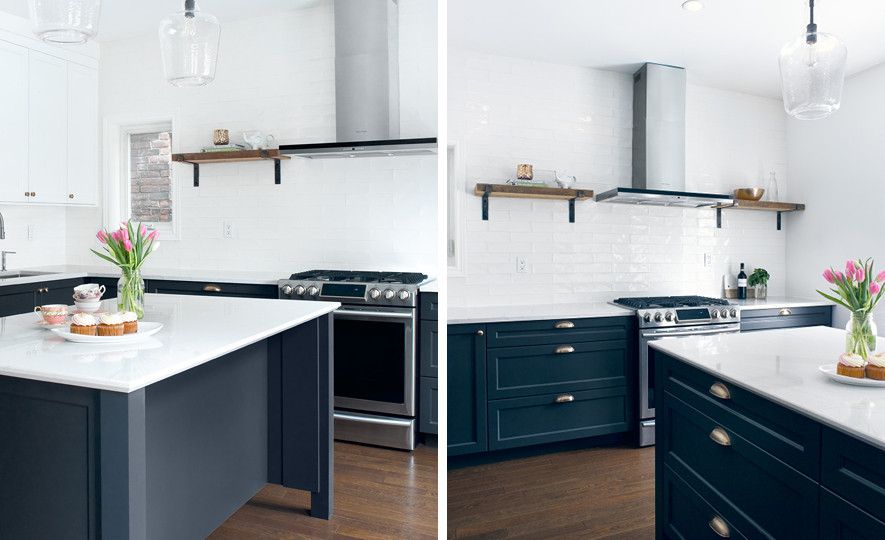 Navy and white kitchen featuring Ella countertops by Linnea Lions. Photo: Vincent Lions.
Navy kitchen with Weybourne countertops
This chic navy blue and white kitchen remodel features soft white marble-like Cambria Weybourne countertops in a waterfall edge for exceptional durability. Lower navy cabinetry (Colonial Blue, Kitchen Magic) and white upper cabinets complete the two-toned kitchen look.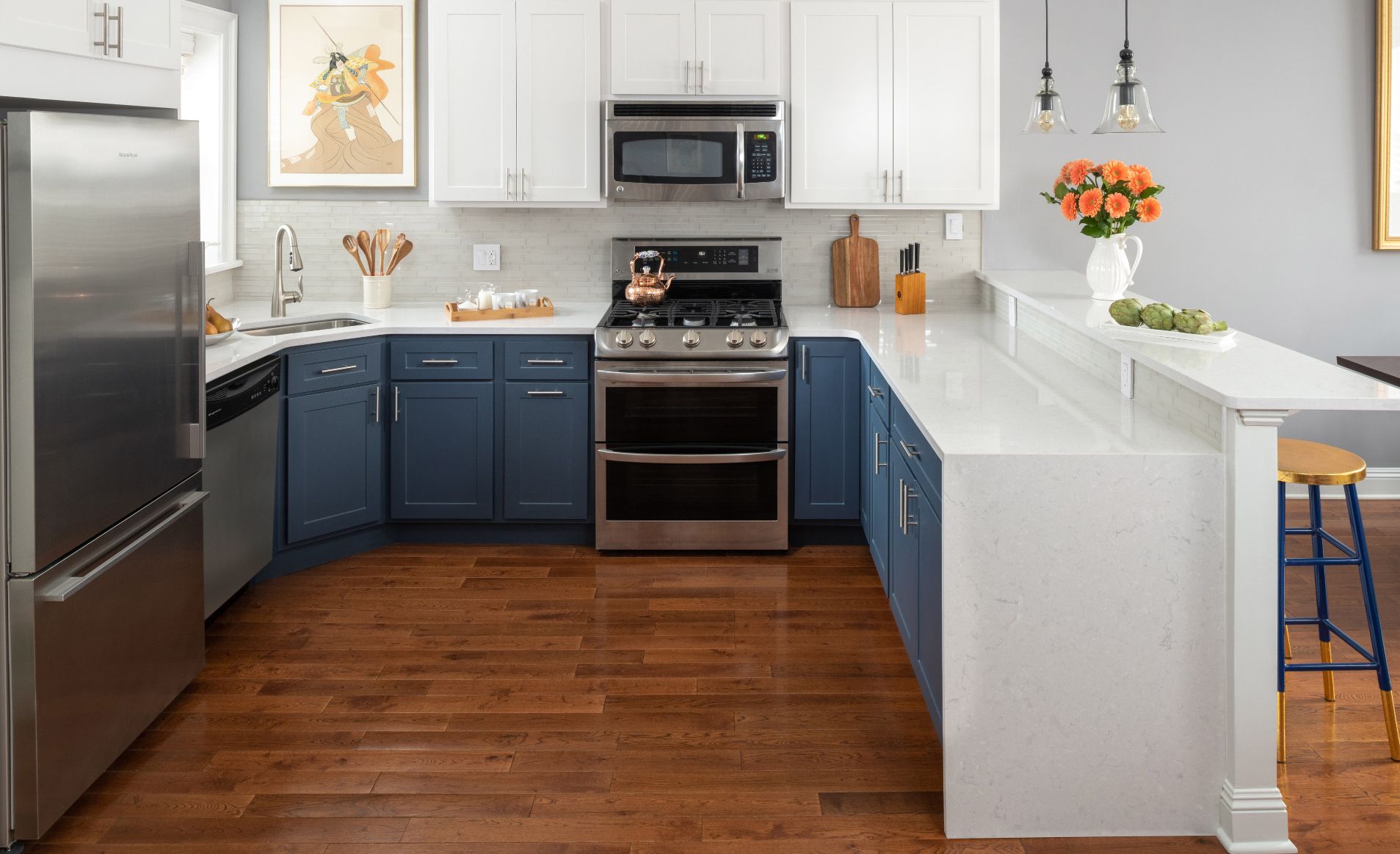 Navy and white kitchen remodel featuring Weybourne countertops by Kitchen Magic.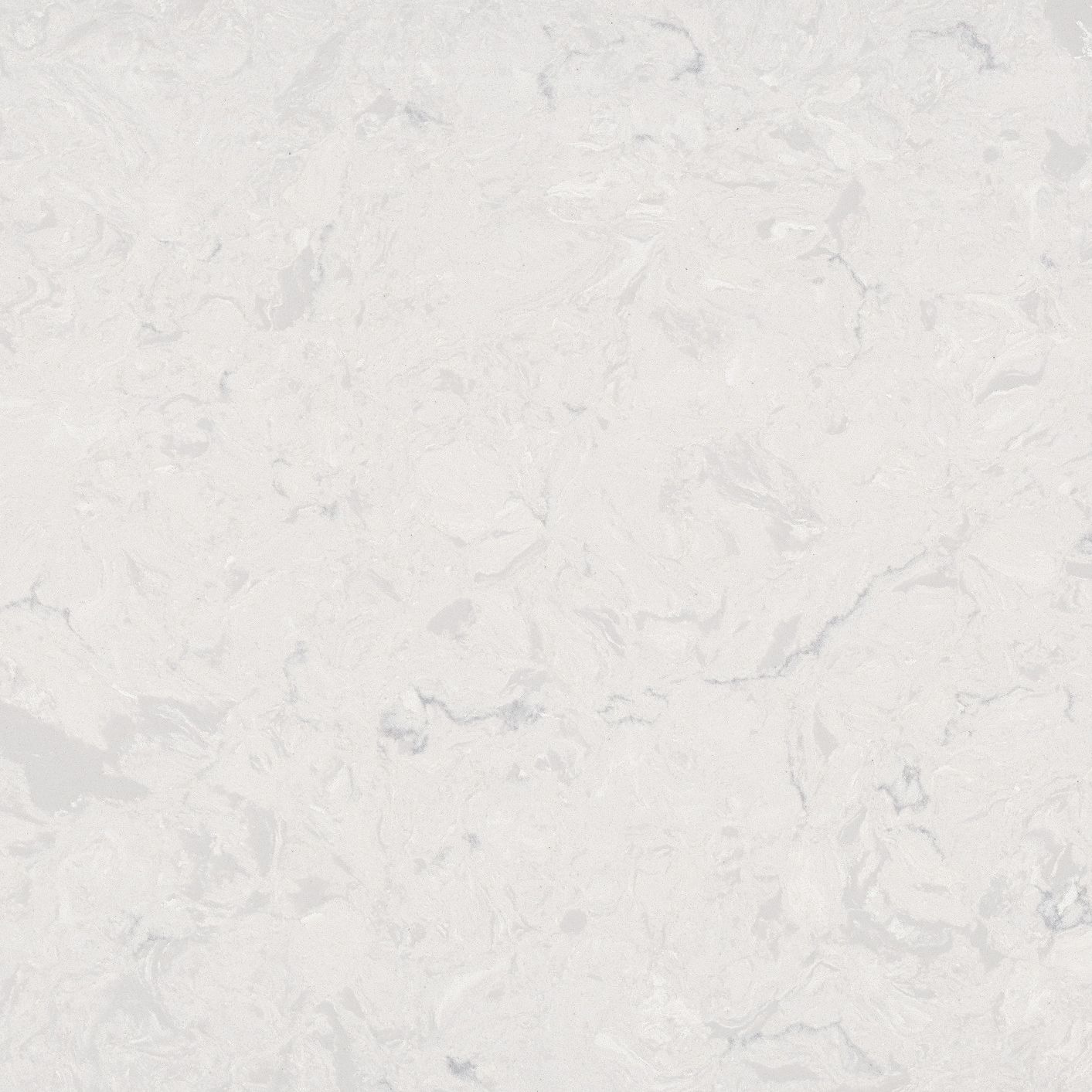 Weybourne™ design detail
Peacock blue kitchen ideas
Peacock, dark teal, or marine blue cabinets offer a vibrant, statement-making hue. We love these fresh spaces that embrace this rich shade and showcase the high-contrast trend with contemporary palettes.
Blue and white kitchen with Brittanicca Matte countertops
This breathtaking blue and white kitchen from Jean Stoffer Design pairs peacock blue cabinetry with Brittanicca Matte countertops and backsplash. The rich teal shade (Newburg Green, Benjamin Moore) takes on a bluish tint in a light-filled room while the low-sheen Cambria Matte finish countertops minimize glare. The quartz backsplash creates a focal point and conceals a walnut spice rack. Natural wood beams, a black range hood, and contemporary brass accents complete the relaxed glam vibe.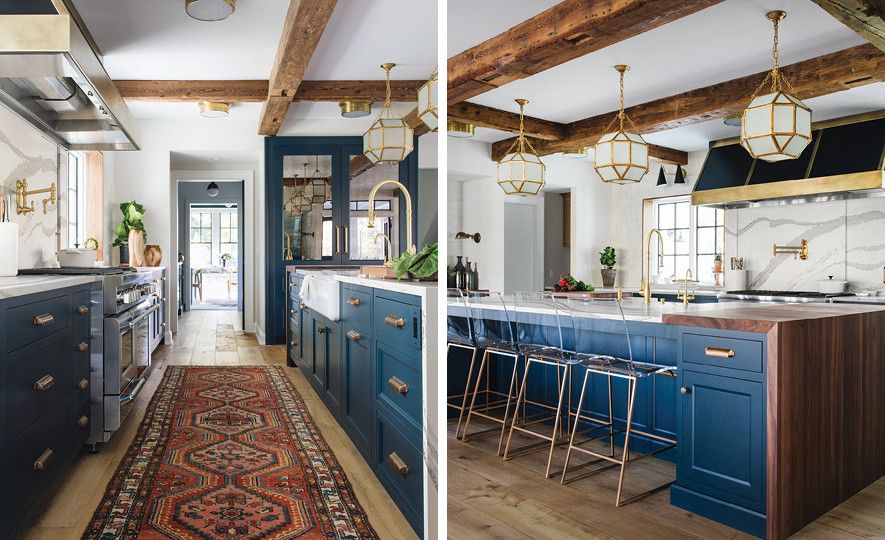 Blue and white kitchen featuring Brittanicca Matte™ from Jean Stoffer Design and Kenowa Builders. Photo: Stoffer Photography Interiors.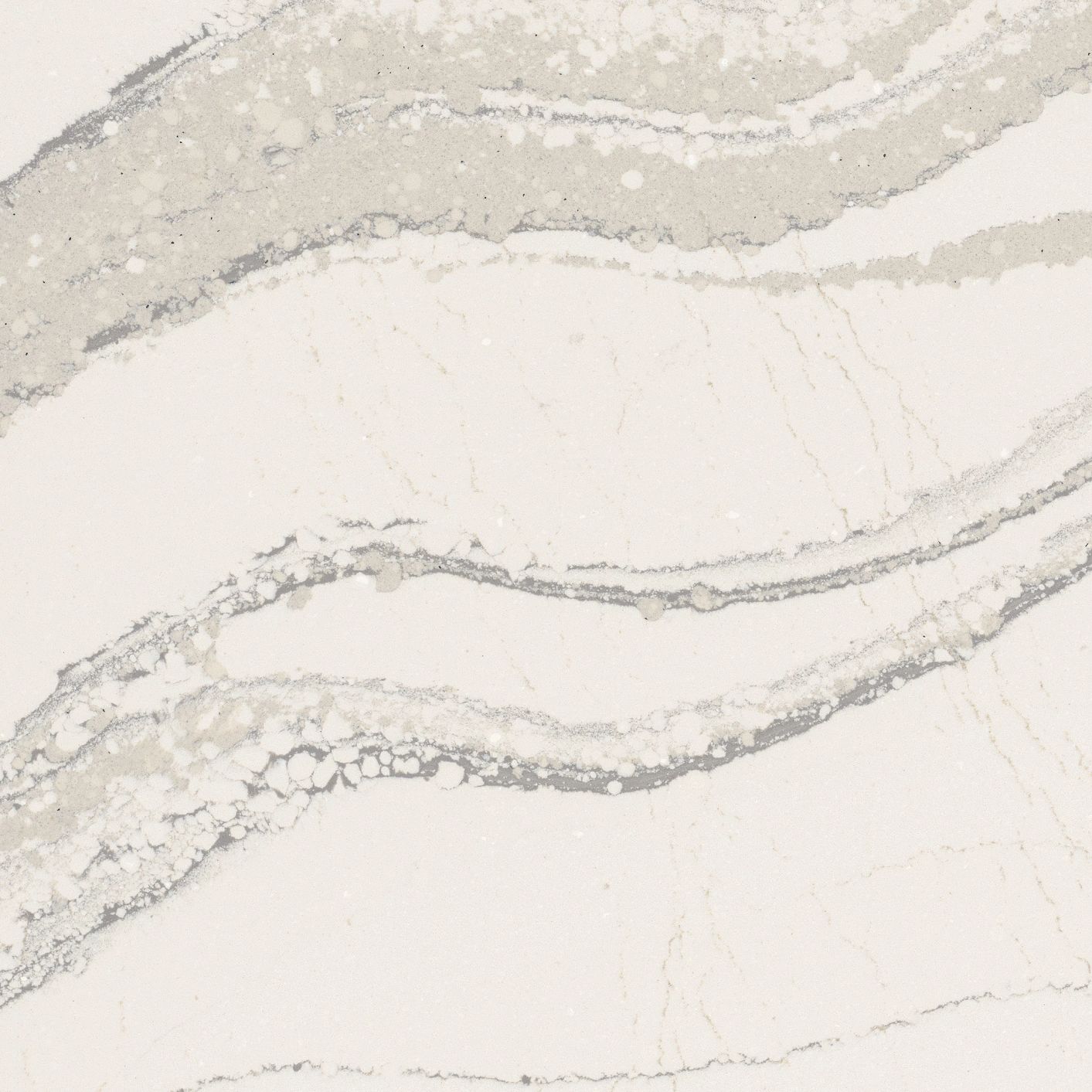 Brittanicca Matte™ design detail
Two-toned blue and white kitchen with White Cliff Matte countertops
Every detail delights in this two-toned blue kitchen from Orlando Soria. White Cliff Matte countertops, made of pure white quartz, offer the perfect contrast to a peacock-blue kitchen island (Olympus, Benjamin Moore) and sky-blue geometric backsplash tile (Crater Lake, Fireclay Tile). See more of Orlando Soria parents' kitchen remodel on his blog.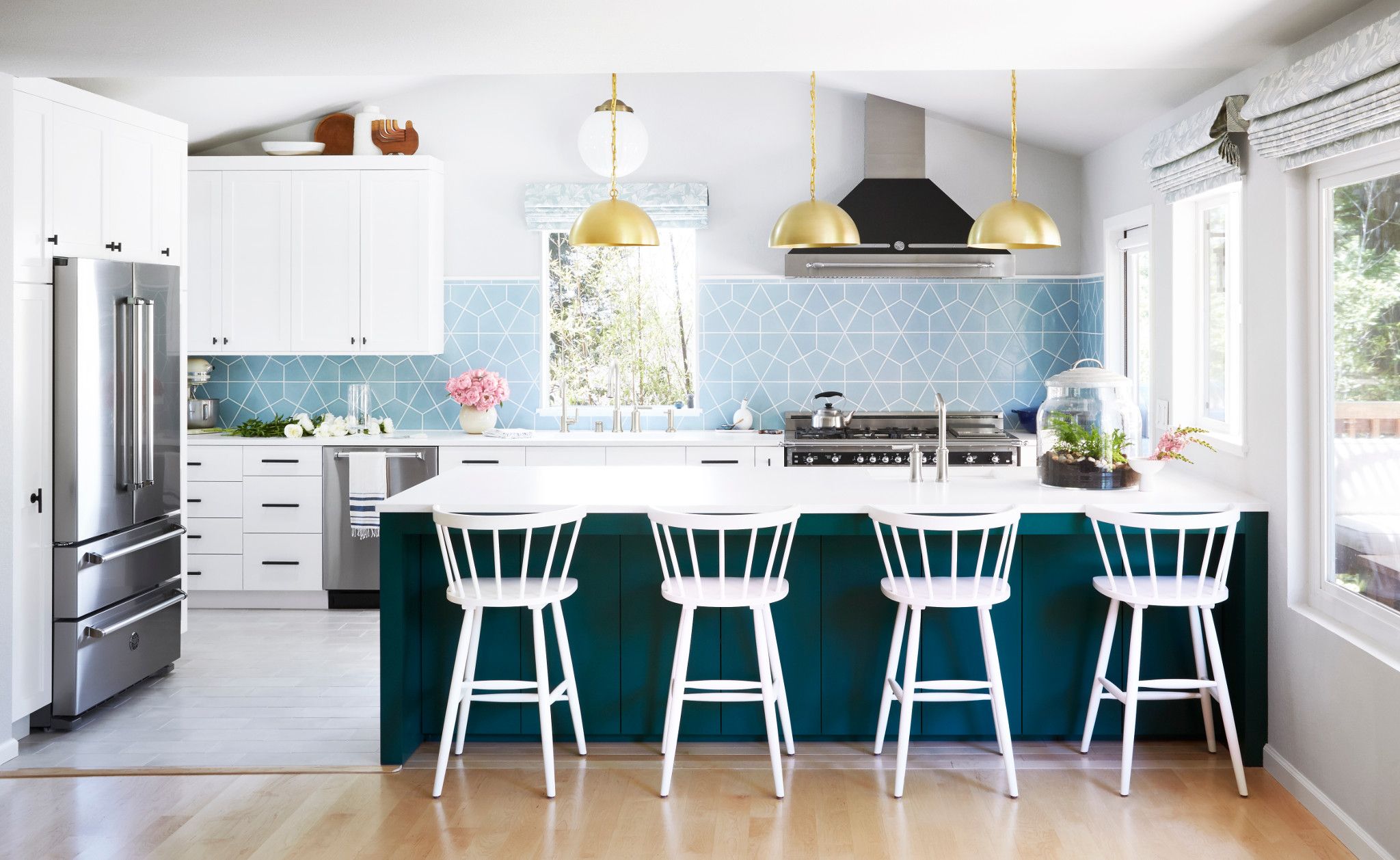 Blue and white kitchen featuring White Cliff Matte™ from Orlando Soria. White Cliff Matte™ design detail
Blue and black kitchen with Swanbridge countertops
We love how this kitchen pairs the trend of dark and moody tones like deep blue and black with crisp Swanbridge countertops and white cabinets for a bright and balanced space. A marine blue island pops amid a textured black chevron-tile backsplash, range hood, and matte black stools.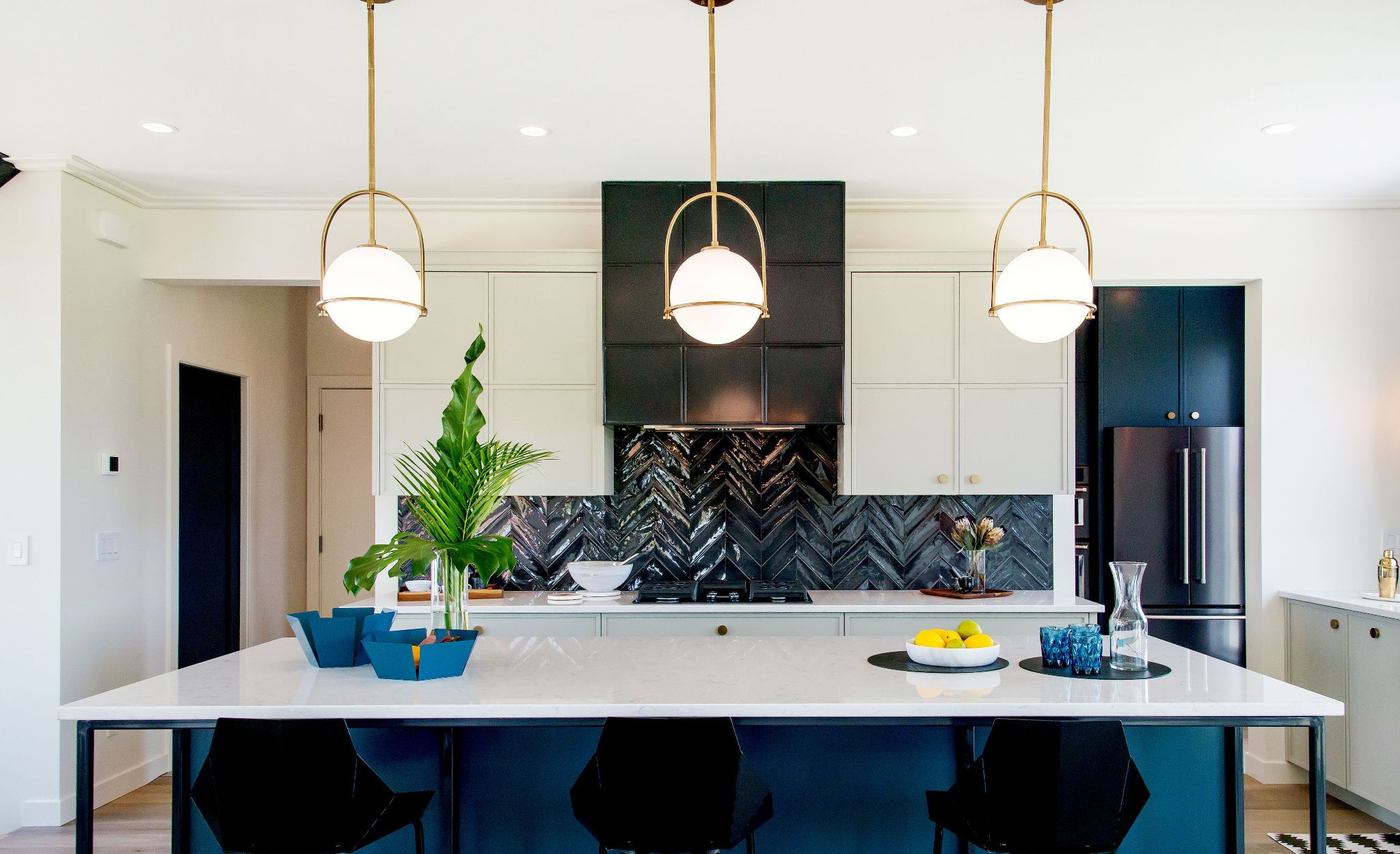 Blue, black, and white kitchen featuring Swanbridge™ from Haven Builders. Photo: Elaine Mark.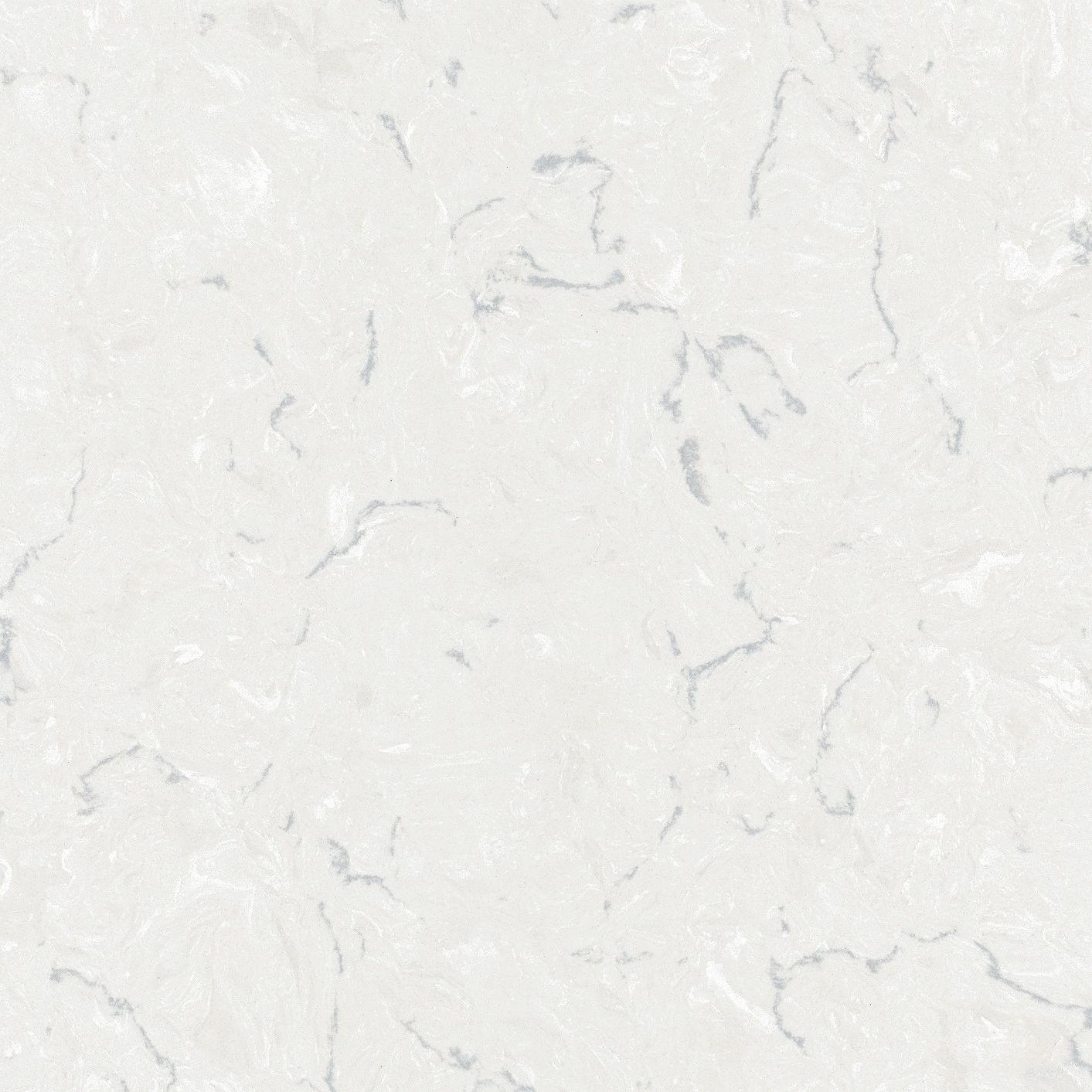 Swanbridge™ design detail
Blue-gray kitchen ideas
These kitchens take a twist on the gray kitchen trend by infusing blue tonality with soft blue-grays or rich slate blues. Versatile and crowd-pleasing, these are ideal blue shades to choose if you're updating your kitchen to sell your home.
Slate blue cabinets paired with copper and Swanbridge
This blue and white kitchen features marble-look Swanbridge countertops, white wood beam supports, and a herringbone backsplash. The rich slate blue cabinetry pairs beautifully with copper, a trending metal accent for kitchens.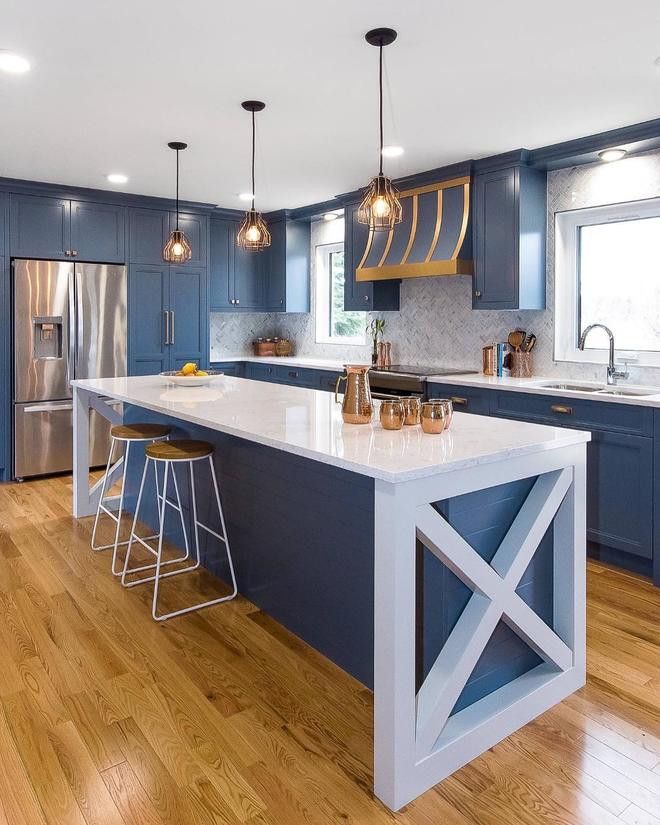 Slate blue and white kitchen featuring Swanbridge by Majestic Cabinets.
Blue and white kitchen with Britannica Matte Countertops
This white kitchen infuses warmth and movement with Brittanicca Warm Matte countertops and features a pop of blue (Dress Blues, Sherwin Williams) for the island. The flowing movement of the white quartz countertop is extended into the backsplash for a stunning focal point. See more of the renovation in the The Hip Suburban's kitchen reveal. Discover more spaces and pairing ideas in our spotlight on Brittanicca, Brittanicca Warm, and Brittanicca Gold™ countertops.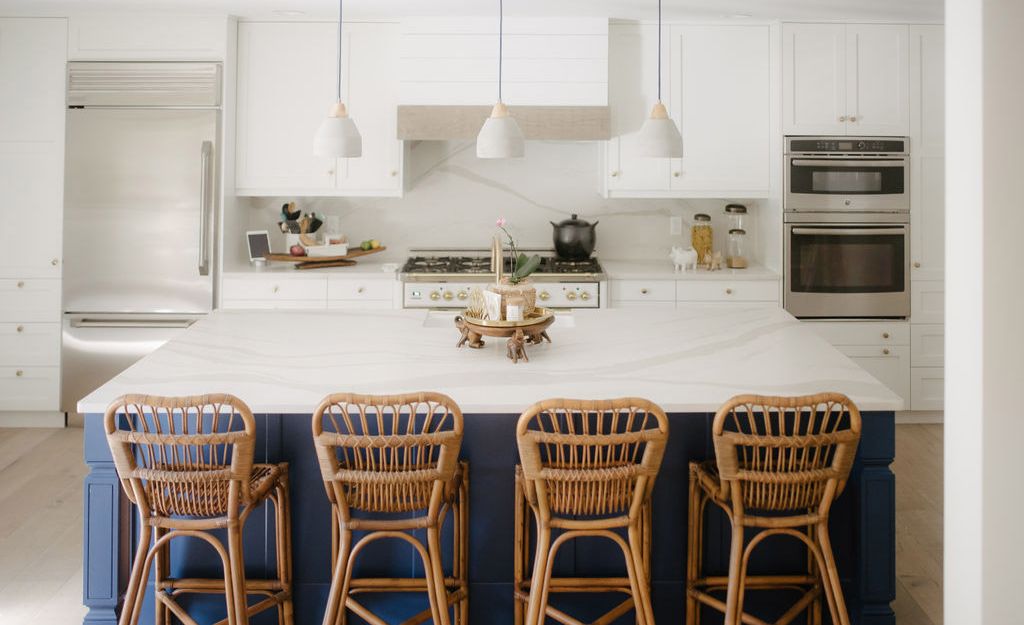 White and blue kitchen featuring Brittanicca Warm Matte™ from The Hip Suburban.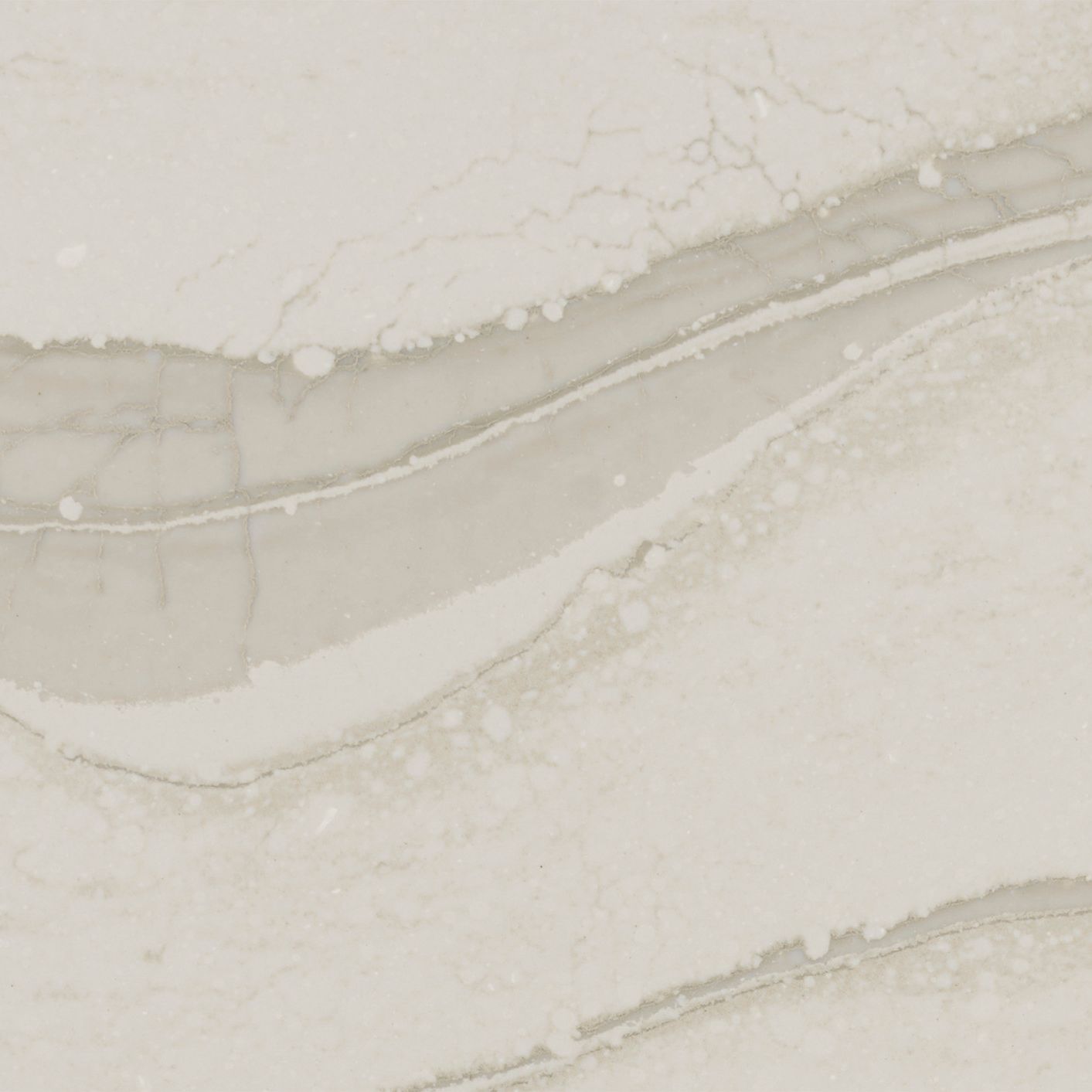 Brittanicca Warm Matte™ design detail
Blue-gray kitchen island with Summerhill countertops
A spacious island with Summerhill, a durable alternative to granite countertops, and blue-gray cabinetry (Gentleman's Gray by Benjamin Moore) makes for a stunning open kitchen, complemented by built-in blue shelving in the great room's living area. See more of the kitchen in our Summerhill design spotlight.
Blue-gray kitchen island with Summerhill™ countertops from John Kraemer & Sons and InUnison Design.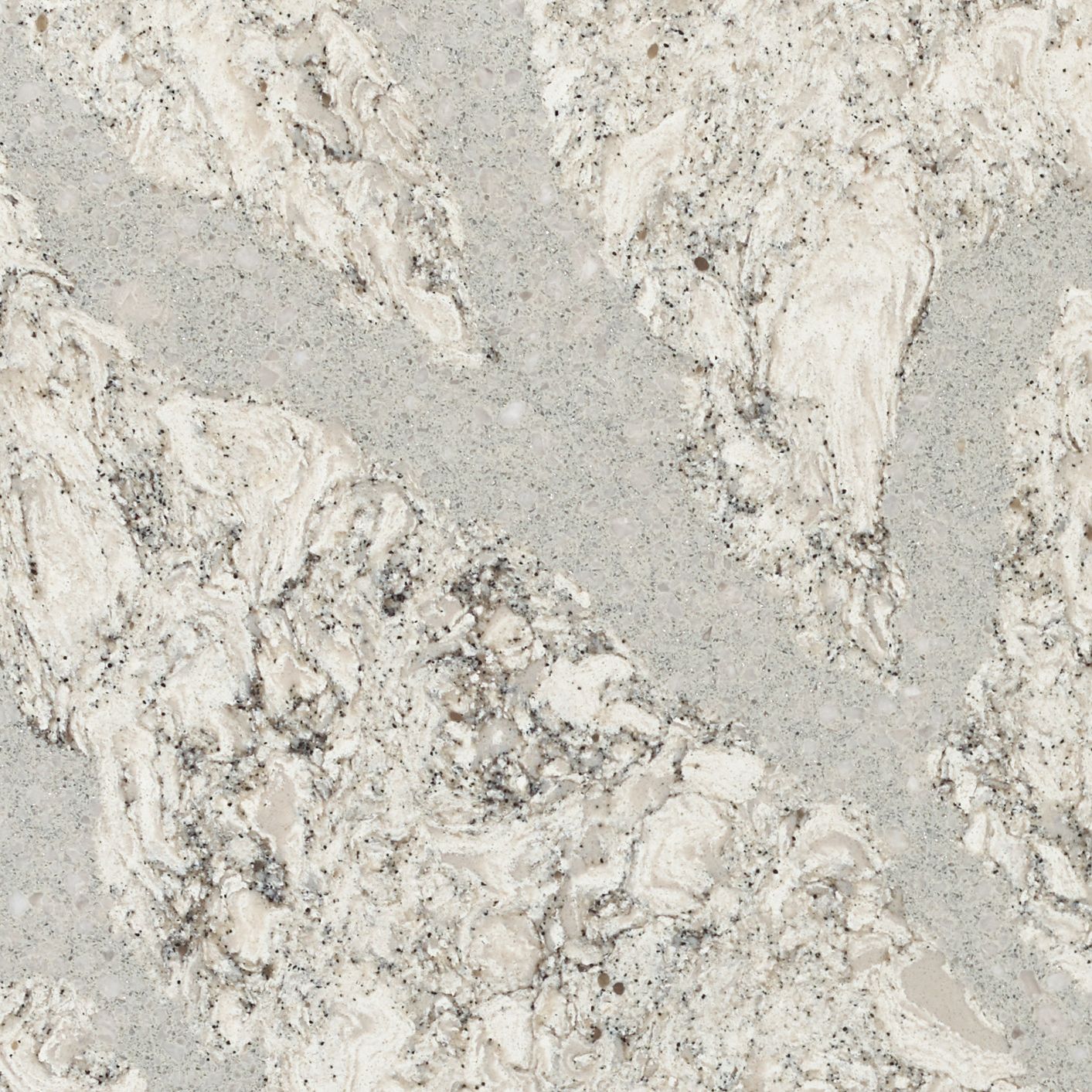 Summerhill™ design detail
Hamptons-style blue and white kitchen with Brittanicca countertops
This Hamptons-inspired kitchen offers subdued coastal style with Brittanicca countertops and a pale, blue-tinged gray kitchen island (Gray Timber Wolf, Benjamin Moore) amid crisp white cabinetry and warm oak flooring. See more in the Cambria Style home tour.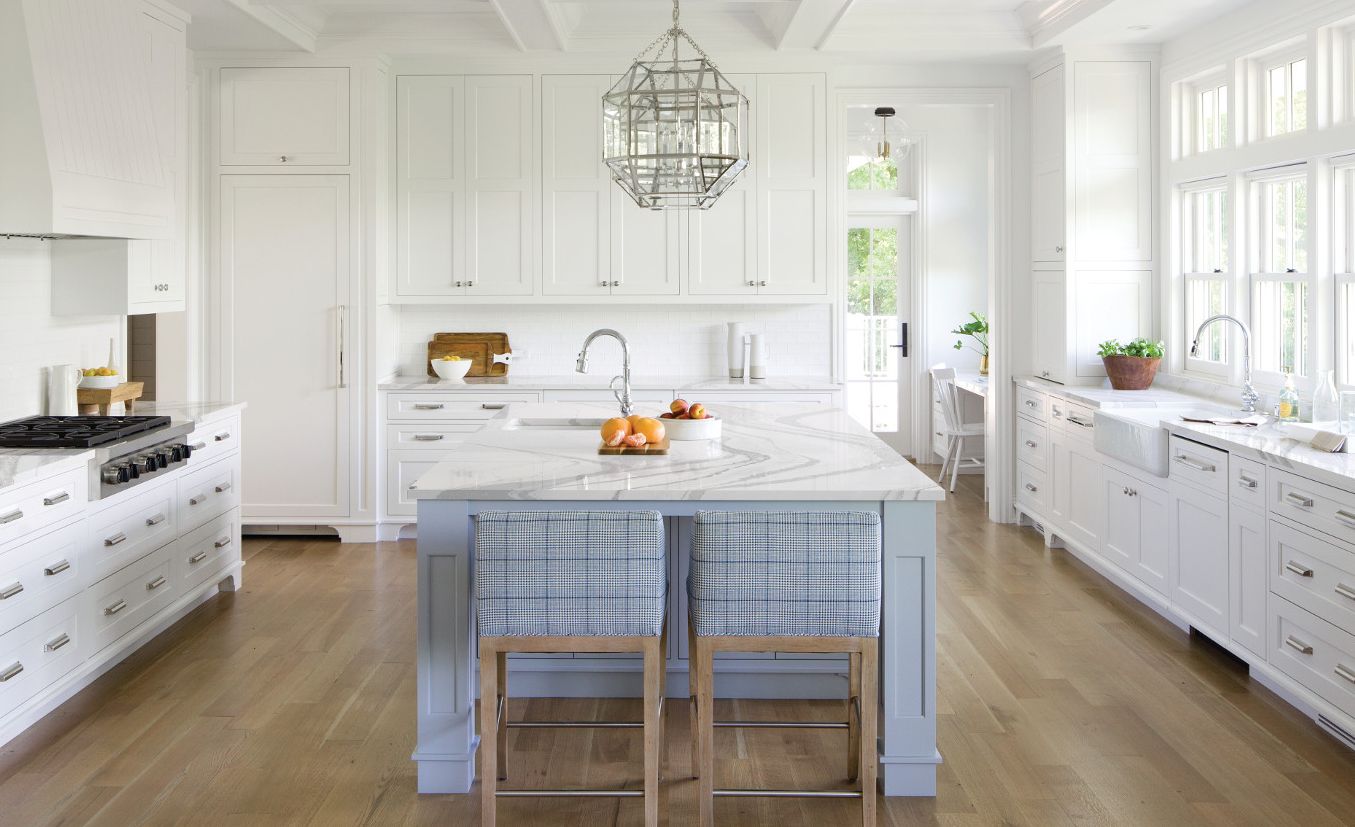 White kitchen with light blue-gray island and Brittanicca™ countertops. Space by Martha O'Hara Interiors,Swan Architecture, and Great Neighborhood Homes,.
Cobalt blue kitchen ideas
Vibrant cobalt blue is a cheery and bold choice for kitchen cabinets, ensuring a space that's full of personality. Contrasting white Cambria countertops are the perfect complement to balance the statement shade.
Cobalt blue and white kitchen with White Cliff countertops
Rich cobalt blue cabinetry paired with White Cliff countertops and striped wallpaper creates a vivid, pattern-happy palette in this kitchen designed by Mark D. Sikes.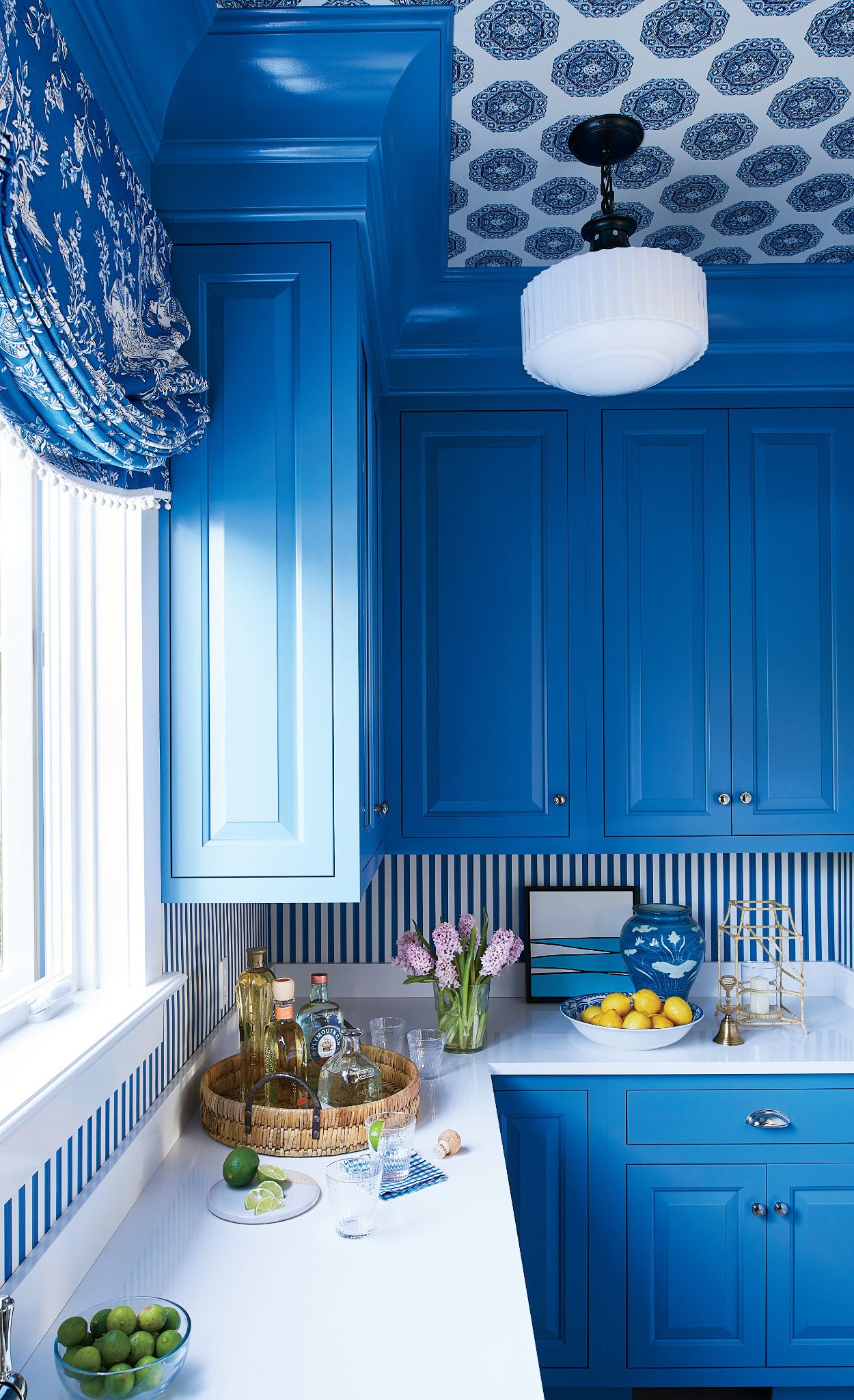 Vibrant cobalt cabinets pair with Cambria White Cliff™ in the 2017 Coastal Living Idea House kitchen. Space by: Mark D. Sikes. Photo by: Amy Neunsinger.
Tiny home kitchen with blue cabinets and Ella countertops
This tiny home kitchen by Movable Roots travels with style and substance. Pairing with bold blue cabinetry, the easy-clean Ella countertops help make the most of a small space.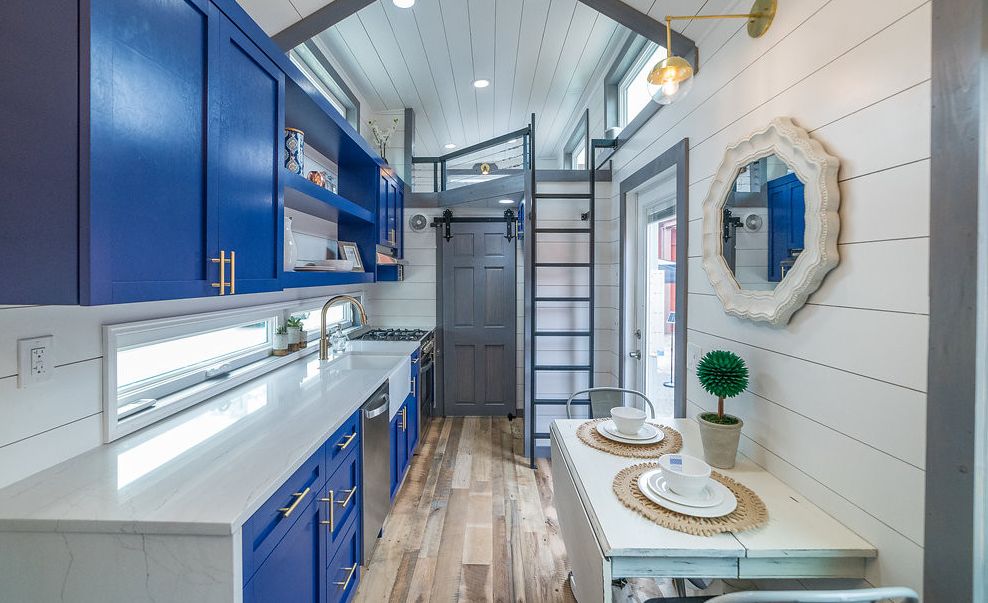 Tiny home kitchen with cobalt blue cabinets, Cambria Ella countertops, and white shiplap ceiling and walls. Space by Movable Roots.
Coastal blue kitchen ideas
Sea-blue shades like aqua, teal, and turquoise are at home in a coastal kitchen with vacation vibes. These kitchens feature Cambria countertops with blue and beach-sand tones to complement light blue cabinetry for distinctive coastal style.
White and pale blue kitchen with Montgomery countertops
Pops of blue and Montgomery countertops add coastal flair to this traditional white farmhouse kitchen. With sea blue and beige swirls on a creamy white backdrop, Cambria Montgomery is the perfect complement to the turquoise backsplash and pale blue barn door and kitchen island. See more kitchen Island ideas to add dimension and contrast to your space.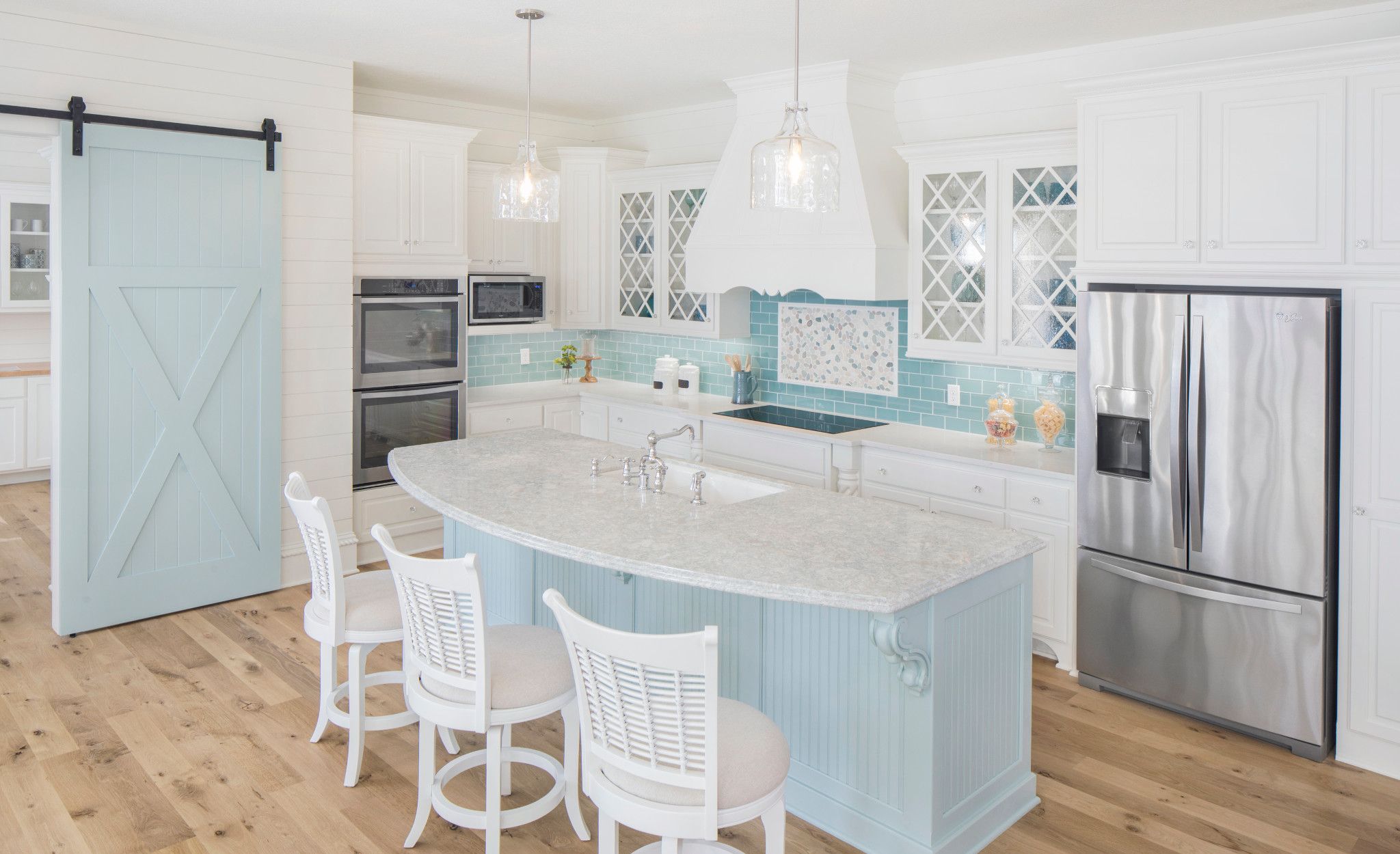 White kitchen with pale blue island featuring Cambria Montgomery™.
Turquoise kitchen island with Kelvingrove countertops
This open-concept kitchen brings in the beauty of the ocean with a turquoise kitchen island and Cambria Kelvingrove. With sea-blue swirls and soothing sandy tones, this quartz countertop design is perfect for bringing a coastal color palette to life. See more of the space in our coastal kitchens roundup.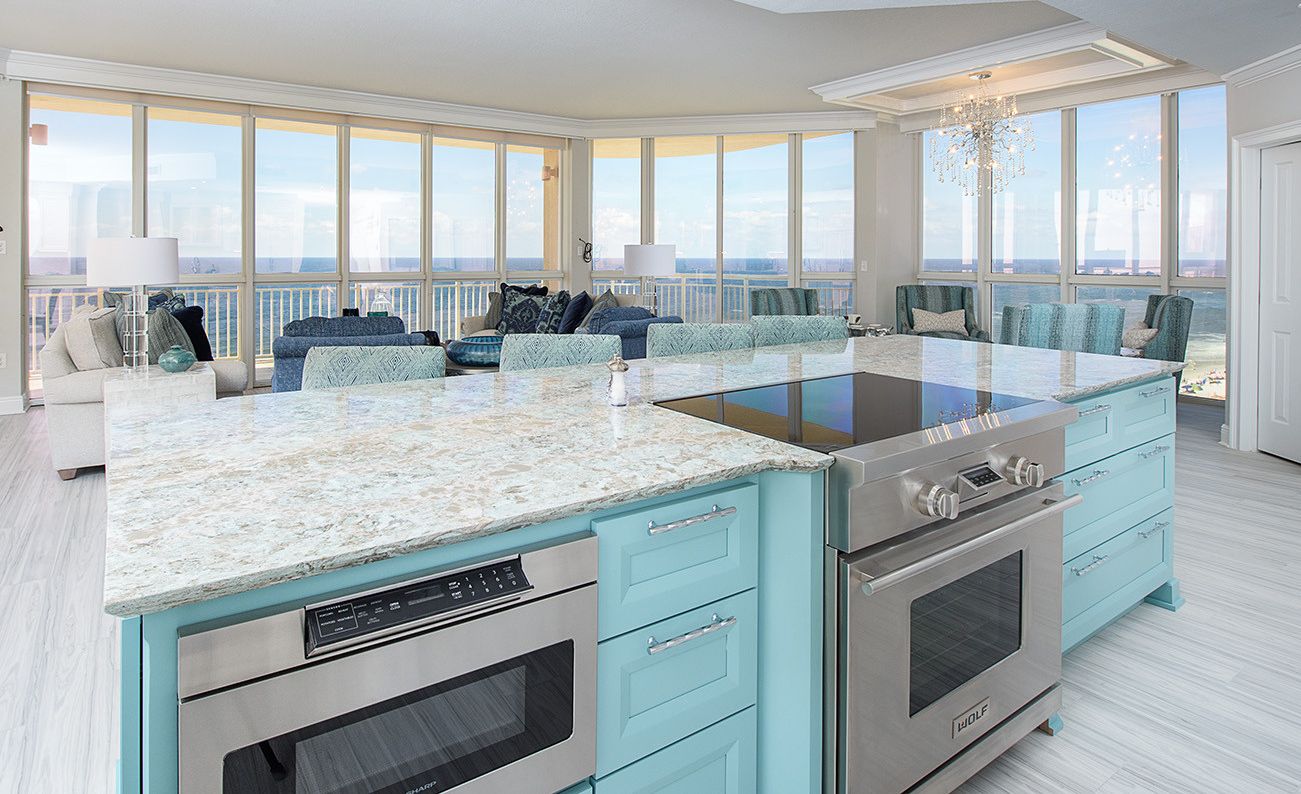 Turquoise kitchen island with Kelvingrove™ countertops. Space by: KitchenScapes. Photo: Tony Thagard.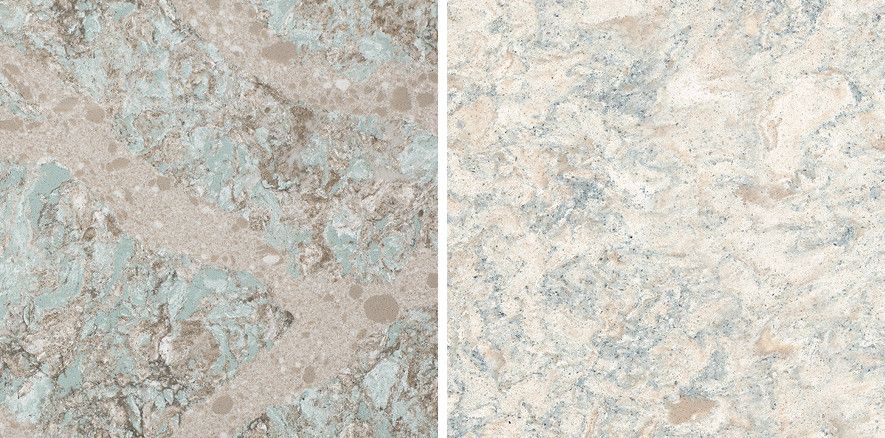 Kelvingrove andMontgomery are gorgeous countertops to pair with turquoise, teal, and other ocean blues for coastal kitchens.
Kitchen ideas with blue quartz countertops
While most blue kitchens rely on the cabinets to contribute the color, making a statement with a blue quartz countertop is an elegant way to set your space apart. These kitchens feature blue Cambria countertops for natural stone beauty with uncompromising durability.
White and blue kitchen with Parys countertops
A dark grayish blue Parys island is a stunning focal point in this kitchen, offering depth, contrast, and subtle shimmer. The white Swanbridge countertops on the perimeter feature charcoal gray veining that complements the sophisticated blue quartz countertop design. Gray walls and backsplash tile complete the look. See the kitchen remodel's before and after from Kitchen Magic. See Parys countertops in this contemporary galley kitchen for another style with this design.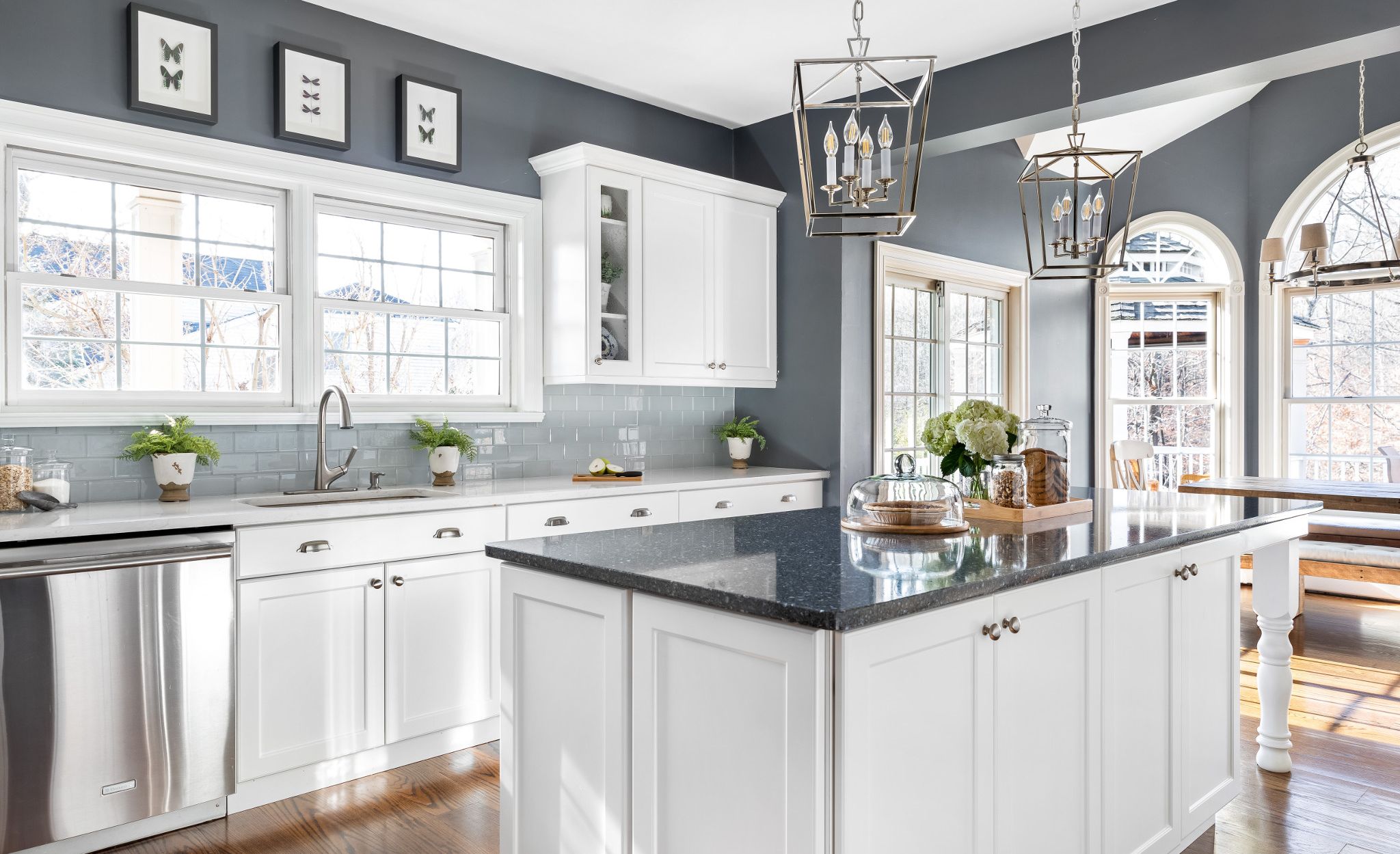 Dark blue kitchen island featuring Cambria Parys™ paired with a Swanbridge perimeter. Space by: Kitchen Magic. Photo: Andy Ryan.
Order a sample to find the ideal hue of blue quartz countertops for your kitchen.
Ideas for kitchens with blue accents
Not sure if you're ready to commit to a blue kitchen, or just prefer smaller doses of color? Blue accents like tile, light fixtures, seating, and even appliances can be an easy and affordable way to experiment with the hue or add a vibrant pop.
Transitional kitchen with Berwyn countertops and blue backsplash tile
This kitchen pairs Berwyn countertops with dark wood and white cabinetry. A double waterfall-edge island showcases the intriguing tones and textures of this maintenance-free granite alternative. A matte blue, glass tile backsplash provides contemporary contrast and color in this sleek space.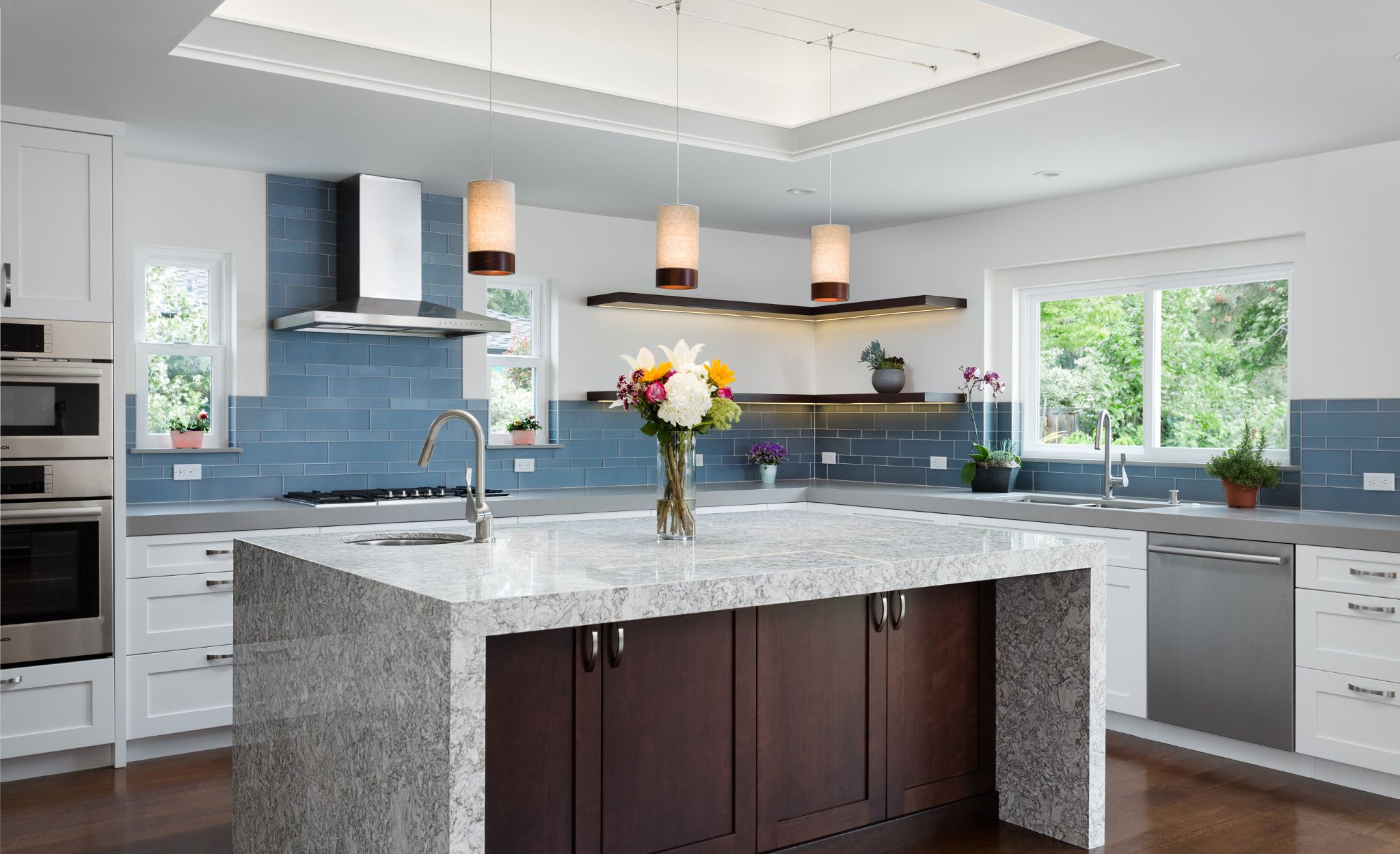 Transitional kitchen with Berwyn countertops and matte blue subway tile. Space by: Timeline Design + Build.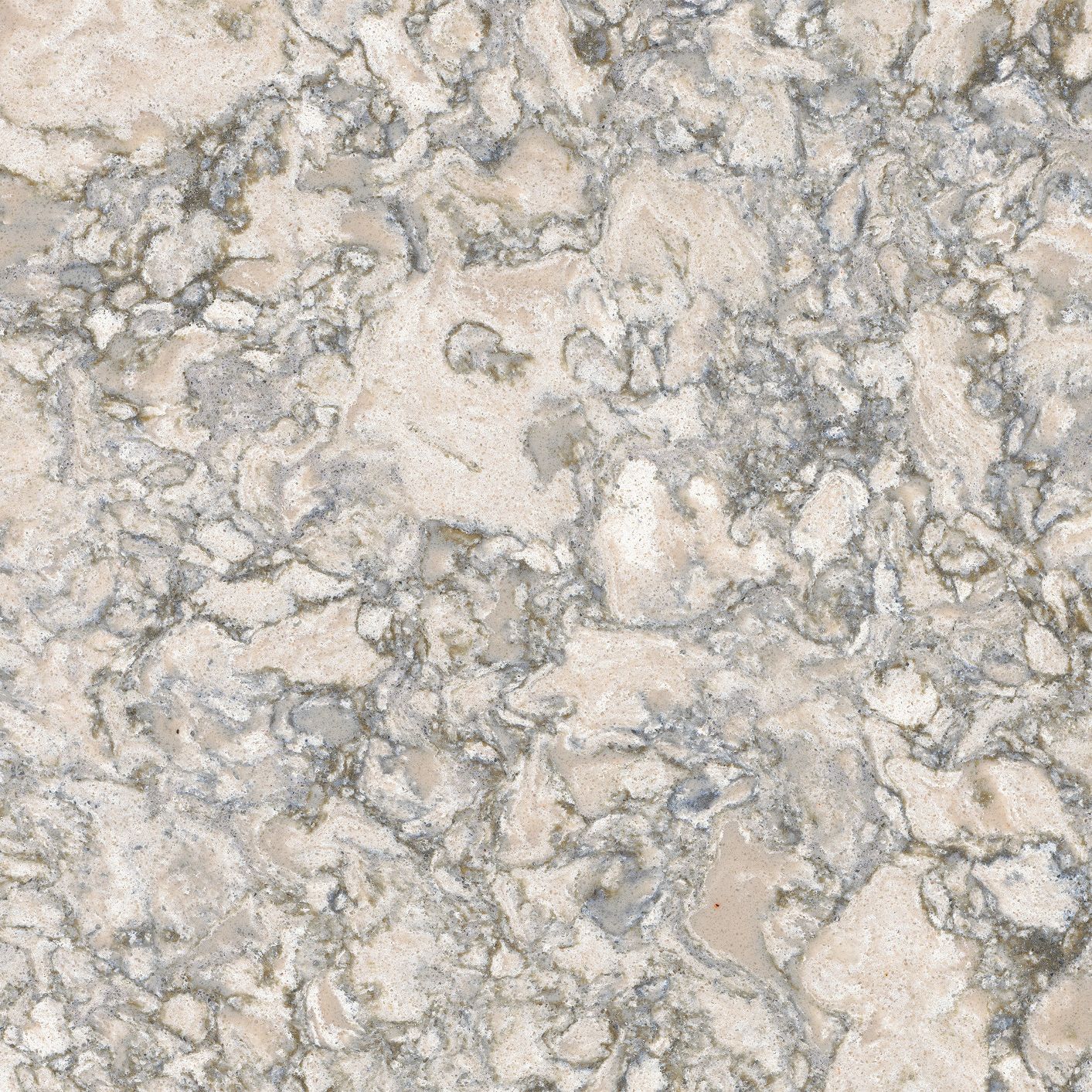 Berwyn design detail
White kitchen with Brittanicca countertops and light blue range
Sometimes the perfect pop of color can come from an artfully-selected appliance. The colorful appliance trend is on the rise and this blue and white kitchen proves why. Brittanicca countertops paired with a baby blue range from La Canche create flawless kitchen glamour.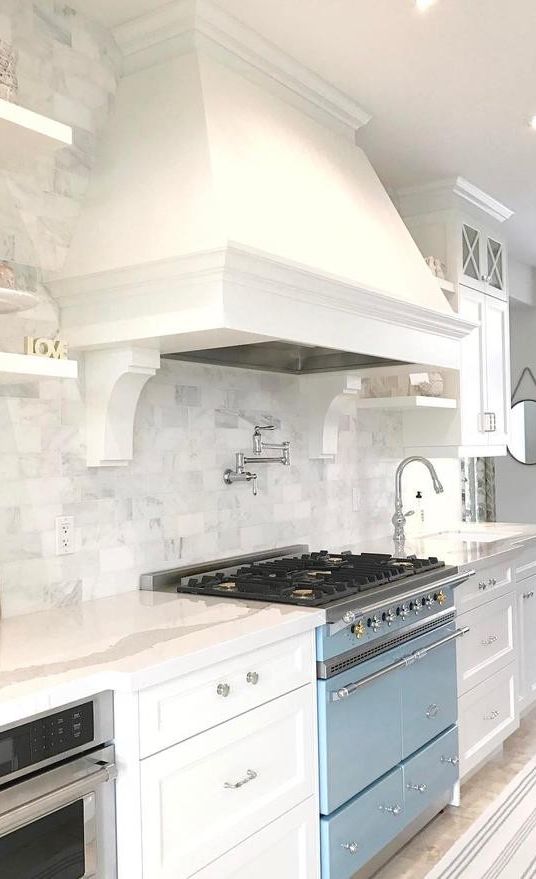 White kitchen with Brittanicca countertops and light blue range. Space by: Credentialless.
Gray kitchen with Berwyn Matte countertops and blue appliances
This gray kitchen from Nixon Pack makes a statement with Berwyn Matte countertops and cobalt blue appliances. The pop of bold blue pairs well with the heathery gray and silver tones of the granite alternative countertop. See another blue space from the Nixon Pack team in our blue bathroom roundup.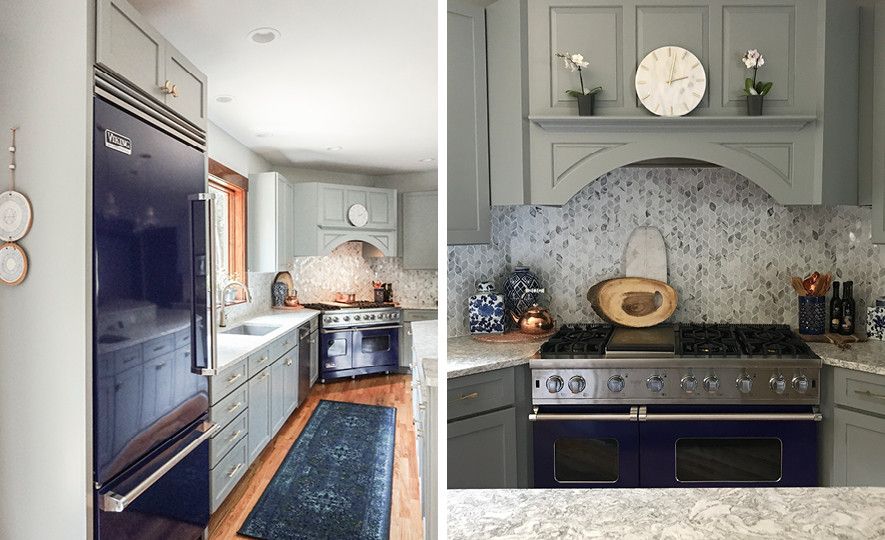 Gray kitchen featuring blue appliances and Berwyn Matte™ countertops. Space by: Nixon Pack.
Weathered wood kitchen island with Brittanicca and blue stools
Blue kitchen island stools bring in a pop of coastal color at this spacious kitchen island featuring Brittanicca countertops and weathered wood cabinetry. See more wood and white kitchen ideas.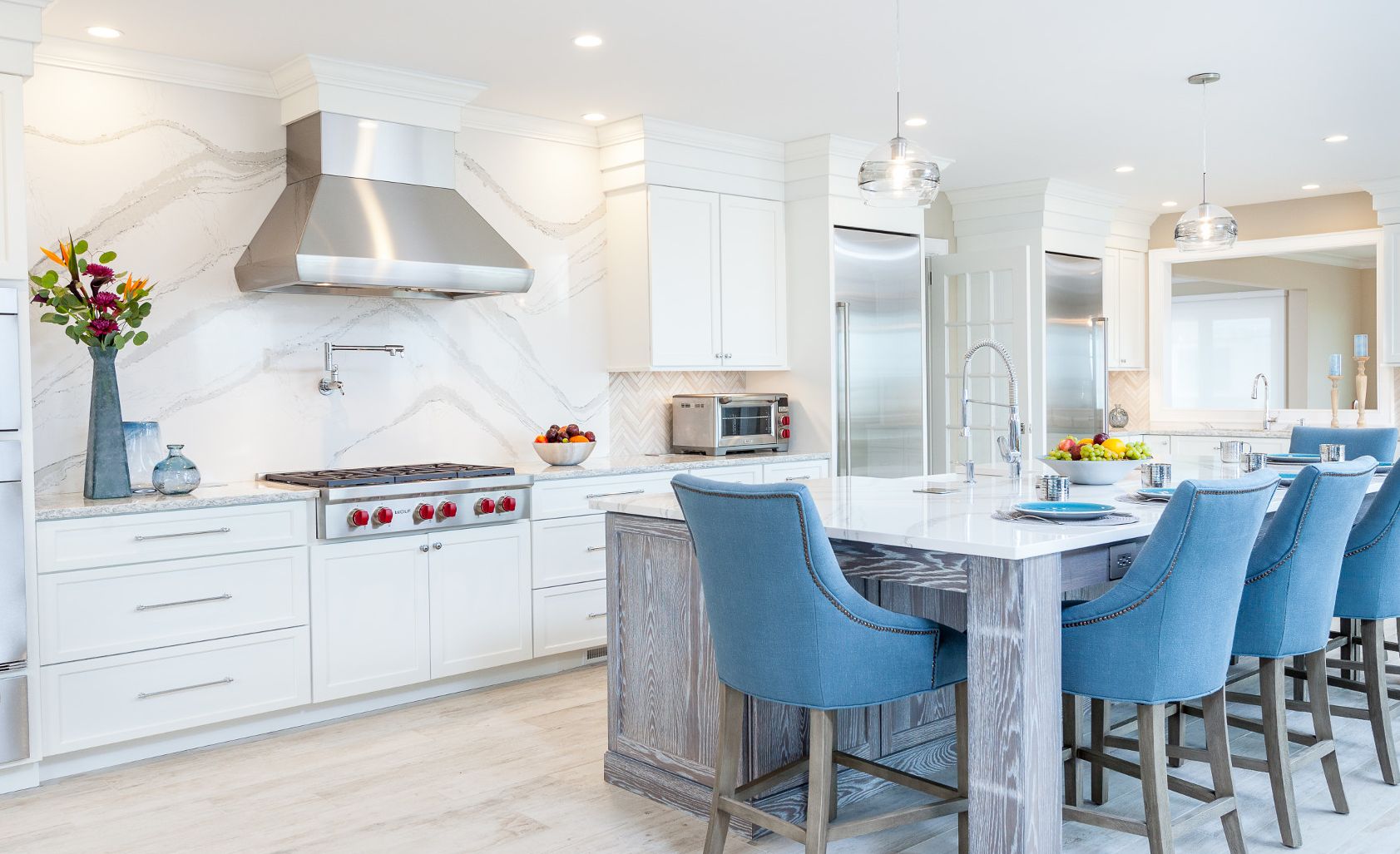 Weathered wood and Brittanicca kitchen island and backsplash with blue stools. Space by EL Design Studio.
White kitchen with Swanbridge countertops and matte blue pendant lights
Kitchen island lighting is an unexpected but high-impact place to showcase a pop of blue.
Matte blue pendant lights, Swanbridge countertops, white shaker cabinets, and a plaid pearl tile backsplash pair up for refined coastal style in this bright and airy kitchen from Bria Hammel Interiors. Find out Bria Hammel's principles for creating a beautiful, functional kitchen in her guest blog. See another space with a pop of blue pendant lights in our kitchen island roundup.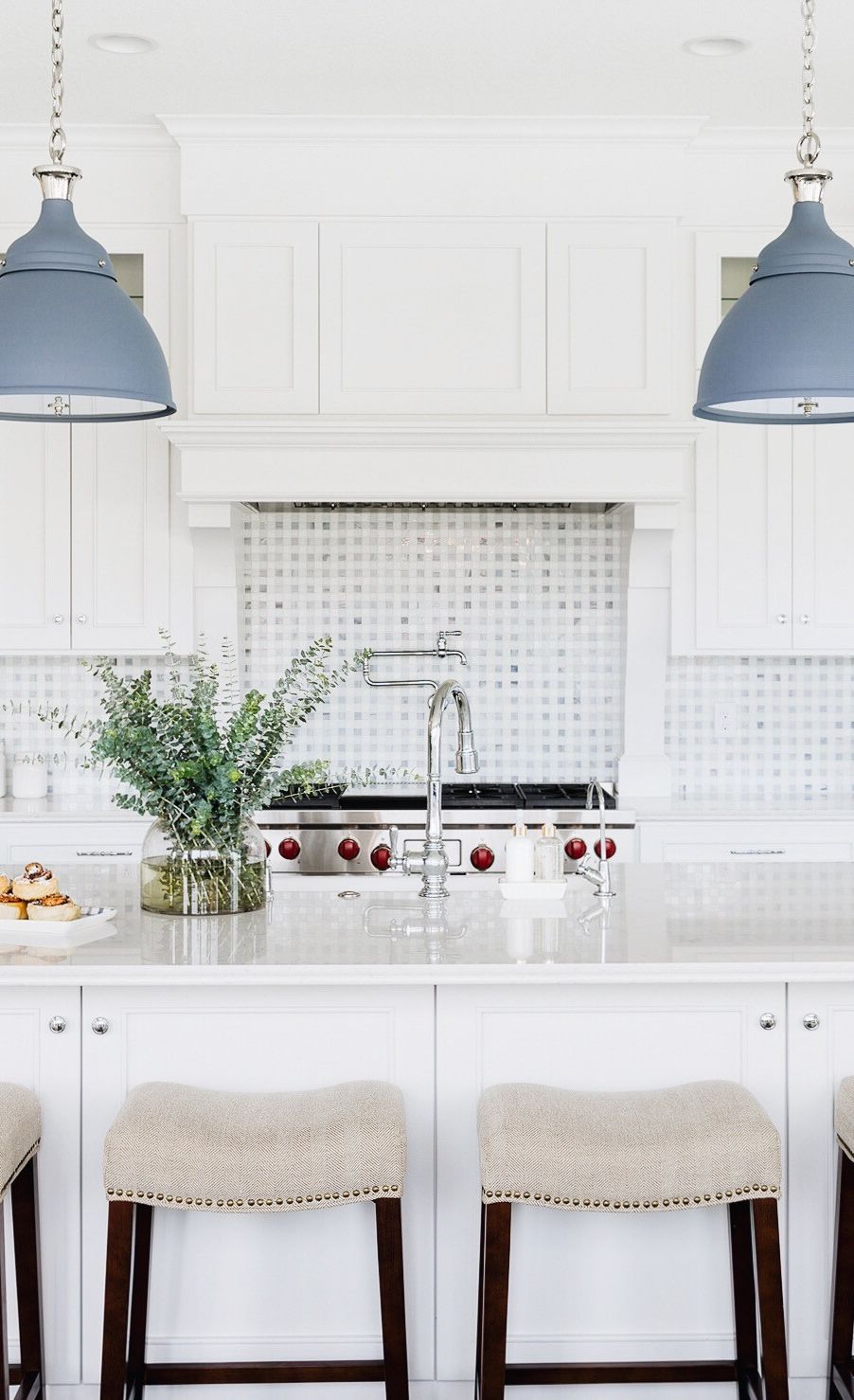 White kitchen with matte blue light fixtures and Swanbridge countertops. Space by Bria Hammel Interiors and Divine Custom Homes. Photo: Spacecrafting.
Bring your colorful kitchen plans to life
Are you swooning over a certain blue kitchen? Pull together your moodboard by ordering samples of the Cambria countertops featured in your favorite looks. Get in touch with a dealer near you when you're ready to start your project.
Want to carry your love of blue into other spaces? Check out this dreamy (and dog-friendly!) blue laundry room and some of our favorite blue bathroom ideas.
Considering other kitchen colors? Take a look at our ideas for kitchens with green cabinets and advice for designing a gray kitchen.