Hey guys! Morgan and Jamie Molitor here from construction2style. We are excited to be back on Refine + Define talking through the benefits of using Cambria countertops over granite.
When working with our clients, we always start with sourcing selections before we ever give a construction bid. Why? Because it's impossible to give a construction bid before knowing what design we're doing and which finishing selections we're putting into the space. It's also impossible to know what selections to put into a client's home without getting to know them, how they use their space, and educating them on the different pros, cons, and values of brands, products, and finishings.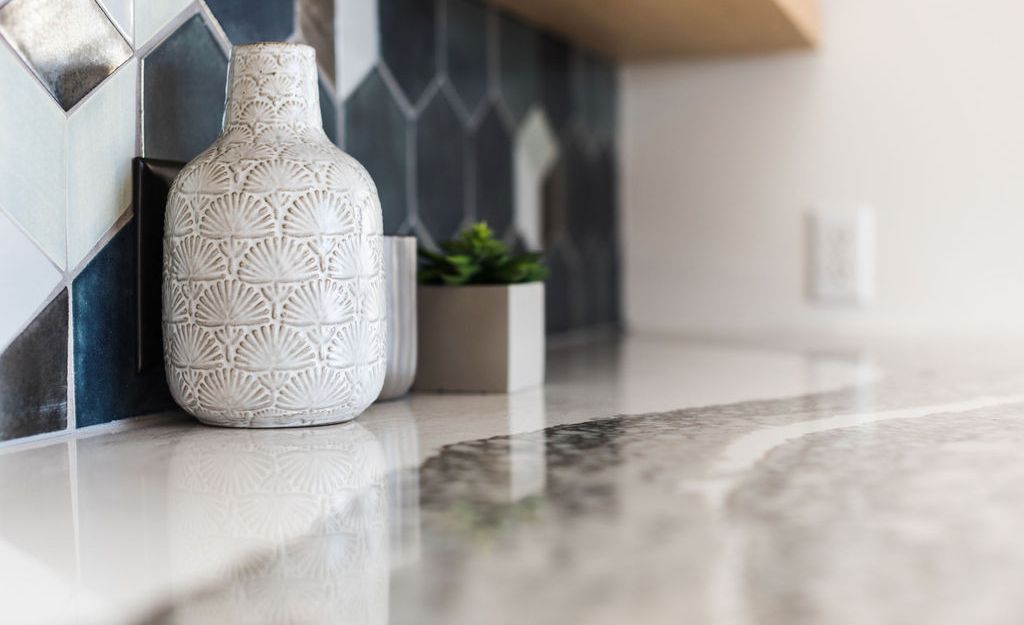 Detail view of a recent project featuring the gorgeous Skara Brae™ design.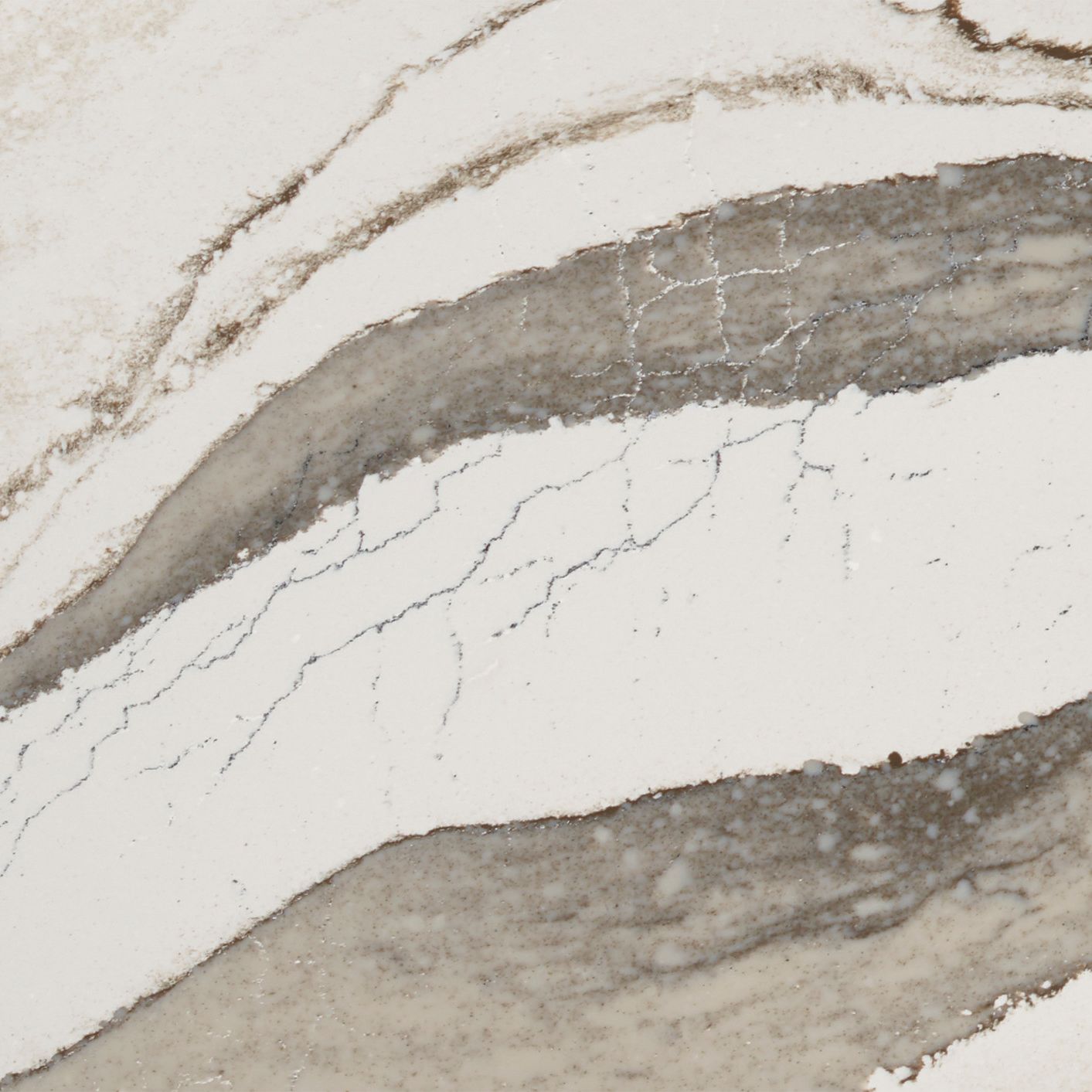 Cambria Skara Brae design detail
Granite vs. Cambria countertops
A common thing we see with clients is someone saying they want granite countertops when they really just mean they want stone countertops. Or they may use the terms granite, quartz, and marble interchangeably. We understand that it can be confusing, but it's important to review the pros and cons of countertop choices to find the right surface for your space. There are distinct differences between Cambria and granite (as well as marble) as the comparison chart shows below.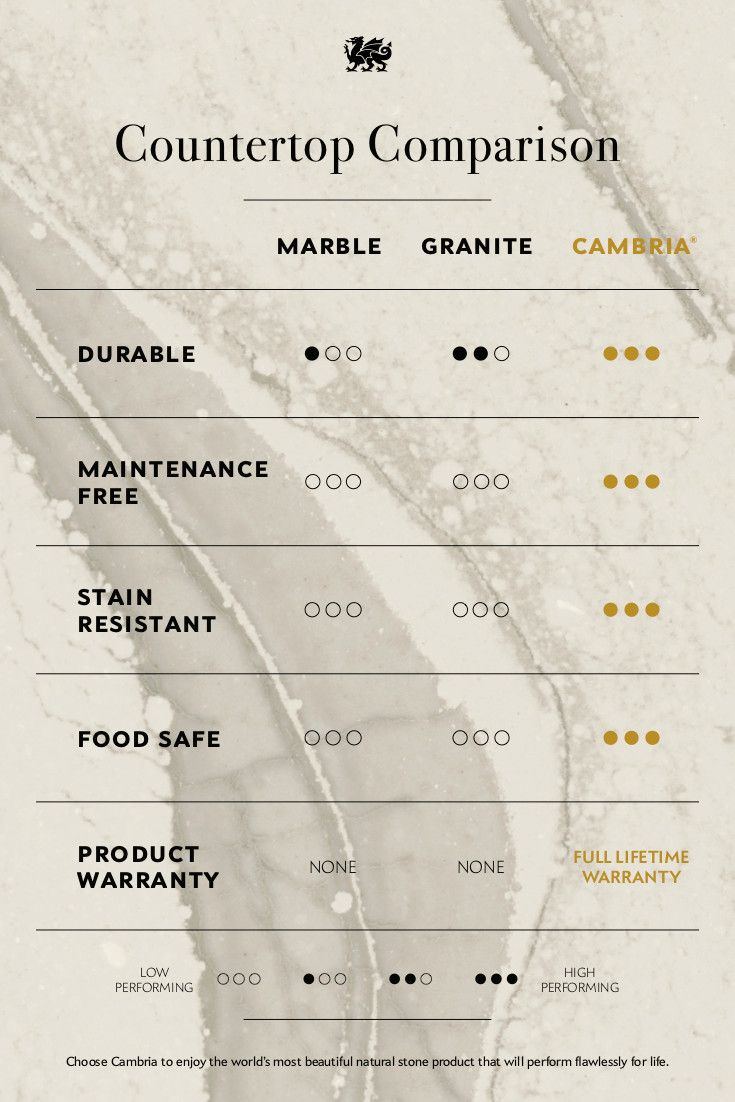 Cambria vs. granite vs. marble
When it comes to countertops, we always recommend Cambria, which is made from durable, natural quartz. Not only do we love the clean, high-end look of all the Cambria designs, but most importantly, we love the benefits. Here are the top reasons of why we choose Cambria over granite when it comes to our own home and our clients.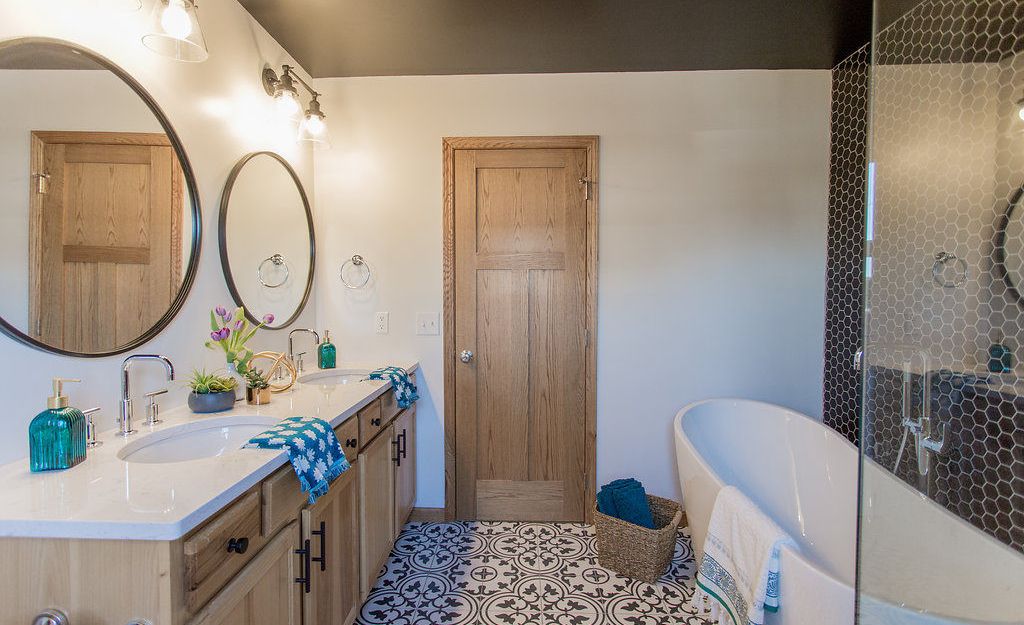 Farmhouse bathroom remodel featuring Swanbridge™ countertops.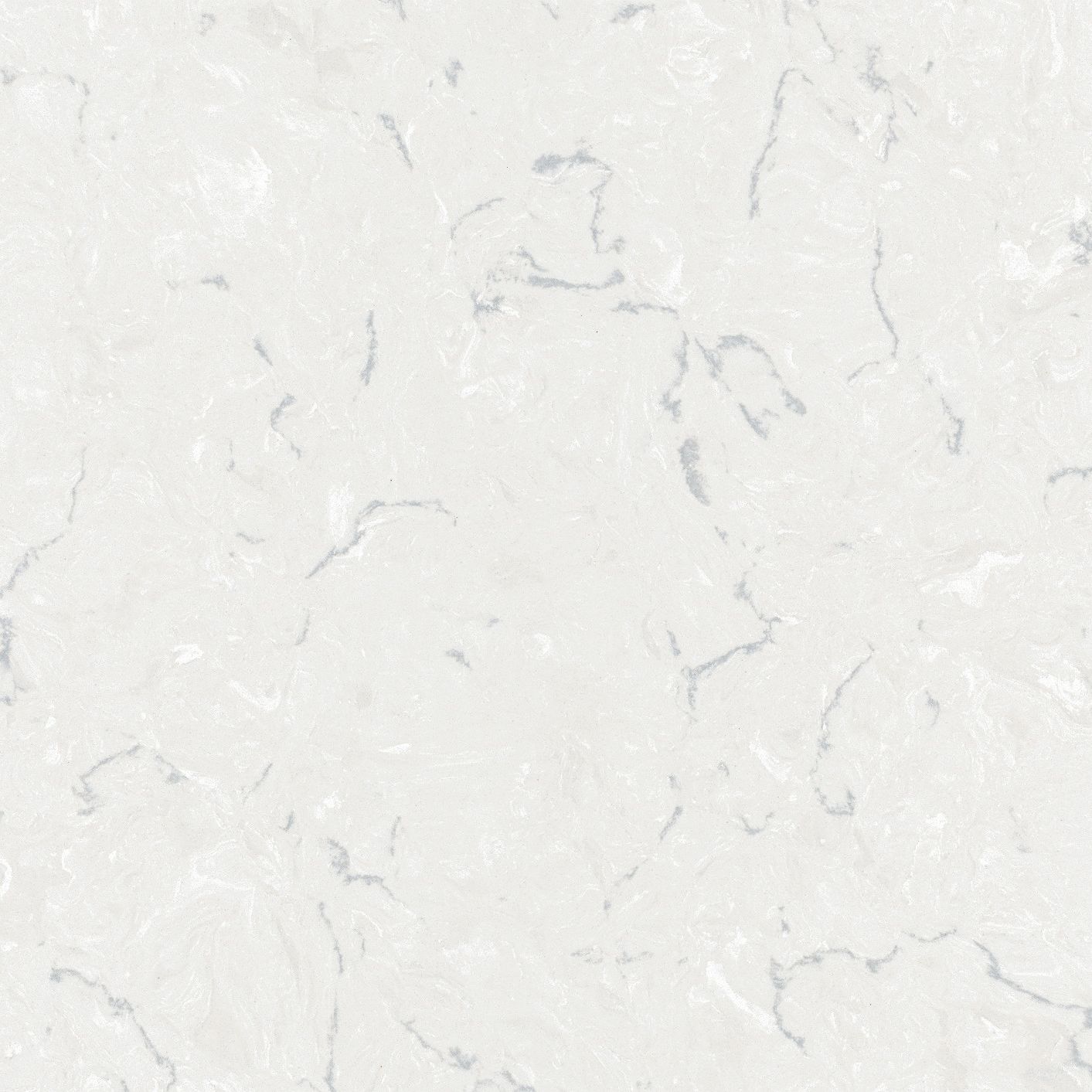 Cambria Swanbridge design detail
No maintenance
My favorite thing about Cambria is that it is nonabsorbent. It's very rare that we install granite, but when clients persist, we remind them that they will have to seal it regularly. More than likely, they'll forget to seal their countertops and once they forget, all that chicken juice will seep through their countertop growing mold and other bacteria, and they will eventually need to replace their counters. Cambria is maintenance free and requires no sealing or polishing since it is nonporous, which we love. If you love the look of granite, but want a maintenance-free option like quartz, check out these beautiful alternatives to granite.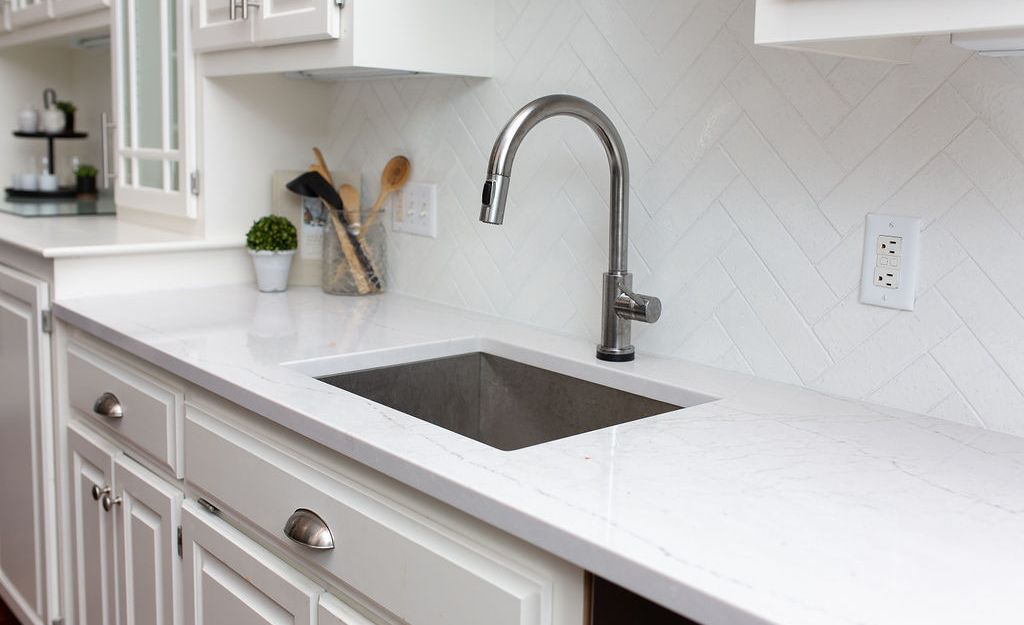 Ella™ countertops are durable, easy-clean, and elegant.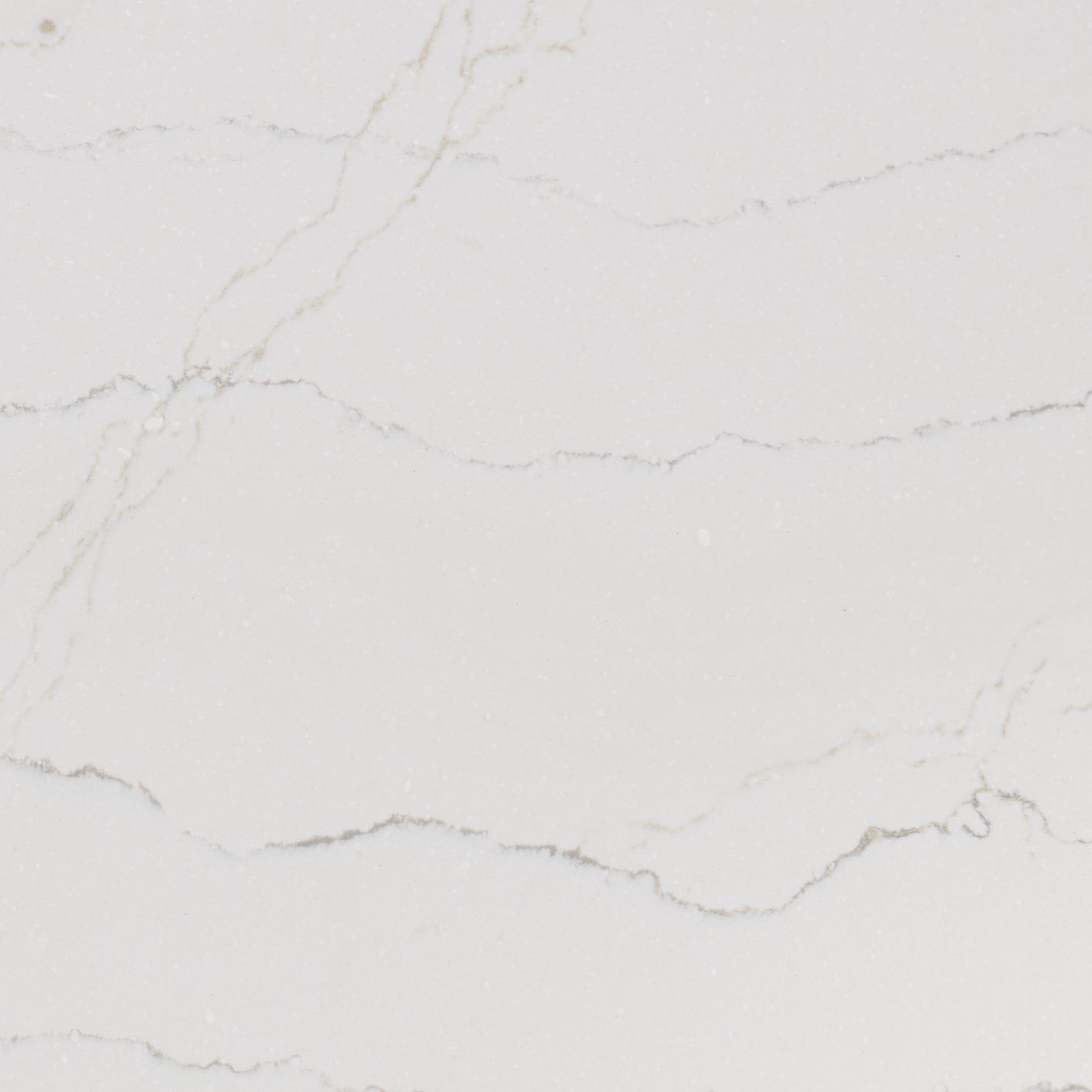 Cambria Ella design detail
Say goodbye to chemicals!
With Cambria, it's as easy as simply wiping the surface clean with a cloth and water, so there's no need for soap or bleach. We've loved that in our home, so we've incorporated Cambria in our kitchen and basement bar and have said goodbye to all of our countertop cleaning chemicals! This is a huge benefit to us because our boys are always up on the counter with us, helping us cook and bake, so we love that we don't have to use chemical-filled products to clean our countertops. Read more about our home kitchen remodel with Delgatie Matte.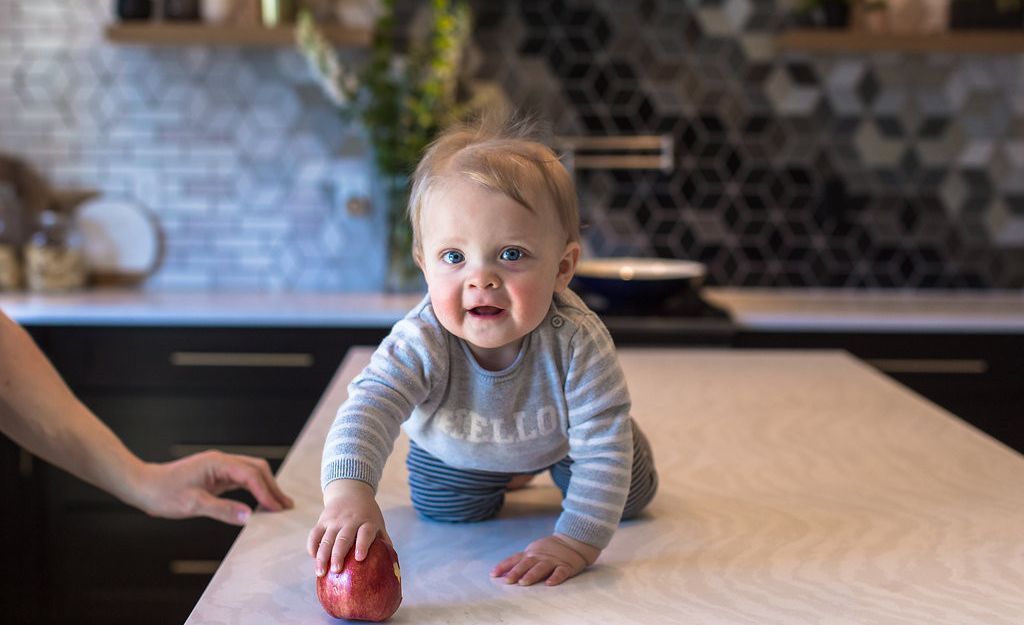 Our Cambria countertops are durable, easy-clean, beautiful, and kid-proof! Featured design: Delgatie Matte™.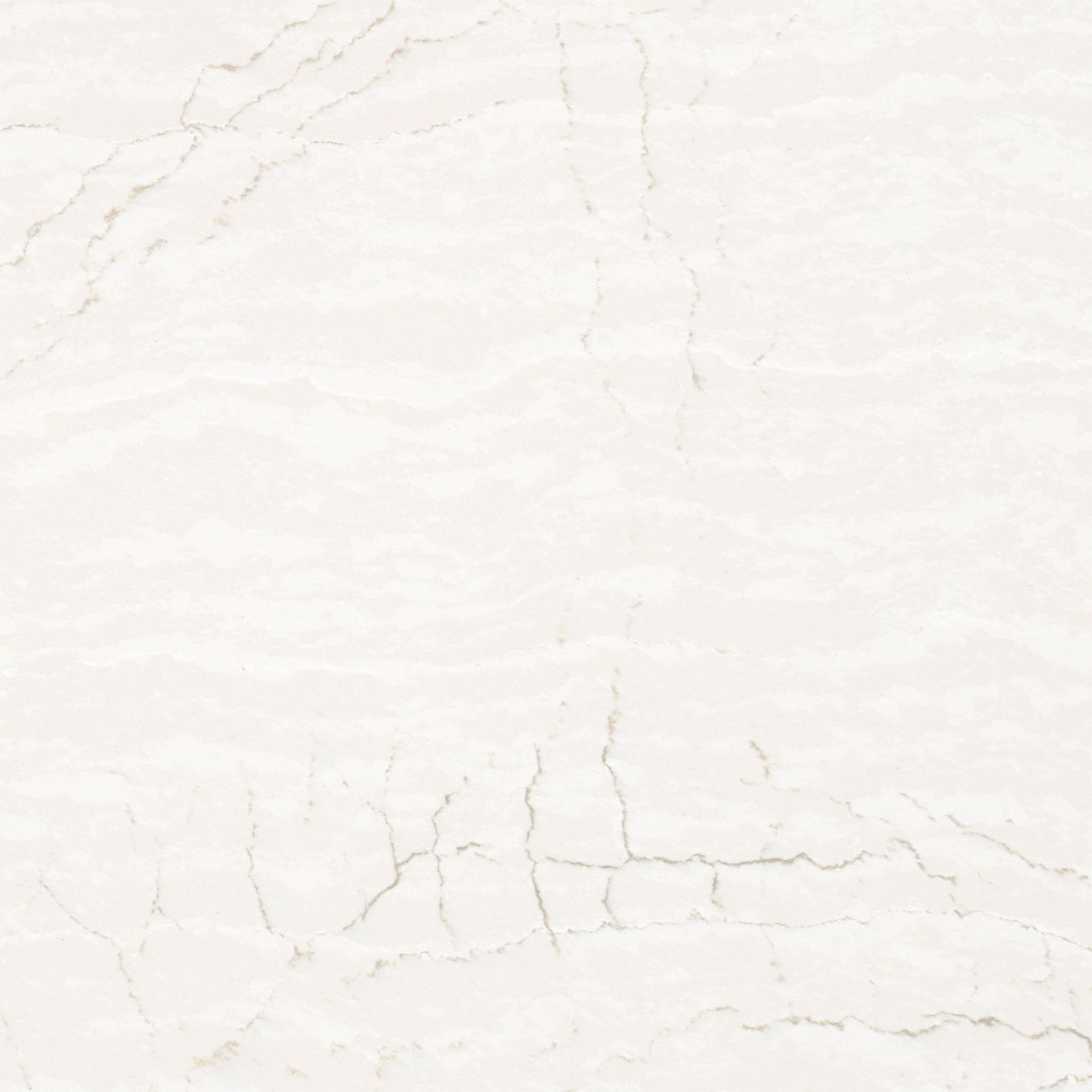 Cambria Delgatie Matte design detail
Lifetime peace of mind
Cambria surfaces are backed by a transferable Full Lifetime Warranty to ensure you enjoy years and years of flawless service. Our clients are always thinking resale, whether or not they are moving. Even if you sell your home, that warranty carries over to the new homeowners. Giving your new homebuyers that peace of mind for a top-of-the-line countertop is priceless.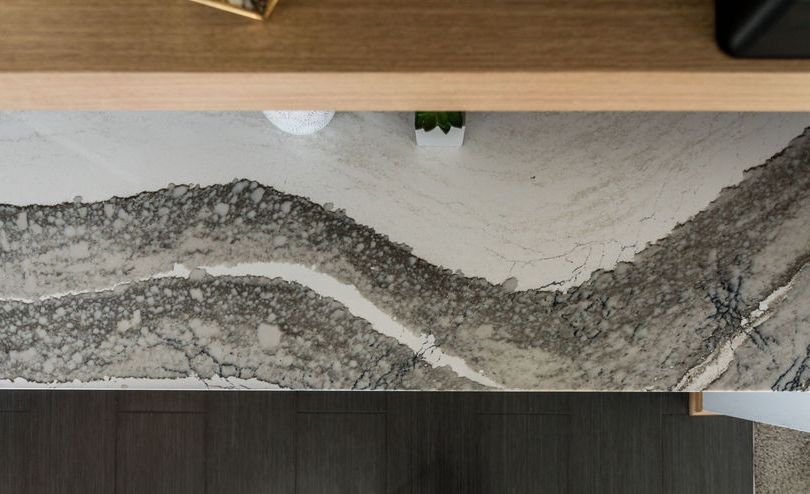 Overhead view of our project featuring Skara Brae countertops.
Clean and timeless design style
Another aspect we love when it comes to Cambria is the timeless designs. Whether you're looking for a granite aesthetic, a marble-look countertop, a clean and modern design, or a bold pattern, they have it all. Our clients have a wide range of design styles and we appreciate that we can recommend Cambria and they can find a design that they truly love for their home.
This space features bold Ellesmere countertops for a dark granite look to contrast white cabinetry and gray subway tile. (See more of our countertop and backsplash ideas to make the perfect statement in your space.)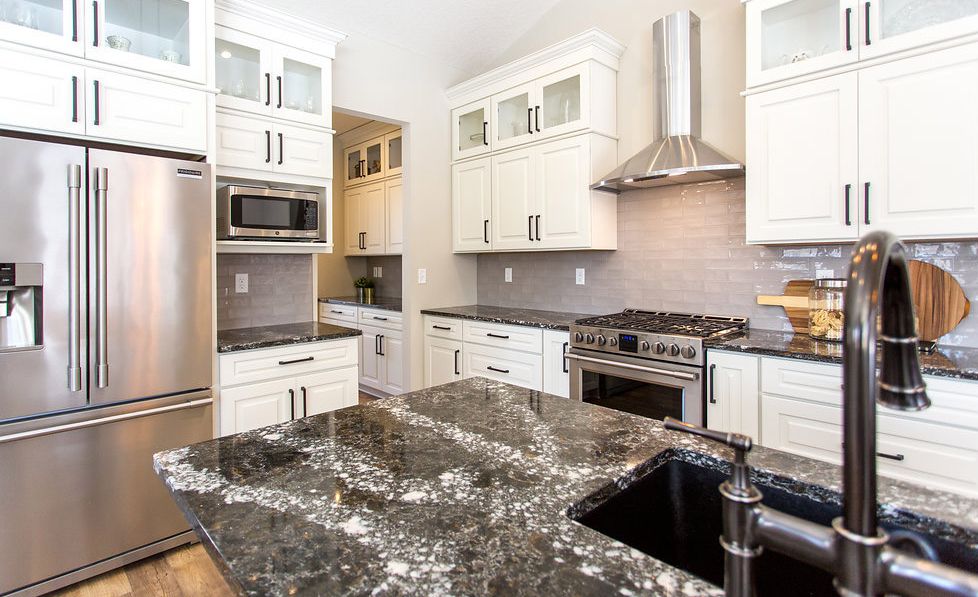 Ellesmere™ countertops add beauty and dimension to this modern farmhouse kitchen.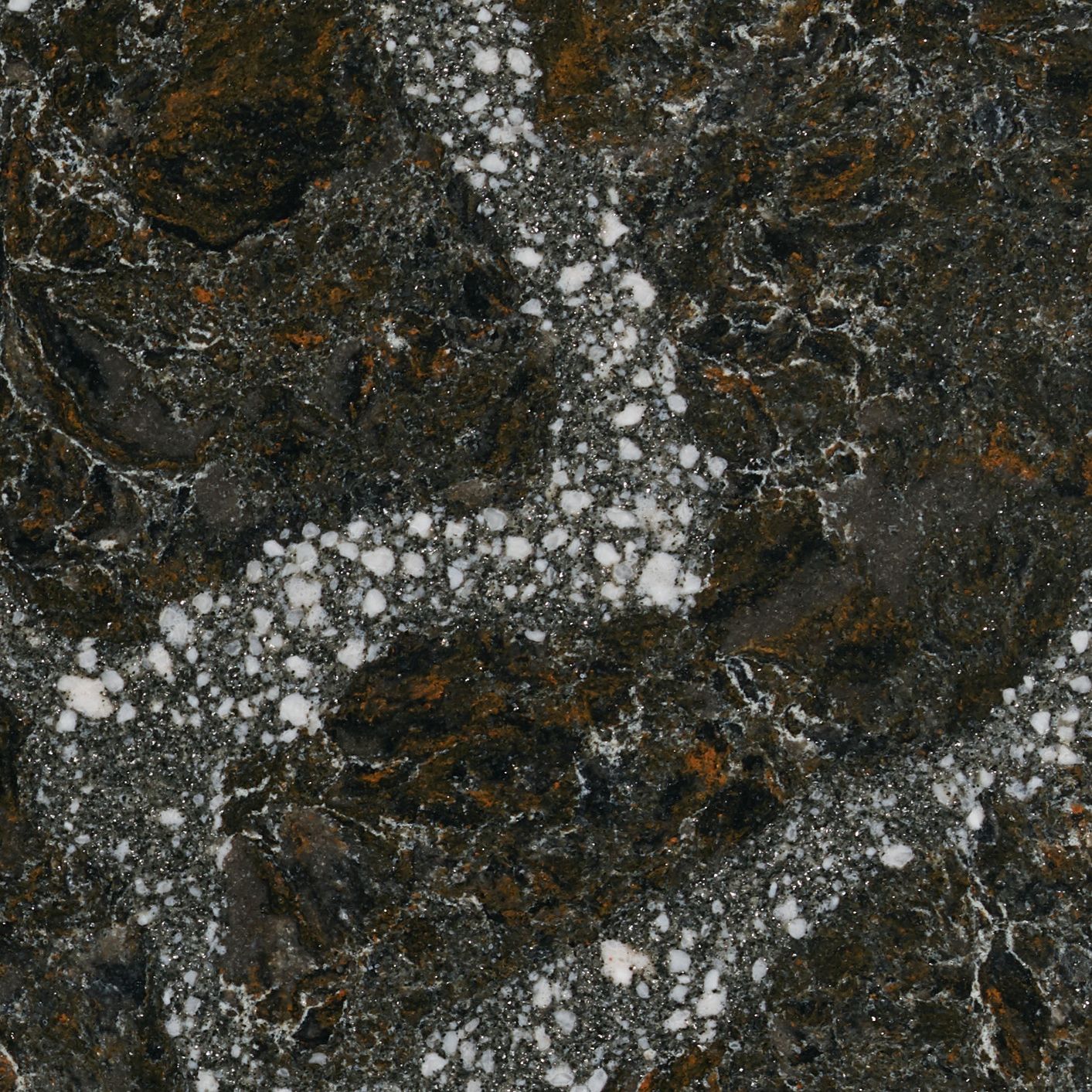 Cambria Ellesmere design detail
Customer service
Our clients are always wowed by the level of detail and attention that goes into their customer service during install and beyond. At the end of our projects, one of the best praises we get is about the install of the Cambria countertops and how professional the installers were. When companies go above and beyond with our clients, it always makes a lasting impression for us and Cambria is definitely a company that has excellent customer service every step of the way. After installation, Cambria's customer service representatives are a simple phone call away to answer to any questions that may arise.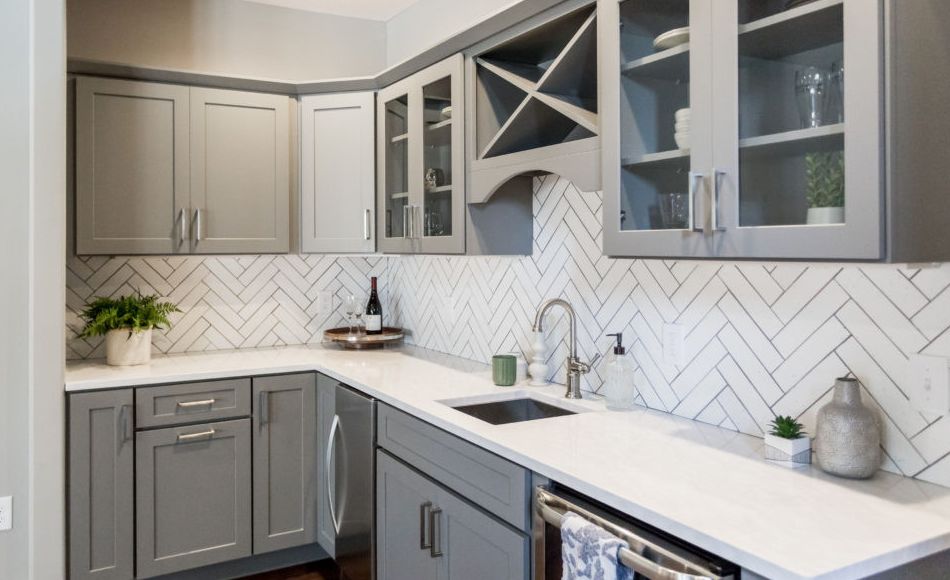 Delgatie™ countertops pair with herringbone tile in this chic gray and white kitchen remodel.
Finance options for your kitchen remodel
A kitchen remodel is a big investment, but it's well worth it when you choose materials that will last for a lifetime. Cambria's timeless designs will not only ensure you love your space, but they will also appeal to homebuyers if you plan to sell for a great return on investment. If budgeting is holding you back, we recommend our clients check out Finance by Cambria, which can help you jumpstart your remodel by spreading out payments.
We hope we've helped you narrow down what's important to you in your countertop selections. Check out this Cambria vs. granite page to learn more and find out the top five reasons to replace your countertops. You can connect with us on Instagram at construction2style.