The Kips Bay Decorator Show House Palm Beach is an annual exhibition in which every room of a spacious estate is transformed by top interior designers. With proceeds benefitting the local Boys & Girls Club, this event inspires industry professionals and design lovers alike with cutting-edge ideas and trendsetting style. One of the highlights of the 2019 Kips Bay Palm Beach house was a luxe baker's kitchen featuring an old-meets-new sensibility and innovative blend of three Cambria designs.
Dive into the details of this stunning space from inspiration to execution with insight from the designer, Vasi Ypsilantis of Vyda Fine Interiors.
Kips Bay Palm Beach Bakers Kitchen Ideas for Remodeling
Ypsilantis was inspired by the idea of old-world elements made modern, while still complementing the aesthetic of the Mediterranean style Palm Beach home. "I wanted to show the modern movement in interior design without making the space feel as if it did not belong in the home," she says. "All of the aspects of the design were old themes shown in a new way or with a modern element adorning it."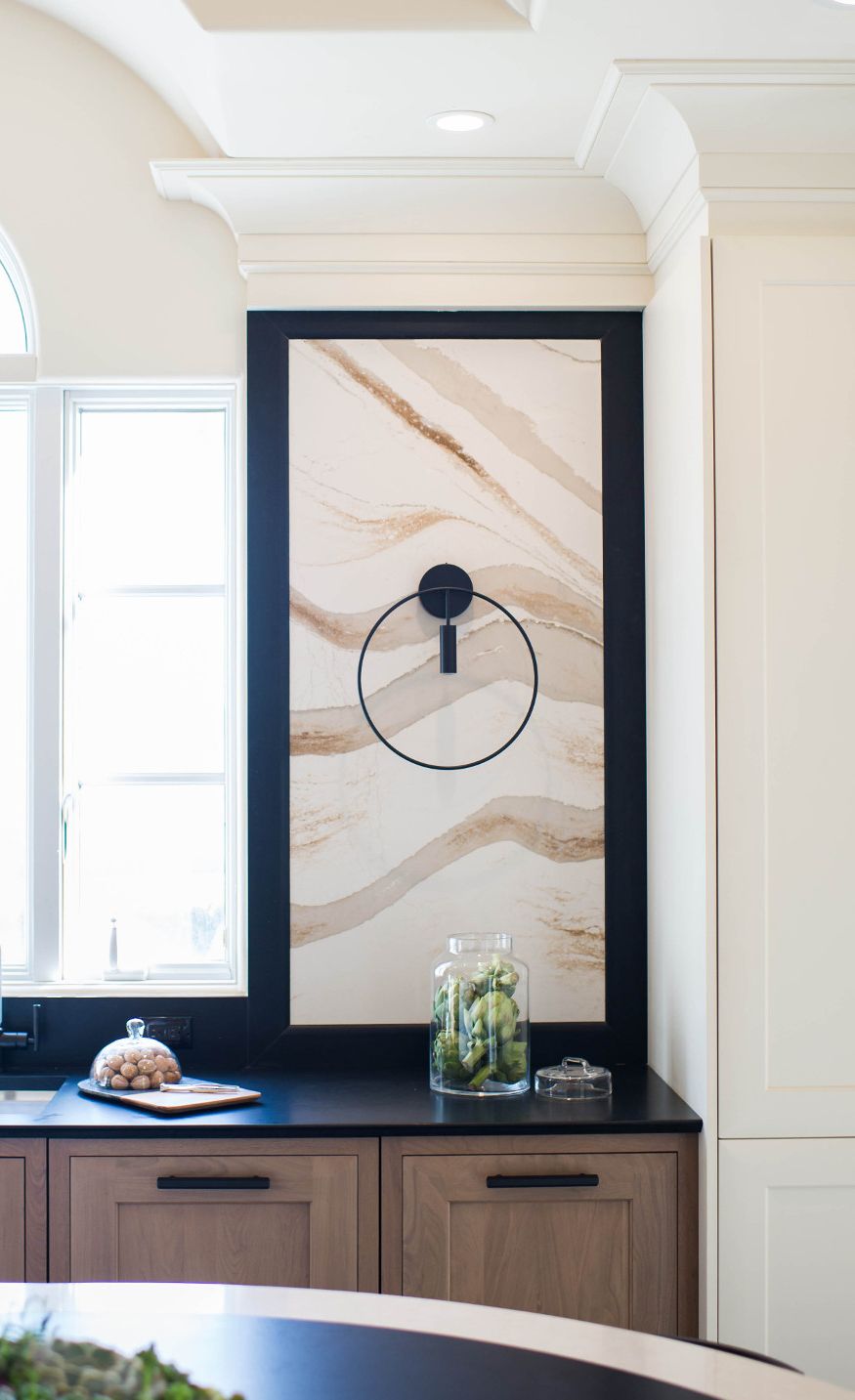 Contemporary sconces adorn custom Brittanicca Gold™ wall panels framed by Blackpool Matte™.
Some of the examples of this old-meets-new mix include a modern chandelier paired with an old-style groin vault ceiling, contemporary sconces placed on Beaux Art-inspired framed Cambria wall panels, and modern matte black mixed with warm, earthy neutrals.
"My goal was to create a complicated design that seemed simple and effortless, a place that felt comfortable and elegant at the same time," says Ypsilantis. "I wanted my design work to be appreciated by my peers and understood by people who are not experts in the design industry. I think this space achieved both."
Kitchen color palette incorporating three Cambria designs
Ypsilantis had a certain color palette in mind featuring modern black hues and earthen neutrals. With an extensive Cambria palette, it wasn't difficult to find surface designs to suit her desired aesthetic: Fairbourne, Brittanicca Gold, and Blackpool Matte.

Design details of Cambria Fairbourne™, Brittanicca Gold, and Blackpool Matte.
"I used the three materials that fit my color scheme perfectly," Yspilantis notes. "Brittanicca Gold had all the oyster colors I wanted to incorporate and pair with bold and modern caviar black hues; Blackpool Matte was a modern complement to the antiqued, old-feeling black limestone floor; and Fairbourne was the perfect color that fit seamlessly with my cabinet and wall colors."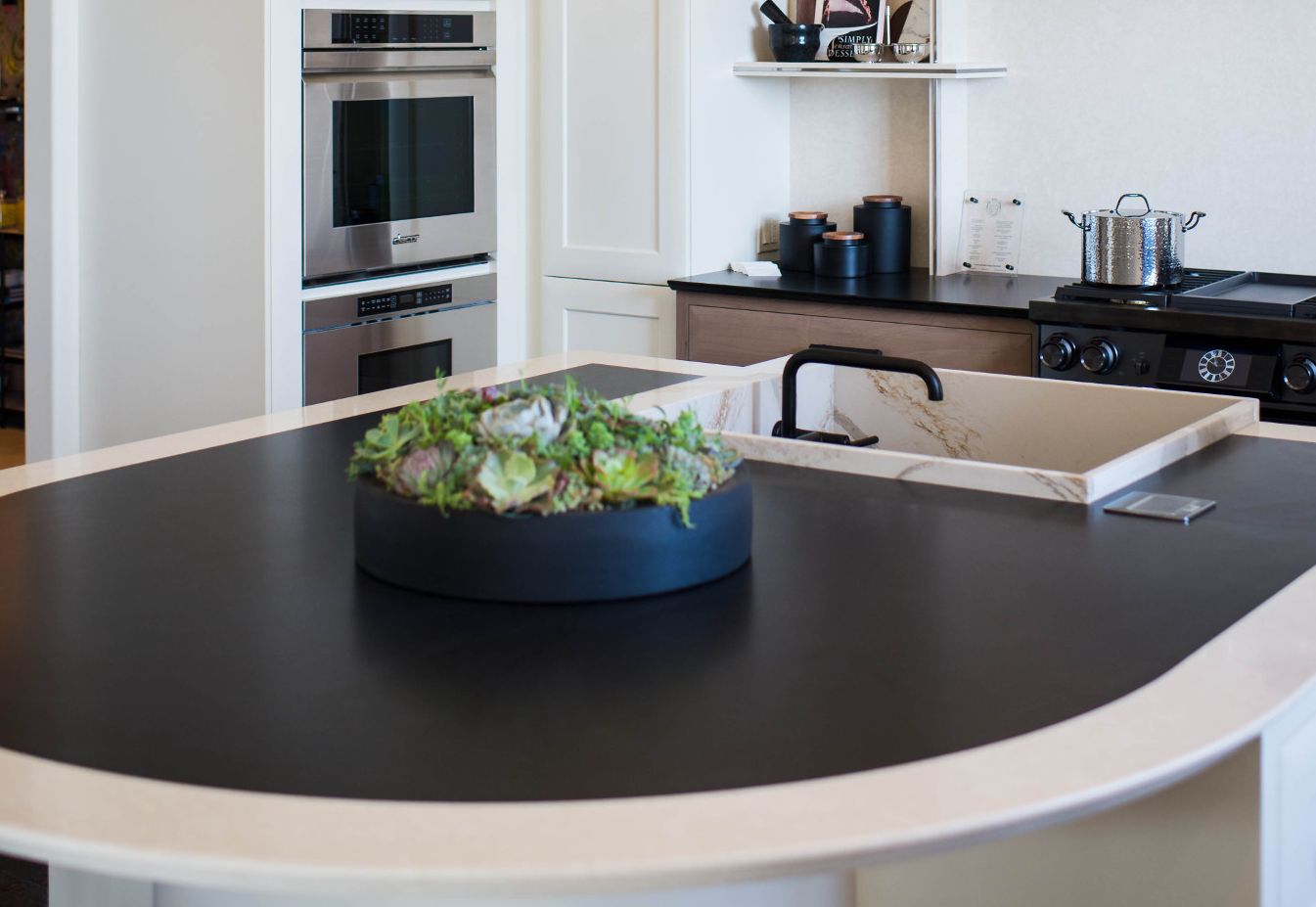 The kitchen island features Blackpool Matte with a Fairbourne perimeter and Brittanicca Gold sink surround.
Baker's kitchen features
The kitchen is a dream space for both professional and amateur bakers, with premium materials and custom details designed with their unique needs in mind. When planning the baker's kitchen, Ypsilantis placed an emphasis on counter space and the ability to accommodate baking sheets and other essentials.
The island offers three separate working areas, a convenient pop-up outlet for small appliances, and a unique baker's sink crafted of Brittanicca Gold. "The baker's sink allows for cookie sheets to soak or a place for bowls of melted chocolate to sit without taking up counter space," Ypsilantis explained. "The 13-inch deep center allows it to be a pot filler even with the low placed faucet. The wide second rim allows for soaking large cookie sheets or the racks out of a 30-inch oven."
Ypsilantis incorporated a commercial storing and cooling rack for baking sheets in a corner that would have otherwise been a hard-to-reach, wasted space. Custom Cambria shelving behind the range took the place of a decorative hood, creating the suggestion of a baker's rack against the coordinating Fairbourne backsplash.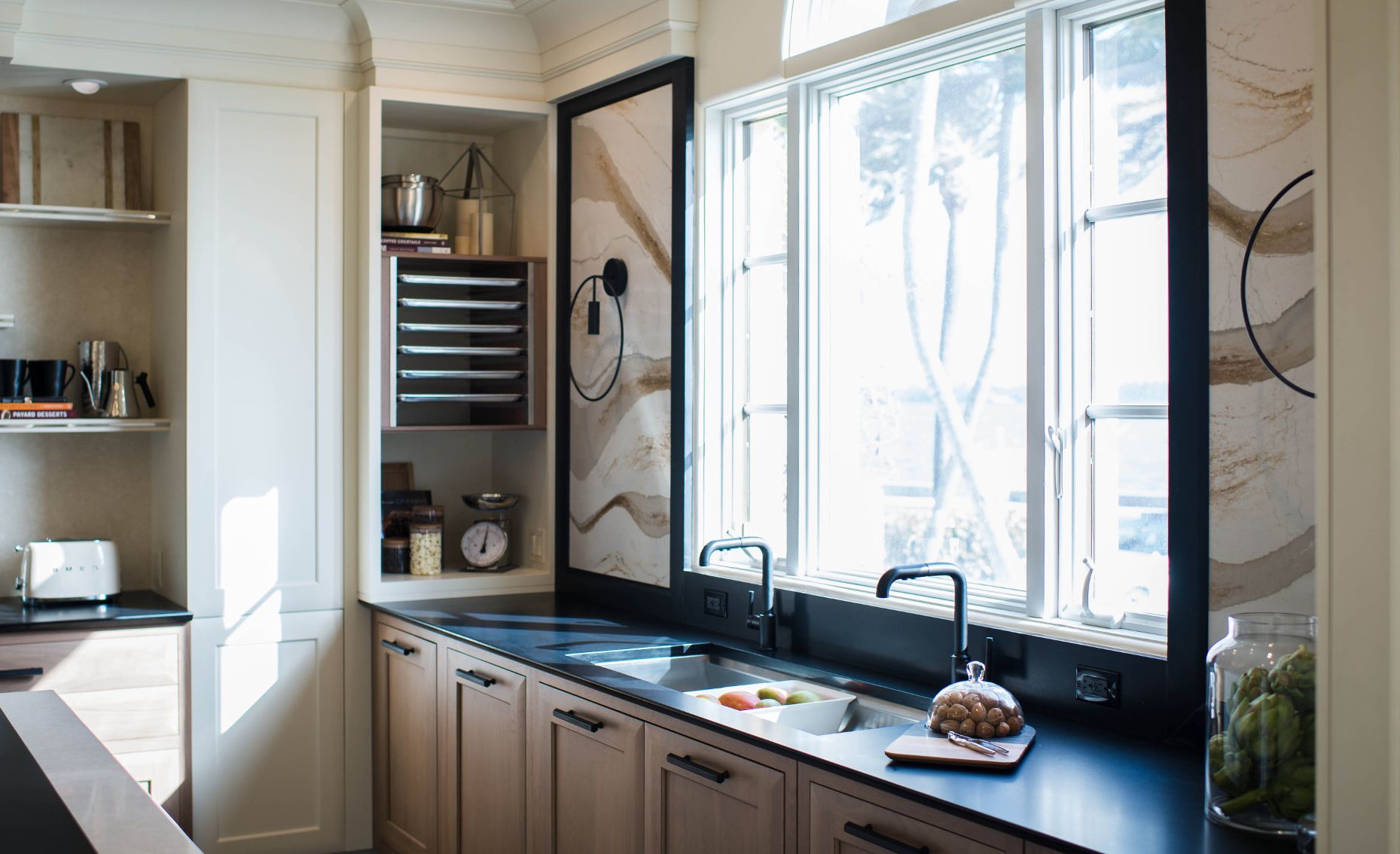 The kitchen features a commercial rack for storing and cooling baking sheets, dual-basin prep sink, and Blackpool Matte countertops.
As nonabsorbent quartz, the Cambria countertops provide a food-safe surface to roll dough, arrange ingredients, and serve up samples. All of the Cambria surfaces are easy to clean, durable, and maintenance free, ensuring bakers can focus on their creations rather than upkeep.
The baker's kitchen also includes a walk-in pantry, large steam range, and a second full oven with a microwave and warming drawer.
Kitchen island details
The rounded kitchen island is a distinct and welcoming focal point in the space, combining the three Cambria designs in stunning fashion and offering a comfortable seating area separate from the prep zones.
"Like most center islands I design, the kitchen island was created as the space allowed it to exist," says Ypsilantis. "I first consider traffic flow and how a person will dine, prepare, cook, and simply walk into a kitchen space either to be a cook or a guest. The space naturally allowed for this shape which created three prep countertop areas and one wide seating area that did not interfere with appliance access or walk-through traffic during entertaining."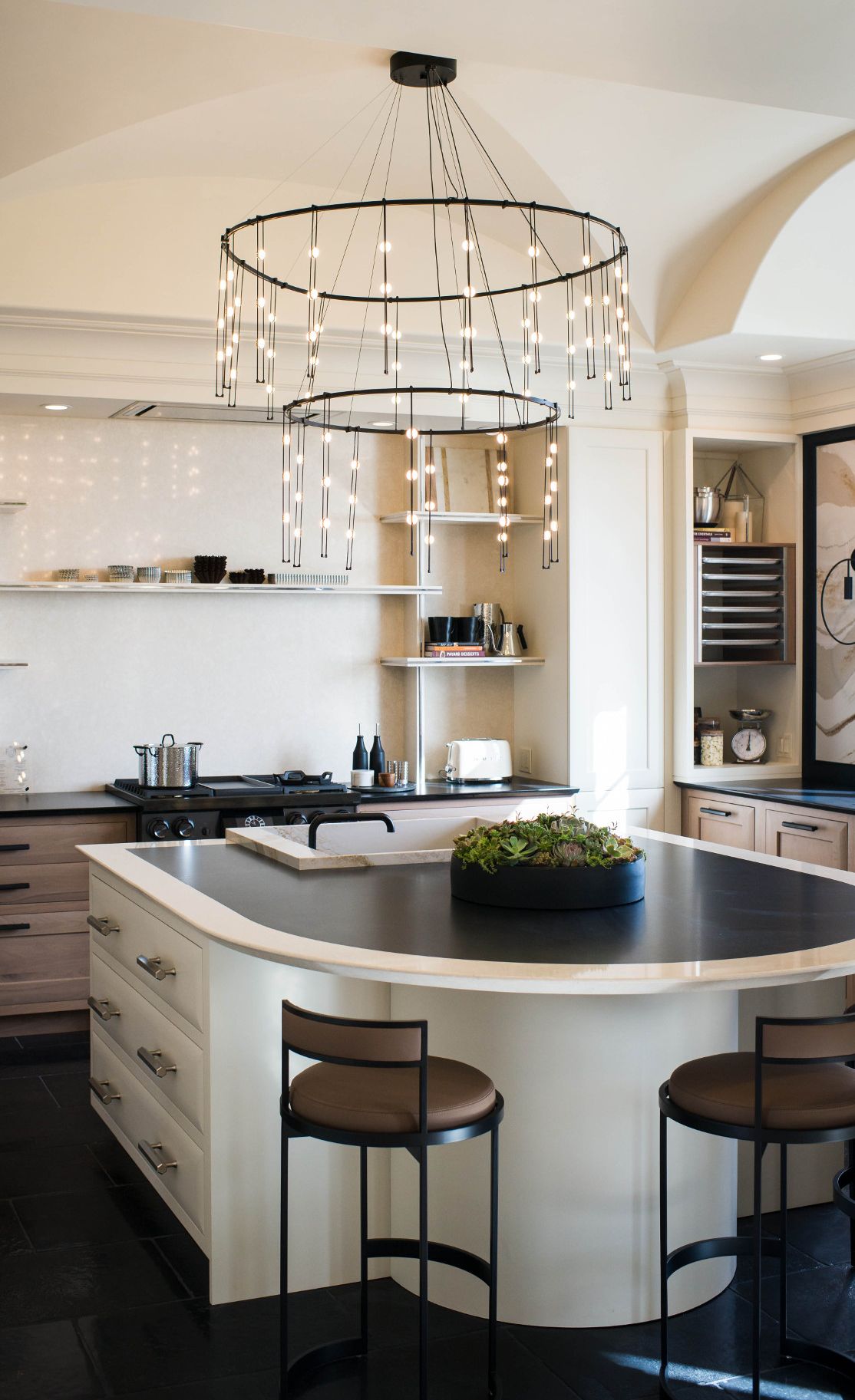 The kitchen island is designed for ease of use and optimal flow with a comfortable dining area.
Integrated kitchen island sink
The Brittanicca Gold kitchen island sink adds style and substance. The natural quartz surround echoes the organic gold movement of the window panels and elegantly contrasts the Blackpool Matte countertop. The sink is intended to be used for baking and entertaining needs, while dishwashing is reserved for the prep sink on the perimeter of the kitchen.
"I find that island sinks, especially in large islands like this, are needed mostly when you entertain or are preparing to cook or bake," Ypsilantis notes. "As an 'entertainment sink,' ice can be filled on the lower level as bottles and condiments are set in the perimeter. Drinks can be made without wetting the surrounding counters. A rack can be placed at the midlevel to display food (shrimp on ice, ice cream in metal tubs, etc.) without any worries of melting liquids."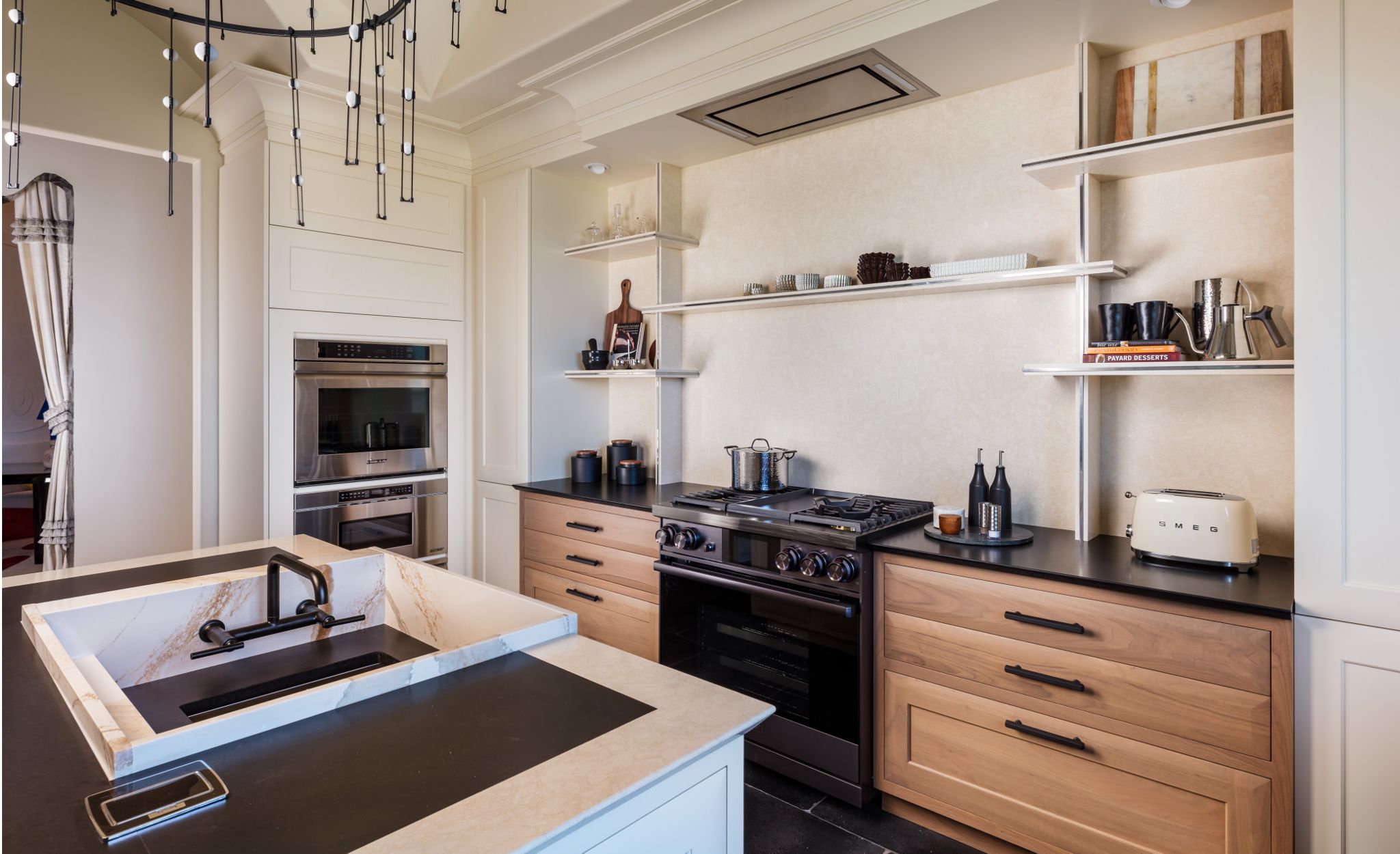 The positioning of the island's Brittanicca Gold sink is ideal for entertaining and baking functions.
The side-mount faucet and sink basin were also designed to keep splashing at bay. "There is nothing more annoying than water splashing around the countertops on your center island," Ypsilantis affirms. "The faucet was positioned lower than standard height so it eliminates splashing even when any item is placed under the running water. This non-splashing factor also comes into play when you are soaking or washing large pans, pots, or cookie sheets."
Cambria backsplash and shelving
The back wall of the kitchen features a serene backdrop of Cambria Fairbourne as a full-height backsplash and shelving designed as a modern twist on a baker's rack. The natural quartz backsplash offers a smooth, pristine look with Fairbourne's subtle marbling and soft cream tone.
"Aesthetically, I wanted to keep away from tile and grout lines and eliminate the feeling of a traditional backsplash by avoiding upper cabinets and treating this kitchen space as I would any formal room in a house," Ypsilantis explains.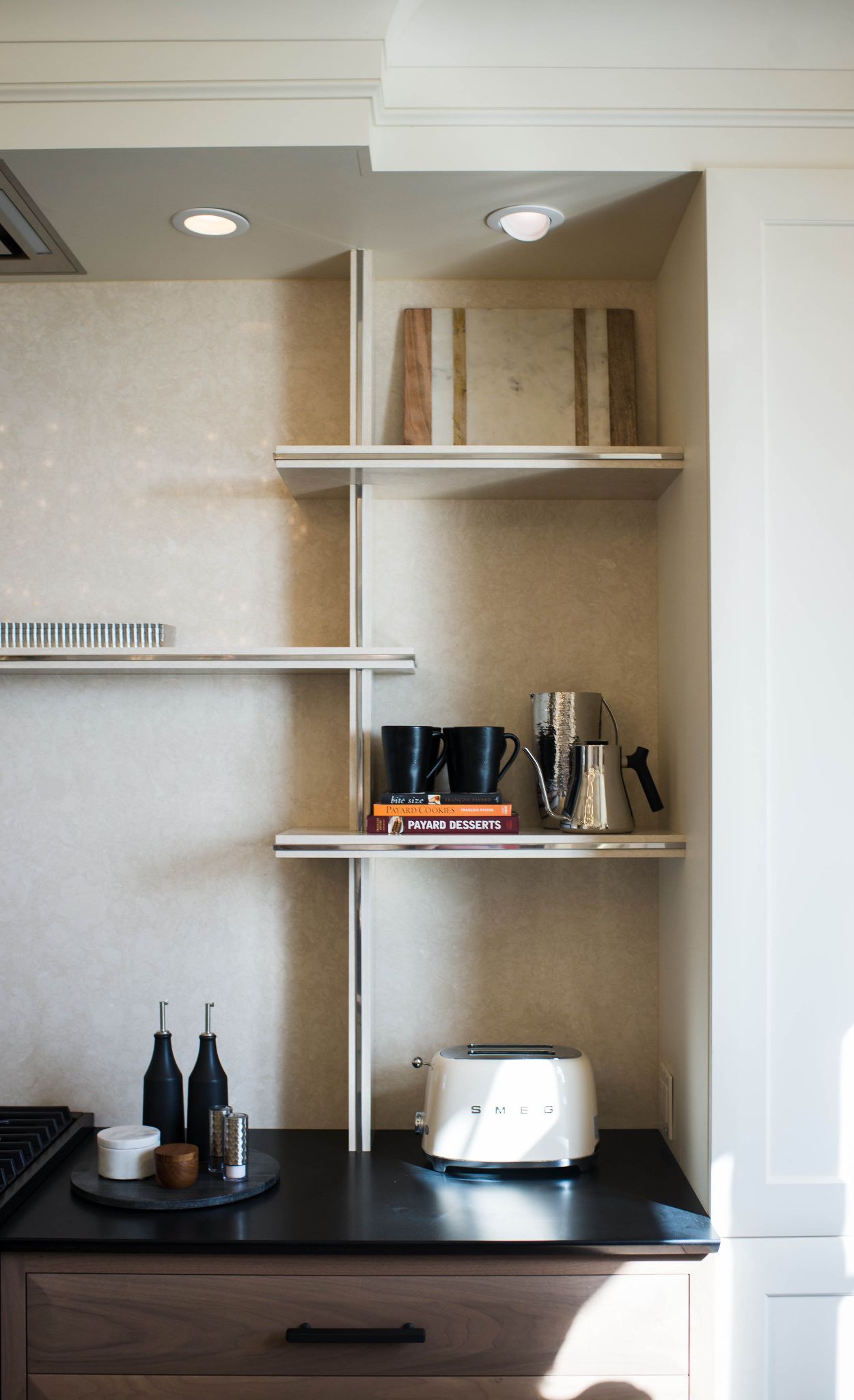 A quartz backsplash and open shelving crafted of Cambria Fairbourne creates a sleek modern look with no grout lines.
"Cambria was the natural choice for two reasons," Ypsilantis adds. "First, to keep the material as consistent as possible throughout the kitchen and still create a calm and inviting space. Second, for the durability. For kitchens that are actively used, introducing [backsplash] walls behind the cooking and sink areas – without worries of staining or difficulty cleaning – is always a good design detail."
Minimal range vent
The absence of a prominent range hood adds to the kitchen's open feel and modern aesthetic of the backsplash. "In this home we had the range wall on an outside wall on the side of the house, covered by landscape. This allowed me to install an external 1200 CFM blower from Wolf on the outside and connect it to a ceiling housing." Ypsilantis explains.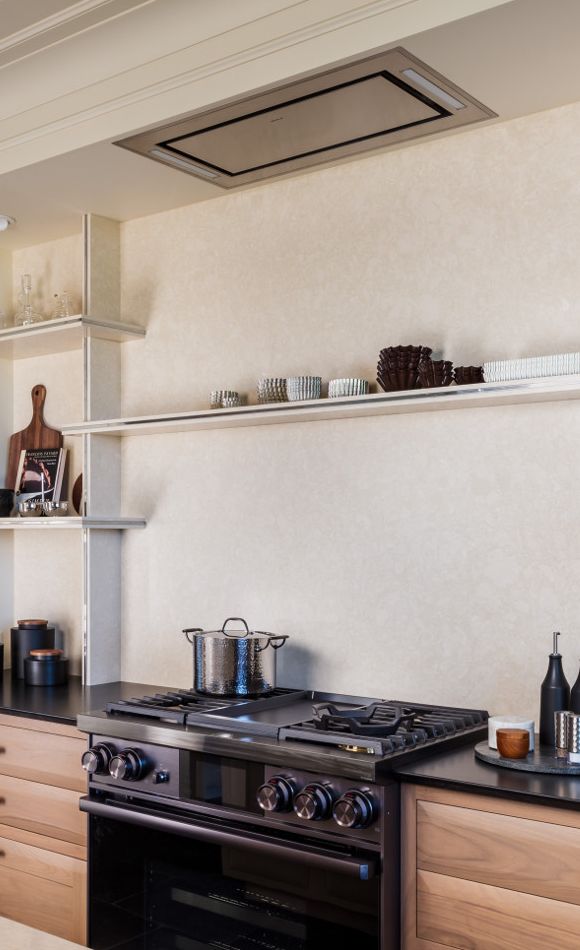 A minimal vent allows the Fairbourne backsplash wall and shelving to take center stage, paired with Blackpool Matte countertops and beveled wood cabinetry.
"The powerful external blower eliminated the need to interrupt the range wall with a decorative hood. It is what you would expect to see in a Japanese restaurant. I found this application more efficient than hoods placed at a closer distance to the range but ducted many feet away."
Light fixtures in the baker's kitchen
In addition to the contemporary sconces on the Brittanicca Gold panels, the Kips Bay Palm Beach baker's kitchen features recessed lighting in the arched ceiling and a bold chandelier above the island.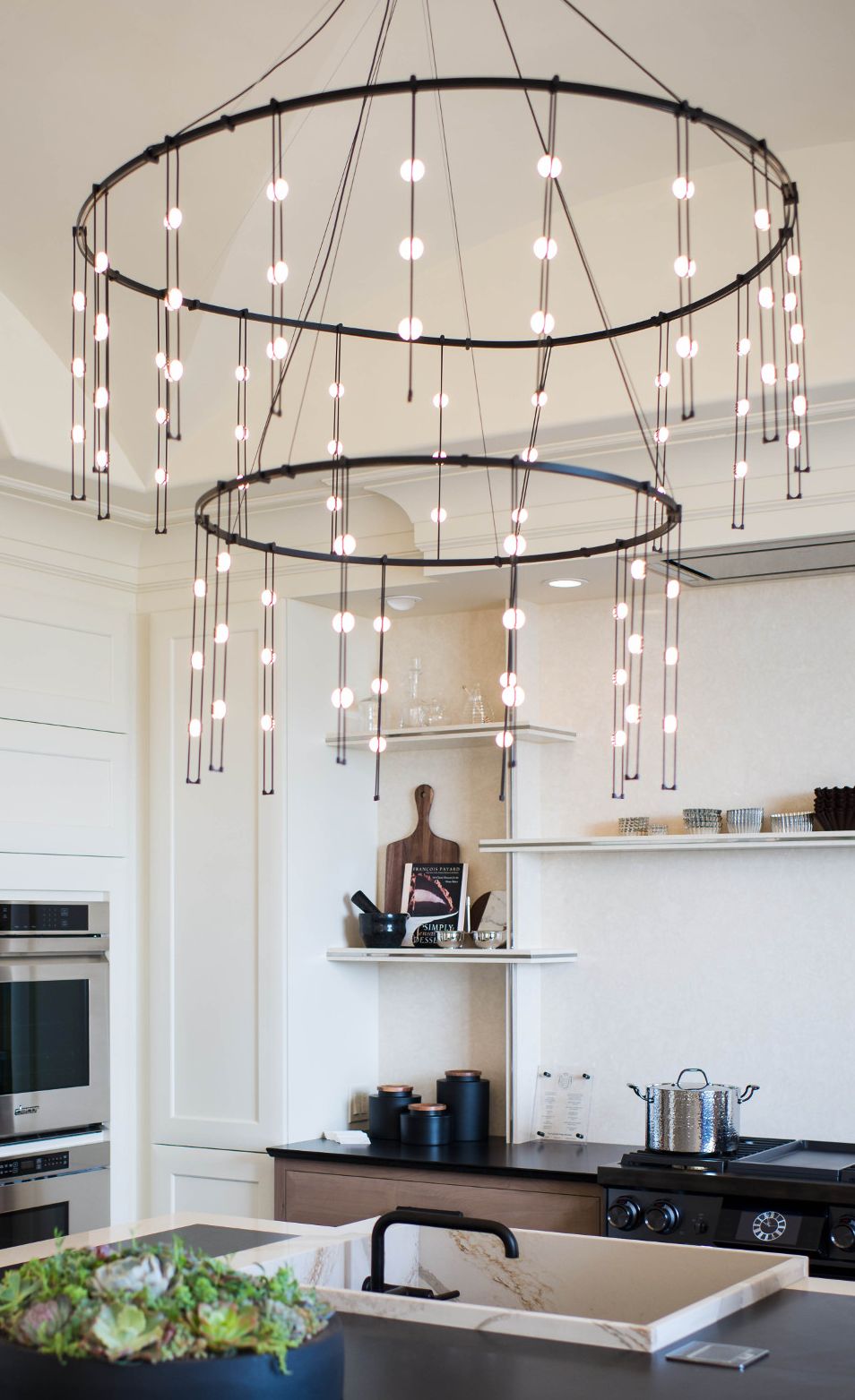 A modern chandelier illuminates the kitchen island in the Kips Bay Decorator Show House Palm Beach.
Space and proportion were important considerations for the kitchen island light fixture. "I wanted a large chandelier-type fixture that was also modern against the traditional ceiling I created," notes Ypsilantis. "At the same time, I wanted to be able to see through it and not have your eye stop at the fixture."
The open design of the kitchen's circular chandelier allows for uninterrupted views beyond the fixture, including a water view from one entryway and a beautiful family room from another angle.
Baker's Kitchen Ideas for Cabinetry and Hardware
"Custom cabinetry was selected to feel classic but modern," says Ypsilantis. "A modern shaker-style door with beveled edges is featured in an inset box to look like furniture." For hardware, Ypsilantis selected an octagon shape that worked well with the kitchen's curved design details. "When I design spaces, I consider an octagon a circle with sides," Ypsilantis explains.
The Brittanicca Gold wall panels framed in Blackpool Matte are beveled to reflect the look of the cabinetry. The panels along with the Fairbourne shelving and backsplash take the place of upper cabinets, maintaining the airy Mediterranean feel.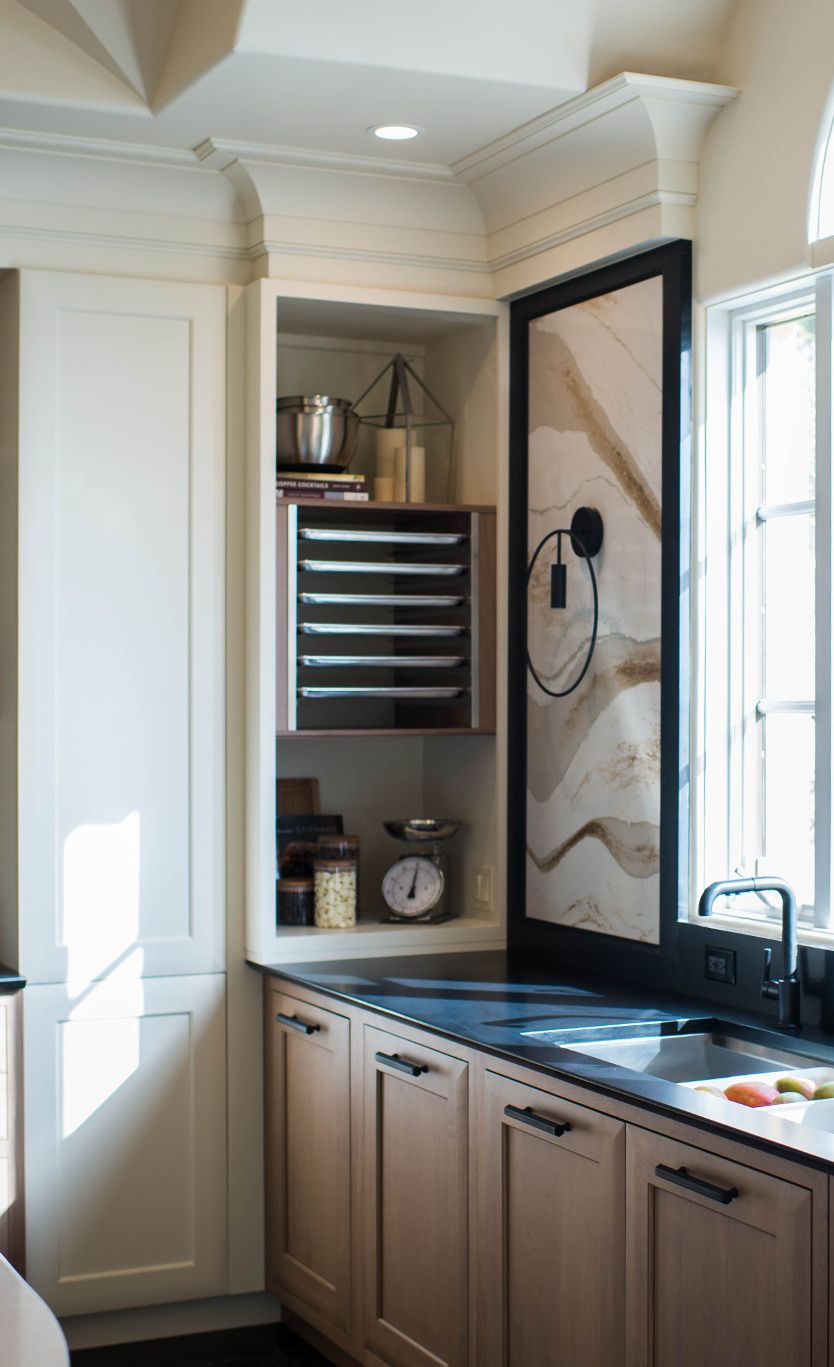 Custom beveled cabinets offer a furniture-like feel complemented by decorative Brittanicca Gold and Blackpool Matte panels.
Working with the Cambria fabricator for Kips Bay Palm Beach
While a designer brings a vision to life, the beauty of a space with Cambria begins with the craftsmanship and fabrication of the stone. "Fabrication of materials and interior design are both art forms," says Ypsilantis. "The envisioned creation of one artist can only be created in real form by the skills of the other."
The innovative Cambria applications on Ypsilantis' wish list for the baker's kitchen are not the typical requests a fabricator encounters. However, Max Granite was up for the challenge, which was compounded by a time crunch: "We had seven days from the time the cabinets were installed until all the Cambria had to be fabricated and installed," says Ypsilantis. "This included all the tops, the custom baker's rack with stainless steel banding, a multilevel apron sink, and wall panels featuring frames made out of Cambria that were beveled to mimic the door style of the cabinetry," she continues.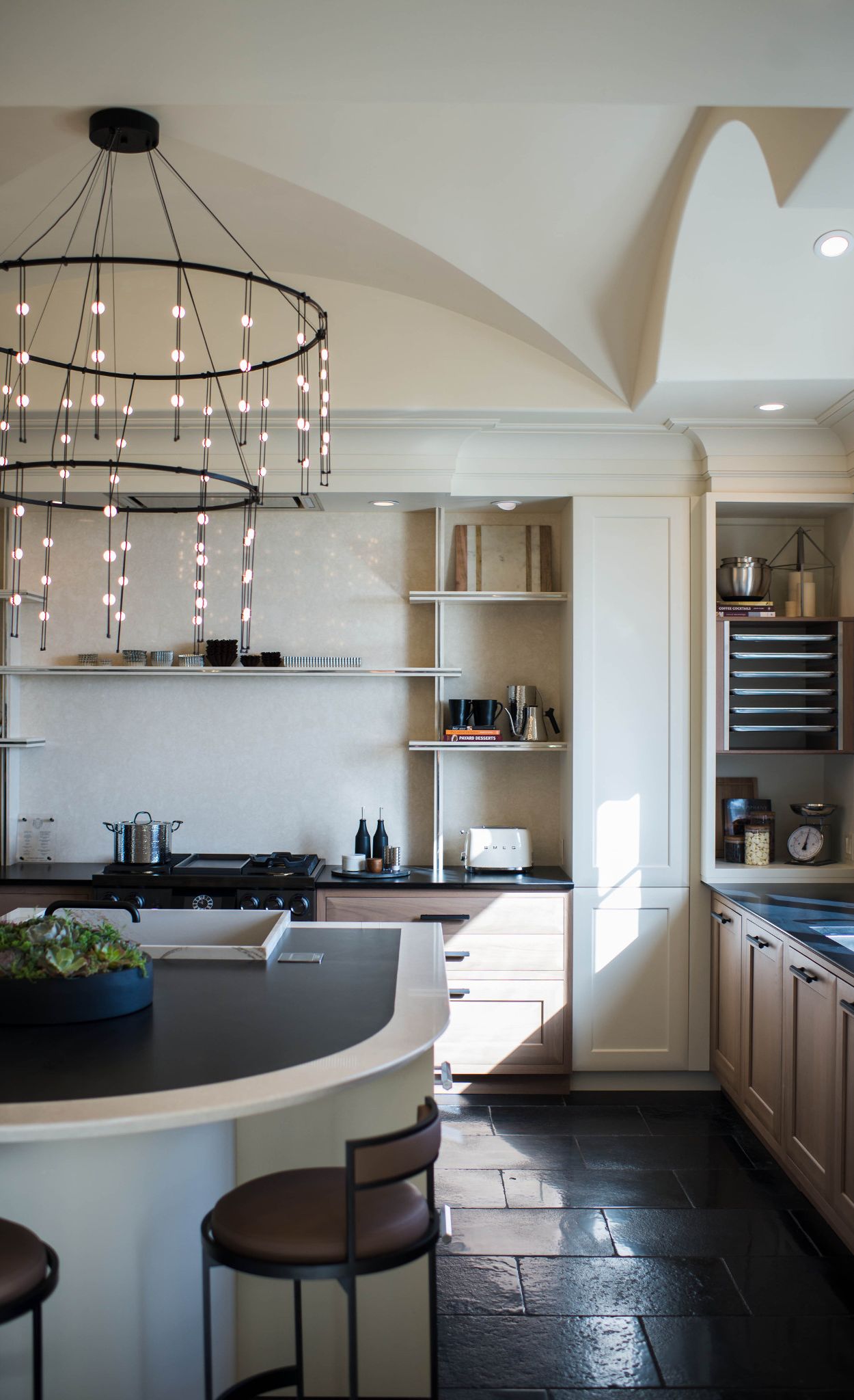 The Cambria fabricator executed Ypsilantis' vision, including custom baker's rack shelving, beveled and framed wall panels, and tri-design island with sink–all crafted of Cambria.
Ypsilantis recounts her nerves making the initial request. "This was my first time working with Max Granite, and, as a veteran kitchen designer in the business over 30 years, I was a bit nervous. I planned a special trip early on to meet Max and discuss my ideas of creating a baker's rack and a custom sink out of Cambria," she says. "I eventually told him about my idea of creating a large island that would need seam consideration and a banding of a different design on the perimeter. Then, I carefully informed him that this was not all—I also wanted wall panels framed in Cambria that were beveled to mimic the cabinet door style."
Ypsilantis continues, "Most fabricators would have walked out on the meeting (at that point), but he did not. His enthusiasm to create this and his knowledge of the structural aspect of the design put my concerns at ease."
Her experience designing with Cambria for the Kips Bay Palm Beach kitchen has Ypsilantis thinking of other possibilities with the stone. "My dream project would be to use Cambria in a hospitality or commercial project," she says. "The unique applications are endless."
Go behind the design of another Kips Bay space with Cambria, a celebration-inspired master bathroom from Krista Watterworth Alterman. See more of the Kips Bay Decorator Show House spaces in this Kips Bay Palm Beach Show House tour from Veranda Magazine.
Our thanks to Vasi Ypsilantis for sharing her insight behind the design of the Kips Bay Decorator Show House Palm Beach kitchen. See more from her team at Vyda Fine Interiors.