New year, new space? Make sure your next project feels current yet classic. Here are the 2019 interior design trends we predict will offer timeless appeal to last well beyond the new year.
Boldly patterned backsplashes
There's good news if white subway tile is not your style. Backsplashes will have more of a starring role in kitchens this year, showcasing bold patterns and large-scale movement. A full-height backsplash in natural quartz like Cambria showcases all the intricacies of the stone on a vertical plane.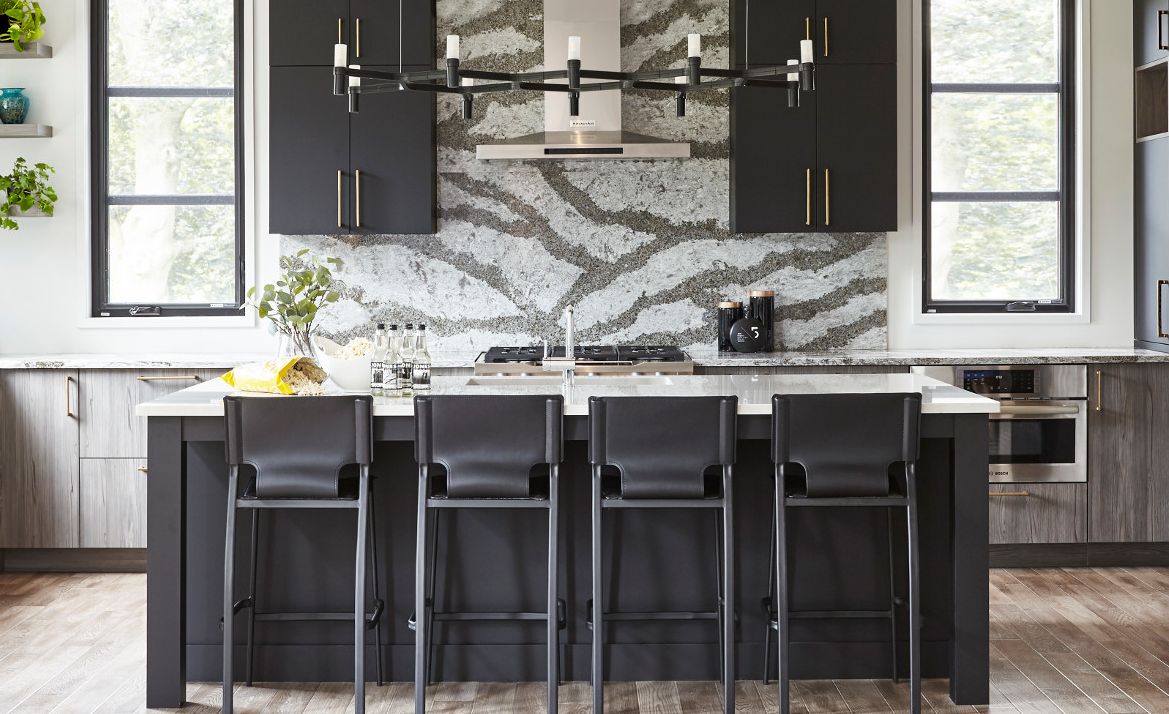 A sky-high Galloway™ backsplash makes a mesmerizing focal point in this kitchen by Square Footage Inc.. Photo: Valerie Wilcox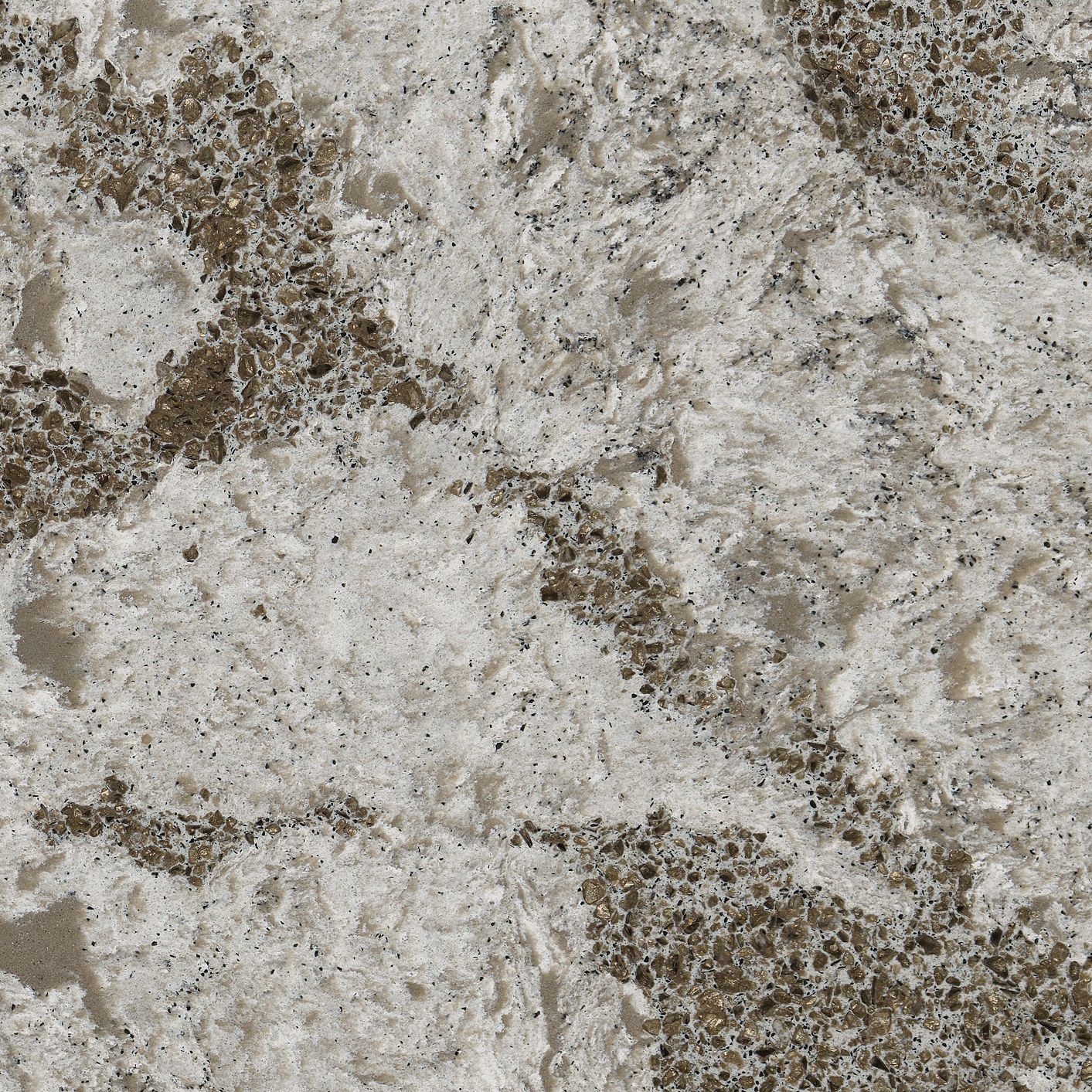 Galloway™ design detail
Choosing a different design from the countertops makes for a sophisticated twist on an accent wall, while using the same design offers a sleek streamlined look. Cambria designs with bold veining add drama at any height, but the product upkeep is drama free. Maintenance-free and durable, a Cambria backsplash means there are no grout lines to clean, which can be cumbersome with tile.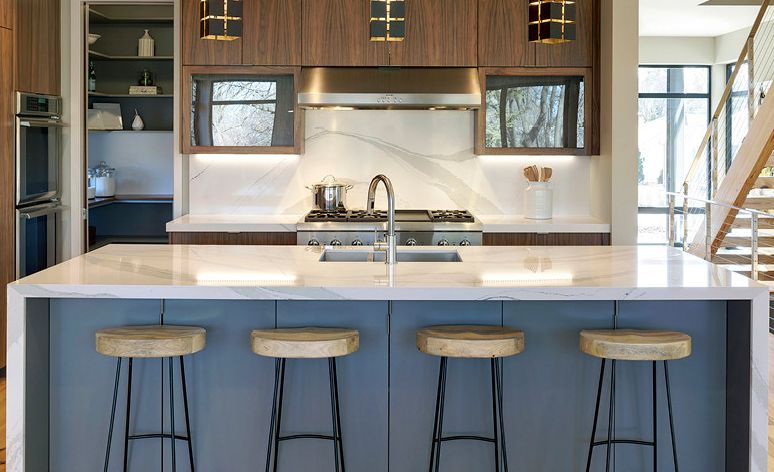 The sweeping veining of Brittanicca™ flows from countertops to backsplash in this kitchen from Studio Grey and Sustainable 9 Design + Build.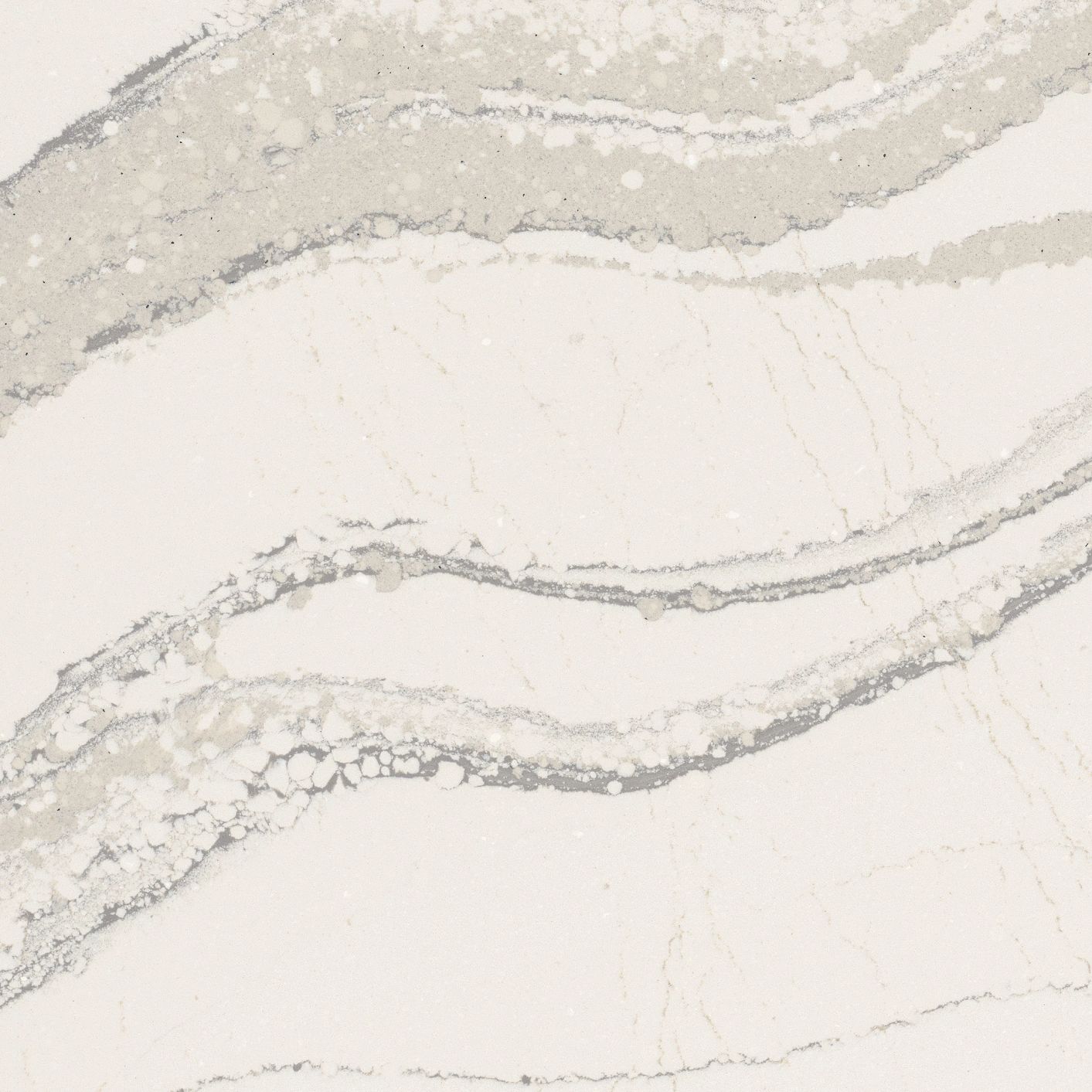 Brittanicca design detail
Brittanicca (along with related designs Brittanicca Warm™ and Brittanicca Gold™) is a striking choice for the sophisticated single-stone look. The white quartz backsplash brightens the space while the robust marble veining adds captivating character. An integrated shelf crafted out of the same stone is another option gaining popularity as an alternative to wood open shelving.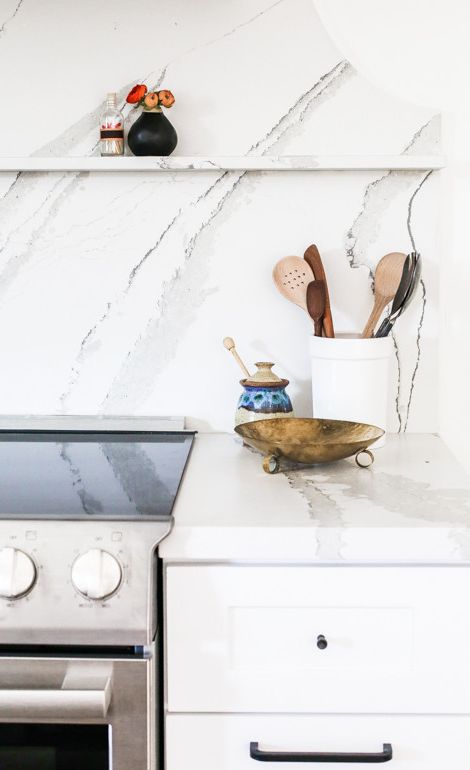 From meets function with Brittanicca Matte™ integrated countertops, backsplash, and shelf in this kitchen remodel from Jenny Komenda.
Dark bathroom designs
The spa-like bathroom trend inspired many bright and airy "dream bathroom" Pinterest boards, but there's an exciting counterpart emerging. Dark bathroom designs that play with pattern and rich texture offer a high-end feel for powder rooms and master baths alike. These spaces are a departure from the subdued soft gray or all-white bathroom trend, and we're excited to see more daring and dark bathroom palettes like these.
We love how going dark can make an impact even in a small space. Explore more dark powder room palettes here and matte black bathroom ideas here.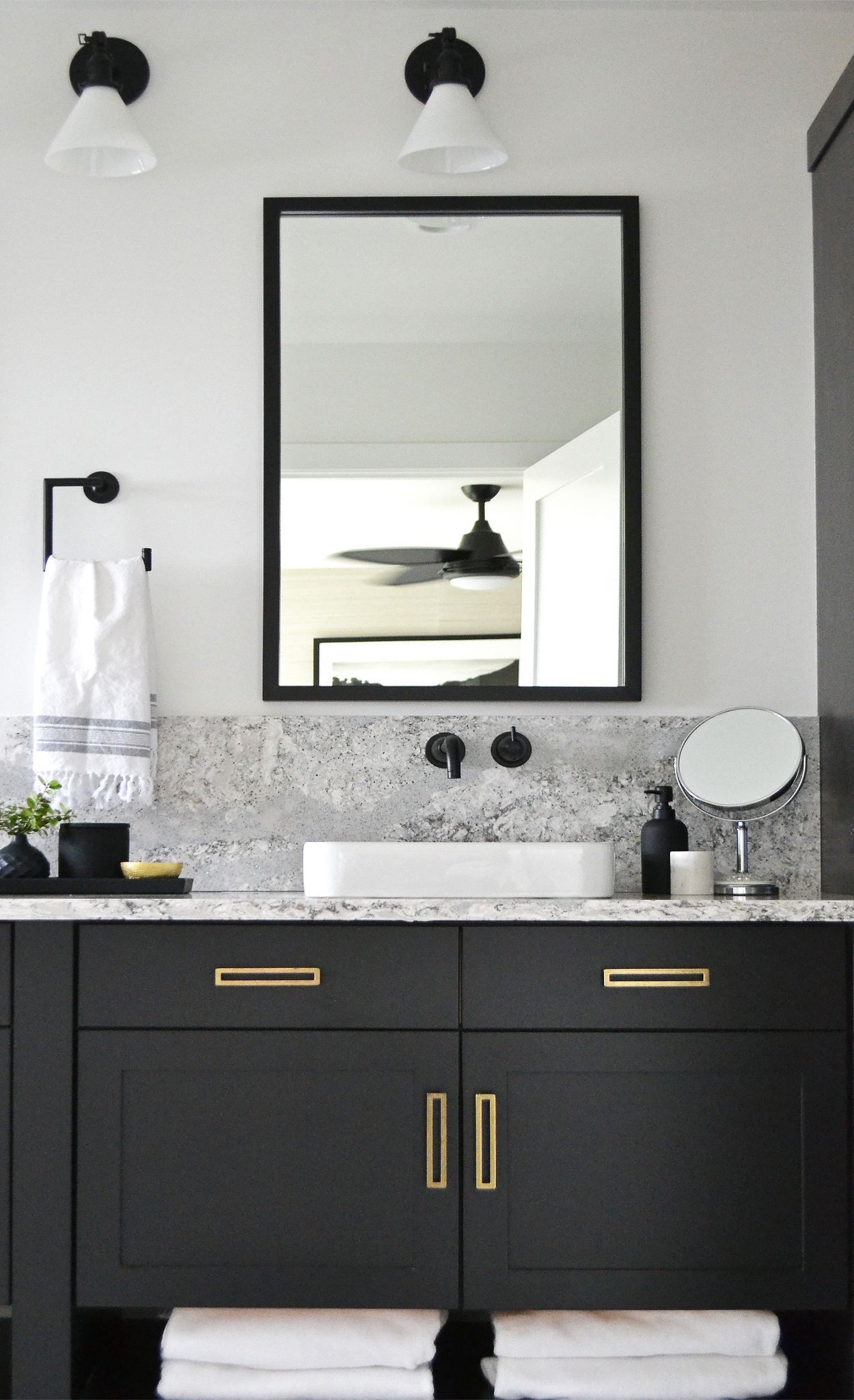 This bathroom by Jaclyn Peters Design pairs Summerhill™ countertops and backsplash with matte black cabinets, faucet, mirror, light fittings, and vanity decor.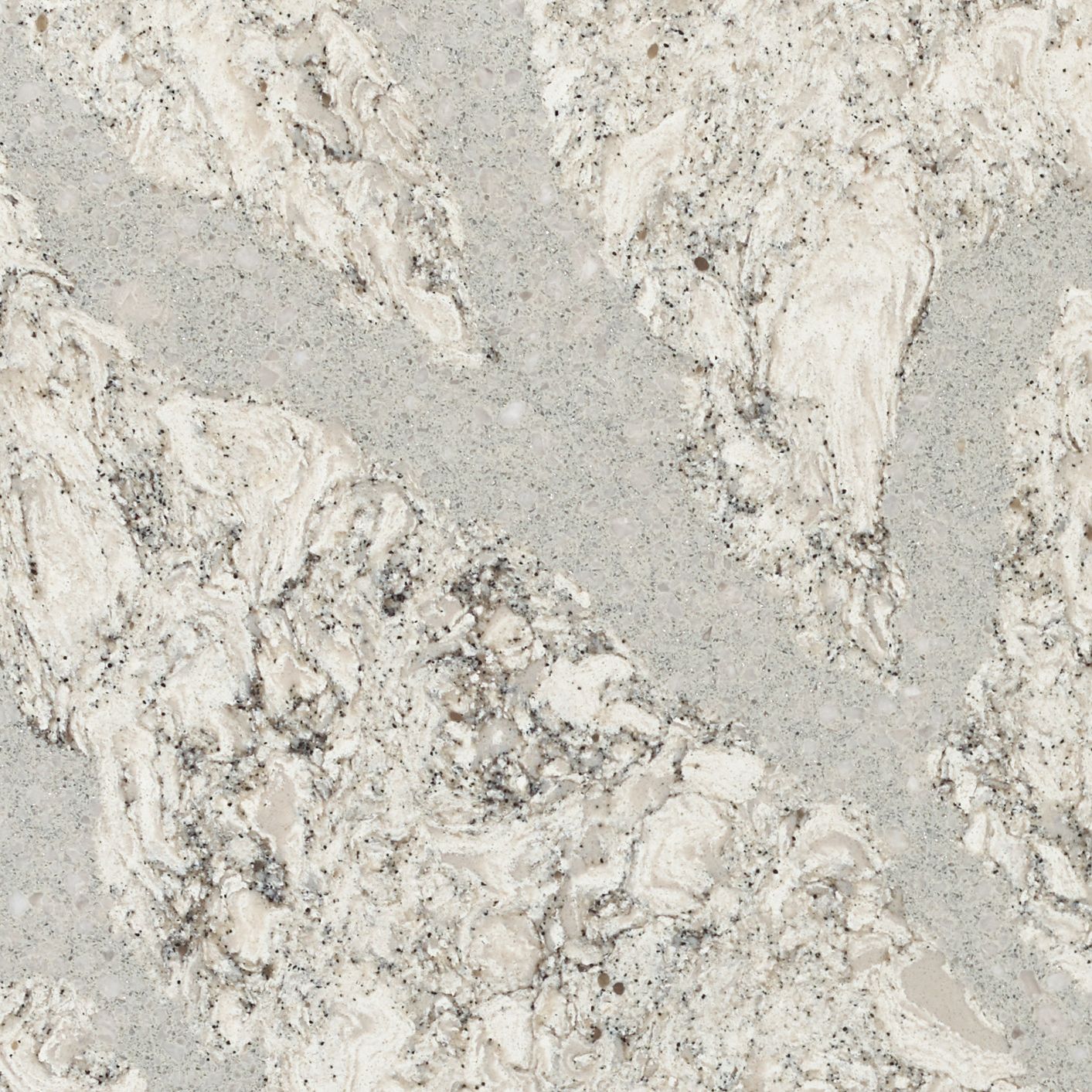 Summerhill™ design detail
Warmer and darker countertops
White marble-look quartz countertops will continue to be a classic choice for kitchens, but darker countertops and warmer-based tones are starting to surpass stark whites and grays.
These two kitchens by Artisan Signature Homes and Gretchen Black have us convinced that this is one of the 2019 interior design trends that is here to stay.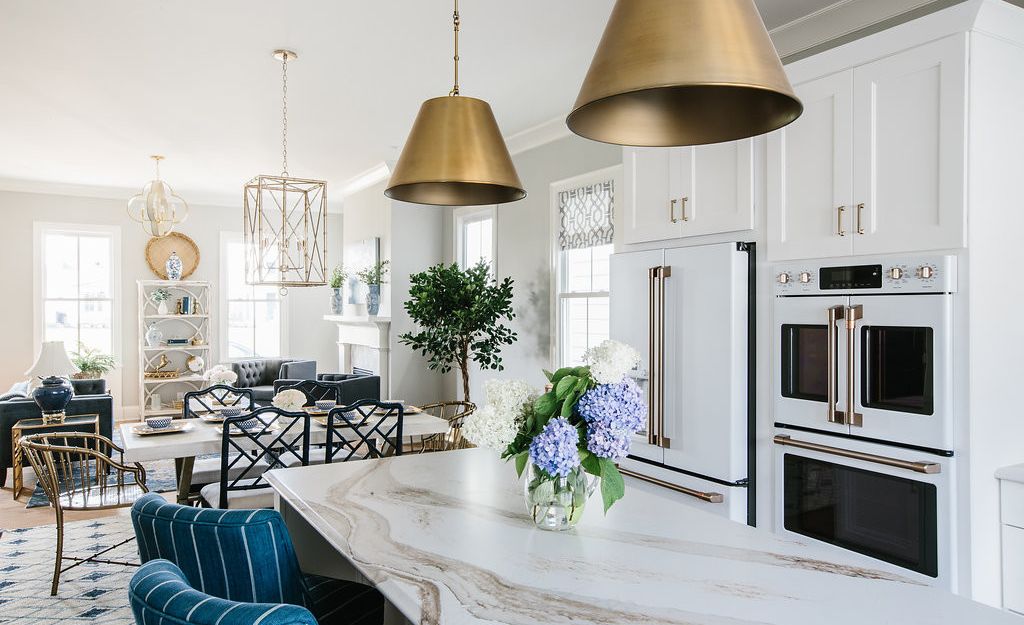 Brittanicca Gold countertops play well with brass and blue in this elegant open kitchen. Photo: Carley Page Summers.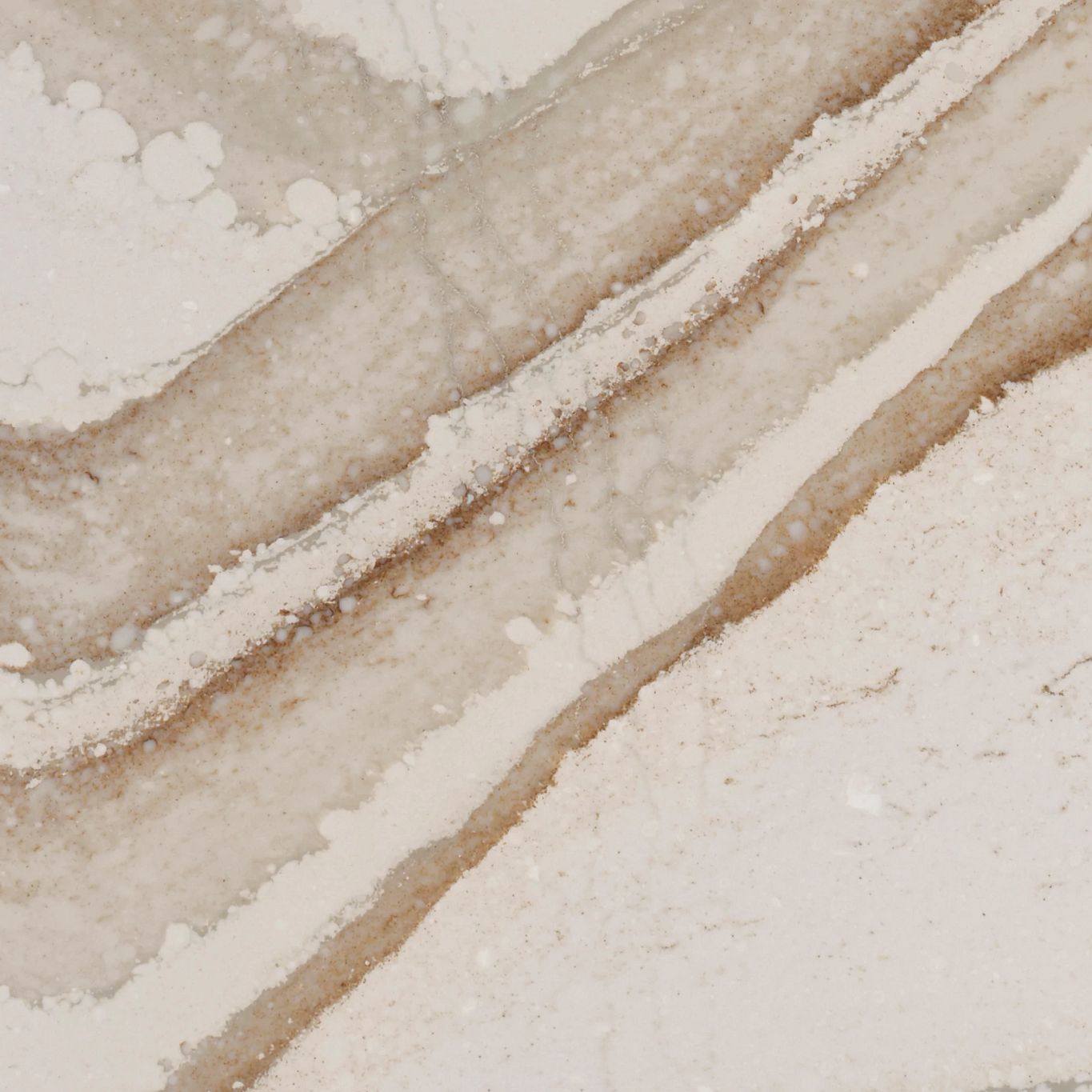 Brittanicca Gold design detail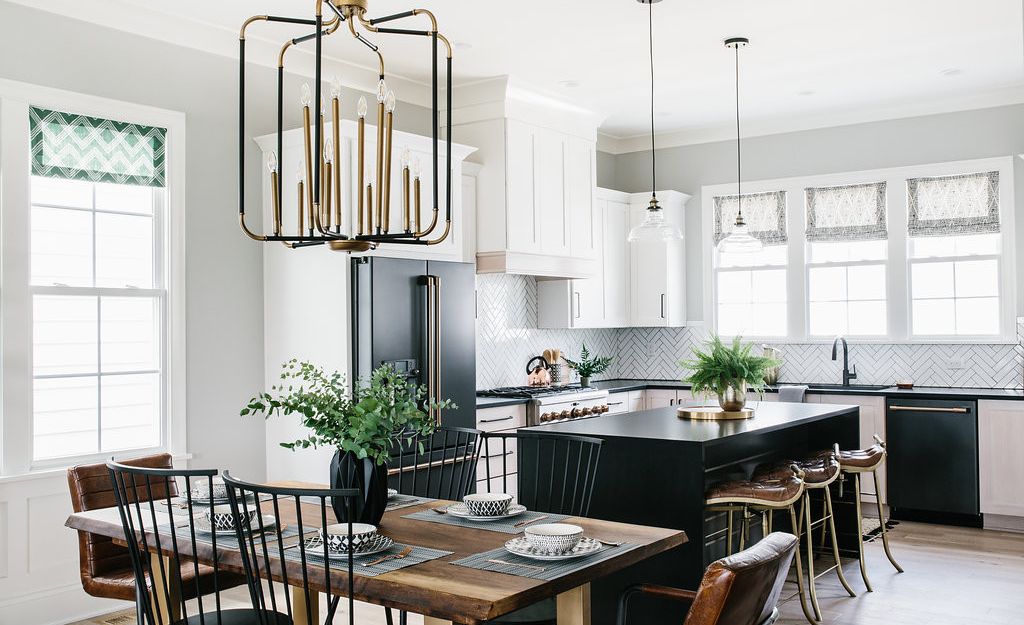 Matte black countertops make a stunning statement in this warm, inviting kitchen featuring Blackpool Matte™: Carley Page Summers. Blackpool Matte™ design detail
This countertop trend is not limited to the kitchen. Darker vanity countertops fall right in line with the dark bathroom trend, and warmer bathroom countertops feel fresh in 2019 as well.
A neutral foundation with fine-grain crystals, Baybridge™ pairs with blonde woods for a warm and welcoming bathroom vanity.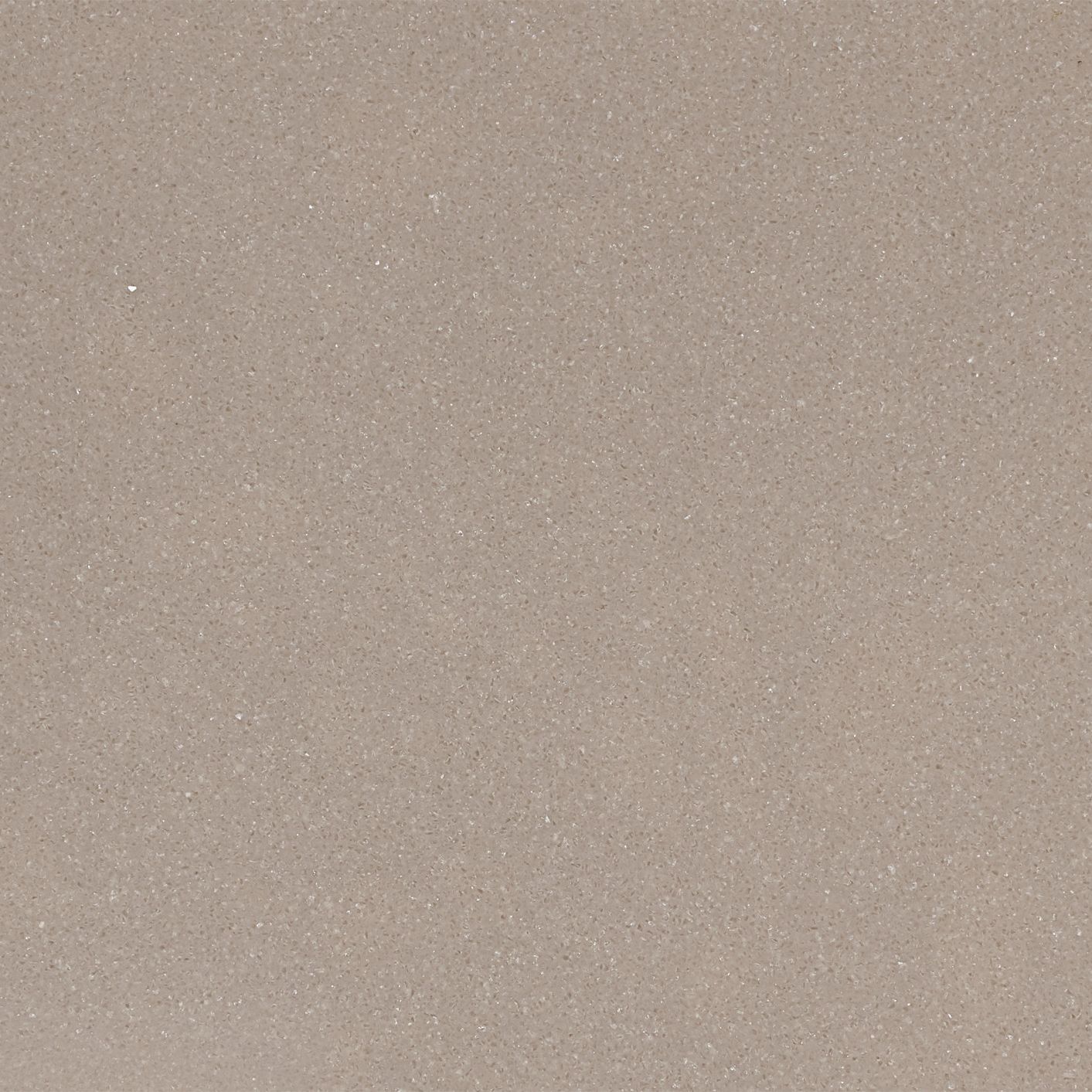 Baybridge™ design detail
Are you warming up to this this trend? See more with this glam kitchen remodel with Brittanicca Warm, a classic farmhouse kitchen featuring Brittanicca Warm Matte™, and these spaces with Brittanicca Gold and Brittanicca Warm.
High contrast
High contrast finishes and materials will continue to captivate in the coming design year. Contrast between cabinets and counters, upper and lower cabinets, or island and perimeter countertops have broad appeal in kitchens.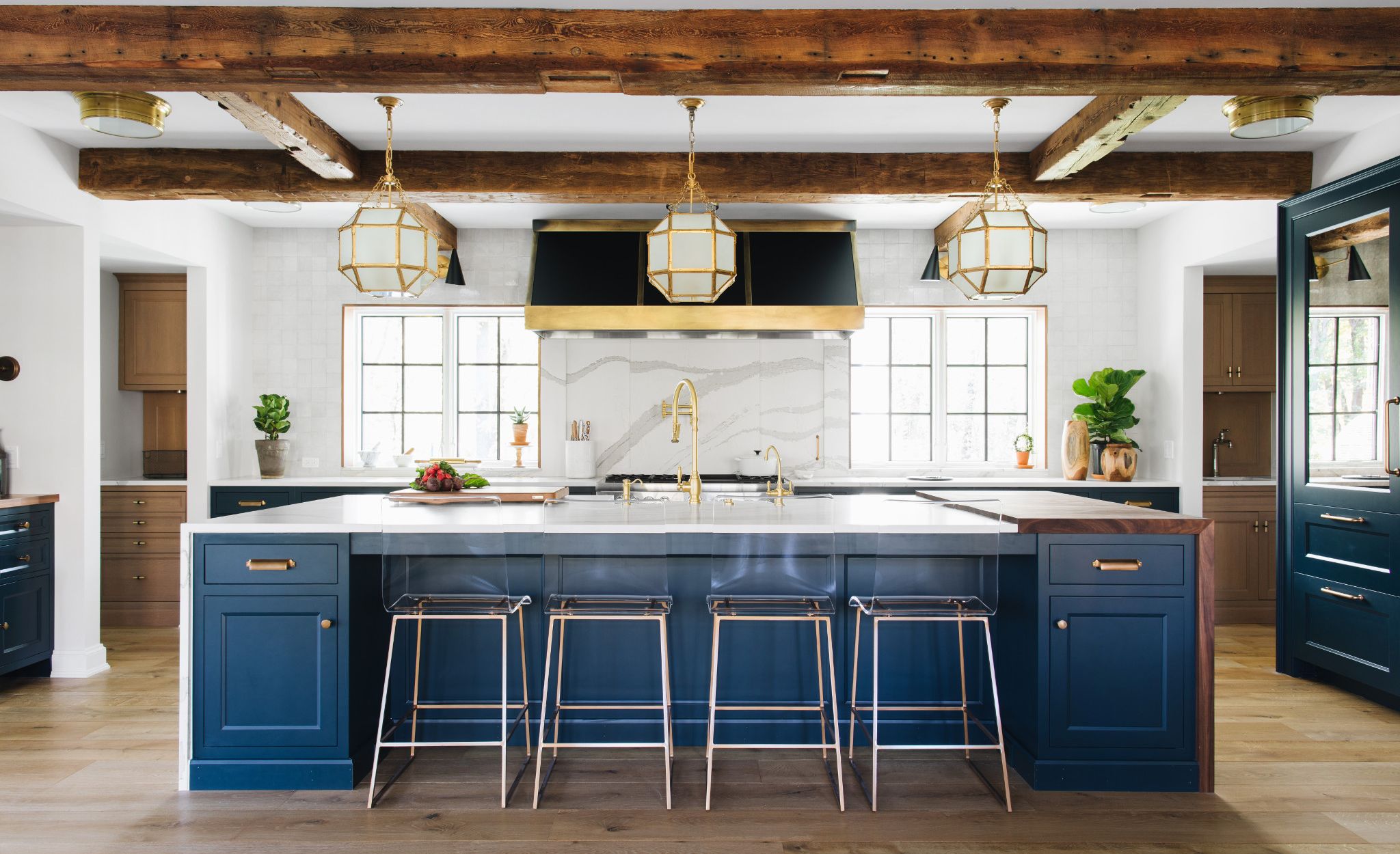 Cobalt blue and black contrast with a Brittanicca Matte backsplash and countertops in this kitchen from Jean Stoffer Design and Kenowa Builders. Photo: Stoffer Photography Interiors.
Contrast within individual design elements is becoming more prominent as well in both kitchen and bath, including graphic wallpaper, patterned tile, and natural stone countertops with bold veining and movement that balances dark and light.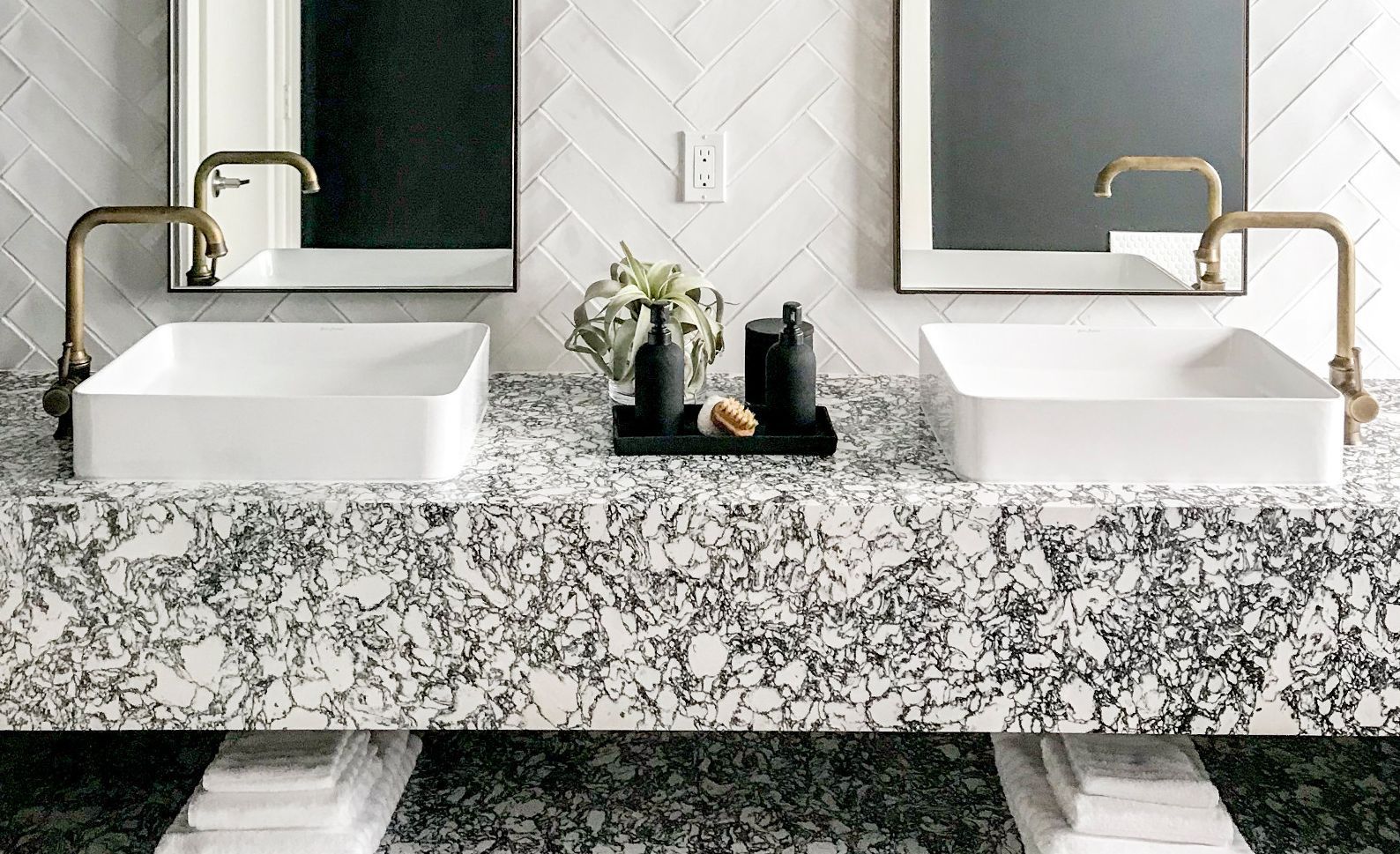 A high-contrast design like Rose Bay™ makes for high-impact style in a master bath. Space by Sire Design.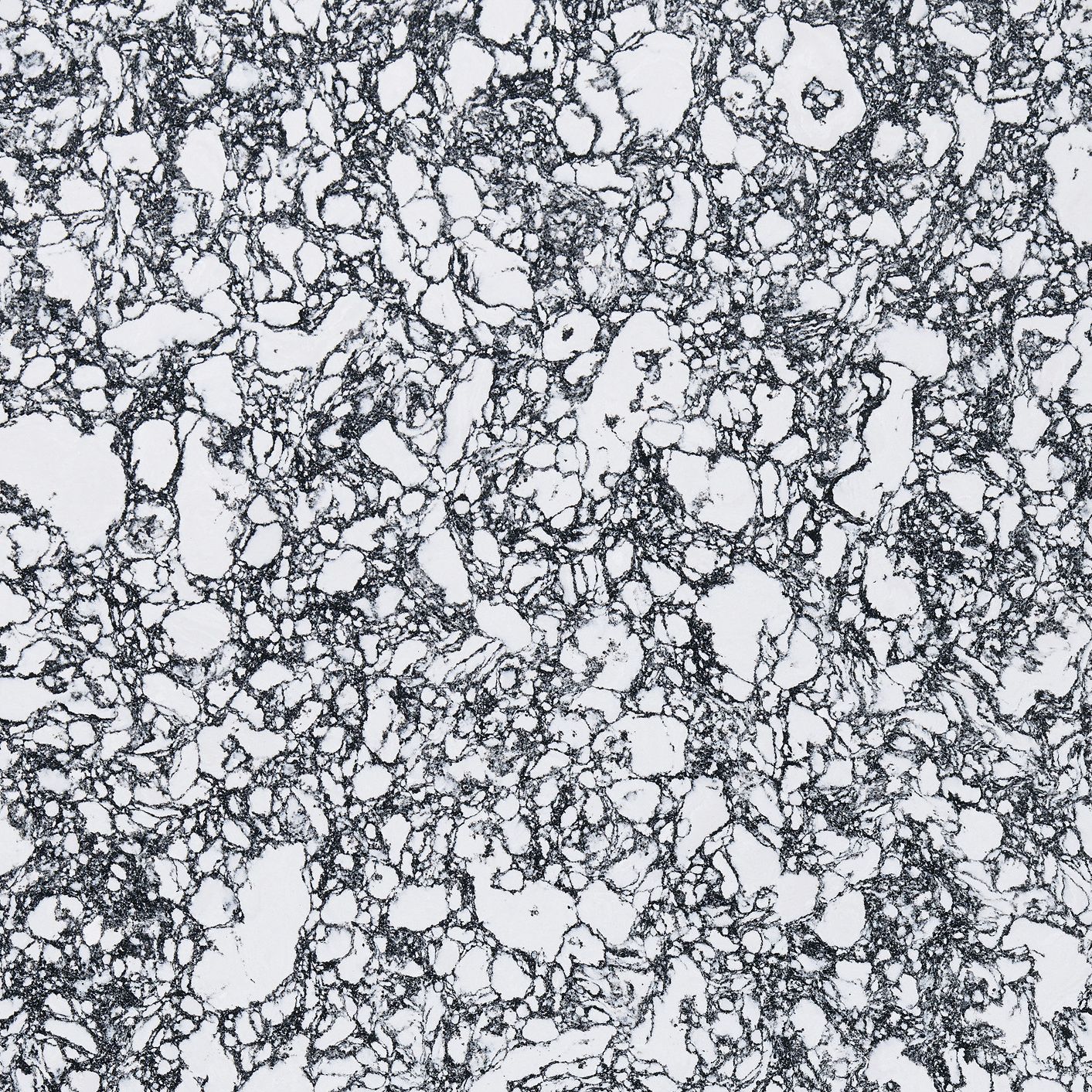 Rose Bay™ design detail
See more high-contrast spaces and get tips for incorporating this trend.
Curved furnishings
Get ready to round out your style. Curved furnishings from subtle to spherical are taking shape throughout the home, especially in seating. Think midcentury mod dining chairs and sofas to arched armchairs, tufted ottomans, and relaxed, rounded-back stools. Circular tables and curved-front kitchen islands are also being selected for comfort and style. Whether as an accent or statement piece, round furnishings help to balance and soften a structured space.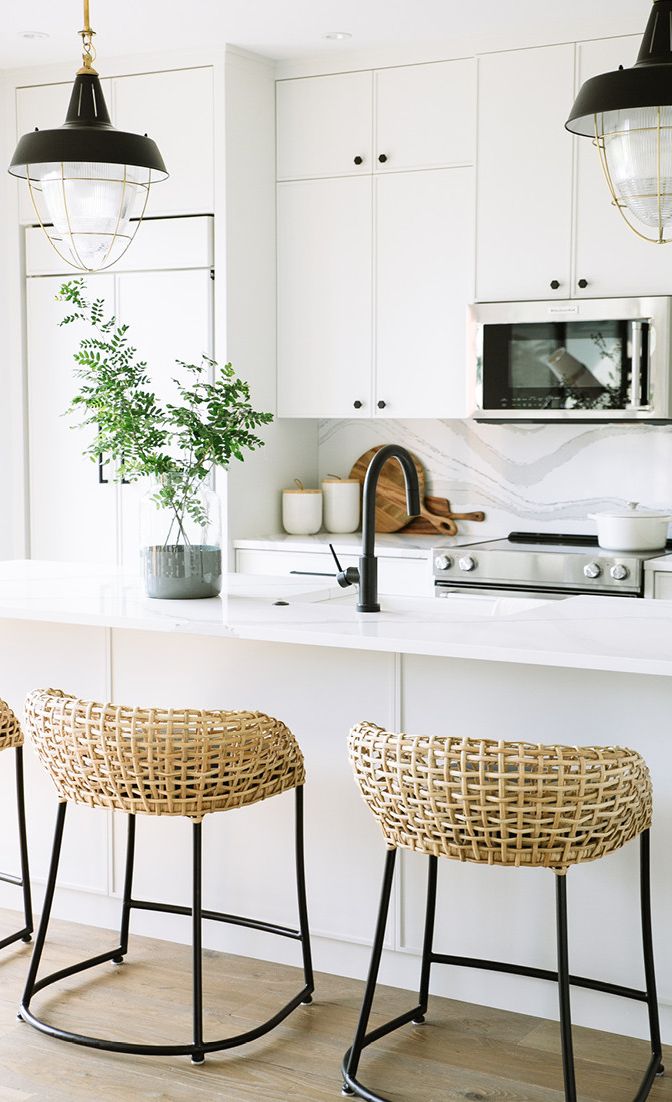 This kitchen by Jaclyn Peters Design features rounded rattan kitchen island stools and a bold Brittanicca backsplash. Photo: Ariana Tennyson.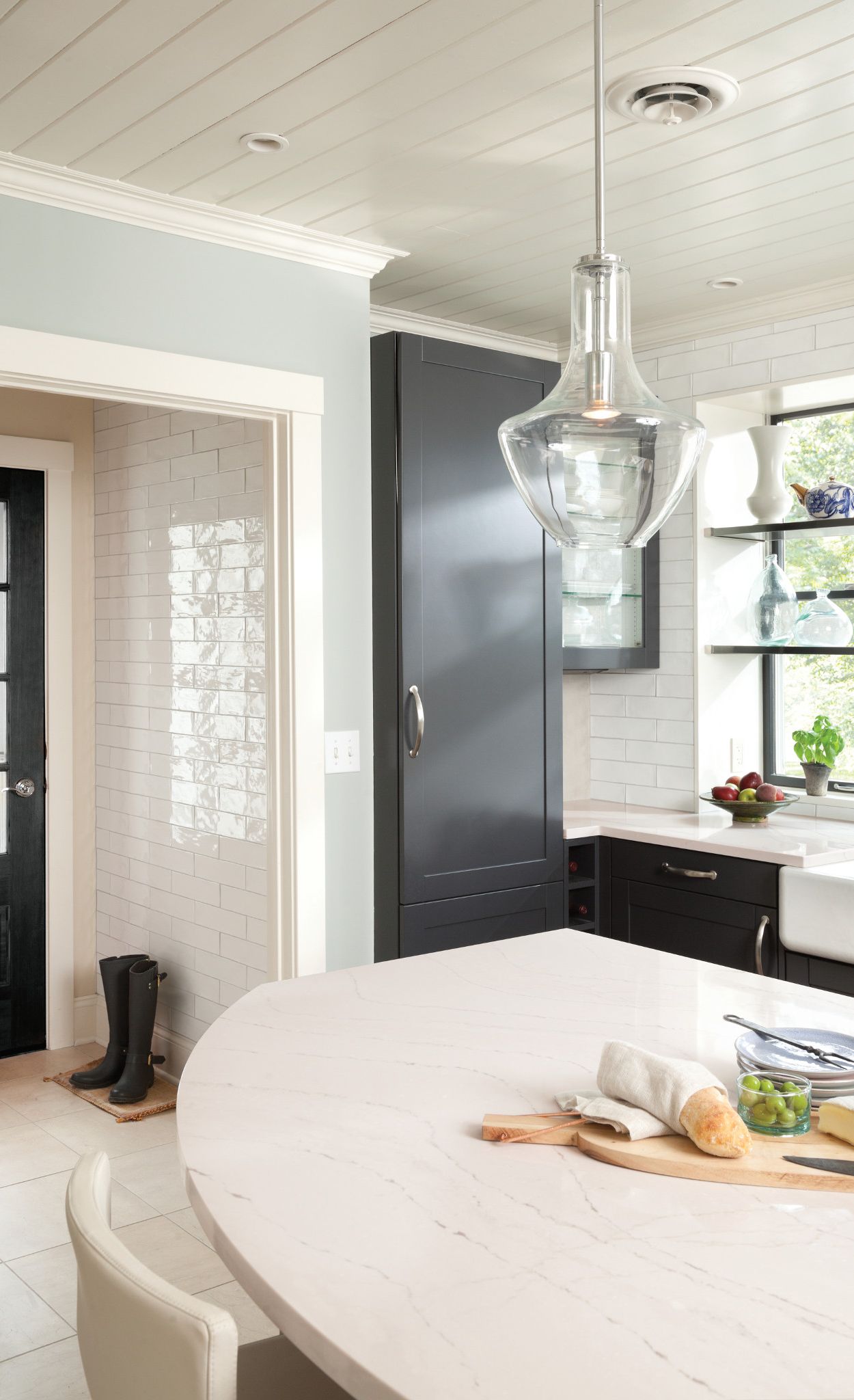 A rounded Ella™ kitchen island offers the appeal of a luxe tabletop in this modern farmhouse kitchen. Photo: Steve Henke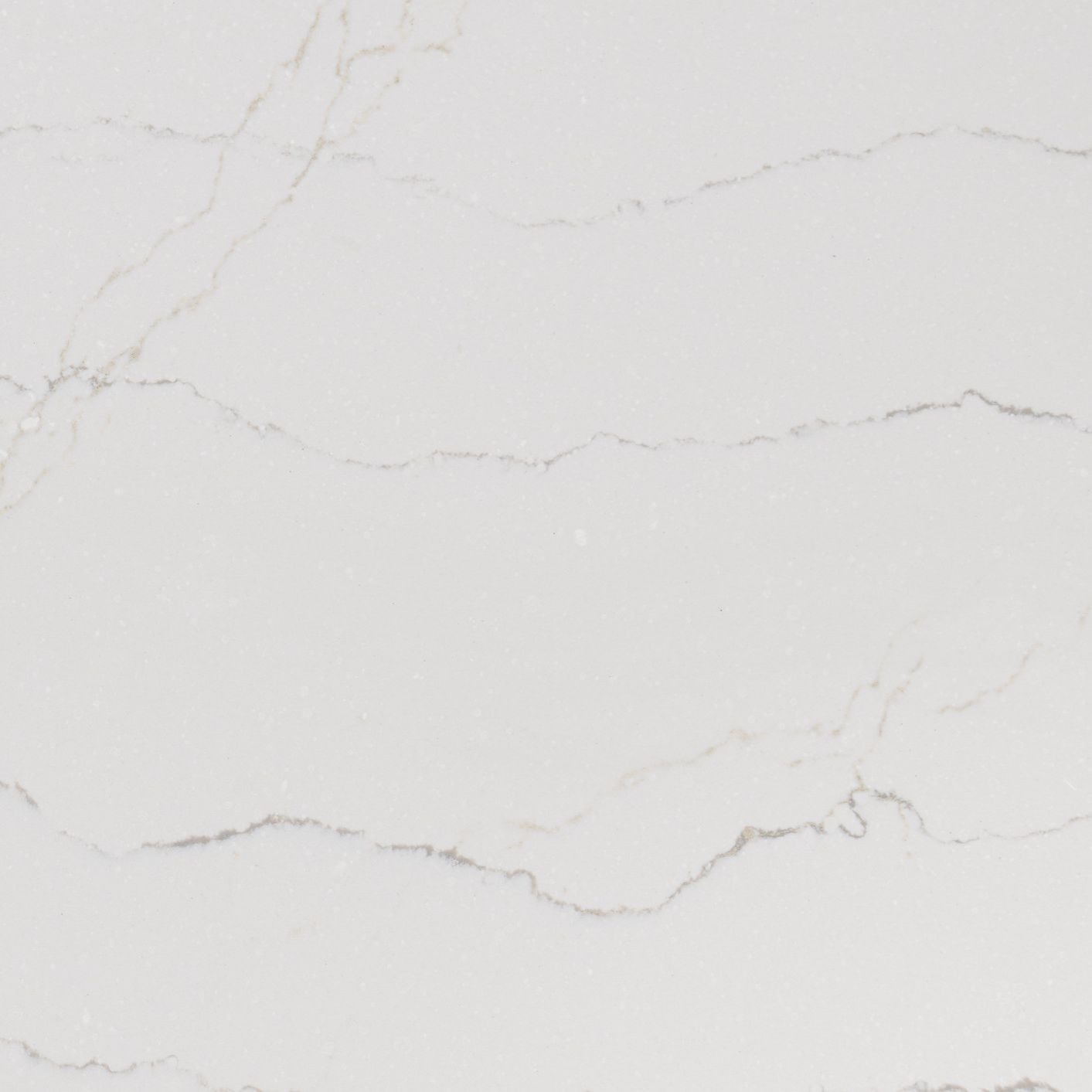 Ella™ design detail
Curved furnishings are also making waves in commercial design, offering an inviting feel and striking style for hospitality spaces.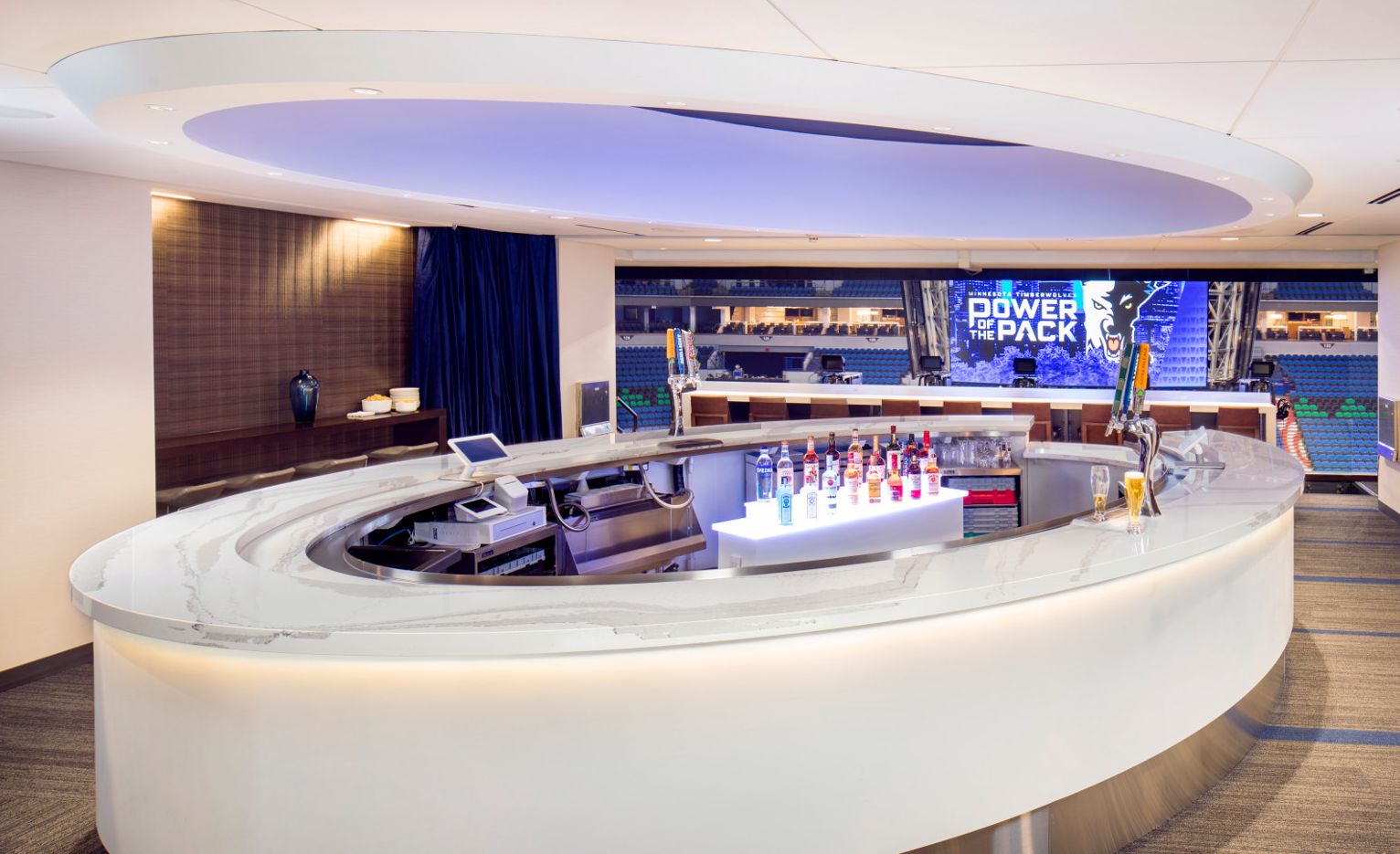 This Target Center suite features a sleek, elliptical Brittanicca bar.
Light wood floors
Open and airy Scandinavian-inspired spaces have been on trend for some time. Light wood floors are a signature element of the look, and soft shades of birch and oak will make their mark in kitchens and open-concept living spaces. These light wood flooring hues offer an earthen-luxe vibe and look especially chic when paired with a vintage kilim rug.
These spaces by Jaclyn Peters Design give a nod to the Nordic with light wood floors and also showcase another of our timeless 2019 interior design trends: high contrast. Pristine white Cambria countertops are a natural pairing with light floors to ensure a clean, bright look while dark cabinetry grounds the space.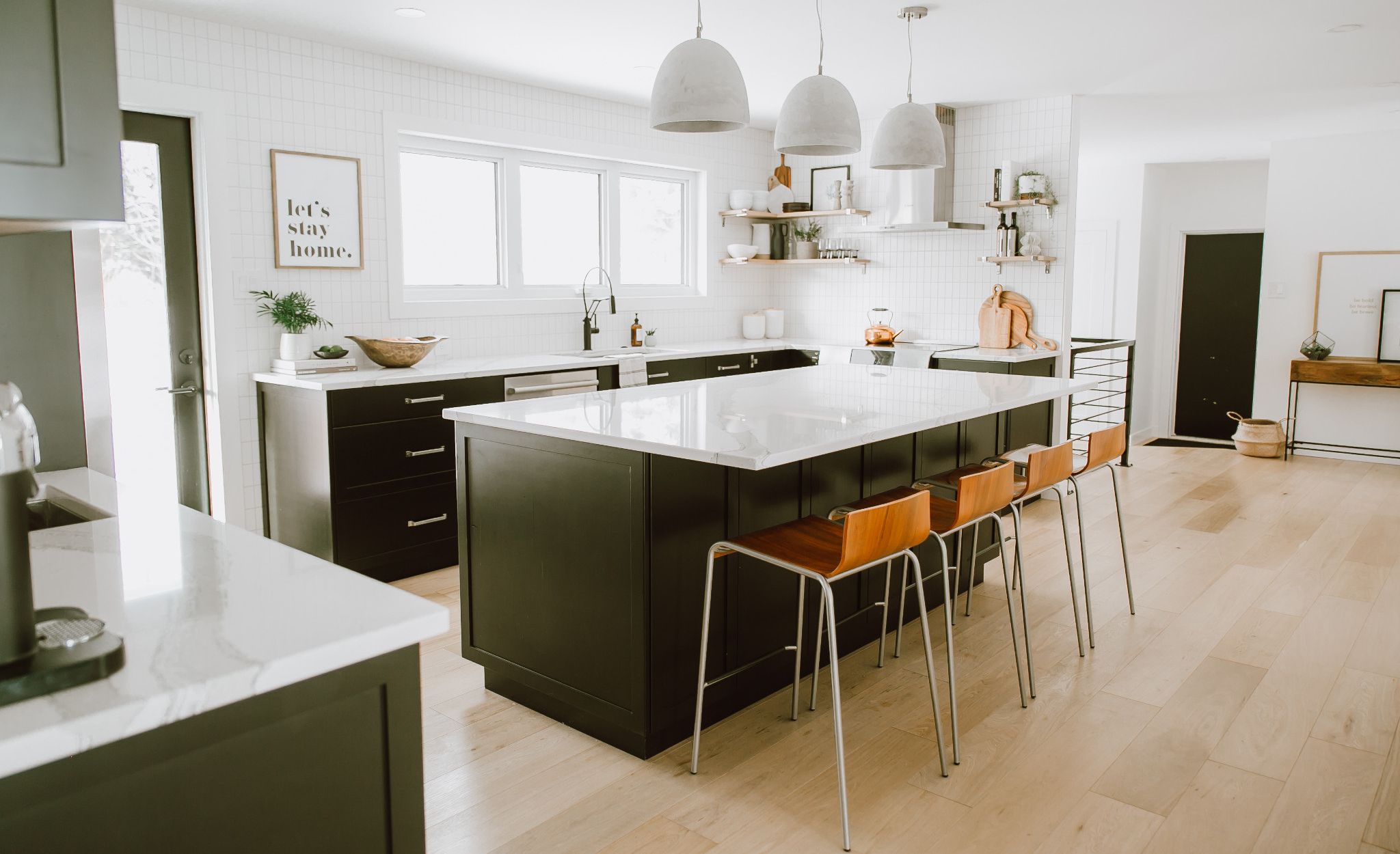 Light wood flooring and Brittanicca countertops contribute to the open, airy feel of this high-contrast kitchen from Jaclyn Peters Design. Photo: Ariana Tennyson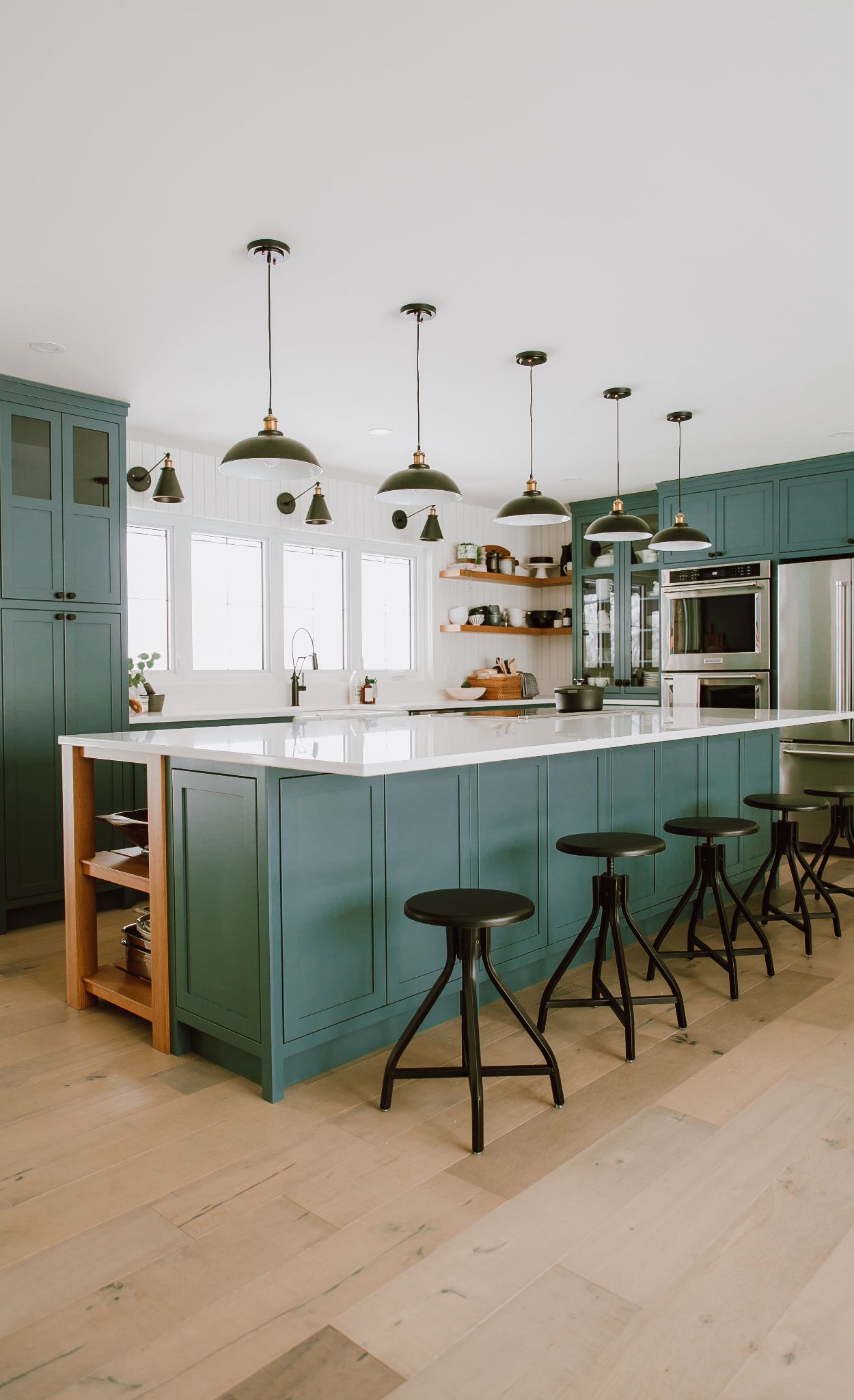 This dreamy green kitchen hue pops against crisp Newport™ countertops and light wood floors. Photo: Ariana Tennyson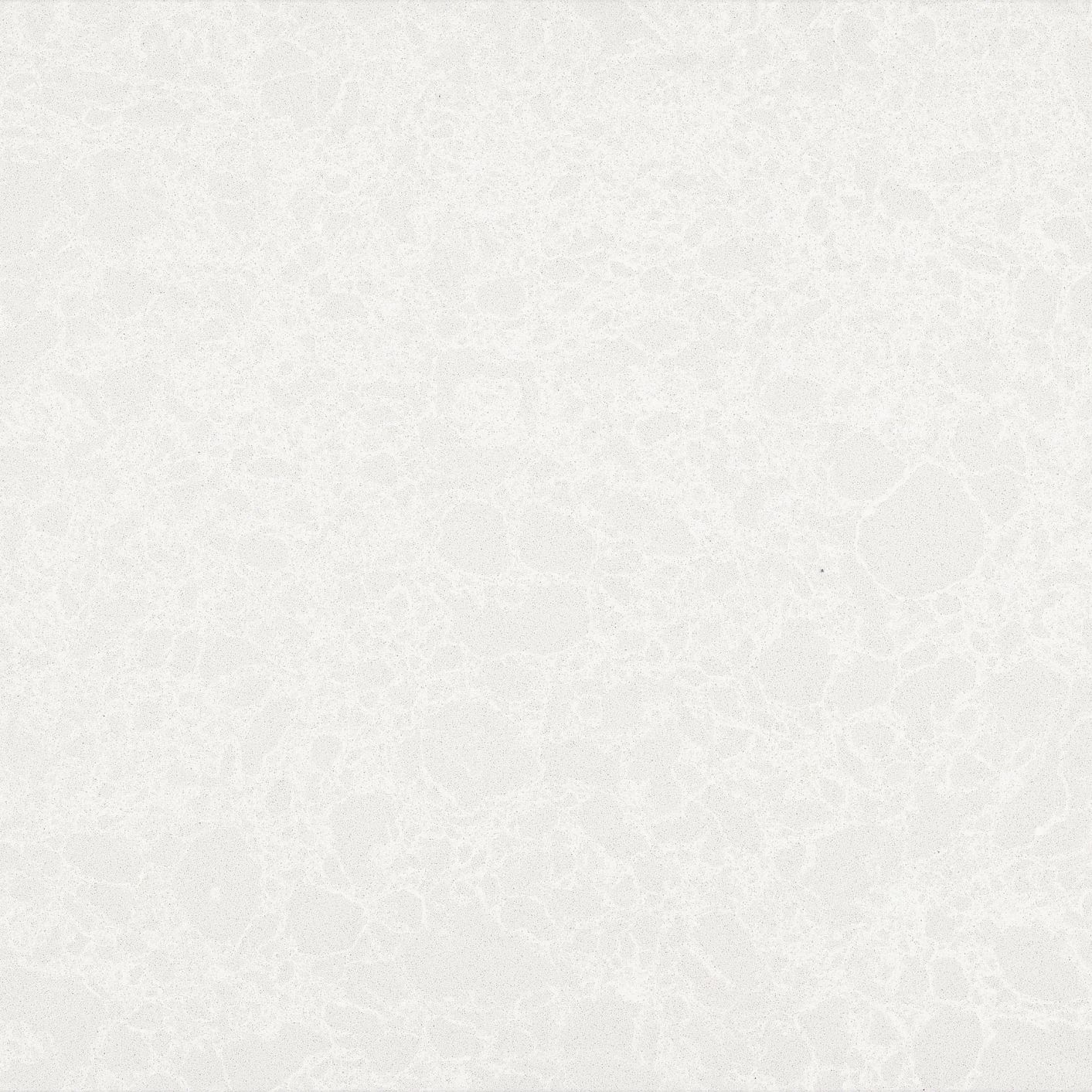 Newport™ design detail
Mixed materials
Mixed metals, including satin brass, matte black, and brushed finishes, have been trending for some time. Now there are more materials in the mix for the kitchen and bath, as designs incorporate natural stone, wood, painted surfaces, glass, and more.
A trio of Cambria designs combines for an innovative kitchen island with integrated Brittanicca Gold sink, accented by a Blackpool Matte perimeter countertop and Fairbourne™ backsplash. Space by: Vasi Ypsilantis, Vyda Fine Interiors for Kips Bay Palm Beach Show House.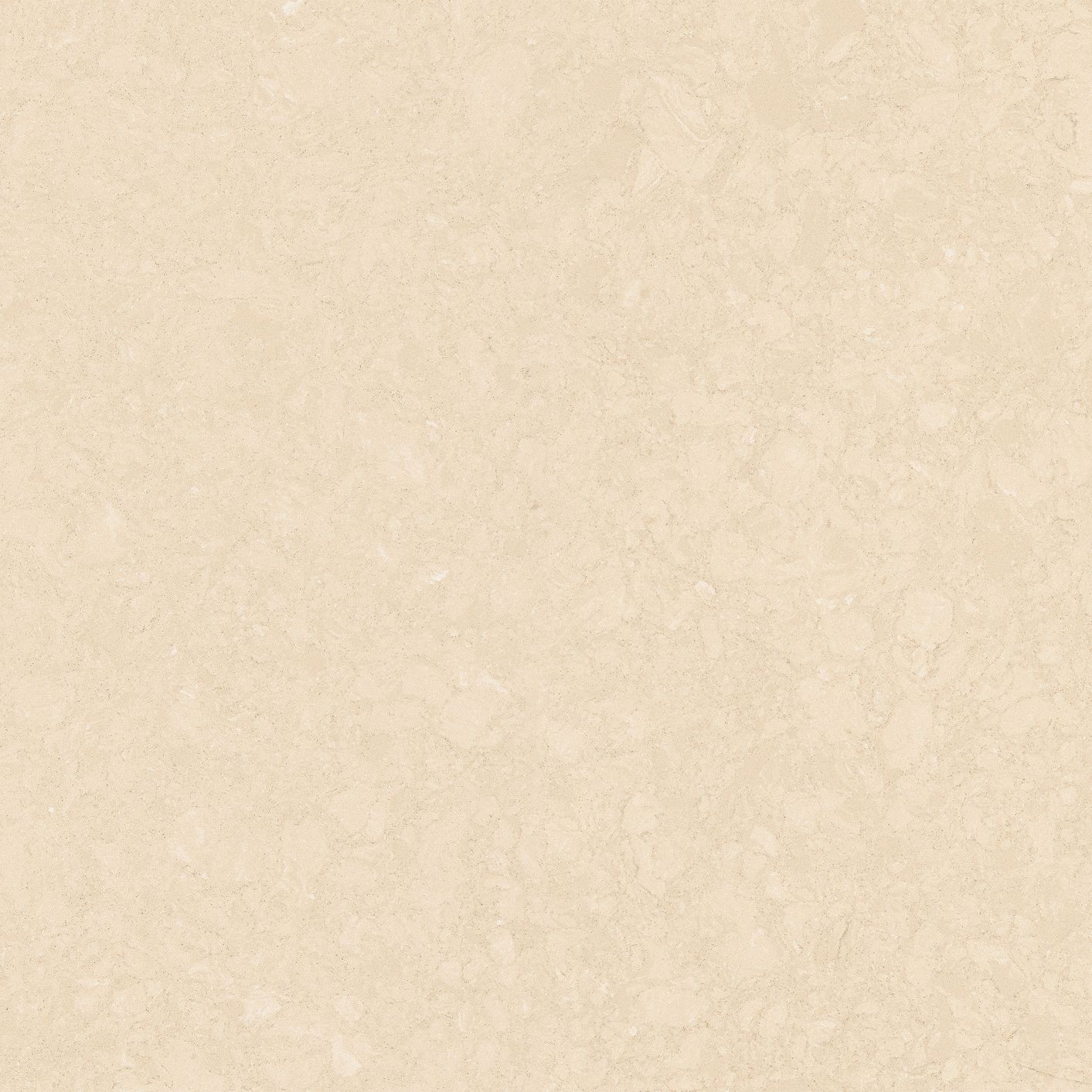 Fairbourne™ design detail
In commercial design, mixed materials showcase craftsmanship in statement furniture pieces such as conference tables and reception desks.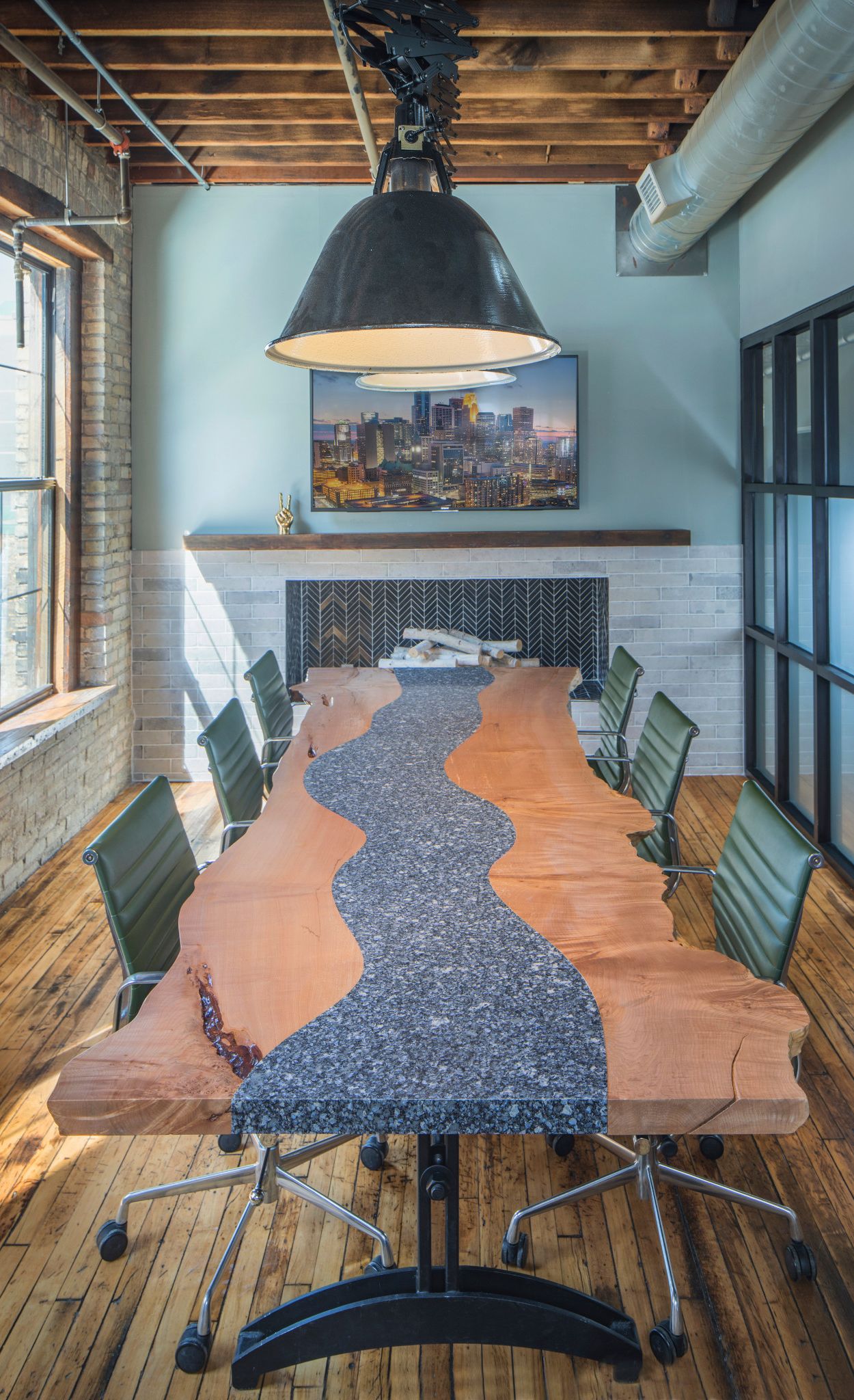 Work in style at Brick x Mortar with a mixed-material conference table featuring Parys™ and live-edge wood.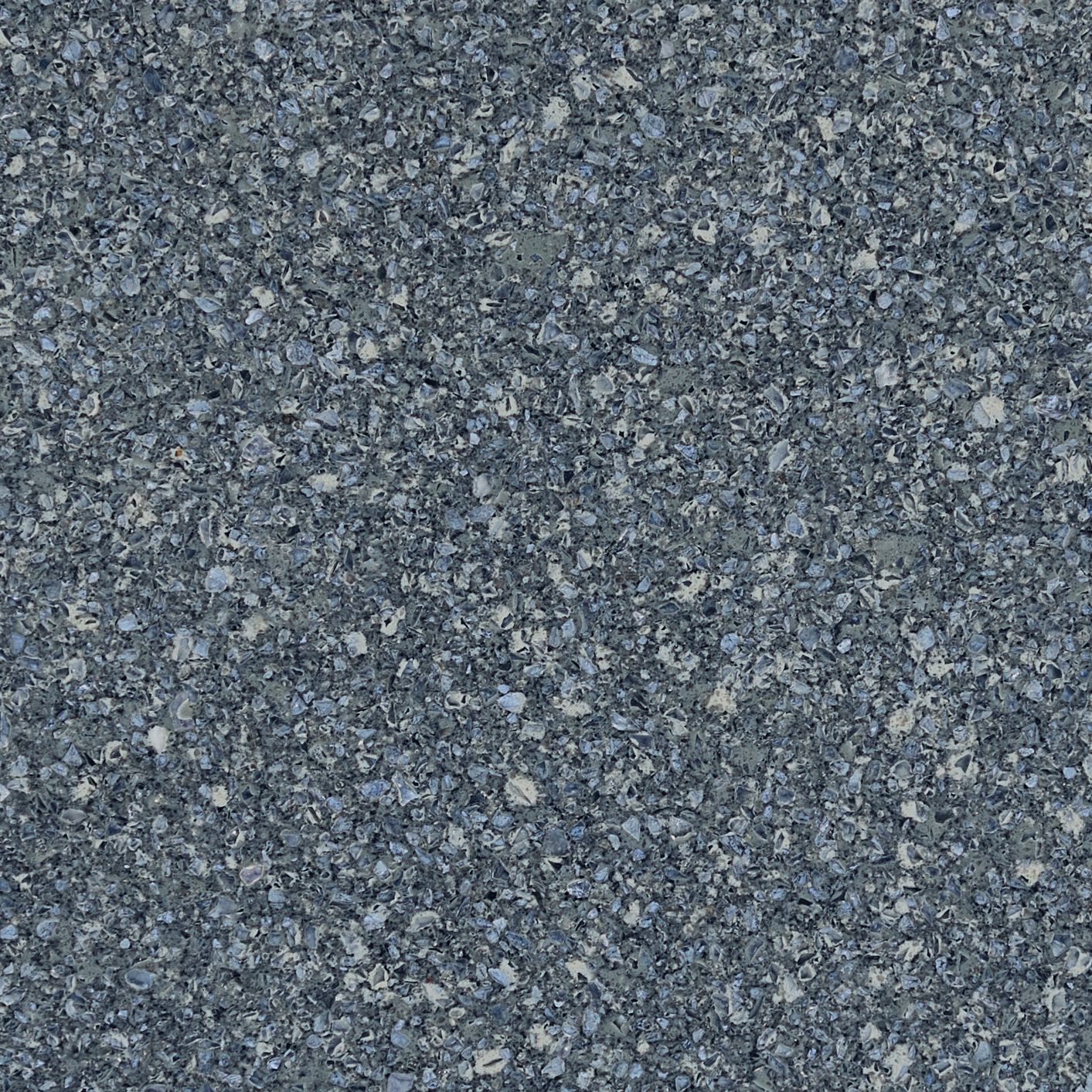 Parys™ design detail
A quartz waterfall edge pairs with gray-tone woods and brass in this chic yoga studio featuring Annicca™.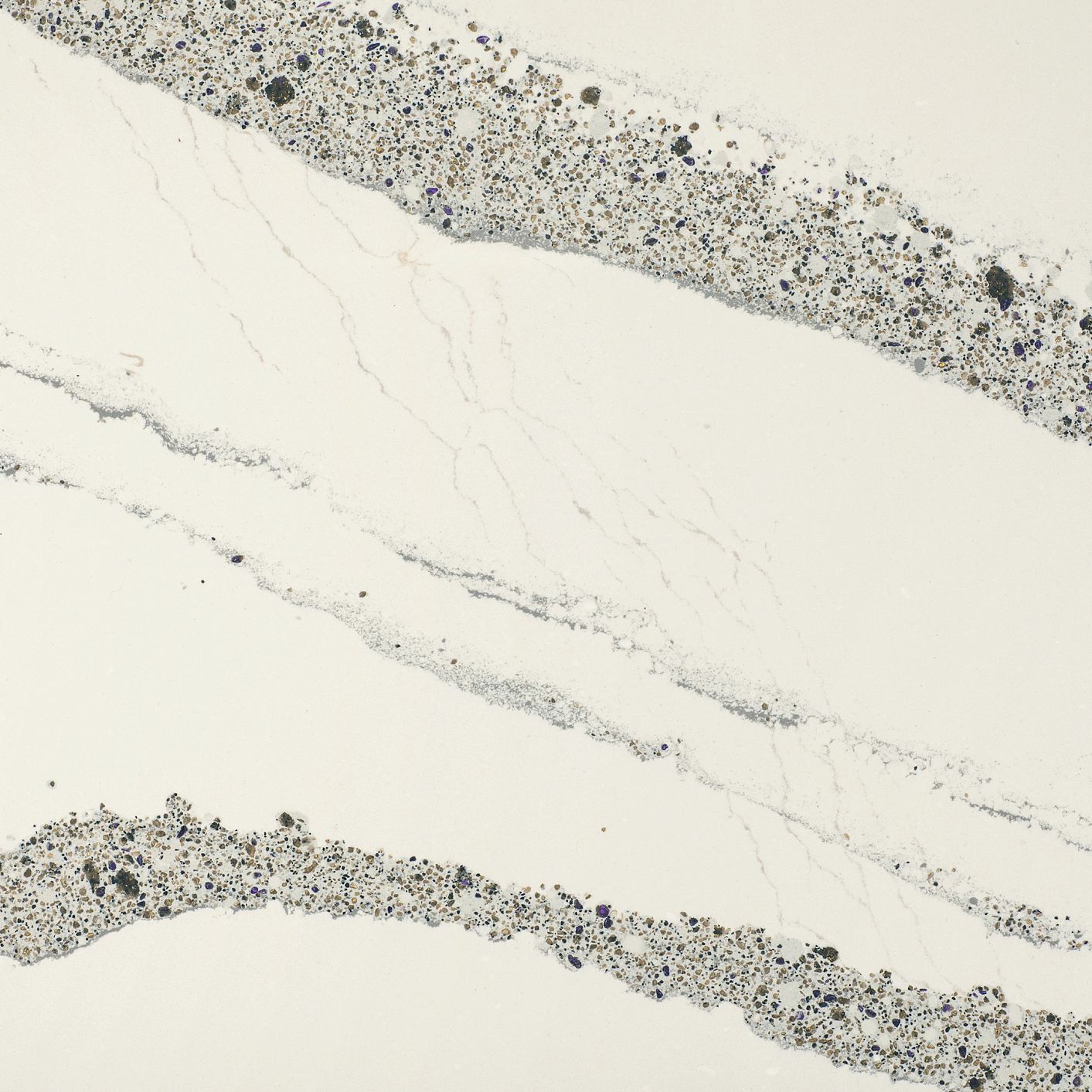 Annicca™ design detail
See more commercial design trends our team spotted that are likely to take stride in 2019.
Furniture-inspired kitchen islands
The kitchen island remains the favorite for open kitchen layouts, creating a design focal point and central hub for kitchen activity. A shift toward furniture-inspired elements reflects their important role in the home, especially as a gathering spot for meals and entertaining. As a growing trend, kitchen islands will incorporate more features typically associated with high-end furniture such as luxury finishes, corbels, and custom hardware.
Open islands or overhangs with table leg details offer a handcrafted, often rustic look.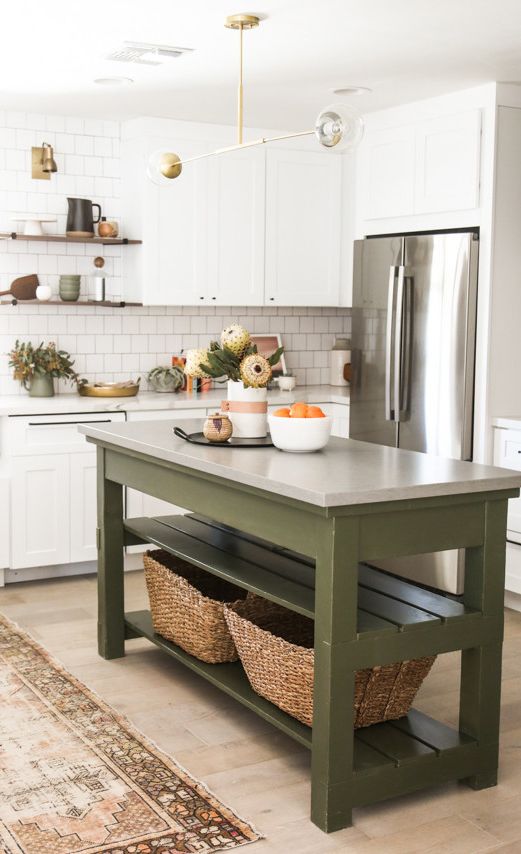 An olive green open island is topped with Carrick Matte™ for a farmhouse table look in this space from Jenny Komenda.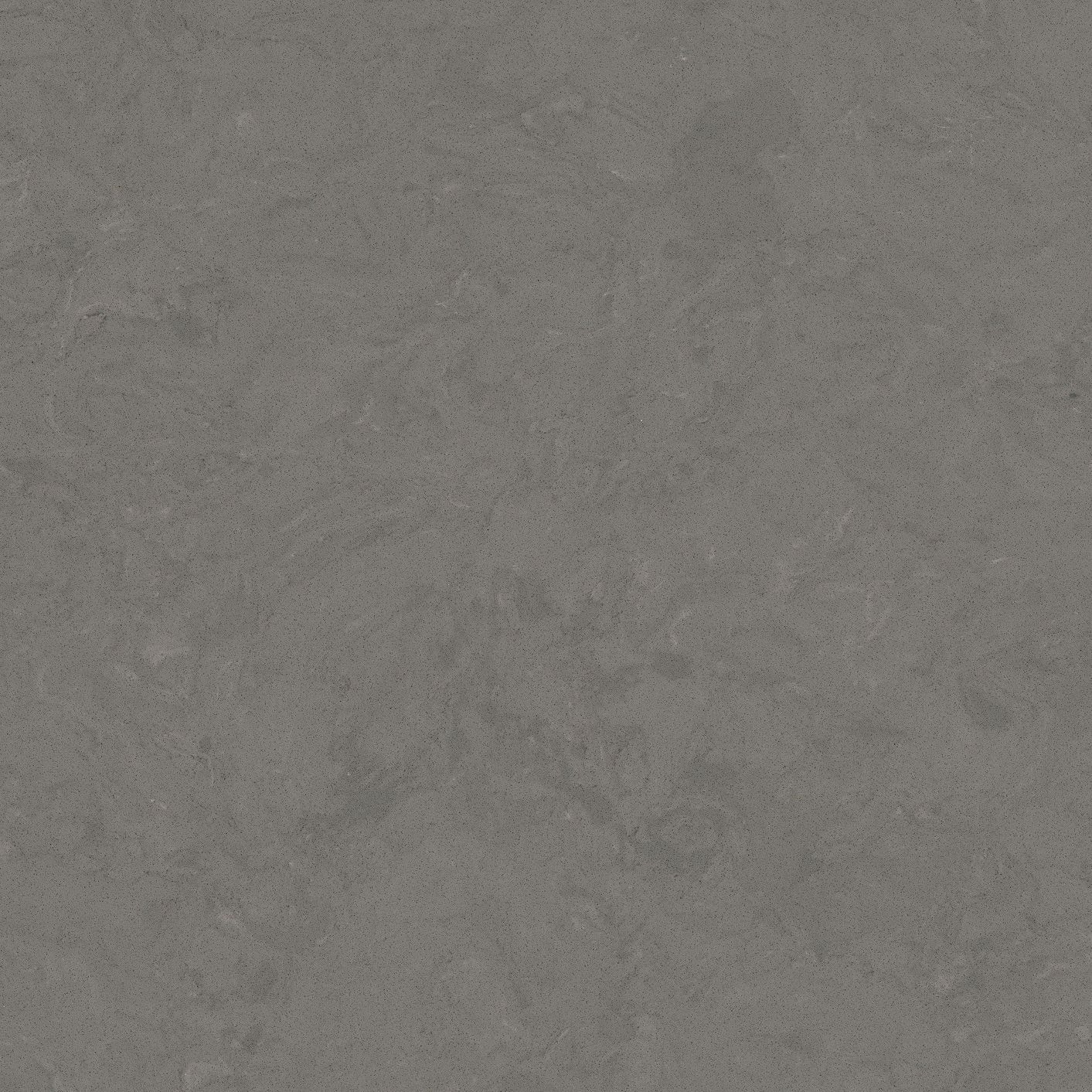 Carrick Matte™ design detail
See another furniture-inspired island in this classic farmhouse from Bria Hammel Interiors and explore these kitchen island ideas for additional inspo.
Dark and moody tones
Dark and moody colors are gaining momentum in all aspects of finishes in the kitchen, with deep blues and dark greens trending.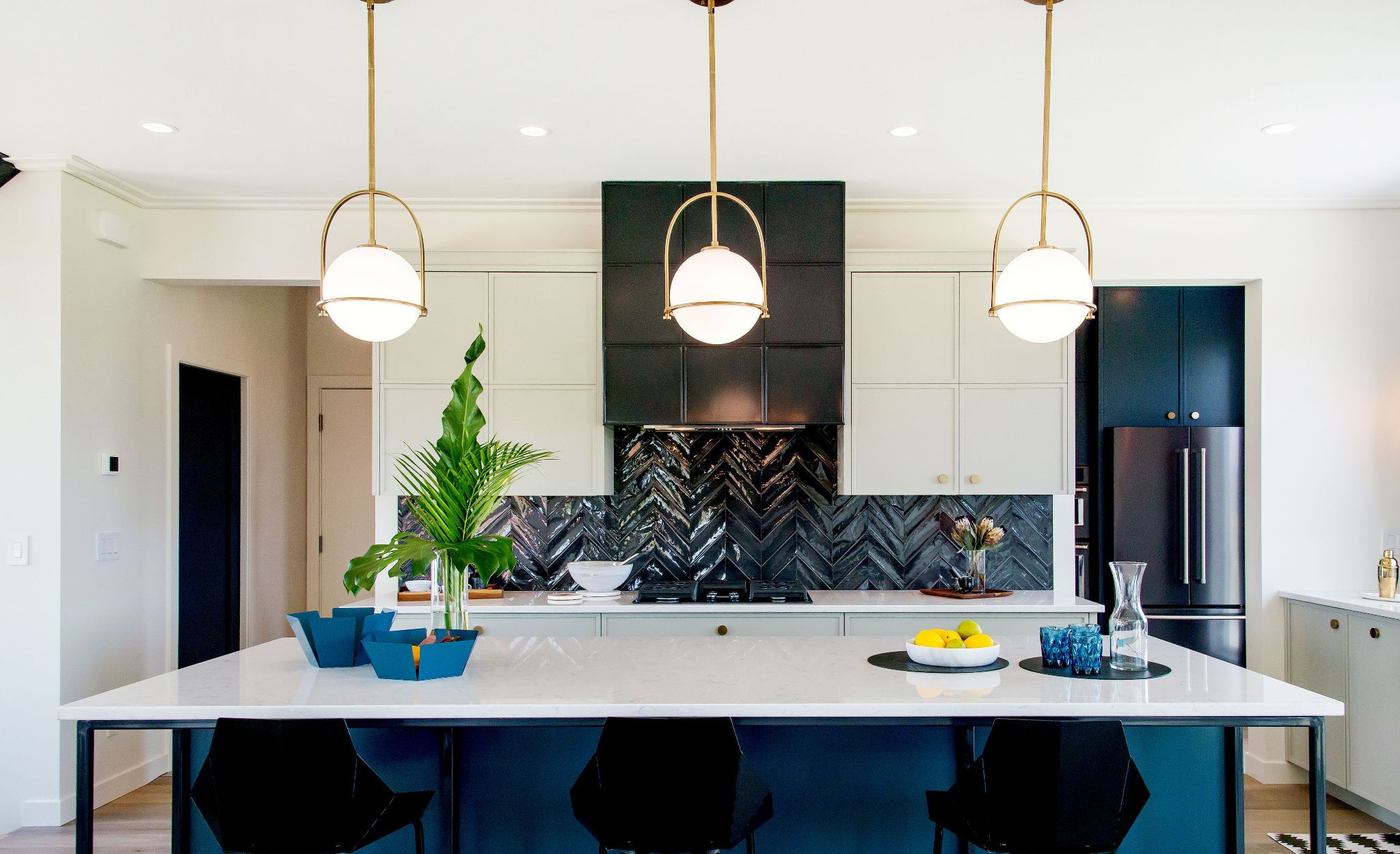 Moody blue and black hues pair with white Swanbridge™ countertops in this kitchen from Haven Builders. Photo: D&M Images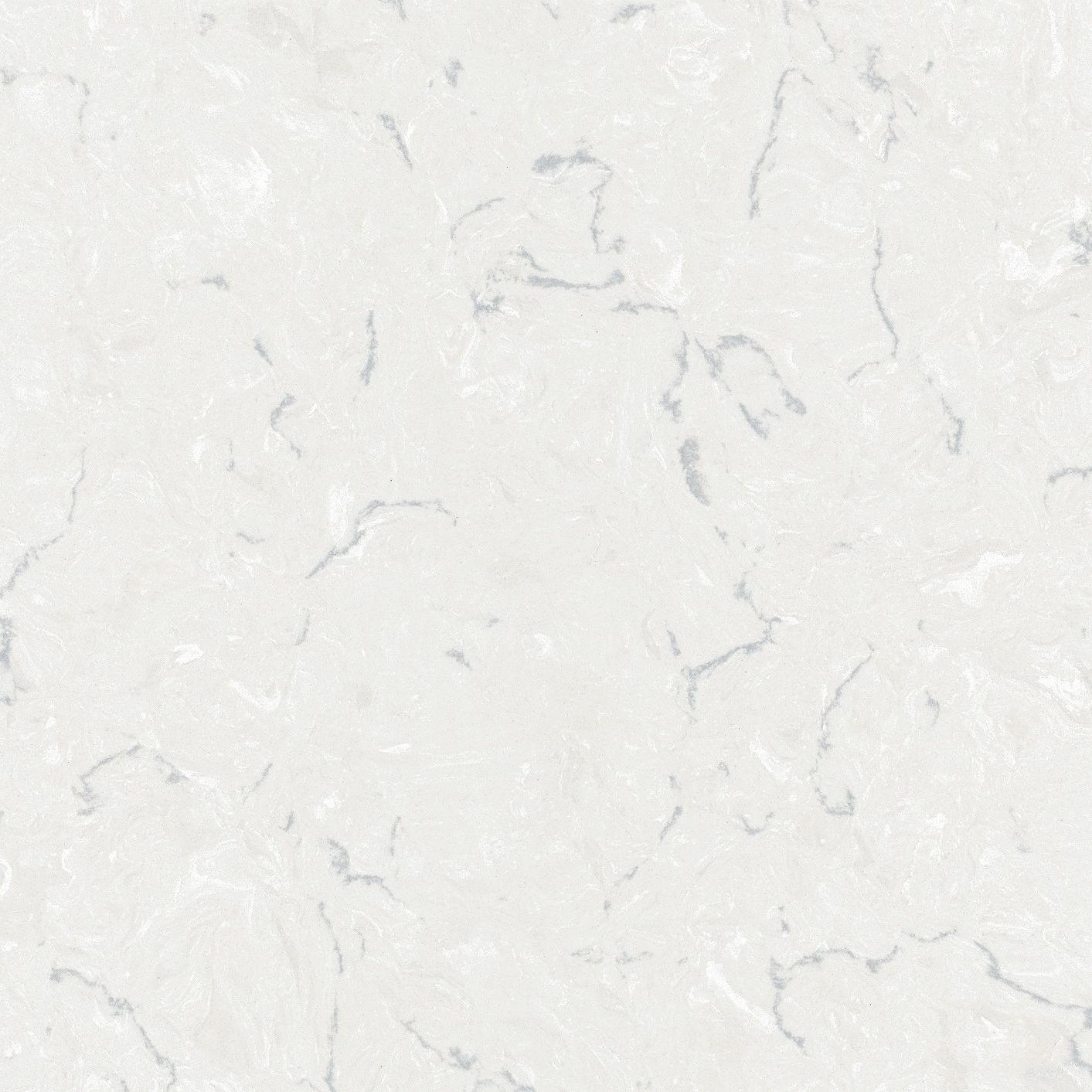 Swanbridge™ design detail
Eye-catching wallpaper
Captivating, large-scale wallpaper in floral and geometric patterns is making its way into smaller spaces like powder rooms, laundry rooms, and home workspaces. These utility rooms are the perfect place to take risks with pattern and color, but the trend can also be embraced in kitchens and master suites.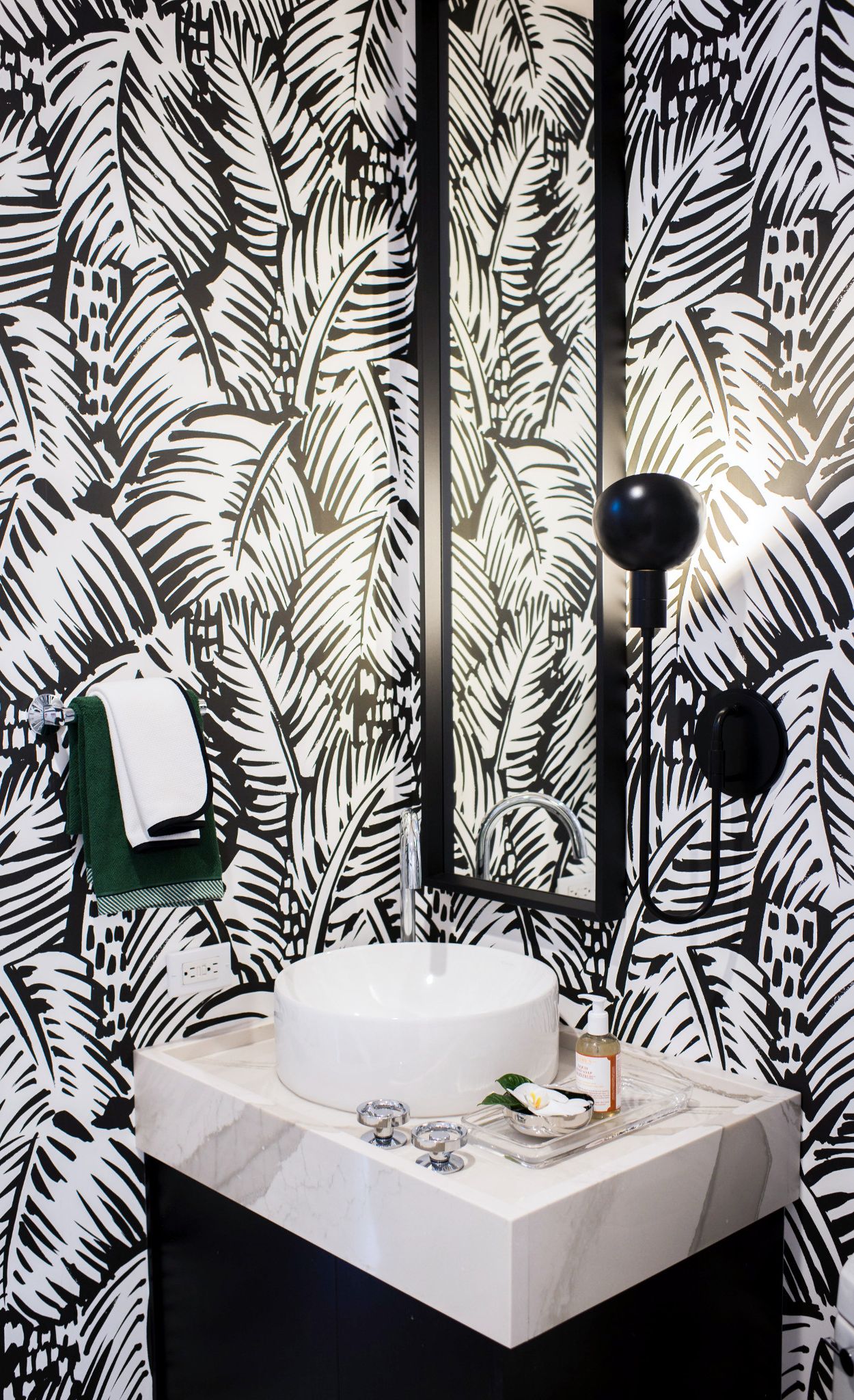 A palm-frond print and Brittanicca Warm countertop pair for tropical pattern play in this Kips Bay Palm Beach Show House powder room from Billy Ceglia.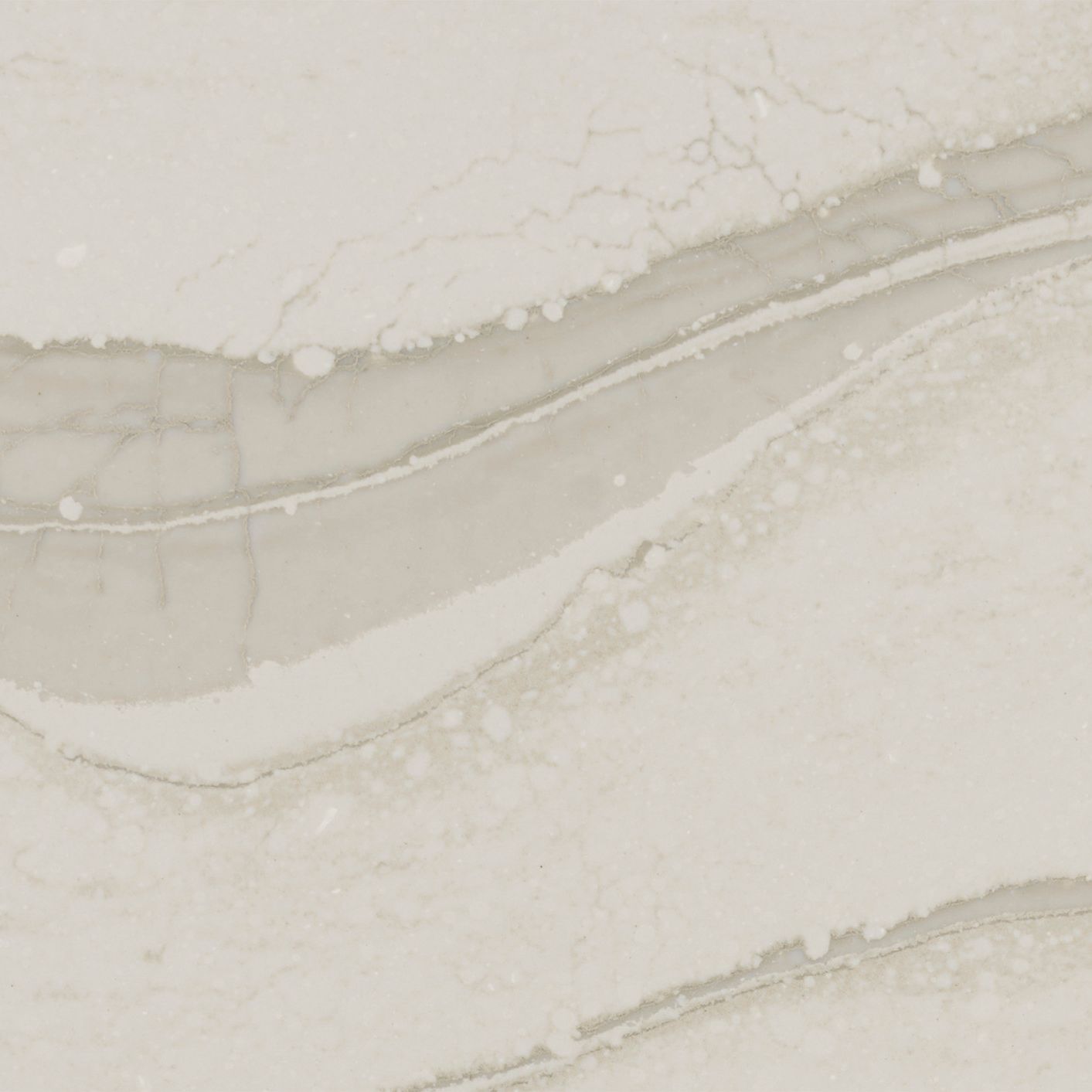 Brittanicca Warm design detail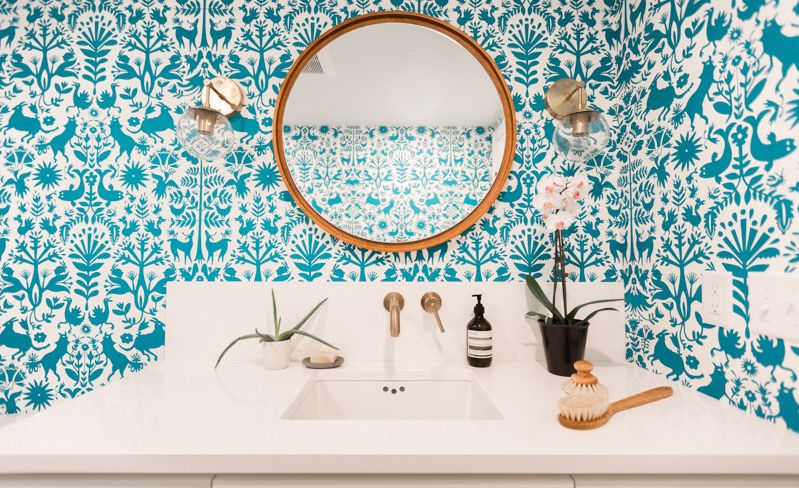 Whimsical blue wallpaper pops against crisp White Cliff™ in this bathroom from Wit & Delight. White Cliff™ design detail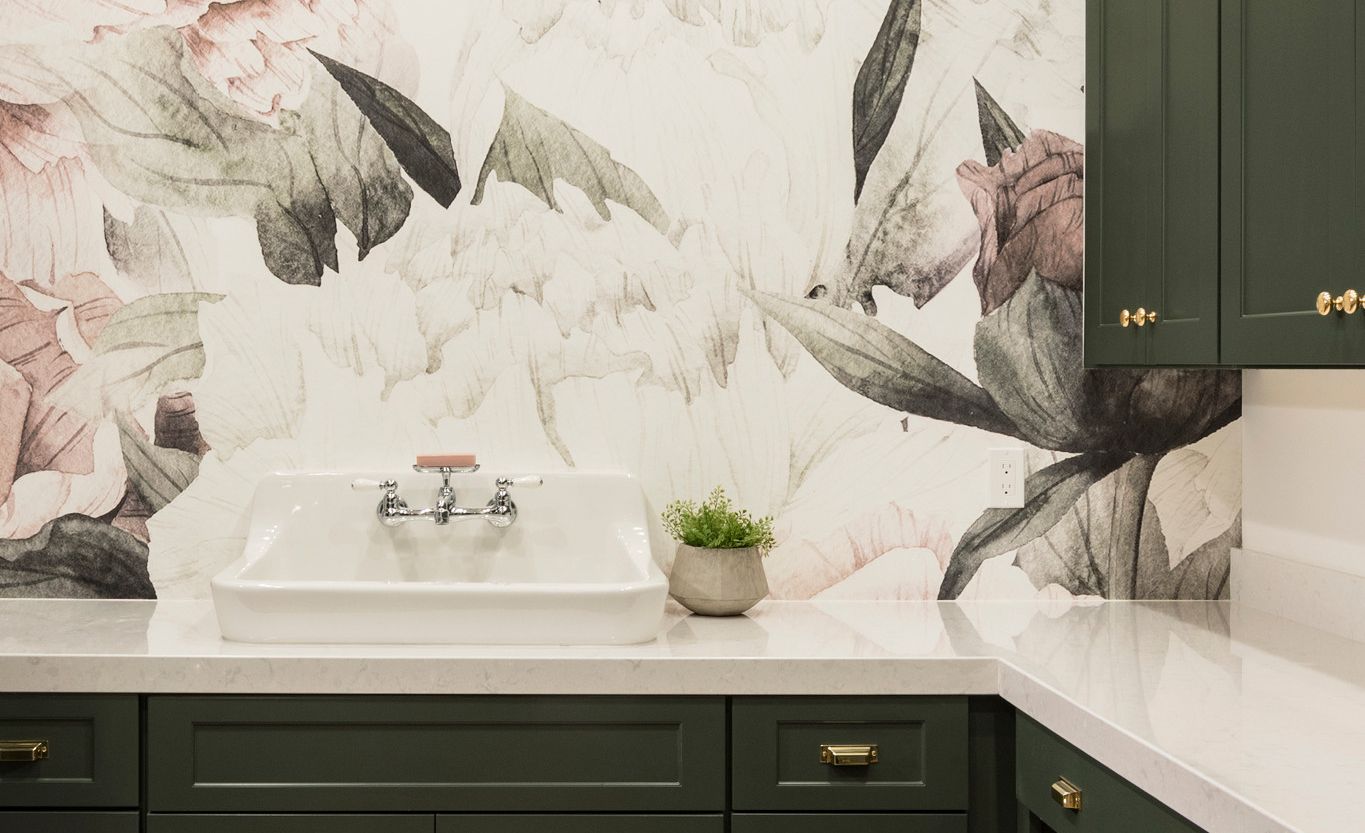 Large-scale florals paired with Swanbridge countertops and hunter green cabinets make for a lovely laundry room from AFT Construction and E. Interiors.
See more stunning wallpaper selections we've scouted, including a dreamy laundry room, luxe dog wash, and family craft room.
Showcase timeless style in your space
Ready to start your own trendsetting project? Order samples of any of the Cambria designs featured in these spaces here and bring your vision to life with the help of a dealer in your area.
We love seeing your spaces with Cambria. Share completed projects with us here and tag us with the hashtag #MyCambria on social media.
Which of the 2019 interior design trends are you most excited about? Let us know on Instagram, Facebook, or Twitter.