Planning a bathroom remodel or designing a new space? A great place to start is the bathroom vanity since it tends to incorporate the most materials and serve as a centerpiece in the space. You'll want to select elements that reflect your desired style and support the high-use space. For example, choosing Cambria for bathroom countertops means your vanity top will be durable, easy-clean, and hygienic (no moisture or bacteria will seep through the nonabsorbent quartz surface). With beauty and benefits in mind, we've curated twelve bathroom vanity ideas to help inspire your master bath, powder room, or other bathroom project.
1. Pair marble-like quartz with gray cabinetry for classic elegance.
With a medley of warm neutrals and intriguing movement, Highgate is the perfect countertop to pair with gray cabinets for a glamorous master bath as in this bathroom renovation from blogger Mia Mia Mine. After frustration using marble in her guest bath ("It was pretty disappointing to see scratches and water spots so quickly on it," she says), the blogger opted for Cambria, a superior alternative to marble. "Every design was breathtaking," she says. "We had always loved Cambria products—they're nonporous, nonabsorbent, and harder than granite so they're really maintenance free—perfect for a bathroom!"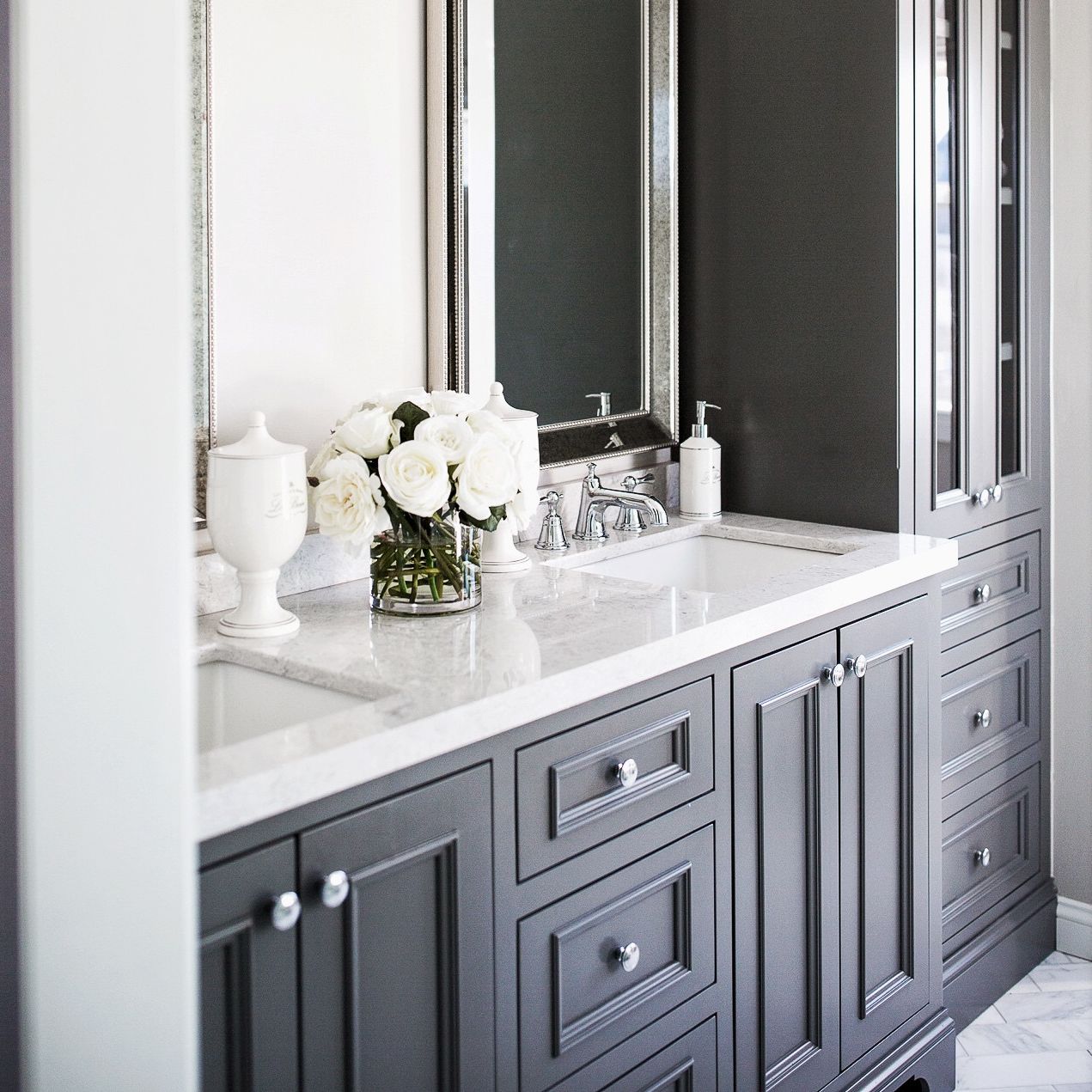 2. Glam up a farmhouse bathroom with stylish selections.
For a luxe farmhouse bath, pair dark woods and shiplap with refined white quartz countertops and contemporary round mirrors. The spacious custom double vanity from Cypress Homes features marble-like Torquay countertops and a center seating area to add ease to morning routines.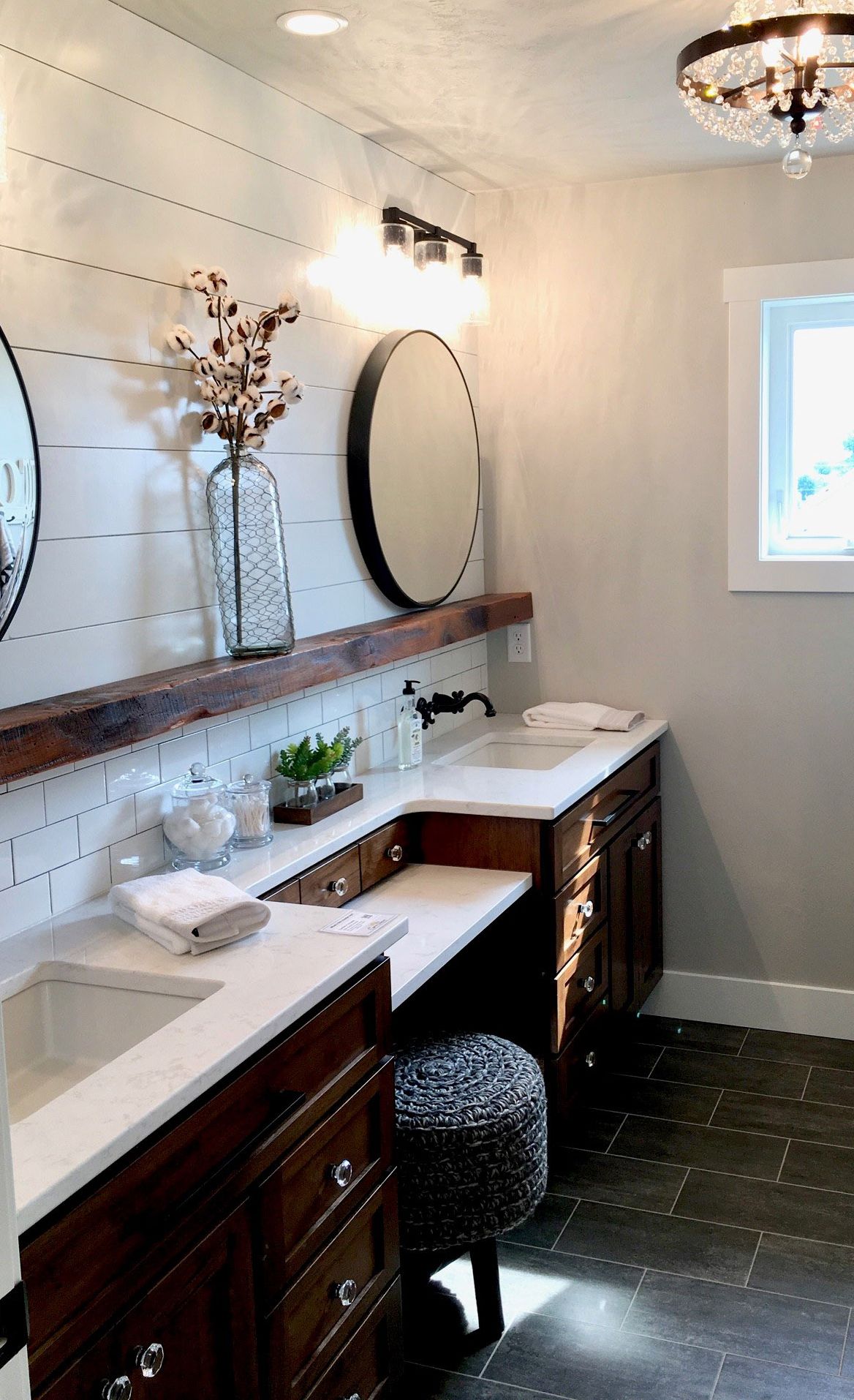 3. Coordinate your bathroom countertops with your shower.
For a cohesive look and even more benefits for your bath, use the same Cambria design for your shower as your bathroom countertops. This master bathroom designed by Heidi Huddleston for the Charleston Symphony Orchestra League Designer Show House features sparkling white Whitney countertops and a coordinating shower bench and entryway. Not just for countertops, Cambria is ideal for full shower surrounds, tub surrounds, and many other applications.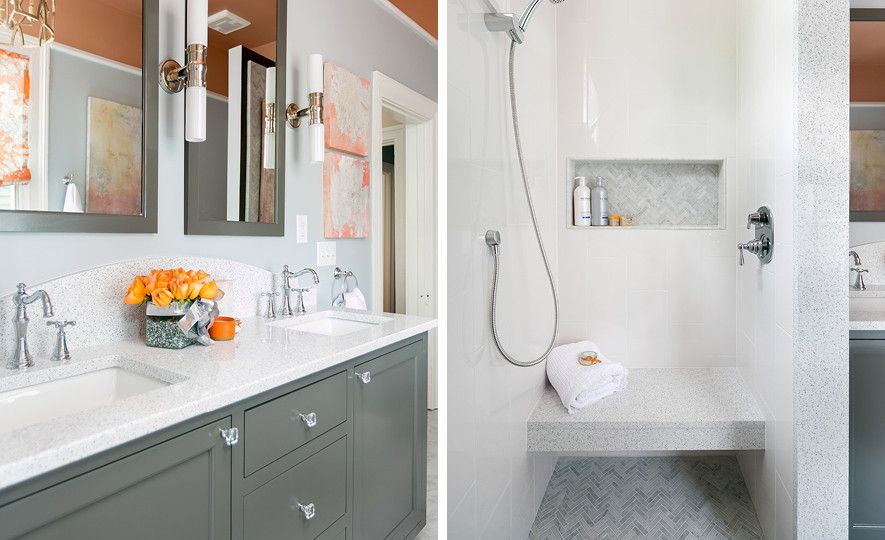 4. Pair white countertops with matte black and brass for contemporary cool.
Add a contemporary spin to a light and airy bathroom with matte black and brass. In this West Coast–cool space by Jenny Komenda, dual matte black faucets and mirrors contrast with Brittanicca Matte countertops. Brushed brass hardware and accent lighting adds a glam touch, while a vintage kilim rug and cactus-print artwork personalizes the space. Get ideas for how to make a statement with matte black in any space.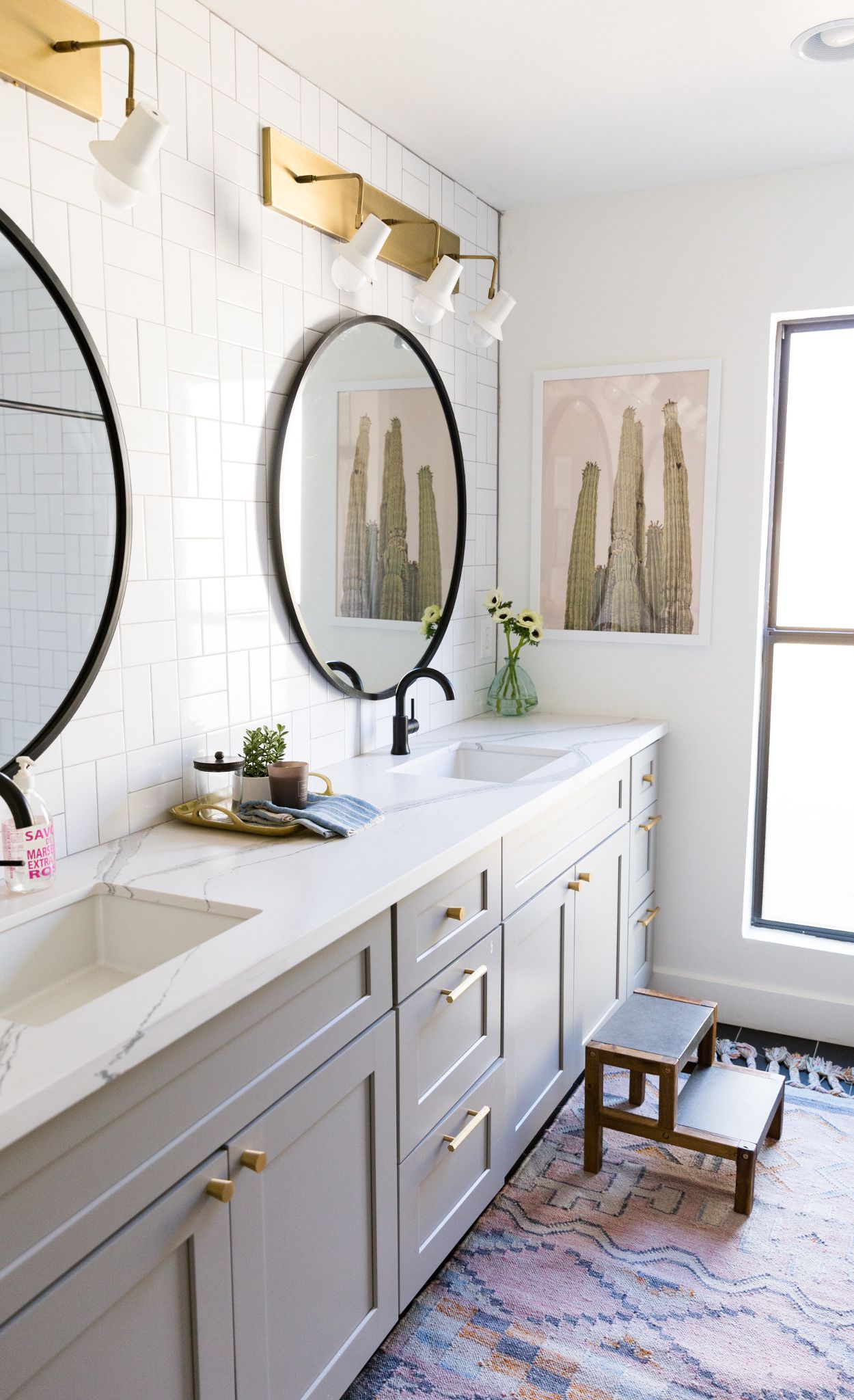 5. Go high contrast for big impact.
You can't go wrong with a classic black-and-white palette, and incorporating movement and pattern adds a fresh spin. This high-contrast bathroom by Jean Stoffer Design and Kenowa Builders is timeless and chic with a full-height black herringbone tile backsplash, contrasting white vanities with Brittanicca Matte tops, a bold statement black door, pops of brass, and patterned floor tile. Get tips for planning your space featuring a high-contrast design aesthetic.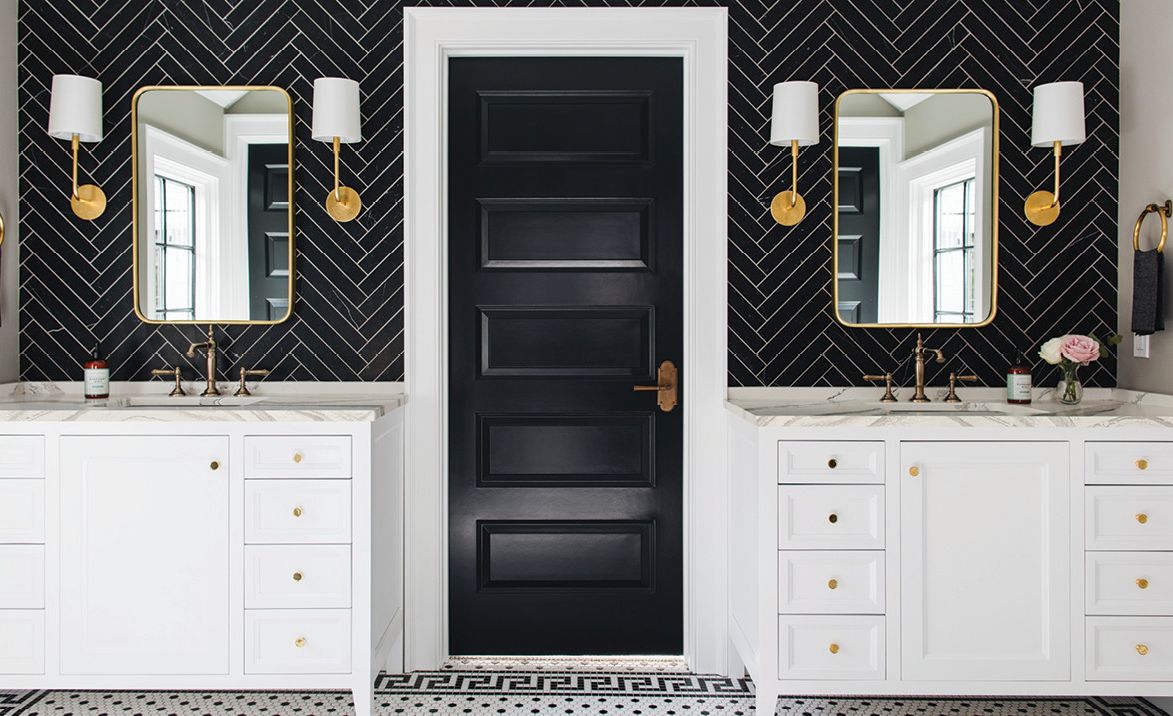 6. Showcase spa-like luxury with a floating quartz vanity and shelf.
A floating vanity crafted entirely of Cambria is a stunning way to showcase the beauty of the stone and infuse an indulgent feel into any bathroom space. An Instagram favorite, this mod master bath by Sire Design makes a striking statement with a floating Rose Bay vanity. A drop-mitered edge transforms the bathroom countertops into a bold centerpiece, with dramatic black marble veining against a white backdrop. A custom shelf crafted from the same quartz design offers a spa-inspired look and sleek open storage solution.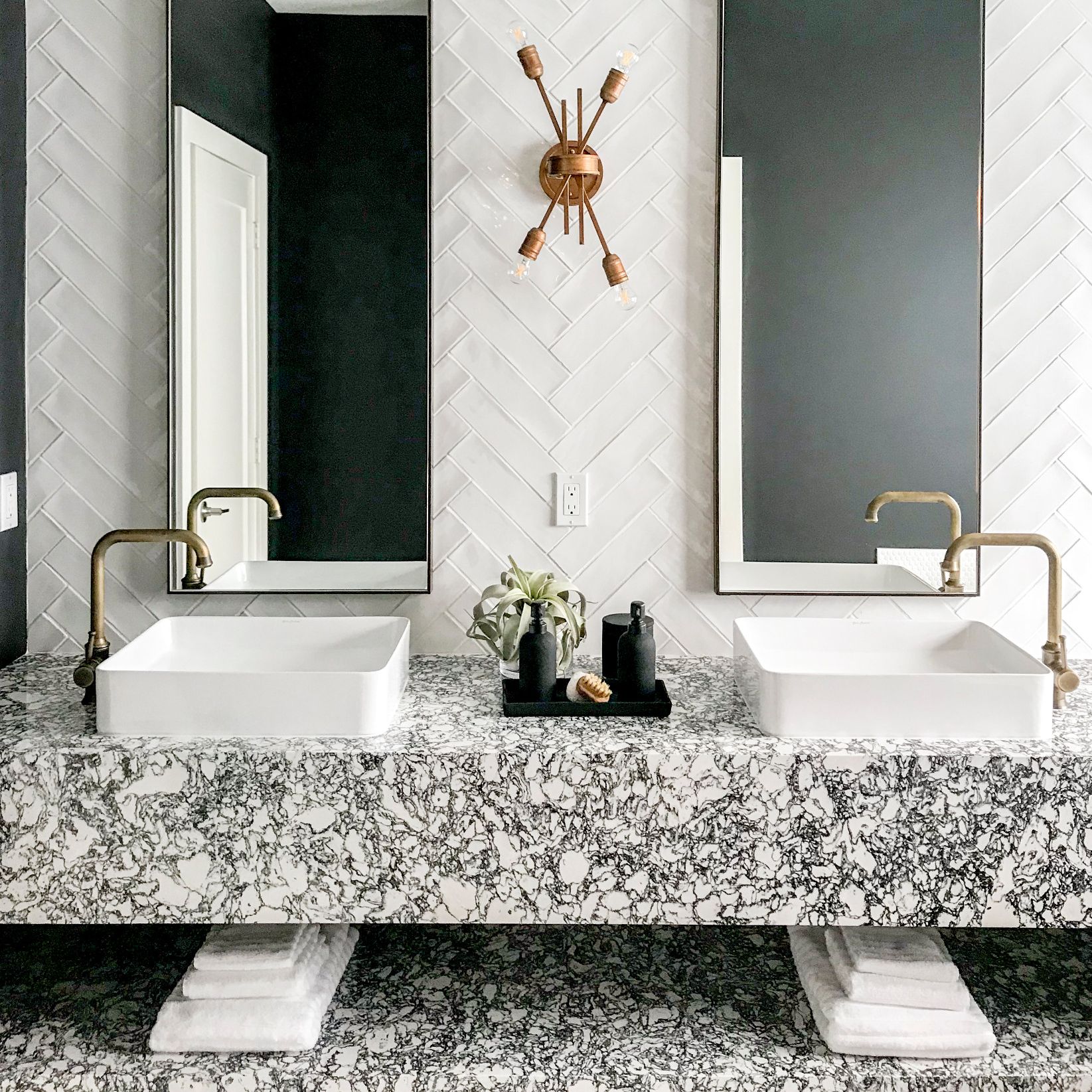 7. Contrast shapes and textures from vanity and backsplash to mirror and lighting.
Playing with contrasting shapes and textures is a great way to liven up a neutral palette. This bathroom by AFT Construction and E. Interiors pairs gray-toned woods with marble-like Swanbridge for a versatile and inviting color palette. The angular lines of the bathroom vanity contrast the rounded backsplash tile, while the square floor tile embraces abstract lines and a subtle color pop. A hexagon mirror is a fresh alternative to square or round vanity mirrors, softened by rounded wicker pendants. For another vanity featuring Swanbridge from the same designer and builder, see our post on luxe marble-alternative spaces.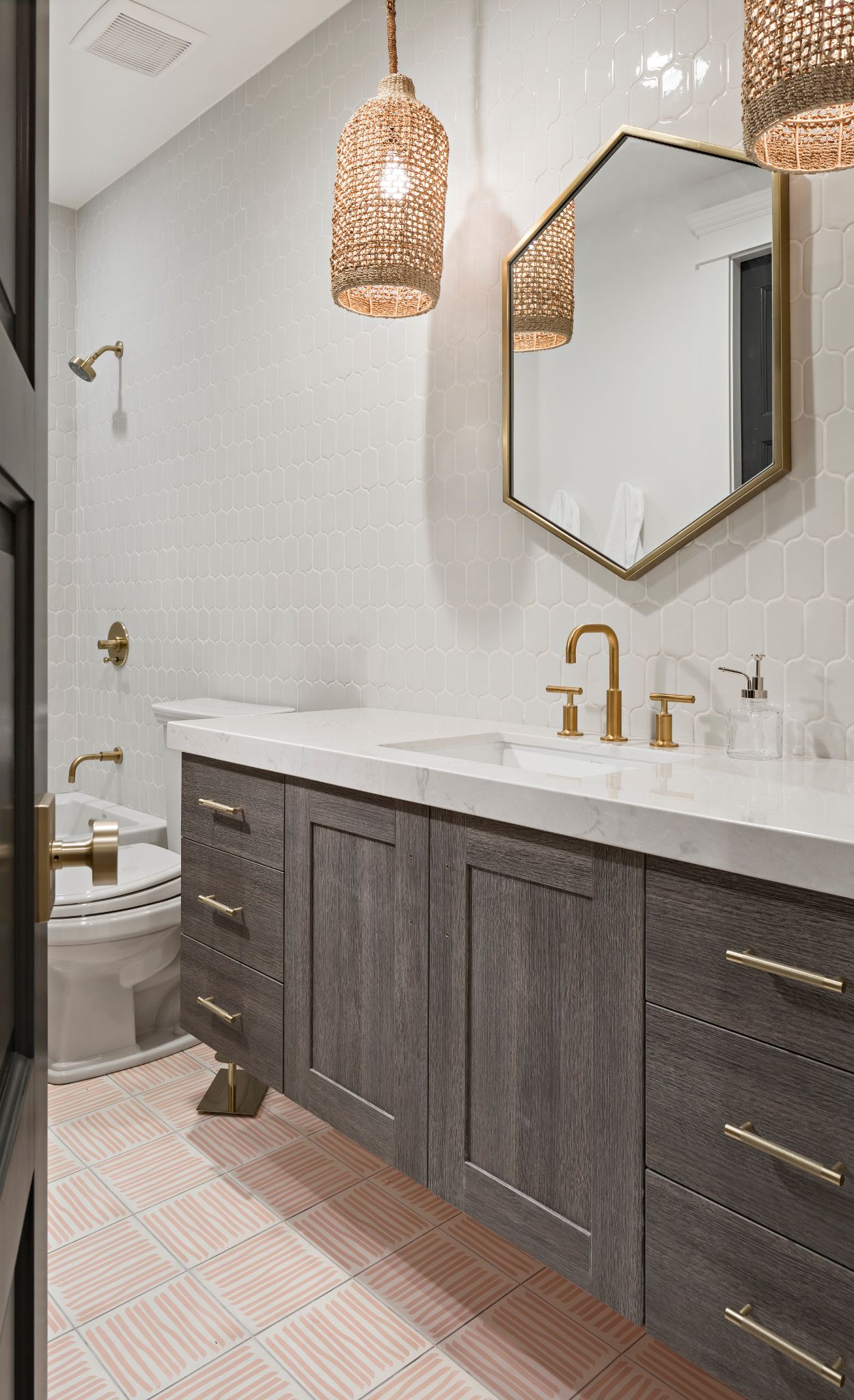 8. Get a concrete look with better performance with gray quartz countertops.
Concrete countertops are heavy and tough to install, making them impractical for a bathroom vanity. Get a similar look and added performance benefits with one of Cambria's many gray quartz designs. In this master bath by Brian Patrick Flynn, Carrick bathroom countertops pair with olive green cabinetry and stacked subway tile for contemporary sophistication. See more bathroom vanity ideas in our gray countertops roundup.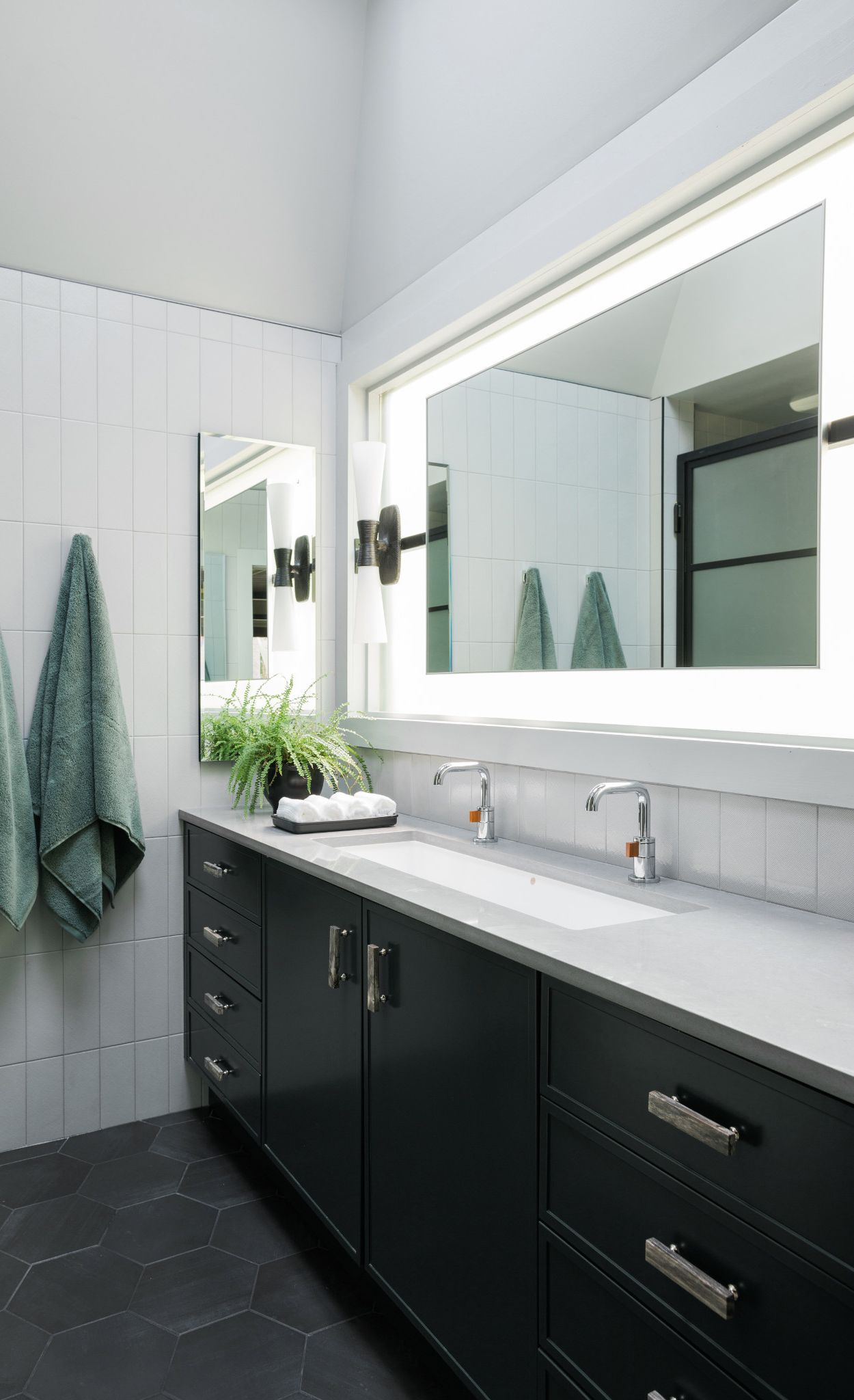 9. Accentuate a bold countertop pattern with matte black cabinets.
Bathroom countertops with bold veining or dense movement, such as one of Cambria's granite alternatives, offer a captivating look. If the design features dark undertones or black accents, opt for matte black cabinets to complement the beautiful details of the design. Complete the look with matte black hardware, fixtures, or other details. This bathroom by Jaclyn Peters Design pairs Summerhill countertops and backsplash with matte black cabinets, faucet, mirror, towel rack, light fittings, and vanity decor. If you're choosing a design with deep brown or blue undertones, you can achieve a similar effect with dark wood or navy cabinetry to complement the countertops.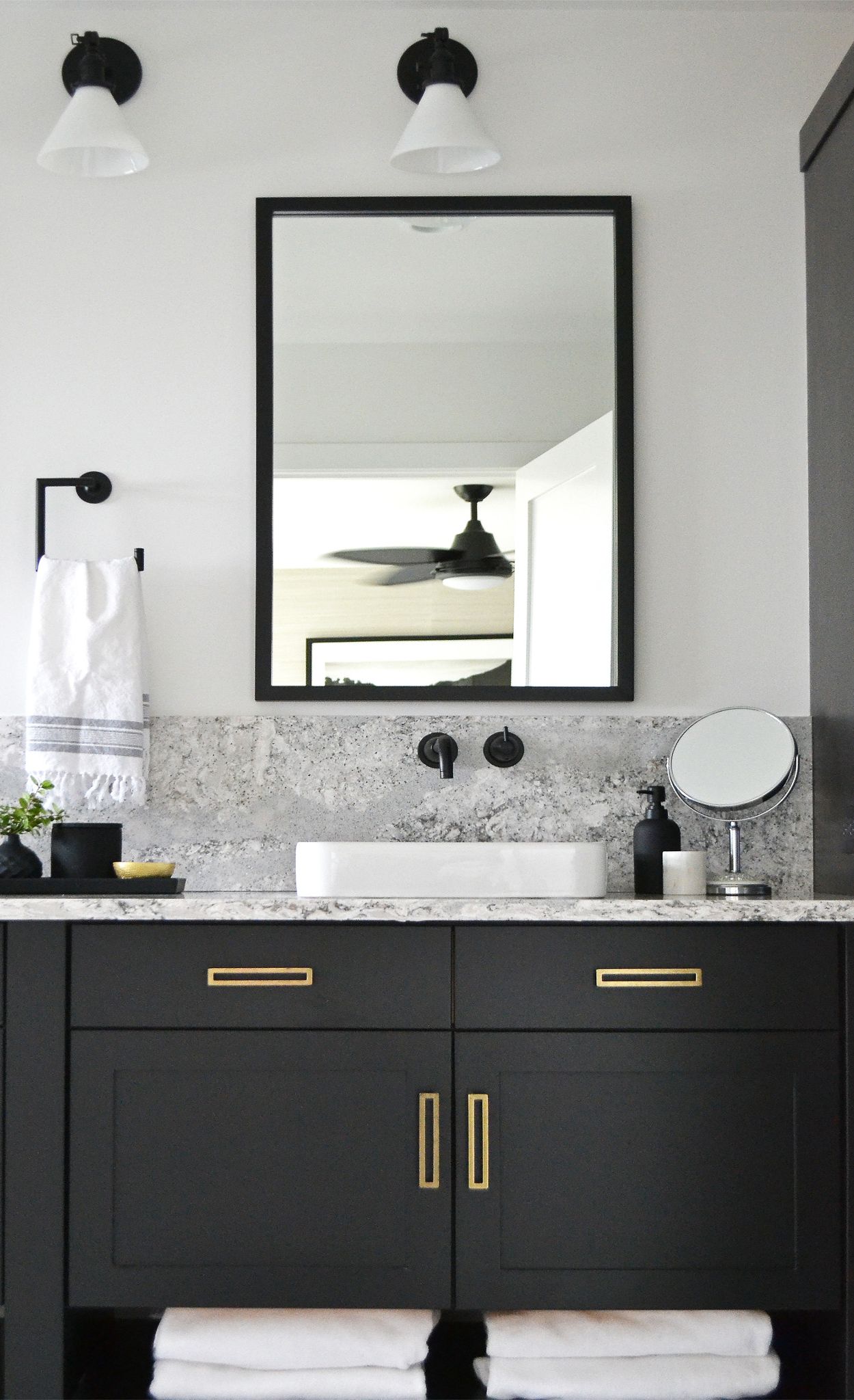 10. Create a streamlined look with an integrated Cambria sink.
Cambria's advanced fabrication techniques and uncompromising quality mean the possibilities for custom vanities are practically endless. An integrated sink offers a modern minimalist look and extends the benefits of the countertop to the sink basin, with easy-clean convenience and durability. In this space from Beautiful Space Co., an integrated Torquay vanity sink makes for a sleek, industrial-look. We love the look of integrated Cambria sinks for residential and commercial spaces alike. Due to the high-quality quartz material, Cambria can be fabricated to far greater precision than granite or quartz. If you're considering an integrated sink or other custom Cambria application, contact a dealer near you to discuss the options for your space.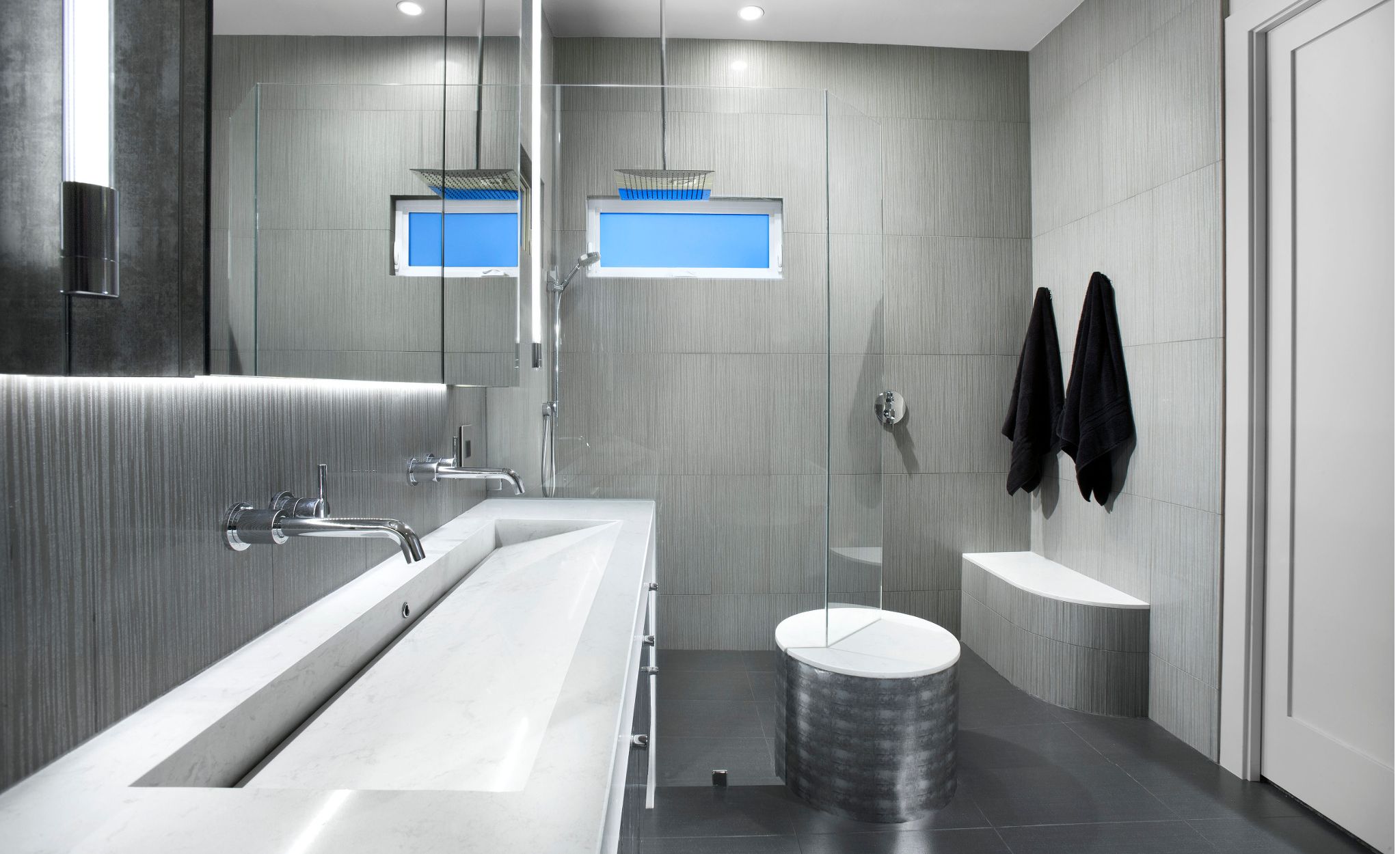 11. Make a bold statement with a quartz bathroom backsplash.
A continuous look with Cambria bathroom countertops and backsplash not only makes a bold statement but a smart investment. A Cambria backsplash to complement your countertops provides added hygienic benefits and maintenance-free convenience. This coastal bathroom from Brian Patrick Flynn offers swoon-worthy beauty with mesmerizing Skye countertops and backsplash. Love this hue? Discover more blue bathroom ideas.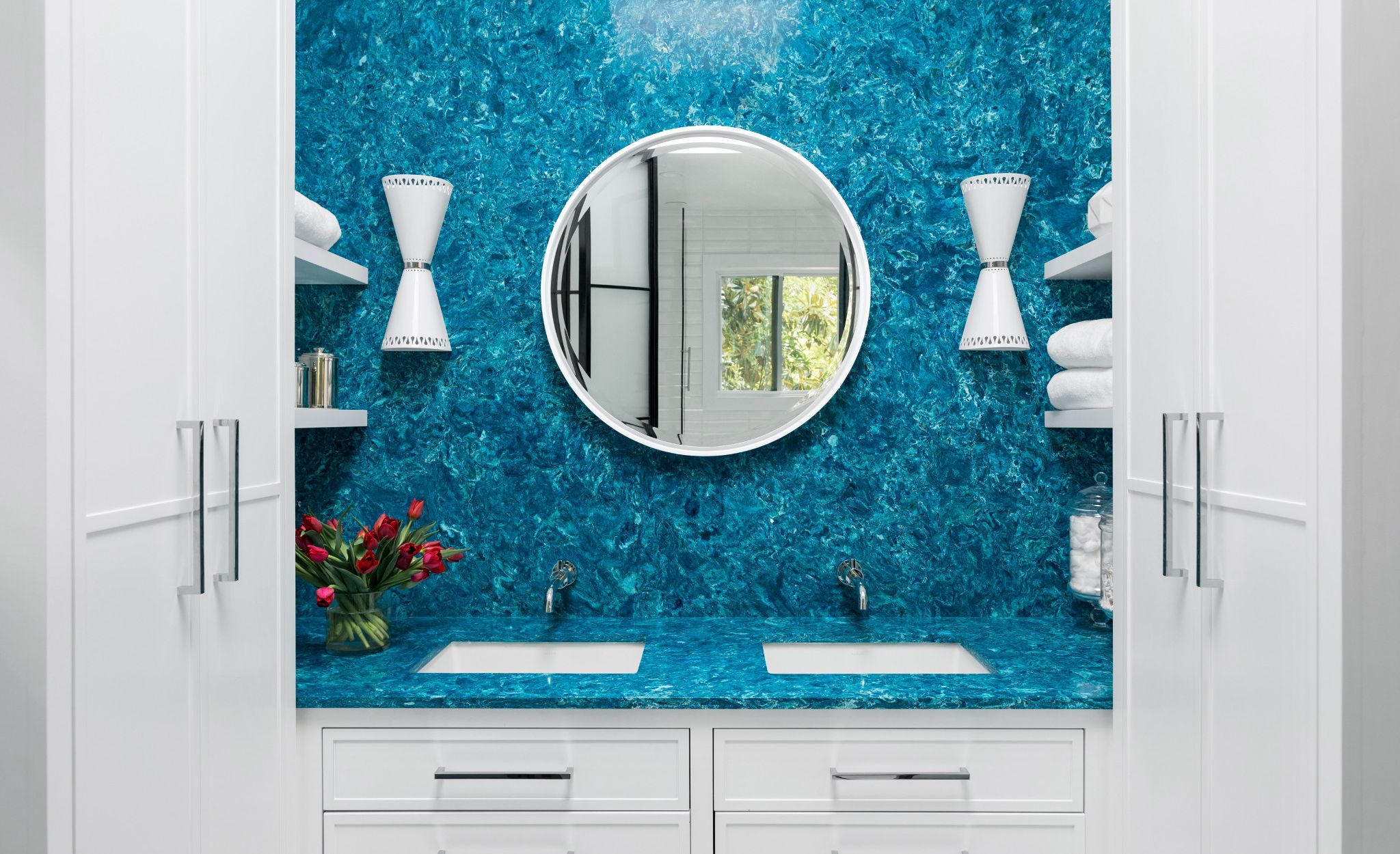 12. Play with pattern from wallpaper to countertop.
Create a delightfully inviting bathroom by pairing floral wallpaper with a vanity featuring a boldly patterned Cambria countertop. This powder room by Kitchen Design Concepts combines Galloway and complementary floral wallpaper with metallic-like hues that play off the gold fixtures and sink.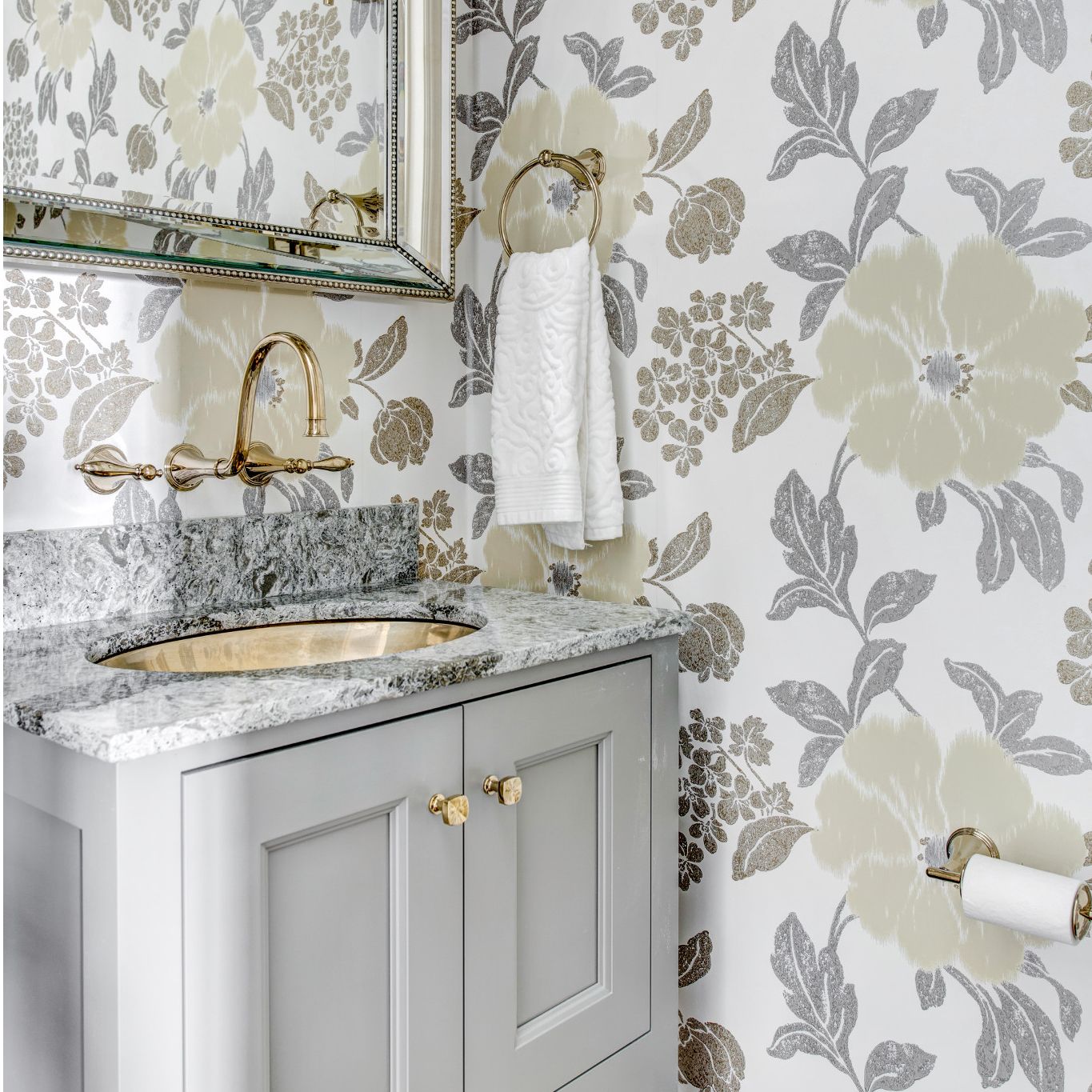 For more ideas for your space, see our roundup of pattern-play powder rooms. Order samples of any of the designs featured here to plan your perfect look.
Featured Designs
Get the Look
Follow Cambria on social media with #MyCambria for more standout designs.
For more information on Cambria, including performance data, product specifications, and certifications, see our Professional Resources.
Interested in creating a showstopping design project with Cambria? Buy a sample, find a dealer, or call 1-866-CAMBRIA (1-866-226-2742) to be connected with a market representative in your region. Or visit our website to set up a virtual design consultation.